If you've been doing the smart thing and following my 3-day Istanbul itinerary, you've crisscrossed Istanbul inside and out. But Turkey, to my surprise, has a lot more to offer than the cool, half-Asian and half-European city. And it's not just about all-inclusive trips to the Turkish Riviera or affordable cosmetic procedures, either (hair transplant, anyone?).
I've put together a list of places, beyond Istanbul, that are worth seeing. History buffs, nature lovers, and culture enthusiasts will all find something to their taste. This list started out as just day trips, but there are some places a little further out that are just too good to miss. You'd rather set aside a whole weekend to see them, though. What are these gems, you ask?
My list will take you on some epic weekend and day trips from Istanbul. Get the full list od places on Google Maps

Should you drive in Turkey?
Before I tell you where to go, allow me a little detour into Turkish transportation. While I wouldn't wish driving in Istanbul on anyone, driving in Turkey, outside of the traffic jam that is the city center, isn't entirely out of the question.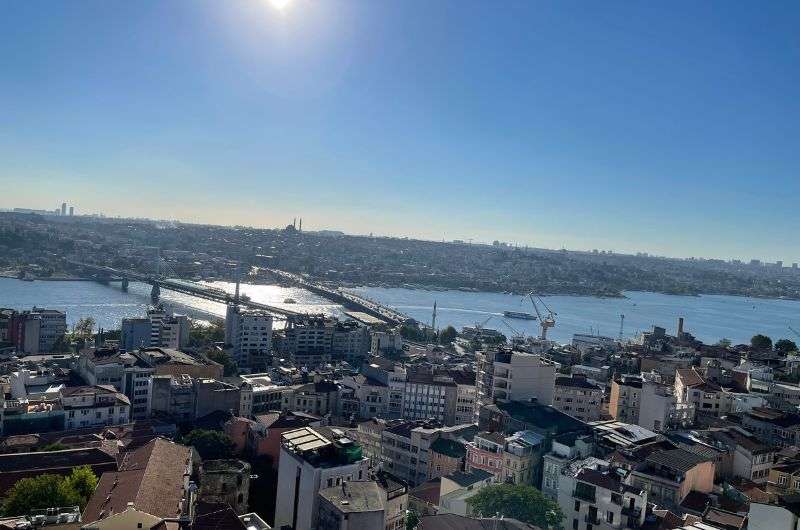 Hello, Istanbul!

That said, Turkey is a country that no driving school can fully prepare you for. So, before you take the wheel to explore places beyond Istanbul, here are some Turkish rules of the road:
1. A red light isn't a wall. If you ever find yourself approaching an intersection, and the red light comes on before you reach it, it's high time to hit the gas and dash through! If you stop as you would in Europe, the cars right behind you could rear-end you, because they wouldn't expect anyone to stop at a red light. It's like there's a grace period.
2. You know the saying "The early bird gets the worm"? On the roads in Turkey, it's more like "The honker gets to turn". You'll need a functioning horn and not be afraid to use it, or it's like you're invisible to the other cars.
3. There's always room for an extra lane. If you think you're driving on a four-lane road, think again. It's 4 lanes only until someone in a hurry decides to create a fifth lane.
4. Overtaking is fair game. From the left, from the right, from the left again, and then immediately from the right. Basically, however you want. But beware, others will do the same, so keep your eyes on the road and your feet quick on all the pedals.
5. Blinkers are meaningless. If the car in front of you is blinking to signal a turn, don't rely on it too much. On the other hand, if they're not signaling but start slowing down, they're probably getting ready to make a turn. I know, it doesn't make much sense.
6. Helmets on motorcycles are only for the driver. I don't recommend following this rule, but from what I've seen, it's adhered to by everyone in Turkey. So, it's not uncommon for a guy to overtake you at 130 km/h with his wife, who's holding an infant, sits helmetless on the back of the bike.
Once you get to the crazy driving lifestyle of Istanbul, you'll just be enjoying its beauty 9crooked pic taken from a yacht cruise)

You might be thinking that taking day trips from Istanbul by train would be a safer option. However, based on my experience, you'll quickly adapt to the local "driving style", and, in the end, it'll be much harder for you to return to following the normal rules in your own country. Once you get creative behind the wheel, it's hard to go back!
And now that you know how to drive, are you ready for some epic trips from Istanbul? Proceed:
1. 2-day trip from Istanbul to Pamukkale
Anyone up for a trip to Pamukkale?

Let's address the elephant in the room straight away. Visiting Pamukkale from Istanbul in a single day is only feasible if you plan to go sleepless for 24 hours, or if you're using it as a stopover to somewhere else and not returning to Istanbul right away. But Pamukkale is the type of place you won't find anywhere else in the world, so this goes on the list of weekend getaways from Istanbul. Plus, there's Hierapolis as a bonus.
The plan: The journey takes 6.5 hours without breaks, so you'll want to treat this trip as a stopover or at least a 2-day trip.
Distance from Istanbul: 578 km/359 mi (6 hours and 25 minutes)
Visiting time: 3 hours (at least 5 hours for history enthusiasts)
Notes: The visiting hours for Hierapolis and Pamukkale are from 8 am to 8 pm. The ticket price is TL 700/EUR 24.
After almost 7 hours of driving, the last thing you want is to arrive at crappy accommodation. And if you've ever been to Turkey, you probably know that they're a bit lax when it comes to cleanliness, so I wouldn't opt for any cheap options. My pick would be Whiteheaven Suite Hotel directly in Pamukkale, or ANIM Boutique Hotel in nearby Denizli.
Pamukkale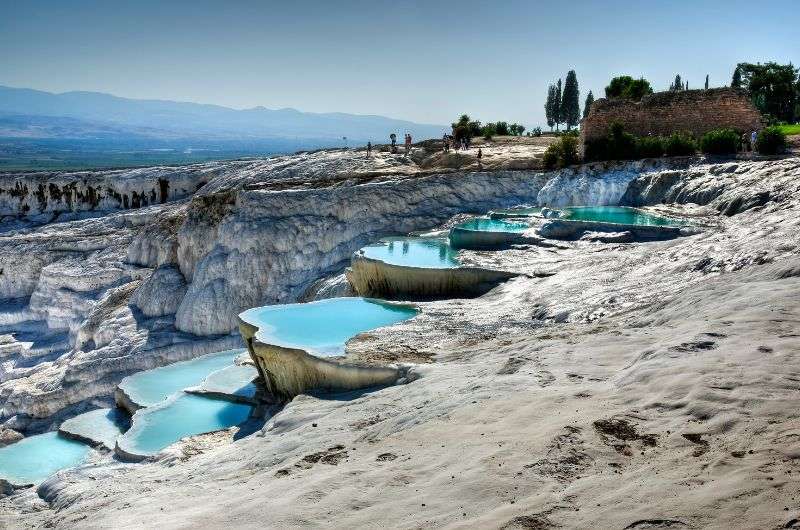 The "Cotton Castle"

Pamukkale, which translates to "cotton castle" features very out-of-place-looking limestone terraces with hot spings. In the place where this natural wonder formed (and is still forming), two tectonic plates overlap, and from beneath them, mineral springs containing calcium carbonate and well up to create numerous gorgeous turquoise pools (read: the reason why over two million tourists visit here each year).
People say that it was much more beautiful 20 years ago, when you could properly bathe in the pools. Now, the water only goes up to your knees, at best, so it's more like sitting in a kiddie pool. Still, I believe it's worth seeing, and better now than in another 20 years.
Hierapolis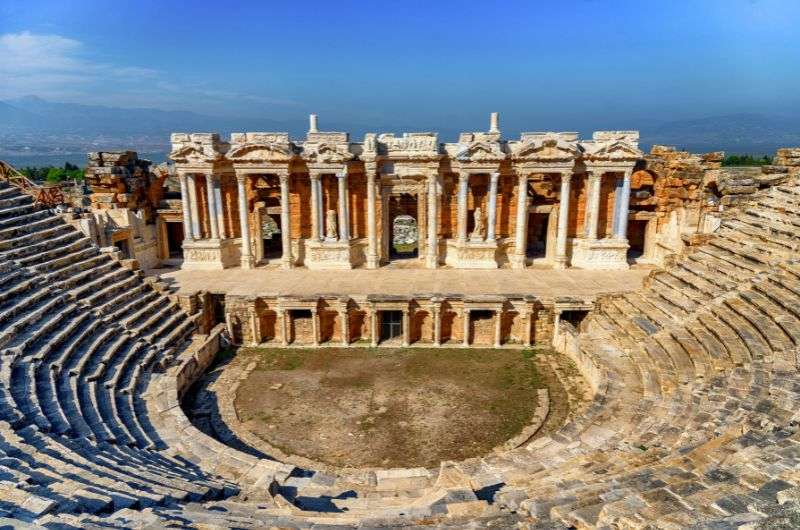 Explore some ancient history in Hierapolis!

The fact that Pamukkale is a fascinating natural phenomenon is not a modern invention or a ploy to attract more tourists. Even the ancient Greeks and Romans loved the properties that the thermal waters in these parts had for their health, so the Greeks founded an entire city around Pamukkale— Hierapolis. The Romans then quickly swooped in and took everything. And there are some incredibly well-preserved ruins there to prove it.
Apart from the thermal baths, you can also explore some ancient history in Hierapolis (you know, since you're driven for a better part of the day to get here!). If you're as keen on history as I am, you'll be on cloud nine. Check out Cleopatra's Pool or the remains of the Basilica Bath—in ancient Anatolia, it was a tradition to cleanse and purify oneself before entering the city to prevent epidemics.
Pamukkale, along with Hierapolis, is a UNESCO World Heritage Site. Taking advantage of this fact is Hierapolis Antique Pool—a pool with mineral water and ancient ruins, and a complete tourist trap. The reality is that hordes of Russians bathe in waist-deep water as hundreds of tourists walk by. Fortunately, you can see this place before buying a ticket, and you can decide to skip these "thermal baths," just like we did.
2. Day trip to Kaklik Cave
A small waterfall of mineral water in Kaklik Cave

The plan: To visit a place that locals recommended to me. It means it is not a tourist attraction, which leads to fewer people, not a crowdy place.. Which I like.
Distance from Istanbul: 617 km/383 mi (6 hours and 41 minutes)
Distance from Pamukkale: 49 km/30 mi (50 minutes)
Visiting time: 0,5 hour (more if you wanna take a bath)
Personally, I'd describe this place as a little Pamukkale without all the tourist hype. Evidence of that is the entrance fee, which will set you back a whopping TL 20 (EUR 1). In the cave, apart from limestone formations and travertines similar to those in Pamukkale, you'll also find stalagmites and stalactites.
Here, too, you'll encounter mineral waters bubbling up to the surface. So, right next to the cave, there's a pool with mineral water where you can take a dip. Here, I might actually believe that the water could have beneficial effects on the skin. At Pamukkale, I mostly felt like I'd catch a skin condition just by dipping your toes in that water.
Good to know: One of the drawbacks when you visit a place that tourists haven't quite discovered yet is that it's a thoroughly Turkish experience. And by that I mean Turkish toilets! If that doesn't deter you, go for it. Kaklik Cave won't be just about natural beauty for you, but also a hefty dose of Turkish culture.
3. Day trip to Salda Lake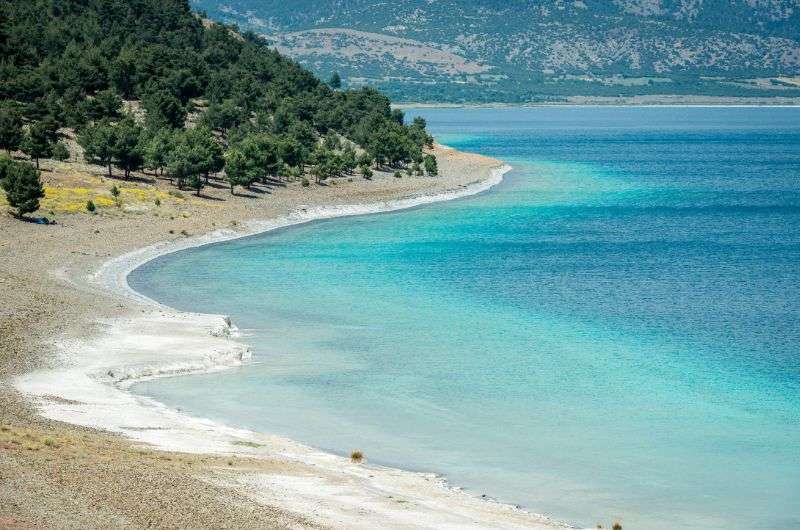 Crystal clear water of Salda Lake

After you've already traveled almost 600 km (373 mi), another 100 km (62 mi) will be a walk in the park. But let me tell you, it's totally worth it. If I had to choose between seeing Pamukkale or Salda, it would be a seriously tough call, which is why I recommend experiencing both. If you're looking for a weekend trip from Istanbul, you'll need more places to fill up your time anyway.

The plan: Take a dip.
Distance from Istanbul: 669 km/416 mi (7 hours and 26 minutes)
Distance from Pamukkale: 104 km/65 mi (1 hour 31 minutes)
Visiting time: 1 hour, which seems crazy considering how far it is from Istanbul, but you're not visiting JUST Salda, so bear with me
Notes: When you combine Salda, Pamukkale, and Kaklik Cave, you've got yourself a fantastic weekend trip from Istanbul! See, I told you I'd make it worth your while. It's easy to visit Salda and Kaklik Cave and then make your way back to Whiteheaven Suite Hotel or ANIM Boutique Hotel in nearby Denizli, whichever one you booked for the night before. Or, you can stay in one of the villas at Tefenni Villas & Hotel close to Salda if you want a change of scenery before heading back to Istanbul.
Salda Lake is of volcanic origin, with its deepest point being 184 m (600 ft) and covering an area of 44 km2. What makes Salda Lake so exceptional? It's where stromatolites form—structures considered some of the oldest fossils on Earth. These old guys gave rise to complex life on Earth, which is simply amazing in my opinion.
Tip: If you're as fascinated by the beginning of life on Earth as I am, check out Sudwala Caves in South Africa—the oldest known caves on the planet! I wrote about them in my article about the best things to do on the Panorama Route.
Another reason I've included the lake on the list is because of its aesthetics. The water is crystal clear and turquoise, with white sand all around. I'm telling you, Salda is Turkey's version of the Maldives. The reason the lake is so clear is that it contains a lot of minerals, especially magnesium.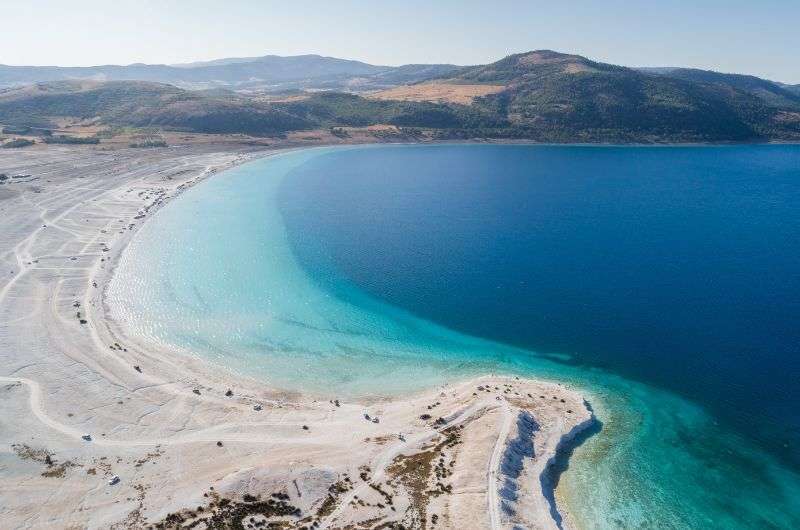 Hop in!

You might be wondering if you can swim in Salda Lake, and the answer is yes! What might surprise you is that from the beach, it looks like you'll be walking on stones to get into the water, but in reality, it's mud, and you have to wade through it, knee-deep, to get in.
Fun fact: Many historical sites and natural wonders in Turkey are freely accessible, and in some places, it's completely flabbergasting. You can touch everything, walk in and around, or take a dip in it. I always picture how, in Europe, all these places would be fenced off, and people would be prohibited from doing anything, including taking pictures.
Tip: I recommend leaving your car by the road and walking through the pine forest to the lake. If you choose the right spot, you won't see a soul for miles, and you'll have this breathtaking scenery all to yourself.
4. Weekend trip from Istanbul to Cappadocia
Cappadocia is great and it's not just because of the famous hot air balloons floating everywhere

I know what you're thinking—another place that you have to drive halfway across Turkey from Istanbul to visit?! Yes, and that's precisely why you can be sure it's worth the journey. I wouldn't have you travel such a distance to somewhere that's mediocre, duh.
I can honestly say that even though Cappadocia is such a popular tourist area, which sometimes screams tourist trap, I think it's of the most interesting and magical places in Turkey. Yes it gets crowded and the hot air balloons sound cheasy, but just you wait and see. There's a reason everyone flocks here.
The plan: Weekend trip to Cappadocia—explore the underground cities and check out the hot air balloons for an otherworldly experience
Distance from Istanbul: 734 km/456 mi (8 hours)
Visiting time: 2 days
Notes: You'll obviously need to turn your Cappadocia trip into an overnight gig, because this isn't a day trip by any measure. Not just because of the distance from Istanbul, but because it is just so... strange! And wait until you see the incredible hotels in Cappadocia—there are so many epic ones on offer! You'll be happy to stay for longer: Harem Suites Cappadocia | Pyramid Stone House
One of the reasons Cappadocia is so popular is the chance to witness one of the most Instagram-friendly spectacles—hundreds of hot air balloons floating over Göreme National Park. Trust me, if you haven't witnessed it, you don't know what you're missing.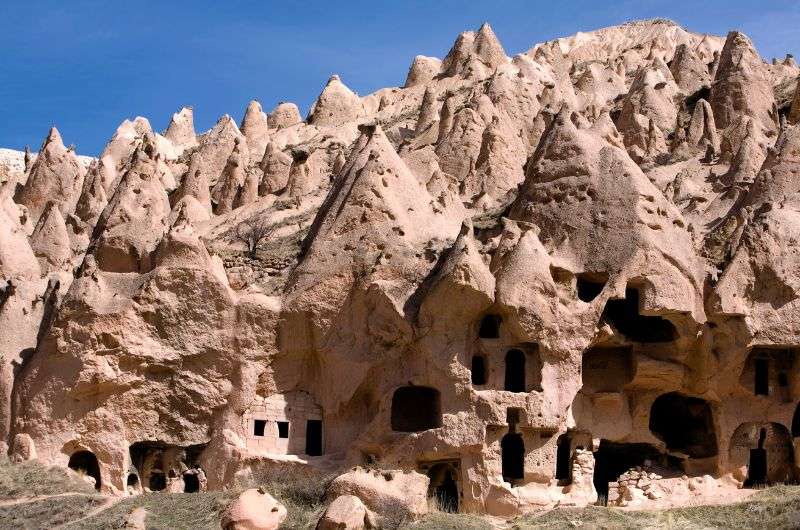 These rock formations in Cappadocia are result of intense volcanic activity

If you're prone to FOMO, rest assured that you can be a part of the action, too. From about EUR 150, you can soar high above the fairy chimneys (who am I kidding, they look phallic and everyone knows it). It's undoubtedly a once-in-a-lifetime experience (and not just because you have to wake up before the crack of dawn for the best ride. What slightly disappointed me, though, is that one balloon, or rather basket, can hold up to 20 people. You can obviously pay extra and get a romantic balloon ride for two, but you may need to sell one of your kidneys to afford it.
Good to know: The balloons take off very early in the morning to provide the best panoramic views of the entire region during sunrise. And this is one place where this kind of torture is worth it.
Interested in how the vast number of rock formations in the area formed? Cappadocia was subjected to intense volcanic activity in the past. Volcanic eruptions spewed lava and ash onto the Earth's surface, which was then shaped by erosion, creating these weird, cone-shaped rocks.
Living in a cave has never looked so good! Divan Cave House

What fascinated me the most in Cappadocia was manmade: people carved monasteries, settlements, churches, and other structures (even hotels!) right into the rocks, with about 200 underground cities in total! My mind boggled when I was exploring the former cities!
5. Day trip from Istanbul to Izmir
The highlights of Izmir

The plan: Get the most out of this city in just one day.
Distance from Istanbul: 482 km/299 mi (5 hours and 12 minutes)
Visiting time: 1 day
Note: Stay the night and make a weekend of it. Park Inn by Radisson Izmir has cool vibes and sea views.
If you're looking for cities close to Istanbul, Izmir may not show up on your radar, because in any sane person's mind, you'd expect it to be way closer to Istanbul for that title. Still, Izmir has a lot to offer, and if you're a city maniac, it'll make you happy. I'm not just going to recommend something because it's close by, ok?
Izmir is a university town and the third-largest city in Turkey, so you'll in no way be lonely on this trip. There are plenty of historical landmarks, and if you complement your visit with some great food (like we did), you can easily spend an entire day here. And it's in a gulf on the Aegean Sea, and everyone likes coastal vibes, right?
What to visit in Izmir:
Konak Square: The multitude of pigeons reminded me a bit of Piazza San Marco in Venice, Italy. If you want—I didn't—you can buy some seeds here and feed the flying rats.
In the Konak area, you'll also find the famous Izmir Clock Tower—the most photographed landmark in all of Izmir.
Ancient Smyrna: Like many other places in Turkey, Izmir has an ancient history, and its remains can still be seen here. You'll find things like the Roman Agora or the Kadifekale Castle. Cool, old stuff? Sign me up!
6. Day trip from Istanbul to the Princes' Islands
The Princes' Islands in the Marmara Sea

The plan: Visit Büyükada Island
Distance from Istanbul: 157 km/98 mi (2 hours and 52 minutes)
Visiting time: An afternoon, but if you want to explore multiple islands, you can easily spend the entire day here
The Princes' Islands are a group of 9 islands located in the Marmara Sea. How do you get to the Princes Islands? By boat, of course. You have two options: regular ferries or sea buses. I tried them out for you, and I recommend sea buses for one main reason: The sea bus journey takes a maximum of 55 minutes, whereas the regular ferry will get you to the island in over an hour and a half. I'm not sure about you, but my time is too precious to waste on a slow ferry.
We naturally set off for the most famous and largest island (5.4 km²)—Büyükada. If you want to visit all the great spots and explore the island from south to north, consider renting bicycles. The island is quite long, about 7.5 km (4.7 mi), and cycling will save you a lot of time. If you're not a die-hard athlete, just go for the electric bikes.
You can choose out of 9 Princes' Islands—Büyükada is the most popular

Another reason you'll want to consider the help of a battery: One of the places I recommend that you visit is on a hill—St. George's Monastery. The monastery was built in the 6th century and has a rich history. Inside the monastery, you can admire icons, frescoes, and other artworks. Plus, being on a hill, it offers a magnificent view of the sea and the surrounding landscape.
Before leaving the island, you can relax on the beach, catch some rays and chill. Some of the most famous beaches are Nakibey Plajı and Dilburnu Plajı. For me, it's just another beach, but it's a nice spot for watching the sunset.
7. Day trip from Istanbul to Belgrad Forest
Exploring Belgrad Forest

The plan: Escape the city and find solace in nature.
Distance from Istanbul: 29 km/18 mi (54 minutes)
Visiting time: Half a day
When you've had enough of the hustle and bustle of Istanbul (check out 10 fun things to do in Istanbul) consider taking a trip to Belgrad Forest. I believe you'll find plenty to keep yourself entertained across 5,500 hectares and nine nature reserves! Many people from Istanbul come here for picnics on the weekends (there are designated areas for that), so it can get quite crowded. Go during the week if you'd rather keep the Istanbulites in Istanbul where they belong.
If you have stamina for more than just stuffing your face while sitting on the grass, go hiking. There are plenty of trails to choose from, and you'll find yourself way more along while walking in the forest. Here's a small tip: if you don't want to stay in the woods for longer than you'd wish for, I recommend using your phone's navigation because the trails are not well marked.
If you're an avid gardener, head over to the Arboretum Atatürk. It's an extensive botanical garden area that includes lakes, walking paths, and nearly 2,000 different species of trees and plants. See? Lots of nature for everyone.
8. Day trip from Istanbul to Bursa
Combine a trip to Bursa with the next item on this list, Cumalikizik village

The plan: See if this Turkish city has something to captivate me
Distance from Istanbul: 157 km/98 mi (2 hours and 52 minutes)
Visiting time: 1 day
If you want to venture out of Istanbul and explore another city, Bursa is worth a visit. Personally, I'm not a huge fan of cities, especially crowded ones, and Bursa, being the fourth most populous city in Turkey, didn't particularly excite me. Nevertheless, it has something to offer... for some, I'm sure. Here are a few places in Bursa that, in my opinion, are worth seeing:
Inkaya Tree—the largest tree in Turkey, towering at 37 meters (121 feet) and over 5,000 years old. It has a circumference of 14 meters (46 feet). It's like a really big tree, man!
No visit to a Turkish city would be complete without stopping by a mosque. In Bursa, I visited two mosques—the Green Mosque and the Grand Mosque. Although the Green Mosque is considered the most beautiful in the city, I personally preferred the Grand Mosque of Bursa, mainly because of its interior adorned with intricately carved wooden pulpits.
There's also a cable car that takes you up Uludag Mountain, which stands 2,543 m (8,343 ft) tall. The cable car ride itself might not be exceptionally exciting, but what intrigued me was its length—at 8.2 km (5 miles), it's the longest cable car in Turkey.
9. Day trip to Cumalikizik Village (UNESCO)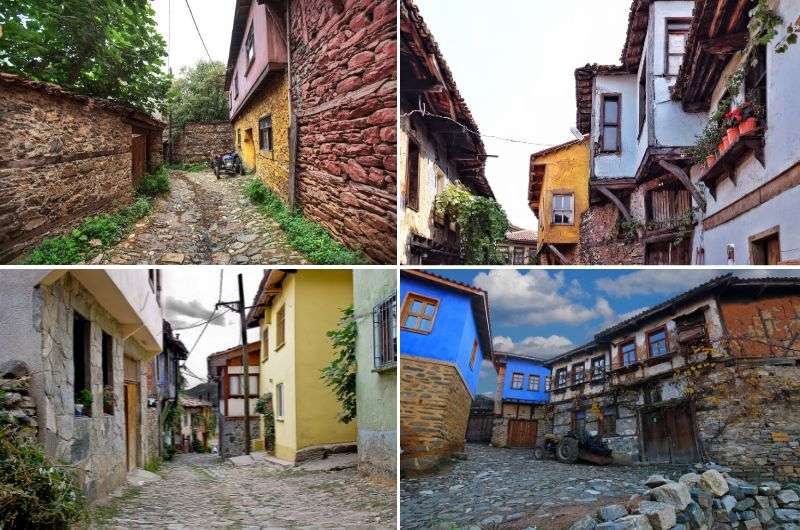 Cumalikzik Village has a whole different vibe than other Turkish cities

The plan: Experience authentic Turkey
Distance from Bursa: 12.5 km/7.7 mi (15 minutes)
Visiting time: An afternoon
Directly from Istanbul, I might not send you there, but if you're already in Bursa, this Turkish village is certainly worth your attention.
Cumalikizik is the complete opposite of Turkish cities. You'll find traditional wooden houses and picturesque streets. The main reason I included this place on the list is that it offers an authentic Turkish experience.
Sure, for some reason, this village has become somewhat of a tourist spot (I have a feeling UNESCO might know a thing or two about that), so there's a stand selling various Turkish souvenirs in front of every house. But when you turn the corner, you'll see houses barely standing, with peeling walls and crooked windows. Local women walk around in colorful, kitschy scarves, and it's simply a different perspective of Turkey than what you'd experience in the cities.
Tip: These local villages are the ideal places to shop for spices, teas, honey, and other local products. All the products here will be a fraction of the cost compared to what you'd find in Istanbul (don't even get me started on Istanbul's Grand Bazaar!), and they're certain to be of higher quality because it's all authentic homemade.
Five fun facts about traveling in Turkey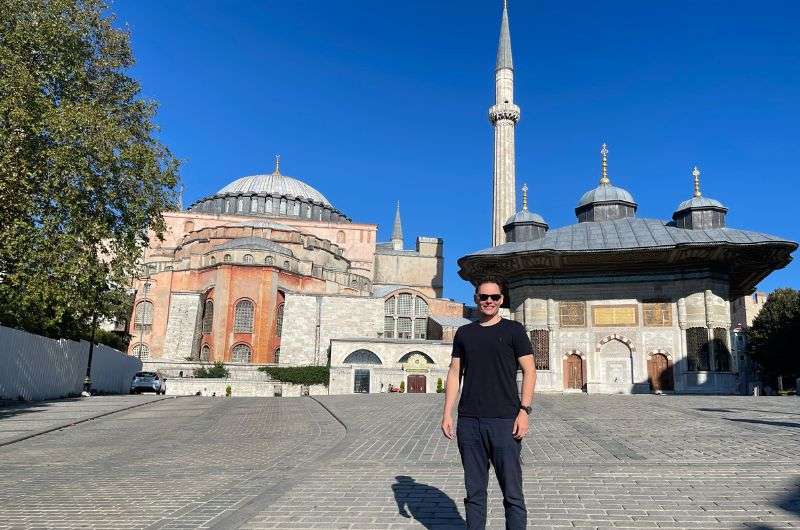 I recommend everyone to experience Istanbul!

To finish, I have a few pieces of information I've observed during my travels in Turkey that I find interesting or that might come in handy:
1. As the saying goes: "Nobody is so rich they can't be bribed." Keep this saying in mind when you travel in Turkey, it may come in handy in some situations. Just think of it as a tip. Turkey's a country where a few liras can get you almost anything (I'm talking little things, all legal, obviously).
2. You won't go hungry. Even if you drive through the smallest, most remote villages, you'll always come across a grandmother preparing Gözleme. It's a traditional Turkish flatbread filled with various ingredients, most commonly potatoes, cheese, or spinach. And it's delicious. If you want to learn more about traditional Turkish cuisine, read our guide on 13 tips on Turkish foods, drinks, and restaurants.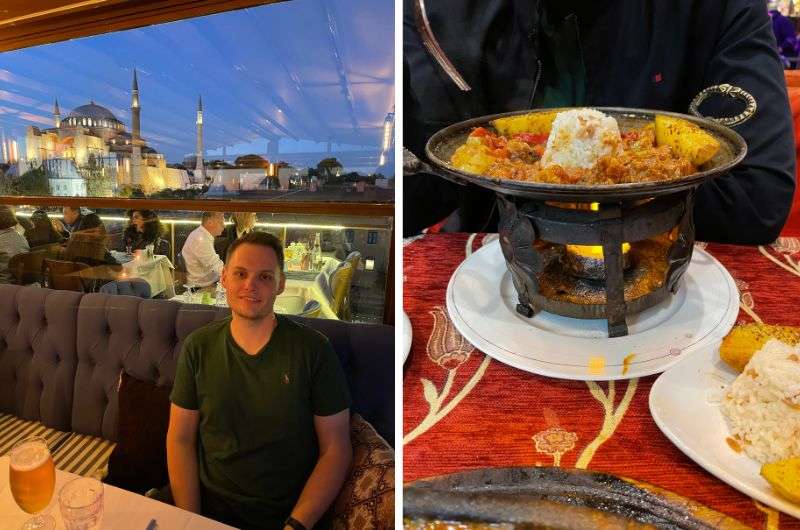 Let yourself taste it!

3. When you go for a walk in Turkey in the late evening, you'll see lots of little kids playing in the parks. I'm always struck by these cultural differences and how the weather influences people's lifestyles. In hot summer days, it's too hot to be outside during the day, so families with kids go out later.
4. Stray dogs and, especially, cats are everywhere. If you don't like cats or animals in general, you might not enjoy Turkey. Cats and dogs have complete freedom here. They can walk into a restaurant, a hotel, anywhere they like.
5. For entry to Hierapolis and Pamukkale, tourists pay 700 TL (EUR 24). But if you're a local or have an Ikamet (residence permit), you'll pay only 60 TL (EUR 2). That's right, 10x less! This is the case with all tourist attractions and places in Turkey—as a tourist, you pay extra.

This post may contain affiliate links. We earn a small commission if you make bookings through my links, at no additional cost to you. This helps us keep this blog free, thank you!