If you've ever ventured into the (deep, deep) depths of Austrian Airlines' economy class, you'd probably be willing to pay extra just to escape that ish. Austrian just doesn't do economy well at all. But let's not dwell on the horrors of standard economy; we're here to talk about the glimmers of hope you'll find in premium economy! And shimmer it will.
You know, international flights can be a real mixed bag. I mean, nobody likes spending hours stuck in a cramped economy seat. That's why when it comes to long-haul international air travel, my radar is all about premium economy and business.
In this review, I'll share my 2023 journey aboard Austrian Airlines' premium economy class on their Boeing 777-300, soaring from Vienna to Tokyo (first time in Japan for me!). I'll be offering you an inside look, complete with my candid opinions, and, of course, answers to all those questions that have been buzzing in your head about whether premium economy is worth the extra cash.
If you know me, you know I set the bar high in all my travel ventures, and my taste for comfort remains unapologetically refined. It doesn't matter if I'm booking a hotel, exploring a new restaurant, or, in this case, evaluating airline travel. The value for money has to be on point.
So, keep your seatbelts fastened and your seats in the upright position as I walk you through the Austrian Airlines premium economy experience. I'll uncover the highlights and the peculiarities that make this upgrade so tempting.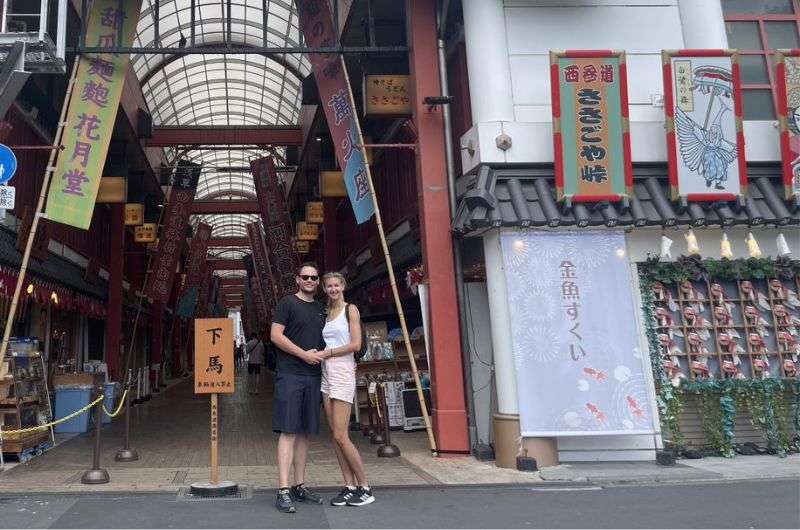 Made it to Tokyo!

Spoiler alert! Here are my overall ratings:
Value for money: 10/10
Compared to Austrian economy: 10/10, hands down
Food: 8/10
Entertainment: 4/10
Boarding: 7/10
Service: 8/10
Seat: 9/10
Overall: 80%
Ready for the details? Let's begin!
Value for money
The greatest perk of Austria's premium economy is undoubtedly the value for money. This comes with a little disclaimer: Austrian Airlines' premium economy class can deliver exceptional value for travelers. Keyword 'can'. Premium economy was just a USD 50 upgrade per person on our Vienna to Tokyo flight. For those of you who haven't suffered in Austrian economy, you might not understand how much of a steal this is. That's USD 4 an hour to upgrade from cramped quarters to a far more comfortable seat, better food, and zero sardines-in-a-can vibes.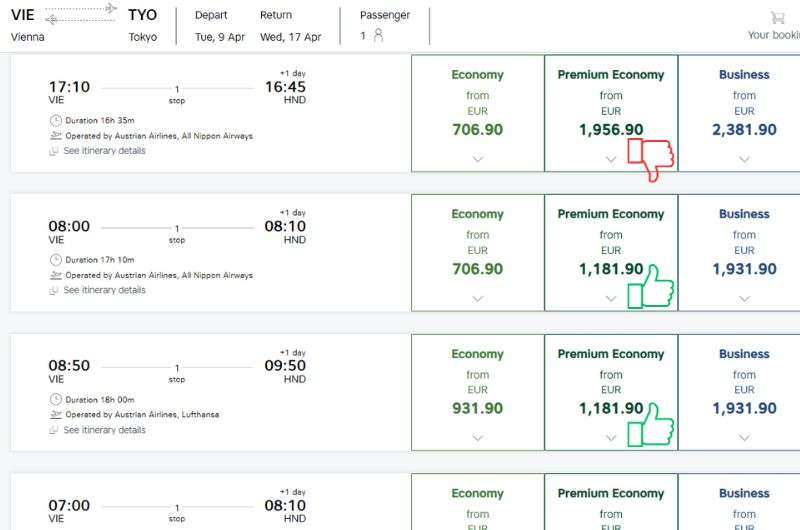 We managed to snag a USD 50 upgrade to Premium Economy, but your milage may differ. If you're a little flexible, you'll usually find an offer that won't break the bank

Now, pay attention: The catch is that this price difference isn't set in stone. It can swing wildly from one flight to the next, reaching up to USD 1,000, depending on the flight operator. If that's the case, I'd pass, but if you are able to snatch a premium economy ticket for up to a couple hundred dollars more than you'd get economy, I'd always go for it. There's no looking back once you've had that tray table in your armrest!
Dining experience
The food on Austrian Airlines Premium Economy is a noteworthy highlight. Premium Economy is catered by DO & CO, a catering company that curates impressive food not only for other top-tier airlines, but also for first-class airport lounges, international sporting events like Formula One races and ATP Masters games, and plenty of hotels and cafes worldwide.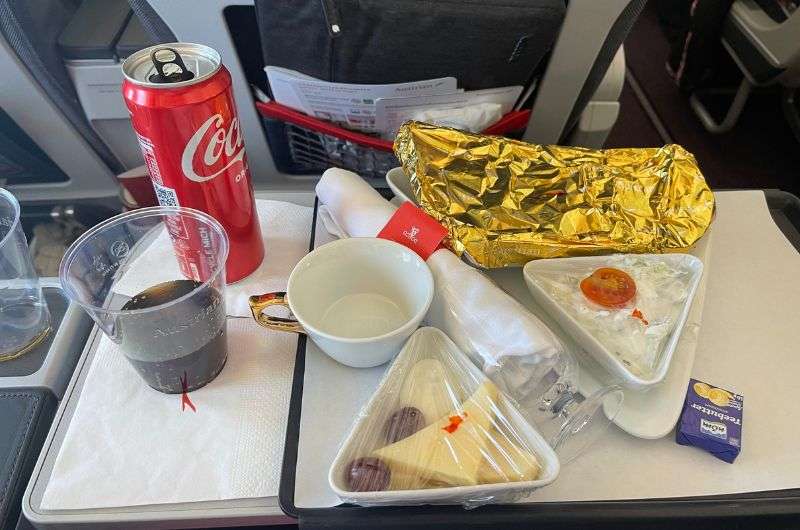 Ok, so there was still aluminum, but at least it was golden! As was the handle on my coffee cup

We were treated to a delicious three-course meal, featuring the iconic Wiener Schnitzel as the star. The entire dining experience is elevated, from the quality of the food to the porcelain plates. They are still cute, tetris-style airplane plates, but hey, it's the absence of aluminum that counts. I was all about that golden handle on the coffee cup; it felt like a little bit of business class spilled over to us back here in fancy cattle class.
Oh, and did I mention the flight kicked off with a welcome drink and then we got a hot towel? And they never let us have an empty glass from then on—at one point I wondered if my kidneys would fail. In this day and age where people in economy barely get a pack of peanuts, I loved how the food and drinks kept coming in Premium Economy.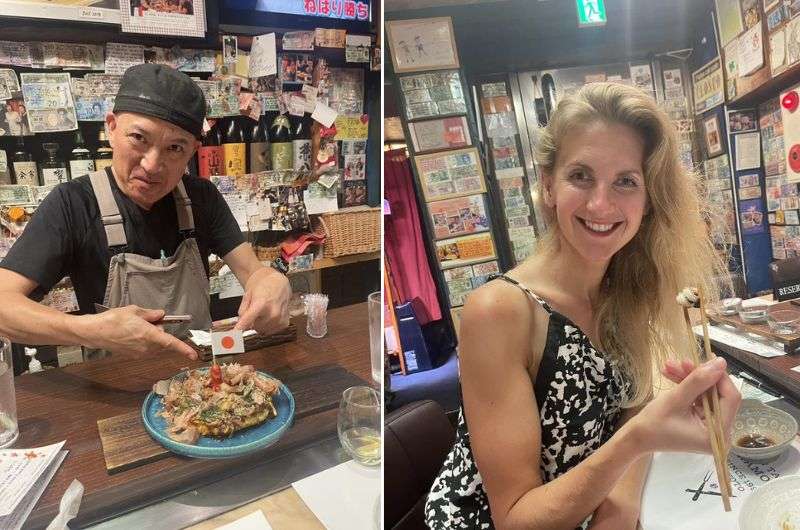 Then again, our whole Japan trip was full of delicious (and strange) meals and even crazier restaurants. This tiny basement restaurant was basically like entering a secret society! @Teppan Tavern

In-flight entertainment: It's not you, it's me
Entertainment on board, on the other hand, didn't quite hit the mark for me. Even though they tout 350 hours+ of movies and shows I just couldn't find anything that aligned with my preferences (I promise I'm not as high maintenance as I sound right now). I ended up not watching a single movie, which is a rare occurrence for me, but they did have Dungeons and Dragons, of all things.
Everyone gets a set of noise-cancelling headphones—borrowed, not gifted, mind you—, which are nice compared to the earbuds that barely ever work well in a plane environment. Though I'm guessing most people bring their own if they're fussy.
The whole flight was pleasant thanks to the great food, spacious seats, and, as a cherry on top, the company of my wonderful girlfriend

The touchscreen, which is located on the seat in front of you (unless you are in the first row, in which case it's in the armrest) was impressively responsive, ensuring a smooth experience. The screens are pretty big, thanks to the absence of the tray table on the seat (more on that in the seat section below). In a couple of instances, I needed some assistance with the touchscreen options and crew were quick to help out.
You can also entertain yourself with your own phone or laptop, since you can charge them right at your seat. And if you're willing to part with a small fortune, Austrian Airlines offers inflight wifi, but you may end up paying more for that than you did for Premium Economy.
Service with a smile
Alright, let's talk service. The cabin crew on our Austrian Airlines flight had this uncanny knack for making us feel like superstars. Our main flight attendant, well, he was outstanding. He must've majored in mind-reading because it felt like he knew what we needed before we did. Constantly checking in to ensure we were comfortable without being overbearing—it's a fine line, and he walked it like a pro.
Great customer service is something I appreciate immensely! Austrian Airlines staff impressed me...

Punctuality was a virtue on this flight. If you needed something, they were there in a jiffy. No extended waiting times, and that's something to applaud, especially when you're 30,000 feet up in the air on a 12-hour flight to Tokyo.
Let's talk about boarding. Even though premium economy passengers don't get the golden ticket of priority boarding, I wasn't sweating it. I'm not one of those travelers who rushes into the boarding line, only to grumble about the wait afterward. Seriously, it's simple math—two gate agents, hundreds of passengers... you might as well try fitting an elephant through a mouse hole! Chill out—you have an assigned seat, remember?
Premium economy seats
The seats are the main reason to pay extra for premium economy on Austrian Airlines. They use space wisely, skipping seat shells. I appreciate this choice because it grants more legroom, doesn't make the already narrow aisle even more cramped, and overall, the cabin feels more spacious.
Expect a wider seat, enhanced legroom, and greater recline.
Plus, a bigger touchscreen, a tray table neatly tucked in the armrest, and ample storage space on the seat in front of you. The touchscreen is as snappy as a squirrel on a caffeine high, no annoying delays while navigating its multitude of functions.
The adjustable, comfortable seats of Austrian Airlines Premium Economy made the long journey a million times more pleasant than it would've been in economy

The armrests are also roomier, so you're not playing elbow battle with your neighbor. There's also a convenient place for your drinks on the armrest to avoid having your tray table down the whole time you're nursing that beer. They even throw in a USB port and a socket to charge your gadgets.
Let's not forget the legroom; there's substantially more space in front of premium economy seats. There's also a footrest. It's perfect for stretching and giving your legs a workout.
The seating arrangement is a sweet 2-4-2 configuration, a paradise for couples and families. Say goodbye to being crammed between a troop of strangers, a delightful departure from the sardine can feel of regular economy's 3-4-3 layout. It's like your own little island of comfort amidst the flying circus.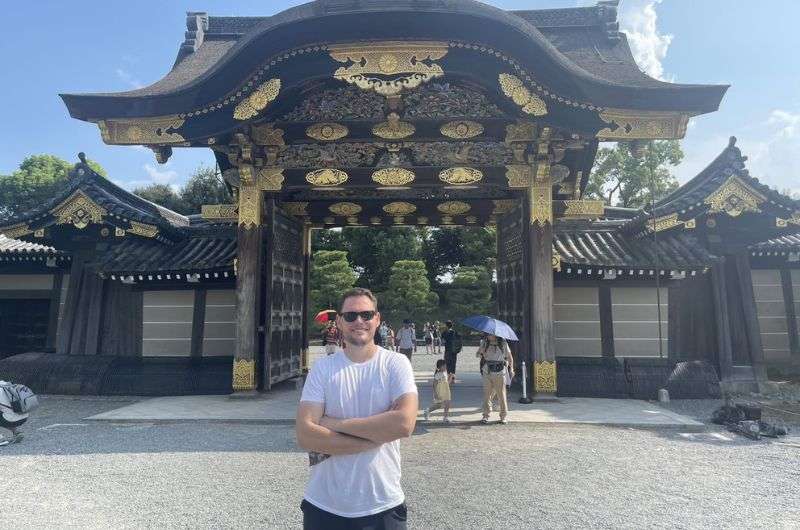 Kyoto Nijō Castle

Premium economy: Other perks
One premium perk you don't often think about is overhead storage. Premium economy has its own cozy cabin (which is a plus in itself) so there's no battle for overhead bin space. You can stow your carry-on with ease, and you won't witness a flight attendant's sprint to the opposite end of the economy cabin with your bag because Johnny Travels over here has no plane manners and managed to fill the entire bin above your seat himself.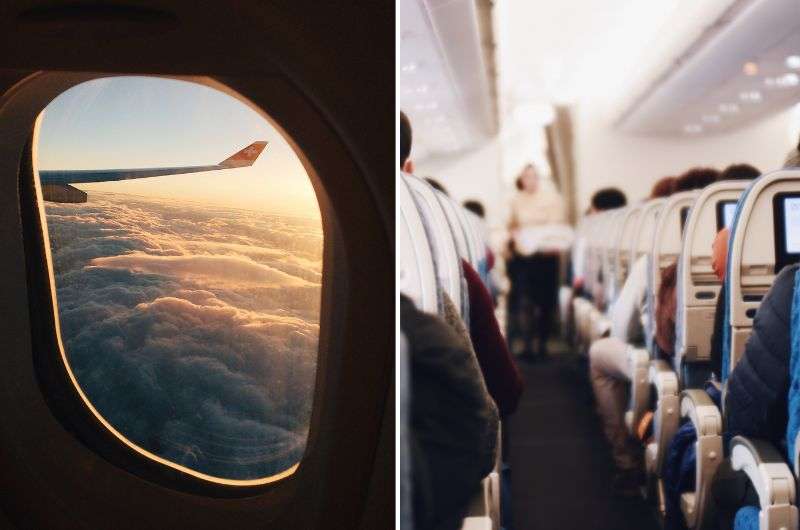 Overall, it was a great flight from Vienna to Tokyo

Despite the designated cabin, you still share toilets with economy, so expect a pee pee traffic jam after meal times.
If you're wondering about priority boarding or other perks on the ground, then you'll come up with a rather short list: there are none. There is no priority boarding and no lounge access. If those things are important to you, you'll need to fork out extra cash.
FAQ 1: Is premium economy as good as business class?
No, premium economy is not a cheaper version of business class—you need to set your expectations accordingly. Premium economy is a better economy class, not a slightly worse business class. You won't be reclining anywhere near enough for a proper sleep, so after the Vienna to Tokyo flight on Austrian Airlines, you'll still be a little stiff. But yes, you'll be dining off real plates and drinking from proper cups. The part that comes closest to business class? The crew. They're super attentive, always delivering drinks and making sure you're content.
FAQ 2: Does premium economy mean better food?
The food on Austrian Premium Economy is a win, and it's better than Austrian Economy, no doubt. Catered by D&O, the culinary experience was a delight. Three to four-course meals, with Wiener Schnitzel yumminess as our main course. Even the dessert was top-notch. Basically, the crew kept coming around, asking if we need a drink refill. The flight started with a welcome drink and a bottle of water for each passenger, and we could already start prepping our taste buds while reading the printed menu the moment we sat down. You gotta love premium economy food where it's not just the standard "chicken or pasta?", and you hoping they'll still have the chicken when they get to your row.
FAQ 3: What perks does premium economy offer?
The real perks of premium economy are the bigger and better seats, the focused cabin, and the upgraded food (served on real plates). The attentive crew ensures everyone's happy, and having a footrest and phone charging options at each seat is a bonus. Not to mention those luxurious hot towels and welcome drinks! No priority boarding though.
FAQ 4: Is it worth upgrading to premium economy?
Absolutely, but the decision largely depends on the price difference you can find for your desired flight dates. For our Austrian Airlines Vienna to Tokyo premium economy flight, the extra cost was a mere USD 50 per person compared to economy—an absolute steal. But beware, as this isn't a universal rule. Price variations can be extreme, even on the same day. It usually depends on who's operating the flight, so if you can be flexible with dates or times, you'll have a much better chance of finding a good deal.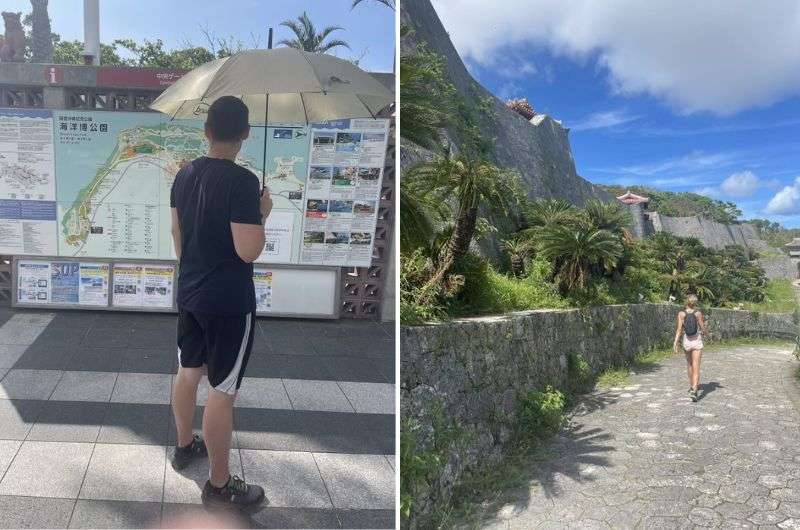 And then, we hopped on another flight, this time to Okinawa! We used ANA, a Japanese airline, and tested their business class. But more about that in the next article


This post contains affiliate links. I earn a small commission if you make bookings through my links, at no additional cost to you. This helps keep this blog free, thank you!