I'll be honest, I didn't understand why everyone adores the Dead Sea so much. What could be so unique about a lake that's ten times saltier than the sea? The answer is EVERYTHING! This spot deserves to be on every Israel itinerary because it is an amazing place, and you don't get to experience the sensation of just floating in the water in many other places on Earth.
But that's not all. Don't come to the Dead Sea just for a little salty day out bobbing in the water—you'd miss out on so much the area has to offer! I'm talking hikes to breathtaking viewpoints, exploring magnificent fortresses, and the unique beauty of the desert. Sprinkle in incredible (and weird, I'm not gonna lie) biblical stories and you've got yourself a multiday Dead Sea trip. Take it from me, a former sceptic: Visiting the Dead Sea should be turned into an epic, 3-day adventure! And so, voilà—read on to find out how to visit the Dead Sea like a boss in this 3-day Dead Sea itinerary.
But first, some FAQs:
Is the Dead Sea worth visiting?
The Dead Sea is not like every other sea in the world... it's literally like no other!

Visiting the Dead Sea when in Israel is a must, I think I've made that clear already. The twist, though, is that it's not your typical sea, rather, it's more like a massive saltwater pool. This unique salt lake goes by many names—Dead Sea, Al-Baḥr Al-Mayyit in Arabic, and Yam HaMelaẖ in Hebrew.
If you're not a lazy bum who likes to spend their vacation lying on the beach the whole time, you've lucked out, because this region isn't only about the Dead Sea. The whole surrounding area is worth visiting. It's not vast but you get everything here—history, desert, mountains, and as the cherry on the cake, the biggest spa in the world, all in one.
What really sets this place apart is its epic status as the lowest body of water on Earth's surface. It's roughly 430 m (1,410 ft) below sea level and it's still dropping at a rate of about 1 m (3 ft) per year.
If you want to really appreciate the Dead Sea, turn your visit into more than just a day trip. That's why I've put together this 3-day Dead Sea itinerary.
What does it feel like to be in the Dead Sea?
Imagine the water being so salty that you can't help but float. There's no need to swim and even if you wanted, you wouldn't be able to. Once you turn around on your stomach, your feet bob out of the water, making it impossible to move around without feeling like a kindergartener with his floaties on.
How long can you lay in the Dead Sea?
Bobbing in the Dead Sea


It's not recommended to stay in the Dead Sea water for more than 10 to 15 minutes. Due to its saltiness, being in the water for longer can irritate your skin and trust me, you don't want that! The best way to enjoy your time in this extremely salty water is to lie on your back and just chill like a human buoy.
Regular ocean water has a salinity of 3.5%. The Dead Sea? Oh, around 30%, thankyouverymuch! It's basically a wet mound of salt.
Also, guys, be extremely careful when you're swimming back to shore. The seabed is covered with very sharp salty rocks and once you scratch your skin, it hurts like a MF. Been there, done that and thought my knee was about to fall off. It didn't, of course, but if you need a comparison, imagine a tough guy catching a cold—yep, it was that serious!
What is the best time of year to visit the Dead Sea?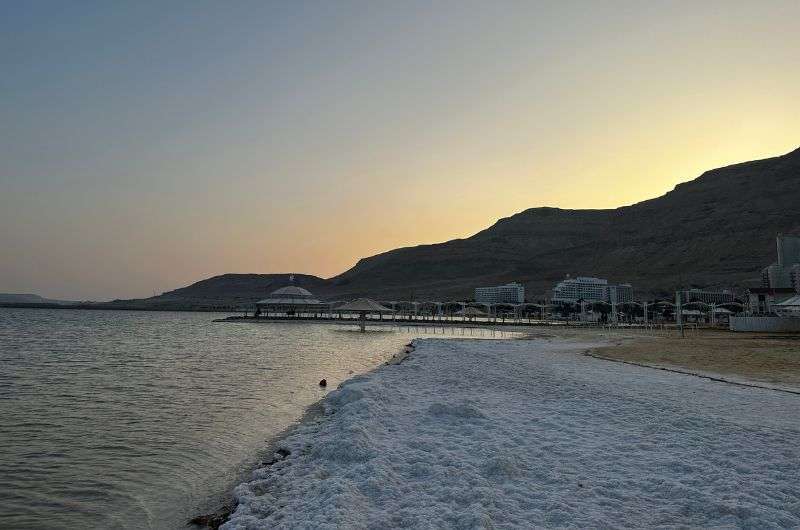 Winters are the best around the Dead Sea!

The best time to visit the Dead Sea is in the winter months. Let me tell you why. Since the Dead Sea lies at an ultra-low elevation and hiding in a sheltered spot, winters are mild, like your grandma's cozy blanket. We're talking average January temperatures of 20 °C (68 °F). Frosty days? Nah, those don't happen here.
Now, summer, on the other hand, is a whole different story. It's not a day at the beach, it's a day in the oven, with a high score of 50 °C (122 °F). Trust me, you don't want to be here at this time of the year. Plus, winter is prime time for exploring Israel on foot. Think hiking, my friends. But we will talk about that later.
Since we have settled that winter is the best season to visit the Dead Sea, don't be afraid you'll be cold once you get out of the water. Israel's got you covered. Their beach showers are running hot water, so you can just stand under it for however long. High five, Israel—another thing you outrun the majority of the world with!
How to get from Tel Aviv or Jerusalem to the Dead Sea?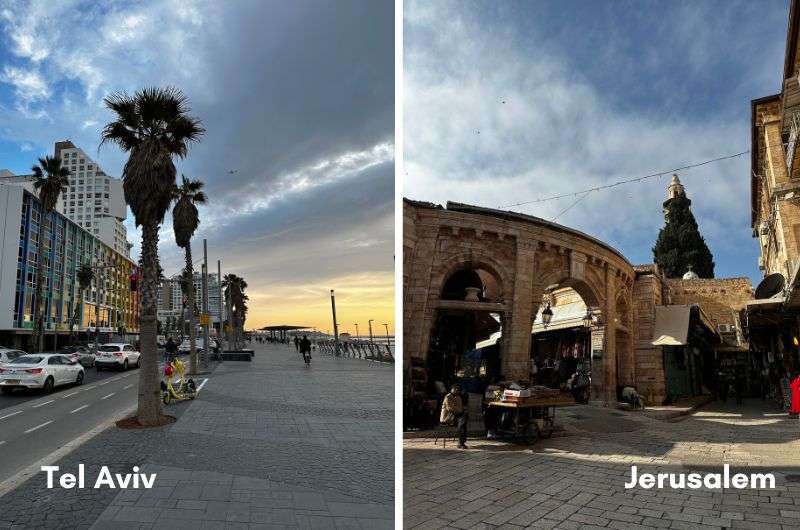 How to get there? Let me tell ya!

The easiest way to get to the Dead Sea is by car. So, rent a car, hit the road and you'll be by the Dead Sea in no time as the drive from Tel Aviv to Dead Sea takes about an hour and 30 minutes. If you're traveling to the Dead Sea from Jerusalem, the drive gets even shorter and takes about 45 minutes.
Driving in Israel is great, their roads are in a good shape and except for a few honks on the way, it feels comfortable driving around. If you want to know more about the traffic signs, parking and other tips when traveling around Israel, read my other article.

You might also be interested in reading:
Dead Sea suggested itinerary for 3 days
Let's spend 3 amazing days in the Dead Sea!

This is the proposed itinerary for spending 3 days in the Dead Sea region:
Day 1: Qumran National Park, Saint George Monastery and Kalia Beach
Day 2: Nahal Arugot Trail, Ein Gedi Botanical Garden and Sodom Mountain
Day 3: Masada, Mount Sodom, Lot's Wife and Zohar Fortress
Here's a link to my Google Maps list of all the places mentioned in this article

We're starting in the northern part near the best beach that is in the Dead Sea region—Kalia Beach, making our way to the south part of Dead Sea.
Day 1 of Dead Sea itinerary
Get the route of the 1st day of this itinerary on Google Maps

Main sites visited on day 1: St George's Monastery, Qumran National Park and Kalia Beach
Restaurant tips: Lowest Bar in the World
Hotel recommendations: Kalia Kibbutz Hotel
Today, head out from Tel Aviv or Jerusalem early in the morning to skip the morning rush hour and get on the road following Route 1 all the way to Dead Sea. The drive itself passes several scenic lookouts and since you'll spend most of the day by the Dead Sea, you can take your time and take some pictures on the way, no rush.
Day 1, stop 1: St George's Monastery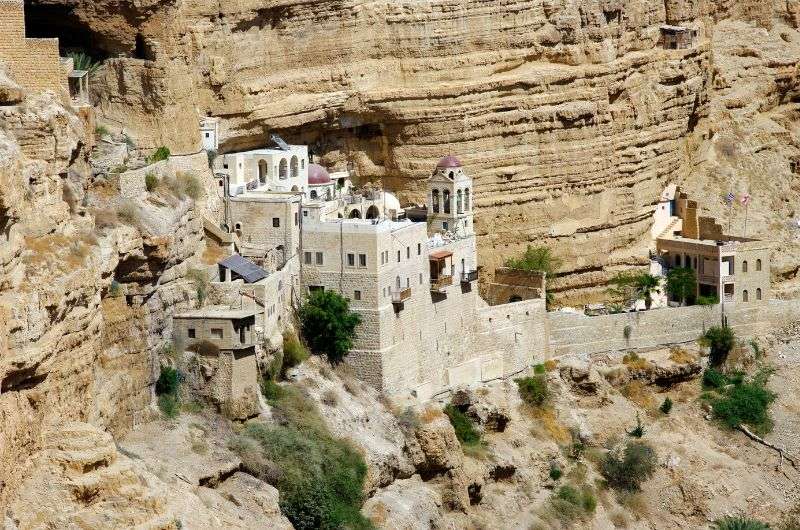 St. George's Monastery—a monastery on a cliff

Distance from Jerusalem: 30 km (19 mi), 50-minute drive
Distance from Tel Aviv: 87 km (54 mi), hour and 50-minute drive
Time spent here: 1.5 hour (with the hike)
Saint George Monastery is located in the northern part of the Judean Desert, and it isn't your typical monastery. It's built on the cliffs of the northern Judean Desert. It all began back in the 5th century when six monks decided to build this monastery. Legend has it that they chose a spot where the prophet Elijah once hid from Queen Jezebel.
In the 6th century, a monk named Georgius from Cyprus joined the monastery, and since he was quite the legend, they decided to name the whole place after him. Now, when you decide to visit this place, keep in mind there are only a handful of Greek monks running the monastery. They're pretty welcoming to visitors (unless they're praying, in which case, give them a minute, sheesh) and they even let women enter, but that's only because it's believed that Saint Anne, mother of Mary, lived in one of the caves.
The monastery is open every day from 9 am to 1 pm. Park your car at the beginning of the Wadi Quelt trail. The hike takes about 40 minutes and offers beautiful views. The viewpoint of the monastery is for sure magnificent and worth a picture.
Day 1, stop 2: Qumran National Park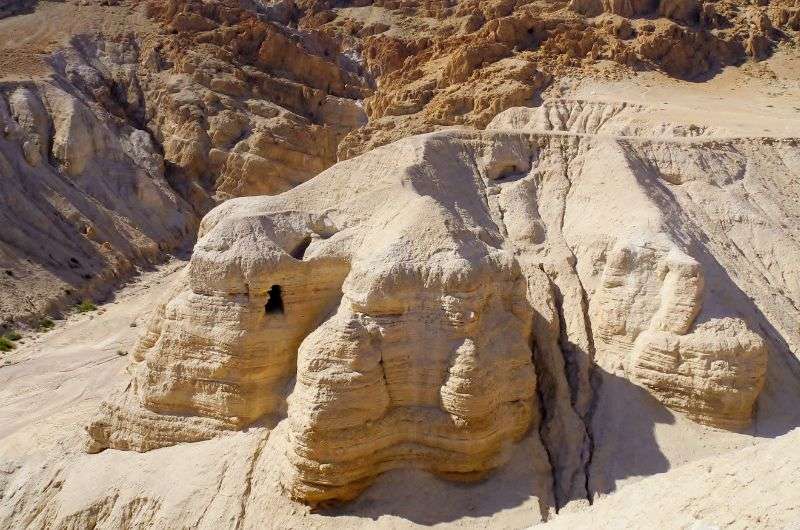 Get ready for a trip through the desert to Qumran National Park!

Distance from Saint George Monastery: 26 km (16 mi), 25-minute drive
Time spent here: 1 hour
Our next stop is Qumran National Park. Park your car at the entrance. The Qumran National Park is located in a desert region along the Dead Sea's northwestern shore.
This national park is not your run-of-the-mill archaeological site. This place is a real historical heavyweight, and it's all about the Dead Sea Scrolls, the ancient Jewish texts that stirred up quite a frenzy when they were discovered by the Bedouin shepherds back in the 40s.
Why are they of such big significance? Because they're ancient Jewish texts, covering biblical stories as well as the insight into the ancient society's life. The Dead Sea Scrolls are in the Israel Museum—boohoo, but it's still cool to walk the Earth where they were found.
You can see remains of the ancient settlement, ritual baths, cisterns, and even a communal dining room. You can wander around the archaeological ruins, check out the caves where the scrolls were found, and learn about the history of the place through exhibitions and guided tours.
Day 1, stop 3: Kalia Beach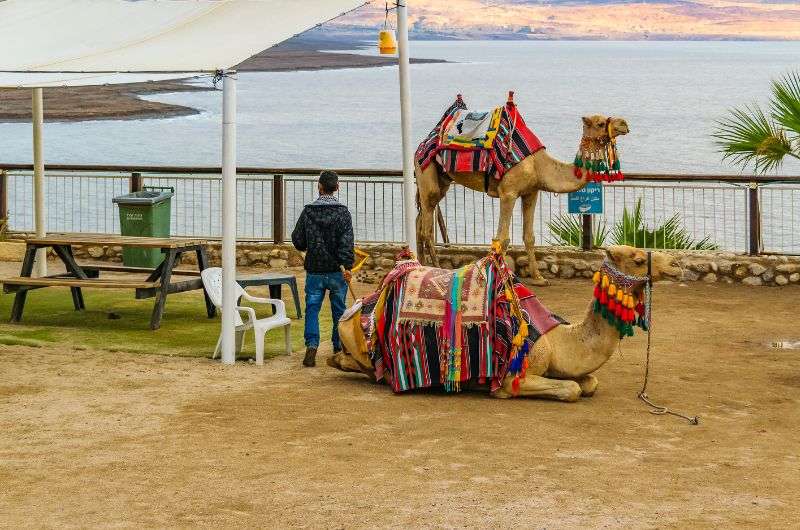 The best beach along the Dead Sea—Kalia Beach... even the camels love it

Distance from Qumran National Park: 8 km (5 mi), 10-minute drive
Time spent here: the rest of the day
Alright, we're here for the Dead Sea experience, aren't we? You're spending the night at Kalia Beach, so take your time and enjoy this special place. Kalia Beach is the best beach to visit while at the Dead Sea and my personal favorite, as it doesn't draw as many tourists as the beach in Ein Bokek.
Kalia beach is located at the north tip of Dead Sea, so it's a perfect spot to stop on the way from Jerusalem or Tel Aviv. There is an entrance fee which might be the reason that it's considerably less crowded than other areas, but I would much rather pay a fee than lay on a packed beach. Get the day pass and you'll get to use all the facilities on the site.
I have already covered the reasons why visiting the Dead Sea is worth it in the intro of this itinerary. However, if you're still not sure, keep reading because it isn't even a choice. If you're in Israel, you simply must visit Dead Sea.
So, after you're done floating like a cork in the salt lake, sit on the terrace perched above the beach, where you get a front-row seat to the mesmerizing turquoise waters of the Dead Sea, with those golden-brown mountains in the backdrop. It's the kind of view that makes you want to take a deep breath and just soak it all in, so grab a drink from the Lowest Bar in the World and enjoy the views!
Day 2 of Dead Sea itinerary
Get the route of the 2nd day of this itinerary on Google Maps

Main sites visited on day 1: Ein Gedi Nahal (Wadi) Arugot Trail, Ein Gedi Botanical Garden and Ein Kedem Hot Springs Restaurant tips: Baobar
Hotel recommendations: Ein Gedi Kibbutz Hotel
Today, we're driving to Ein Gedi. The drive from Kalia Beach is full of beautiful views as you're passing the coast of the Dead Sea the whole time, so there are plenty of opportunities to take pictures of the amazing landscape.
Day 2, stop 1: Ein Gedi and Nahal (Wadi) Arugot Hike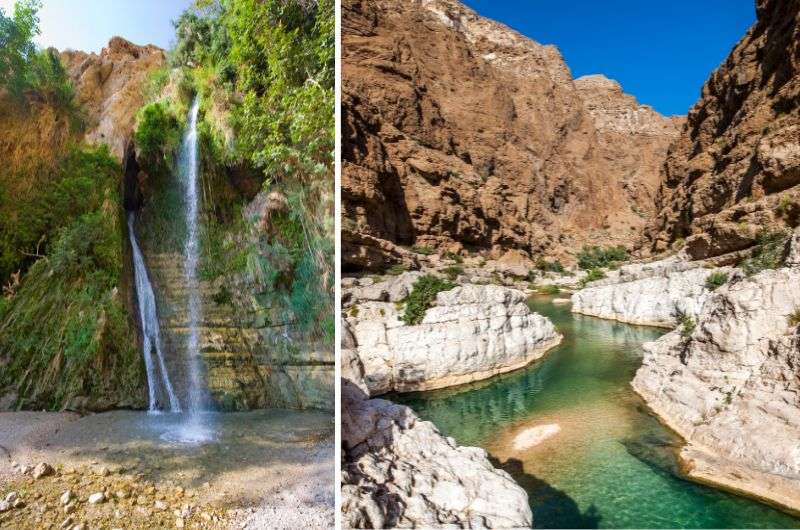 The second day calls for a hike!

Distance from Kalia Beach: 45 km/28 mi, 40-minute drive
Time spent here: 3 hours
Ein Gedi is a beautiful oasis that is famous for being King David's hideout when he was hiding from Saul and his army. But let me tell you, this reserve's got some serious camouflage skills. You park in the parking lot, and you'd think you're in the middle of a desert. No lush oasis in sight, right? But surprise, surprise, Ein Gedi's hiding in plain sight.
Now, if you're up for a stroll, they've got you covered with a bunch of walking trails, ranging from very mild ones to more advanced ones. Most folks go for the easy-peasy Nahal David hike to David's Falls, which takes less than an hour round trip.
Not me though—I recommend doing the Nahal Arugot trail that's just under 7 km (4.3 mi) and takes around 2 hours and 40 minutes to finish. Choose the blue trail that crosses the river many times (wear waterproof shoes), passes a waterfall, and has you swim in a swimming hole at the end of the trail.
Day 2, stop 2: Ein Gedi Botanical Garden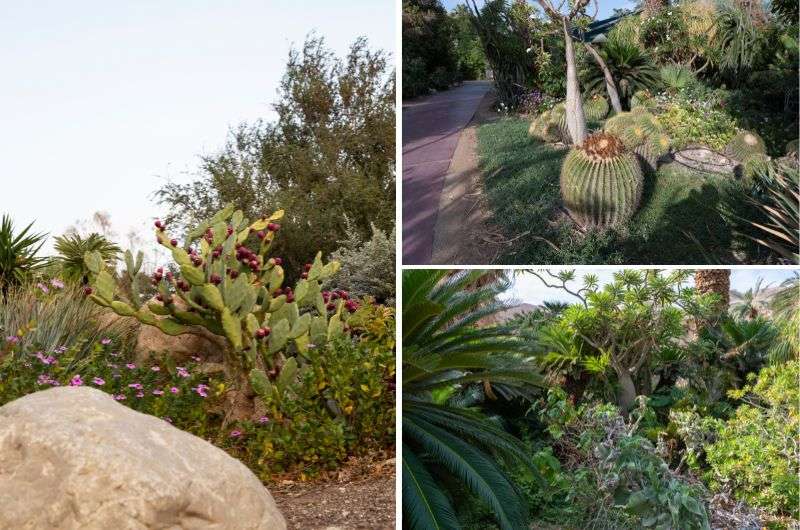 Take a walk in the Ein Gedi Botanical Garden

Distance from Nahal Arugot Trail: 5 km/3 mi, 10-minute drive
Time spent here: 1 hour
Since you're staying in the Ein Gedi Kibbutz hotel tonight, you can wander around the kibbutz as much as you like. The botanical garden covers most of the kibbutz area, so it is hard to miss it and it will give you something to do while waiting for the check-in.
Even when it's hot, you can explore the botanical wonders comfortably thanks to the mostly shaded pathways. I'm not much into the walks around botanical gardens, however, this one seems pretty cool. The local community planted over 1,000 different plants and trees, both local and exotic, which is quite impressive given that we're in the middle of the desert in one of the hottest places on Earth.
Make sure to pass the lookout point facing south, where you'll be treated to sweeping views that stretch from the Ha'atakim cliffs to Mount Sodom, all the way to the Dead Sea's shores and its sinkholes.
Day 2, stop 3: Ein Kedem Hot Springs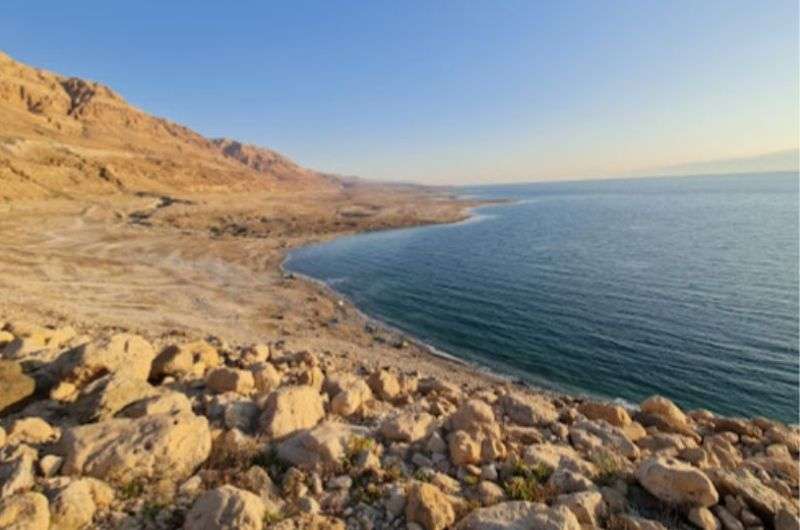 Time to relax in Ein Kedem hot springs!

Distance from Ein Gedi: 11 km/7 mi, 15-minute drive
Time spent here: 1 hour
After you check into your hotel, head up North and take a dip in the Ein Kedem hot springs. There are these small pools of boiling water that you can lay in. The hot springs are close to the Dead Sea coast so once again you're in for great views. The water smells strongly of sulfur, so it might feel like you're not in the Holy Land anymore, but quite the opposite. Overall, if you wait till sunset, it's the perfect end to your day.
Tip: Bring water as there are no showers in case the salt gets into your eyes and wear hiking shoes, the walk to the hot springs is quite rocky.
Day 3 of Dead Sea itinerary
Get the route of the 2nd day of this itinerary on Google Maps

Main sites visited on day 1: Masada, Sodom Mountain, Lot's Wife and Zohar Fortress
Restaurant tips: Cafe cafe
Hotel recommendations: Vert Dead Sea Hotel
Today we're heading down South to the ancient fortress Masada, which, for me, is the absolute highlight of this 3-day itinerary. This place is something else, believe me.
Then, we're driving more South all the way to the Sodom Mountain for some hiking and we're ending our trip with—guess what—yes, correct, more hiking to the Zohar Fortress.
Day 3, stop 1: Masada
I was stunned by the view!

Distance from Ein Gedi: 20 km/12 mi, 20-minute drive
Time spent here: 5 hours
Oh, Masada! I had no clue what I was in for, but you, my friend, left me utterly spellbound. Masada is a true hidden gem that completely surpasses any expectations. I mean, seriously, I didn't expect it to be this spectacular. It checks off all the boxes on my perfect destination list. It has historical significance, breathtaking views and a wonderful hike.
So, what's the deal with Masada, you ask? Well, it's just one of the most jaw-dropping desert fortresses I have ever been to. Being here makes you believe in ancient legends, even if you're the most diehard opponent of myths. I'm not surprised it proudly claims its spot as a UNESCO World Heritage Site.
Let me tell you, Masada is enormous. If you don't have at least 5 hours to stay here, don't even come—you wouldn't be able to grasp the magic of this place. From the summit, the views are beyond overwhelming. You get to see the Roman forts that played a pivotal role in battling the Jewish revolt, Roman reservoirs, and the two palaces built by Herod the Great. There are so many cruel stories about the reign of Herod the Great, but his architectural ambition is something to ponder upon even today. His decision to build a massive fortress on top of a steep cliff, that is nearly invisible from below, was a great move!
If you're visiting Masada in the winter, you must do the Snake Path hike, so you will have to enter from the eastern part. Park your car in the parking lot, where the Snake Path begins. This trail offers a great hour-long hike, depending on your fitness level. The trail is in great condition, and when your knees have had their fill once you reach the top, you can gracefully descend using the gondola—no shame in that. Saving your joints from unnecessary agony is always a victory.
Day 3, stop 2: Sodom Mountain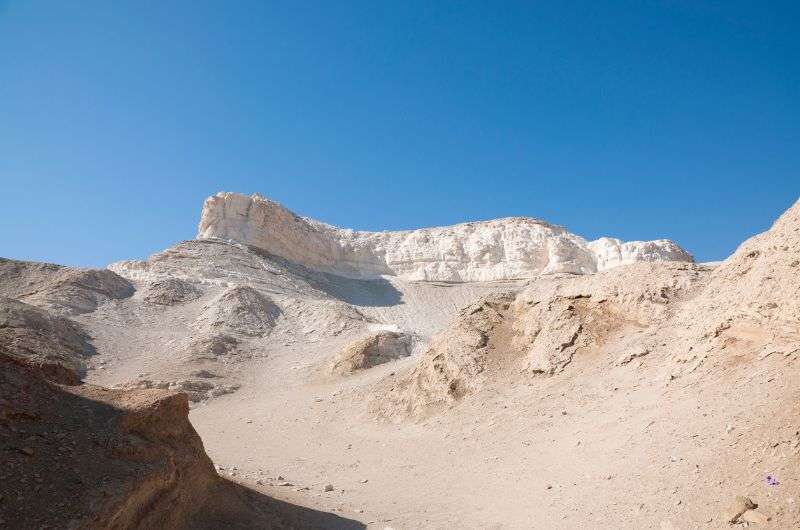 Salty mountain

Distance from Ein Gedi: 32 km/20 mi, 45-minute drive
Time spent here: 2 hours 30 minutes
Since I don't have enough of the spectacular views in this area, we're heading to Mount Sodom for another hike. The Sodom Mountain is formed by different kind of rocks and one of them is cooking salt that turned into a solid rock due to the underground pressure. Isn't that interesting? Just hold your urge to lick the rocks here to find out if it really is salty.
Enough with the geology lesson, we're doing the Mount Sodom Loop via Fish Trail and Sodom Button Lookout. Park your car at the beginning of the trail and get ready for a steep ascent, so make sure you have good hiking shoes and plenty of water as there is no shade there and the temperatures can get very hot. The hike is quite challenging, but it offers beautiful viewpoints of the whole area of the Dead Sea.
Day 3, stop 3: Lot's Wife Pillar of Salt
Lot's wife turned into a pillar of salt

Distance from Mount Sodom: 10 km/6 mi, 20-minute drive
Time spent here: 5 minutes
Before you drive to the last stop of today, make sure you take a (hopefully not your last) look at Lot's wife. What's the story behind it? Well, legend has it that it all began when Lot's wife took one final look back at the city of Sodom while running away from the wicked town and turned into a pillar of salt. It's safe to say her salty transformation left a lasting impression on the landscape.
Tip: You can just either drive around it or park at the side of the road and take some pictures.
Day 3, stop 2: Zohar Fortress
Zohar Fortress

Distance from Lot´s Wife: 18 km/11 mi, 20-minute drive
Time spent here: 1 hour
There isn't much known about the purpose of the Zohan Fortress, though it is believed that it was built to monitor the surrounding area in regard to salt smugglers. Also, it isn't well-preserved, nevertheless, it's a good hike if you're feeling up to it after exploring Masada and hiking Mount Sodom.
The people living in this fortress were no strangers to the art of water conservation. They knew that every single drop counted. So, they created a clever water system to capture the rainwater and had it collected in a deep-water pit right next to the fortress. Just be careful, it can get flashfloods in the winter, so check the weather forecast first before visiting.
And that's a wrap of our 3-day Dead Sea itinerary, my friends. We've covered the most beautiful places in the Dead Sea area and now it's time to return to the big cities and explore the Holy Sites.

This post contains affiliate links. I earn a small commission if you make bookings through my links, at no additional cost to you. This helps keep this blog free, thank you!