If you want to have a beach vacation, be pickled in the sea, and get tanned, Israel probably won't be your first choice. But it has a few tricks up its sleeve!
From the Mediterranean to the Red Sea, the best beaches in Israel are dream destinations for that well-needed R&R. With both vibrant city beaches and coastal oases, Israel can brag about a myriad of stunning beaches that lure travelers seeking relaxation and also adventure. These beaches will refresh your body and soul while showing you the unique beauty that makes Israel's coastline.
So, pack your swim trunks, and let's go to the beach!

Here's a link to my Google Maps list of all the beaches mentioned in this article

You could also be interested in reading:
1. Gordon Beach, Tel Aviv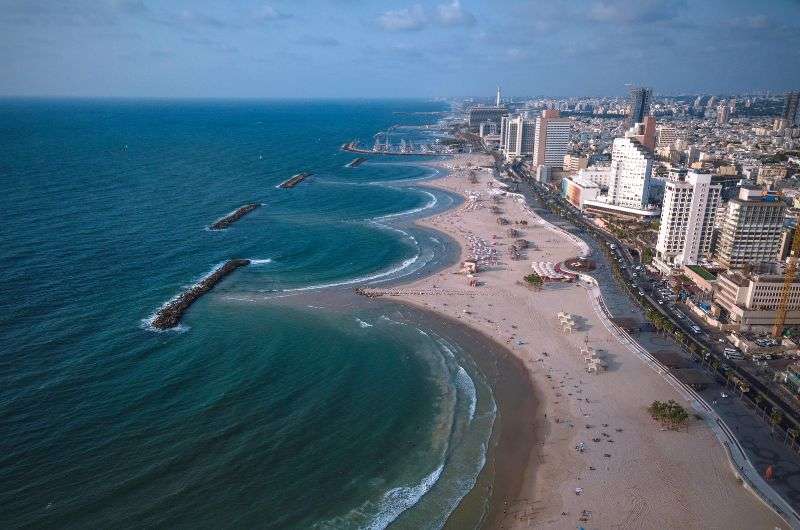 The famous Gordon Beach—time for a party!
The first beach on this list (as well as the next two) lies in the modern metropole of Tel Aviv. Gordon beach is probably the most famous among her sandy sisters, mainly known for its trendy and party vibe. At this beach, the sun shines brighter than a disco ball, and the waves dance like nobody's watching! But that's literally impossible. The cross Gordon Beach bears due to its popularity is also that you'll most likely to be surrounded by oily individuals working on that tan and sweating up the first league. It can get very crowded. What can I say, these are the best beaches in Tel Aviv—and people are aware of that.
I usually don't enjoy spending time on such beaches, where people way younger than me drink cocktails with little paper umbrellas, and you have hardly any personal space around you. However, Gordon beach turned out to be a pleasant surprise for me. It has incredibly clean and soft sand, and the facilities were in great shape—better than half of those sweaty individuals.
The colour of the sky was unbelievable...
But hold onto your beach hats, because the real showstopper is the Mediterranean Sea. Its azure hues stretch as far as the eye can see, basically telling you to take a refreshing dip in its cool but still comfortable (temperature-wise) waters. Splish, splash, and ride the waves like a mermaid. Or leave your secrets to Maco Island and borrow a surfboard from the local rental. Gordon beach is a great spot to learn a trick or two on those waves.
Now, before you leave this sandy utopia, make sure to capture the perfect sunset shot. As the sun kisses the horizon, turning the sky into Bob Ross' canvas, you'll witness a moment of pure magic that'll leave you breathless and reaching for your camera faster than you can say "beach selfie"! It's best to catch the view from one of the best places in Israel—Tel Aviv promenade.
2. Alma Beach, Tel Aviv
Alma Beach—the peaceful beach
If you are an even more anti-social beach type than me, you will appreciate this next one. I can't say this place is a quiet oasis in the middle of the concrete jungle, those just don't exist in the close surroundings of Tel Aviv. But compared to her boisterous neighbors, Alma is laid back silent cousin who doesn't speak a word on Thanksgiving unless necessary.
Alma Beach is also quite unique for the reason it is famous. It's not just its golden clean sand, it's also a culinary landmark. Bring your appetite, because Alma Beach knows how to treat its visitors to a feast of flavors! The beachfront restaurant Manta Ray serves mouthwatering seafood dishes that are worth stopping by for, not to mention the great location offering stunning sea views as a bonus!
You'll find Alma beach further south from the center, located between Tel Aviv and Jaffa borders. Not to sugarcoat the place, in recent years Alma became more famous than it used to be. There are many events being held on the beach, such as food festivals or various kinds of celebrations.
And also say thanks to the backpackers' goddamn blogs sharing "the most secret spots" not realizing making them not that secret anymore. So, it can be busy with crowds from time to time. It's still a place to chill and relax from the bustling city, but don't be surprised when you won't be the only one there.
3. Frishman Beach, Tel Aviv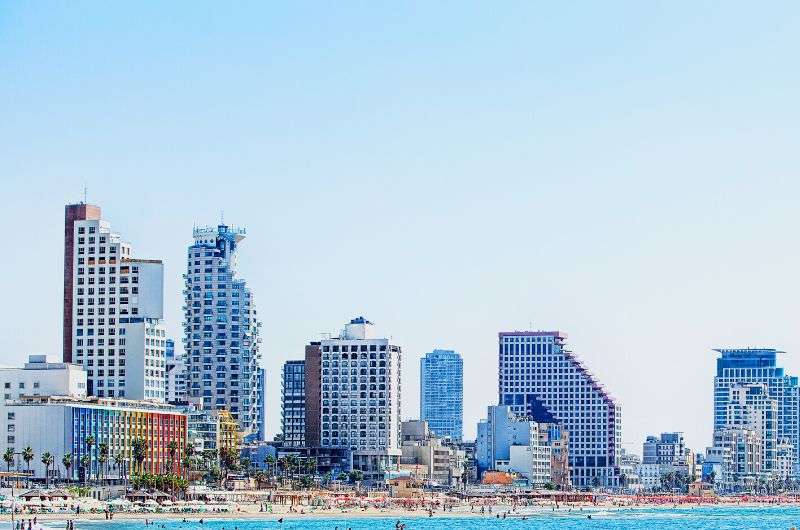 You'll find Frishman Beach right next to Gordon Beach
If Alma Beach is the laid-back silent cousin, then Frishman is the hipster friend who knows all the latest trends before they become mainstream. It's the ultimate cool spot, located right next to Gordon Beach, which tends to be much busier. So, if Gordon Beach is already packed with people, you smart folks should pack your towels and head to Frishman Beach. It's cooler anyway, and personally, I liked it a tad bit more than the other Tel Aviv beaches.
What's best about Frishman Beach is not just the crystal-clear water and white sand. When you arrive at this beach, the first thing that grabs your attention and makes an impression is the vibrant energy that permeates the air. But don't worry, you won't be surrounded by partying youngsters; it's more of a family beach with a relaxing atmosphere.
The water is pretty shallow, which adds to the family beach concept, and you don't have to worry about your little ones too much. When I visited Israel in winter, I was actually pleasantly surprised that the water was quite warm! The clean facilities also earned it some points.
Overall, it's a lovely beach that I recommend visiting, at least for an evening walk, because you simply have to see the sunset from there! As the sun starts its descent, Frishman transforms into a breathtaking scene where you can watch the colorful sky changing right in front of you.
Waking up to an incredible sea view? Yes, please!
Is there anything better than waking up in a cozy and soft bed to a stunning view that will charge you with energy for the whole day? Oh, yeah there is. This and the superb breakfast afterwards–I got both at The Seven Seas hotel in Tel Aviv!
It has many perks apart from its superior location stone throw away from the most beautiful beaches and a to-die-for food. But do you need to hear anything more? I think I've done all the convincing already. And have I mentioned the breathtaking scenery of turquoise sea and a white sand beach? I'm actually not sure.
4. Kalia Beach, Dead Sea
Kalia Beach is a must!
First things first, Dead Sea is a place you have to visit when you're in Israel. Visiting this country without dipping into this salty uniqueness is like coming to the Middle East and not having the delicious star of the Israeli cuisine, hummus. It's like you don't want to enjoy your vacation on purpose! However, I have a confession to make. I'm a smarty-pants now, but before I saw the Dead Sea myself, I honestly didn't understand why everybody loves this place so much. What's so special about a lake that's 10 times more saline than the sea? Well, everything. Now I know.
The swimming temperatures are pleasant year-round, making it the perfect spot for a dipping session, no matter the season—one of the best things to do in Israel. Just be warned, you might emerge from the water feeling like a human oil slick, but hey, it's all part of the experience.
When you lay down in the water of the Dead Sea, you'll feel like you're floating on a cloud
Now that we've established that you have to visit the Dead Sea, let's move on to the beach situation there. Kalia Beach is the only proper beach there, which also means it can be a little more expensive than what you're used to in Israel. Be prepared for it and have a few extra shekels in your pockets.
One thing I certainly didn't expect was hot water showers on most of the beaches in Israel including Kalia beach. Well done, Israel, for keeping your citizens nice and warm, free from colds and runny noses. What could you expect from a country with one of the highest-quality healthcare systems in the world—US, you should take notes here, okay?
5. Dado Beach, Haifa
Dado Beach—my favourite
This beach was probably my personal favorite in Israel. I don't want to undermine the other beaches, but Dado Beach in Haifa certainly left a mark in my memory. It is just so lovely and picturesque; you'll forget for a second that you're in Israel and not some tropical paradise on the other side of the globe. Well, that's maybe an overstatement, but I really liked it there, okay?!
Haifa is a vibrant city, just a short distance from Akko, a must-see destination in Israel. So, if you are heading to this promised land for historical nerds, stop by just for a short visit in Haifa. Dado beach is a great spot where you can relax from driving—which I L.O.V.E.D. in Israel—stretch your legs, and get a nice tan, so people at home believe you were on vacation.
The facilities on the beach are in great condition, as you are already used to in Israel. You can enjoy a nice cup of coffee—or something stronger, in the nearby cafés and restaurants and grab a bite of something delicious. Everything is very clean and not expensive at all. This place gets a Jan-quality seal of approval!
Dado Beach is also strategically located near some of Haifa's top attractions. So, after your beach escapades, you can venture into the city and explore the fascinating mix of cultures, art, and history that Haifa has to offer. A not-that-secret tip? Bahai Gardens. The gardens are a physical expression of the spiritual teachings of the Bahai faith, which emphasize the unity of all religions and the harmony between humanity and nature. And that's exactly how they make you feel. So, great work of the architect—mad respect. And as a plus, they are very photogenic and beautiful!
6. Palmachim Beach, Palmachim
Palmachim Beach, the oasis of relaxation
Okay, I take it back, this one was my favorite. Or both? I don't know, I just was so surprised how lovely some of the beaches in Israel were. I mean, who would expect that? I had this picture of Israel in my mind and it's mostly desserts or historical monuments. Now, I have to add cute beaches to the list as well.
This beach is not just your average sandy stretch, it's a part of a natural reserve and a tranquil escape from the hustle and bustle of city life. The urban area is quite far, and its natural untouched look will make you feel like the civilization is thousands of miles away.
As you arrive at Palmachim Beach, you'll instantly feel like you've found a secret gem. That's not entirely true, its beauty made it famous, but it still remains an oasis of relaxation. It's a beach that seems to have been made just for us folks seeking a more peaceful escape from time to time.
Both the water and the beach were very clean and well maintained. An amazing spot at least for a short walk on the coast. Take a stroll along the dunes and observe the rich nature that thrives in this park—it's a very special place.
7. Caesarea Beach, Caesarea
Caesarea Beach—full of history
You'll find Caesarea beach very close to the profound Caesarea, the one you have already probably written on your Israel itinerary. Caesarea is a beautiful place full of nature wonders and historical remains. It's a renowned historic city known for its archaeological sites and their cultural significance. Before or after lounging on the beach, you should pay it a visit. But now back to why we're here—the beach.
Superb azure sea, cool hidden caves, stunning sunsets, and interesting historical ruins. These are the expectations you can have from Caesarea Beach, and it delivers. As you stroll along the shoreline, you'll encounter the impressive remains of an ancient Roman port city and a breathtakingly well-preserved aqueduct—an impressive sight that makes this beach a living museum by the sea.
One would say this attractive offer would attract crowds of tourists. The very opposite is in fact the case. I was basically there on my own. The fact that the beach is quite large also adds to the feeling of emptiness. Israel is not exactly a beach vacation destination, and it shows.
8. Coral Beach, Eilat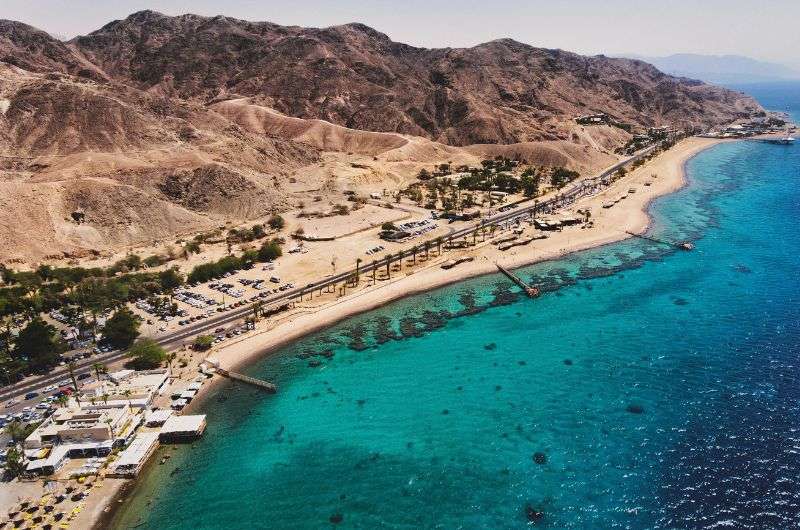 Coral Beach
Getting to Coral Beach in Eilat may seem quite out of hand, I know. If you're staying in Jerusalem or Tel Aviv, as most tourists do, it's about a 4-hour drive. Driving that distance just for a beach? No, thank you. However, if you have plans to visit one of the New Seven Wonders in neighboring Jordan, the ancient city of Petra, Eilat beaches make for a nice and refreshing detour, don't you think?
Coral Beach has scenery straight out of a postcard. The water couldn't be more crystal clear and turquoise, making it an ideal spot for watching all those colorful and bright fish and corals. The corals on the reef are so close that you can almost touch them from the pier! You shouldn't, but you can. Guess what I did.
Due to some extreme weather conditions in previous years, the corals are said to be less beautiful than before as a mini tsunami damaged the reef a few years ago. If this is how they look as less beautiful, I can't imagine how the place looked before, because I already find it frikin wick.
There are two parts of the beach. One part is public with free entrance, and the second one requires you to pay a few shekels to enter. The paid part is more beautiful, cleaner, and less crowded—and for NIS 35 (USD 9), I think it's totally worth the money. It's nice to swim in the designated areas, but I recommend taking a boat ride to fully enjoy the beauty of the colorful coral kingdom. You can also dive amongst the fish and make your experience even more memorable.
9. Dolphin Reef Beach, Eilat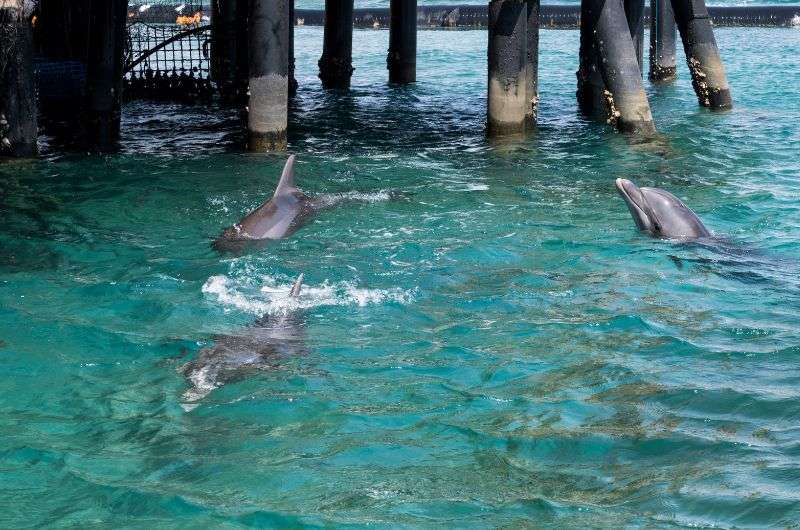 Here you have the unique opportunity to meet these friendly dolphins in their natural habitat!
We're going to stay in the south for the last beach on this list too. Eilat Israel beaches are one of the most beautiful in the country. Dolphin Reef is not a traditional beach per se, so keep your umbrellas and buckets at the hotel. This is a place where you come for some unforgettable memories rather than a suntan and building sandcastles.
Dolphin Reef is a utopic place where dolphins swim freely, and you have the rare opportunity to meet them up close and personal. To explain—the dolphins are not being held captive there. They live in their natural habitat and are free to swim to the open sea whenever they please. And you can jump in—under the observation of professionals, of course—and swim by their side. Imagine snorkeling in the crystal-clear waters, and suddenly, you find yourself surrounded by a pod of friendly dolphins—that's just something you can't resist. It's an experience that words can hardly describe.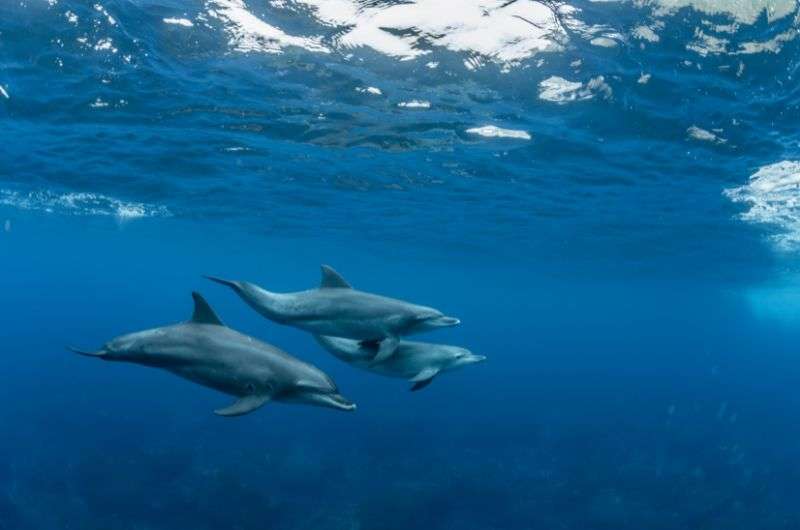 Lovely dolphins!
And if you don't feel like swimming, the underwater observatory at Dolphin Reef lets you explore the magical marine life without getting wet! Peer through the glass windows and watch the dolphins slip through the water with their natural charm and intelligence. It's a great afternoon activity, especially for kids. You should see those brightened-up kids' eyes—and hear the desperation in their parents' voices, trying to explain that you can't have a dolphin at home.
The beach is part of the whole complex, and the staff at Dolphin Reef take great care to ensure the cleanliness and preservation of the area. It means one thing—it's clean, nice, and cozy. Visiting this place will forever hold a special place in my heart.
This post contains affiliate links. I earn a small commission if you make bookings through my links, at no additional cost to you. This helps keep this blog free, thank you!