You've decided on a destination, you have your travel dates. Now it's time for the fun part. For me, booking a hotel is that first step to feeling like the vacation is really happening. Once I have that confirmation email, the excitement starts to build and I know I can get to work researching my itinerary.
Even if you're traveling for a different reason, like attending an event or visiting family or friends, you know that once you have a place to stay, you're on your way.
Don't let your excitement cloud your judgement and consider these tips to make sure you're off to a great start. Booking a hotel room does have some specifics to watch out for. A frustrating experience at the hotel can really put a damper on a trip. Like when you get the nonrefundable rate when you're still trying to lock down your travel dates. Stressful much?
Full disclosure: I love adventures and can spend all day hiking the mountains of Chile and getting seasick trying to cage dive with white sharks in South Africa. But I need my sleeping quarters to be comfortable, and I mean in all aspects.
I'm not afraid to pay the price for a good hotel. There's no way I'm going to sleep in a hostel or something that resembles a hotel but barely passes the criteria for a place a human should spend the night.
In this guide, I'll be making recommendations assuming you want to do the same.

1. Which website should you book your hotel on?
Hiking in Chile

In my years of traveling all over the world, I've come to love and be loyal to booking.com. I use it every time I travel and will tell you to do the same. You save yourself time by comparing all the options in one place, it's very popular so you know all the hotels are on there, plus you save money when you use it regularly thanks to the loyalty program.
Another advantage: No language barrier. You haven't been frustrated until you've tried to speak on the phone with a Spaniard (no offense). It's a completely different experience when you have all the information you need in English. Booking.com makes hotels fill in a lot of details, so you will be hard pressed to still need to ask questions after reading through everything.
There are many, many other websites that you can use. Agoda.com is my go-to for travel in Asia, and even Google has its own hotel search feature. The basic functions of all these sites are always similar, so whichever one you decide on, you will still be able to use these tips for.
Tip: If you're heading to Italy, see this list of things to know before you go.
And of course, you can book directly on the website of your chosen hotel. But unless you want that particular one for some special reason—like that others from your group are already staying there—be open-minded and snoop around. Especially if you're traveling to more far-away places, you might be missing out on some local gems by staying at a chain hotel. For me, booking.com is always the way to go.

2. Get your dates straight
Ready, set, book a hotel!

You know where you want to go, now you need your dates. Is that too obvious? It doesn't have to be.
Are you traveling internationally, crossing through time zones? Or are you on an evening flight that lands after midnight? Or a double whammy—crossing times zones and midnight on one flight. That little situation has had me scratching my head, staring at my watch, on more than one occasion.
Don't make a mistake of automatically entering your accommodation dates based on your departure date. The same thing goes for your check-out date. If you have a flight departing after midnight, you'll essentially want to check out on the day before your flight.
It's also a good idea to work out a rough itinerary before you start booking. That way, you know where you'll be on each particular day and can book your hotels accordingly. Don't forget to take travel times into consideration. I have a rule of 3 nights minimum for each spot, otherwise it feels like we're always on the move.

3. How far in advance should you book your hotel?
Book a hotel in South Africa: check! Stare at the views: check!

Similarly to booking plane tickets, you're going to want to book your hotel in advance and not wait until the last minute.
One to two months before travel is optimal, unless you are visiting a popular event or over a major holiday. Booking too far in advance could have you scooping up the highest prices but waiting too long can result in the hotel being booked solid or offering only the most expensive rooms.
I rarely choose the pay in advance option, because you never know what can happen (looking at you, covid!). Once it's closer to your travel date and you are super sure that the world isn't ending and that you're set on the hotel, you can (sometimes) change to the pay in advance option and save a good chunk of change that way.

4. Filter your hotel search results by rating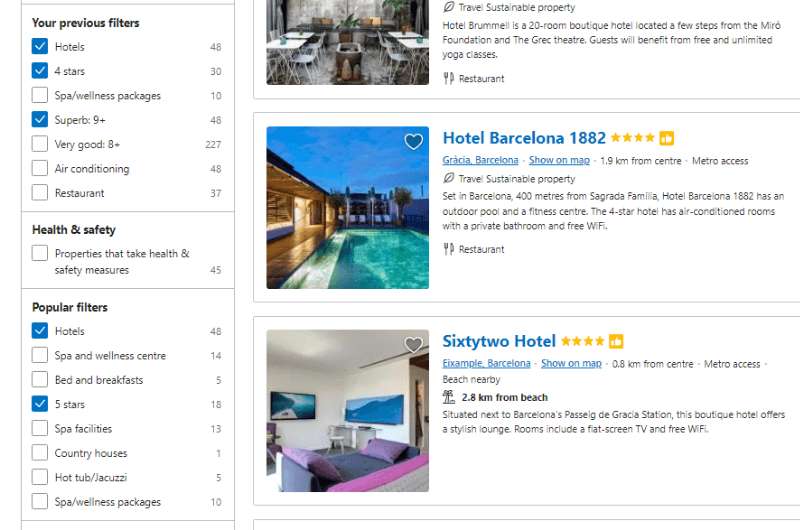 The top search options on booking.com offer the most popular filters: ratings

Now you've entered your travel dates and where you are going, it's time to start filtering your search results.
The very first thing you'll want to focus on in the filter options are star rating and guest ratings. Also click on the "hotels" option if you are looking for hotels only. This way, you won't be sifting through hostels, apartments and other property types.

Star rating
Unless you are on a tighter budget, remove all 1-3 star properties from your results right at the start by choosing the 4- and/or 5-star option. Or both if you're open to both.
This will shorten your results list considerably. Having a more manageable bite to chew on in terms of volume will make your decision process much easier.
If you aren't sure if you should be aiming for a 4- or 5-star, just do a quick rate check at a couple of the hotels in your results to see if your budget stretches that far. There are countries where you will get a 5-star for the price of a 3-4 star in your home country, so keep your options open until you know it's a no-go.

Guest rating
This might be the most useful of all the filter options. Guest rating is usually a part of all good hotel search engines. The scale can vary, but booking.com uses the 1 to 10 scale, with 10 being top and 1 being a total flop. Anything less than an 8 should be a red flag. Aim for 8.5 or higher if you want to be sure you're booking a good quality hotel.
You also have the opportunity to read guest reviews right on the page of each hotel from your search results. You can further filter the reviews using keywords that are important to you, like "pool" or "breakfast", and see what past guests have to say about them. A good breakfast is very high on my list of priorities.
Be aware that the more expensive the hotel is, the higher the standard that guests expect and the stricter they are in their reviews. If you're going for a 2 or 3-star hotel and see a 9.5 review score, you're still getting a 2 or 3-star hotel. But at a 5-star, guests aren't afraid to focus on that not-crunchy-enough croissant they had for breakfast and take the rating down a whole point for it.
If you are booking directly with a hotel or just don't see reviews on the search engine of your choice (it might be time to reconsider that choice if that's the case), check reviews on tripadvisor.com. If you're not familiar with it, tripadvisor.com is a great website to check reviews for anything from hotels and restaurants to tourist sights and museums.
That said, I am advising against direct bookings and am always going to be a proponent of using booking.com. The services and transparency are great, you know exactly what you are getting and the user experience is second to none.
Our top tips for booking accommodation:
We always use booking.com and you should too!
Book rooms 1 to 2 months in advance
Filter your search options: ratings should be top priority

Google maps is another place to look for reviews. Just find the property you are looking at on the map, click on it, and read through experiences on the left side panel. You'll also find the best photos here.
Both of these last options also include candid user photos, which can sometimes be an interesting contrast to the perfect management-curated pictures you see on websites.
If you happen to be heading to Mallorca, you can check out our list of top hotels on the beautiful island. From luxury to rural retreat, we've got you covered.

5. Hotel amenities and accessibility
A pool is not required, but it helps when you're in Thailand and it looks like this!

There are many more filtering options to utilize in your search, though I like to keep my options open and not limit myself too much. If you're too picky right from the start, you could end up with no options to choose from.
This happens mostly in less populated or poorer destinations. You have to forgo the pool if the only option with a pool has outdated rooms that smell of mold. Priorities.
Tip: Speaking about pools, make sure you really want one. It all depends on your destination and time of year you are visiting. Some countries, like those in Africa, are just too hot to make you want to bake outside in the sun and an indoor pool is the way to go. Other times, like when you're visiting the more northern parts of California for example, you picture yourself lying by the pool each afternoon, only to find that you're way too cold for that half of the time.
That said, if you have the choice, choose away!
Filter your hotel by room or property accessibility if you or your travel partner have any issues with mobility or sight. You can look for wheelchair accessibility or visual aids.
Select from the amenities and facilities list, too. Something like air conditioning might seem obvious to you, but in some destinations, it isn't a given. Do you need parking or travel around the world with your pet? Make sure you filter out hotels that can't accommodate those requests. In destinations with less tourist infrastructure, make sure that your hotel has a good onsite restaurant. It may be your only chance to get a proper meal.

6. Booking a hotel in the right location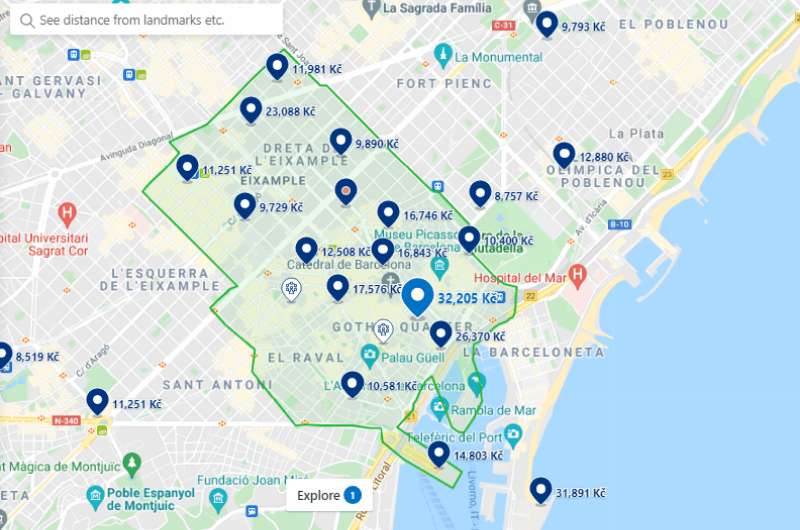 Take the hotel's location into consideration before you get too excited about the rooftop spa. Some good quality hotels aren't in city centers but are located closer to business centers or the airport.
More often than not, on a vacation, you will want to stay in the city center or Old Town. I am a big fan of renting a car in all my trips, but then, once I'm in a city, I prefer to walk. Parking can be a pain in the arse and you have much more freedom if you're on foot.
Either use Google Maps to see the exact location of the hotel and the tourist sites. If you're particularly interested in something or are going for an event, try to stay at close proximity to it. Some events (like Las Fallas in Valencia) even shut down traffic and a good hotel location is the only thing between you and a massive detour you'd need to conquer on foot.
Tip: The hotels in Salzburg, Austria, have some amazing views.
The map on Booking.com is a great feature, too. It's more personalized to your stay in that you can see not only the location of all hotels in your results, but also a short summary of the price and rating of each hotel, and whether or not it is available for your dates. One click on the little arrow thingy and the page of that hotel opens in a new window, ready for you to read the details and make a booking. Easy peasy.

7. Choose your hotel booking rate wisely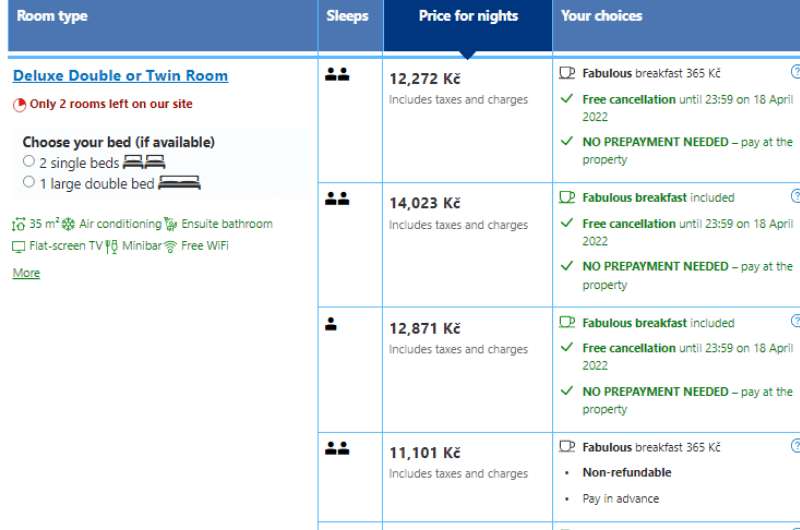 Different price options for the same room

Just when you thought you were almost done, there are more bits and bobs to consider! Most hotels offer more than one price option for the same room depending on how flexible you need to be.
The cheapest rate will often be non-refundable in case of cancellation. You may need to pay in advance or pay extra for breakfast. Or all of the above.
Having to pre-pay can be annoying, especially if you're still not set on a hotel and expect to cancel some reservations. You might end up with multiple reservations and a hefty chunk of change missing from your bank account. While cancelling the reservation will result in the money being returned to you (if the cancellation policy allows cancellations!), it can take days for that to happen.
Oftentimes you can make a reservation without pre-payment, but you have only until a certain date, usually a couple of weeks before your arrival date, to make the payment. In that window of time, cancellation is free of charge. If you need to cancel after the payment date, you forfeit some or all of your money. This will be specified in the cancellation policy.
The most flexible rate is going to be the most expensive, but you know that you won't have any extra stress if you need to change your dates or cancel your trip. Plus, since you chose a hotel based on its great reviews, you can be almost certain that the customer representative will be happy to help you make any adjustments.

8. Information you need to provide at the time of booking
Karin, happy in Peru

Now that you have everything sorted and are ready to commit, let's look at what information you need to fill in when making you booking.
In general, you will need to fill in the name of at least one guest staying in the room you are booking. I recommend filling in everyone's name in advance to make check-in faster, but it's up to you. Sometimes you will be asked for passport or ID information or a birth date. Booking.com doesn't require this information, but some other sites do.
Tip: Why not travel to Mexico on your next trip? The hikes there are amazing!
In this step, you will also be able to make any special requests, like early check-in or room on a higher floor. Note that these requests are not guaranteed. If you book through Booking.com, you will also get an email from the hotel letting you know if they will be able to accommodate your special wishes.
You can also let your hotel know what time you expect to arrive. This is helpful for the hotel especially if you arrive a lot later than the usual check-in time. It likely won't be a problem at all, but this way they know you are coming and are not a no-show.

9. It's time for payment
Peru life

The very last step is your credit card information. You can't skip this step even if you choose a flexible or non-prepaid option. It's a guarantee for the hotel that you aren't just a weirdo making random hotel bookings, and that if you do decide not to show up after the cancellation date, they will have the stay covered. Because they will charge you if you don't show up.
You can use a credit card or debit card in most instances, but there may be hotels that only accept credit. They will inform you of this if that's the case.
It is best if the credit card is in your name, since sometimes you are required to present the card you used for booking at the time of check-in.
Many hotels accept payment in American dollars or euros, so instead of having a card in your home currency and just accepting whatever exchange rate you get, having a card in USD or EUR can save you hundreds or even thousands of dollars over the years. Just because of the better rate. If you plan on traveling a lot, look into it.

10. Check-in and check-out times
Bye bye, hotel! I'm sure glad I followed these tips on booking a hotel room!

This isn't part of the booking process, but one other thing I thought I'd point out are the times when you can arrive and the time by which you have to leave your room.
The standard check-in time at most hotels is around 2–3 pm, and check-out is between 10 am and 12 pm. Keep this in mind when booking and plan your arrival accordingly.
You can request early check-in and late check-out at most hotels, but it is never guaranteed unless you pay a fee. That fee can make you reconsider, since you might be able to just wait at a restaurant having a wonderful lunch for the same price.
If you haven't paid for the exception, don't get your hopes up too high. The times between check-in and check-out are used to prepare the rooms for the next guest's arrival, so there is seldom wiggle room to have you get there early or stay longer.
This post contains affiliate links. I earn a small commission if you make bookings through my links, at no additional cost to you. This helps keep this blog free, thank you!