We spent about 1.8 of our two days in Brussels wishing we had planned for more time. Three days in Brussels might sound like too much, but unless you decide to skip all the fantastic museums, it's not.
You can use this itinerary to plan a weekend in Brussels by taking some bits out, or extend your stay to the full three days. You know, live a little.
We put together a detailed and practical itinerary that includes what to do, how long it will take and how much it will cost. We include any insider tips we could think of to make your travel life easier, plus add-ons that you could add on if you have more time or if you want to substitute something else from the itinerary. Not all of us are WWII fans (but you should be!), I get it.
And at the bottom of this article you'll find extra information about how to get from the airport to central Brussels, how to get around the city, and how you can turn this into a week-long Belgium trip. Enjoy!
You might also be interested in reading:
Day 0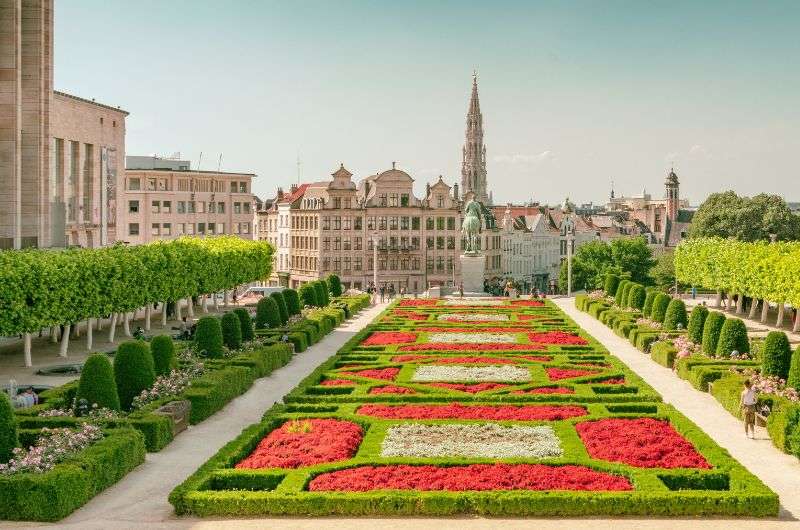 The Mont des Arts ("hill of arts") is pretty nice

This itinerary will fill 3 full days in Brussels, so basically an extended weekend. It is best to plan on arriving in the city the night before, but if you can't, just move stuff around or take parts out if you arrive on the day you want to start sightseeing.
See our travel tips section below to figure out how to get from the airport to Brussels city center (spoiler: you'll be taking the train).
Get yourself settled in at the Brussels hotel of your choice, or, save yourself time and pick a hotel of our choice.
Not only have we stayed at a great hotel that we're happy to recommend, we also did some extra research so we could give you tips for something a bit different than the artsy, youthful, and bold Radisson Red we stayed at.
Because while you and us are both fabulous, you might prefer something more elegant, or something that's right on the main square instead of by the Parliament:
Simply elegant @ Stanhope Hotel by Thon Hotels

The Stanhope Hotel by Thon Hotels is a 5-star stunner that'll appeal to those of you that like a more elegant boutique hotel. It has recently been refurbished, so everything is still brand-spanking new.  There is 24-hour room service, luxurious toiletries, and you are able to dine in the restaurant or on the cute courtyard terrace. 
Prices start at €600 per night for 2 people with breakfast.
Stylish and right on Grand Place @ Rocco Forte Hotel Amigo

Rocco Forte Hotel Amigo is a 5-star hotel right on Grand Place, so you have all the best spots in Brussels at your fingertips. Every room has a spacious bathroom, a seating area, and each one is in a specific color tone. The design is a cross between elegant and contemporary.  
Staff are of the friendly and nothing-is-a-problem variety. You can dine in the on-site restaurant that serves Italian and Mediterranean cuisine. The restaurant has an outdoor seating area just perfect for people-watching on the square.  
Prices start at €480 per night for 2 people with breakfast. 
No time to waste now, hurry up and get your first Belgian beer, baby! You've got a busy 3 days in Brussels ahead of you! (More about Belgian beer in our article here.)
Tip: If you are a beer aficionado, see if you can get yourself to the Bruges Beer Experience. It was a fantastic stop on our day in Bruges, and our absolute favorite museum in Belgium.
Our top tips for 3 days in Brussels:
Most importantly, give Brussels enough time! We only had 2 full days and were running around like maniacs trying to fit it all in.
Walk, take taxis or an occasional metro. Forget about driving, it's too much of a hassle.
Consider getting the Brussels Card if you want to visit a lot of museums (and use public transportation for free).
Day 1: The EU Parliament, some palaces, and the Grand Place

Main stops today: Parlamentarium, Leopold Quarter, Royal Palace, Notre Dame, Palace of Justice, Mont des Arts, Grand Place.
Read details about everything in this itinerary in our Brussels Guide.
Morning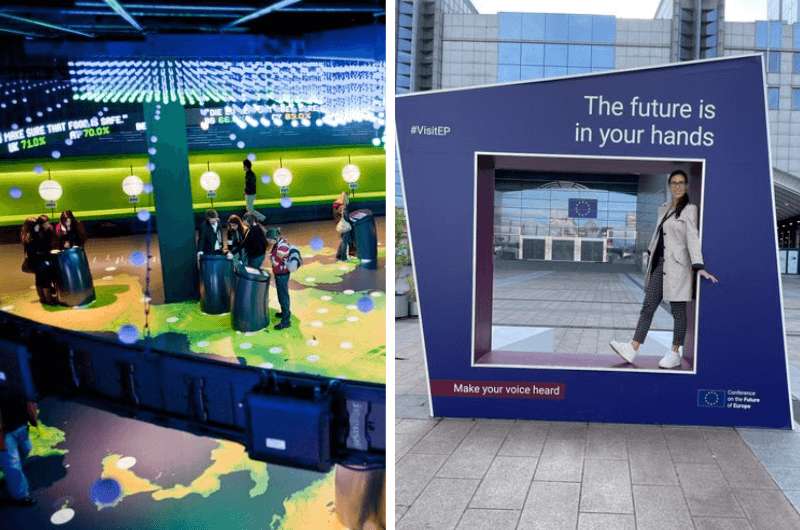 The visitors' center at the European Parliament is called Parlamentarium. We loved it!

After breakfast, it's time to start doing the tourist thing!
To me, Brussels is synonymous with the EU, which I love, so we started our exploration of the city at Europe's answer to Washington DC's Capitol—the EU Parliament. Or rather, its visitors' center called the Parlamentarium. It's educational, it's interactive, it's awesome.
Personal side note: If you don't like the EU, frankly I think you are stupid and don't understand economy. Actually, maybe you should stop reading this blog, its for intelligent people who understand the value of cooperation and unity.
Parlamentarium, Pl. du Luxembourg 100 
Open daily: Mondays 1 pm–6 pm, Tuesday to Friday 9 am–6 pm, weekends 10 am–6 pm 
​Free entry, but you need to book a time online beforehand 

Don't waste 10 minutes looking for the ticket desk like we did, the visit is free. You have to book your visit time online though, so prepare ahead of time. It's quick and easy to do.
Set aside 1.5 hrs to see the Parlamentarium and some extra time to wander around the Leopold Quarter, which is where all the EU buildings are located. You can start in Luxembourg Square and walk around from there. There are tons of cafes around, too, so you won't have trouble getting caffeinated.
There's Leopold Parc if you crave some nature, and even a piece of the Berlin Wall. If you are extra keen on the EU, book a visit to the Hemicycle, which is the huge meeting room where the Members of the European Parliament hold there plenary sessions.
Add-on op: Check out one of Brussels' fantastic museums, the House of European History, which leads you through the history of Europe from ancient times to today. It's free and you get an iPad to guide you through.
Early pm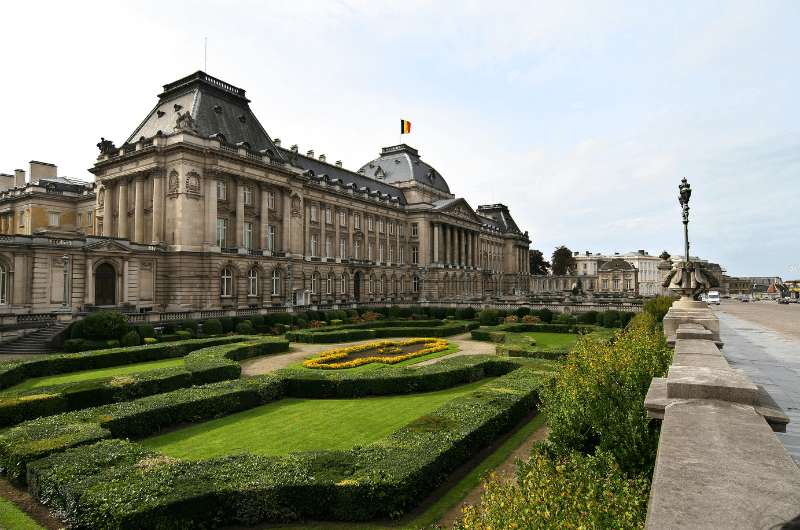 There's royal business being discussed in there, psst!

Onwards and upwards! You'll want to take a nice walk to the Palace of Justice (On Google Maps you'll see it as "Law Courts of Brussels"). But first, check out the Royal Palace of Brussels. Unless you are visiting in late July or August, you won't be able to see the interiors, but even just seeing it from the outside, surrounded by manicured gardens, is well worth it.
If you do get in, a self-guided tour takes 45 minutes and costs exactly €0.
Free self-guided tour only from July 21st to September, otherwise not accessible

Moving away from the center of Brussels, you'll want to pause at the Church of Our Lady of Victories at the Sablon aka the Notre Dame.
The Palais de Justice is massive, so much in fact, that when it was built in 1883, it was the largest building in the world. Just the foyer is 100 m (325 ft) tall! You can go in and walk around since it is a public building. Don't forget to take a minute to take in the views of Brussels from up front.
Palais de Justice, Poelaert Square 1 (On Google Maps you'll see it as "Law Courts of Brussels") 
Open Monday to Friday 8 am–5 pm, closed on weekends and holidays 
Free entrance, no tour (unless with outside tour agency) 

Restaurant tip: Not far from the Palace of Justice is Le Rendez-Vous des Artistes, a nice restaurant that serves Belgian cuisine. We had a great lunch there full of Belgian food and drink staples: mussels, beef tartare, fries and beer.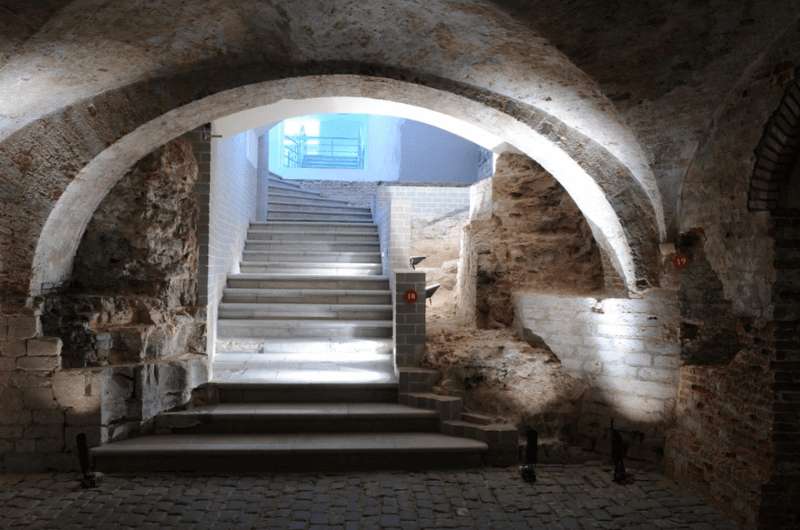 The underground tour of the Coudenberg. Image source: Coudenberg

Add-on op: Right by the Royal Palace are three solid options of museums to visit depending on your interests.
The Musée Magritte Museum (€10) contains the largest collection in the world of the surrealist's works and is part of the Royal Museums of Fine Arts of Belgium.
The theme of the Musical Instruments Museum (€15) is obvious, plus it is housed in a gorgeous art nouveau building.
The Coudenberg Palace (€10) is an archeological site of a massive palace that burned down in the 18th century following an unfortunate nap. Details about all of these places are available in our Brussels Guide.
Later pm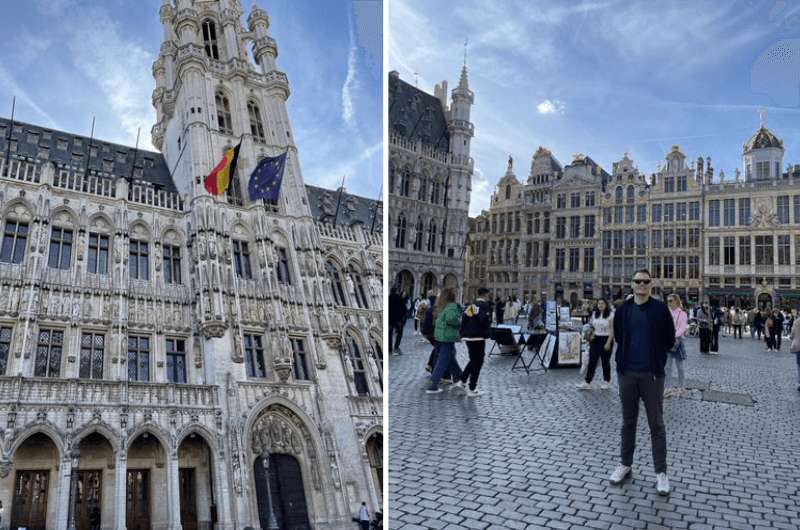 The Town Hall and the other fancy-pants buildings at the Grand Place, Brussels' main square

End your day at the spectacular main square, the Grand Place. You can get there by walking from the Royal Palace through the Mont des Arts (Hill of Arts).
Literally the "Hill of Arts" is an elevated urban complex in central Brussels that used to connect the lower-class area with the upper-class area. Basically, a garden surrounded by some big important buildings, like the Royal Library or the Congress Palace. People come and hang out here and sometimes listen to live music.
The Grand Place is very fittingly the center of this grand city. Everything is golden or at least intricately decorated, but most often golden and intricately decorated. Besides that, it's immaculately clean and just remarkable.
The most eye-catching building on Grand Place is the Town Hall. It was built in the 15th century and is listed as a UNESCO World Heritage Site., with detailed Gothic decorations on the facade. You'll be staring at it from other parts of Brussels, too, since the tower is crazy high.
The Rocco Forte Hotel Amigo is literally the neighbor of the Town Hall, so if you think you'd enjoy staying on the Grand Place, this is the place to book. Their restaurant has seating outside on the main square, so you'll be set up perfectly for some central people-watching.
Does anybody not like waffles?? (This photo is from Bruges, but still, waffles aren't to be missed anywhere in Belgium.)

Waffle tip: You'd think that in a country famous for waffles, you'll find some great ones all over the place. Wrong! Most of them are tourist places and they suck! For a yummy waffle, try Eight & Three or Maison Dandoy, both very close to Grand Place.
Opposite the Town Hall is the Brussels City Museum where you can learn about the city's history as well as check out the original Manneken Pis statue. The museum building itself is very impressive (or scary looking, depending on who you ask).
Everything mentioned on this itinerary is explained in more detail in our Brussels Guide.
Day 2: Manneken Pis, chocolate, the Atomium and Mini-Europe
Main stops today: Manneken Pis, Tin Tin mural, Choco Story Museum, Sacre Coeur, Atomium, Mini-Europe
Read details about everything in this itinerary in our Brussels Guide.
Morning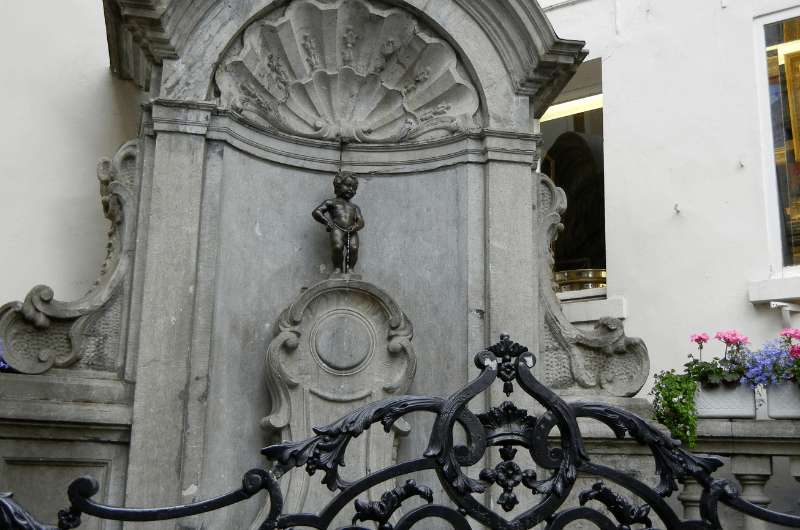 Well, there it is, Brussels' pride and joy.

The first thing you'll be seeing this morning in Brussels is a small statue of a boy peeing into a fountain—the Manneken Pis on corner of the Rue de l'Étuve and Rue du Chêne Brussels. It is one of Belgium's famous landmarks, kind of like the Atomium that you'll be seeing later today, but...
...don't go with huge expectations, the most exciting thing that could happen is that Manneken Pis is wearing one of his many costumes. Read one of the possible stories to why he is even a thing in our Brussels Guide.
The current Manneken Pis is a replica, his original is in the Brussels City Museum, which you may have visited yesterday.
Right down the road from the little urinating boy is a nod to another Belgian icon—Tin Tin. There are many comics murals in Brussels, since this is where they originated, but the Tin Tin mural is the most famous one. It's on the side of a gift shop on Rue de l'Étuve.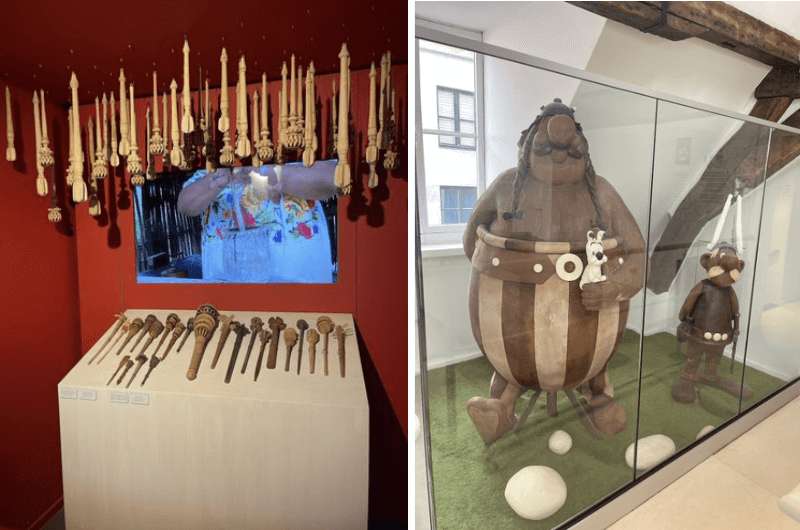 Good times at the Choco Story Museum

Next up, chocolate! Book your tickets to the Choco Story Museum in advance, because it is very popular and there's always a line out front. You pick a time slot and then just breeze past everyone in line.
This is the best chocolate museum we've visited ever, and we've been to 10 all over the world. It's fun, it's educational, it's tasty—what's not to love? And, you have a chance to achieve a Manneken Pis hat trick. That's right, there's a chocolate version of the little dude, too.
The tour takes 1.5 hours, plus however long you want to stay at the gift shop.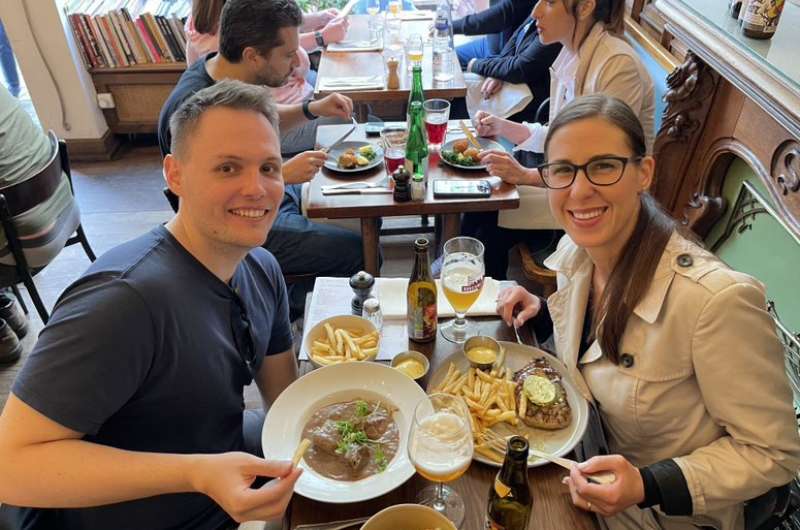 Belgian food making us smile @ Nüetnigenough in Brussels

Restaurant tip: Depending on how much chocolate you consumed at the tasting at the end of your tour, you may or may not be ready for lunch just about now. Right around the corner from Choco Story is one of our favorite restaurants in Belgium, Nüetnigenough. Get the steak. And fries and beer. Come on, you're on vacation!
Peeing bonus add-on op: Just for the heck of it, if you want to round out your urinating statue streak, check out Zinneke Pis a few blocks to the north. Woof.
Regular add-on op: If you ran out of time or stamina yesterday, you could squeeze in a visit to the Brussels City Museum on Grand Place. Because if you don't, you won't get that Manneken Pis hat trick and you know you want to.
You'll be heading out to northern Brussels in just a moment, but tell your Bolt driver to make a pit stop first at the National Basilica of the Sacred Heart, aka the Sacre Coeur, first. It's about halfway between the Grand Place and the Atomium. You won't pay more than €10 for this portion of the taxi ride.
It's absolutely humongous. You can pay €8 to climb to the Panorama, a viewing platform that's right under the dome. Then you can look towards the center of Brussels down the green avenue of the basilica's park and it's pretty amazing. Without the Panorama, there is no entrance fee.
Afternoon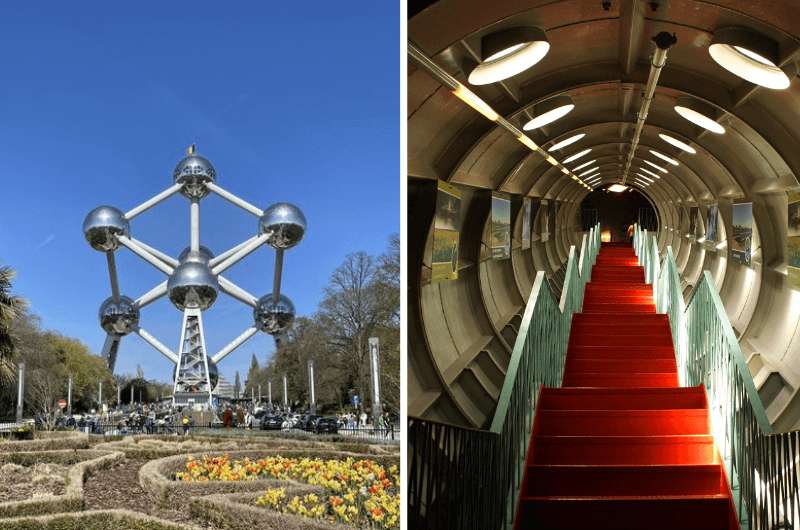 The escalator even has a light show going on. It's like a trip to Space Mountain!

Bolt your way up towards the Atomium, Belgium's biggest and most futuristic-looking landmark. From Grand Place to the Atomium, your taxi fare will be around €15, more if you make your driver wait at the Sacre Coeur.
Restaurant tip: If you didn't eat in the city center, note that there is no shortage of restaurants in this part of town either, especially along Avenue Houba de Strooper. Or, try to get a table at the dome-shaped Salon 58 & Brasserie Bruxelles. Just like the Atomium, it was built for the 1958 Expo, and was designed by the same engineer as the Atomium and is right next to it. It has a wonderful terrace and first row views of the Atomium.
At the Atomium, buy a combination ticket for it and Mini-Europe. It'll save you some euros and a long wait at the entrance of your next stop. It costs €29.40 and can only be bought in person.
Alternatively, if you get there and the line is just too much to handle, get both of your tickets online (Mini-Europe tickets here, Atomium tickets here).
You can go inside 5 of the 8 spheres and the concrete building at the base. There are exhibits, a restaurant, a gift shop, and a light & sound display. The very top orb is a viewing platform and can be accessed by an elevator.
You'll spend 30 minutes to an hour inside the Atomium but note that we found it way more interesting just looking at it from the outside. It's spectacular!
Open daily 10 am–6 pm (last entry at 5:30 pm)
Tickets cost €16 and can be bought online . There is a small extra fee when buying online. The combination ticket with Mini Europe costs €29.40 and can only be bought in person.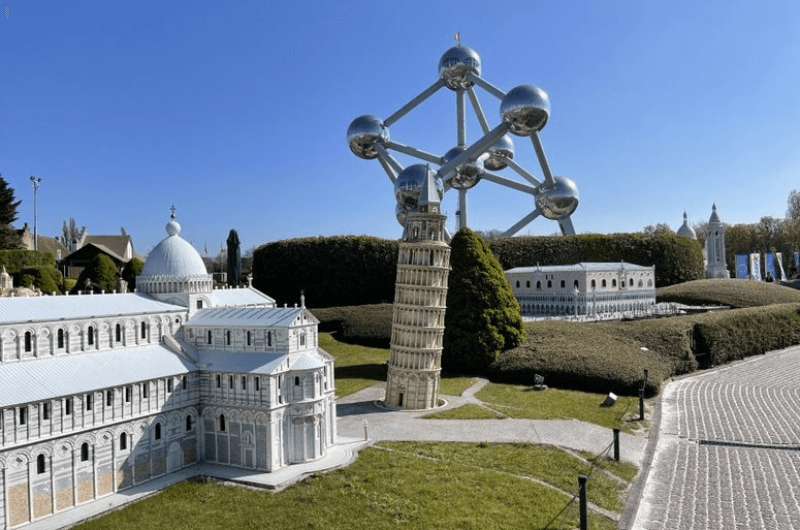 The Atomium will make an appearance in a lot of your Mini-Europe photos

The last thing on your itinerary today is Mini-Europe—a place full of miniature models of important buildings from around Europe. It is right next to the Atomium.
Some countries get more representation than others. The models aren't even that small, with some towers and castles easily reaching the height of an adult, and tall structures like the Eiffel Tower being way higher than that still. Add 9000 little people to that. Those are, in fact, little.
It is easy to spend 4 hours at Mini-Europe, there is really that much to see. Make sure to put aside enough time for it.
Mini-Europe, Av. du Football 1
Open daily 9:30 am–6 pm (until 7 pm in July and August)
Tickets cost €17.30. Buy them online. OR The combination ticket with Atomium costs €29.40, saves you a few euros, and can only be bought in person at either site.
Day 3: Park Cinquantenaire, huge museums, and comics
Main stops today: Park Cinquantenaire, Triumphal Arch, Museum of Armed Forces, Autoworld, Comics Museum
Read details about everything in this itinerary in our Brussels Guide.
Morning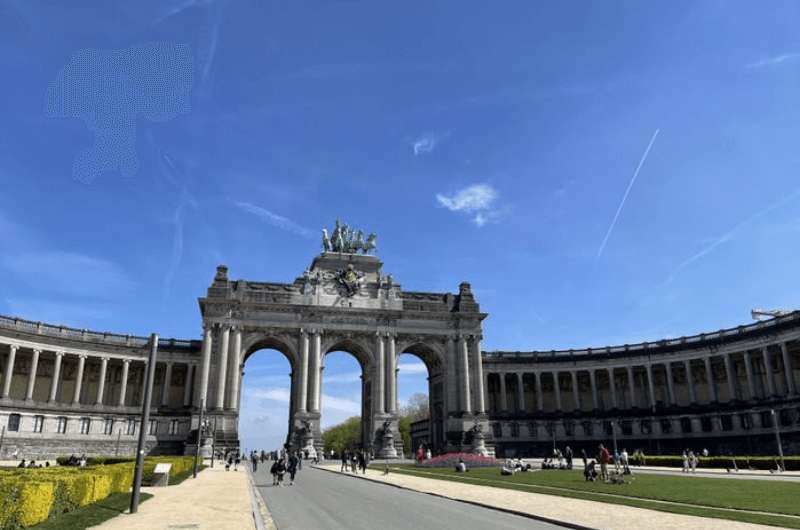 Isn't it a beauty? Brussels' Triumphal Arch

Today you'll start east of the city center, so depending on which hotel you're staying at, you'll either need to Bolt (like if you're staying at the Rocco Forte Hotel Amigo or another hotel on or around the Grand Place), or you can walk.
We think you'll be happy staying at the Radisson Red. We certainly were!

The Radisson Red is about 1 km (0.6 miles) from Park Cinquantenaire, which is where you'll be spending a good chunk of the day today. You can easily walk, through Leopold Quarter.
A quick note on why we like this hotel so much: The concept focuses on bringing people together through art, fashion and music. It's all very youthful and connected and just cool. This being a Radisson, the standard is high, the staff is incredible, and the price is right—€250 per night for 2 people with breakfast. We stayed at the Radisson Red in Lima, Peru, earlier this year, and felt every bit as happy with it there, too.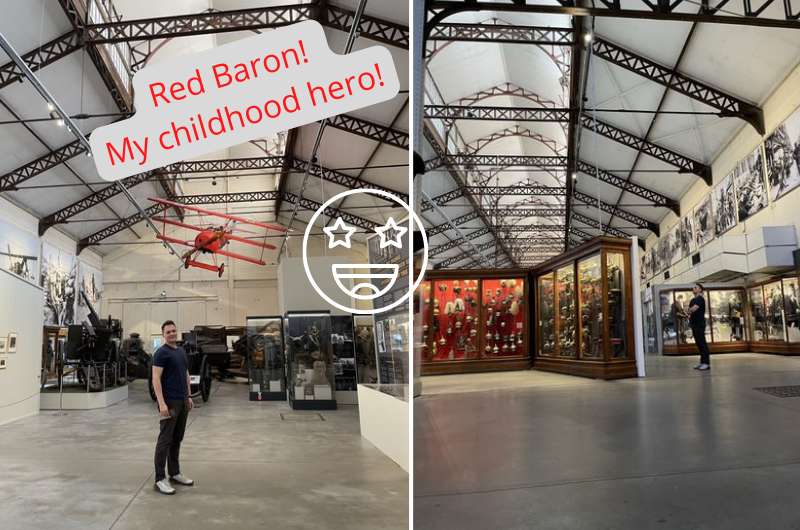 Big smiles geeking out with the Red Baron plane and trying to see it all @ Royal Museum of the Armed Forces and Military History

You could spend the better part of the day in Park Cinquantenaire, which is home to some of the best museums we visited in Belgium. What you'll notice first though, is the Triumphal Arch. It's the dominant structure in the park that was erected in 1905. You can (and should) climb to the top of the Arch for some pretty fantastic views. Your ticket to the Museum of Armed Forces gets you up there.
The Royal Museum of the Armed Forces and Military History was one of the biggest museum I've ever been to. It takes you through history starting from the Middle Ages until present day, looking at everything from arms and armor to tanks and airplanes. The latter in the connected Aviation Gallery.
There are 11 sections in the museum and everything is ordered chronologically so you can pick and choose and skip around if you've got a particular interest in some areas and not so much in others.
I'd say put aside a minimum of 3 hours for this museum. The only thing I'd say sucked just a tiny bit is that many of the signs weren't in English. The WWI exhibit was, but other parts were hit and miss.
You can climb up to the top of the Triumphal Arch with your ticket to this museum and it is definitely one of the highlights of the visit. The view you get is like no other in Brussels.
Me with Tintin's car and Karin with an oldie but goodie BMW 507 @ Autoworld

Right next to the Royal Museum of Armed Forces is Autoworld. It's about 1/5 the size of the Armed Forces Museum and it's still one of the largest car museums I've ever been to. And one of the best.
There are various zones in Autoworld, each focused on a specific topic or country.
You'll need 1–2 hours inside Autoworld.

Alternative museum: If armed forces or cars aren't exactly your cup of tea, how about some art and history? The Art & History Museum is also in Park Cinquantenaire and it displays artifacts and art from prehistory to Art Nouveau and Art Deco, including mummies from Egypt and Buddhas from Asian countries. Tickets cost €10 and can be bought online, though I don't think it's necessary.
Afternoon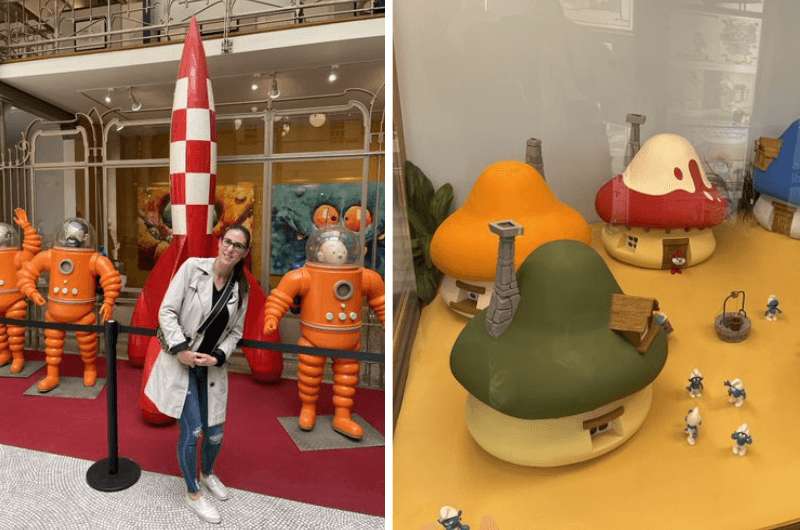 You can't deny the Comics Art Museum is cute

You'll now head back to the very central part of Brussels. You can do that by walking, taking a Bolt, or even taking the subway from Merode station to Centrale station (line 1 or 5).
Restaurant tip: There's a place called Wolf Food Market that is perfect for lunch or even an informal dinner. It has a very cool concept—no servers taking orders or payments, just tablets. It's a huge food court with a cool design in a historic building with 16 restaurants of all types. Highly recommended!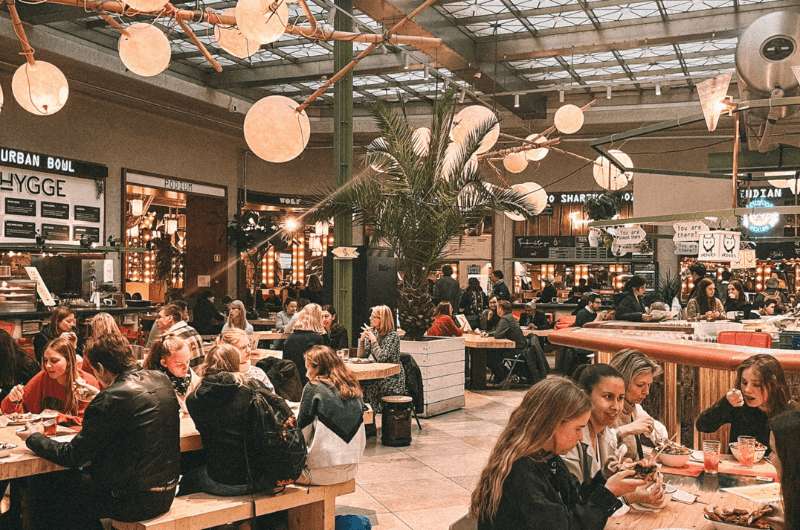 Wolf food market is one of our favorite restaurants in Belgium

Your last museum of the entire trip is the Comics Art Museum. Since The Smurfs, Lucky Luke and Tin Tin, among many others, are all Belgian, comics are a big deal in the country.
Take 1.5 hours to explore the history of this cute art. Don't miss the 3D Smurf house!
Open Tuesday to Sunday 10 am–6 pm (last admission at 5 pm). Open daily during July and August.
You can then stop by St. Michael and St. Gudula Cathedral, which is Belgium's national church. It houses what is apparently a piece of the wood from Jesus' cross. Free entry.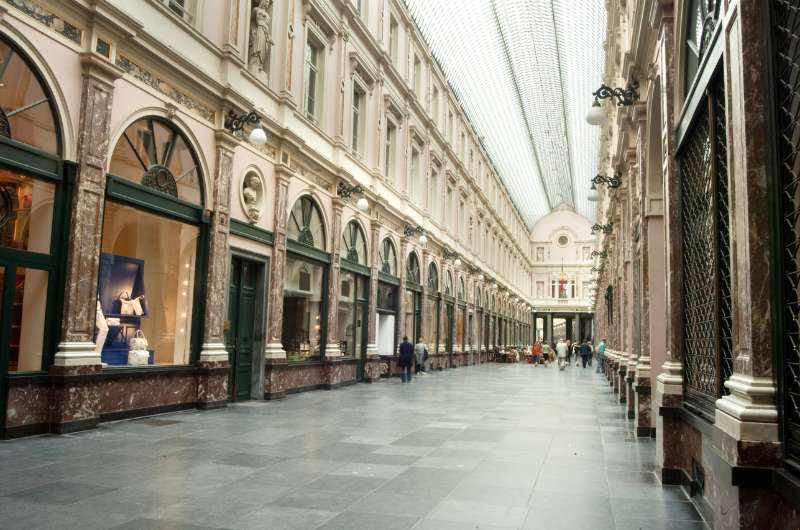 The Royal Gallery of Saint Hubert

That just about concludes your Brussels itinerary, but wait, have you bought souvenirs yet?! You can do that (or not) at the Royal Gallery of Saint Hubert, an old and fancy shopping mall. It has been designated a historic monument, and just walking through the three galleries with high, arched, glass roofs can be enjoyable. It's small, but if you stop for a coffee and stock up on chocolates, you can forget what time it is.
Everything mentioned on this itinerary is explained in more detail in our Brussels Guide.
FAQS: Travel tips and tricks for Brussels
Click through the map to see our list of places in Brussels on Google Maps

Check out our Belgium travel tips article for more Belgium insider information, but here are some bits that we wanted to point out specifically for Brussels:
How do I get from the airport to Brussels city center?
To get from Brussels airport to the city, head to the -1 floor right under the arrivals hall at the airport and board one of the many trains to Brussels Central Station. Belgium's trains are the best way to travel, don't even consider renting a car. Trains are fast, reliable and cheap.
Airport trains run approx. between 5 am and midnight.
Buy your tickets online in advance so you don't need to deal with ticket counters at the airport. Tickets aren't time-stamped and are valid for any train on the day you purchase your tickets for, so no need to be stressed about making your train.
For as cheap as €8 (2 people traveling together), you'll be alighting at Brussels Central Station in only 18 minutes.
Alternatively, if you're staying in the EU Parliament area (like at our fave hotel, the Radisson Red), get on a train to Brussels Shuman. It's only 10 minutes from the airport and about 800 m (0.5 miles) from the hotel.
A taxi from the airport to the city center costs around €40.
Should I rent a car in Brussels?
Don't bother renting a car in Brussels, parking is dreadful, and you can walk or Bolt everywhere easily. Even public transportation is easy enough. That brings us to...
How do I use public transportation in Brussels?
We rarely use public transportation. If we can't walk there, we usually just take a taxi (Bolt or similar). Brussels was no exception.
That said, there are 4 metro (subway) lines and a million trams and buses. Don't ask me for details on those, but I'm sure you could figure them out once in town. You can try to use the journey planner here, or get the app (on the same website).
If you buy the Brussels Card, public transportation is free for you.
Otherwise, the easiest way to get a ticket is to buy a single-fare ticket once you board your metro/tram/bus. This costs €2.50, which is a little more than if you buy your ticket beforehand from a frustrating ticketing machine or from a kiosk or newsstand. Alternatively, get a 24-hour ticket for €7.50.
Don't forget to validate your ticket when you get into the tram/bus or metro station.
What do I need to know about visiting museums in Brussels?
If you are a museum fan, check out the Brussels Card. It gives you free entry to 49 museums in Brussels.
Remember many of Belgium's museums are closed on Mondays, so plan accordingly.
Also related to museums: Most museums in Brussels close at 5 or 6 pm, meaning you need to get an early start if you want to cram in a lot of them during the day. But then you can look forward to lovely evenings where all you have to do is eat and drink. Seems like a good trade-off to me.
What language do they speak in Brussels?
Most people in Brussels speak French as a first language, but since Dutch is also an official language in the city, almost every sign is also in Dutch. As a bonus, everyone can speak English, making your life a lot easier. Learn more about languages in Belgium in our Belgium Basics article.
How many days do I need in Brussels?
We obviously think that you need 3 full days in Brussels just thanks to the number of amazing museums that Brussels has to offer. They really are that good.
We've included many alternatives to the ones we chose for this itinerary, so it's not even that you'll see them all in 3 days, it's still only a small selection. Read our Brussels Guide to get a better idea of which museums you'll enjoy the most.
Without museums, two days in Brussels would be enough. But certainly make time at least for the Parlamentarium, Mini-Europe and the Atomium. You just have to.
If you're short on time and want to see more than just the capital, cut one day off Brussels and take a day trip to either Bruges or Ghent (we're slightly bigger fans of the latter). They're a short and easy train trip away from Brussels and the canals alone will make your journey worthwhile.
Is Brussels a boring city?
I thought it would be, but I'm recommending you give it 3 days, so no, of course not!
Before I did any proper research on Brussels, I thought it would be just ok, but not a top destination in Belgium. Then I started reading about all the museums and things to do and knew we'd be in for a treat. And even then Brussels surpassed my expectations.
So don't worry, you'll like it. There's something for everyone. Even if you don't especially like museums, there's fun places like Mini-Europe and Atomium, and my favorite thing about Brussels was the main square, Grand Place. It's so elaborate and beautiful, you just have to see it with your own eyes to appreciate it.
Where to next?
You, too, can do a photo-off at St. Michael's Bridge in Ghent

Are you thinking of extending your weekend in Brussels to a week in Belgium? Brussels is a great base for exploring Belgium. We put together a list of day trips from Brussels that take you not only to Bruges and Ghent, but also to the coast, the south, and even to Paris!
Check out our list of the top things to do in Belgium if you think you want to see even more of the country. Don't forget though, the museums in Belgium are the best in the world (as far as we can tell from our experience), and so is the beer (and the food doesn't suck either).
Before you head off, read up on Belgium's history, geography, languages (and much more) and make use of our handy dandy Belgium travel tips.
You can say hello in the comments below or follow us on our Facebook page and stay tuned for lots more travel tips (and my famed sense of humor) there!
This post may contain affiliate links. We earn a small commission if you make bookings through my links, at no additional cost to you. This helps us keep this blog free, thank you!