So much to see, so little time! If you have just a weekend in Belgium then forget about any day trips. You'll be hard pressed to squeeze all of what Brussels has to offer into those two short days.
But if you have some extra time on your hands, you can easily base yourself in the capital and fill out a whole week with day trips. Actually, you can see much more (but you'll need even more time!). Refer to our Best places in Belgium article to read about 12 top spots to see in the country.
But this wouldn't be Next Level is we didn't try to be a little extra and send you not only to destinations in Belgium, but across the border as well! Read on to see how visit Paris or Luxembourg in a day. Yes, we're nuts. But since you're interested, so are you!
You might also be interested in reading:
Train travel in Belgium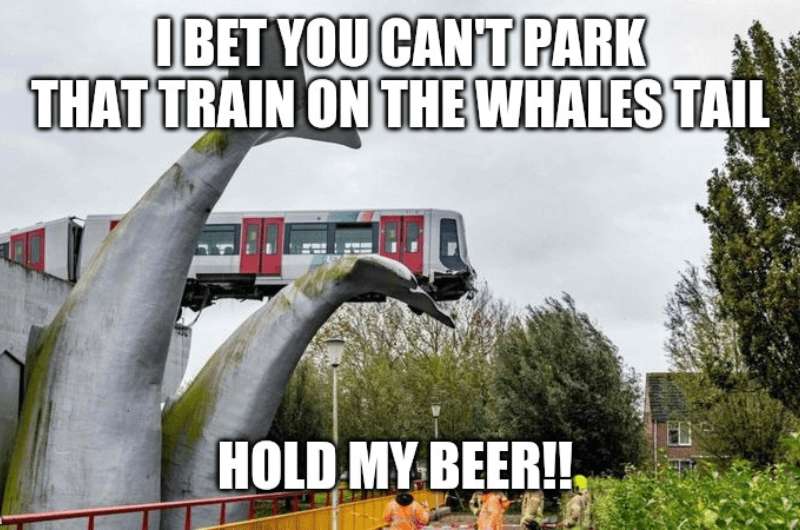 Veering away from my usual recommendation to rent a car anywhere you travel, Belgium is one of the rare places where I say use public transportation. But just the trains. I wouldn't be caught dead on a bus.
Traveling by train is the coolest, most comfortable and economical option, plus Belgian trains are super fast. And you don't have to look for parking. Could you imagine? "Excuse me, sir, where can I park my train?"
A fantastic incentive from SNBC, the National Railway Company of Belgium, is the so-called duo ticket, which allows two people to travel on one ticket (for the price of a single ticket).
Kids under 12 yo travel for free with adults on domestic train rides.
You can buy return tickets, though the price is almost exactly the same as two single tickets. First class isn't worth it in my opinion, since second class is already high standard and sometimes isn't even in a separate car from the first class. There is slightly more room in first class, that's it.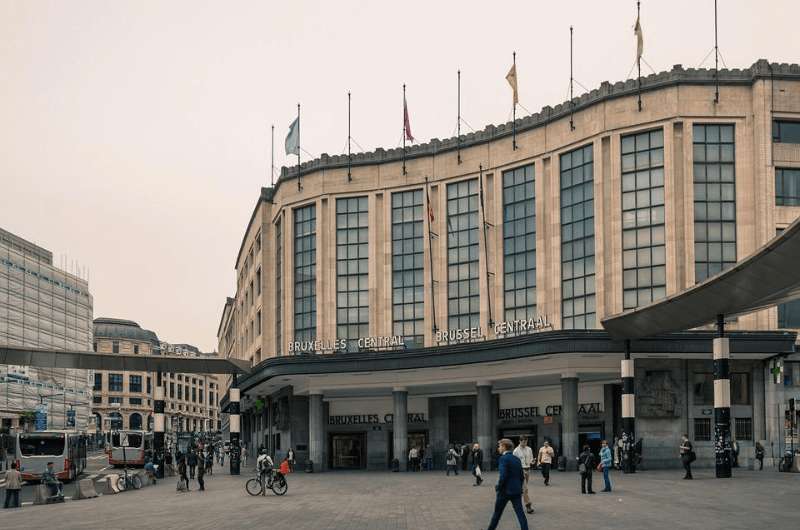 Most of your day trips from Brussels will start here

Get your train tickets online at SNBC's official website or at the train station in person.
If you plan on leaving your bags at the train station and you have a lot of them, or they are of the huge variety, consider booking a locker in advance. Don't mind the fact that the booking site says "events"—you are in fact going to click through to lockers once you choose your city.
The bigger lockers at train stations tend to get full fast and you don't want to cause a disturbance with your heavy wheelie suitcase on the cobblestoned sidewalks of the historical city centers you'll be visiting. Not to mention it being a pain in the back end to pull your stuff around all day.
Note that your train tickets will usually be valid for the route and date you pay for, but not a particular train. You just get on when you're ready to ride.
For each day trip below I'll give you the one-way, second class seat price from Brussels Central Station.
If you choose to drive, suit yourself. But you're going to have to look at Google Maps for driving times, the times below are for the train ride.
Our top tips on traveling by train in Belgium:
Forget driving, take a train! Trains in Belgium are top quality and fast.
Two people usually travel for the price of one. Just choose the "duo ticket" option.
Your ticket isn't for a particular train. It is valid on any train on the day you purchased your ticket for.
The TGV high-speed train allows you to see Paris in a day! It'll be a long day, but it'll be worth it!
Day trip from Brussels to Ghent
People-watching in Graslei is considered one of the top activities in Ghent

Travel time: 30 mins
Destination station: Gent Sint Pieters Station
Ticket price: €9
Getting from the train station to the city
Click through the map to our Google Maps list of highlights in Ghent

A swift 30-minute train trip from Brussels will take you to Ghent—the medium-sized city with a super compact city center just made for a perfect day trip.
There are at up to 6 hourly departures from Brussels to Ghent, so it's probably easier getting there than your daily commute to work.
The Ghent Sint Peters train station is in the southwest of town, outside of the city center. You can walk the 20 minutes, take a taxi or tram no. 1 to the city center.
You can leave your luggage in the automatic left luggage facility at the train station.
Things to do in Ghent
Canals and castles = Ghent

Ghent is a charming city with canals lined by picturesque buildings, and a 10th century castle that we would've loved to visit had be bought tickets in advance.
If you look at the places on our list of things to see in Ghent, you'll see they're all located within 1 km2 (0.6 sq. mi). And you'll also know which tickets you need to buy in advance in order not to miss them like we did.
Tourist life in the city center is centered around Graslei, a sort of promenade by the river lined by gorgeous houses and even more gorgeous eateries. So not a particular thing to see here, but it's the atmosphere that'll entice you. It reminded us of Copenhagen's Nyhavn.  
At the southern end of Graslei is the almost mandatory photo op with St. Michael's Bridge in the background, and from there it's just a short walk to one of the top sites in Ghent, St. Nicholas' Church. Then you can see the Belfry, which actually gives you the best view of St. Nicholas's Church, and right after that, our personal favorite, St. Bavo's Cathedral.
Moving to the north, you'll hit Ghent's town hall, which is a beautiful, stately building (see it lit up at night if you can) and then, walking through Grafitti Street, you're almost at one of Ghent's most prominent plazas, Vrijdagmarkt. 
As I mentioned, our favorite spot in Ghent was the 10th century Gravensteen—a fantastic medieval castle surrounded by a moat.
For all of our tips and more places to see in Ghent, read up in our full Ghent guide.  
Staying the night?
Comfy, cool and chic @ Pillows Grand Boutique Hotel Reylof

This is meant to be a day trip, but hey, you do you.
If you want to stay the night, note that most of the accommodation in Ghent are b&b's and apartments.  
For an actual hotel, see if you'd like the cozy but fab Pillows Grand Boutique Hotel Reylof. It gets you contemporary design, high ceilings and rain showers in the rooms and apparently also very comfortable pillows! 
Day trip from Brussels to Bruges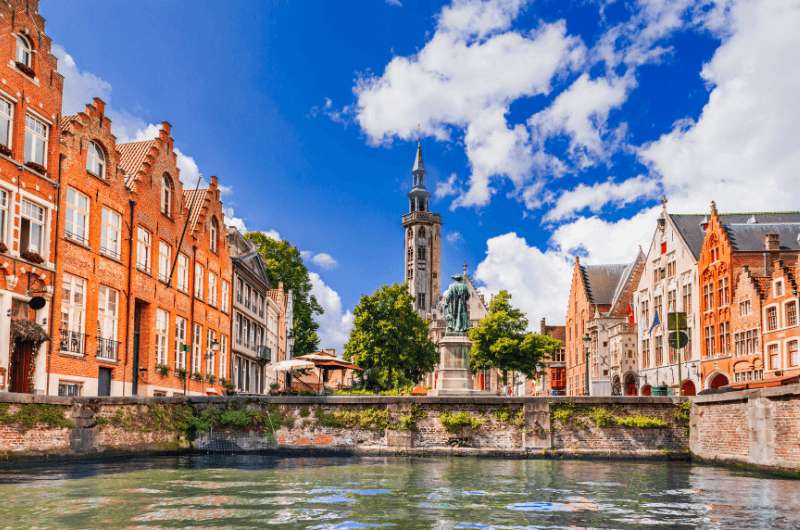 Bruges city center

Travel time: 1 hour
Destination station: Brugge
Ticket price: €14.70
Getting from the train station to the city
Click through the map to our Google Maps list of highlights in Bruges

There are many departures from Brussels to Bruges per hour, so you won't have trouble getting to and from the city at any time of day.
The train station, simply named "Brugge", is right outside the city's protective water ring by the southern part of the center.
You can take a taxi or one of the many bus lines into the city center, but I'd suggest you walk and just start your sightseeing from the southern part of Bruges up towards the north. Lovers' Bridge is right across the river from the train station, so you can make that your first stop.
If you are lugging around your luggage and you don't want to be, have no fear, there are automated left luggage facilities directly at the train station.
Things to do in Bruges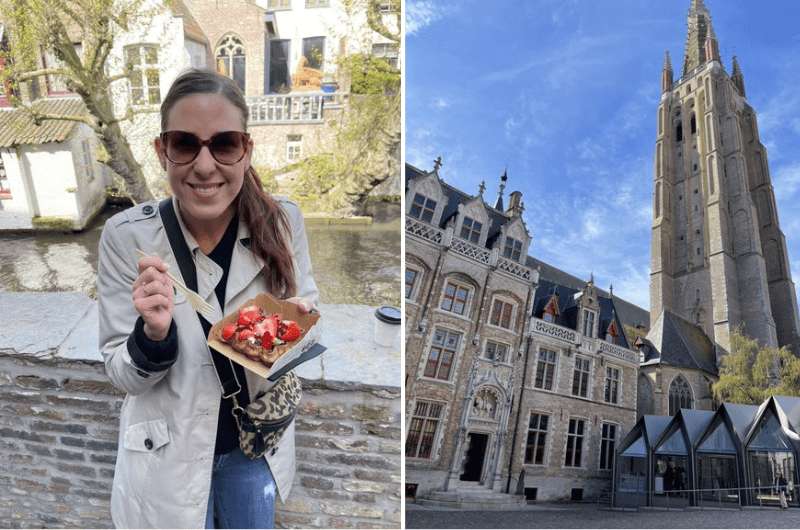 Waffles make life—and day trips—better @ Bruges

Bruges is lovely, thoroughly Instagram-friendly and romantic, and very touristy. Why? The city center is basically an island encircled by a river, and then cut further into bits by the numerous canals, with many a lovely building all over the place.
That also means that besides walking, you can take a half-hour boat canal tour.
We have a detailed guide to things to see in Bruges, so head on over to read that for the specifics. But just so you get an idea:
In the very center of Bruges is Market Square (Grote Markt) and Burg Square, along with their fantastic buildings—like the Basilica of the Holy Blood with a "real" bit of Jesus' blood-stained cloth (hop on over to Turin to compare it to the man-size Jesus print on another old and revered piece of fabric) or the Bruges City Hall with its impressive Gothic Hall.  
There are several very tall towers that loom over the city, including that of the Church of Our Lady Bruges, which not only has a super tall tower, but it is also home to the only original Michelangelo statue outside of Italy. The UNESCO-acknowledged Belfry is another. Just make sure you get your tickets in advance or you'll be stuck looking at it only from the outside, just like poor old ticket-less us.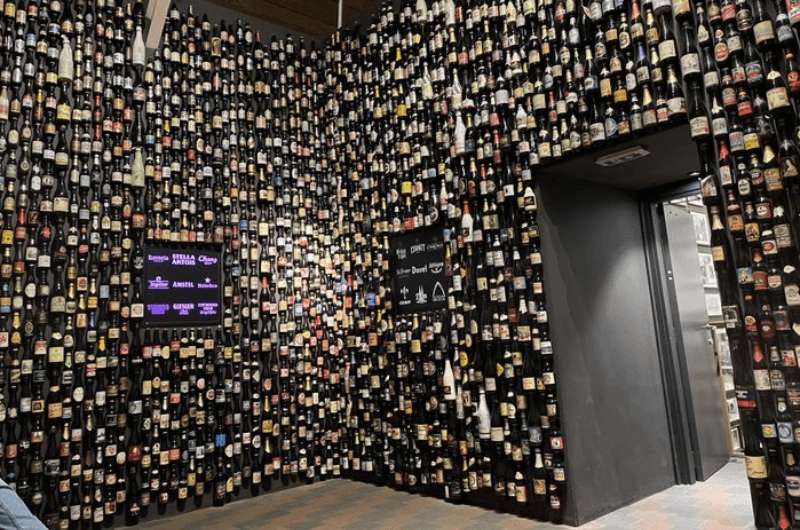 My idea of interior decorating @ Bruges Beer Experience

If you know anything about Belgian food and drinks (you can read our article about what to eat in Belgium if you don't!), you'll know to expect lots of beer and waffles.
You'll be pleased to know that Bruges is home to some of the best Belgian waffles we've come across in the entire country. Get your, too, at Otto Waffle Atelier.
But the two top places that we visited in Bruges were very beer-oriented. The De Halve Maan brewery tour takes you through one of the oldest breweries in Bruges, and the only one that has kept its production within the city center. Check out that underground beer pipeline!  
The other is the Bruges Beer Experience. A fascinating museum especially for us beer lovers, but anyone that likes to learn about the country they are visiting is bound to have a great time here. Even if you don't go for the beer tasting on the rooftop at the end!
Get a full rundown on what to do in Bruges in a separate article.  
Staying the night?
Right on the canals of Bruges @ Relais Bourgondisch Cruyce

If you have some extra time and would like to enjoy some small-town charm, consider staying the night in Bruges.
The 4-star, waterfront property of Relais Bourgondisch Cruyce is up there in romance vibes. The staff at this boutique hotel get infinite accolades in reviews, which is always the thing that can make or break your stay.  
Rooms are decorated with the owner's art collection and antiques, and they can be on the cozier side (read: small), but at this hotel, it all just feels enchanting. You'll have breakfast overlooking one of Bruges' canals and can sit by the fireplace in the dining room with your afternoon tea (read: beer).
Day trip from Bruges to Antwerp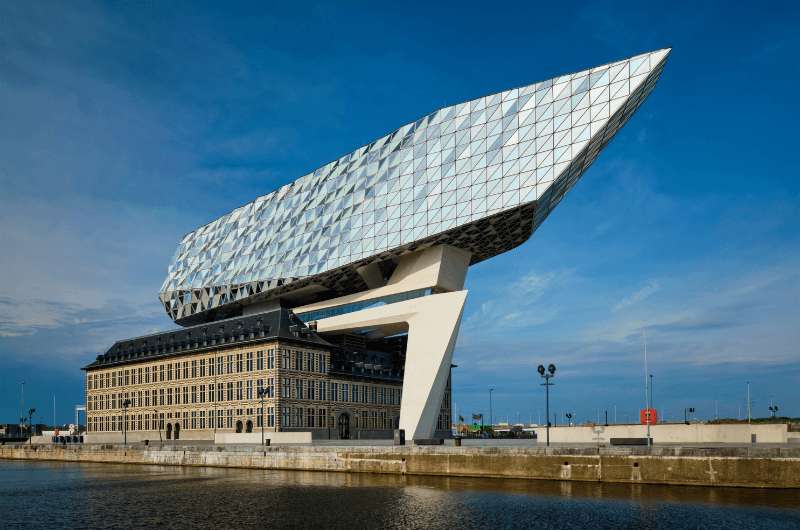 Move along, just getting abducted by aliens, nothing to see here @ Antwerp Port House

Travel time: 1.5 hours
Destination station: Antwerpen Centraal
From the train station to the city
Click through the map to our Google Maps list of highlights in Antwerpen

Trains from Brussels to Antwerp depart several times per hour all day long.
The 1.5 hour trip up north will take you right to your first sightseeing stop in Antwerp—the Centraal train station. It's a huge, fantastic piece of architecture that warrants a visit even if you aren't riding the train. It is often featured on lists of the world's most beautiful train stations.
There are lockers at the station, and they are known to fill up during the day, so these are certainly ones to book in advance.
Antwerp's Central Station is in the city center, so you can just walk out and start sightseeing when you're done taking too many photos of the domed ceilings.
Things to do in Antwerp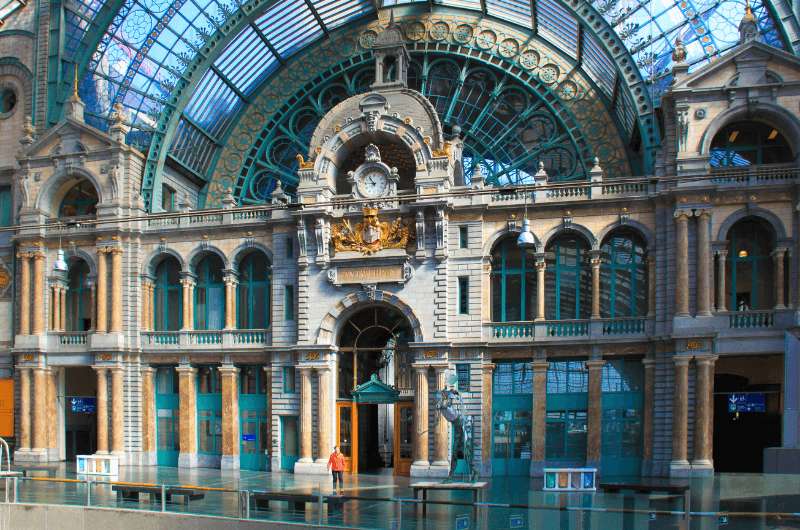 Antwerp Centraal Train Station is a destination in itself!

Belgium's second largest city and the second largest port in Europe is synonymous to diamonds, Rubens, and style. It combines the riches of Brussels with the history of Ghent and Bruges, but with a bit of an artsy edge. And a nightlife. And a Port House that aliens have landed on.
Antwerp is the world's diamond trading hub, with 84% or the world's rough diamonds making their way through. The Diamond district is located close to the main train station if you're up for a shopping trip.
Antwerp is a rich city, which brings all kind of niceness into the historical mix. You'll notice the old and the new coming together in Antwerp on every corner. Like at the post. Seriously, check it out: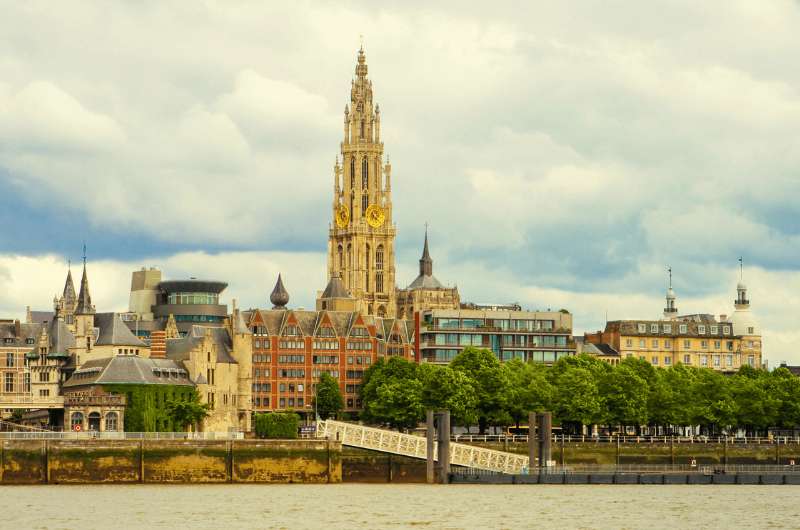 The mighty Cathedral of Our Lady towering above Antwerp

The Stadsfeestzaal Shopping Mall is in a restored historical building with arched high ceilings and golden everything. Get a glass of bubbly at the Champaign bar even if you don't feel like stocking up on new outfits.
The main square of Antwerp, Grote Markt, is surrounded by intricately decorated historical buildings where gold has been used to a great extent, like the City Hall. It's a great place to people watch and have a beer or three, all while trying to figure out the statue/fountain in the middle.  
A few steps off of Grote Markt is the Cathedral of Our Lady, a church with a spectacular white interior, that tower you can see from all over the city, and Rubens' works on display. That's because Antwerp is also where famed artist Peter Paul Rubens lived and created. Go pay his old digs a visit at Rubens House, which he apparently built himself. It is now a museum and gallery.
Don't forget to see Het Steen castle and then learn about Antwerp's history in the cool MAS museum. Or about the history of the many immigrants that left Europe to the USA by ship through the very building that the Red Star Line Museum is housed in today.  
Staying the night?
Zen vibes @ Botanic Sanctuary Antwerp

In a nutshell, Antwerp is super cool. You'd probably be missing out if you only spent the day here, because unlike, say, Bruges, there is fantastic nightlife in Antwerp. 
If you can stay at the 5-star Botanic Sanctuary Antwerp, you'll be doing yourself a favor. It doesn't have the word 'sanctuary' in its name for nothing! The indoor pool oozes tranquility and there is a gym and a fantastic spa with numerous treatments available. Not only that - it has not one but several Michelin-recognized facilities and chefs on site.  
If you use any of our booking.com links to book a hotel (any hotel), we get a small commission at no extra expense to you. All you get is a great feeling for supporting our efforts. Thank you! 
Day trip from Brussels to Charleroi
Mixing the old with the new @ Photography Museum, Contemporary Art Center of the French Community


Travel time: 1 hour
Destination station: Charleroi Sud
Ticket price: €10
From the train station to the city
Click through the map to our Google Maps list of highlights in Charleroi

Charleroi's Sud train station is the main train station in the city, and once you get off your train you are right across the river from the city center, so you can easily walk there. If you want to start your sightseeing in some of the great museums in the south of the city, just grab a cab.
Similarly to that of Antwerp (though in no way on the same level), Charleroi's train station is one of the places of interest in the city. It's important to note that since Charleroi has been known as Belgium's ugliest city, you shouldn't expect too much. It's pretty nice from the outside, the inside is hit and miss.
There are roughly two departures an hour from Brussels to Charleroi. The trip takes an hour.
You can use the lockers at the train station for your bags.
Things to do in Charleroi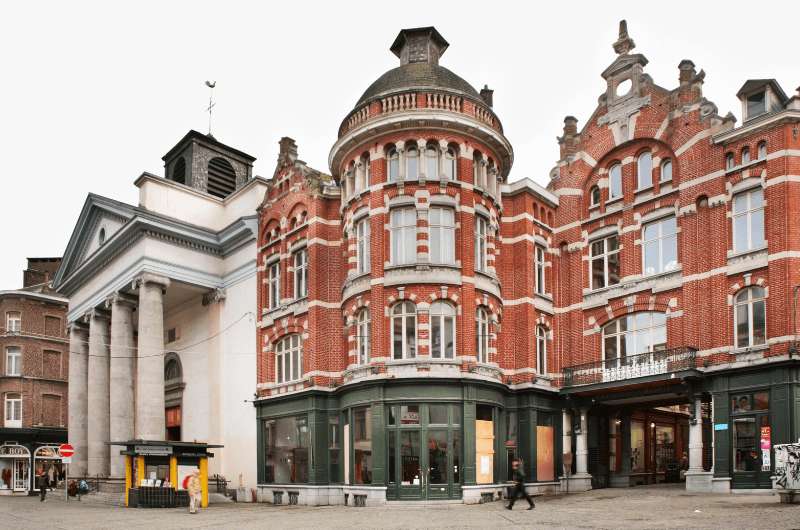 It's not all ugly @ Charleroi city center

Charleroi is the largest city in Wallonia, aka the French-speaking half of Belgium. If you Google it, you might find that Charleroi was voted the ugliest city in the world. It is also apparently home to some corrupt polititians and has been called the most depressing city in Belgium. But don't flock to Charleroi just yet! Lol.  
What it lacks in beauty, though, it makes up in character. And fantastic museums and galleries.
Charleroi has seen a major facelift in recent years, making the central part of the city actually pretty nice. If you have your expectations straight. It's the kind of place that used to be really grubby and is now turning kinda cool. You won't call it beautiful, but you might think it's bohemian and trendy.
Somewhat surprisingly then, Charleroi is home to one of the best photography museums in Europe, the Photography Museum, Contemporary Art Center of the French Community. It's located in a renovated convent building, with a contemporary wing added to the side of it. Even just this contrast of the architecture is worth seeing, though the exhibitions inside (and outside) are a must-see on any art-literate tourist's visit.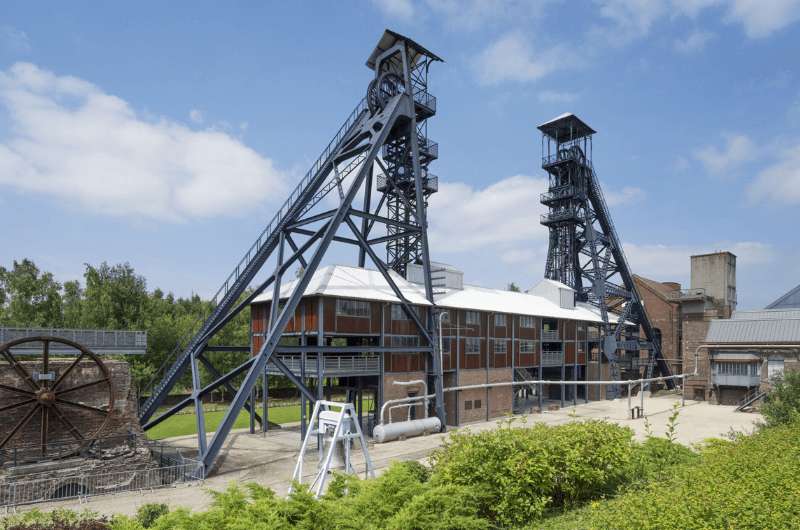 Back to Charleroi's roots: The former coal mine turned museum @ Boiz du Cazier


Across the river from the train station is where you'll find "new Charleroi", the facelifted area with shopping malls and welcoming, clean squares around them. Some are new, like the Rive Gauche, and some, like the Le Passage de la Bourse, add a modern renovation to a historical building.  
Since mining was what brought Charleroi its riches, and is also the reason why it then became the dump of a city it's known as, we thought it best to learn about this industrial history.  
Boiz du Cazier is an industrial heritage site—a former coal mine that was the site of terrible mining disaster in 1956—that is now home to two great museums. The Industry Museum focuses on the mining industry and the Glass Museum is all about glassmaking, which used to be famous in the region.  
Charleroi has another claim to fame besides coal and museums—it's the birthplace of one of the country's oldest comics magazines: Spirou. First published in 1938, Spirou featured famous characters such as Lucky Luke and The Smurfs. You'll find comics sculptures and murals all around Charleroi.  
Staying the night?
Why?! Just head back to Brussels. Charleroi really is good as a day trip, and a day trip only.
The cool and comfortable Radisson Red

In Brussels, we stayed at the Radisson Red and were very happy.
The Radisson Red concept focuses on bringing people together through art, fashion and music. It's all very youthful and connected, they even have an app where guests can share photos. There are huge TVs in every room, along with wall art and just art in general all over the hotel, customizable lighting in rooms and numerous social spaces where you can chill and to live DJs playing.  
Day trip from Brussels to Zwin Nature Park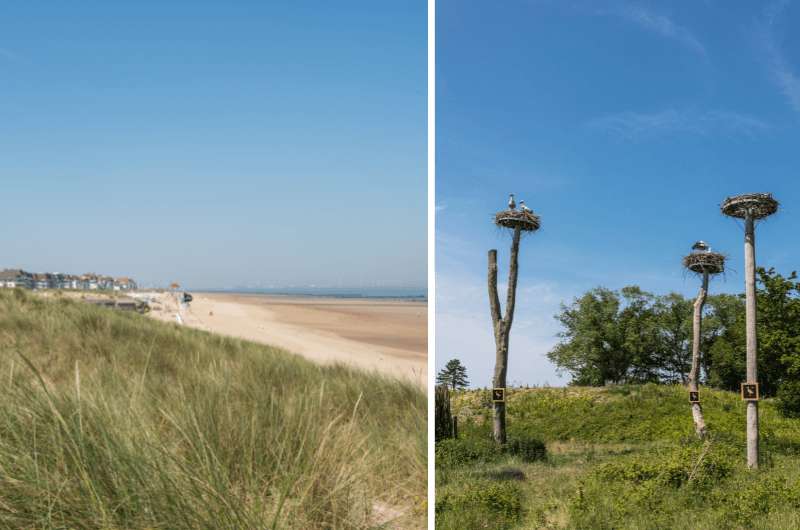 You'll start off along the beach and end up below the birds

Travel time: 1.5 hours
Destination station: Knokke
Ticket price: €17.40
From the train station to Zwin Nature Park
Click through the map to our Google Maps list of points of interest around Zwin Nature Park

From Brussels, you'll want to make your way to Knokke first. There are direct trains, or those with a quick and easy connection in Bruges. Both options end up taking 1.5 hours total. Trains depart 1-3x per hour.
Note that during summertime, especially the direct trains get full fast. Given you don't have a seat reservation, but just a ticket for any train of the day, you could end up having to wait for the next train with available seats. Trains with a connection are easier to get onto.
Once in Knokke, you can walk, rent a bike, or be lazy and get a taxi to the nature park entrance. See below for details.
How to see Zwin Nature Park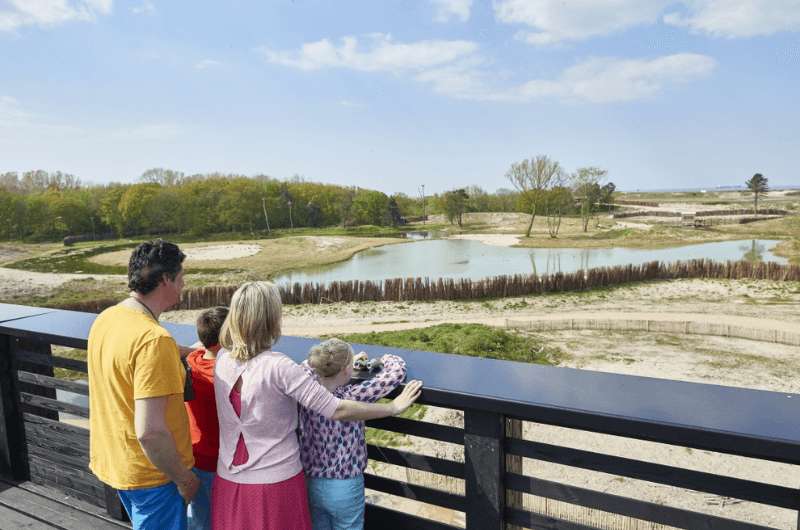 You'll be walking on a lot of wooden paths and making viewpoint stops @ Zwin Natuur Park

This day trip is a little different, because you aren't trying to get to a city, but rather out of the city. Don't go if you hate birds, walking, or the beach.
The Zwin Natuur Park is an area of flatlands (and a bit of dunes) by the sea where you can walk, bike, birdwatch and enjoy some peace and quiet. There's also a museum/education center that is interactive and fun (as they do in Belgium).
The closest town, Knokke, is where your train will drop you off. Knokke is a nice enough beach town, and the Zwin Nature Park entrance is about 6–7 km (3.7–4.3 miles) away from the train station, depending on how long you follow the beach.
We recommend renting a bike (there are several brick and mortar rental places to choose from or a bike-renting app) in Knokke and making your way through Knokke's central beach area and then through the dunes to Zwin Nature Park. If you walk, you follow a similar but separate route from the bikes, so nobody is getting run over by anybody.
Expect wooden paths through parts of the park

At Zwin Nature Park, there are several walking paths (not too long, probably an hour max, but it really depends on how much time you spend stopping and trying to spot a bird), the exhibition center, an observation tower, viewing platform, and several huts that allow you to stay hidden from the birds to give you a better chance to see them.
The birds, surprisingly, aren't as fond of humans as we are of seeing them, which is also why it's great to go in worse weather. Less humans = more birds.
There's a restaurant and gift shop on site.
If you're visiting in July, make sure to book your tickets in advance. Bookings are required, not just recommended. You know the full trains I mentioned above? Yeah, all those people are potentially also trying to visit Zwin Nature Park. The birds wouldn't be too happy about that, so the number of visitors is limited.
The general opening times are 10 am–5 or 6 pm. Open daily in the summer, Mondays and Tuesdays can be closed in other months, check the opening times on the website before you go.
Staying the night?
I doubt it. There's no reason to stay in Knokke. Just take the 20-minute train ride to Bruges if you want to be nearby and overnight there.
Day trip from Brussels to Paris
Get your running shoes on, you're going to attempt to see Paris in a day!

Travel time: 1.5 hours
Starting station: Brussels Zuid West/Brussels Midi (different names for the same place)
Destination station: Paris Nord (Gare du Nord)
Ticket price: €100
From the train station to the city
Click through the map to our Google Maps list of things to do in Paris in a day

If you don't like birds (see previous day trip), know that it takes the exact same amount of time to go to Paris instead!
One high-speed train (TGV) per hour (roughly) runs the route from Brussels to Paris, though you'll be departing from a different train station than when traveling domestic routes—the dump of a station called Brussels Zuid West or Brussels Midi. Fun additions seem to be a bad smell, filth, and a high likelihood of getting something stolen from you. A great start to your trip to the City of Lights!
Don't worry though, because when you arrive at Paris Nord, you'll alight your train to the crazy busy, badly-signposted Paris Nord. Nobody speaks any English, but that's ok, I'm sure you'll understand when a bum asks you for a smoke.
The train station in Paris is in an area that is considered pretty safe if you don't look like a tourist. This quick trip to one of the most romantic cities in Europe is starting off great!
So leave those bags in the left luggage facility either on the ground floor of Paris Nord of at any of the private ones right around the station and try to blend in. A quick google will show you the options.
Paris Nord train station

Don't attempt to walk from the train station, it's a non-scenic 3 km (2 miles) to the interesting bits you'll be trying to cram into your day.
You can take train line 4 from Gare du Nord to St. Michel/Notre Dame station is you prefer public transportation. It only takes 10 minutes.
If you'd rather sit in a car (likely in some traffic), skip the rip-off taxis waiting outside the train station and get yourself a LeCab or Taxify. You can have it drop you off at St. Michel so you're centrally located and ready to wander.
Things to do in Paris
More like what isn't there to do in Paris! Admittedly, it's bat shit crazy turning Paris into a day trip, but hey, if you wanna, you coulda! Get in early and leave late if you want to best chance to see it "all".
Set your expectation straight: You won't be going inside the Louvre or Musée d'Orsay, because unless you're just running in to catch a glimpse of the Mona Lisa or Van Gogh's The Starry Night, you'd spend half a day in either of these, easy. And you don't have half a day for one museum.
So for this quick Paris trip, you'll need to be content with seeing the exteriors of the city's sights, possibly while stuffing a croissant in your face and sipping champagne from your travel mug. Depends how highly you rate dining.
But I think in Paris, you just need to walk around the streets to get a feel for it, so this is still a plausible plan that won't leave you disappointed. Exhausted like crazy—yes, but disappointed—no.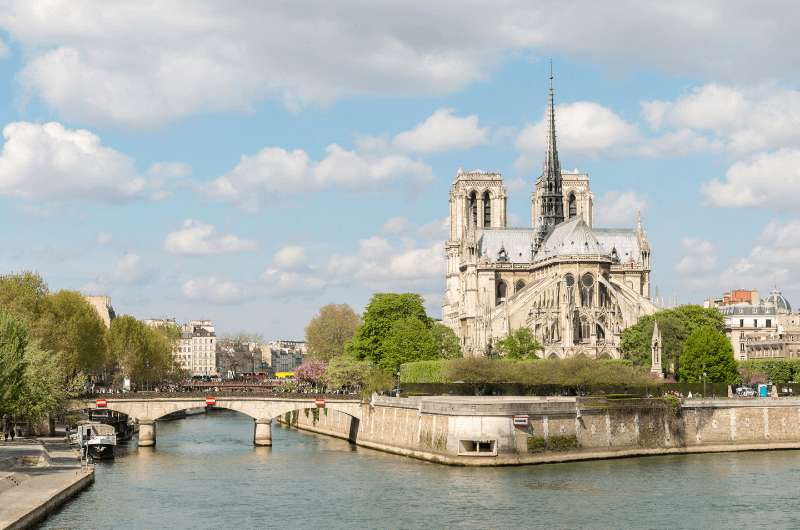 Start here: The Notre Dame

This trip will be a lot of walking*: The St. Michel station, where the train or possibly your taxi from Paris Nord will drop you off, is near the Notre Dame. This will be the eastern-most point of your day trip. If you continue on foot along the Seine, the Eiffel Tower will be your western-most point at 5 km (3 miles) away.
Between these two points, you can see the aforementioned museums and the Grand Palais, as well as a ton of other beautiful, old, important buildings (like the Pantheon or the Sorbonne University). Sometimes you'll need to cross the river to pass every place of interest. But maybe don't try to see every point of interest, because you just don't have the time.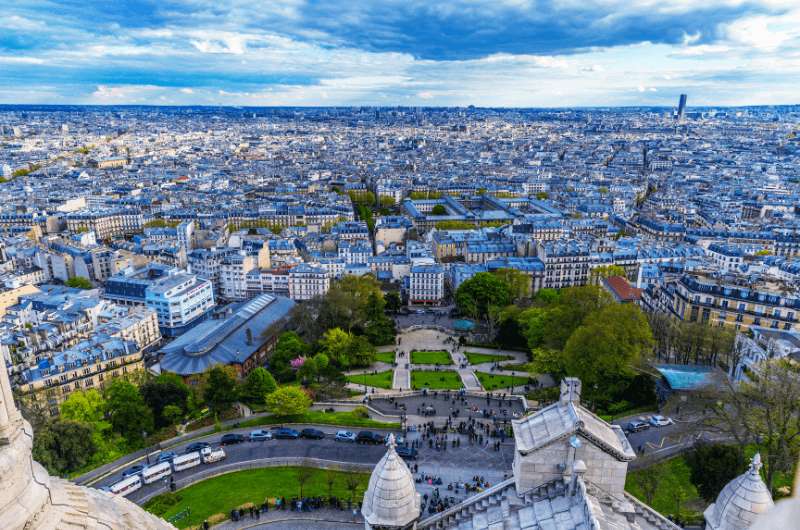 Need a little convincing that you need to get all the way up to Sacré Coeur? This is the view you'll say goodbye to Paris from.

From the Eiffel Tower, consider hoping in a taxi, asking to be taken through the Arc de Triomphe up to the hilltop neighborhood of Montmartre, which will give you stunning views of the city.
First stop: the Moulin Rouge. Then up to the Montmartre Cemetery to see some famous dead people and as a finale—you're probably running on fumes by now, feeling like one of the dead people—the spectacular, white domed Basilica of Sacré Coeur.
As you look back down towards the fantastic views of Paris from the Sacré Coeur, you'll possibly shed a tear, a little because you feel accomplished, a little because you've finally seen Paris, and a lot because you still have a long trip back to your hotel in Brussels.
The silver lining is that Montmartre is conveniently located right next to the Gare du Nord area, so you won't spend too much time getting back to the Paris Nord train station for your ride back to Brussels.
*If you aren't about to walk that much, consider a hop-on hop-off bus tour. You'll still see everything, but you can do so from the comfort of a cheesy double-decker bus. There's even a hop-on hop-off boat!
Staying the night?
Love the Parisian style @ J.K. Place Paris

Do you think we lost our marbles recommending Paris as a day trip? Do you have extra time or just not enough incentive to run around the City of Lights like a madman, trying to see it all in a day?
Then you need a hotel for a night (or three)!
There are almost endless possibilities of hotels in Paris, but if you get overwhelmed with too many choices, why not go with our pick:
The J.K. Place Paris is located very close to the Orsay Museum, so smack in the middle of the center. As far as style goes, it doesn't get any more Parisian than this. To me, it oozes elegance in the most nonchalant way possible. There's a pool, there's a hammam, there's a restaurant, bar and terrace.
Staff go above and beyond and the linens are apparently so good you can't get out of bed in the morning.
…Or was that because of the marathon of sightseeing you did yesterday?
Day trip from Brussels to Luxembourg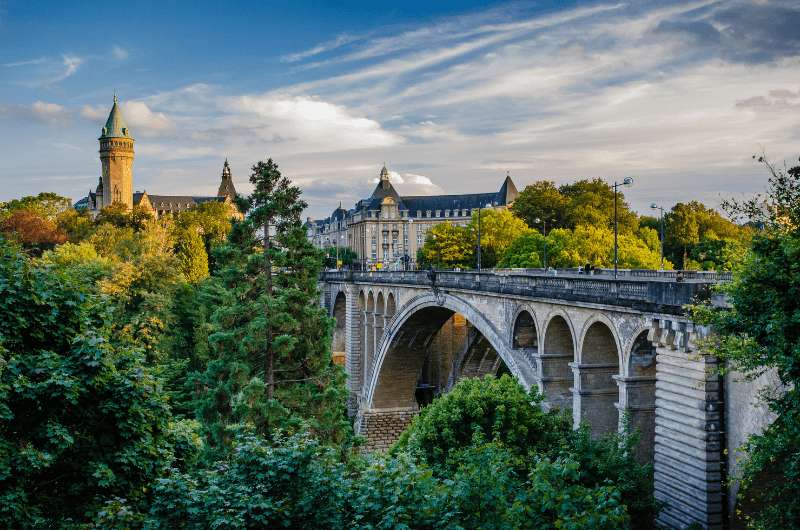 Adolphe Bridge trying to lure you into coming to Luxembourg as a day trip from Brussels

Travel time: 3 hours
Starting station: Brussels Luxembourg
Destination station: Luxembourg (Gare de Luxembourg)
Ticket price: €30
From the train station to the city
Click through the map to our Google Maps list of things to do in Luxembourg

The direct train from Brussels to Luxembourg departs every 1–2 hours, though there is also a train with a connection in Liege that goes more often and takes 40 minutes longer. But this is supposed to be a day trip, so longer is no good. Even 3 hours one way is pushing it.
Your departure station is simply called Brussels Luxembourg, and it sits right next to the European Parliament in Brussels, because it takes you to the city where more EU government offices reside. More about that below.
When you arrive in Luxembourg, you are in a very welcoming, clean and easy-to-navigate Luxembourg Train Station (Gare de Luxembourg) about 2 km (1.2 miles) from the city center of Luxembourg.
Hey look, it's a welcoming train station and a tram you can ride for free! We must be in Luxembourg!

To get to the city center, you can either walk (across the La Passerelle Bridge), or take any of the buses or the tram at the train station to Hamilius station. That's a central stop that every public transportation option passes through and it's in the middle of Old Town.
All public transportation in Luxembourg is completely free, so just hop on and off as you wish. Cool, huh? If you're interested, even the trains within the country are free. Why does that sound so futuristic and satisfyingly civilized?!
Things to do in Luxembourg
Looking down from the city walls into the Grund area of the city

Once again we travel all this way and just have not even a day to see our destination! So let's get to it. Obviously you'll want to arrive as soon as you can and plan to come back to Brussels late in the evening. But it won't be nearly as crazy as trying to see Paris in a day.
Luxembourg City, one of the EUs three capitals (with Brussels and Strasbourg) and one of the wealthiest countries in the world, is a small place and is very easily walkable. There are elevators that will help you get to the different levels—the old part of town is on the lower level (actually two), the newer is higher.
The historic part of Luxembourg is divided into the Old Town and the Grund, which is even lower than the Old Town and is the part surrounded by the fortified city walls.
In the Old Town, there are two central squares—the Place d'Armes and Place Guillaume II. If you're visiting in the summer, you might be able to squeeze in a tour of the Palace of the Grand Duke of Luxembourg (it's closed to the public in other months) and a peek at the Notre Dame Cathedral.
Just wandering around the pretty streets is enough of an activity in Luxembourg City, so plan on doing mostly that.
If you head to the southern bit of Old Town, the ruins of the Pétrusse Casemates, a medieval fort, are very nice. You'll then also be right at the edge of the valley at Constitution Square, which is basically a manicured park with an obelisk in the middle and views for days.
One of the buildings of the EU Parliament in the new part of Luxembourg City

To see the Grund, the lowest area of the city, take a walk on the path atop the city walls called Chemin de la Corniche. You can look down on it from there and then eventually walk down into it. You'll again be surrounded by historical buildings and plenty of shops and cafes.
There's an elevator that gets you back up to Old Town. Free, of course. With panoramic views. Everything is perfect in Luxembourg.
On the opposite side of Old Town, another glass elevator awaits you, this time taking you up to Kirchberg, the hill on which the modern part of the city is located. It's like you're time traveling!
On the higher level of New Town is where you'll find yourself surrounded by suddenly wider streets and many more cars. It's also where the big guys of the EU Parliament, Court of Justice of the European Union and the European Investment Bank sit. Not far from those is the European Convention Center and the futuristic Philharmonie Luxembourg.
Once you're done seeing Luxembourg City, just hop on the tram (there's just one line) and head back to the train station for your trip back to Brussels.
Staying the night?
A boutique hotel full of personality @ Hotel Le Place d'Armes

It makes sense to get a hotel in Luxembourg if your think 6 hours is too long to travel in a day. Our pick:
An Art Deco boutique hotel in the center of Old Town, Hotel Le Place d'Armes will keep you more than comfortable. Each room is different and has personality of its own—some even have fireplaces, some have skylights, some even have terraces—but all share the same attention to detail. They are spacious, too. Staff are praised for being friendly and helpful.
This post may contain affiliate links. We earn a small commission if you make bookings through my links, at no additional cost to you. This helps us keep this blog free, thank you!