I'm not a fan of stereotypes, but Belgium really is all about fries, waffles, beer, chocolate, and beer. Did I mention the beer? This country deserves to be on your travel radar.
Here are a few pointers and tips that could be useful for your travel to Belgium. Bits and bobs that you'll only learn through experience.
Before we start, here are our ratings for Belgium:
Weather 7/10
Services 9/10
Price level 8/10
Landscape 4/10
Nature 2/10
Infrastructure 10/10
Food 9/10
Hotels 10/10
Cities 12/10
Overall 9/10
You might also be interested in reading:
Prices
Is Belgium expensive?
1. Belgium is cheap compared to other Western European countries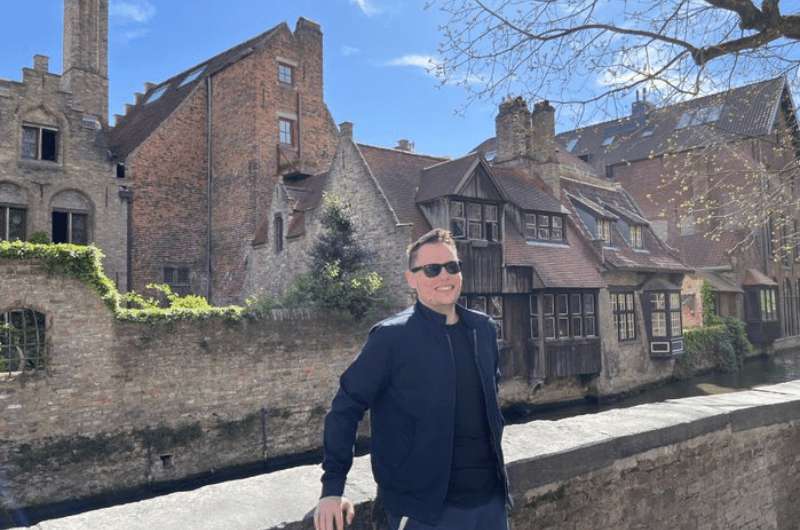 Look at this happy guy in Bruges

You'd think that the presence of the headquarters of the EU would make Belgium a very expensive country, but it's in fact not that bad. Neighboring Netherlands, France and Luxembourg are all more expensive, so Belgium comes out looking pretty cheap! Although realistically, it's still on the expensive side.
Dinner for 2 at a nice restaurant costs €70–80. A pint of beer is around €5. A room in a good 4- or 5-star hotel can cost from €200 to €300.
2. You rarely need cash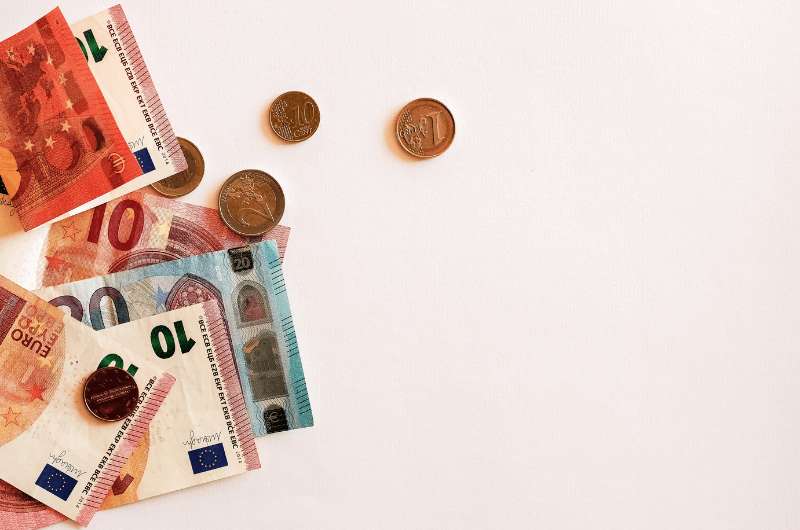 Money, money, money...

You can pay by card everywhere except for maybe some tiny shops or souvenir shops. Even on public transportation you can usually pay not only with cards, but also your phone or smart watch.
Our top tips for traveling in Belgium:
Almost everywhere in Belgium can be easily visited as a day trip. Consider basing yourself in a fantastic hotel in Brussels (like the Radisson Red) and making trips out from there.
Take the train instead of driving. It's fast, clean, cost-effective and cool. And ecology-minded, for those of you that are so inclined.
Summers in Belgium are rainy and winters are foggy and damp. Visit in the spring instead.
Transportation
So how do you get around? Not in a car, that's for sure!
3. DON'T rent a car in Belgium
This time I recommend travelling by train

Not only does the parking in popular Belgian cities suck (time limits on central parking, residential-only parking spots) and cost a fortune, the trains are just so good.
4. DO travel by train in Belgium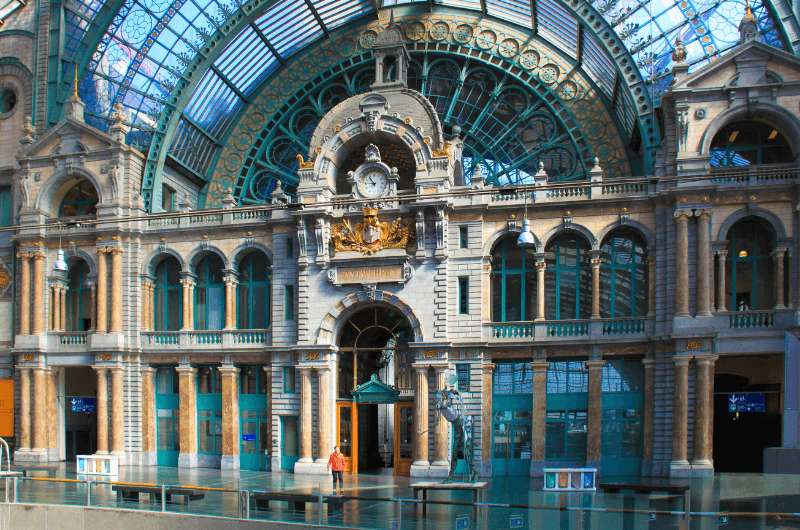 The train station in Antwerp is one of the nicest in Europe!

Belgian trains are comfortable, cheap, and fast as lightning. Brussels to Ghent or Antwerp is like 30 minutes! It makes making day trips from Brussels really easy.
(I mean you could stay the night in Antwerp, because there's plenty to see, but you don't necessarily have to. If you can stay at the 5-star Botanic Sanctuary Antwerp, you'll be doing yourself a favor.)
We went as far as including Paris on our list of top day trips from Brussels. Yeah, it'll still be a crazy long day, but hey, who wouldn't want to see the Eiffel Tower on a trip to Belgium?!
Within the country, two people can travel on a train for the price of one with the "duo ticket".
Check connections and buy tickets on the website of the National Railway Company of Belgium (SNBC).
5. Within cities, walk or take taxis (or even trams)
Grand Place in Brussels

As for transportation within cities, I'll again step out of my comfort zone and endorse public transportation. It's well organized and easy to get around with.
In Ghent, a day pass for public transportation costs €7.50, which is great value for money. In Bruges, the only alternative to a day pass is a 10-journey ticket for €17, which I'm not sure you'd utilize because almost everything is within walking distance.
In general, in the compact city centers of Ghent and Bruges you'll mostly just walk.
In Brussels, since you'll need to cover a larger area, taking public transportation often means multiple tram/bus changes (you can find connections online or in an app). For us, that meant Bolt provided a better service with less hassle.
Brussels reminded us of Berlin with its wide avenues and mostly flat geography. Perfect conditions for bikes and scooters (which can also be rented).
Weather
When should you visit Belgium?
6. The best time to visit Belgium is not in the summer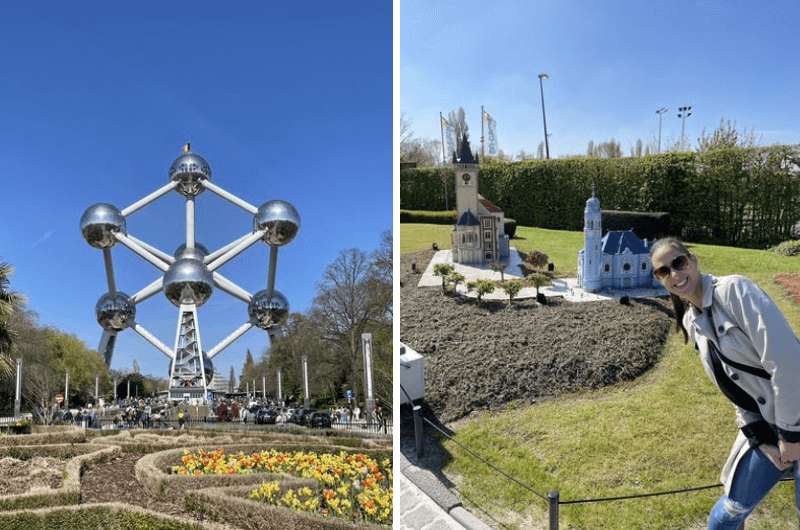 We visited Belgium in April and as you can see, the weather was perfect! (The Atomium and Mini-Europe in Brussels)

But also definitely not the winter! Unless you like sightseeing on cold, foggy days. Temperatures aren't crazy low, hovering around 3–7°C, but it's the damp air that'll get you. It stays this cold until March. Then again, maybe you'll find the frozen canals of Ghent charming.
Summer in Belgium is short. Seriously, if you blink you might miss it. It starts in July and is over by August. I mean summer is usually stupidly short in the Czech Republic too, but this is just plain sad. Average daytime temperatures during Belgian summers are around 25°C. July also brings the most rain of the year.
And so, I hereby proclaim April to June the best time to visit Belgium. Temperatures gradually rise to a pleasant 15–20°C, chances of rain are minimal and you'll be missing the summer price surge. The mornings are crisp and skies are mostly blue—perfect for an outing!
7. It rains a lot in Belgium
Pack an umbrella!

You also better get ready for some rain. With an average of 200 rainy days per year, your chances of at least a drizzle are pretty high. Rain comes in pretty steady year-round with a slight increase in July and in December and the highest chance of a dry day in the spring (April-ish).
It has to do with Belgium's location by the sea.
As they say in countries with crap weather: There is no bad weather, just bad clothing. So suit up!
People
Belgians are a friendly bunch.
8. Almost 30% of Belgians aren't Belgian
Wondering what to visit? We've got you covered: Read our list of top places in Belgium.

Belgium is like the United Colors of Benetton in the best way possible. Now I'm a white dude so I'm not supposed to have an opinion on this, but from my perspective, Belgium had a positive multicultural vibe.
It was very different from what I witnessed in South Africa and even the US where different races mean you hang out and live in different circles. Everyone in Belgium just seemed to get along and mingle.
9. Belgians are polyglots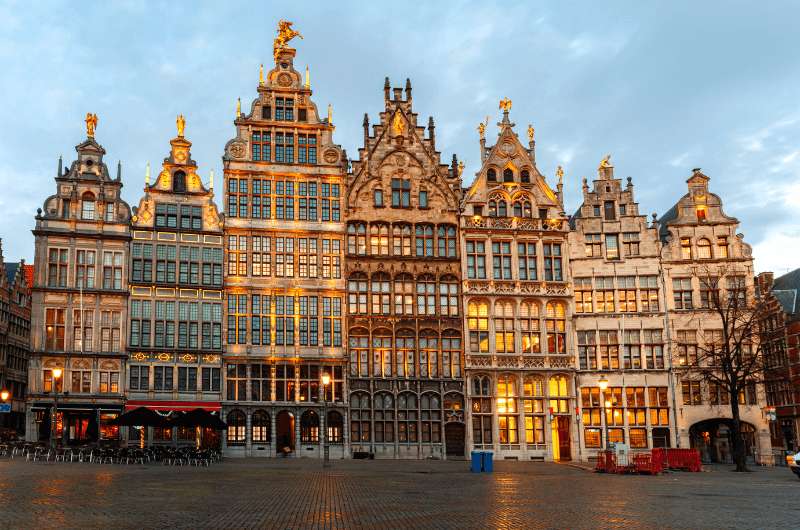 How about a day trip from Brussels to Antwerp?

In general, the people of Belgium are super nice and speak perfect English. That's along with their native Flemish (in the north) or French (in the south). In Brussels, people usually speak all three, or rather a mix of French and Dutch, and English on top of that.
More on the languages of Belgium (plus history, geography, economics, etc.) in our Belgium Background article.
Tourist infrastructure
You'll feel right at home in Belgium. Belgium's infrastructure, in general, is top notch and tourists benefit from it greatly.
10. You speak English, they speak English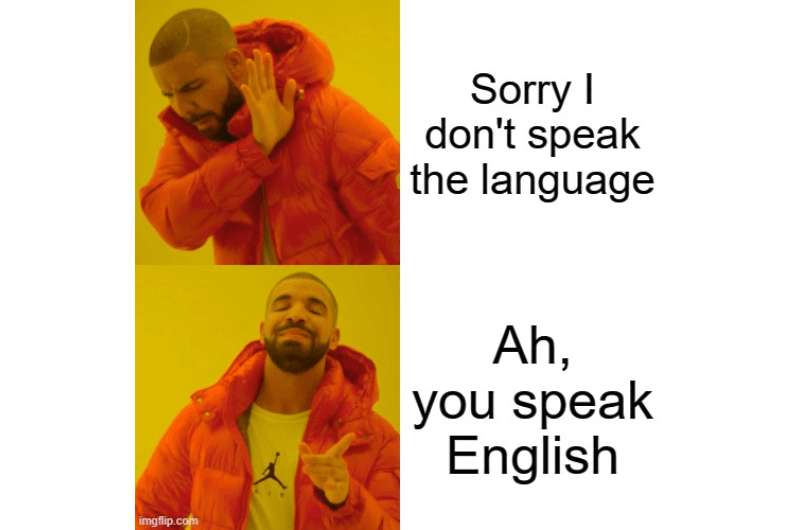 Belgium is easy and delightful to travel through. The fact that most people have a good command of English makes finding your way around and figuring out the hows and whats of travel smooth sailing.
Brussels is especially used to dealing in English, being a business city and the headquarters of the EU.
(Speaking of which, the Stanhope Hotel by Thon Hotels and the Radisson Red are both fantastic hotels that are within spitting distance of the EU Parliament in Brussels. The Radisson is our personal favorite. Just saying.)
11. Exploring is made easy in Belgium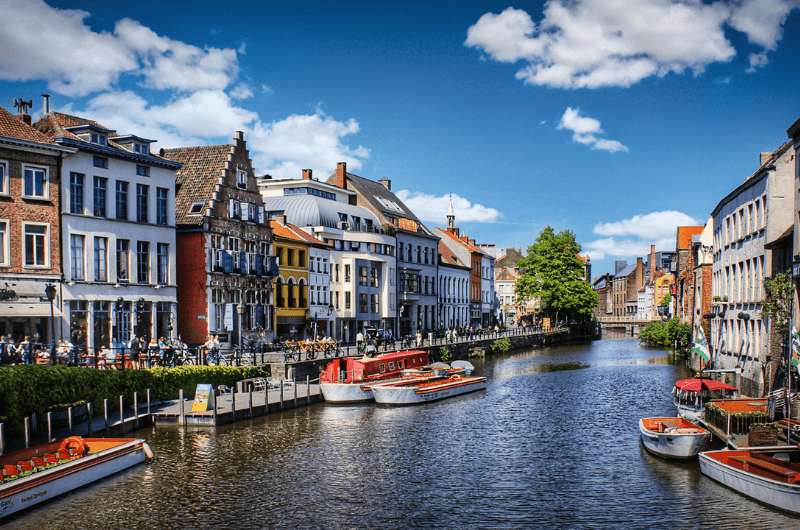 We liked Ghent (pictured) a little better than Bruges

Belgian trains are fantastic—fast, clean and cheap. They'll get you anywhere in the country quickly and you can buy your tickets online with no trouble at all. See the transportation section above for details.
Museum websites are always available in English, online tickets can easily be bought if you don't want to deal with live humans at the ticket desk. The user-friendliness of museums is great, providing audio or interactive guides in many languages. Check out our list of the best museums in Belgium for info on some of the ones we liked the most.
All the food in Belgium is basically comfort food, so if you aren't exactly adventurous with your taste buds, Belgium will be easy on you. See below.
Food and drinks
Belgium is one of our favorite countries for food.
12. Belgian food = wonderful, fried goodness
What more could you want? It's almost impossible to be sad in Belgium!

I don't know if all the beer and fries clouded my judgment, but we ate really well. Granted, a lot of the food is fried and the variety isn't huge, but you can't argue with a satisfied stomach.
Just don't ask for French fries, because no self-respecting Belgian would ever use that term.
Waffles are omnipresent, which sounds like a great thing. Who wouldn't want delicious waffles on every corner, right? The problem is that they are usually crappy tourist waffles, and not the delights that Belgium is known for. Check out our guide to Belgian restaurants for a few tips on where to get the real deal.
More on the best food and beer in Belgium in a separate article.
13. The beer culture in Belgium is real
Left: Smell some hops and become a beer expert! Right: Taste some beer and become a beer expert! @ Bruges Beer Experience in Bruges

As a beer lover, I found the beer culture in Belgium very satisfying (and entertaining). I didn't see a soul drinking wine!
Beer is paired with absolutely everything even in the best restaurants. We learned a ton about beer on our Beer Experience tour in Bruges, which elevated this classic to a whole new level in our eyes.
14. There are terrific restaurants all over the place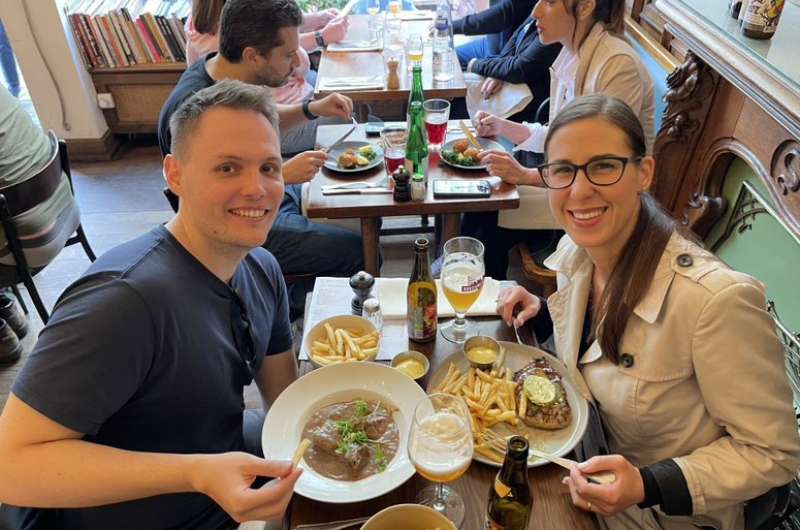 Find out which place in Brussels made us this happy in our best restaurants in Belgium article

For restaurants, we usually check reviews on Google Maps or TripAdvisor before heading out to a meal. Make sure to make dinner reservations if you're heading to a popular and centrally located restaurant. Our list of the best restaurants in Belgium can help you discover some fantastic options.
Hotels
You won't have any trouble finding a great hotel in Belgium. You'll have more trouble choosing the one out of many!
15. In Brussels, you need to try the Radisson Red
The cool and comfortable Radisson Red

We were loyal to our now-favorite Radisson Red in Brussels. It's a super cool, stylish hotel that is excellent value for money. It's all artsy and high-tech, you'll love it.
We first tried the Radisson Red chain in Lima, Peru, but they have hotels all over the world, including Europe, the US and South Africa, so we'll for sure be staying with them again in the future. We only have good things to say about them and want to pass on the recommendation.
16. Make your hotel reservations through booking.com
The charming Relais Bourgondisch Cruyce, right on the canals of Bruges

We put hotel recommendations in all of our Belgium articles, but basically any hotel with a rating of at least 9.0 on booking.com, which is hands down our favorite booking website, will probably make you happy.
A room in a good 4- or 5- star hotel in Belgium will cost you between €200 and €300 per night.
We have an affiliate link for booking.com not because we get rich off of it (we don't, trust us), but because we sincerely think it's the best place to book your hotels and use it ourselves all the time. We do get a small kick-back if you book through our links, at no extra cost to you. We appreciate the love!
Things to do in Belgium
I had high expectations from Belgium, but almost no expectations from Brussels in terms of interesting things to do. But alas, after some research, I started getting excited—Brussels was looking mighty fine! And even then, Brussels totally surpassed what I thought it would be!
17. Cities are the top thing to visit in Belgium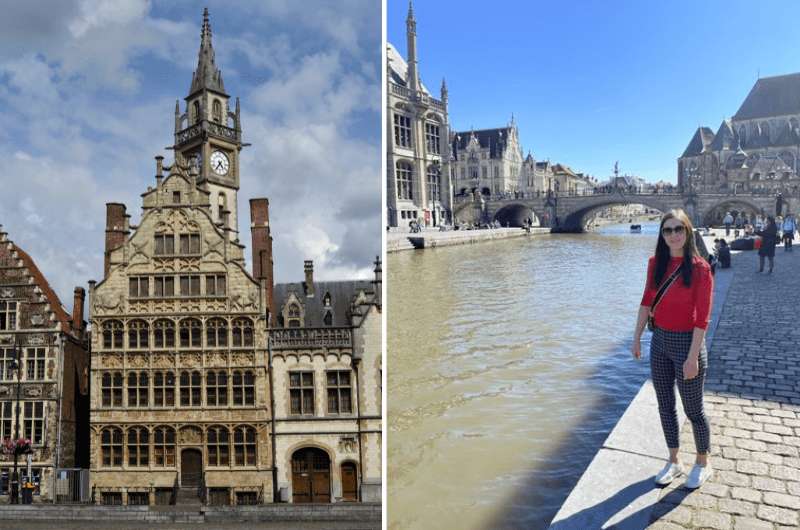 Ghent was one of our favorite places in Belgium

Brussels itself warrants a 3-day visit. There are so many fantastic museums to choose from, plus the EU Parliament, Mini-Europe and of course the Atomium. And so much more. Check out our Brussels guide of top things to do or start planning with our Brussels 3-day itinerary.
Other popular cities, like Bruges, Ghent and Antwerp, should all be on your list of places to visit in Belgium. The former two have lovely historical centers set on numerous canals. They are all easy day trips from Brussels on the fantastic Belgian trains.
A shout out to the Catholic Church, whose spectacular churches are almost always free to visit.
We have an article with a list of the best places to visit in Belgium if you want more detailed descriptions.
18. You can't visit Belgium without going to the museums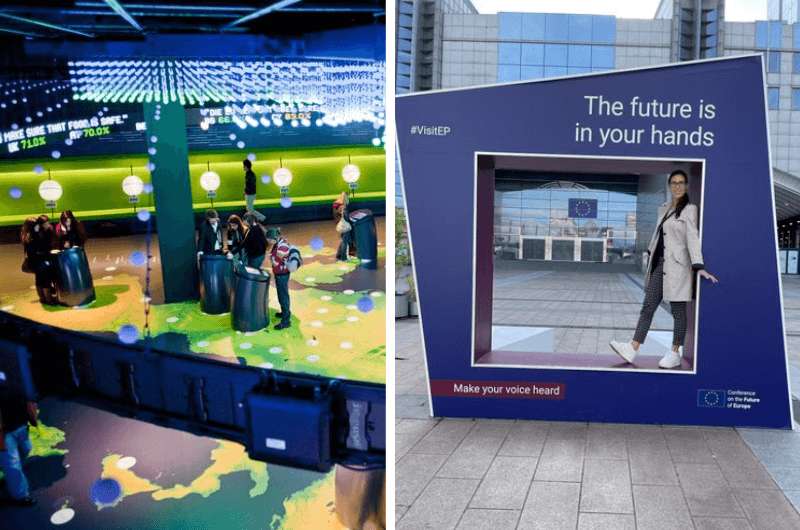 The Parlamentarium in Brussels

Like I said, the museums in Belgium are just fantastic—very high quality, well-curated, usually interactive and fun. They are also some of the biggest I've ever visited. The huge Royal Museum of the Armed Forces and Military History in Brussels can take you all day (if you leave your wife at the hotel).
Some museums are interactive and tasty, like the Choco Story Museum in Brussels, or our personal favorite, the Beer Experience in Bruges.
Almost all museums give you a tablet as a guide and off you go to explore.
Ticket prices to most museums range from €10 to €20.
19. Belgium doesn't have a lot of nature worth seeing
Check out the coast of Belgium: Zwin Nature Park

As for nature, well, there is none. If you're really set on seeing something that wasn't created by humans, you can choose to visit the coast and Zwin Nature Park, a marshy area by the sea full of birds and sand dunes. Look for nests from the viewpoints and huts and enjoy the sea breeze.
Or, visit the Meuse Valley. The Meuse River cuts deeply into the landscape in southern Belgium, creating great scenery along its banks, though most of what you'll actually be stopping to see are man-made places like towns and castles picturesquely built next to or on the limestone cliffs along the river.  
For more ravishing information about this little country, click on over to our Belgium Background article. We'll tell you how it became half-French, half-Dutch, why it's called the Battlefield of Europe, and which red, yellow and black felines the Belgian flag represents.
Where to next?
This post may contain affiliate links. We earn a small commission if you make bookings through my links, at no additional cost to you. This helps us keep this blog free, thank you!