This article may as well be called "The top 1 million things to do in Brussels"! Unless you hate museums. Then you're down to about 3 things to do. Luckily, even those few things alone make Brussels a worthwhile place to visit. I mean come on, a tiny Europe?! That was a blast.
When I first thought of going to Belgium, I imagined Brussels would be the most boring of our intended destinations. Then upon further googling it turned out it'll be the most interesting. So this article is here to try to persuade you to give Brussels a chance to wow you.
First and foremost, Brussels is about museums. Karin and I didn't always agree on how enjoyable each museum was (looking at you, Military Museum), but you got to hand it to the Belgians—their museums are fantastic!
You can tell they have the budget—the museums are interactive, modern, innovative and honestly enjoyable. The bar is set high, so if we thought a museum in Brussels was slightly underwhelming, it was still superior to similar museums in most other countries.
Again, if you aren't into museums, skip the first 2/3 of this article. Do so at your own risk of missing out on some pretty darn awesome places though.
Everything worth seeing in Brussels except the Atomium, Mini-Europe and to an extent Train World is within the wider center of the city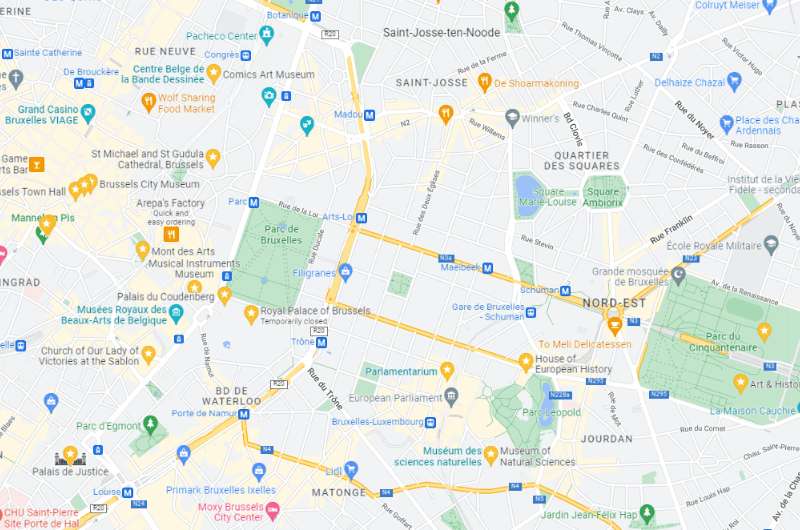 This is central Brussels with the yellow stars showing most of the top places to see in this list besides those that are out in the boonies (see the map above).

Here's a saved list of all of the places included here in Google Maps (You can save it treat it as your own.)
You might also be interested in reading:
In case I didn't make it clear, Brussels is absolutely worth visiting. You can easily fill three full days with things to do! Even if you spend part of that time looking for good waffles.
They say that waffles are everywhere in Belgium, but they (sort of) lie! There are crappy waffles everywhere, but you really need to search high and low for the good stuff. Check out our guide to restaurants in Brussels and other Belgian cities to skip the disappointment.
And now, ladies and gentlemen, our list of the top things to do in Brussels:
1. Manneken Pis and the Tintin comic mural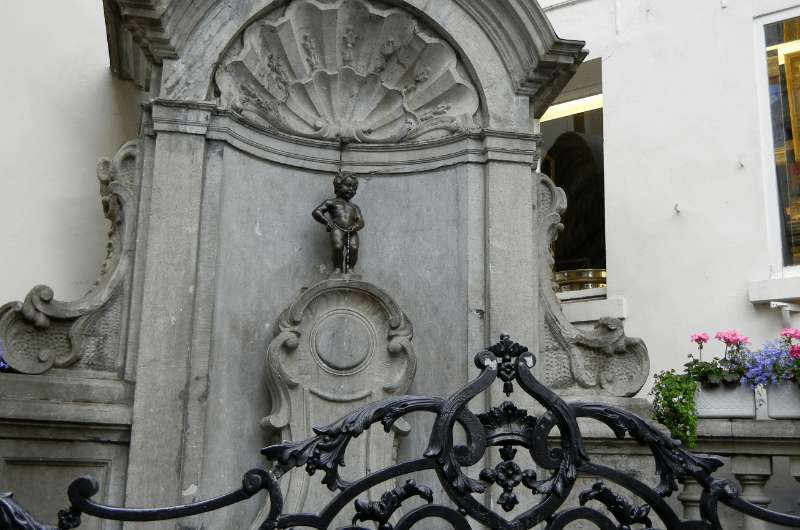 There you have it, one of the treasures of Brussels… a tiny boy peeing

Ok so the first thing on this list of the best things to do in Brussels isn't actually a museum, but you can still skip it. I know you won't, but you could if you wanted to.
The Manneken Pis is a famous statue, one of the landmarks of Brussels. A statue of a kid urinating into a fountain. Was I impressed? No.
What can I say—It's the size of a little kid. It's of a kid peeing.
The fact that it survived all those centuries is what is impressive. The statue was first installed in 1620 and has faced a difficult life. It survived bombardments, repeated theft and getting broken into pieces and being re-welded.
What you see on the corner of the Rue de l'Étuve and Rue du Chêne today is a replica. The original Manneken Pis is kept safe in the Brussels City Museum. You can also see a chocolate Manneken Pis in the Choco Story Museum (see below).
Sometimes you'll see the Manneken Pis wearing one of his costumes, many of which were gifted to the city by official delegations from other countries.
Manneken Pis in one of his many costumes on the left, and the Tintin mural on the right

There are many stories behind Manneken Pis (which literally means "Little Pissing Man"), the most popular one being that the little guy represents a lord that was hung in a basket from a tree by his troops while they were battling some enemies. The lord urinated on the bad guys from his perch in the tree, and they eventually lost the battle. Somehow the pee apparently helped with that defeat.
The name of the street that the statue is on today, Rue du Chêne, means Oak Tree Street, and commemorates this very significant historical win from a tree.
A little ways down the road from the Manneken Pis is the Tintin comic mural. If you didn't know this, Belgium is obsessed with comics, and Tintin is their most famous one. You'll see comic murals all over the city, but I wanted to mention this one in particular because it's one of the most popular. It's on the side of a gift shop on Rue de l'Étuve.
Manneken Pis, corner of the Rue de l'Étuve and Rue du Chêne Brussels
No entrance fee
2. Musical Instruments Museum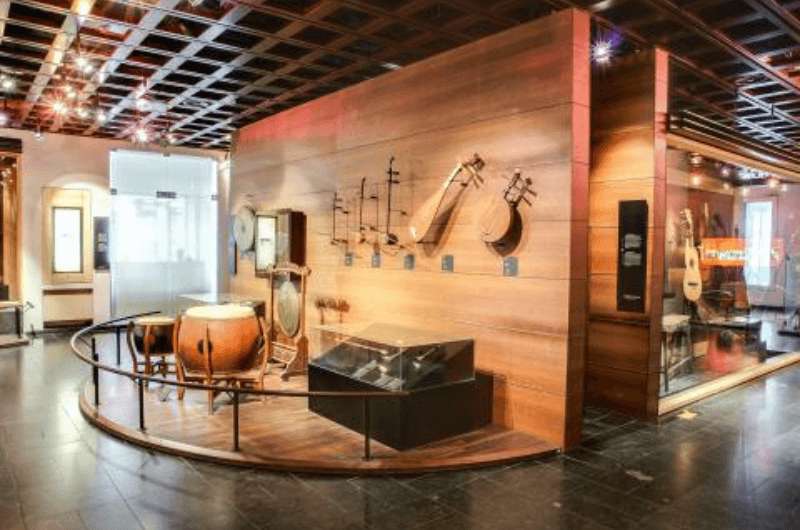 The Chinese instrument exhibit at the MIM

Beyond the southwestern corner of Brussels' Royal Park lie several museums. One of those is the Musical Instrument Museum, which showcases the 1200 most interesting instruments in the world, old and new. The fact that it's housed in a gorgeous art nouveau building doesn't hurt, either.
I'd say the room of intricately-designed pianos was a standout, and overall the museum was worth seeing.
Tickets include an audio guide—bring your own headphones or buy them on the spot for €2. You don't just get a dude telling you about what you're seeing, but you can play bits of music that come from the instrument you are looking at, too. That's fun and it makes up for the fact that you can't actually try out any of the pieces on display.
Tickets are time-slotted, so buy online in advance if you want to enter at a particular time, though you shouldn't have to wait, not long at least, if you just come to the ticket desk and get your tickets there.
Musical Instruments Museum, Hofberg 2 Montagne de la Cour
Open daily except for Mondays, 9:30 am–4:30 pm (last entry)
Tickets cost €15
3. Royal Palace and Palace of Justice
There's royal business being discussed in there, psst!

You can tell that a city has a lot of places to see when we're squishing more than one spot into a single item on our list.
The Royal Palace is obviously where the monarchy sits and does its royal business. The King has an office there, the Queen has her office there, and everyone who's anyone in the King's Household—you got it—also has an office there. The monarchy does not live there (they reside at the Castle of Laeken out by the Atomium).
Tip: The oldest royal palace still in use in Europe is the Royal Alcazar in Sevilla. The monarchy does actually reside there when they are in the city, but when they aren't you're free to visit even the bedrooms! Check out our guide to Sevilla, Spain, to find out more.
You can't visit the interior bar a month and a bit every summer. The Royal Palace is open for public visits after the National Holiday on July 21st up until September. As you can imagine, the interior is fabulously elegant and regal in every manner. It's like a fairytale castle but within an actual working kingdom.
If you do visit in the rare time the Royal Palace is open, you guide yourself down the organized path through different rooms. It takes about 45 minutes and costs nothing.
For other times of the year, you can walk around the exterior and the large manicured park behind it. You'll be clanking down the cobblestone streets, imagining you are riding a white horse, wearing some really uncomfortable shoes on your way to meet the Prince of Spain or something.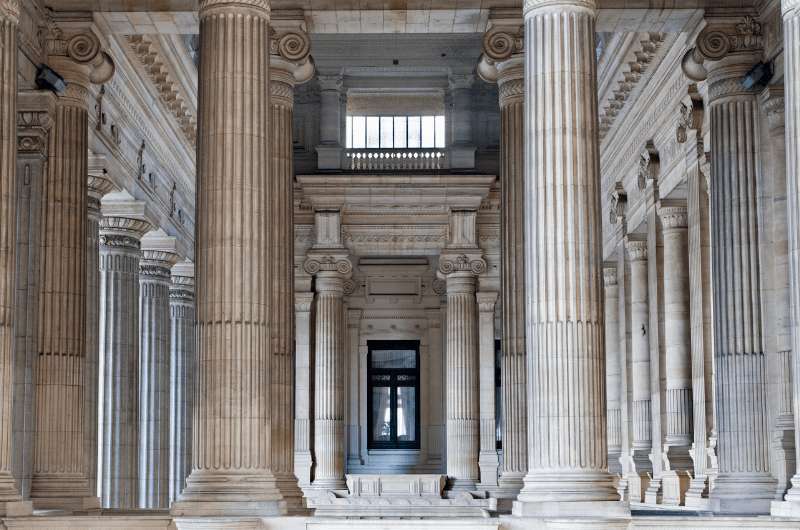 Lots of columns = lots of justice @ Palace of Justice

The Palace of Justice is down the road from the Royal Palace (about 1 km or 0.6 miles) and is massive. So much in fact, that when it was built in 1883, it was the largest building in the world. Just the foyer is 100 m (325 ft) tall!
Not sure if that makes the justice system feel incredibly powerful or just downright intimidating. The fact that they forced an entire neighborhood out of their homes in order for the courts to be built doesn't help. Those people did, however, get homes elsewhere, and the architect himself was one of those people, so the whole thing is a shady area and up for interpretation.
You can see it from almost everywhere in the city since it sits in the uptown. If you want good views of Brussels, go to the front of the Palace of Justice and take it all in.
As a court building in a democracy the Palace of Justice is open to the public, and you can find tour agencies that'll take you in for a proper tour. Otherwise there's no tourist entrance and no tour, you just go in with the people that work there, go through the metal detector and wander around.
No idea if you're allowed to go everywhere, but with the signs in French, that'll stay a mystery until you meet a (very kind) security person that ushers you away from the forbidden parts. Gotta say that the areas where the offices are smell like your grandmother's closet.
At the time of writing in the summer of 2022, the Palace of Justice is being renovated, so the exterior is partially obstructed by scaffolding.
Palais de Justice, Poelaert Square 1 (On Google Maps you'll see it as "Law Courts of Brussels")
Open Monday to Friday 8 am–5 pm, closed on weekends and holidays
Free entrance, no tour (unless with outside tour agency)
4. Comics Art Museum
You can't deny the Comics Art Museumis cute

This is one of the museums that had immense potential and fell semi-flat. Like I said in the beginning of this article, the bar of museum standards is set high. The museums in Brussels are top notch. So it's not that the Comics Art Museum is bad, not at all. It's actually really interesting. But they could've taken the comic theme and ran with it, and they didn't. Thus, they're stuck at no. 16 on our list.
That said, did you know the Smurfs were Belgian? And so is Lucky Luke, and of course, Tintin. You'll know the teenager and his dog are Belgian the moment you step on the plane. Comics are a huge deal in Belgium, and you'll be made aware of this pride often.
There's no doubt which airline you're on. Image source: https://www.brusselsairlines.com

The Comics Art Museum has permanent and temporary exhibitions that tell you all about comics pioneers and the history of the child-like art, up until the modern era. There are interactive parts too, like a 3D Smurf house.
You can be in and out in about 1.5 hours.
The Comics Art Museum, Rue des Sables 20
Open Tuesday to Sunday 10 am–6 pm (last admission at 5 pm). Open daily during July and August.
5. Coudenberg archeological site and museum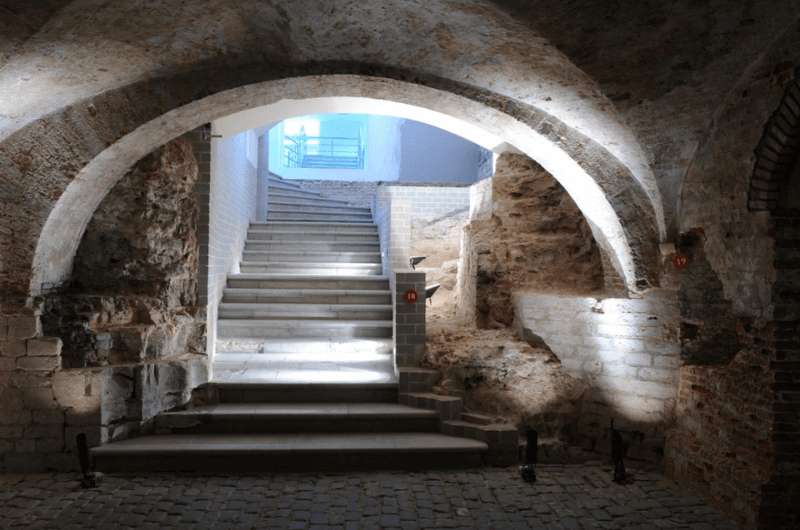 The underground tour of the Coudenberg. Image source: Coudenberg

This is an archeological site of a massive palace that burned down in the 18th century.
A fire that spread from candles that governess failed to put out when taking a nap destroyed most of the palace. Thanks to the guards that adhered to protocol forbidding them to enter a royal's bedroom, nobody dared to try to put out the fire at its source. It also all happened in the winter when it was very hard for the fire brigade to find any unfrozen water to chuck at it. And it was windy. That's a really bad nap if you ask me.
The palace was then referred to as Cour brûlée ("Burnt Court") and was left abandoned, and the kitchen, located one floor under the governess' apartment, was blamed for it all.
The Coudenberg archeological site and museum are located right next to (and under) the Royal Palace. The excavated foundations are below ground level, so you'll feel like you're walking through catacombs. There are some interesting and interactive information displays as well as a model of the palace pre-nap incident. You can see about 200 artifacts from the Cour brûlée in the museum.
You'll need about an hour for the archeological site and 30 minutes at museum. If you have kids, you can make the visit more enjoyable for them with a treasure hunt.
Coudenberg Palace, Place des Palais 7 (entrance through the BELvue Museum)
Open Tuesday to Friday 9:30 am–5 pm, weekends and daily in July and August 10 am–6 pm
Tickets cost €10
Our top tips for visiting Brussels:
If you are a museum fan, check out the Brussels Card. It gives you free entry to 49 museums in Brussels.
A ticket to the Royal Museum of Armed Forces allows you to climb up to the view area of the Triumphal Arch in Parc Cinquantenaire.
The Parlamentarium is free and absolutely worth a visit if you're in Brussels. It's the Washington DC of Europe, which makes the European Parliament the Capitol.
Don't rent a car in Brussels (or Belgium as a whole). Use taxis or rent a scooter or bike in the city! For travel between cities, the high-speed trains are the best choice.
6. Musée Magritte Museum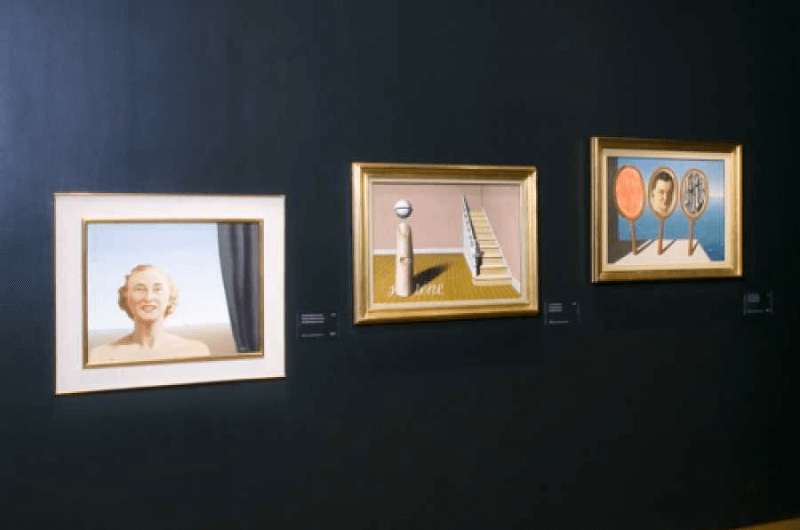 Some of the paintings @ Musée Magritte Museum

Take care when you're planning your visit to this museum, as there are two places in Brussels under a similar name. Both good, but I'm here to tell you about the one with the largest collection in the world of the surrealist's works. The Musée Magritte Museum is right by the Royal Palace as part of the Royal Museums of Fine Arts of Belgium.
Again a little disappointed with this museum. There aren't English explanations as to what you are looking at, so even though there are over 200 pieces, including photographs and letters, sometimes you just have to guess what's going on. A good curator would've turned these artifacts into a more enjoyable experience instead of just putting them on a wall or display case and calling it a day.
That said, Magritte's work is interesting to look at, so you can do just that and still be satisfied. Just don't expect any context or real effort to help you understand surrealism or the artist's motivation for creating his art. Get the audio guide if you want to learn more.
Tickets cost €10, plus €4 for an audio guide (they even have special ones for kids)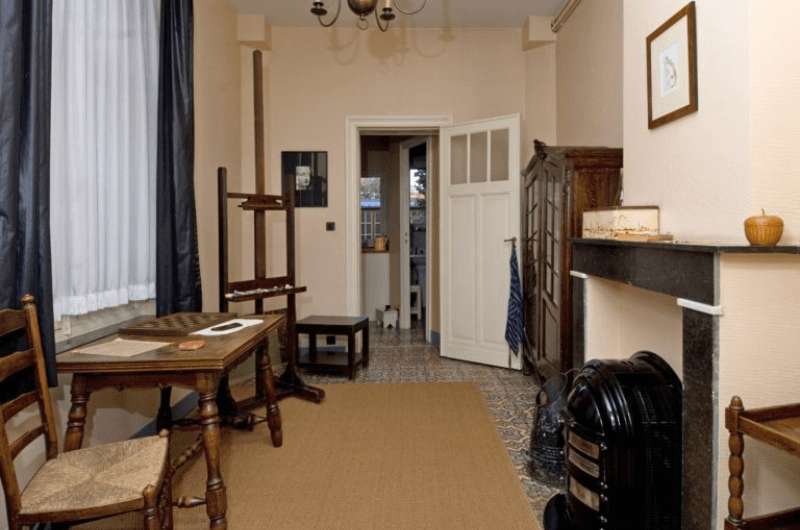 Reminds me of my grandma's place. Image source: René Magritte Museum

Actually, I'll tell you about the other René Magritte Museum as well. It's a two-in-one with Museum of Abstract Art, and it's located in northern Brussels in the Jette neighborhood.
These two museums are in adjoining buildings. One—the place of his former residence—showcasing René Magritte's surrealism, and the other displaying Belgian works of abstract art. The abstract portion of the museum is the first of its kind in Belgium.
The René Magritte half of the museum not only shows the famous painter's artwork, but you can step right back in time in the reconstitution of his apartment and learn all about his life.
Open Wednesday to Sunday 10 am–6 pm
Tickets cost €10
7. The best churches of Brussels: Sacre Coeur, Notre Dame, St. Michael and St. Gudula Cathedral
The mighty Sacre Coeur

I've packed all of Brussels' churches into one item because while they are awesome, they are all the same. A church is a church.
The Sacre Coeur, or National Basilica of the Sacred Heart, is the national basilica for a reason. It's grand and absolutely humongous. It has its park, too, and there is a Godiva Chocolate Outlet on the other end of it. Just sayin'.
The Sacre Coeur is not in the city center, but you can pay €8 to climb to the Panorama, a viewing platform that's right under the dome. Then you can look towards the center of Brussels down the green avenue of the basilica's park and it's pretty amazing. Without the Panorama, there is no entrance fee.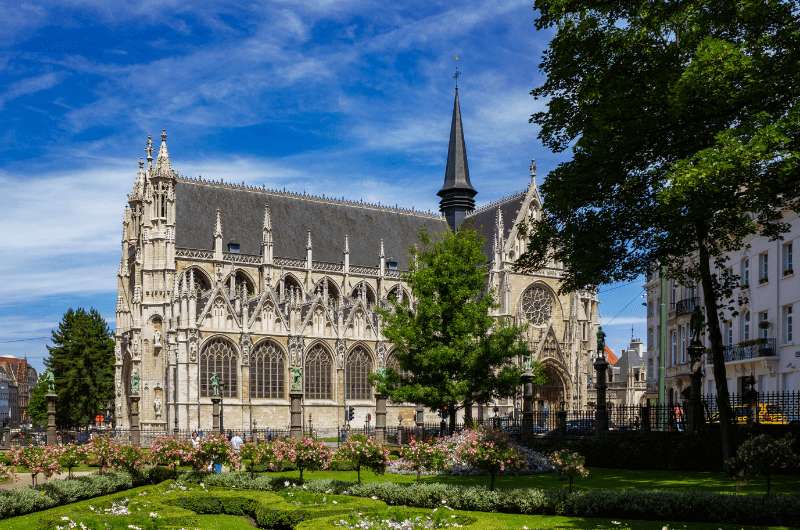 Brussels' Notre Dam

The Church of Our Lady of Victories at the Sablon aka the Notre Dame, is right by the Royal Palace. It is a typical Gothic church with a small park and inside, besides the stained-glass windows, you can see some peculiar wooden boat statues. Free entry. Check out the website for a virtual visit if you don't care to use your legs to take a look at it yourself.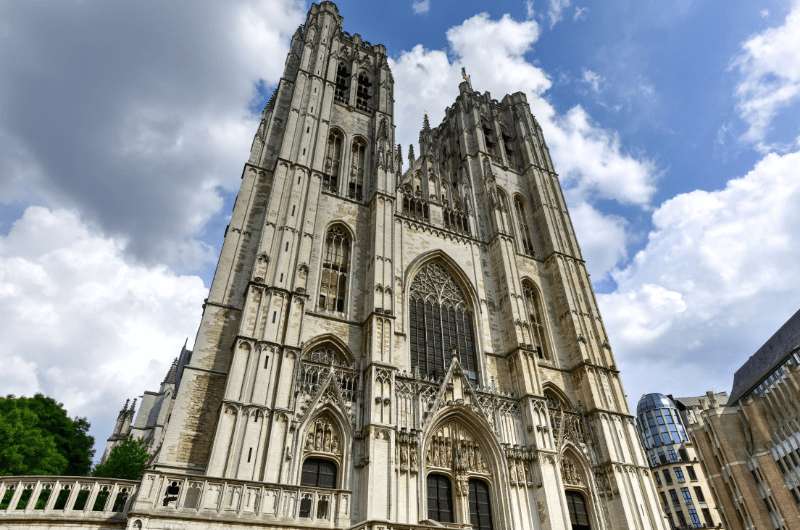 And this one is for Michael and Gudula

St. Michael and St. Gudula Cathedral is Belgium's national church and another example of Gothic architecture. It houses what is apparently a piece of the wood from Jesus' cross. You can visit an archeological site for €1, otherwise free entry. The towers are not accessible unless you make an appointment. Even then, the tour is not in English. I don't know what else to say about this cathedral. It's nice and it's located at the northern end of the Royal Palace Park.
8. Art & History Museum
A model of Rome at the Art & History Museum

One of the museums in the cool Parc du Cinquantenaire, it sits alongside Autoworld and the Museum of Armed Forces and Military History, with the Triumphal Arch putting a crown on top of them all.
The museum displays artifacts and art from prehistory to Art Nouveau and Art Deco. There are mummies from Egypt and Buddhas from Asian countries. It's a place everyone with a knack for history will relish in, especially when it comes to art and other culture-centric artifacts.
Even just the building is a delight, with sky lights and arches framing the exhibited items extra nicely.
There are lockers at the entrance where you can store your belongings. The staff is friendly and there is a lot to see. The only downside is the labeling—no English means a whole lot of no information for the average tourist.
Art & History Museum, Parc du Cinquantenaire
Closed Mondays. Open Tuesday to Friday 9:30 am–5 pm, from 10 am on weekends.
9. Museum of the Royal Belgian Institute of Natural Sciences
Check out some dinosaurs at the Museum of the Royal Belgian Institute of Natural Sciences

Do you like dinosaurs, bugs and humans? Great! This museum has permanent exhibitions such as the Dinosaur Galley, the Gallery of Humankind, the Gallery of Evolution and the Virtual Insect Hall.
The current temporary exhibition features Trix, a 67-million-year-old female T-Rex.
Remember this is Brussels, so the museum is done in a way that is entertaining and engaging, with 3D models, videos, simulations and projections. This is no place for dusty taxidermy exhibits and frogs in jars. Though they do have foetuses preserved in formalin that are sort of in jars.
You could spend half a day in the Museum of Natural Sciences if you want to see it all. Check their map before you start exploring, they have several recommended routes for different time allowances.
There are activities and special routes with quizzes or tasks for children, too.
Museum of Natural Sciences, 29 Rue Vautier
Open daily except for Monday 10 am–6 pm. Opens and closes earlier during the work week outside of summer months.
Tickets cost €13
10. House of European History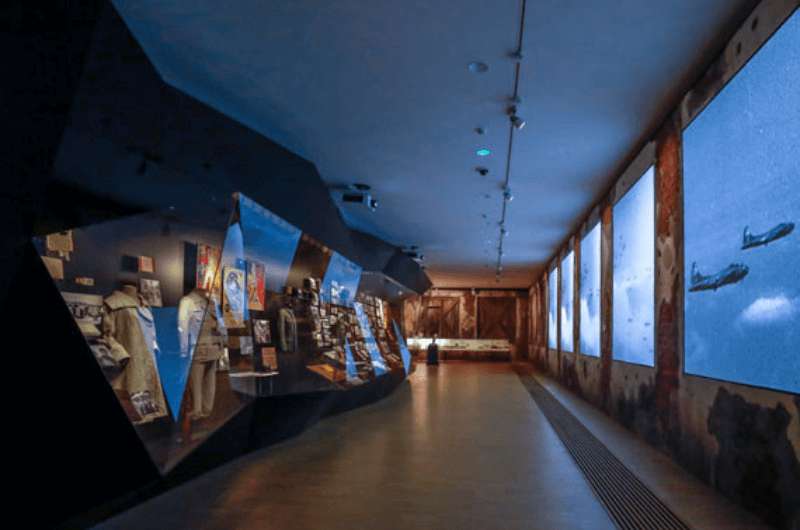 Europe in Ruins exhibition @ House of European History 

You are now entering the European Parliament. And as a huge fan of democracy and the EU, I'm here for it. So let's learn about it!
There's so much to discover at this well-curated museum. It leads you through the history of Europe from ancient times to today.
Once again it might sound semi-boring on paper, but the way they showcase the information really sucks you in and brings you through the times. It's interactive, it's modern, it's in your face with great use of space, things like actual cars and furniture, and a huge art installation spanning several floors.
You will be guided through the 4 floors of the House of European History with the help of a complimentary iPad (I mean for use in the museum, not actually complimentary as in a gift). Granted, it does get confused as to where you are standing at times, and I gave up trying to get it to tell me about one exhibition, but other than that, no complaints.
No word of Brexit when we visited, but I'm sure they're working hard on adding a mention of that into one of the exhibitions sometime very soon. Like in the Stupid Decision Exhibit that I recommend adding just for the UK.
House of European History, Rue Belliard / Belliardstraat 135
Open Mondays 1 pm–6 pm, Tuesdays to Fridays 9 am–6 pm, weekends 10 am–6 pm
Tickets cost €0. Yep, it's free.
11. Mont des Arts
The "Hill of Arts"

Literally the "Hill of Arts" is an elevated urban complex in central Brussels that used to connect the lower-class area with the upper-class area. Basically a garden surrounded by some big important buildings, like the Royal Library or the Congress Palace.
Not that cool in my opinion, it's a place where people hang out, sit on the stairs looking at the views and that's about it. Sometimes you'll find live music or performers. It can have a nice ambience, I'll give it that.
If you catch a good sunset then the orange sky above the tower of the Town Hall in the distance is beautiful.
12. Choco Story Museum
You learn some, you laugh some. Good times at the Choco Story Museum.

This is by far the best chocolate museum I've ever been to, and I've been to about 10 all over the world. The difference in budget is really visible here compared to, say, South America. So if you want to learn about chocolate, come here, it's worth it. (And if you want to learn about beer, go to Brugges and check out the amazing Beer Museum.)
You learn about everything from harvest and production to the different types of cacao and their health benefits. You hear about the history all the way back from the Mayas up to present day.
The audio guide is your friend at this museum, and it piles on the knowledge. And there's trivia, too. Like when a French duchess had a black baby back in the day, it was said it must've been because she ate a lot of chocolate. Because the alternative was just too naughty.
There are some interactive parts as well, a praline tasting at the end, and of course who wouldn't want to see a big chocolate statue of Obelix, the squirrel from Ice Age or even Manneken Pis? Can you imagine the AC ever turning off unexpectedly in this place? They must have generators for their generators like in a hospital to keep the chocolate guys alive at all costs!
One thing to note is that everyone and their uncle are standing in line at the Choco Story Museum, so buy your tickets ahead of time. You reserve a time slot and then just breeze past everyone to the reception where you pick up your audio guide.
The tasty excursion through the Choco Story Museum will take you 1.5 hours. The museum is located very close to Manneken Pis and the Tintin mural.
Choco Story Museum, Rue de l'Etuve 41
Open daily 10 am–6 pm (last ticket slot at 5 pm)
Tickets cost €11
13. Train World
How the fancy people used to travel @ Train World

Train World is about trains! It's the official museum of the National Railway Company of Belgium and you get what you think you'll get, but cooler. In a country where even I think traveling by train is the way to go, it's a must.
There are more than 20 locomotives from the first steam ones to the high-speed types of present day that you can not only see, but also climb into and look around in, pretending to be the conductor. Now that's fun even if you're not a kid. Come on, choo choo!
You'll also see various train cars, from the regular old wooden bench passenger cars to luxury dining cars and even those meant for royalty (that's a temporary exhibition). You'll love the recreation of the Orient Express.
Train World is located right inside Schaarbeek station, which means you can take the train to the train museum. You know you want to. And if you don't want to, you'll want to take one when you're traveling back to the city center.
Two hours are the recommended time you should allow for your visit, maybe a little less if your wife is already fed up with all the army, history and car museums you've been taking her to in Brussels. There's only so much instagramming she can do in a couple of days.
Get your tickets in advance! There are also guided tours.
Train World, Pl. Princesse Elisabeth 5, 1030 Schaerbeek
Open daily except for Monday 10 am–5 pm (last entry at 3:30 pm)
Tickets cost €15 and are time-slotted. Get them in advance to jump in front of the line.
14. Royal Museum of the Armed Forces and Military History and Victory Arch
Big smiles geeking out with the Red Baron plane and trying to see it all @ Royal Museum of the Armed Forces and Military History

This was my jam! Karin… not so much. Had I been alone I would've spent all day here, no exaggeration. It's one of the biggest museums I've visited in my life and full of fascinating information.
The Museum of Armed Forces does an excellent job providing context and perspective to international events such as WWI and WWII. There's a whole hangar dedicated to each of these wars and just learning about the points of view of each country (even African ones) was a real eye opener.
You'll take a walk through history starting from the Middle Ages until present day, looking at everything from arms and armor to tanks and airplanes. The latter in the connected Aviation Gallery. There are 11 sections in the museum.
Everything is ordered chronologically so you can pick and choose and skip around if you've got a particular interest in some areas and not so much in others.
I'd say put aside a minimum of 3 hours for this museum. The only thing I'd say sucked just a tiny bit is that many of the signs weren't in English. The WWI exhibit was, but other parts were hit and miss.
There are lockers at the entrance so you don't have to carry your stuff around.
The views from the top of the Triumphal Arch were epic!

The Royal Museum of Armed Forces is located in the pretty Parc du Cinquantenaire, right in the vicinity of Autoworld and the Art & History Museum. It is to the left of the Triumphal Arch, which, with a ticket to the Royal Museum of Armed Forces, you can climb up and get an epic view from.
Open daily except Mondays 9 am–5 pm (last entry at 4 pm)
Tickets cost €11 and can only be bought using a credit/debit card at the entrance
15. Autoworld
Me with Tintin's car and Karin with an oldie but goodie BMW 507

Right next to the Royal Museum of Armed Forces is Autoworld. It's about 1/5 the size of the Armed Forces Museum and it's still one of the largest car museums I've ever been to. And one of the best.
There are various zones in Autoworld, each focused on a specific topic or country. There is the sports & competition zone with old and new racing cars, the USA zone getting you a feel for the American dream, the comic section which is just pure fun, and then the biggest one, the Belgian zone, dedicated to Belgium's automobile heritage.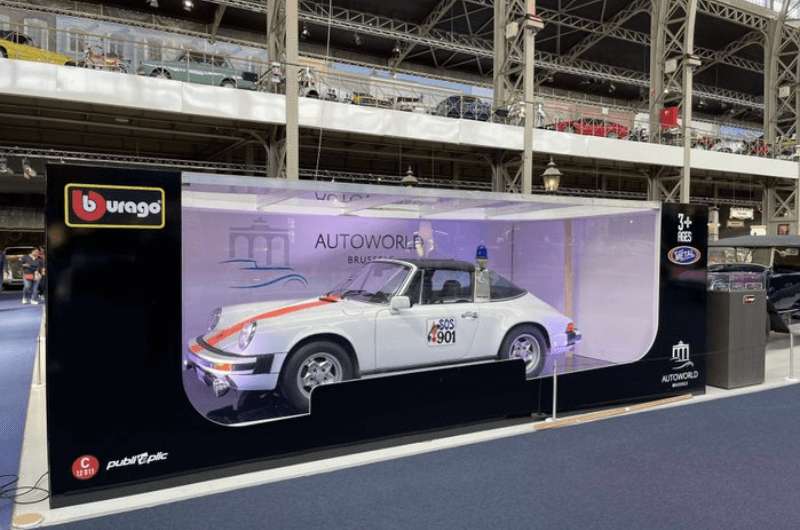 Gotta love a museum with a sense of humor

Autoworld houses some great pieces for the typical car nerd that resides in almost every guy and some girls, like the Corvette C2, 1960 BMW 700 or my personal childhood favorite, the Honda NSX. Known to you Americans as the Acura NSX.
You can look around in 1–2 hours depending how much of a car fanatic you are.
16. Atomium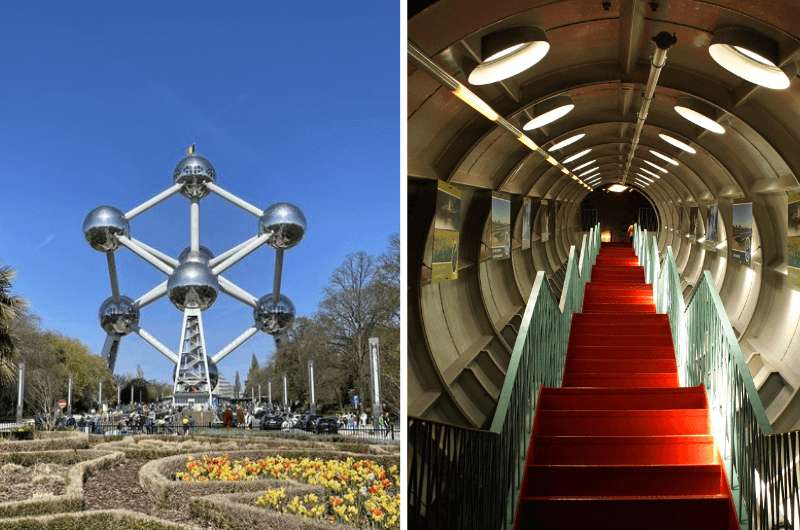 The escalator even has a light show going on. It's like a trip to Space Mountain!

The famous giant steel atom lives on the northern end of Brussels, next to Mini Europe. Originally constructed as the main pavilion for the 1958 Brussels World's Fair and meant to be just temporary, it's now an iconic symbol of the city and is here to stay.
Honestly, I just think the main draw is the actual thing from the outside, just seeing it close up is a fabulous experience, but to each their own. I think this is one of the top 5 modern structures in Europe, it really is phenomenal when you're standing next to it.
You can go inside 5 of the 8 spheres and the concrete building at the base. There are exhibits, a restaurant, a gift shop and a light & sound display. The very top orb is a viewing platform. It is accessed by an elevator and is 92 m (300 ft) above ground.
It's all very spaceship-like. There are escalators and red staircases that take you through the steel tubes between the balls, it's dark with lights flashing around… all that was missing was Chewbacca walking by. Or maybe complimentary light sabers.
You need 30 minutes for the inside.
There can be long lines at the entrance, especially on weekends and holidays, so buy your tickets ahead of time online, unless you go for the combination ticket with Mini Europe—that can only be bought in person at one or the other site and costs €29.40. But once you have it, you just walk right in to the second place on your ticket without waiting.
Atomium, Pl. de l'Atomium 1
Open daily 10 am–6 pm (last entry at 5:30 pm)
Tickets cost €16 and can be bought online to avoid the long lines. There is a small extra fee when buying online. The combination ticket with Mini Europe costs €29.40 and can only be bought in person.
17. Parlamentarium 
The visitors' center at the European Parliament is called Parlamentarium. We loved it!

Visiting the visitors' center of the European Parliament made me giddy like a kid in a candy shop. Or like that time we visited Washington DC. It's just special.
I mean I loved the EU before this, but after this visit, I am head over heels. So disclaimer: if you don't like the EU, I think you are stupid. Looking at you, UK.
First of all, don't spend 10 minutes looking for the ticket desk like we did. There is none. The Parlamentarium is basically standing there with open arms, inviting everyone in. It is open daily, fully accessible, free of charge and the multimedia guides are available in all EU languages (including sign languages). Now that's welcoming. Oh, and the staff are lovely.
As can be expected, you learn about the history and creation of European Union at a myriad of interesting and interactive exhibits. Plus you get to keep the pen they give you at the entrance. Free souvenir!
You have to book your visit time online, it's quick and easy to do. Set aside 1.5 hrs to see it all. I dare you not to like it there.
If you want to stay close to the European Parliament and the Parlamentarium, check into the Stanhope Hotel by Thon Hotels. You will feel like a very important international visitor in the royal-looking rooms. Check out our recommended hotels in Brussels at the end of this article for more details.
Parlamentarium, Pl. du Luxembourg 100
Open daily: Mondays 1 pm–6 pm, Tuesday to Friday 9 am–6 pm, weekends 10 am–6 pm
Free entry, but you need to book a time online beforehand
18. Mini-Europe
Left: I was actually surprised how much Karin enjoyed Mini-Europe. Right: You are leaving the EU.

One of the stand-out tourist sites in Brussels is Mini-Europe, which is just what you think it is—a small Europe. You can walk through all the European countries in the matter of hours. Thanks to this I realized that I still have so much more to see and do in Europe alone! So little time, so much traveling to do.
Mini-Europe is a place where you can see miniature models of important buildings from around Europe. Some countries get more representation than others. My favorites were Nyhavn (Denmark), Dinant and the Grand Place (Belgium) and Dover Castle (UK). Speaking of which, yes, the UK is still represented, but there is now a border showing that you are leaving the EU. Made me chuckle.
The models aren't even that small, with some towers and castles easily reaching the height of an adult, and tall structures like the Eiffel Tower being way higher than that still. Add 9000 little people to that. Those are, in fact, little.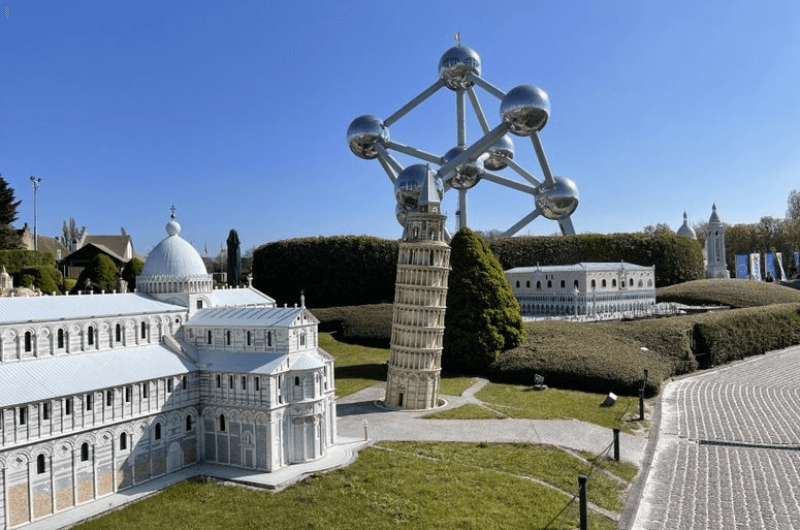 The Atomium will make an appearance in a lot of your Mini-Europe photos

There are gardens, bridges, ponds and rivers that you'll be walking through and around, so you actually feel like a giant visiting a regular-sized continent. It's an enjoyable way to spend the afternoon and it doesn't get old! We visited without kids and spent 4 hours there.
The models are works of art. They are incredibly expensive to build—something like €70k+ per structure! Just Brussels Square came to a total of €350k. When the tower of city hall had to be repaired after a hurricane a while back; just that cost €50k.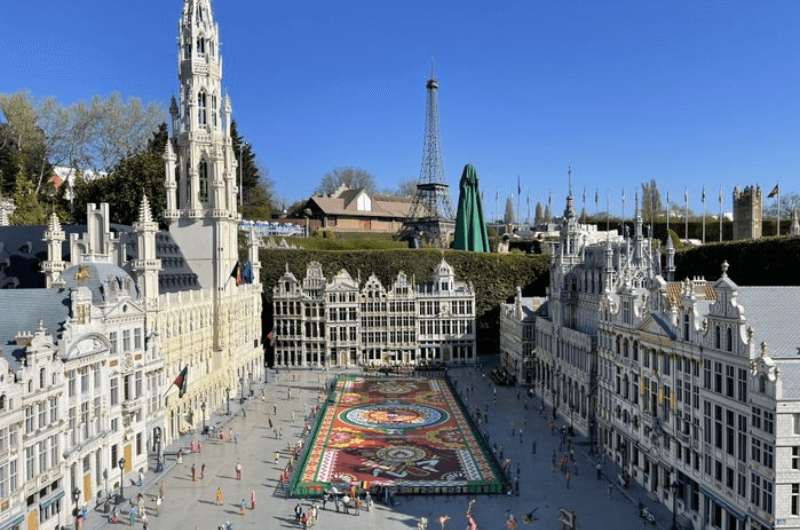 This is the Grand Place, miniature version. Just wow!

Another fun activity you can take part in is trying to get the perfect Mini-Europe pic with the Atomium in the background. We certainly did. It's even bigger now that you compare it to itty bitty Paris or Prague.
Getting to Mini-Europe is easy with a taxi, the trip will take you 20 minutes from the city center max. Get your ticket in advance if you want to avoid the queue. Beware there is no designated parking lot for Mini-Europe.
There is a combination ticket with Atomium that costs €29.40 and can only be bought in person. You can buy the separate Mini-Europe ticket online.
Mini-Europe, Av. du Football 1
Open daily 9:30 am–6 pm (until 7 pm in July and August)
Tickets cost €17.30. Buy them online. OR The combination ticket with Atomium costs €29.40, saves you a few euros, and can only be bought in person at either site.
19. Grand Place and Brussels Town Hall + City Museum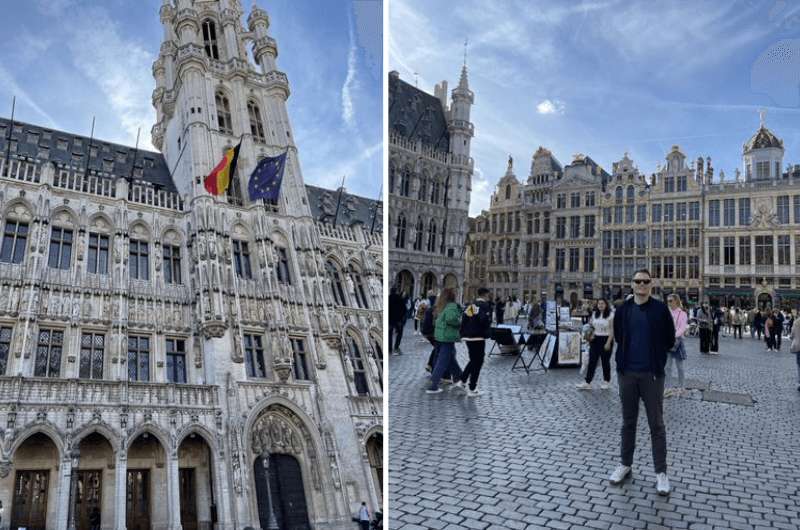 The Town Hall and the other fancy-pants buildings at the Grand Place, Brussels' main square

Alas, in a city with fascinating museums and buildings of international importance, the top thing to see in Brussels is the main square—Grand Place.
It is grand not only by name. Everything is golden or at least intricately decorated, but most often golden and intricately decorated. Besides that, it's immaculately clean and just remarkable. Overwhelmingly elegant. You almost feel not fancy enough to be there and want to scurry to your castle to fetch your white horse again.
The Town Hall was built in the 15th century and is listed as a UNESCO World Heritage Site. It's the most eye-catching building on Grand Place, with very detailed Gothic decorations on the façade and a tower that commands attention from near and far.
You can take a tour inside, but we were content with just staring at it for a half hour while we wandered around the square. You'll be staring at it from other parts of Brussels, too, since the tower is crazy high.
Opposite the Town Hall is the Brussels City Museum. You can learn about the city's history here as well as check out the original Manneken Pis statue. The museum is in a neo-Gothic building called Maison du Roi and depending on the light you see it in it's either very impressive or scary-looking impressive. The museum itself considers the museum building their best exhibit.
The Rocco Forte Hotel Amigo is literally the neighbor of the Town Hall, so if you stay there, you'll be right in the center of the action. It's a beautiful hotel with stylish, elegant rooms and some pretty awesome views. Check out our recommended hotels in Brussels at the end of this article for more details.
And then, when you're done with Brussels, it's time to more on to Ghent and Bruges! You didn't think you could visit Belgium in one weekend, did you?
The best hotels in Brussels
Brussels has a million hotels to choose from, and if you go off of reviews on booking.com, you can't go wrong. We always make sure to choose a hotel that has a rating of at least 9.0.
Here are some hotels that we'd either stayed at in Brussels or think would be a great choice if you like a different style.
Tip: Read our article and don't make rookie mistakes when booking hotels!
Radisson Red
The cool and comfortable

Halfway between the Royal Palace and the Parc de Cinquantenaire is the hotel we stayed at while in Brussels, the Radisson Red. It's the same hotel we stayed at in Lima, Peru, and we again thought it was really good bang for your buck.
The Radisson Red concept focuses on bringing people together through art, fashion and music. It's all very youthful and connected, they even have an app where guests can share photos. There are huge TVs in every room, along with wall art and just art in general all over the hotel, customizable lighting in rooms and numerous social spaces where you can chill and to live DJs playing.
Prices start at €250 per night for 2 people with breakfast.
Stanhope Hotel by Thon Hotels
Simply elegant @ Stanhope Hotel by Thon Hotels

Just a skip away from the European Parliament and the Parlamentarium is the Stanhope Hotel by Thon Hotels. This is a 5-star stunner that'll appeal to those of you that like a more elegant boutique hotel. It has recently been refurbished, so everything is still brand-spanking new. You can tell they put the extra effort into details and staff are extremely professional and friendly.
There is 24-hour room service, luxurious toiletries, and you are able to dine in the restaurant or on the cute courtyard terrace.
Prices start at €600 per night for 2 people with breakfast.
Rocco Forte Hotel Amigo
Stylish and right on Grand Place @ Rocco Forte Hotel Amigo

Rocco Forte Hotel Amigo is a 5-star hotel right on Grand Place, so you have all the best spots in Brussels at your fingertips. Every room has a spacious bathroom, a seating area, and each one is in a specific color tone. Don't be shy to ask for your favorite! The design is a cross between elegant and contemporary.
Staff are of the friendly and nothing-is-a-problem variety. You can dine in the on-site restaurant that serves Italian and Mediterranean cuisine. The restaurant has an outdoor seating area just perfect for people-watching on the square.
Prices start at €480 per night for 2 people with breakfast.  
This post may contain affiliate links. We earn a small commission if you make bookings through my links, at no additional cost to you. This helps us keep this blog free, thank you!