I'm a museum geek. I think it's almost common courtesy to visit museums in any country you visit. Why? Simply to learn about the land and people that are hosting you and to add context to the places that you are seeing. You get more out of your travels if you take a minute to educate yourself and broaden those horizons!
Belgium's selection of museums is the crème de la crème of museums. They put so much thought and money into making their museums interactive, fun and inspiring. We had fun, to say the least.
Karin and I museum'd out all over the country and these are the museums that we think are the best in Belgium. And yes, the top one is a beer museum.
Most of these places are in Brussels, because Brussels simply has so much to offer.
To visit the best places in Belgium, we recommend making day trips from Brussels by train. In case you're already planning your trip to Belgium and need some tips on places to stay overnight, check out our favorite hotels at the end of this article. As always, we'd be delighted if you used our booking.com links to book a hotel (any hotel). We earn a small commission if you do (at no extra cost to you).
You might also be interested in reading:
1. Bruges Beer Experience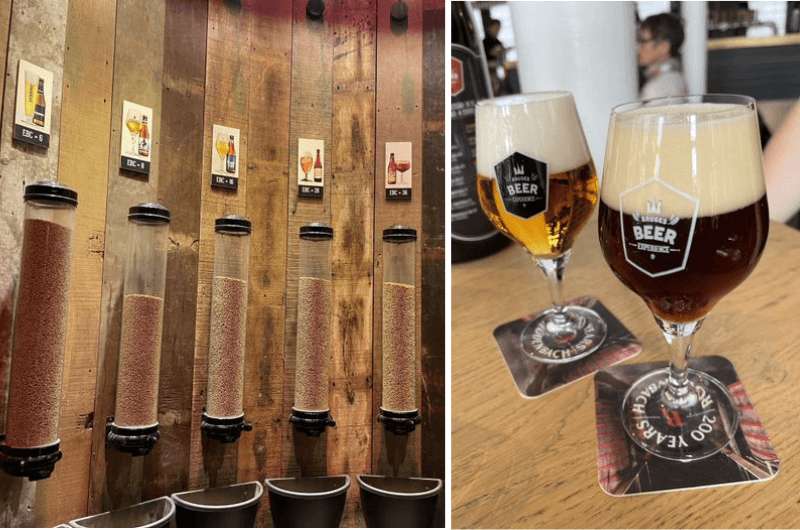 Left: Smell some hops and become a beer expert! Right: Taste some beer and become a beer expert! @ Bruges Beer Experience

There's no more Belgium way to start a best museums list than with a beer museum! It was really that good! Read more about the beer and food in Belgium here.
The Belgians love their beer. Belgium is a country with top quality, strong beers and a people that are always drinking said strong beers. In short, it's a happy place to be! 
The Bruges Beer Experience was fabulously interactive and fun. You get a tablet and headphones and can be on your way. It does an excellent job telling you the story of beer, its history, production, and how it was perceived in different countries. There is even a kid's version available.  
My fellow Czechs could learn a thing or two at the Beer Experience—like that our beloved lager is actually the last beer created and as such is a pretty lame drink.  
The first beer that comes out is, in fact, much fruitier. And then there are a myriad other different types and tastes that are superb quality, all trumping the poor lager. Something that a typical Czech beer drinker wouldn't even dream of being true. 
The existence of this sheer array of beers gives way to entirely different beer culture in Belgium. The beer in Belgium is what wine is in other countries—a high-end beverage that gets paired with chocolates, cheeses and Michelin restaurant dishes! Now that's my type of dining!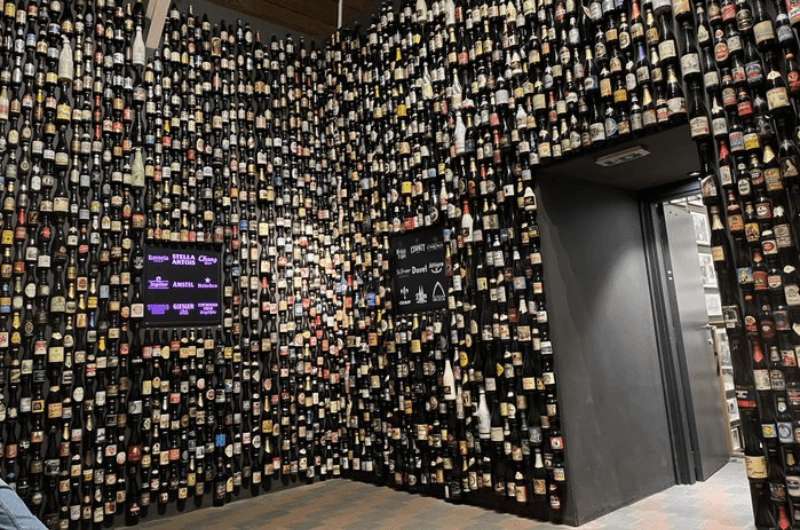 My idea of interior decorating

Just make sure you always drink the right beer from the right glass, otherwise you'll be publicly humiliated and shunned from Bruges. Not really, but almost.  
At the end of the tour, you get a tasting of 3 (strong!) beers, which, if you hadn't been in a good mood before, will solidify your good experience of the Beer Experience. It'll all take 3 hours.  
Get your tickets online in advance. Lockers are available. Dogs are allowed. Giraffes are not. (I stole that from the Beer Experience website, because it made me lol!)   
You can visit the tasting room even if you don't take the tour.  
Bruges Beer Experience, Breidelstraat 3, Bruges
Open daily 10 am–6 pm (last entry 1 hour before closing). The bar closes at 6:30 pm.  
Tickets cost €12 without a beer tasting (but who would want that?!), €18 with a tasting.  

Our top tips for museums in Belgium:
2. Mini-Europe in Brussels
Left: I was actually surprised how much Karin enjoyed Mini-Europe. Right: You are leaving the EU.

One of the stand-out tourist sites in Brussels is Mini-Europe, which is just what you think it is—a small Europe. You can walk through all the European countries in a matter of hours. Thanks to this I realized that I still have so much more to see and do in Europe alone! So little time, so much traveling to do.  
Mini-Europe is a place where you can see miniature models of important buildings from around Europe. Some countries get more representations than others. My favorites were Nyhavn (Denmark), Dinant and the Grand Place (Belgium) and Dover Castle (UK). Speaking of which, yes, the UK is still represented, but there is now a border showing that you are leaving the EU. Made me chuckle.  
The models aren't even that small, with some towers and castles easily reaching the height of an adult, and tall structures like the Eiffel Tower being way higher than that still. Add 9000 little people to that. Those are, in fact, little.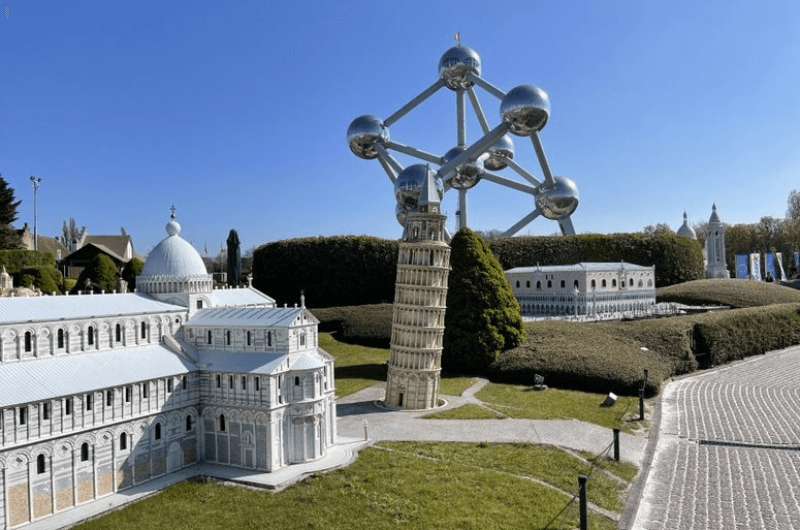 The Atomium will make an appearance in a lot of your Mini-Europe photos

There are gardens, bridges, ponds and rivers that you'll be walking through and around, so you actually feel like a giant visiting a regular-sized continent. It's an enjoyable way to spend the afternoon and it doesn't get old! We visited without kids and spent 4 hours there.  
The models are works of art. They are incredibly expensive to build—something like €70k+ per structure! Just Brussels Square came to a total of €350k. When the tower of city hall had to be repaired after a hurricane a while back; just that cost €50k.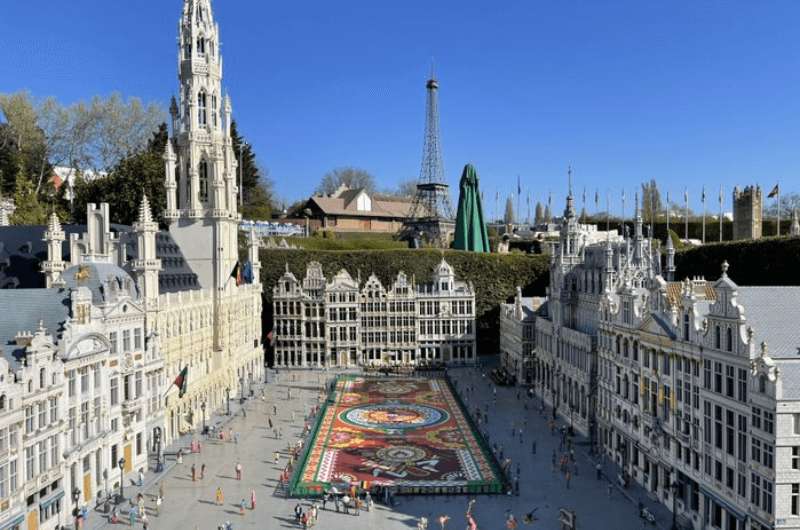 This is Brussels' Grand Place, miniature version. Just wow!

Another fun activity you can take part in is trying to get the perfect Mini-Europe pic with the Atomium in the background. We certainly did. It's even bigger now that you compare it to itty bitty Paris or Prague.  
Getting to Mini-Europe from central Brussels is easy with a taxi. The trip will take you 20 minutes max. Beware there is no designated parking lot for Mini-Europe.
Get your tickets online in advance if you want to avoid the queue. There is a combination ticket with Atomium that costs €29.40, too, that can only be bought in person. 
Open daily 9:30 am–6 pm (until 7 pm in July and August) 
Tickets cost €17.30. The combination ticket with Atomium costs €29.40 and can only be bought in person at either site.  
3. Parlamentarium in Brussels
The visitors' center at the European Parliament is called Parlamentarium. We loved it!

Visiting the visitors' center of the European Parliament made me giddy like a kid in a candy shop.
It's just special. I mean I loved the EU before this, but after this visit, I am head over heels. So disclaimer: if you don't like the EU, I think you are stupid. Looking at you, UK.  
First of all, don't spend 10 minutes looking for the ticket desk like we did. There is none. The Parlamentarium is basically standing there with open arms, inviting everyone in. It is open daily, fully accessible, free of charge and the multimedia guides are available in all EU languages (including sign languages). Now that's welcoming. Oh, and the staff are lovely.  
As can be expected, you learn about the history and creation of the European Union through a myriad of interesting and interactive exhibits. Plus, you get to keep the pen they give you at the entrance. Free souvenir! 
You have to book your visit time online, it's quick and easy to do. Set aside 1.5 hrs to see it all. I dare you not to like it there.  
Open daily: Mondays 1 pm–6 pm, Tuesday to Friday 9 am–6 pm, weekends 10 am–6 pm 
Free entry, but you need to book a time online beforehand

Simply elegant @ Stanhope Hotel by Thon Hotels

Hotel tip: One of the hotels that we've chosen as suggestions for you in our Brussels article, Stanhope Hotel by Thon Hotels, is just 4 blocks away from the Parlamentarium. This is a 5-star stunner that'll appeal to those of you that like a more elegant boutique hotel. It has recently been refurbished, so everything is still brand-spanking new.
Or, just choose our personal favorite, the Radisson Red. It's right next to the Parlamentarium and it's cool as heck.
4. Autoworld in Brussels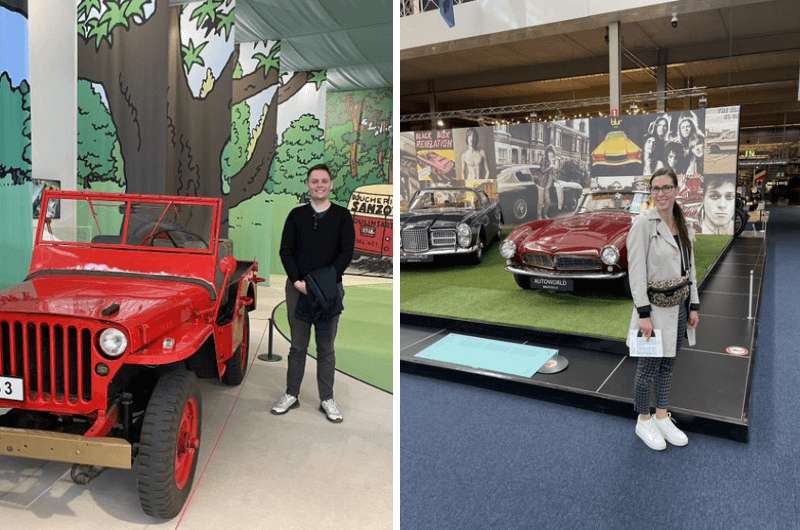 Me with Tintin's car and Karin with an oldie but goodie BMW 507

Right next to the Royal Museum of Armed Forces in Brussels is Autoworld. It's about 1/5 the size of the Armed Forces Museum and it's still one of the largest car museums I've ever been to. And one of the best.  
There are various zones in Autoworld, each focused on a specific topic or country. There is the sports & competition zone with old and new racing cars, the USA zone getting you a feel for the American dream, the comic section, which is just pure fun, and then the biggest one, the Belgian zone, dedicated to Belgium's automobile heritage.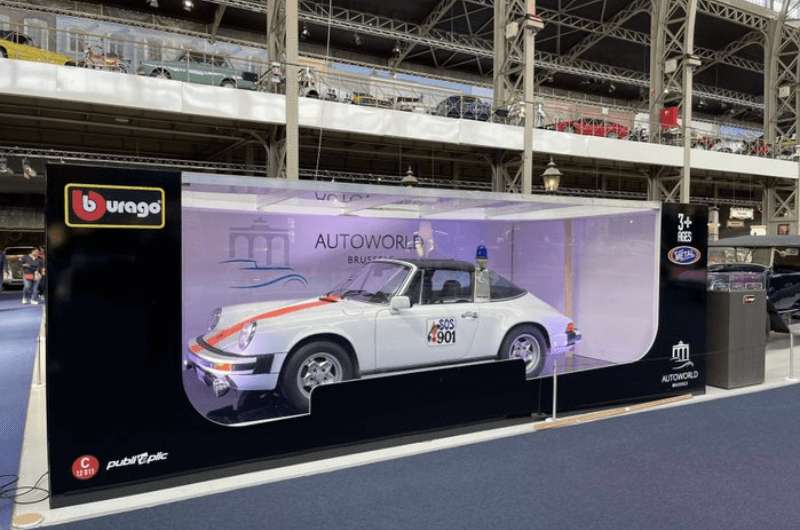 Gotta love a museum with a sense of humor

Autoworld houses some great pieces for the typical car nerd that resides in almost every guy and some girls, like the Corvette C2, 1960 BMW 700 or my personal childhood favorite, the Honda NSX. Known to you Americans as the Acura NSX.  
You can look around in 1–2 hours depending how much of a car fanatic you are.  
5. Royal Museum of the Armed Forces and Military History in Brussels
Big smiles geeking out with the Red Baron plane and trying to see it all @ Royal Museum of the Armed Forces and Military History

This was my jam! Karin… not so much. Had I been alone I would've spent all day here, no exaggeration. It's one of the biggest museums I've visited in my life and full of fascinating information.  
The Museum of Armed Forces does an excellent job providing context and perspective to international events such as WWI and WWII. There's a whole hangar dedicated to each of these wars and just learning about the points of view of each country (even African ones) was a real eye opener.  
You'll take a walk through history starting from the Middle Ages until present day, looking at everything from arms and armor to tanks and airplanes. The latter in the connected Aviation Gallery. There are 11 sections in the museum.  
Everything is ordered chronologically so you can pick and choose and skip around if you've got a particular interest in some areas and not so much in others.  
I'd say put aside a minimum of 3 hours for this museum. The only thing I'd say sucked just a tiny bit is that many of the signs weren't in English. The WWI exhibit was, but other parts were hit and miss.  
There are lockers at the entrance so you don't have to carry your stuff around.
The views from the top of the Triumphal Arch were epic!

The Royal Museum of Armed Forces is located in the pretty Parc du Cinquantenaire, right in the vicinity of Autoworld and the Art & History Museum. It is to the left of the Triumphal Arch, which, with a ticket to the Royal Museum of Armed Forces, you can climb up and get an epic view from.  
6. De Halve Maan Brewery in Bruges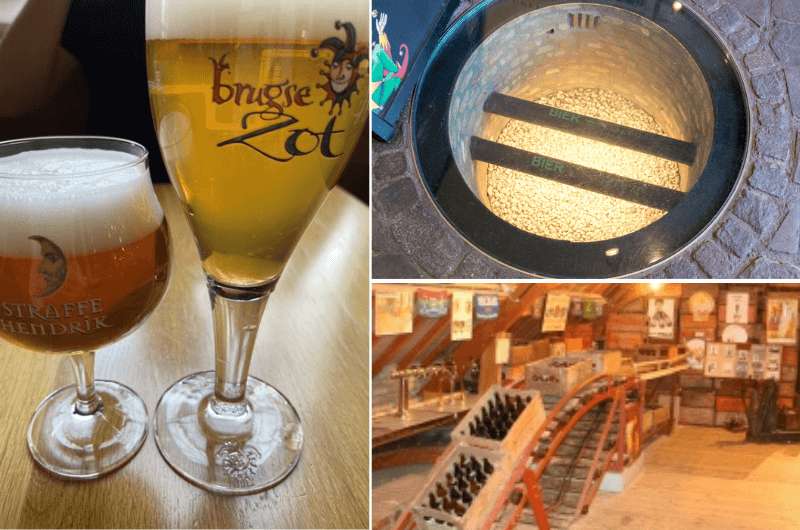 The unfiltered Brugse Zot, the beer pipe and part of the brewery tour

In the southern part of Bruges is the only brewery that has managed to stay in central Bruges—De Halve Maan ("The half moon"). They pride themselves on staying in town as opposed to moving shop to bigger and more modern buildings elsewhere like all the other breweries did. As such, it is in a historical building with historical building smells, narrow winding staircases and old production secrets waiting to be told.  
You can take a 45-minute tour through the brewery to learn some of them. Most importantly though, you'll learn about the history of this family business.  
Mentions of what is now the De Halve Maan brewery date back to 1564, though the actual brewery as it stands today was built in the 1860s.  
At a time when other breweries moved out of the city center to build new premises outside the city, De Halve Maan decided they wanted to stay a true Bruges company and stay in their old building. They did, however, build a separate bottling plant 3 km away—and so they had to get creative.  
Long gone were the days when their green and yellow trucks navigated the inner city, distributing their beers to businesses and households. De Halve Maan had figure out a way to reduce heavy truck traffic and pollution in the city center, as well as a way to transport their famous drink to the bottling plant.  
And so in 2016, thanks to crowdsourcing, a one-of-a-kind, 3.2 km (2 miles) beer pipeline connecting the brewery and the bottling plant was built. You can see the pipeline at the entrance to the brewery.
The views from the brewery rooftop. That's the Bruges' Belfry on the left.

We thoroughly enjoyed the tour. Our guide was entertaining and informative at the same time. The tour ends on the brewery roof where you get not only a free beer, but a fantastic view of Bruges.  
The unfiltered Brugse Zot can only be bought at De Halve Maan brewery. It was fab.  
There's a gift shop and restaurant on site as well. Book in advance. There are 4 English language tours per day.  
Open daily 11 am–5 pm, Saturdays 10 am–6 pm. Tours in English run 4x a day. Check times in the online reservation tool.  
Tickets cost €15 for the standard 45-minute tour, €24 with an additional beer tasting at the end. Book online in advance to secure a spot.

Come on, it has a princess tower?! @ Hotel Dukes' Palace

Hotel tip: The Relais Bourgondisch Cruyce mentioned in the hotel section of this article is a super cozy and charming hotel right on Bruges' canals. If you'd rather feel like a duke in spacious rooms and on a generously-sized property, consider Hotel Dukes' Palace instead.
7. Train World In Brussels
How the fancy people used to travel @ Train World

Train World is the official museum of the National Railway Company of Belgium and you get what you think you'll get, but cooler. In a country where even I think traveling by train is the way to go, it's a must. (More travel tips for Belgium in a separate article.)
There are more than 20 locomotives from the first steam ones to the high-speed types of present day that you can not only see, but also climb into and look around in, pretending to be the conductor. Now that's fun even if you're not a kid. Come on, choo choo!  
You'll also see various train cars, from the regular old wooden bench passenger cars to luxury dining cars and even those meant for royalty (that's a temporary exhibition). You'll love the recreation of the Orient Express.  
Train World is located right inside Schaarbeek station in Brussels, which means you can take the train from Brussels' city center to the train museum. You know you want to. And if you don't want to, you'll want to take one when you're traveling back to the city center.   
Two hours are the recommended time you should allow for your visit. Get your tickets in advance. There are also guided tours.  
Train World, Pl. Princesse Elisabeth 5, 1030 Schaerbeek (Brussels)
Open daily except for Monday 10 am–5 pm (last entry at 3:30 pm)  
Tickets cost €15 and are time-slotted. Get them in advance to jump in front of the line.  

8. Choco Story Museum in Brussels (and in Bruges)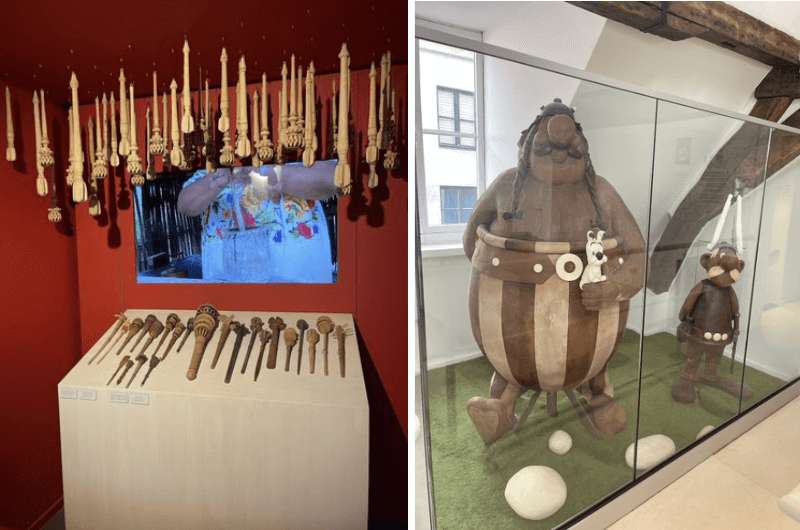 You learn some, you laugh some. Good times at the Choco Story Museum.

The Choco Story Museum in Brussels is by far the best chocolate museum I've ever been to, and I've been to about 10 all over the world. The difference in budget is really visible here compared to, say, South America. So if you want to learn about chocolate, come here, it's worth it.
You learn about everything from harvest and production to the different types of cacao and their health benefits. You hear about the history all the way back from the Mayas up to present day. 
The audio guide is your friend at this museum, and it piles on the knowledge. And there's trivia, too. Like when a French duchess had a black baby back in the day, it was said it must've been because she ate a lot of chocolate. Because the alternative was just too naughty.  
There are some interactive parts as well, a praline tasting at the end, and of course who wouldn't want to see a big chocolate statue of Obelix, the squirrel from Ice Age or even Manneken Pis? Can you imagine the AC ever turning off unexpectedly in this place? They must have generators for their generators like in a hospital to keep the chocolate guys alive at all costs!  
One thing to note is that everyone and their uncle are standing in line at the Choco Story Museum, so buy your tickets ahead of time. You reserve a time slot and then just breeze past everyone to the reception where you pick up your audio guide.  
The tasty excursion through the Choco Story Museum will take you 1.5 hours.
Choco Story Museum, Rue de l'Etuve 41, Brussels
Open daily 10 am–6 pm (last ticket slot at 5 pm) 
Tickets cost €11

You pour the chocolate here and then press this button here…

There's a Choco Story in Bruges, too. It is similarly shiny and new as the one in Brussels, but it isn't as hands-on, so I rate it lower than the one in the capital.  
There's the option to buy your ticket beforehand, but beware that this time it's not a fast pass and you still stand in line with the ticket-less folks. You just save time for paying for your tickets. I noticed that this got a few people a little frustrated, especially since the lines do tend to get long, especially over the weekends.  
The audio guide lets you participate in several games in Choco Story, and there is a demonstration room at the very end where you can taste unlimited chocolate. That translates to "stuff your face with free treats" to some folks. Not going to say which languages I heard them speak. But sheesh.  
There's a one-way trail through the museum that'll take you about 1.5 hours to complete.  
Choco Story Brugge, Wijnzakstraat 2, Bruges
Open daily 10 am–5 pm (last ticket sales at 4 pm) 
9. The House of European History in Brussels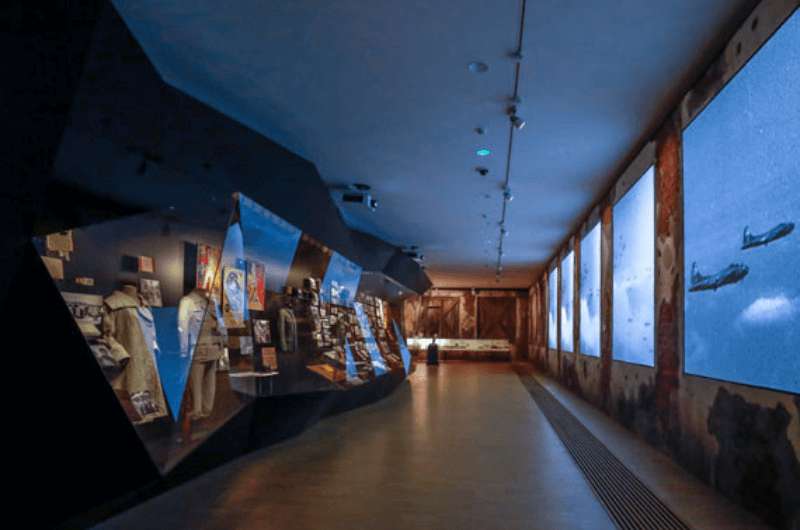 Europe in Ruins exhibition @ House of European History

You are now entering the European Parliament. And as a huge fan of democracy and the EU, I'm here for it. So let's learn about it!  
There's so much to discover at this well-curated museum. It leads you through the history of Europe from ancient times to today.  
It might sound semi-boring on paper, but the way they showcase the information really sucks you in and brings you through the times. It's interactive, it's modern, it's in your face with great use of space, things like actual cars and furniture, and a huge art installation spanning several floors.   
You will be guided through the 4 floors of the House of European History with the help of a complimentary iPad (I mean for use in the museum, not actually complimentary as in a gift). Granted, it does get confusing as to where you are standing at times, and I gave up trying to get it to tell me about one exhibition, but other than that, no complaints.  
No word of Brexit when we visited, but I'm sure they're working hard on adding a mention of that into one of the exhibitions sometime very soon. Like in the Stupid Decision Exhibit that I recommend adding just for the UK.  
House of European History, Rue Belliard / Belliardstraat 135, Brussels
Open Mondays 1 pm–6 pm, Tuesdays to Fridays 9 am–6 pm, weekends 10 am–6 pm 
Tickets cost €0. Yep, it's free.  
10. Photography Museum in Charleroi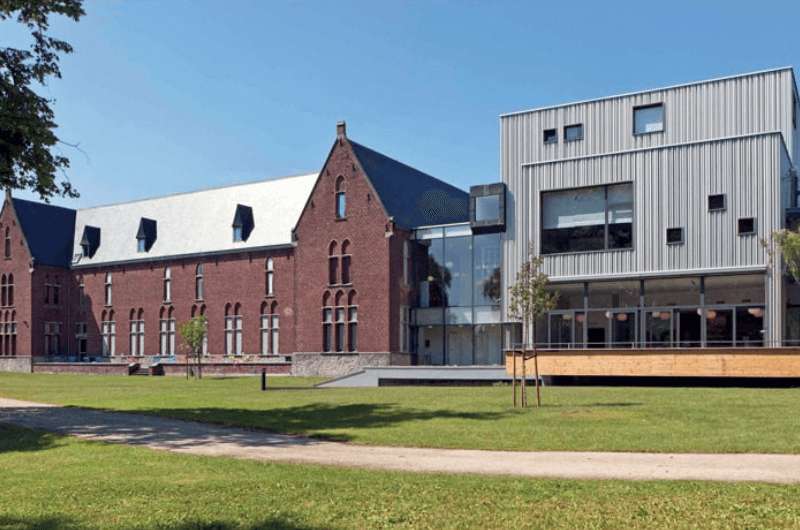 Mixing the old with the new @ Photography Museum, Contemporary Art Center of the French Community

Charleroi made our list of the top places to visit in Belgium even though it has also earned the title of the ugliest city in the country. You'll need to be the judge of how much the city's facelift in recent years has helped that bad reputation, but there is at least one museum that most definitely warrants a visit.
Art aficionados agree that Charleroi's Photography Museum is the best in Europe.
The Photography Museum, Contemporary Art Center of the French Community is located in a renovated convent building, with a contemporary wing added to the side of it. Even just this contrast of the architecture is worth seeing, though the exhibitions inside (and outside) are a must-see on any art literate tourist's visit. 
You'll see photographs from the beginning of time... well, at least since the beginning of photography in the 19th century, up until the present. All the greats are represented. Get on a guided tour if you want to hear the stories behind the photographs.
There's also an educational exhibit that teaches you about the science of cameras and lenses, including a showcase of the evolution of cameras. Lots of antique pieces on display.
The museum is huge, so you should count on spending 3 hours there, more if you're a dedicated photography fan. You can take a break in the on-site café.
11. Comics Art Museum in Brussels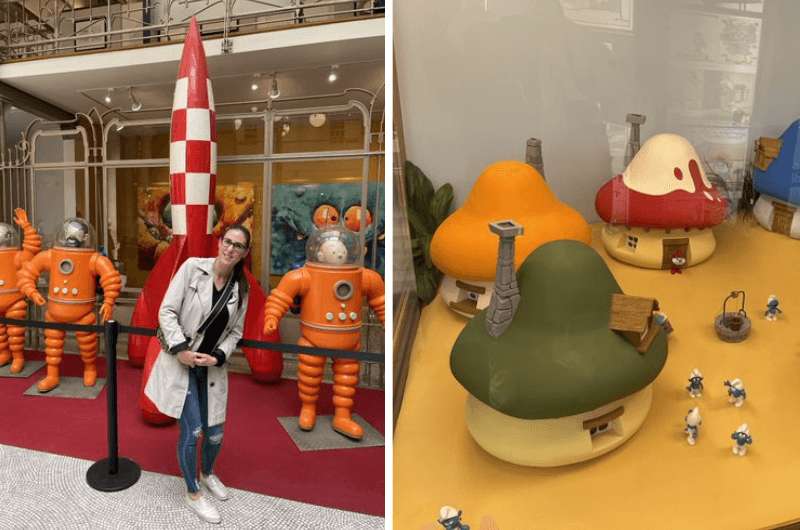 You can't deny the Comics Art Museum is cute

This is one of the museums that had immense potential and fell a tiny bit flat. The bar of museum standards in Belgium is set high. So it's not that the Comics Art Museum is bad, not at all. It's actually really interesting. But they could've taken the comic theme and ran with it, and instead they just jogged.
That said, did you know the Smurfs were Belgian? And so is Lucky Luke, and of course, Tintin. You'll know the teenager and his dog are Belgian the moment you step on the plane. Comics are a huge deal in Belgium, and you'll be made aware of this pride often.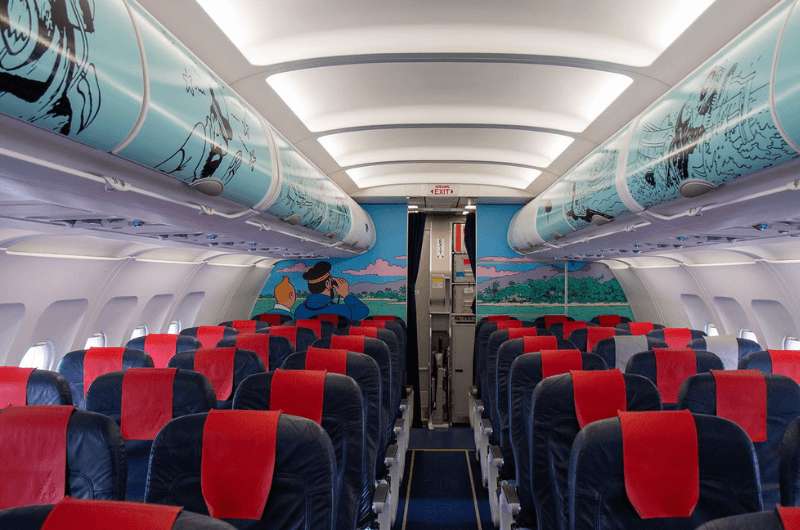 There's no doubt which airline you're on. Image source: https://www.brusselsairlines.com/

The Comics Art Museum has permanent and temporary exhibitions that tell you all about comics pioneers and the history of the child-like art, up until the modern era. There are interactive parts too, like a 3D Smurf house.  
You can be in and out in about 1.5 hours.  
The Comics Art Museum, Rue des Sables 20 
Open Tuesday to Sunday 10 am–6 pm (last admission at 5 pm). Open daily during July and August.  
Tickets cost €12

12. The Atomium in Brussels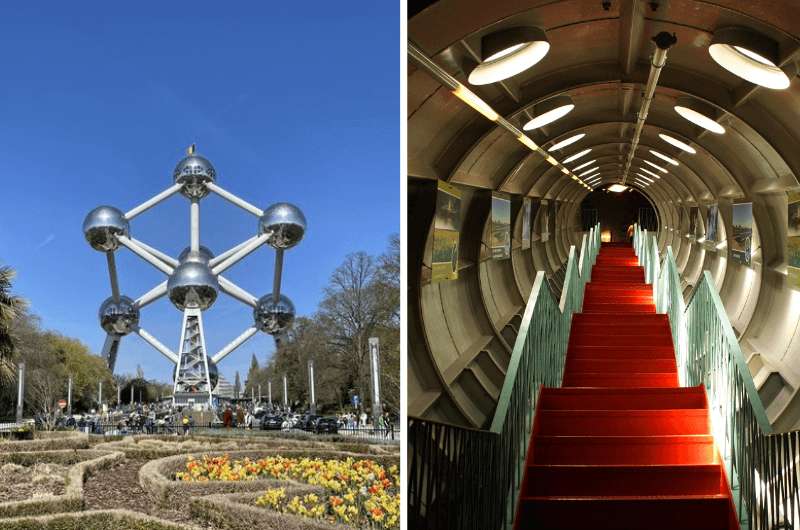 The escalator even has a light show going on. It's like a trip to Space Mountain!

The famous giant steel atom lives on the northern end of Brussels, next to Mini Europe. Originally constructed as the main pavilion for the 1958 Brussels World's Fair and meant to be just temporary, it's now an iconic symbol of the city and is here to stay.  
Honestly, I just think the main draw is the actual thing from the outside, just seeing it close up is a fabulous experience, but to each their own. I think this is one of the top 5 modern structures in Europe, it really is phenomenal when you're standing next to it.  
You can go inside 5 of the 8 spheres and the concrete building at the base. There are exhibits, a restaurant, a gift shop and a light & sound display. The very top orb is a viewing platform. It is accessed by an elevator and is 92 m (300 ft) above ground.  
It's all very spaceship-like. There are escalators and red staircases that take you through the steel tubes between the balls, it's dark with lights flashing around… all that was missing was Chewbacca walking by. Or maybe complimentary light sabers.  
There can be long lines at the entrance especially on weekends and holidays, so buy your tickets ahead of time online, unless you go for the combination ticket with Mini Europe—that can only be bought in person at one or the other site and costs €29.40. But once you have it, you just walk right in to the second place on your ticket without waiting. 
Atomium, Pl. de l'Atomium 1, Brussels
Open daily 10 am–6 pm (last entry at 5:30 pm) 
Tickets cost €16 and can be bought online to avoid the long lines. There is a small extra fee when buying online. The combination ticket with Mini Europe costs €29.40 and can only be bought in person.
  
13. Bruges Art Museums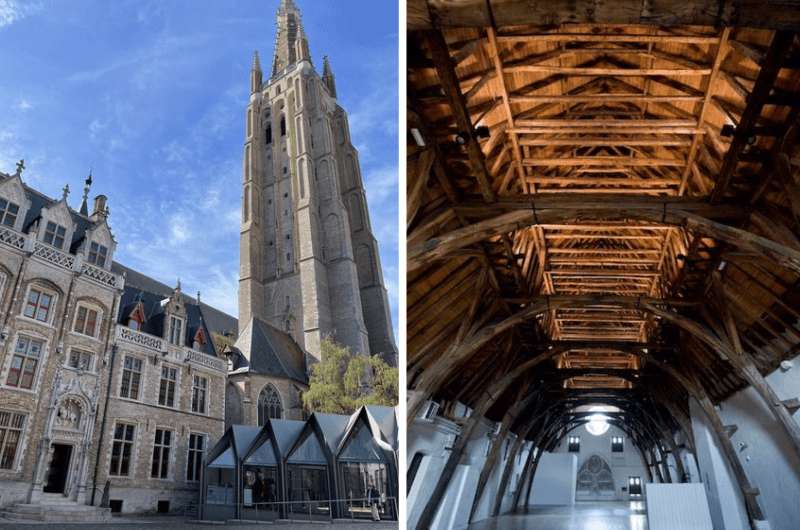 Left: Gruuthusemuseum exterior (that tall tower is not it, it's the tower of the Church of Our Lady Bruges). Right: the oak ceiling at Sint-Janshospitaal Museum.

Bruges provides art and history fans with several options to quench their art thirst. There are three art museums basically next to each other where you can see everything from carpets to old doctors' tools.
The Groeninge Museum takes you through six centuries of Belgian art. You start with the Flemish primitives and end with modern art by René Magritte, Roger Raveel and Raoul De Keyser. You can take a virtual tour of the museum to see if it's something you want to see in person.  
Groeninge Museum, Dijver 12, Bruges
Closed Mondays. Otherwise open daily 9:30 am–5 pm 
Gruuthuse is the restored palace of the lords of Bruges. The Gruuthusemuseum tells visitors the story of 500 years of the city's history through objects from tapestries and stained-glass windows to lace and porcelain. They must be doing something right, because the Gruuthusemuseum was awarded Europe's Most Welcoming Museum in 2021.  
Gruuthusemuseum, Dijver 17, Bruges
Closed Mondays. Otherwise open daily 9:30 am–5 pm 
Sint-Janshospitaal (St. John's Hospital) is one of the oldest preserved hospitals in Europe, so you can not only admire artwork by Flemish artist Hans Memling, as well as various temporary exhibitions, but also see what it was like in a hospital centuries ago.  
There are even medical instruments displayed along with information that'll make you grateful you aren't dealing with a serious ailment in the 17th century. Check out the old hospital wards and look up at the oak ceiling of the Middle Ward.  
You can see the peculiar back door of the hospital on the boat tour of the canals… read below. 
14. Musée Magritte Museum in Brussels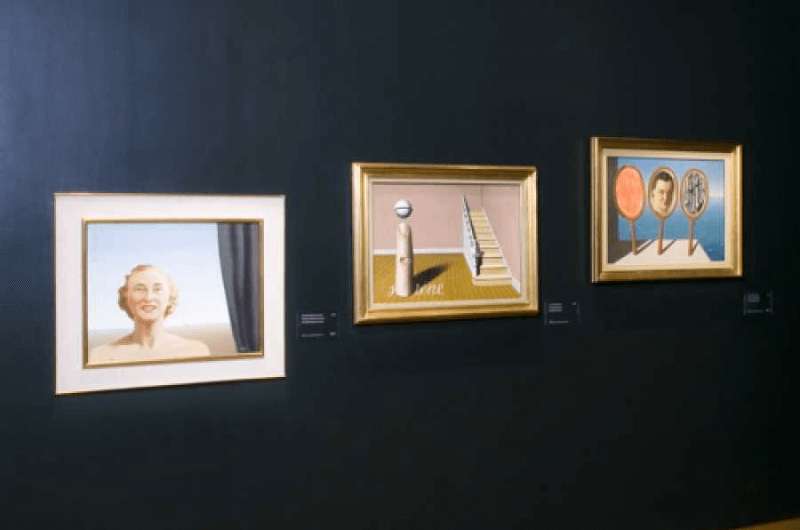 Some of the paintings @ Musée Magritte Museum

Take care when you're planning your visit to this museum, as there are two places in Brussels under a similar name. Both good, but I'm here to tell you about the one with the largest collection in the world of the surrealist's works. The Musée Magritte Museum is right by the Royal Palace as part of the Royal Museums of Fine Arts of Belgium in Brussels.  
I was a little disappointed with this museum. There aren't English explanations as to what you are looking at, so even though there are over 200 pieces, including photographs and letters, sometimes you just have to guess what's going on. A good curator would've turned these artifacts into a more enjoyable experience instead of just putting them on a wall or display case and calling it a day.  
That said, Magritte's work is interesting to look at, so you can do just that and still be satisfied. Just don't expect any context or real effort to help you understand surrealism or the artist's motivation for creating his art. Get the audio guide if you want to learn more.  
Open Tuesday to Friday 10 am–5 pm, Saturday and Sunday 11 am–6 pm 
Tickets cost €10, plus €4 for an audio guide (they even have special ones for kids)

15. The Belfries in Bruges and Ghent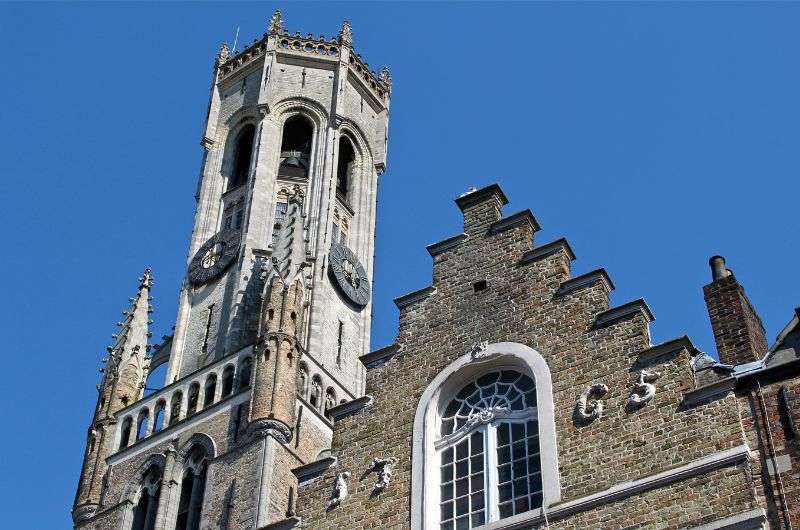 Bruges' Belfry

Visiting bell towers is a thing in Belgium! If you have tickets in advance, that is. We had to skip the one Bruges because we didn't buy tickets beforehand. Bruges and Ghent are both great day trips from Brussels (check out our day trips from Brussels article).
Seeing the bells in the bell towers up close is always cool because they are a whole heck of a lot bigger than you'd think from way down on the ground.
The Bruges Belfry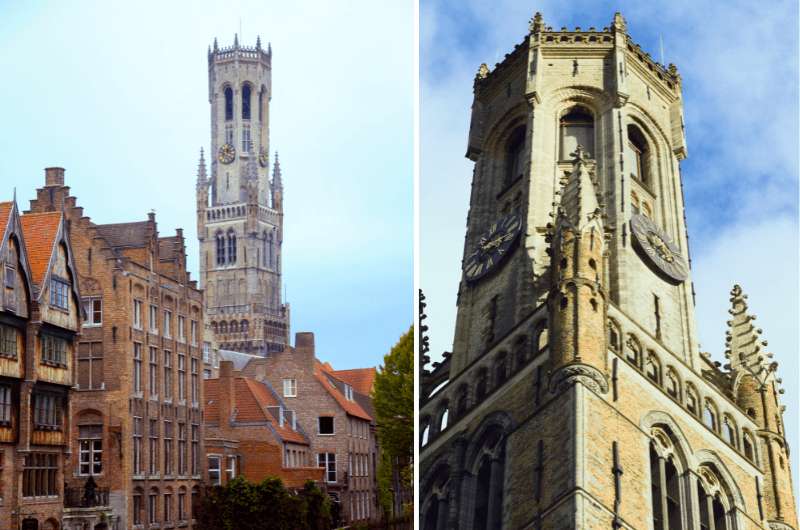 Bruges' pretty bell tower

The Belfry in Bruges is the symbol of Bruges' power in the 13th century. The bell tower stands tall at 83 meters above the Grote Markt. If you put on your hiking legs and make it all the way up the 366 stairs, you'll be rewarded with views of Bruges and beyond.  
You can break up your trek through the tower in the treasury and then the carillon, which has a total of 47 bells. You can hear them play on Wednesdays, Saturdays, and Sundays from 11 am–12 pm.  
To get the best view of the Belfry, go to the rooftop of the De Halve Maan Brewery (see item 6 on this list).   
Open daily 9 am – 8 pm 
Tickets cost €14 and need to be bought in advance. You get a time stamp and if you miss your time, you're out of luck.  
The Ghent Belfry
The view of St. Nicholas Church from the Belfry and the dragon statue inside

Ghent's Belfry used to be the city's watchtower. Guards would look out for danger from bad guys, but also fire in particular. Now you can see what they saw, sans fires (hopefully!).  
The UNESCO Heritage List tower houses the mascot of Ghent, a dragon, and used to also hold the city's alarm bell, nicknamed "Roland". Since the bell cracked in 1914 it was taken down and is now on display next to St. Nicholas' Church.  
Now there are just the carillon bells that you can hear every Sunday before noon, and, during the summer, every Saturday night.  
You can see the dragon and some museum-type information inside the Belfry. There are stairs up to the first floor and then you can take an elevator up to the tower. 
To visit the Belfry, it's recommended to buy your tickets online in advance.  
Open daily 10 am–6 pm  
Tickets cost €10 and can be bought in the ticket booth or online

Comfy, cool and chic @ Pillows Grand Boutique Hotel Reylof

Hotel tip: Besides the fantastic Yalo Urban Boutique Hotel mentioned in the dedicated hotel section below, another great accommodation option in Ghent is just an 8 minute walk from the Belfry:
the cozy but fab 5-star Pillows Grand Boutique Hotel Reylof. It gets you contemporary design, high ceilings and rain showers in the rooms and apparently also very comfortable pillows!
Our favorite hotels in Belgium
Hotels, like museums, are great quality in Belgium. If you're making a reservation through booking.com, just filter out hotels with a rating of at least 9.0 and you're good to go.
Tip: Read our article and don't make rookie mistakes when booking hotels!  
For more hand-picked hotels, see our city guides: Brussels, Bruges, Ghent.
If you use any of our booking.com links to book a hotel (any hotel), we get a small commission at no extra expense to you. All you get is a great feeling for supporting our efforts. Thank you! 
Hotels in Brussels
The cool and comfortable Radisson Red

Halfway between the Royal Palace and the Parc de Cinquantenaire is the hotel we stayed at while in Brussels, the Radisson Red. It's the same hotel we stayed at in Lima, Peru, and we again thought it was really good bang for your buck.
The Radisson Red concept focuses on bringing people together through art, fashion and music. It's all very youthful and connected, they even have an app where guests can share photos. There are huge TVs in every room, along with wall art and just art in general all over the hotel, customizable lighting in rooms and numerous social spaces where you can chill and to live DJs playing.  
Prices start at €250 per night for 2 people with breakfast.
Stylish and right on Grand Place @ Rocco Forte Hotel Amigo

Rocco Forte Hotel Amigo is a 5-star hotel right on Grand Place, so you have all the best spots in Brussels at your fingertips. Every room has a spacious bathroom, a seating area, and each one is in a specific color tone. Don't be shy to ask for your favorite! The design is a cross between elegant and contemporary.  
Staff are of the friendly and nothing-is-a-problem variety. You can dine in the on-site restaurant that serves Italian and Mediterranean cuisine. The restaurant has an outdoor seating area just perfect for people-watching on the square.  
Prices start at €480 per night for 2 people with breakfast. 
Hotel in Bruges
This one sits right on the canals of Bruges @ Relais Bourgondisch Cruyce

The 4-star, waterfront property of Relais Bourgondisch Cruyce is up there in romance vibes with Bonifacius Bridge in Bruges. The staff at this boutique hotel get infinite accolades in reviews, which is always the thing that can make or break your stay.  
Rooms are decorated with the owner's art collection and antiques, and they can be on the cozier side (read: small), but at this hotel, it all just feels enchanting. You'll have breakfast overlooking one of Bruges' canals and can sit by the fireplace in the dining room with your afternoon tea (read: beer). They have an off-site restaurant not far away. 
Prices start at €170 per night for two people without breakfast.  
Hotel in Ghent
The uber cool Yalo Urban Boutique Hotel

This hotel oozes so much style that you won't even notice that it isn't 5-star. The Yalo Urban Boutique Hotel is located in the southern part of Old Town Ghent, not far from St. Bavo's Cathedral.  
Inspired by the 70s, you'll be staying in a room where attention to design detail is apparent. From the cool, white record players and funky clocks to the colorful art, you'll have a lot to look at. Some rooms have terraces and fantastic views.  
The staff is particularly friendly, and the great breakfast seems to be mentioned over and over again in the reviews. If starting the day with a happy stomach is important to you, Yalo might be the place for you.  
Prices start around €200 per night for 2 people including breakfast.  
This post may contain affiliate links. We earn a small commission if you make bookings through my links, at no additional cost to you. This helps us keep this blog free, thank you!