If you thought Belgium is a boring country with nothing to see, think again! Belgium captivates visitors with the best museums I've ever been to, the most beautiful squares that I've ever seen, and the best beer that I've ever had.
As far as the best places to see, Belgium has very few natural highlights to speak of, so all but one of the places on this list are man-made destinations. Which isn't a bad thing if "the man" making them did a great job!
You might also be interested in reading: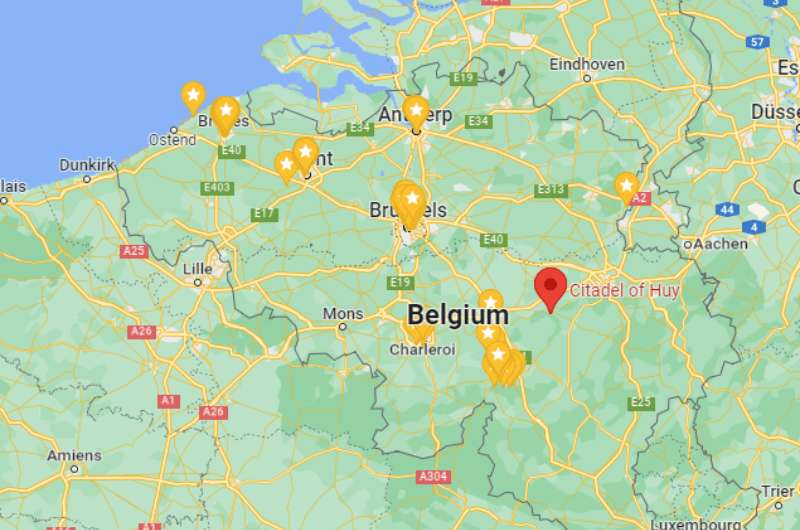 Most of Belgium's highlights are in the northern half of the country in the region called Flanders

Our top tips for the best places in Belgium:
The vast majority of the best places in Belgium are in Flanders, the northern half of Belgium.
Don't underestimate Brussels. The place is packed with museums and tourist sites that you'll have trouble fitting into even 3 full days.
Most other top places, like Ghent and Bruges, can easily be done as a day trip from Brussels.
Some popular places require advance bookings: Gravensteen in Brussels is one, the Belfry in Bruges is another.
No matter where in Belgium you go, you won't have trouble communicating in English. We talk about language and a ton more fun facts and observations in our Top Tips for Traveling in Brussels article.
1. Meuse Valley
Does Belgium have any nature worth seeing? Not really. Meuse Valley is an exception

That one lone ranger is the Valley of the Meuse River. The water cuts deeply into the landscape, creating great scenery along its banks, though most of what you'd actually be stopping to see are, again, man-made places like towns and castles picturesquely built next to or on the limestone cliffs along the river.
The Meuse flows into southern Belgium from northern France before continuing to the Netherlands and, eventually, the North Sea. The valley used to be an industrial hub, which had an unfortunate consequence in 1930 when a thick, pollutant-filled smog covered the valley for several days, killing dozens of people.
Nowadays, there's no more of that, if you turn a blind eye to the deteriorating factories and smokestacks that'll ruin the otherwise lovely views here and there.
Take a trip down to the south of Belgium with the ultimate goal being the town of Dinant, who had its own place on this list (see no. 7).
You can visit the Citadel of Namur, with its underground tunnels, views of Namur and Meuse Valley, and a great museum to boot.
Driving further south, make a stop at Les Jardins d'Annevoie, the 18th century gardens filled with waterfalls and fountains. I mean it's just a garden, and if you don't like gardens, you'll find it boring, but nobody is forcing you to visit it, ok?
One of Belgium's cutest villages, Celles, is just a stone's throw away from Meuse River

In Yvoir, you can take a little ferry to an island on the Meuse.
Around Dinant, there are many castles. Too many to care about them all, unless you're visiting from a castle-less country, in which case you'll be more excited about them than I am.
Past Dinant, there is the Renaissance Castle of Freÿr, which sits right on the Meuse River bank and has a manicured garden. The best way to see it, though, is probably from the rocks on the opposite side of the river. Any rock climbers out there should take the chance to see the castle from the top of the Rochers de Freyr.
If you stray from the Meuse and go a bit east, you can wander around one of Belgium's cutest villages, Celles. Then, take a peek at the Disney-esque Vêves Castle stopping to see what some consider Belgium's most beautiful limestone rock mass—Aiguilles de Chaleux.
2. Flanders villages
Small town vibes in De Haan

Flanders is a region in northern Belgium, the part where they speak Flemish, which is closely related to Dutch, as opposed to the southern region of Wallonia, where French is prevalent.
The region used to be (and still is!) one of the richest parts of Europe, and because of that, the culture that developed there was very sophisticated. Many artists live or have lived in this part of Belgium.
The villages that are sprinkled throughout Flanders are particularly enticing, with cute houses and a charming atmosphere. If you're after some real small-town Belgian life, head over to Oud-Rekem, which was named Most Beautiful Flanders Village.
But if Oud-Rekem, located all the way on the eastern border, is too far out for you, you can take a trip to a village that is also Belgium's best beach resort—De Haan. It's close to Bruges.
Deurle is undeniably delightful. One look at those white or brick houses, all with wooden window shutters, nestled amongst abundant greenery, and you just want to curl up with a book, drink hot cocoa, and never go back to work. Deurle is just 15 km (9 miles) west from central Ghent.
3. Bruges and Ghent boat canal tours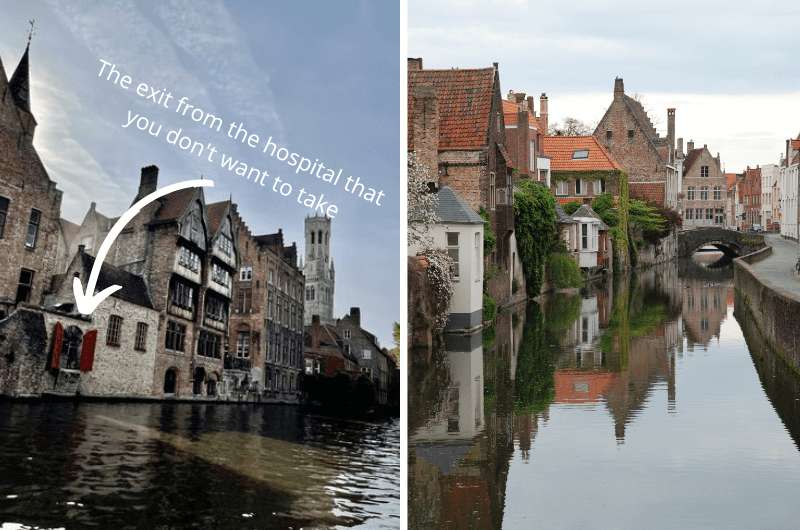 Views during the boat tour in Bruges. To find out who came out the back door and why it was stupid, read our Bruges guide.

What do you get when you add a system of canals to a town full of awesome medieval architecture? Mosquitos! Great Instragram photos! And a lot of bridges, narrow pathways, and just sheer charm.
But most of all, you get to travel around the town in a little boat, seeing everything from a unique perspective (unless you hail from Venice, Italy…in that case, maybe you won't be that excited about this item). Somehow not needing to walk makes everyone love a good boat ride.
We took boat tours in Ghent and Bruges and loved them both, though Ghent won over Bruges in our books. The towns are big, so the tours aren't long, lasting about 40 minutes and costing €7.50 in Ghent and €12 in Bruges.
The guide on the boat tells you interesting bits and bobs about the history of the town and the buildings you are slowly passing by. It's a pleasant outing that doesn't hurt your wallet or your legs. Win win.
4. Gravensteen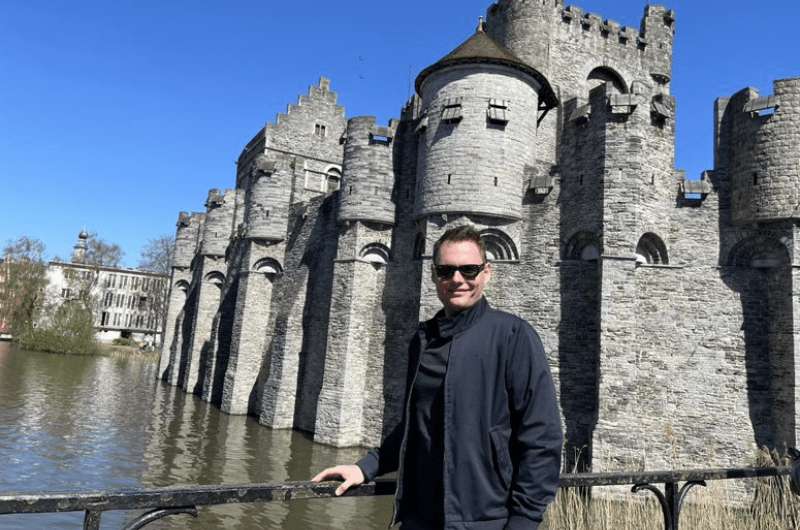 My, my, what a great-looking castle

The "Castle of the Counts" was our favorite place in Ghent. Gravensteen is the only surviving medieval castle in Flanders with a moat and an almost intact defense system. For me as a history geek that was cool to see.
Not only was the castle meant to protect the city, but it was also supposed to intimidate the town's own citizens in case they wanted to challenge the count's authority. Tell me you have a big ego without telling me you have a big ego.
If you buy a ticket in advance and actually get to go inside (unlike us—no tickets in advance meant we couldn't go in!) you'll even get to take the supposedly entertaining audio tour, see some torture equipment, and peek at a hidden mural which is only visible from one of the castle's towers.
Read more about Gravensteen and more sites in the city in our Ghent guide.
5. Dinant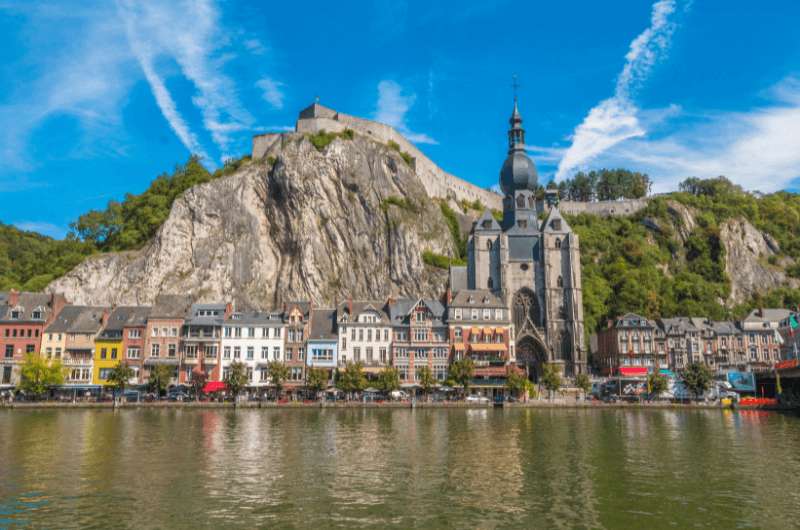 Dinant: Too kitsch or just right?

The undeniable birthplace of the saxophone (you'll see reminders of the musical instrument everywhere), Dinant is the most popular tourist city in southern Belgium. It's located on the Meuse River, the same one that we talked about a few items higher on this list.
So, after you explore the rest of Meuse Valley, put your anchor down in this pretty town and do some sightseeing there.
At first glance you'll see the row of colorful houses sitting on the Meuse River bank, protected spiritually by the impressive Notre Dame de Dinant on the side and actually by the Dinant Citadel up from the top of the limestone cliffs that form a dramatic backdrop. Just this view alone is enough to be worth a trip down there.
You can climb up to the citadel on your own two feet or take a cable car. It is said that the panoramic views of the valley are cherished more by those that take the stairs! Just kidding. But it's probably true.
For the best views of Dinant, walk along the Charles de Gaulle Bridge. Just don't accidently bump into one of the colorful saxophone sculptures while staring into your phone while taking a photo of the Notre Dame.
As you would expect, the riverside promenade offers a wide selection of restaurants and cafes.
6. Charleroi
Back to Charleroi's roots: The former coal mine turned museum @ Boiz du Cazier

Charleroi is the largest city in Wallonia, aka the French-speaking half of Belgium. If you Google it, you might find that Charleroi was voted the ugliest city in the world. It is also apparently home to some corrupt politicians and has been called the most depressing city in Belgium, too. But don't flock to Charleroi just yet! Lol.
What it lacks in beauty, though, it makes up in character. And fantastic museums. And a cool train station. Just ignore the rusty old coal plants right next to the city center.
Charleroi wasn't happy about the label it kept getting, so it has seen a major facelift in recent years, making the central part of the city actually pretty nice. If you have your expectations straight.
You will still notice the stark difference between the shininess of the new and the decaying gloominess of the old. Charleroi has also seen a strange kind of tourism—people coming to see for themselves if it is really as bad as the internet makes it sound.
For normal people not chasing sensations, Charleroi is home to one of the best photography museums in Europe, the Photography Museum, Contemporary Art Center of the French Community.
It's located in a renovated convent building, with a contemporary wing added to the side of it. Even just this contrast of the architecture is worth seeing, though the exhibitions inside (and outside) are a must-see on any art literate tourist's visit.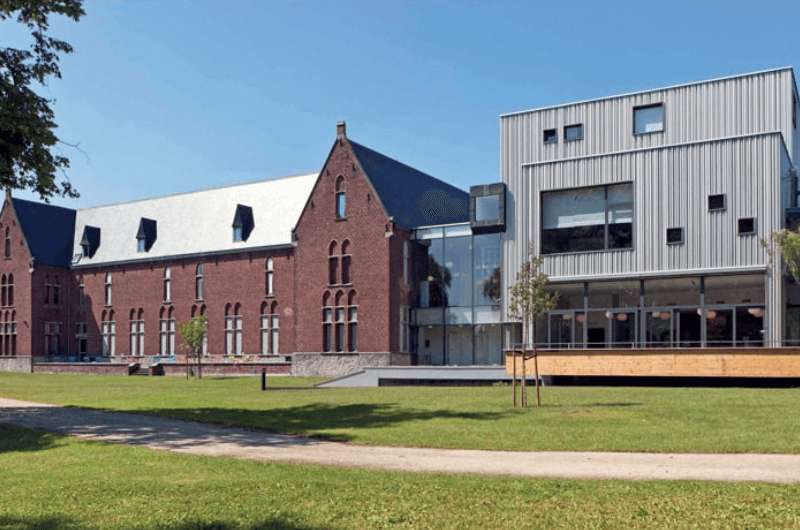 Mixing the old with the new @ Photography Museum, Contemporary Art Center of the French Community

Closer to the city center is the Charleroi South, the city's main train station. If the sun is out, the renovated historic building even looks pretty!
Across the river from the train station is where you'll find "new Charleroi", the facelifted area with shopping malls and welcoming, clean squares. Some are new, and some, like the Le Passage de la Bourse, adds a welcome touch of history (and a place to hide in case it rains).
Since mining was what brought Charleroi its riches, and is also the reason why it then became the dump of a city it's known as, we thought it best to learn about this industrial history.
Boiz du Cazier is an industrial heritage site—a former coal mine that was the site of terrible mining disaster in 1956—that is now home to two great museums. The Industry Museum focuses on the mining industry and the Glass Museum is all about glassmaking, which used to be famous in the region.
Charleroi has another claim to fame besides coal and museums—it's the birthplace of one of the country's oldest comics magazines: Spirou. First published in 1938, Spirou featured famous characters such as Lucky Luke and The Smurfs. You'll find comics sculptures and murals all around Charleroi.
Surely a city full of cute characters can't be that ugly?!
7. Antwerp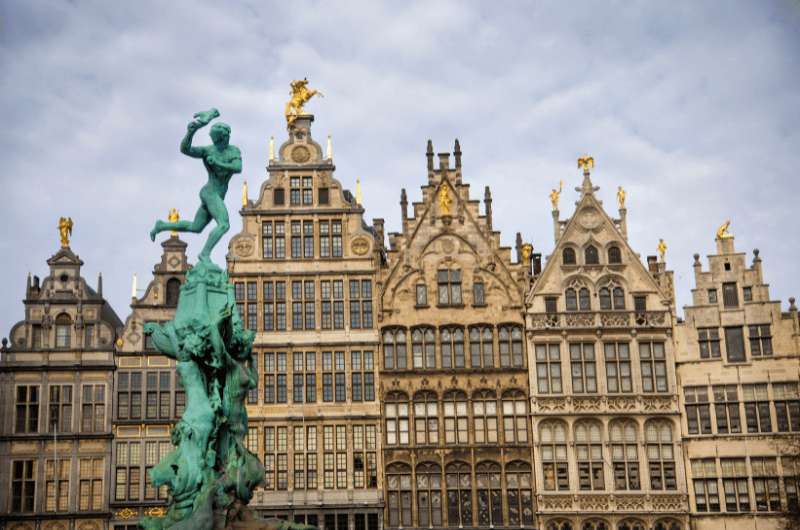 I still haven't figured out the fountain @ Antwerp Grote Markt

Belgium's second largest city and the second largest port in Europe is synonymous to diamonds, Rubens, and style. It combines the riches of Brussels with the history of Ghent and Bruges, but with a bit of an artsy edge. And a nightlife. Like a hipster turned CEO of a madly successful startup. That's Antwerp.
Antwerp is the world's diamond trading hub, with 84% or the world's rough diamonds making their way through. If you are a diamond-loving dude, send your jeweler to Antwerp to get top pick of the uncut rock crop. In 2017, USD 46 billion worth of diamonds was traded in Antwerp. Just think, you could contribute to some of those thousands yourself.
The Diamond district is located close to the main train station if you're up for a shopping trip. Plus, the Antwerpen-Centraal station is a sight in itself. Seriously, even if you aren't traveling by train in Belgium (which you should be!), stop by to look at the magnificent building. It is always on the world's most beautiful train stations lists.
What all this diamond talk means is that Antwerp is a rich city, which brings all kind of niceness into the historical mix. You'll notice the old and the new coming together in Antwerp on every corner.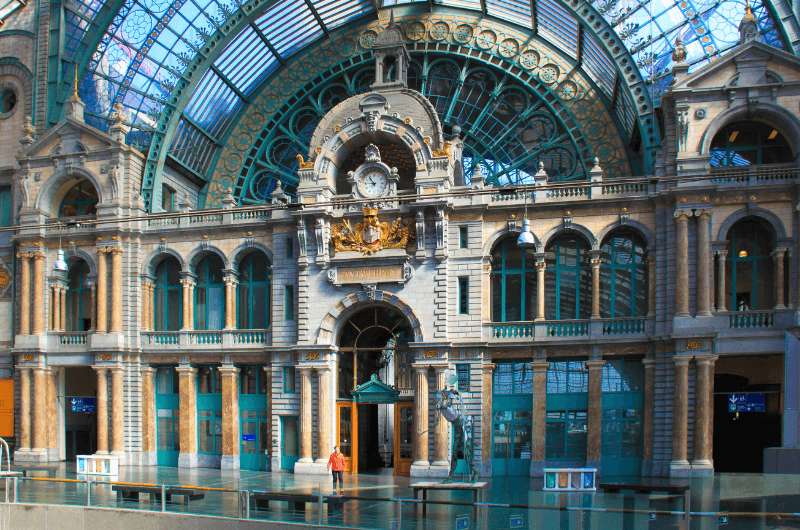 This is what awaits you @ Antwerpen-Centraal train station

Take Stadsfeestzaal Shopping Mall, for example. It's in a restored historical building with arched high ceilings and golden everything.
When you are tired from draining your bank account, you can take a rest at the Champaign bar. Which probably won't help with the spending, but it will provide a nice place to recharge. This being Antwerp, it's not just luxury brand stores, but a nice mix of everything.
The main square of Antwerp, Grote Markt, is surrounded by intricately decorated historical buildings where gold has been used to a great extent, like the City Hall. It isn't as fabulous as the main square in Brussels, but it's still nice. And a great place to people-watch and have a beer or three, all while trying to figure out the statue/fountain in the middle.
A few steps off of Grote Markt is the Cathedral of Our Lady, a church with a spectacular white interior and Rubens' works on display. Peculiarly, there's also a gift shop and a café inside the church. I mean, why not, grab a beer with Jesus and hash out theories about religion. Like if that vial of his blood in Bruges is really real.
Antwerp is also where famed artist Peter Paul Rubens lived and created, and you can see his work all over the city. Or at his house: Rubens House, which he apparently built himself.
The incredibly well-preserved home is a museum where you can see not only Rubens' paintings and sculptures, but also personal items and furniture from Rubens' time. There is an interior garden to walk through, too. Just beware it gets crowded on weekends and the audio guide could put you to sleep if you aren't an art aficionado.
Antwerp is also home to Europe's second largest port (after Rotterdam). One visit to the port and you'll wonder if aliens are taking over. Once you realize it's just the city's Port House.
Still want more? See Het Steen castle, and then compare it to the one in Ghent. Learn about Antwerp's history in the cool MAS museum. Or about the history of the many immigrants that left Europe to the USA by ship through the very building that the Red Star Line Museum is housed in today.
Our hotel tip for Antwerp
Zen vibes @ Botanic Sanctuary Antwerp

In a nutshell, Antwerp is super cool, and you don't want to miss it! You'd probably be missing out if you only spent the day here, because unlike, say, Bruges, there is fantastic nightlife in Antwerp.
If you can stay at the 5-star Botanic Sanctuary Antwerp, you'll be doing yourself a favor. It doesn't have the word 'sanctuary' in its name for nothing! The indoor pool oozes tranquility and there is a gym and a fantastic spa with numerous treatments available. Not only that but is has not one but several Michelin-recognized facilities and chefs on site.
Prices start at €550 per night for 2 people with breakfast.
If you use any of our booking.com links to book a hotel (any hotel), we get a small commission at no extra expense to you. All you get is a great feeling for supporting our efforts. Thank you!
8. Museums of Brussels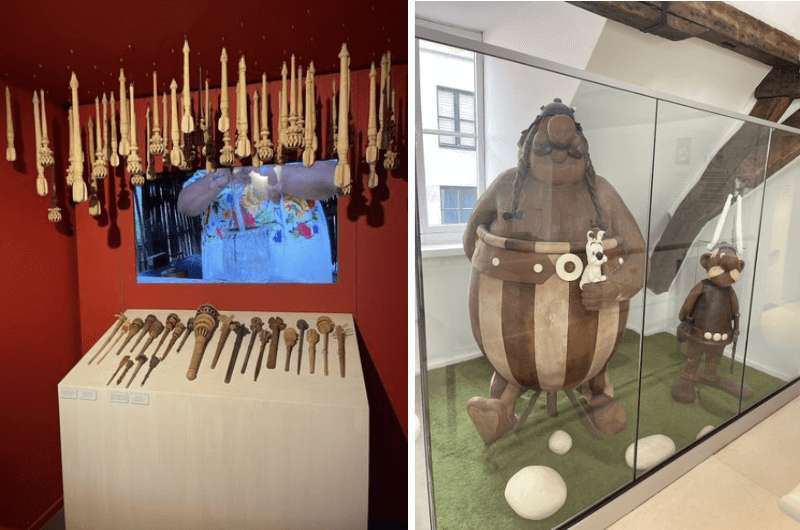 Some of the awesome and probably delicious exhibits at Brussels' Choco Story Museum

You could spend three full days in Brussels and just go from one museum to the other and still not see the best of them. Heck, just my personal favorite, the Royal Museum of the Armed Forces and Military History, could've taken me all day if I wasn't there with my wife, who was decidedly less enthusiastic about the topic. It. Is. Huge!
What about cars? Do you like cars? I do… so I loved Autoworld. Karin loved it for 1 hour, I would've probably loved it for at least 2. There's also Train World if you prefer your vehicles on tracks instead of roads.
I mention repeatedly in my comprehensive article about things to do in Brussels, that the museums in Belgium are by far the best I've been to anywhere in the world. The standard is just so high, you can see that a lot of care (and money) goes into making the museums entertaining and educational. Everything is interactive, with most places giving you an iPad or similar device that adds another dimension to your museum-hopping experience.
A little bit of car love @ Autoworld

So even a museum dedicated to something as simple as chocolate, Choco Story Museum, turns into a fascinating trip through history and takes you right into the present with a welcome praline tasting. And you can see a huge chocolate statue of Asterix and Obelix, among others. This was the best chocolate museum I've been to anywhere, including chocolate's native Latin America (we've toured Chile, Peru and Mexico so far).
Speaking of comics, the The Comics Art Museum teaches you a thing or two about Belgium's pride and joy. Though not the best museum in Brussels, it just feels like you have to go, or else risk making The Smurfs angry and send Tintin on an investigation as to how someone could miss learning about comics in Belgium.
And how could you visit Brussels, the heart and brain of the EU, and not visit the Parlamentarium—the visitors' center of the European Parliament. It's free and we loved it.
For (many) more tips on which museums in Brussels we thought we fantastic, read our Brussels guide. And be prepared to add a day or two to what you thought would be a short city break! Many of the Brussels museums we visited made our top museums in Belgium list. Check that out too.
9. Bruges
Bruges is undoubtedly charming. But we still liked Ghent a little better.

I'm going to go against the majority and say that Ghent is better that Bruges (see more on Ghent below). But like by a hair. Bruges is lovely, thoroughly Instagram-friendly and romantic, but very touristy. So much so that you'll be hard pressed to find a local, apart from the ones that are serving you lunch in a restaurant or taking you on a canal boat tour.
Bruges city center is basically an island encircled by a river, and then cut further into bits by the numerous canals. So, besides walking, you can also take a half-hour boat canal tour. Lovely. But the one in Ghent was better. Again, just slightly.
If you're visiting with a special someone, you can try to seal the deal at Lovers' Bridge, or, you can try to find your special someone at Bonifacius Bridge (read all about the love-related bridges in our Bruges guide). And if you want to stay the night, the Relais Bourgondisch Cruyce is considered one of Europe's most romantic hotels and it's right on the canals! See below for details.
Left: Gruuthusemuseum exterior (that tall tower is not it, it's the tower of the Church of Our Lady Bruges). Right: the oak ceiling at Sint-Janshospitaal Museum.

You can explore Bruges' small center, which includes Market Square (Grote Markt) and Burg Square, along with its fantastic buildings—like the Basilica of the Holy Blood with a "real" bit of Jesus' blood-stained cloth (hop on over to Turin to compare it to the man-size Jesus print on another old and revered piece of fabric) or the Bruges City Hall with its impressive Gothic Hall.
There are several very tall towers that loom over the city, including that of the Church of Our Lady Bruges, which not only has a super tall tower, but it is also home to the only original Michelangelo statue outside of Italy. The UNESCO-acknowledged Belfry is another. Just make sure you get your tickets in advance or you'll be stuck looking at it only from the outside, just like poor old ticket-less us.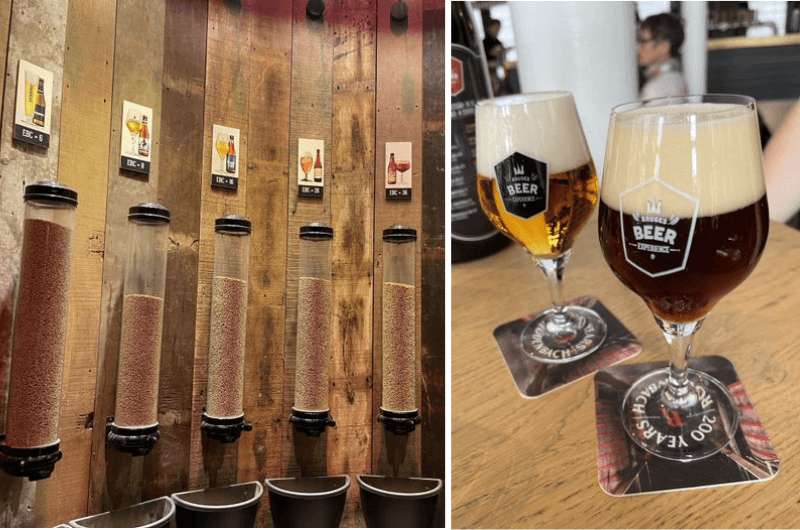 Left: Hops smelling stations. Right: Beer tasting stations @ Bruges Beer Experience

Bruges is also home to some of the best Belgian waffles we've come across, Otto Waffle Atelier. You can read about Otto's and other great Belgian eateries in our Best Restaurants in Belgium article. Actually, if you want to get a better idea about what to eat in general, we have an article about the food of Belgium as well.
But the two top places that we visited in Bruges were very beer-oriented. The De Halve Maan brewery tour takes you through one of the oldest breweries in Bruges, and the only one that has kept its production within the city center. Check out that underground beer pipeline!
Last but certainly not least is the Bruges Beer Experience. This is such an educational and fascinating museum! Especially for us beer lovers, it was very interesting to learn about the different types of beer. Belgium truly is beer country and the fact that they even pair beers with dishes just like you'd expect to be done with wine says a lot.
Get a full rundown on what to do in Bruges in a separate article.
Our hotel tip for Bruges
This one sits right on the canals of Bruges @ Relais Bourgondisch Cruyce

The 4-star, waterfront property of Relais Bourgondisch Cruyce is up there in romance vibes with Bonifacius Bridge. The staff at this boutique hotel get infinite accolades in reviews, which is always the thing that can make or break your stay.
Rooms are decorated with the owner's art collection and antiques, and they can be on the cozier side (read: small), but at this hotel, it all just feels enchanting. You'll have breakfast overlooking one of Bruges' canals and can sit by the fireplace in the dining room with your afternoon tea (read: beer). They have an off-site restaurant not far away.
Prices start at €170 per night for two people without breakfast.
10. Atomium and Mini-Europe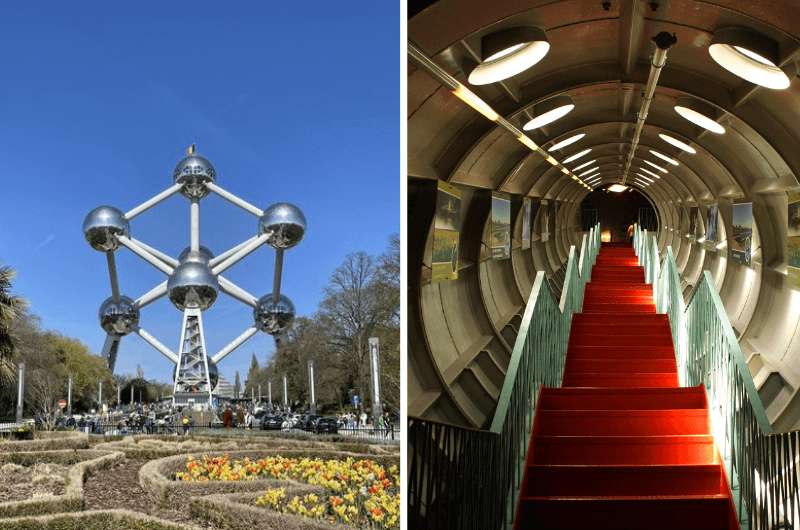 The Atomium was one of our favorite things to see in Brussels

We've already told you about the amazing museums in Brussels (actually, we put together a list of the most amazing museums in Belgium!). Brussels was, for me, the biggest surprise in Belgium. I expected so little. Then I researched it and started to expect quite a lot... and even then it surpassed my expectations!
A part of that was thanks to the amazing tourist sites like the Atomium and Mini-Europe.
The Atomium is the giant steel atom that is the symbol of Brussels. It was originally constructed as the main—and temporary—pavilion for the 1958 Brussels World's Fair, but is now decidedly permanent. And prominent—the very top orb (one of 8) is 92 m (300 ft) above ground!
For us, just seeing the Atomium from the outside was probably the most interesting part, but you can go inside as well. The concrete base is a museum and you can go to the individual orbs via escalators and an elevator to visit the viewing platform, gift shop, and a restaurant. All while being flashed at with lasers and lights, feeling like you're in a futuristic spaceship.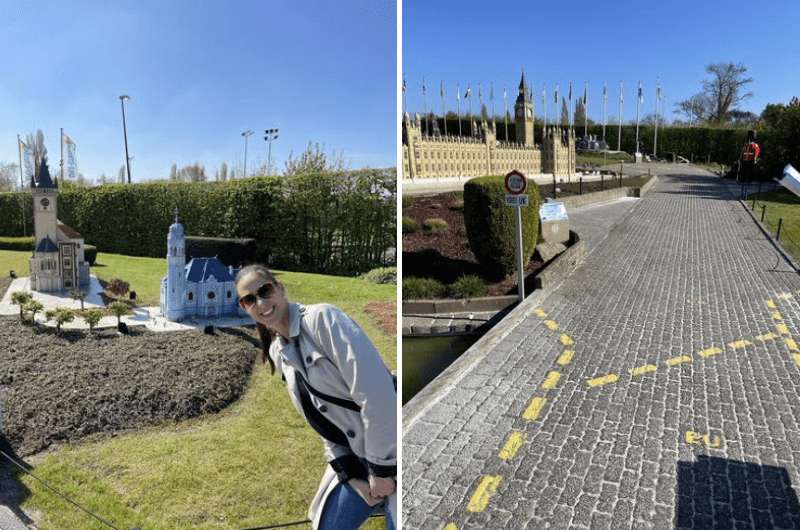 Karin enjoying some tiny castles on the left and London being outed from the Euon the right

But out of the two, Mini-Europe takes the cake. We don't have children, but we are basically big kids ourselves, so we expected to love the miniature versions of some of Europe's most important landmarks. We weren't disappointed and spent half a day there and could've stayed longer if we had the time.
All the incredibly expensive structures are so detailed, with about 9000 little people and everything. They even brexit'd the UK! Plus, the Atomium is right next to Mini-Europe in the northern part of Brussels, meaning that you'll have many photos from itty bitty Europe with a massive atom in the background.
You can get a combination ticket to both sites that can only be bought in person at one or the other ticket counter. If you want to get your tickets out of the way in advance, just get them online individually.
11. Ghent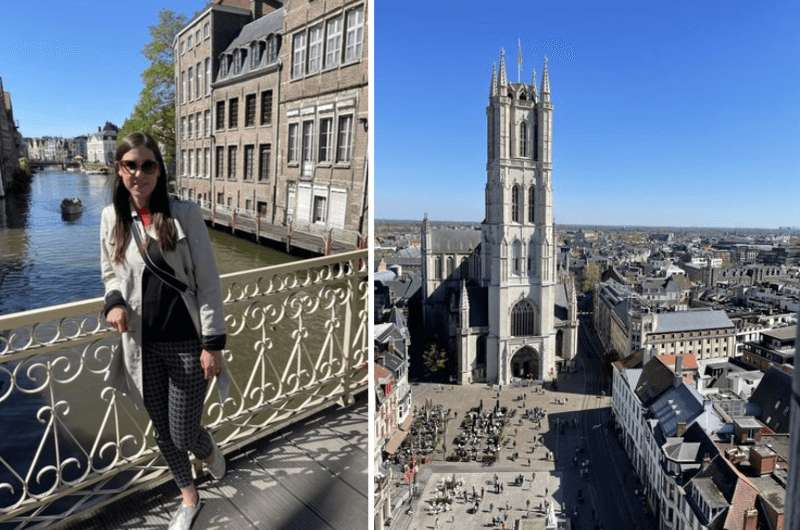 We "ghent" get enough of Ghent!

We loved Ghent. It's not big and you'll see it all within a day, so it makes a great day trip from Brussels, which is just half an hour away by train.
The 260k+ city of Ghent is more than twice the size of Bruges, but the central area that is of interest to visitors is very small. It does, however, have canals slicing through it, just like Bruges. If you look at the places on our list of things to see in Ghent, they're all located within 1 km2 (0.6 sq. mi). Not sounding so big now, huh?
The furthest out you'll go is the STAM, Ghent city museum, which is about 2 km (1.2 miles) from central sites. You'll learn all about Ghent's history in this super cool museum with multimedia exhibits. Honestly even if you could care less about the city's history, it's worth a wander and a look at the modern glass addition to the historic building, plus the cafe serves good food. Win-win.
Tourist life in the city center is centered around Graslei, a sort of promenade by the river lined by gorgeous houses and even more gorgeous eateries. So not a particular thing to see here, but it's the atmosphere that'll entice you. It reminded us of Copenhagen's Nyhavn.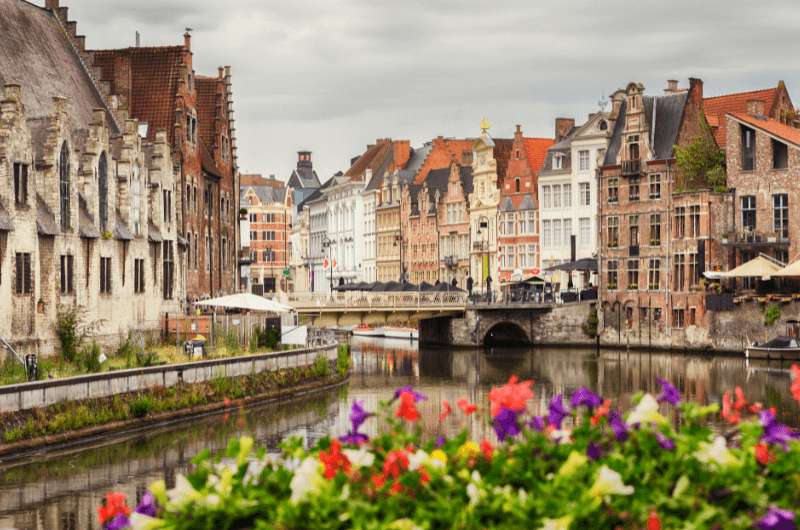 Central Ghent = lots to see

At the southern end of Graslei is the almost mandatory photo op with St. Michael's Bridge in the background, and from there it's just a short walk (or scooter ride?) to one of the top sites in Ghent, St. Nicholas' Church. Then you can see the Belfry, which actually gives you the best view of St. Nicholas's Church, and right after that, our personal favorite, St. Bavo's Cathedral. The interior and art in it are awesome.
Moving to the north, you'll hit Ghent's town hall, which is a beautiful, stately building (see it lit up at night if you can) and then, walking through Grafitti Street, you're almost at one of Ghent's most prominent plazas, Vrijdagmarkt.
Our favorite place in Ghent was the 10th century Gravensteen—a fantastic castle surrounded by a moat. We've already mentioned it in more detail further up on this list. Yes, it was so good it deserves its own spot in the country rankings!
For all of our tips and more places to see in Ghent, read up in our full Ghent guide.
Our hotel tip for Ghent
Comfy, cool and chic @ Pillows Grand Boutique Hotel Reylof

If you want to stay the night, note that most of the accommodation in Ghent are b&b's and apartments.
For an actual hotel, see if you'd like the cozy but fab Pillows Grand Boutique Hotel Reylof. It gets you contemporary design, high ceilings and rain showers in the rooms and apparently also very comfortable pillows!
Besides that, the breakfast is supposed to be amazing and there's a historic courtyard garden where the onsite restaurant has a terrace. You can wind down in the spa pool or in a sauna or gym.
Prices start around €250 per night for 2 people including breakfast.
12. Central Brussels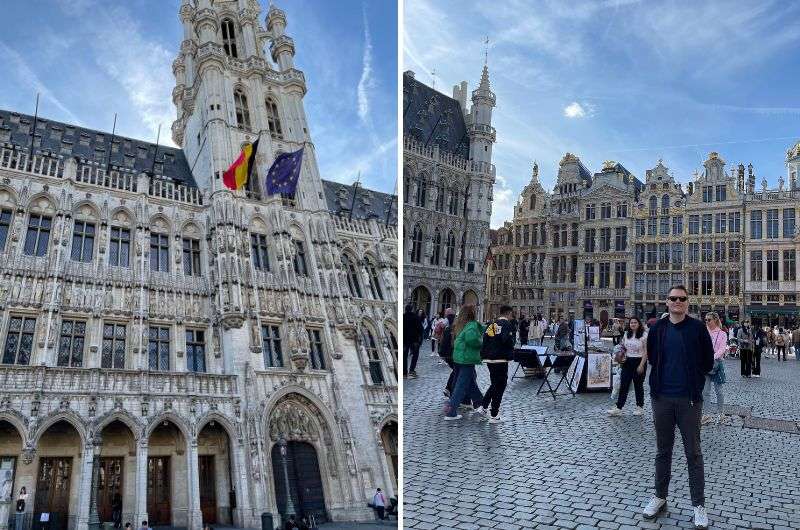 Soaking in the architecture on Grand Place

Our favorite place in Belgium was the I-thought-it-would-be-boring-but-it-so-wasn't city of Brussels! Yes, it has some very very good museums and the EU Parliament is sat here, but the best part of Brussels was... Brussels! The city center, to be exact.
The city's main square, Grand Place, is overwhelmingly elegant. Everything is golden or at least intricately decorated, but most often golden and intricately decorated. It's just a pleasure to be there, not just because it's the country's wealth blatantly on display. For one reason or another, Brussels' Grand Place is beautiful.
The square is flanked by important buildings. There's the Town Hall, which was built in the 15th century and is listed as a UNESCO World Heritage Site. It has very detailed Gothic decorations on the façade and a tower that commands attention from near and far.  
Or the Brussels City Museum, which is home to the original Manneken Pis statue, one of the more boring icons of Brussels. The museum building itself is at least as interesting as the museum that it contains.
In the summer, you'll often be witness to concerts on the Grand Place, and in the winter, things get even more magical with the Christmas market.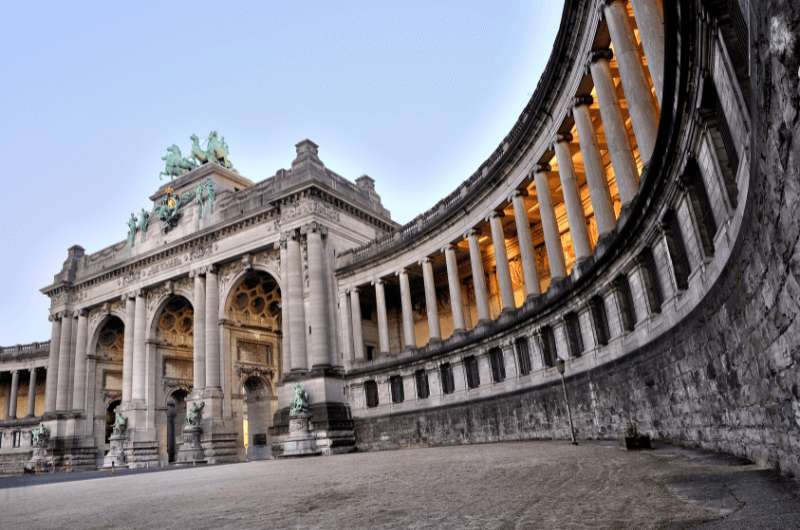 The Triumphal Arch in Brussels, the top of which you can visit when you have a ticket to the Royal Museum of the Armed Forces and Military History. Just wowzers! Details in our Brussels guide.

Brussels' center is wider than just these couple of squares—the Royal Palace and Brussels Park require your visit, especially if you're there in the short time during the summer each year when it's open to visitors inside and out.
Keep on heading east from there and you'll pass the EU Parliament with its Parlamentarium and then Parc du Cinquantenaire, which is full of a number of museums as well as the wonderful Triumphal Arch.
We have a huge amount of information on everything that we thought was worth seeing in Brussels in our Brussels guide. Another article you might want to look at is our Brussels itinerary.
Our hotel tip for Brussels
The cool and comfortable Radisson Red

Halfway between the Royal Palace and the Parc de Cinquantenaire is the hotel we stayed at while in Brussels, the Radisson Red. It's the same hotel we stayed at in Lima, Peru, and we again thought it was really good bang for your buck.
The Radisson Red concept focuses on bringing people together through art, fashion and music. It's all very youthful and connected, they even have an app where guests can share photos. There are huge TVs in every room, along with wall art and just art in general all over the hotel, customizable lighting in rooms and numerous social spaces where you can chill and to live DJs playing.
Prices start at €250 per night for 2 people with breakfast.

This post may contain affiliate links. We earn a small commission if you make bookings through my links, at no additional cost to you. This helps us keep this blog free, thank you!