If you are about to plan a trip to Belgium, you are lucky my friend! You have just found the best Belgium itinerary there is! I've obviously had my humble pie this morning, so let's get on with it.
How many days to visit Belgium, you ask? Well, in my opinion, one week is the sweet spot. At least, that's what worked for us—we were able to cover all the important stuff and still have some time to indulge in the occasional waffle without feeling overwhelmed or rushed.
Belgium is home to amazing monuments, the best museums in the world, and, most importantly, premium-class beer! Already hooked on the idea of spending a lovely week in Belgium?
But before you start frantically packing and searching for cheap flight tickets, take a deep breath and read Belgium Travel Tips: 19 Things That Will Make Your Trip Easier. Once you are an expert on traveling across Belgium, you can look at this itinerary day by day:
Day 1: Brussels (sleep in Brussels)
Day 2: More of Brussels (sleep in Brussels)
Day 3: Ghent (sleep in Brussels)
Day 4: Bruges (sleep in Bruges)
Day 5: Bruges (sleep in Antwerp)
Day 6: Antwerp (sleep in Antwerp)
Day 7: Leuven (sleep in Antwerp)
You could also be interested in reading:
Day 1 of Belgium Itinerary: Brussels
See the route of today's itinerary on Google Maps

Main sites visited on day 1: Grand Place and Brussels Town Hall + City Museum, Manneken Pis, Mont des Arts, Parc de Bruxelles, Palais de Bruxelles, Parlamentarium
Restaurant tips: Nüetnigenough | Wolf Food Market | Le Rendez-Vous des Artistes
Hotel recommendations: Radisson Red
Further reading: Belgium in a Nutshell | 7 Day Trips from Brussels | 19 Things to Do in Brussels
Day 1—Brussels—stop 1: Grand Place and Brussels Town Hall + City Museum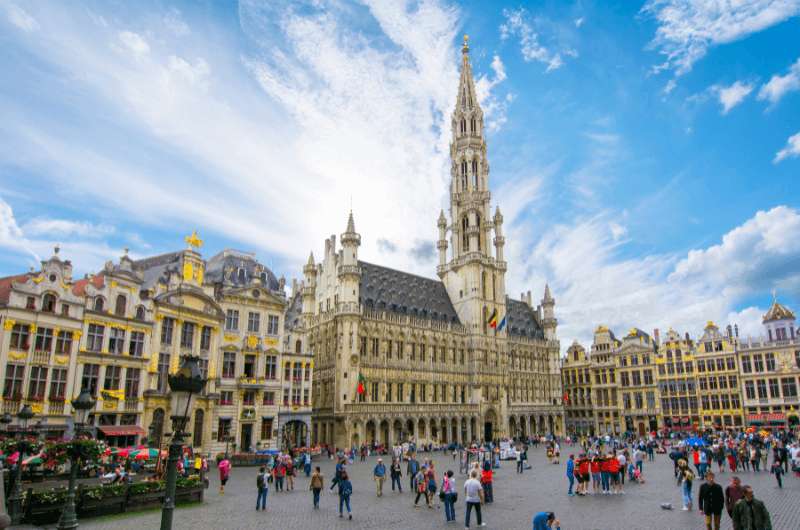 Grand Place in Brussels

Right off the bat, let's cross the top thing to see in Brussels off your list. The main square of Brussels Grote Markt (Grand Place) is simply overwhelming and gold! The buildings around the square are decorated with golden ornaments and the place just feels too fancy to be there!
The most eye-catching thing and the crown jewel of the square is of course the gothic Town Hall with its insanely detailed facade. The tower will get your attention already before you enter the square, because it's crazy high. And it made its own architect crazy!
Fun fact: Once you're there, focus on the Town Hall's tower. After a while, you'll notice that the tower is not in the center as it probably should be. Legend says when the architect realized that, after it was already built of course, it made him insane, and he jumped from the top of the bloody tower. Well, I probably shouldn't have called it fun fact... But you can see a little star on the ground, in the spot where he fell.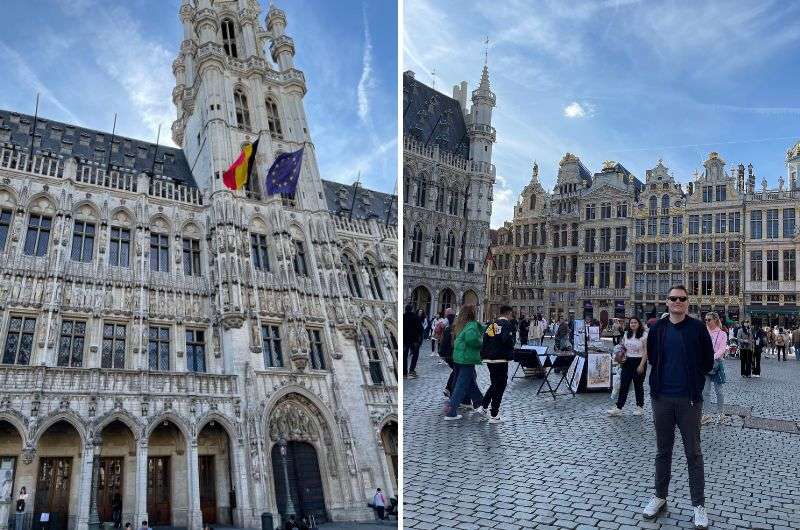 Me before entering the Brussels City Museum

After you've spent some time spinning around getting dizzy trying to see all the fancy-shmancy buildings on the main square, you can actually step inside one of them. At the Brussels City Museum, you can delve into the city's rich history, or just be astonished again and again by the building's architecture, this time from inside the neo-Gothic Maison du Roi.
Opening hours: Tuesday to Sunday 10 am–5 pm
Tickets: €10
Tip: Do you already fancy eating the most delicious Belgian fries in Brussels? They are just around the corner! You can get some of the best fries in the city in Fritland—the name, I know. And people know it! So, be ready to wait in line for them. But trust me, it'll be worth it. Don't forget to get andalouse sauce or mayo with it!
Day 1—Brussels—stop 2: Manneken Pis
Well, there it is, Brussels' pride and joy.

You can skip this stop, if you want. I know you probably won't, since you're already in Brussels and he's like the most important dude in town, I'm just saying that Manneken Pis is a little underwhelming. Pun intended.
It's probably the most famous stop in the city and I just don't get it. IT'S A BOY WHO PEES, for Christ's sake! And it's not even the original one. You can see the original in the Brussels City Museum at Grote Markt. And sometimes, like during holidays, you can see him wearing one of his costumes—he's quite the fashionista and gets gifted outfits from state visitors.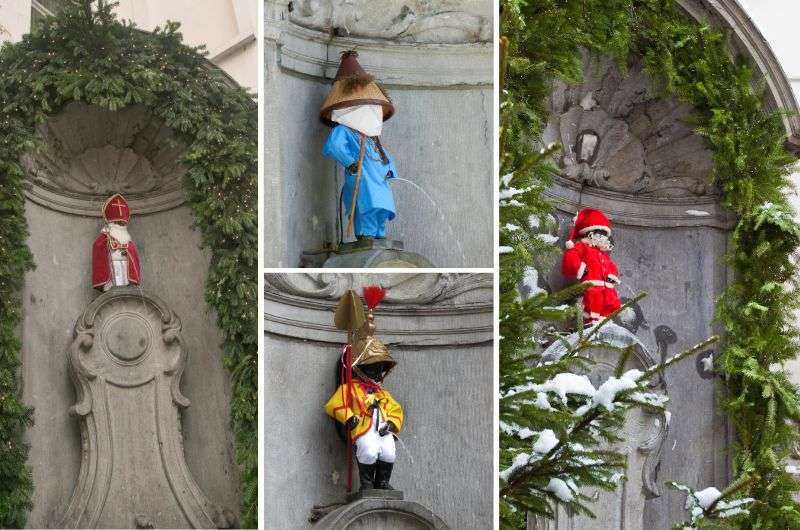 Here are some of his favorite costumes, all with a convenient pee-hole

What is so impressive about it? Maybe the fact that it survived all those hundreds of years there. The statue was first installed in 1620 and had a harsh life. It survived bombardments, repeated theft and getting broken into pieces and being re-welded. But that's all.
Equality rules the world, so you can see also a girl peeing! Jaenneke Pis is a young lady just doing her thing in one of the small streets in Delirium Village—a place with few pubs, where you can stop for a nice pint of delicious Belgian beer. Or would you like to see a Zinneke Pis? A peeing dog? I mean, Belgians what is this kink about? For real!
Day 1—Brussels—stop 3: Mont des Arts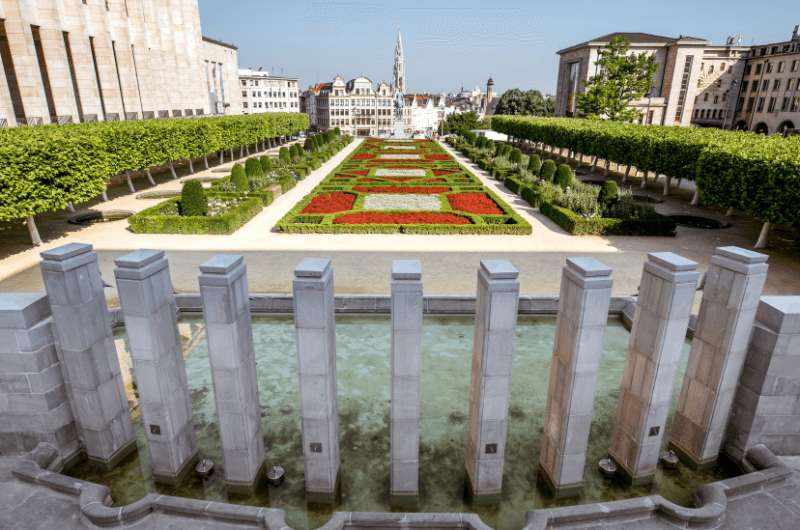 The Mont des Arts ("hill of arts") is pretty nice at sunset

Just a few minutes from the Manneken Pis is something more interesting than peeing kids and animals—Mont des Arts. The hill of arts (its literal translation) is a huge and beautiful garden bounded by even more beautiful buildings such as the Royal Library or the Congress Palace.
Mont des Arts is an urban complex, that used to connect the guys and gals from lower-class areas with sirs and madams of the upper-class areas. Perfect place to relax for a bit or watch a wonderful sunset.
Day 1—Brussels—stop 4: Parc de Bruxelles + Palais de Bruxelles
There's royal business being discussed in there, psst!

The Royal Palace is obviously where the monarchy sits and where all royal business takes place. The monarchy does not live there (they reside at the Castle of Laeken out by the Atomium), but all the important royal people have their offices there.
Tip: The oldest royal palace still in use in Europe is the Royal Alcazar in Sevilla, Spain. The monarchy actually does reside there when they are in the city, but when they aren't, you're free to visit even some of the bedrooms! Check out our guide to Sevilla to find out more.
As you can imagine, the interior is fabulously elegant and regal in every manner. It's like a fairytale castle but within an actual working kingdom. But now as of March 2023, it won't open the doors to public the whole year due to renovations. The opening is scheduled for the next summer of 2024.
When we visited in the rare time the Royal Palace was open, we guided ourselves down the organized path through different rooms. It takes about 45 minutes, and entrance is free.

Parc de Bruxelles

Nowadays, you can walk around the exterior and enjoy a nice walk through the Parc de Bruxelles right next to it. You'll be browsing down the cobblestone streets with your head up higher that the Belgium flag waving on the top of the Palace feeling like a true royalty.
Opening times: closed for renovation works in 2023! (otherwise open from July 21st until September)
Entrance: free
Day 1—Brussels—stop 5: Parlamentarium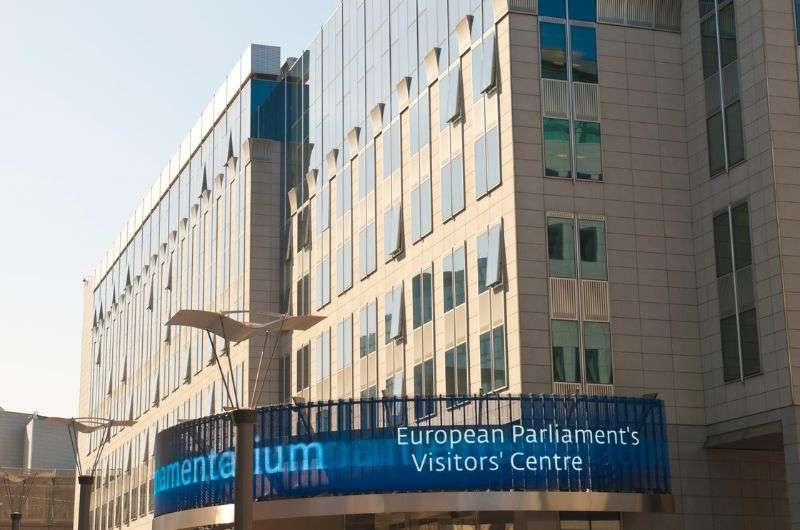 European Parliament Visitors Center

As probably everyone knows, the residency of the European Parliament is in Brussels. And when I stepped foot into the visitors' center of the European Parliament, I was like a little kid in a candy store.
You learn all about the interesting history and milestones of the European Union in the most interesting and interactive exhibitions. I mean I loved the EU before this, but after this visit, I am head over heels. So, if you don't like the EU, you won't probably enjoy it as I did, and I also think you are stupid. Looking at you, UK.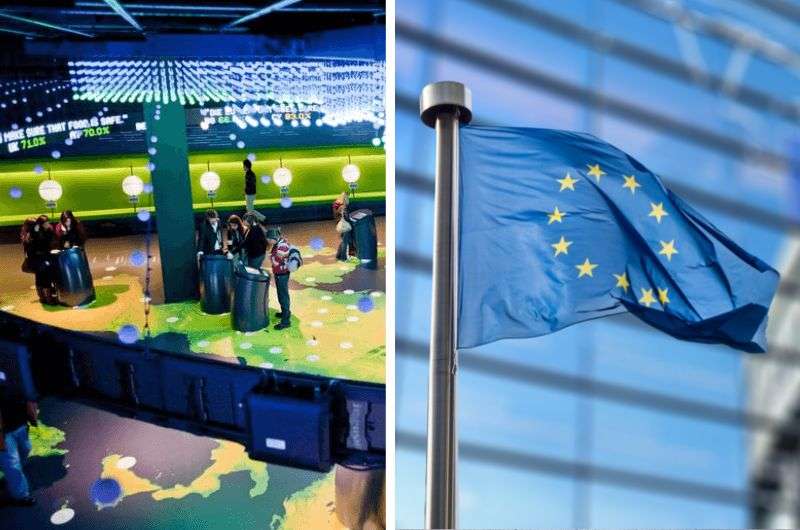 The visitors' center at the European Parliament is called Parlamentarium. We loved it!

You have to book your visit time online, it's quick and easy to do. There is no ticket desk or anything like that, the Parlamentarium is waiting there inviting you in with its arms wide opened. Make sure you have at least 1.5 hours to see it all. I dare you not to like it there.
It's open daily, fully accessible, free of charge and the multimedia guides are available in all EU languages (including sign languages). Now that's welcoming. Oh, and the staff are lovely.
Opening time: Mondays 1 pm–6 pm, Tuesday to Friday 9 am–6 pm, weekends 10 am–6 pm
Entrance: free, but you need to book a time online beforehand
Hotel in Brussels
The cool and comfortable Radisson Red

Halfway between the Royal Palace and the Parc de Cinquantenaire is the hotel we stayed at while in Brussels, the Radisson Red.
The Radisson Red concept focuses on bringing people together through art, fashion and music. It's all very youthful and connected, they even have an app where guests can share photos. There are huge TVs in every room, along with wall art and just art in general all over the hotel, customizable lighting in rooms and numerous social spaces where you can chill and to live DJs playing. And the Wi-Fi was surprisingly fast.
This place is overall super cool and what's important for me, has delicious breakfast! I've enjoyed the food there very much.
Day 2 of Belgium Itinerary: More of Brussels
See the route of today's itinerary on Google Maps

Main sites visited on day 2: Atomium, Mini Europe, Sacre Coeur
Restaurant tips: Nüetnigenough | Wolf Food Market | Le Rendez-Vous des Artistes
Hotel recommendations: Radisson Red
Further reading: 19 Belgium Travel Tips | 7 Day Trips from Brussels | 19 Things to Do in Brussels
Day 2—Brussels—stop 1: Atomium
The escalator even has a light show going on. It's like a trip to Space Mountain!

The Atomium is a notoriously known monument on the outskirts of Brussels. The famous giant steel atom became an iconic symbol of the city and from the temporary main pavilion for the 1958 Brussels World's Fair it is now a permanent mark on the travel map.
You can visit the inside of the atom, but honestly, I think the outside is the main draw. Entrance is allowed into 5 of the 8 spheres containing exhibits, a restaurant, a gift shop and a light & sound display. The very top orb is a viewing platform 92 m (300 ft) above ground accessible by an elevator. There are escalators inside the bonds that move you around the structure, it's all so futuristic and sci-fi like! I've felt like Darth Vader wandering around Death Star.
To check it all out, half an hour should be enough.

I loved the Atomium!

But more than the interior the actual structure is the main attraction there. For me it was extraordinary as I was standing next to it, one of the top 5 modern structures in Europe for sure.
Its popularity only means one thing—lines so long that you visibly age to the point young people start offering you their seat on the bus after standing there. Save your soul and buy your tickets online before you go. If you want to buy a combination ticket for our next stop, Mini Europe, as well, you unfortunately can buy those only on the spot. Enjoy the line!
Opening times: daily 10am–6pm
Tickets: €16 online, combination ticket with Mini Europe €29.40
Day 2—Brussels—stop 2: Mini Europe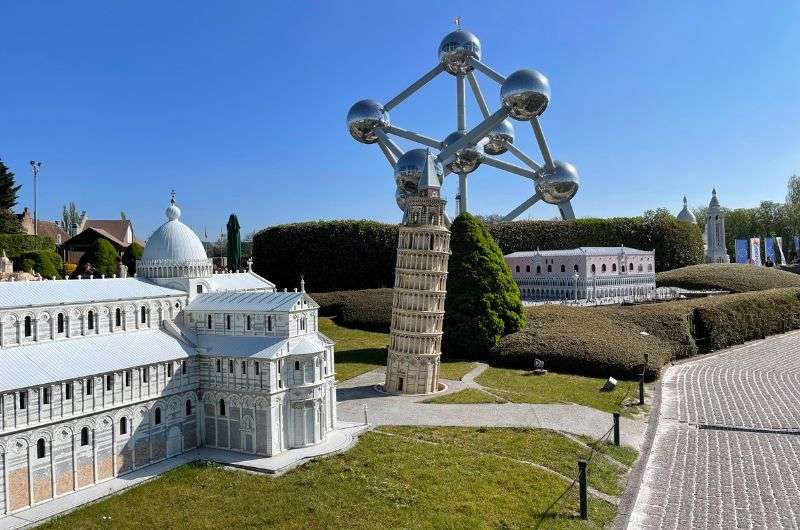 Mini-Europe

Right next to the Atomium is an attraction I like even more! Mini-Europe is exactly that, small version of Europe. Have you ever wanted to travel all across Europe? You can do that in a matter of hours!
In Mini-Europe you can see miniature models of important monuments and popular places from European countries. Some more than others. My favorites were Nyhavn (Denmark), Dinant and the Grand Place (Belgium) and Dover Castle (UK). Speaking of which, yes, the UK is still represented, but nicely divided with a line showing that you are leaving the EU. Clever and sarcastic, my favorite way of telling people how dumb they are.
There are plenty of gardens, bridges and rivers you'll discover on your walk feeling like a giant visitor to a regular-sized continent with all the little people there. It just can't get old! We visited without kids and spent 4 hours there.
Tip: If little worlds are your thing, get your behind over to Hamburg in Germany. Their Miniatur Wunderland was my favorite place in the entire, cool city! See photos and a description of my excitement in my Hamburg article.
The models are true works of art. But be careful where you step! The miniatures are way more expensive than you would think—€70k+ per structure! Just Brussels Grand Place came to a total of €350k. You don't want to stumble over one of the towers, that would turn your stay in an expensive vacation in a second.
Opening time: daily 9:30 am–6 pm (until 7 pm in July and August)
Tickets: €17.30 online or combination ticket with Atomium €29.40
Day 2—Brussels—stop 3: Sacre Coeur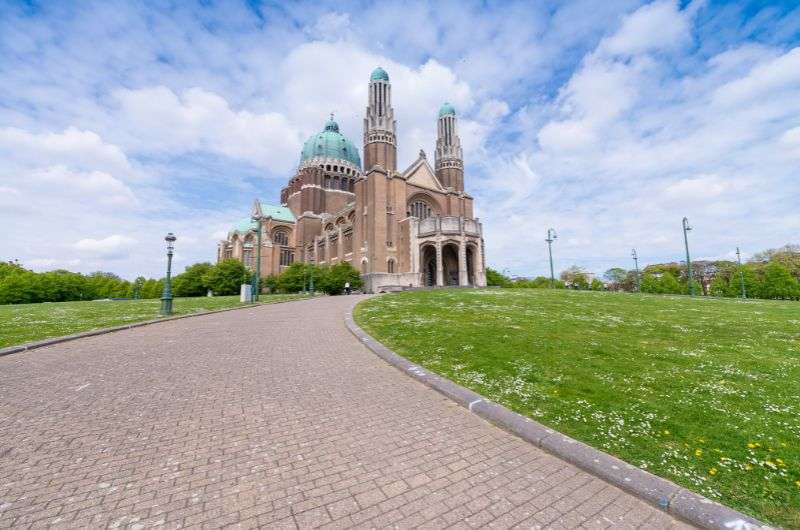 Sacre Coeur

The churches in Brussels are all beautiful. Unfortunately, they're also all pretty similar. At least to me, a church is a church. You can admire more of them on your walks through the city, but right now I want to show you this specific one.
The Sacre Coeur is the national basilica, a 1-hour walk or 30-minute subway ride from Mini-Europe (or, you know, taxi's are a thing). It's huge and absolutely overwhelming. There is a spacious park next to it with a Godiva Chocolate Outlet on the other end of it. Just sayin'.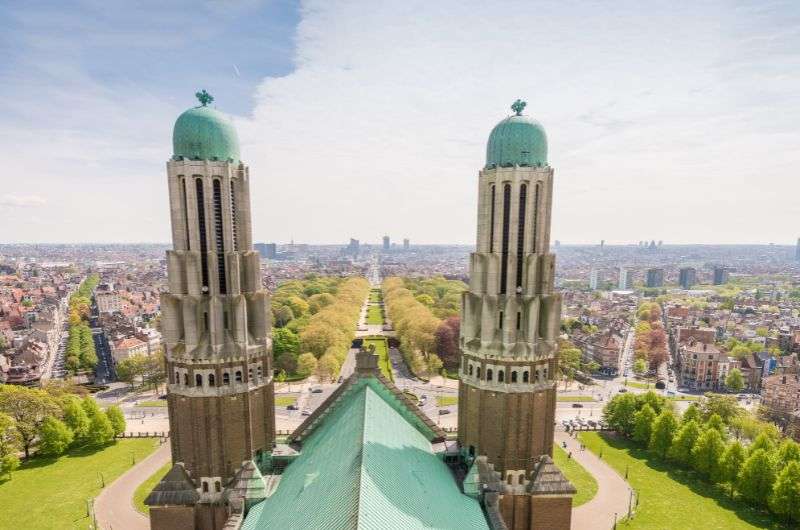 Sacre Coeur Panorama view

You can pay €8 to enter the Panorama, a viewing platform located right under the dome. Then you can look towards the center of Brussels down the green avenue of the basilica's park and it's pretty amazing. Without the Panorama, there is no entrance fee.
Tip: If you have some spare time after today's trips and still enough energy, you can visit one of many museums in Brussels. Belgians really know what they are doing, their museums are perfect! I'm a huge museum geek so you can take my word for it! More of an art and galleries fan? Check out BOZAR art center.
Day 3 of Belgium Itinerary: Ghent
See the route of today's itinerary on Google Maps

Main sites visited on day 3: St Michael's Bridge and Church, Graslei, Vridajmarkt, Ghent Town Hall, St. Nicholas Church
Restaurant tips: 't koningshuis | Chapeluur | Bridge
Hotel recommendations: Pillows Grand Boutique Hotel Reylof
Further reading: 12 Things to Do in Ghent | 7 Day Trips from Brussels | 12 Best Places in Belgium
Ghent is a perfectly-sized city for a one-day visit. In a few hours, you could see all the important and noticeable tourist attractions. To get there is even easier. As everywhere in Belgium, you get there quickly, comfortably and cheaply by train.
From Brussels it's a swift 30-minute trip; you'll arrive at Ghent Sint Peters train station. You can leave your luggage at the station, unless you decide to spend the night in one of the hotels around the the city center. I think it's better to treat Ghent as a day trip from Brussels.
Day 3—Ghent—stop 1: St Michael's Bridge and Church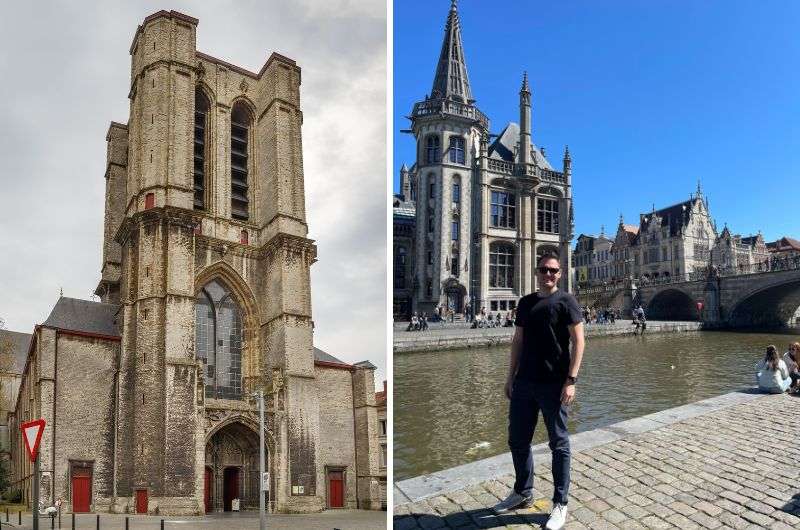 Interesting building of St. Michael's Church and me in front of St. Michael's Bridge

The best thing to do in Ghent is strolling through the city with waffles in one hand and a phone or camera to take pictures with in the other. Our walk starts at St. Michael's Bridge.
It's a perfect spot to check out what is ahead of you today. You get a fantastic view and even better photos of the city from the bridge as you see Graslei, the old fish market and St. Michael's Church. In the distance, you'll even catch a glimpse of Gravensteen. And it's apparently the only spot from which you can take a photo with all three of Ghent's towers in it.
Don't stare at the St Michael's Church only from the outside. Go in and check out a bunch of art in there. Entrance is free, so why not?
Day 3—Ghent—stop 2: Graslei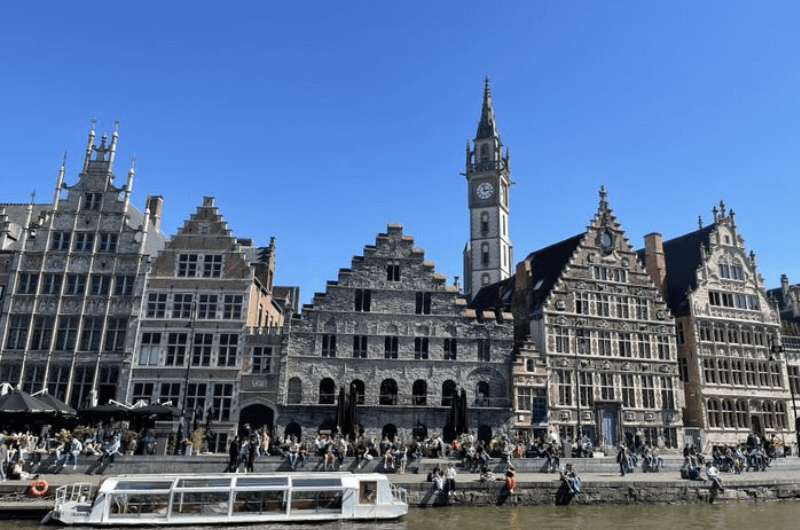 There's nothing to do in Graslei but chill out by the river, and that's fine by me

The next stop is an area and not one particular place. Graslei (Grass Market) is a street running alongside the river. The perfectly preserved old port houses serve as restaurants or cafés. This was my favorite place in Ghent, and you can take a boat tour there. You can check out the city from different perspectives on you 40-minute sightseeing cruise with beautiful views as bonus!
Ghent is a university city, so there is no doubt you'll see a bunch of young people just sitting there right on the pavement enjoying a nice talk with beers or something good from a local frituur. Feel free to do what the locals do!
Tip: Frituur Bij Filip serves the best fries with stew in town!
Day 3—Ghent—stop 3: Vridajmarkt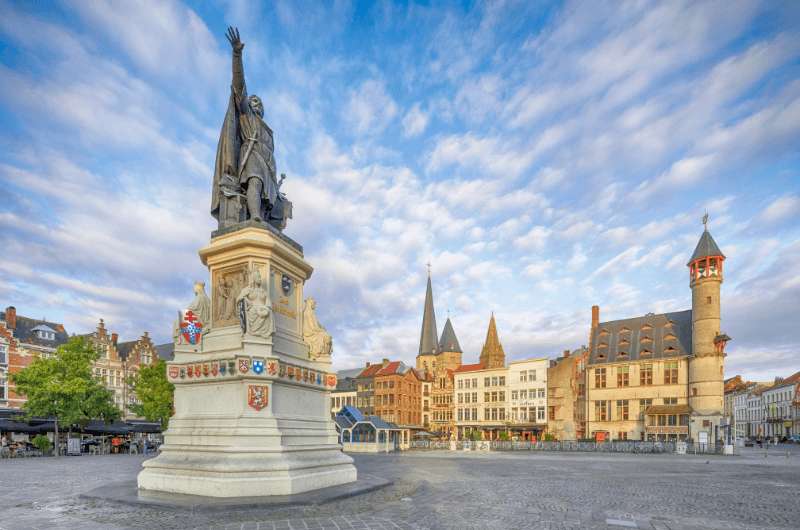 To the market!

You can probably guess what Vridajmarkt means—ust use your linguistic imagination a little bit. It's literally "the Friday Market", and it has been taking place on the square since the 12th century!
It used to be the center of the city for both joyous celebrations and dark executions. Don't worry, you won't see any chopped off heads there nowadays. You can buy yourself some nice souvenirs instead!
Day 3—Ghent—stop 4: Ghent Town Hall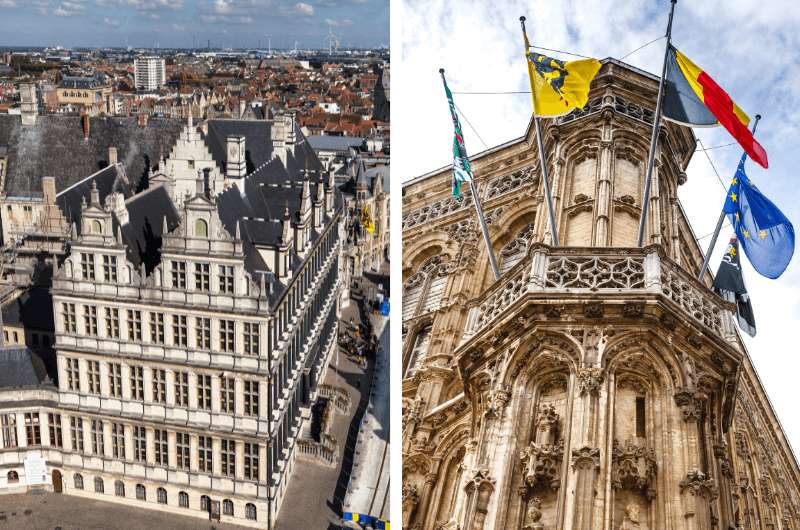 Believe it or not, both of these photos are of the same building

As you will travel through Belgium, you will notice that in every city, the most ostentatious and noble buildings are town halls. The one in Ghent is no different. However, there is something extraordinary about it.
I've never seen a more schizophrenic place than Ghent Town Hall on Botermarkt. It just can't make up its mind! Is it Gothic, is it Renaissance? It's both! The two wings of the Town Hall are built in different architectural styles and different decades of the 16th century. But it sounds more dramatic if you pretend it's just one building that can't decide who it is.
You can visit the Town Hall as part of a guided tour only. We just stared at it from the outside, which was just enough.
Day 3—Ghent—stop 5: St. Nicholas Church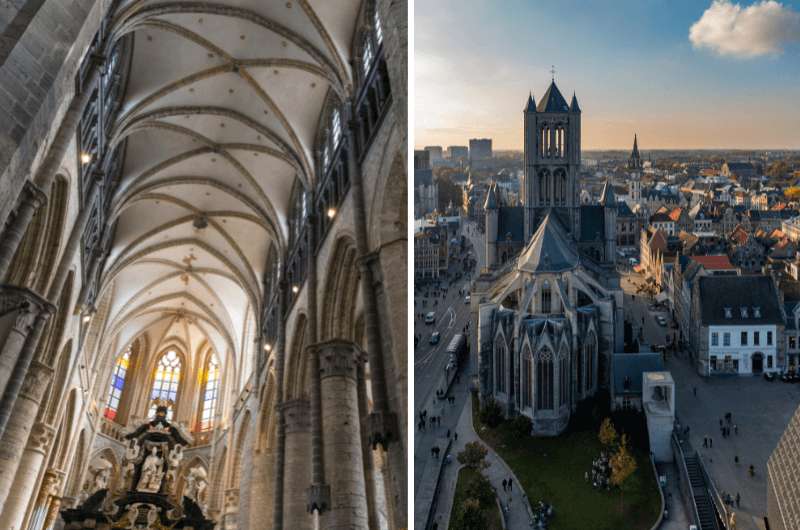 Saint Nicholas Church

The dominant of the city is waiting for you on Korenmarkt. Saint Nicholas Church is built out of Tournai bluestone. If you try really hard and focus, you'll maybe notice the slight blue tint of its façade.
It is one of the three towers of Ghent (the other two are the Belfry and Saint Bavo's you can check them out too). When you get inside, the interior is beautiful and... churchy. Not much to keep you there for more than a few minutes.
Day 3—Ghent—bonus stop: Gravensteen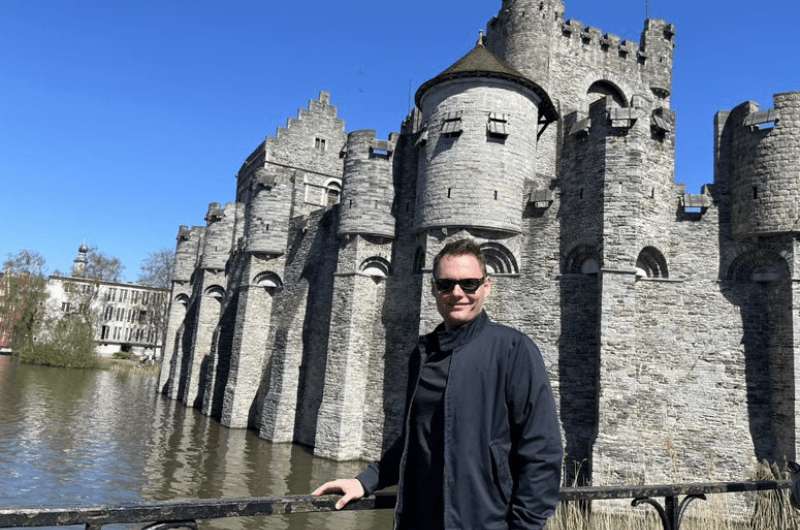 Look at that handsome castle

If you still have a minute to spare while visiting Ghent, go admire this extremely cool castle. It's the only surviving medieval castle in Flanders with a moat and an almost intact defense system. For me as a history geek that was cool to see.
You can buy tickets in advance and visit the inside of it. If you don't, you can't go in. And that's what happened to us. But you are smarter than us and thanks to my on-point advice you wouldn't make the same mistake.
Day 4 of Belgium Itinerary: Bruges
See the route of today's itinerary on Google Maps

Main sites visited on day 4: Grote Markt, Bruges City Hall, Basilica of the Holy Blood, Bruges Beer Experience
Restaurant tips: De Gastro | Otto Waffle Atelier | Bistro Christophe
Hotel recommendations: Relais Bourgondisch Cruyce
Further reading: 9 Best Restaurants in Belgium | Best Food and Beer | 13 Best Places in Bruges
To Bruges, you will get once again handy by train. Its station "Brugge" is located on the edge of the center that is bordered by a river ring. My recommendation is that you take a walk from the station to the northern part of the water ring, where Lovers' Bridge is, and start your sightseeing there.
The canals flowing around the city center give the place a very romantic and movie-like atmosphere. And of course, very Instagram-friendly. The sightseeing you will do today should be documented under all circumstances!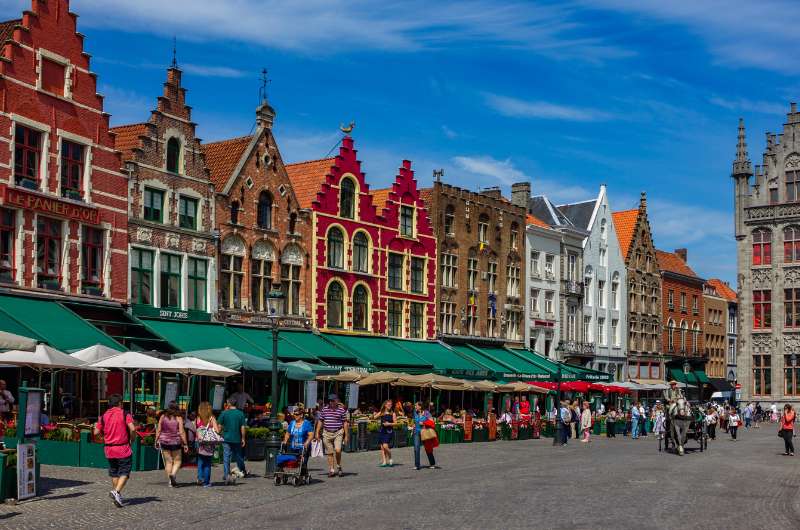 Grote Markt delightfulness

Day 4—Bruges—stop 1: City center + Belfry
Bruges' pretty bell tower

The tour starts in the center of the center Market Square (Grote Markt) and Burg Square and continue with their fantastic buildings—like Belfry, that stands out amongst.
It's a medieval bell tower, which is one of the UNESCO sites and is a very popular place to visit in Bruges. You know what that means, Ghent Gravensteen mistake happening all over again! We haven't booked our tickets in advance and were left outside. Boohoo! The lesson here? Under any circumstances, don't forget to book the tickets in advance.
The breathtaking Bruges City Hall

The Bruges City Hall with its impressive Gothic Hall is again one of many breathtaking Belgian city halls and one of the oldest in the Benelux countries. You can admire its gothic-ness inside and out—there is a museum in the City Hall with original artifacts and paintings depicting the administrative history of Bruges.
Opening time: 9:30 am–5 pm
Tickets: €7
Day 4—Bruges—stop 2: Basilica of the Holy Blood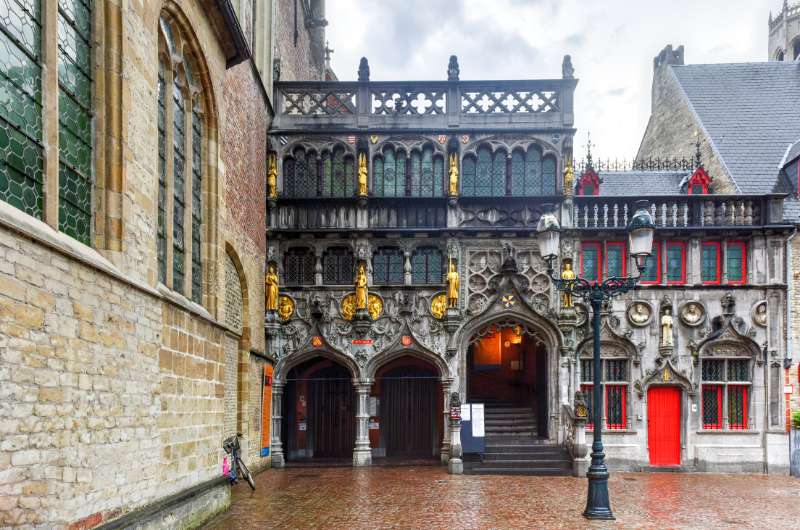 The outside of the basilica is more interesting than the inside. I'm not even going to mention the stained cloth that is supposedly holy.

Basilica of the Holy Blood is a small church with a "real" bit of Jesus' blood-stained cloth (yeah sure, like the man-size Jesus print on another old and revered piece of fabric in Turin). Just reading the stories and the attempts to prove if it's real or fake is quite amusing.
You can probably guess I'm not buying into the mumbo jumbo. But the basilica itself is quite nice, more from outside rather than inside, honestly. You can come see the holy blood cloth or whatever that is for free every Friday around lunch and then again in the afternoon.
Anyway, thanks again to the Catholic Church for letting us admire some nice architecture for free. They never disappoint.
Day 4—Bruges—stop 3: Bruges Beer Experience
What you should know about Bruges is that they know their beer! I'm a huge beer enthusiast, as I should be, coming from Czechia. When I learned about Bruges Beer Experience there was no doubt, I was doing that!
The Bruges Beer Experience was surprisingly interactive and so fun. You get a tablet and headphones and can be on your way. It tells you all the stories of various types of beers, their history and how they are made. There's even a kid's version available!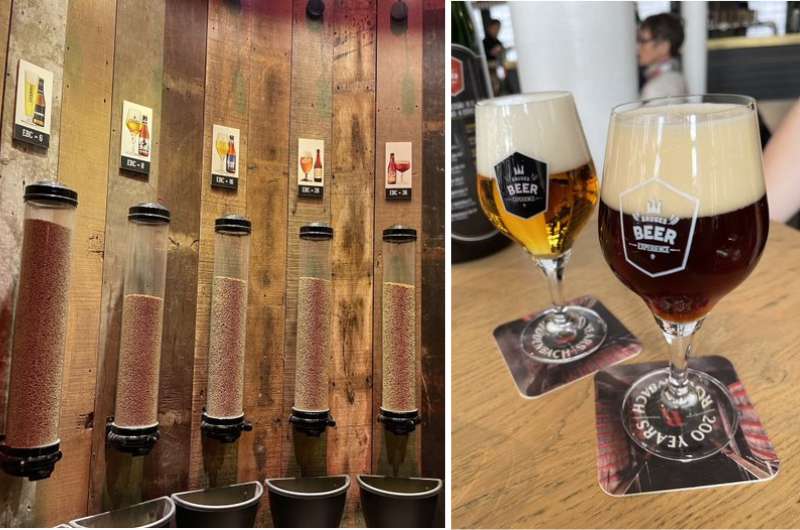 Left: Smell some hops and become a beer expert! Right: Taste some beer and become a beer expert! @ Bruges Beer Experience

The first beer that comes out is, in fact, much fruitier. And then there are a myriad other different types and tastes that are superb quality, all trumping the poor lager. Something that a typical Czech beer drinker wouldn't even dream of being true.
Just make sure you always drink the right beer from the right glass, otherwise you'll be publicly humiliated and shunned from Bruges. Not really, but the looks you get would feel like that for sure. At the end of the tour, you get a tasting of 3 (strong!) beers, which, if you hadn't been in a good mood before, will solidify your good experience of the Beer Experience.
It'll all take about 3 hours.
Get your tickets online in advance. Lockers are available.
You can visit the tasting room even if you don't take the tour.
Opening times: daily 10 am–6 pm (last entry 1 hour before closing)
Tickets: €12 without a beer tasting, €18 with a tasting

Hotel in Bruges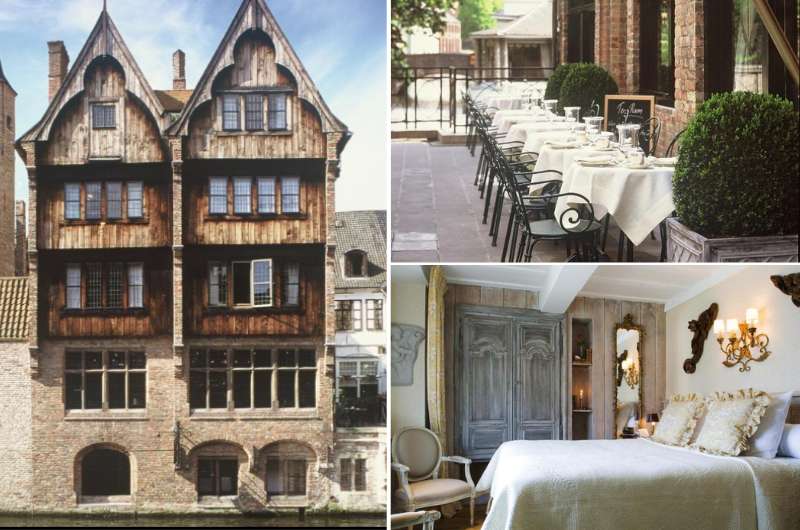 This one sits right on the calas of Bruges @ Relais Bourgondisch Cruyce

The 4-star, waterfront property of Relais Bourgondisch Cruyce is up there in romance vibes with Bonifacius Bridge. The staff at this boutique hotel get infinite accolades in reviews, which is always the thing that can make or break your stay.
Rooms are decorated with the owner's art collection and antiques, and they can be on the cozier side (read: small), but at this hotel, it all just feels enchanting. You'll have breakfast overlooking one of Bruges' canals and can sit by the fireplace in the dining room with your afternoon tea (read: beer). They have an off-site restaurant not far away.
Day 5 of Belgium Itinerary: More of Bruges
See the route of today's itinerary on Google Maps

Main sites visited on day 5: Boat tour, Choco Story Museum, Sint-Janhuismolen, De Halve Maan brewery
Restaurant tips: De Gastro | Otto Waffle Atelier | Bistro Christophe
Hotel recommendations: Relais Bourgondisch Cruyce
Further reading: 13 Best Places in Bruges | 7 Day Trips from Brussels | 12 Best Places in Belgium
To experience Bruges without day trippers, you've stayed overnight. Smart choice! Now all well-rested and excited about what's ahead of you, let's start the second day in Bruges.
Day 5—Bruges—stop 1: Boat tour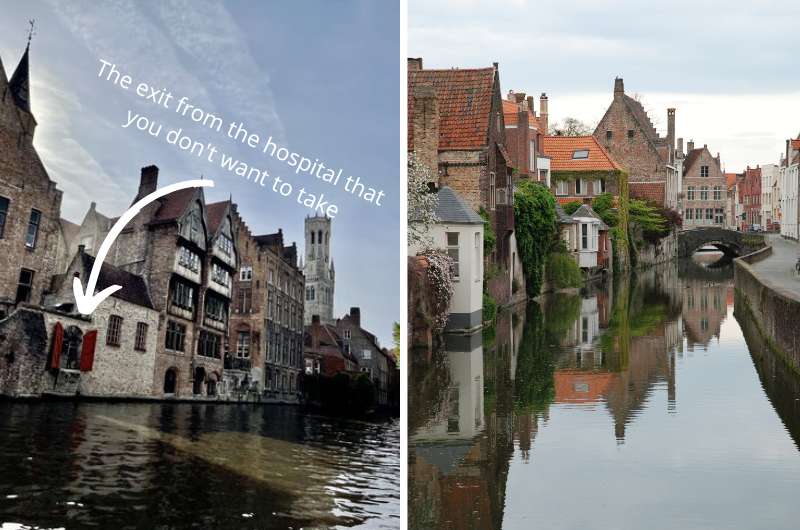 And here on the left, the cholera door

And I have an ideal activity ready for you. Want to see Bruges being woken up by the rising sun? Hop on board and take a boat tour through the city!
A little boat takes you through the canals of Bruges and the multi-language guide tells you all about the history and interesting stories of Bruges. Like cholera door in St. John's hospital. You see, they used to throw dead bodies in canals... People who died from disease like cholera. Were thrown into the river flowing through the city... Never mind.
The boat tour will take you about 35 minutes. Every company does the same route, so don't overthink it and just get on any one you happen to like the departure time of. Prepare €12 per person and enjoy the ride.
Day 5—Bruges—stop 2: Choco Story Museum
You pour the chocolate here and then press this button here…

Now a stop that's a little yummier than a cholera door, are you ready? We visited Choco Story Museum in Brussels, and we LOVED it. So why not again in Bruges? There is never enough chocolate! Your life can't be that sweet.
You can buy your ticket in advance, but beware it is not a fast pass. You still have to stand in line with the ticket-less folks since you all need an audio guide anyway. You just save time for paying for your tickets. I noticed that this got a few people a little frustrated, especially since the lines do tend to get long, especially over the weekends. So, buy them or don't, it makes not that much of a difference.
There's a one-way trail through the museum that'll take you about 1.5 hours to complete.
Opening time? daily 10 am–5 pm (last ticket sales at 4 pm)
Tickets: €11
Day 5—Bruges—stop 3: Bruges windmills
Sint-Janshuismill

The wooden windmills of Bruges are all located between the Dampoort and the Kruispoort, which is a roughly 1 km (0.6 mile) stretch along the ramparts in the north east "corner" of the Bruges town circle.
But only one of the four windmills is in its original spot—Sint-Janshuismill, and only one is a cute pink color with a parrot on its roof—Nieuwe Papegaai. And only one, again the Sint-Janshuismill is accessible inside as well and serves as a museum. Oh, and one more! Only one of the mills is still used to grind flour. Yep, you guessed it, it's Sint-Janshuismill.
The windmills are tiny, so if you are up for a little walk, accept them as a welcome anomaly that you don't see in your everyday life. Nothing more, nothing less.
Opening time: Tuesday to Sunday 9:30 am–12:30 pm and 1:30 pm–5 pm
Tickets: €4
Day 5—Bruges—stop 4: De Halve Maan brewery tour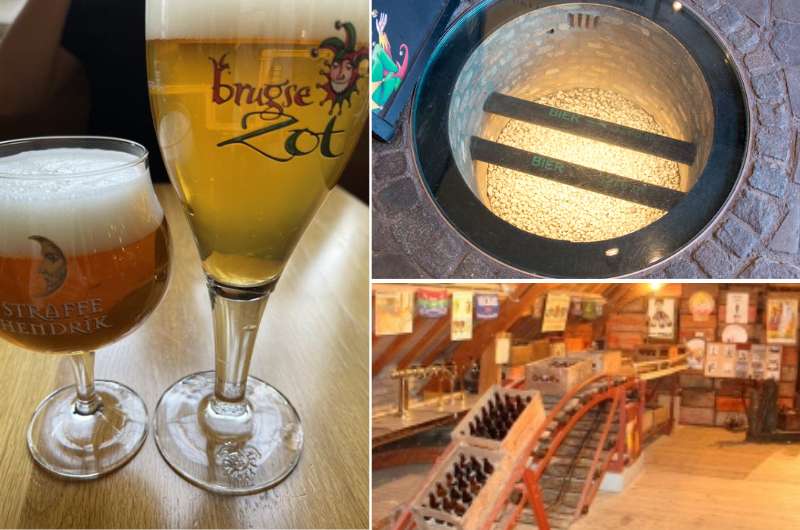 The unfiltered Brugse Zot, the beer pipe and part of the brewery tour

And let's end the day pleasantly again, alright? In a nice historical building with historical building smells, narrow winding staircases and old production secrets waiting to be told.
You can take a 45-minute tour through the brewery to learn some of them. Most importantly though, you'll learn about the history of this family business.
We enjoyed the tour so much. I'm a simple man. When I'm entertained and get a free beer, I'm happy. Simple as that. Our guide was entertaining and informative at the same time. The tour ends on the brewery roof where you get not only a free beer, but a fantastic view of Bruges, and—you guessed it (if you read the previous item on the list)—the Belfry.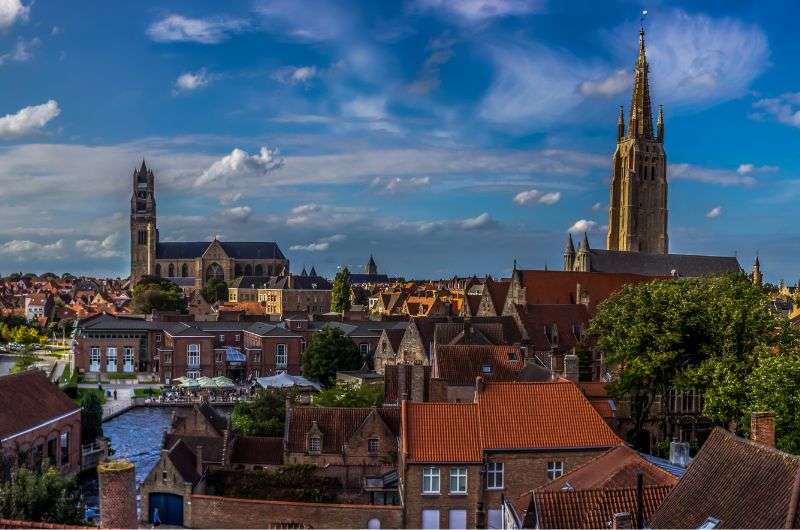 Tip: The unfiltered Brugse Zot can only be bought at De Halve Maan brewery. It was fab. Book in advance. There are 4 English language tours per day.
Opening time: daily 11 am–5 pm, Saturdays 10 am–6 pm. Tours in English run 4x a day. Check times in the online reservation tool.
Tickets: €15 for the standard 45-minute tour, €24 with an additional beer tasting at the end. Book online in advance to secure a spot.

Day 6 of Belgium Itinerary: Antwerp
See the route of today's itinerary on Google Maps

Main sites visited on day 6: Antwerp Centraal, Grote Markt, Het Steen, MAS
Restaurant tips: The Jane | Sir Anthony Van Dijck
Hotel recommendations: Botanic Sanctuary Antwerp
Further reading: 19 Belgium Travel Tips | 7 Day Trips from Brussels | 12 Best Places in Belgium
Day 6—Antwerp—stop 1: Antwerp Centraal

Antwerp Centraal Train Station is a destination in itself!

Today, you'll pack your bags and take a 1.5-hour train ride from Bruges to Antwerpen-Centraal. It is one of the most beautiful train stations in the world, at least from what I've seen! When you step out of a train, you will be astonished by the golden details, huge clock and a big, weird silver thing.
At first, I thought it was a dove, but then I realized it was a hand! Once you know that the hand is a symbol of legend of how Antwerp was founded, you will see it everywhere. Antwerp Centraal is right in the city center, so you can just walk out and start sightseeing when you're done taking too many photos of the domed ceilings.
Day 6—Antwerp—stop 2: Grote Markt


Antwerp is a super-rich city, which you will pick up on during your walk seeing all the houses in all the squares covered in gold.
For example, you get to Grote Markt after 20 minutes of walking from the station. The City Hall—here we go again—with its elaborate façade and beautiful decorations once again star of the show. But this time, something else tries to steal the spotlight.
Brabo's Monument in the middle of the Grote Markt is iconic fountain/statue which made think for a while and then ask myself a question "What the hell is that?!" It's the legend again! Brabo—the naked jacked fella—is throwing a hand, it took me a while. Maybe because of the three beers I had in one of the cafés while staring at the fountain. Who knows...
Right around the corner is the Cathedral of Our Lady. It's a church with a spectacular white interior, that tower you can see from all over the city, and Rubens' works on display. That's because Antwerp is also where famed artist Peter Paul Rubens lived and created. Go pay his old digs a visit at Rubens House, which he apparently built himself. It is now a museum and gallery.
Day 6—Antwerp—stop 3: Het Steen
Don't forget to make a short stop at Het Steen. The centuries-old fortress is one of the oldest monuments in Antwerp. Nowadays, it serves as a museum and visitor center. You can also get one of the best views of Antwerp from its panoramic terrace. It can be visited for free, so don't hesitate to climb it up and enjoy the beautiful scenery.
Day 6—Antwerp—stop 4: MAS (Museum aan de Stroom)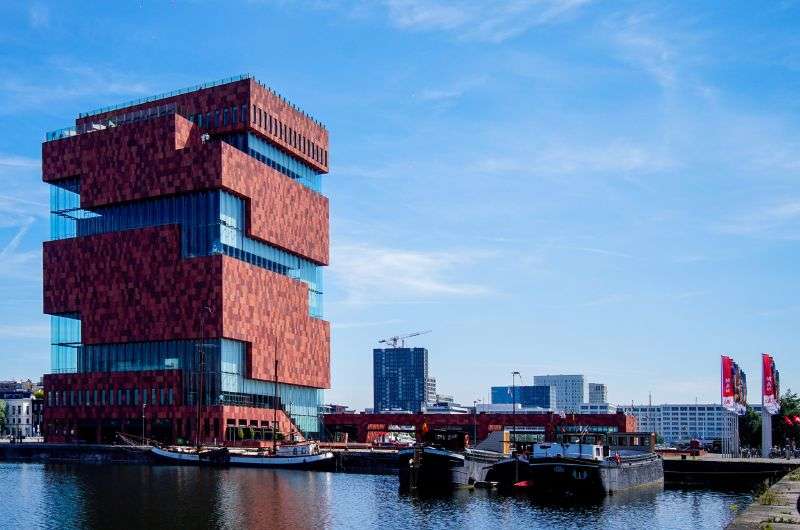 Museum aan de Stroom, better known simply as MAS, is a museum in an iconic building that opened its doors in 2011. Compared to other monuments in Antwerp, it's definitely one of the newer sights, but it ain't no underdog! It swiftly became one of the most visited and known places in the city.
MAS offers exhibitions, both permanent and temporary, with diverse collections. You can see Belgian art, learn about history and different cultures.
In case the exhibitions are not exactly your pint of beer—you see what I did there—you should visit MAS anyways. You can explore the 10 floors of the museum for free, comparing the views of the city on every one of them. You need a ticket only to enter the exhibitions.
Just wait until you get to the roof—you can see all of Antwerp from there! But don't just stare out into the distance and focus on the ground in front of MAS—look for the hidden artwork in the shape of a skull. Cool right?
Hotel in Antwerp
One look at the photos of Botanic Sanctuary Antwerp and I'm immediately in zen again.

In a nutshell, Antwerp is super cool. You'd be missing out if you only spent part of a day here, because, unlike, say, Bruges, there is fantastic nightlife in Antwerp. Stop by at De Muze, have a glass(es) of beer, listen to some good live jazz music and call it a night. Where?
If you can stay at the 5-star Botanic Sanctuary Antwerp, you'll be doing yourself a favor. The word 'sanctuary' in its name is there for a reason! The indoor pool oozes tranquility and there is a gym and a fantastic spa with numerous treatments available. Not only that—it has not one but several Michelin-recognized facilities and chefs on site.
Day 7 of Belgium Itinerary: Leuven
See the route of today's itinerary on Google Maps

Main sites visited on day 7: Stadhuis, St Peter's church, M Leuven, Groot Begijnhof, Arenberg Castle & Park
Restaurant tips: Taste | dewerf
Further reading: Belgium in a Nutshell | 19 Belgium Travel Tips | Top 15 Museums in Belgium
After a busy week in Belgium, the last day trip won't be as exhausting as the previous ones might have been. To get to Leuven, just hop on the train and you're there. Only a 1-hour ride from Antwerp will get you to this famous university town.
Leave your luggage at the train station's left luggage facilities and you're as free as a bird!
Day 7—Leuven—stop 1: City center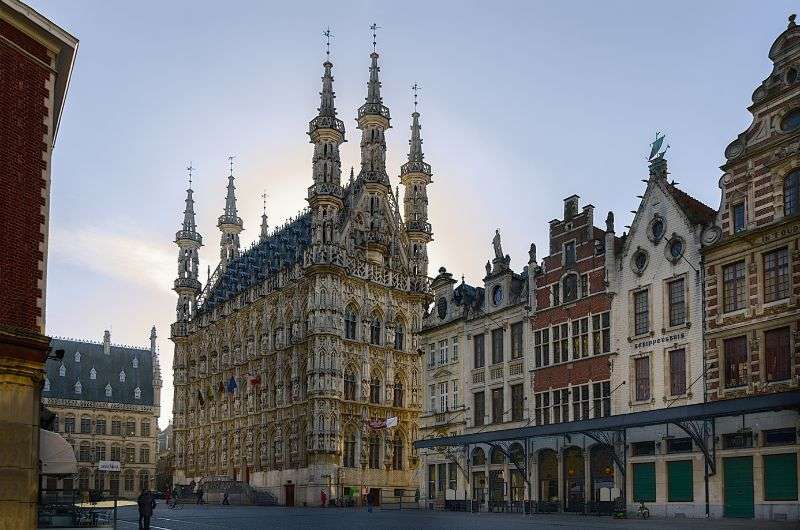 Leuven townhall

The most iconic building in Leuven is once again its town hall. It's the finest work of gothic art with very detailed façade and stonework with turrets. The dominant of Leuven Grote Markt is historical Stadhuis with more than 230 statues all over the walls. The inside of the Town Hall is no less astonishing. You can visit it on a guided tour.
Just a few steps from Stadhuis another fancy gothic building decided to rise in front of you—St. Peter's Church is there to mesmerize you, show off its art collection, and leave a mark. Feel free to drop your jaw both outside and inside of the church.
Day 7—Leuven—stop 2: M Leuven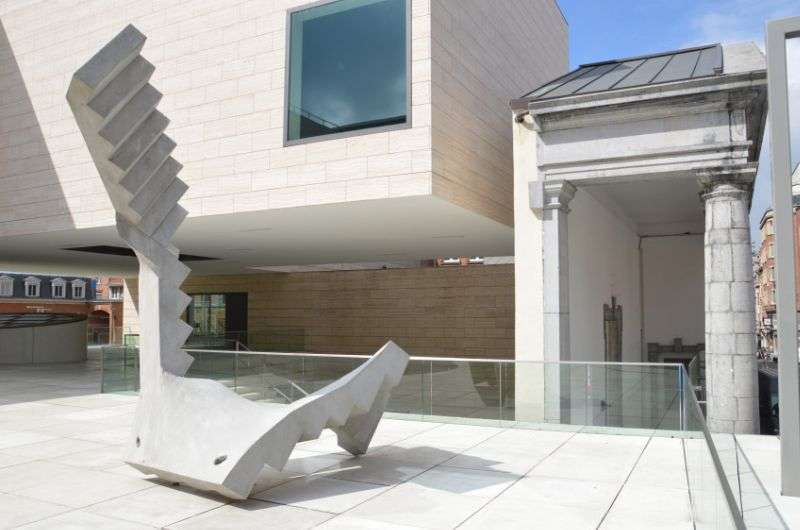 I'm not sure if I stressed this fact enough in this Belgium itinerary, but the best museums I've ever been to are basically all in Belgium. We museum–ed the hell out of this country, so now we are smarter than ever—didn't even know that's possible. Even though I'm mostly a history museum geek, the M art museum in Leuven deserved my attention.
The museum's collection is diverse and includes old pieces of art as well as a few contemporary art exhibits. On top of this art experience that will appease the desires of your inner snob, you get panoramic views of the city from its freely accessible rooftop.
Day 7—Leuven—stop 3: Groot Begijnhof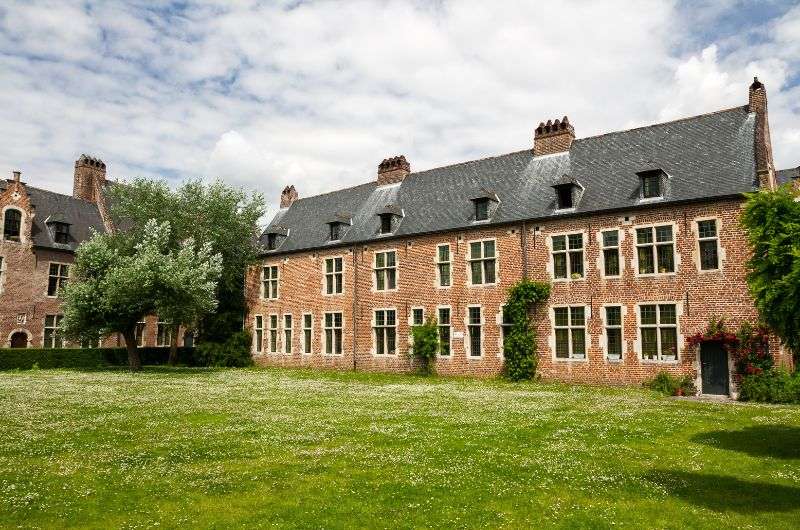 The Groot Begijnhof district

Once upon a time there was this little district of the town, where only nuns and other women devoted to God lived. You won't probably come across any of them today in Groot Begijnhof, you still can feel the calm and divine atmosphere as you walk around and wonder if the time has stopped in the old streets.
The area of Groot Begijnhof is listed as a UNESCO world heritage site, and you can visit the premises for free. I strongly encourage you to, it's only 15 minutes from the M, but you will feel like you have walked into a different century.
Day 7—Leuven—stop 4: Arenberg Castle & Park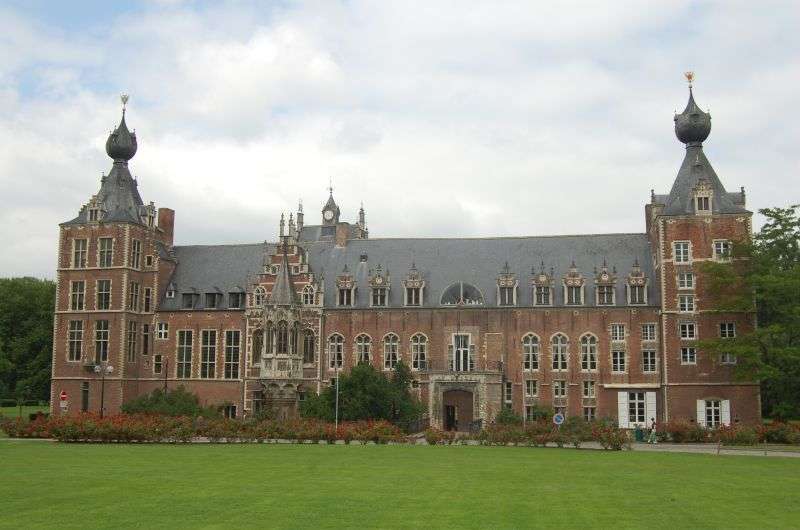 Take a 20-minute walk and visit a 14th century renaissance castle. Nowadays, it serves Leuven university as a Science and Technology Campus, so it's mostly classrooms and offices inside. But I think it's more suitable for a nice walk around and admiring it from the outside.
A huge park surrounds the castle, that makes it a perfect spot to enjoy a nice sunny afternoon and to relax for a bit after walking around the city. It's not far from the center, so go there and take some stunning photos. Success on Instagram guaranteed!
After your Leuven visit you can say goodbye to the lovely time you had in Belgium and take a direct train to Brussels Airport from train station that will take you only about 15 minutes. See you next time at our next destination!

This post contains affiliate links. I earn a small commission if you make bookings through my links, at no additional cost to you. This helps keep this blog free, thank you!