You can spend a day in Hamburg, 3 days in Hamburg, but I can imagine even 5 days in Hamburg! It's such a cool city. The architecture is okayish with its modern buildings, but its top trio: Miniture Wunderland, Maritime Museum and the Kunsthalle quickly elevate it to one of the top spots among European cities.
Hamburg has Nordic vibes and it strongly reminded me of Copenhagen and London for some reason. It has very new architecture as most of the city had to be rebuilt for some reason... looking at you, years 1939–1945, cough cough.
The dominant of the city is the delta of the Elbe River, which also happens to be the longest river in my home country, the Czech Republic. Due to that there is a huge port, and I mean really huge—the 3rd largest in Europe. You'll always see cranes and container ships when you're in Hamburg.
Having a cool-headed population and good restaurants and infrastructure helps a lot. See FAQs and recommendations on restaurants at the end of this article. I also have a hotel that I think you'll love--Hotel Volksschule (more about that later).
But first, you need to decide if you even want to visit. If you've already settled on this destination, let me usher you over to my Hamburg itinerary. Most of the places on this list are on there.
You might also be interested in reading:
Here's a list of things you can fill 3 days in Hamburg with:
1. Miniatur Wunderland
I was so excited about Miniatur Wunderland!

If you're adult kids like me, you'll absolutely love it in Miniatur Wunderland (=miniature wonderland). Miniatur Wunderland is certainly among the top 10 things you can visit in any city in the world! It really lives up to the hype.
In simple terms, it's a model railway. In reality, it's a tiny but vast world of incredible detail. It was so f*cking fun and sooo overwhelming, there's so much going on!
The whole thing is based on famous sites from around the world, with thousands of people, but also fantasy characters, all over the place, each with their own thing going on. I spent half an hour walking 10 meters (30 ft)—and it's on several floors! There are so many stories to witness, and so many quirky details to find.
For example, day and night, realistic topography, a modern airport, Atlantis under the sea… but then also weird things like penguins at the train station, a guy taking a dump under a tree, Snow White and the Seven Dwarves on a hike. And of course, how else to summarize humankind than including kinks like someone flashing the police, a lady giving her bf a BJ in a field, and lots of examples of baby-making procedures.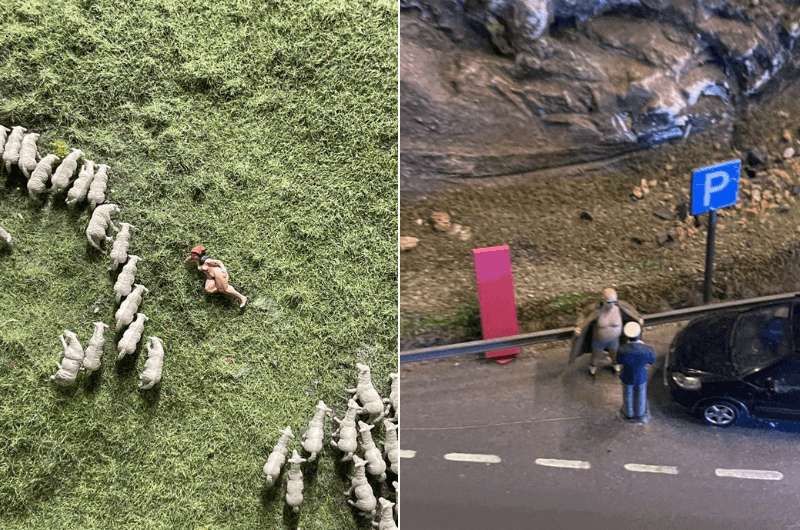 You'll see lots of naked people at Miniatur Wunderland

Just be expecting TMI around every (tiny) corner. Your eyes will start hurting from staring at million things that you can notice.
You even get a checklist of peculiarities to try to find in Miniatur Wunderland:
Milka cow
Cows in scuba suits
Pervert flashing the police
Easter bunny school
Whore giving a blowjob to the priest
Porn stage in Rio
Gang killings in favellas
SWAT action in the outback
Ok, I think you get the picture. On the practical side of things, make sure to buy your tickets in advance. We didn't and had to wait until the next day to get in. They limit the number of people that go in on any particular day, but you'll still feel like there's a million people inside at once. Get ready to be in everybody's personal bubbles.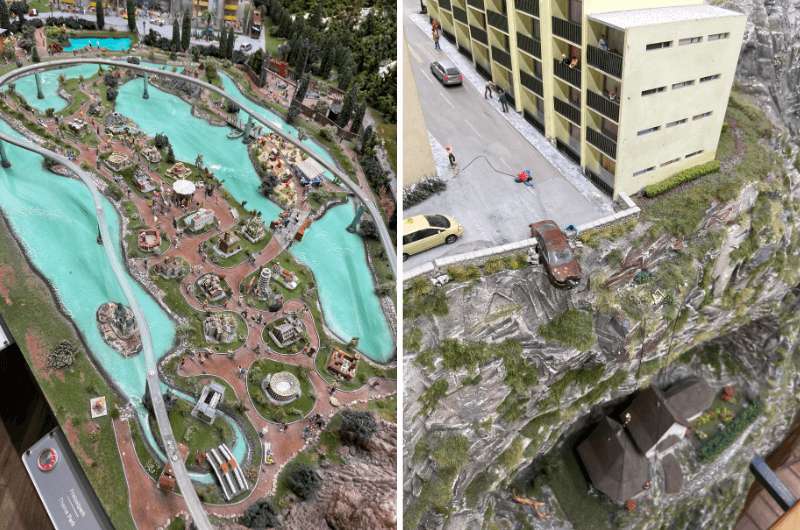 Looks like a drone view, doesn't it?

Miniatur Wunderland is located in Speicherstadt, the cool warehouse district (see below for more on that).
Open daily at least between 9:30 am–6 pm, but on weekends they're usually open until 1 am! Check the schedule here.
Tickets cost EUR 20
My top tips for Hamburg:
Don't underestimate Hamburg. Even I was surprised that it's worth staying for 3 days minimum. See my itinerary here.
Check out Hotel Volksschule, because you'll sleep like a baby... no wait, like a school kid!
Try the fish! Fish sandwiches are super popular and super delicious @ Brücke 10

2. International Maritime Museum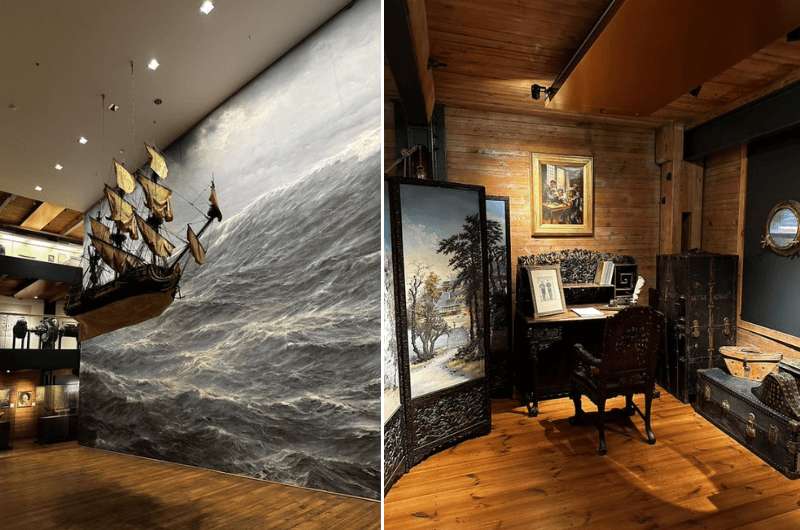 International Maritime Museum

Hamburg strikes again! This time with possibly the best maritime museum in the world. It's 9 floors of pure joy and… ships. And it's very close to Miniatur Wunderland.
Plan to spend at least 4 hours there, or 7 if you're going with me. There is literally everything boat-related: from the start of boatbuilding and sailing, to trade navies, world navies, the age of exploration, history, wars and everything in a very educational and fun manner.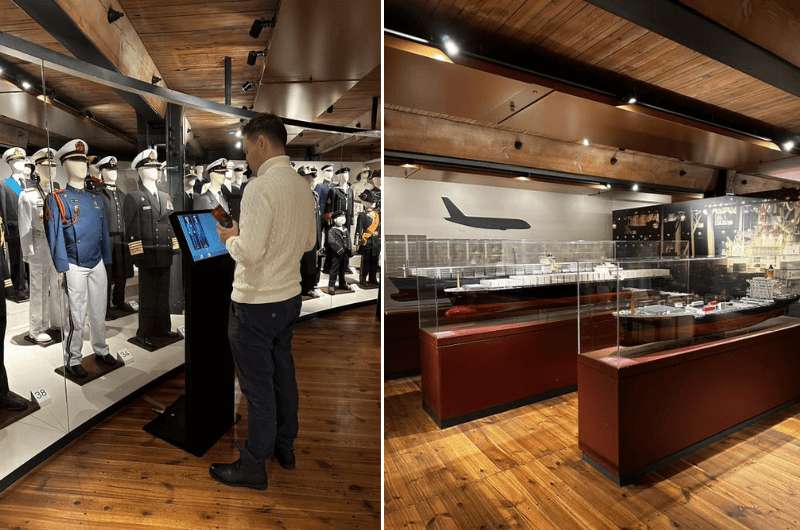 Choosing my captain's outfit

Signs are mostly in English but sometimes only in German (boo for that, Hamburg).
Have I mentioned that there are thousands of models, big and small? And the entire 9th floor is dedicated to just miniatures. I mean what's going on with the miniatures Hamburg? You got a really cool but pervy fetish going on there, buddy.
3. Hamburg Kunsthalle
Me admiring "The Wanderer" on the left and "The Salon" on the right

I'm not much into art, but this Kunsthalle (=art hall) is one of the best I've ever suffered through (I mean visited).
There is a really good collection of impressionists and paintings of the artists like Renoir, Degas, Cézanne, Manet and Monet. Aside from those, you'll get the whole spectrum from Old Masters to modern photography.
And there's one specialty—this gallery includes my favorite painting ever. When I was little, I'd thought I was going to buy it when I grow up. Then when I was older and realized the price and quickly changed my mind, but I saw it in Hamburg's Kunsthalle and I was smitten.
It's a painting called "The Wanderer" by Caspar David Friedrich—very dear and special to me. By the way, it's from the enlightenment period which was especially strong in Germany and also made Germany very strong (see what I did there).
You'll need about 2–3 hours to visit Hamburg's Kunsthalle. It's spread across three buildings, so there is a lot to see.
Open daily except for Mondays 10 am–6 pm, Thursdays until 9 pm
Tickets cost EUR 16, or EUR 8 if you go after 5pm

4. Old Elbe Tunnel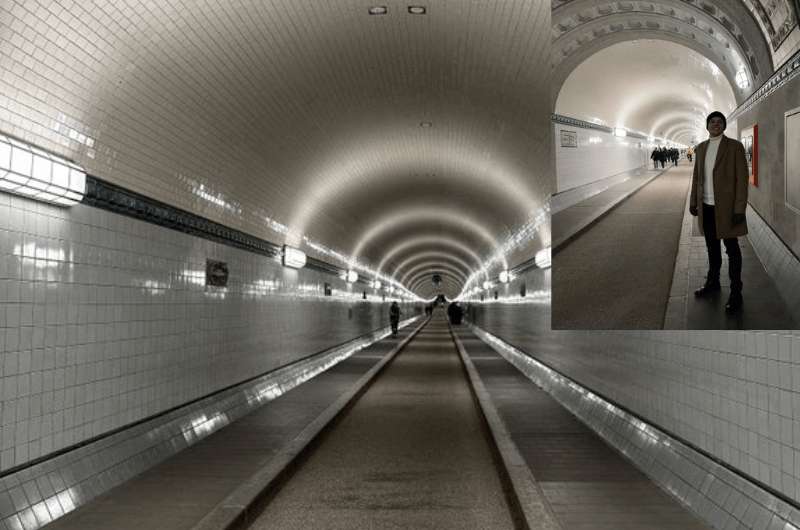 Old Elbe Tunnel

This is kinda cool, I've never seen anything like it before. The 100 year-old Alter Elbtunnel is 426 m (1400 ft) long and leads under the river. It was built in 1911 as a path for workers from the pier to the docks.
What's wrong with bridges?! Jk. They did eventually build those as well, and since then, the Old Elbe Tunnel has stayed as a tourist attraction, but also just a means of getting around for locals. You'll see cyclists and pedestrians crossing through at all times.
It's really a novelty and you go for the tunnel itself, because there's not much to see on either side of the tunnel. Though once you get to the other side, there are some serious viewpoints towards the city.
Take 1 hour to visit and walk there and back. There's no entrance fee. You can take the stairs or the elevators that are basically just cages going up and down. No wonder it was an engineering marvel back in its day.
There Old Elbe Tunnel is right in the middle between the Elbphilharmonie and the U-Boat Museum, both also attractions on this list.
Always open, but elevators do not work past 8 pm on weekdays and 6 pm on weekends
5. Elbphilharmonie
Elbphilharmonie

The Elbphilharmonie is the tallest building in Hamburg, so it's hard to miss. Though it's no skyscraper, it's very distinct in its design… and it sits in the middle of the Elbe River.
When you see the wavy glass top section sitting on top of a red brick warehouse from the 60s, you'll know you've found the Elbphilharmonie. It serves not only as a concert hall, but also as a 5-star hotel (the Westin Hamburg, going for a cool EUR 380 a night) and restaurant.
But even if you're staying at a different hotel and you're not there for a concert, don't fret. The Elbphilharmonie invites everyone to its public viewing platform called the Plaza. It's a very cool area right between the glass and brick sections of the building. There's an indoor and outdoor area.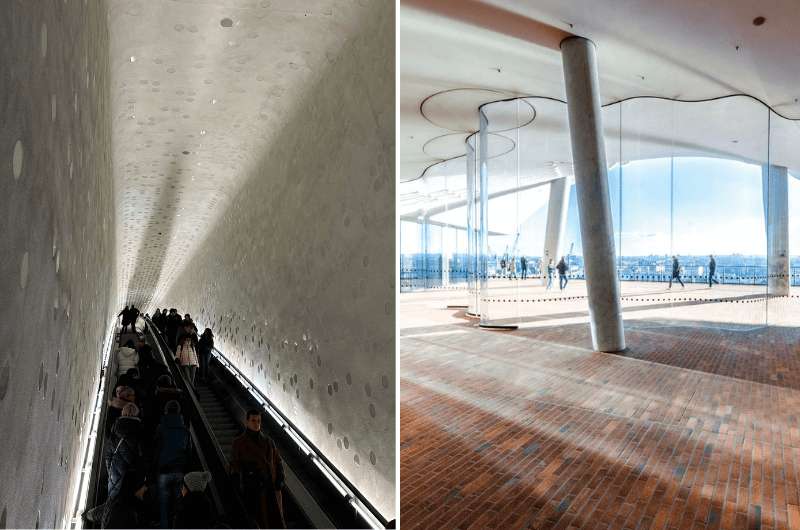 The Elbphilharmonie escalator and "Plaza"

You can visit the Plaza for a small fee of EUR 2. Not only do you get fantastic views of the city and the massive port, but you get to see the architecture of the Elbphilharmonie from the inside. Even the escalators are cool!
If you want to be sure you get to visit the plaza, book your tickets online in advance. There are limits on the number of people visiting and you get a time when you'll be allowed in.
Tickets to the Plaza cost EUR 2
I think this is a good time to mention the hotel we stayed at, because it was awesome! It's like a fancy school sleepover...
Hotel Volksschule is a former school

Hotel Volksschule is a perfect find. It's a 4-star hotel in a former schoolhouse! And they took the theme and ran with it—even their Christmas tree was school-themed.
The location is good, just a 15-minute drive from the city center. But most of all, the breakfast—amazing, the service—fantastic, and the rooms? Second to none! High ceilings mean lots of oxygen, and the rooms are completely silent and dark, meaning you get an incredible night of sleep.
I am not easily impressed, but I give Hotel Volksschule a 10/10.
Prices start at EUR 150 per night with breakfast.
Just so you know, I get a small commission if you book through any of my affiliate links. Remember, I only recommend places that I really love, so you are in good hands!

6. U-Boat Museum Hamburg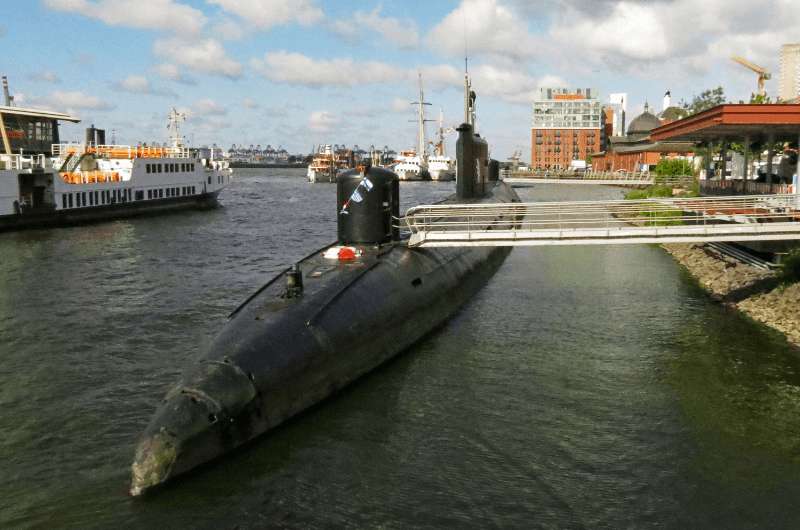 U-Boat Museum

A former Soviet submarine called the U-434 awaits you. The very fact that Germany was able to get Russia to sell the special series submarine for them to exhibit as a museum is something to brag about. It was decommissioned in the 1990s, so it's relatively new.
A what-boat? U-boat, or U-boot in German, is the shortened version of the word for submarine, Unterseeboot ("undersea boat").
Have you read my article about shark cage diving? You'd understand my relationship with rough seas, so imagine how I felt in the submarine—not good, not good at all. Luckily it stood in one spot and I got out without needing a lollipop (again, see that other article).
A great experience on a U-boat!

It's really cool to get a feeling of how hard was to serve on the u-boat. A lot of the cabins look probably just like they were 20 years ago when the boat arrived in Germany—messy. You'll need to watch your step and be prepared to bend over, step over and get through narrow passages. Certainly one of the unique things to do in Hamburg.
Tip: After seeing the living quarters on the U-Boot, our room at Hotel Volksschule felt like a castle. But it's actually a school...
There are some English signs inside, but not many. If you visit with a guide, there's no English being spoken, just German. But you do get to visit the command center, which isn't accessible without a tour guide.
About 1 hour to visit (with or without a guide). Tour groups are very small, so you may need to wait for an available one.
Open daily, Monday to Saturday 9 am–8 pm, Sundays 11 am–8 pm
Tickets cost EUR 9 + EUR 5 for guided tour

7. Rickmer Rickmers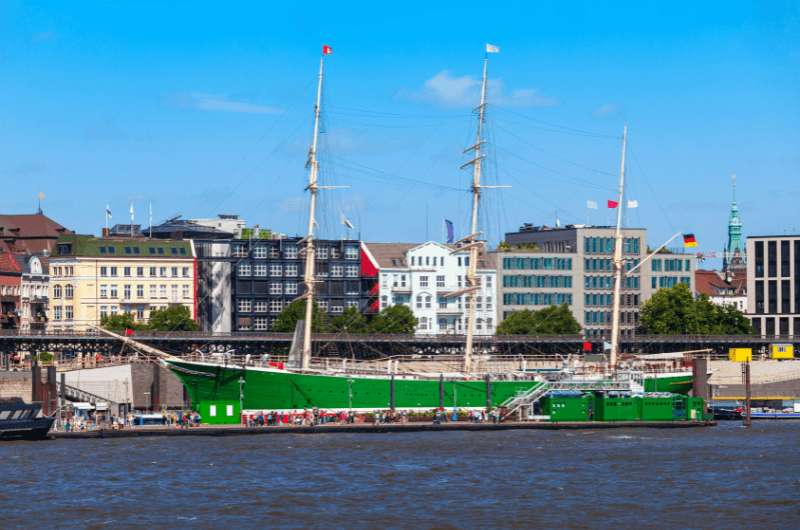 Rickmer Rickmers

I feel like this list of unique things to do in Hamburg needs another boat. And this time, you don't have to worry about bumping your head or running into a stuffed Soviet!
The restored interiors of this 19th century cargo ship are a world away from the claustrophobic submarine (see previous item). Going to buy rice and bamboo to Hong Kong on this thing had to be a blast (but again, I would decline since there is no amount on magic lollipops in the world that would save me from turning green).
Rickmer Rickmers' run was a whirlwind, ending up rotting away in Portugal. After it was returned to Germany in 1983, it took a few years and dozens of volunteers, unemployed shipbuilders and welders to spruce her back into shape.
The permanent exhibition on the ship takes you through Rickmer Rickmers' busy history. Then there is the special exhibition, which is a gallery space. The paintings/photos there are always thematically connected to either the sea or Hamburg. You can even send your postcards from the post office on board!
If you need something extra to convince you to visit, note there is also an escape room, a restaurant, and, for you adrenaline junkies, the possibility to climb the masts.
Open daily 9 am–6 pm
Tickets cost EUR 6

8. Rathaus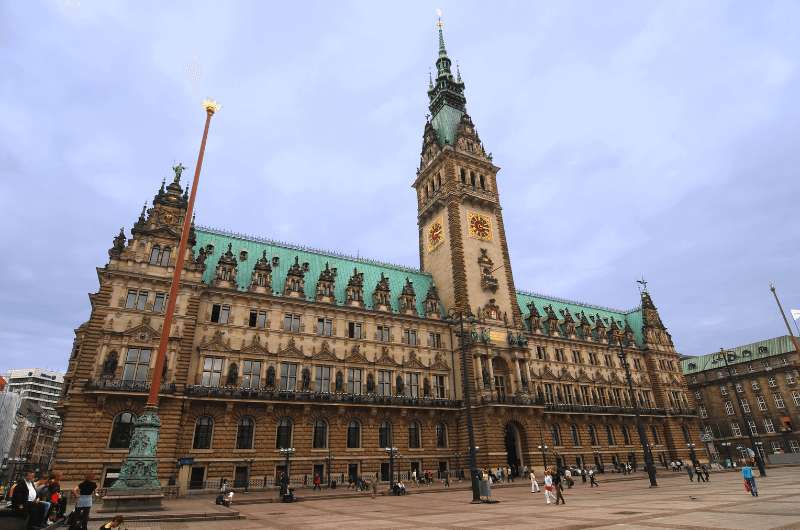 Hamburg Rathaus

Hamburg's town hall aka Rathaus is one of the few town halls that's actually worth visiting on the inside. It's easy to find, because you can see the tower from almost everywhere in the city center.
It's an impressive, beautiful neo-renaissance building with a green roof and a commanding presence.
It sits right by Alster Lake. Building it there was a stupid idea, because muddy shores and huge buildings don't mix well, but the 4000 wooden poles they had to force into the mud before starting the build solved the problem pretty well.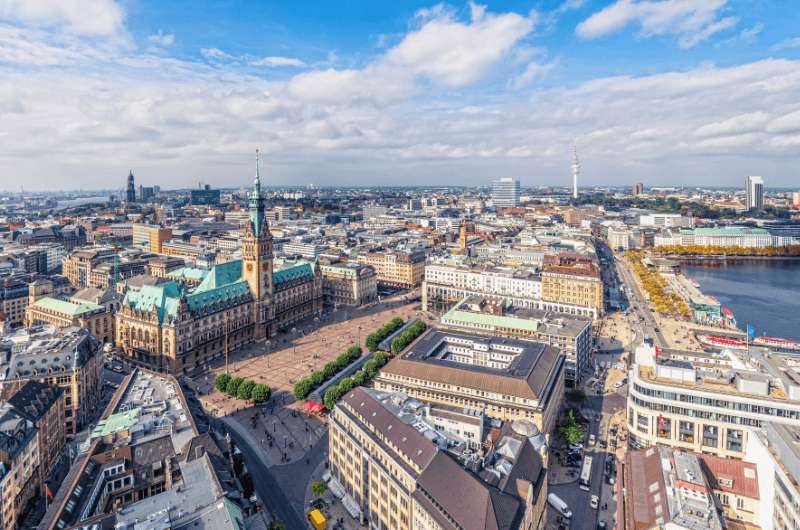 This shot of Hamburg's Town Hall is epic!

You can enter the foyer and courtyard freely for a small peak. If you manage to catch an English guided tour (they don't run daily), you'll even know what they're talking about when they show you some of the 600 (!) rooms in the Rathaus. Tours last 1 hour.
As is pretty much mandatory in the German-speaking world, there is a large Christmas market in from of Hamburg's Town Hall every December. No winding ice-skating ring like in Vienna, but still nice.
Open daily 8 am–6 pm
Tours cost EUR 5

9. Chilehaus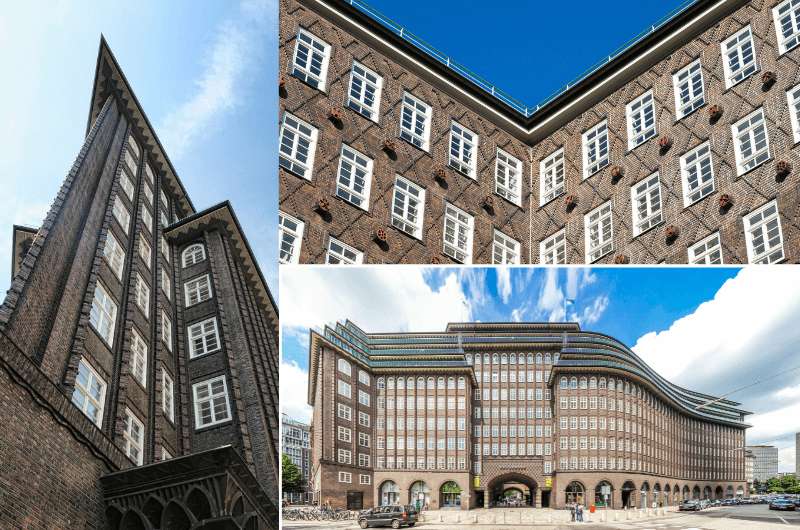 Chilehaus

Another place worth a stop on your Hamburg itinerary is Chilehaus. Built in 1922, it symbolizes Hamburg's economic recovery after WWI. There's something special about the iconic expressionist-style building, and it's not just because it looks like a huge ship.
See its triangular shape from the intersection of Burchadstrasse and Pumpen, and then head into the public courtyard. There are many shops and some restaurants in the Chilehaus, so just take a 20-minute wander. Don't forget to look up!
Also take a look around inside Chilehaus, which serves mainly as an office building. The tiles and the winding stairwells are particularly interesting (and Instagram-friendly).
Tip: If you visit after dark, the lights on the exterior add another layer of visual pleasure.
For more than just a look at the cool design, stop by the World Heritage Information Center to learn about Chilehaus' history and architecture.
10. Docks and riverfront
The fish market building on Hamburg's riverfront

If you don't go to Hamburg's docks, it's like you missed half of the city. But even if you don't come here with the sole intention to see the riverfront, you'll visit anyway because it's where Ricker Rickmers, the U-Boat Museum and the Elbphilharmonie is located. It's also where you'll get the famous fish sandwich at Brücke 10 Restaurant.
What better way to start your Sunday than by smelling fish first thing in the morning? Now you can too, at the Sunday fish market! They actually have a wide variety of produce on sale, so don't be afraid and go find your breakfast there. It all closes down at 9:30 am, so this might be the time to set your alarm and see the sun rise over Hamburg's port cranes. It takes place in the Altona Market Hall and outside along the riverfront.
We froze our butts off at Hamburg's riverfront, but it's a great place to just stroll and take in the atmosphere. This is, afterall, the "gateway to the world".

11. Plants and Flowers Park
Plants and Flowers Park with Heinrich Hertz TV Tower

Leading from the docks right up past Hamburg's New Town and Old Town into it's main area next to Alster Lake, is Hamburg's huge public park called simply "Plants and Flowers" (Planten und Blohmen). Just use the UFO-looking Heinrich Hertz TV tower as your point of navigation and you'll stay on track as you walk through the park.
There are several themed areas, a Japanese garden, waterfalls, lakes, cafes, fountains, playgrounds… basically everything that doesn't seem too out of place in a park, you'll find it at Plants and Flowers. It's a pleasant place if you need to get away from the hustle and bustle, but you're still close enough to the center so you can hop right back into your Hamburg sightseeing itinerary when you've had enough fresh air.

12. Hamburger DOM (Amusement Park)
A different kind of Dom

Not exactly a weird thing to do in Hamburg, but it is relatively rare, since it's only on for about 3 months each year (see below for 2023 dates). It also sounds like you're going to a cathedral (Dom=cathedral in German), so what you actually find here might be a weird surprise if your original intention was to say hi to Jesus. Although…
The Hamburger DOM is a very nice, pretty big theme park/fair where you can find trash food and great attractions ranging from the vintage kind to the I-want-to-throw-up-my-currywurst kind. So hey, you might actually be screaming for God on Circus Circus or the other rollercoasters.
I usually don't like these types of places but there is something special about it on the winter night with all the lights and sounds. Interestingly, wintertime was actually when the DOM was originally on, with summer and spring only added later.
There's history behind this (and you'll understand why it has such a strange name): The old Mariendom (cathedral) was used by merchants and entertainers as a shelter in the winters since the 11th century. Then, when the cathedral was demolished, they all became freezing and homeless, and the city found them a new are to take cover. Yep, it's the same area that the DOM fair gets built on 3x a year.
Tip: Vienna's Prater is a year-round amusement park that is one of the oldest in the entire world. You have to at least visit the Ferris wheel (they even turned one of the cabins into a strap yourself in, there's nothing to hold on to type of situation). Want to visit? My Vienna itinerary at your service.
In 2023, the DOM dates are: March 24–April 23, July 21–August 20, November 10–December 10. Opening times: Monday to Thursday 3 pm–11 pm, Fridays 3 pm–12 am, Sundays 2 pm–11 pm
Free entry, you pay for individual rides

13. Speicherstadt and HafenCity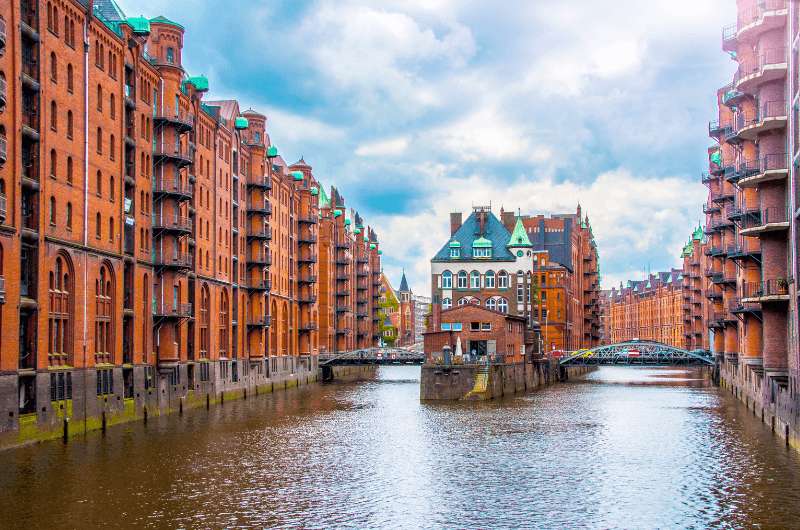 Wasserschloss viewpoint

Speicherstadt district is part of HafenCity quarter, but you can't tell where one ends and the others starts. All you need to know is that it's the warehouse/port district. One look at the red brick facades and you'll know you've found it.
Many of the attractions on this list are within the area (like the Elbphilharmonie, Miniatur Wunderland, and Chilehaus closeby), and it's just generally a cool area that has undergone a lot of redevelopment.
Think bars, restaurants, shops, etc., all right by the water, giving Spericherstadt and HafenCity a great vibe. It very much reminds me of Copenhagen.
Head to Wasserschloss viewpoint for some great photo ops of the buildings between the individual channels of the river.

14. Don't: St. Pauli, Red Light District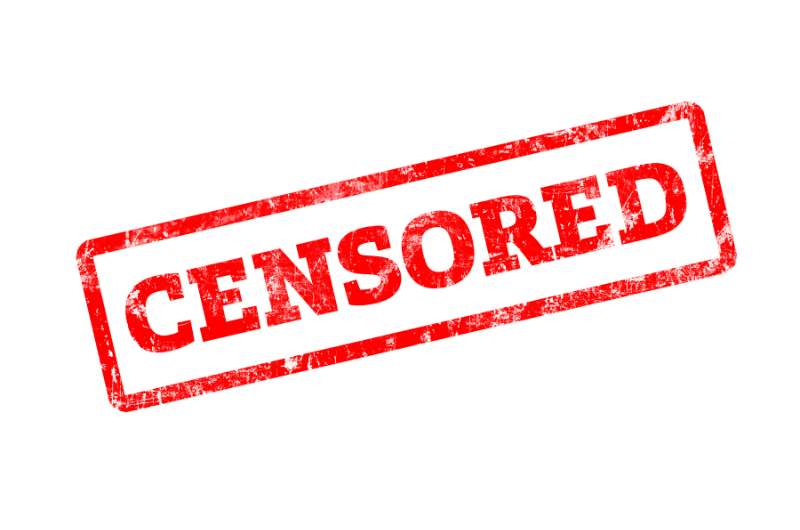 I know St. Pauli's Reeperbahn is one of the best places to visit in Hamburg, BUT WHY!? There are restaurants, some popular clubs, a football stadium and it's close to Hamburger DOM (see above). I've even seen it called the best place in the world for nightlife. Wtf?!
It's also famous for its prostitutes and sex shops, so not exactly a family destination. But even if that entices you, it's still just one little street—Herbertstraße—and it servers more as a tourist attraction than anything else. The ladies are really nice (certainly nicer than in Amsterdam), but its super short and worth going only if you have crazy amounts of spare time or if you're visiting with a group of guys. In that case it'll probably be something like the 4th best place to see in Hamburg.
So, I wanted to downgrade St. Pauli to an ok place to spend an evening, because don't you hate it when you get your hopes up?

FAQs: Is Hamburg worth visiting?
In terms of being spectacular—it's really not. You won't be blown away by its beauty or find it super unique, but Hamburg's tourist attractions are well worth your time.
I was skeptical about Hamburg, but since I generally like Germany, I gave it a shot. And now I can confidently say: Yes, Hamburg is very much worth visiting.
It's even possible to spend 3 days in Hamburg without it seeming like too much, which is a very rare animal among the cities of the world.

FAQs: What's the best time to visit Hamburg?
Anytime is suitable to visit Hamburg. It does lie close to the sea, so expect milder weather conditions, but wind and rain shouldn't surprise you.
Winters are cold but rarely freezing, and then there's the Christmas market and the winter edition of the DOM as a bonus. There are also awesome museums to take cover in if it gets too much for you outside.
Summers aren't unbearably hot, with the hottest months being July and August. But they can bring more rain, so just pack accordingly. And even if you're visiting in the summer, don't forget a light jacket for the evenings.

FAQs: What is the best area to stay in in Hamburg?
Stay in the wider center since the hotels in Old Town are excessively expensive. Hamburg's infrastructure is so good that there is no reason to pay a premium when you can get a fantastic hotel a little further away and easily get to the Old Town when you need to.

Hotel Volksschule is the hotel we stayed at and LOVED IT. It's a 15-minute drive from Hamburg's Old Town. They have room rates starting at EUR 150 per night including breakfast.

FAQs: Can you recommend some fish restaurants in Hamburg?
I tried and can recommend these seafood restaurants/bistros:
Daniel Wischer is a great fish restaurant close to Rathaus Square. The fish was made to perfection and the interior is cool and casual, with high ceilings and brick walls. It's better to make a reservation in advance to secure yourself a spot.
Brücke 10 is famous for their fish sandwiches (Fischbrötchen). So again, more of a casual place ideal for lunch, exactly what you need during a busy Hamburg trip. We had a herring with onion in a bread bun and is was surprisingly delightful. It's located at the docks close to the Old Elbe Tunnel.
This post contains affiliate links. I earn a small commission if you make bookings through my links, at no additional cost to you. This helps keep this blog free, thank you!