Brace yourself for Baroque, museums, art, and… Winnetou? No matter if you have just one day in Dresden or an entire weekend, you'll be glad to know that Dresden is worth visiting.
I wouldn't say Dresden is a must-see city, but if it's convenient to you and your trip, why the heck not? There's a lot to see in Dresden in 1 day, not to mention several stellar day trips that'll keep your visit going if you have a little extra time.
I hereby present to you a Detailed 1-day Dresden itinerary! It's packed to the brims—you can stretch it out to 2 days by visiting all of the museums I mention (but no more than that, it's not that amazing).
You might also be interested in reading:
Dresden map and tips
Click over to Google Maps for the itinerary route already set up for you

Before we start, here are some tips on visiting Dresden:
This itinerary will keep you busy for an entire day OR, split the sucker in half and see it all in 2 days! You will have to choose which museums and galleries you go to if you only have one day in Dresden.
The ones I present as options in this itinerary are: the Royal Palace tour, the Historic Green Vault, the Zwinger museums, German Hygiene Museum, Transport Museum, Panometer, Karl May Museum.
If you still have more time, I'll add a few day trips from Dresden at the end of this itinerary.
There's a hotel that you have to know about, because it's one of the best value hotels I've stayed at in Europe ever: mightyTwice Hotel Dresden (more about that below).
If you plan on visiting the Zwinger and Royal Palace, it's already worth getting the Dresden Museum Card (EUR 25, valid for 2 days). Plus, it'll get you an extra EUR 1–1.50 off the regular ticket price at the other museums I mention. Here's a full list of benefits. Note you need to print the museum card.
Dresden is easily visited from Berlin (2.5-hour drive) and Prague (2-hour drive). Trains work, too.
Stop 1 of Dresden itinerary: Brühl's Terrace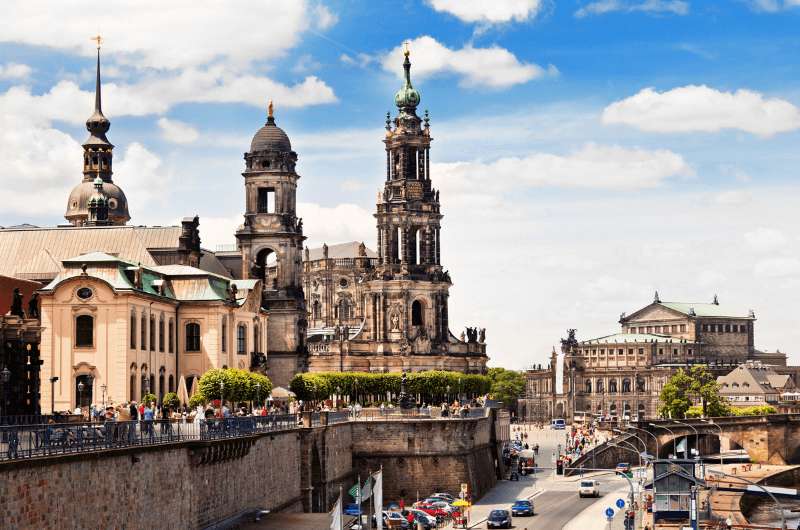 Brühl's Terrace, a promenade on the former fortress walls

Get yourself oriented in the city by taking a walk down Brühl's Terrace—a 0.5 km (0.3 mi) promenade by the river on the remains of Dresden Fortress.  You'll have the Elbe river on one side with views of the New Town on the opposite bank, and the old historic buildings lining the promenade behind you.  
Since the walkway is on the old fortress walls, you are higher up than street level, so you're able to see more of the city than if you were just walking along the river. You can check out a few art installations on the way and just get a feel for your positioning in the city.

The nickname "the Balcony of Europe" had me wondering if they're trying to battle Spain's Nerja and their Balcon de Europa (seriously?). I didn't even think that other one was particularly worthy of the title, and it sits atop cliffs by the sea! 
Stop 2 of Dresden itinerary: Frauenkirche (Church of Our Lady)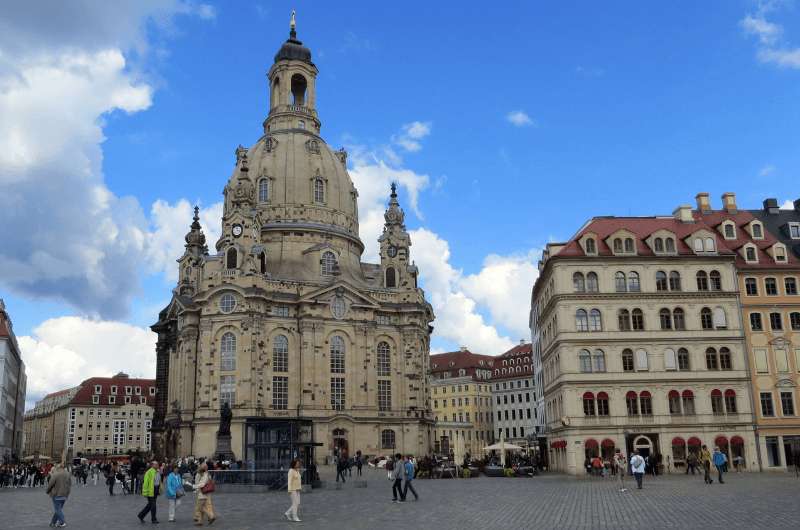 Frauenkirche aka the Stone

Time spent here: 20 minutes
Next, just one block away from the riverside is Frauenkirche—a Lutheran church with an unconventional high dome giving it a distinct bell shape, hence Frauenkirche's nickname, "the Stone Bell". 
I personally thought Frauenkirche was more impressive from the outside, but you can obviously go check out the interior as well. If you just want to take a little wander, it's free.
You can climb up to the viewing platform and see not only the city center, but also peek through the large windows on the inside of the church to get a different point of view on the interior. That'll set you back EUR 10.
There are also guided tours and audio guides available.
Open daily 10:00–11:30 & 13:00–17:30 10–11:30 am and 1–5:30 pm, opening times during weekends vary 
Free entry 
Dome: Tickets are EUR 10, open daily 10 am–6 pm, Sundays 1 pm–6 pm (closes earlier in the winter) 
Stop 3 of Dresden itinerary: Dresden Royal Palace (Residenzschloss)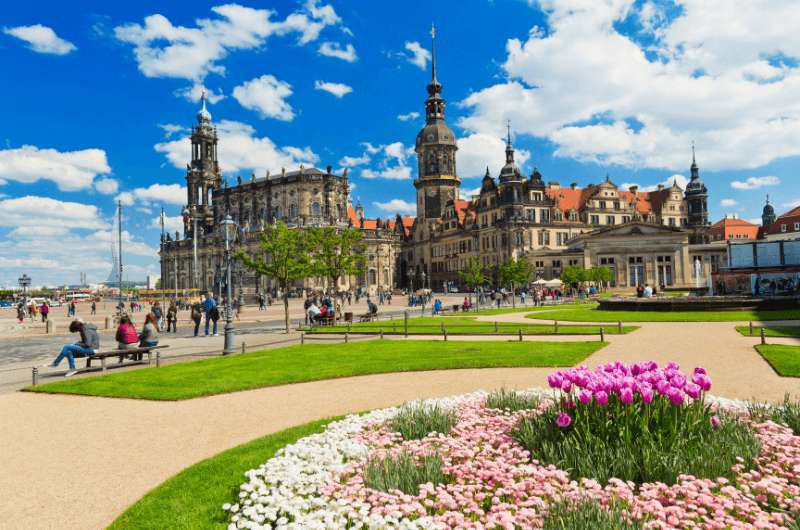 Dresden Royal Palace

Time spent here: 20 minutes–1.5 hours (without/with tour)
Now you'll see what life was like for the hundreds of years that Dresden's Royal Palace served as a hub for those who were in power.
Note: It's called the Dresden Royal Palace everywhere but on Google, which insists it's the Dresden Castle. Just so you know those two are the same thing. It's Residenzschloss in German.
You can just look around from the outside if you're trying to save time for other museums, or buy the regular Royal Palace ticket that includes the state apartments, the armor collection, the New Green Vault, the Hall of the Giants and the Renaissance Wing. In the summer, you'll also get to climb up Hausmannturm, the old tower. That should be enough castle for one day.
[You'll definitely want to visit the Historic Green Vault, but tickets for that are separate and need to be bought ahead of time. See next item in this itinerary.]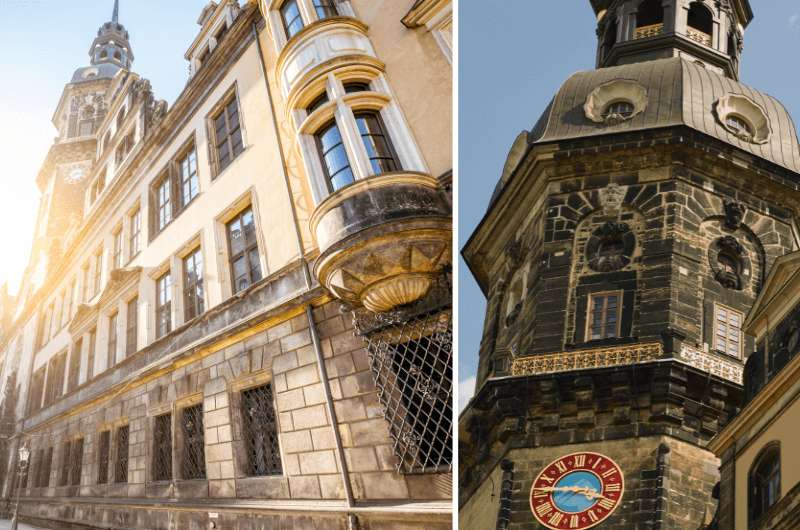 Details of Dresden's Royal Palace

After decades of reconstruction (due to WWII destruction), the Royal Palace now serves as a museum complex for the Dresden State Art Collections, one of the largest in all of Europe.  
There are 15 museums of various themes, but seeing them all will take you most of the day, so don't. Not if you just have one day in Desden.
Open daily except for Tuesdays 10 am–6 pm 
Tickets cost EUR 14 for the Royal Palace ticket, EUR 24 for the all-inclusive day ticket, Historic Green Vault is EUR 14 (see next item)
Stop 4 of Dresden itinerary: Historic Green Vault (Grünes Gewölbe)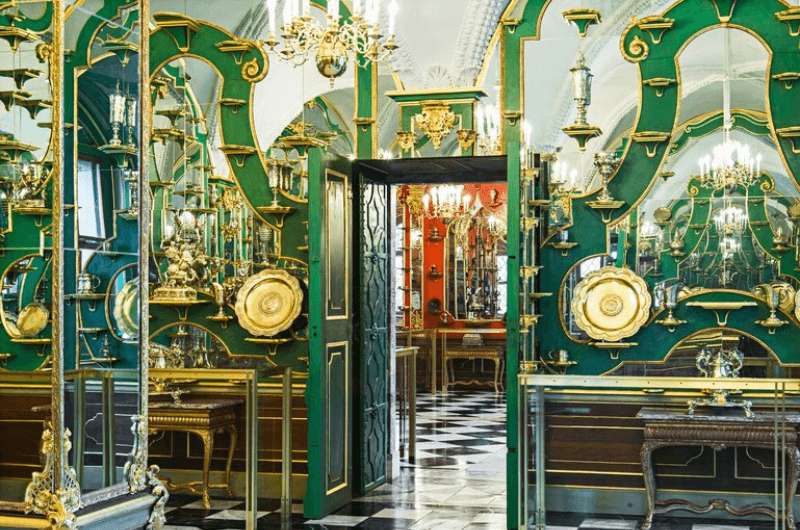 Grünes Gewölbe in the Royal Palace

Time spent here: 1 hour
The Green Vault is part of the Royal Palace, but you need a separate ticket for it. You need to buy a ticket in advance, because in order to protect the precious jewelry on display, visitor numbers are limited and you get a time slot for entry.
The Green Vault is the palace treasury, meaning it's a place where you can find all things shiny. There are now two Green Vaults—the new one, which is part of the regular Royal Palace ticket, and the historic one. 
The Historic Green Vault consists of 8 rooms that each focus on jewels made out of a different material. They are not housed in cases and there are no written descriptions anywhere so that the place looks just like it did in the 1700s. You get an audio guide before heading in.
Because of the absence of cases, the 3000 objects on display are extra vulnerable, hence the need to limit daily visitor numbers. You also enter through an airlock that allows for perfect climate control of the rooms.
Open daily except for Tuesdays 10 am–6 pm 
Tickets cost EUR 14 and should be bought online (limited number of visitors per day) 
Wait! We still haven't talked about where you'll sleep in Dresden.
This itinerary will keep you busy for one full day minimum, so don't be shy and book 2 nights in Dresden for the best experience. I stayed here and can highly recommend this hotel:
The mightyTwice Hotel Dresden is located north of Old Town, about 15 minutes by tram or taxi.  It doesn't look like much from the outside, but inside is an entirely different story.
The pros:  
Nice rooms and bathrooms 
Music-inspired design throughout the hotel 
Amazing breakfast (and I'm picky!) 
Great parking 
Loved the staff 
The cons:  
It's ugly on the outside. That's all the cons I can think of. 
Just so you know, I get a small commission if you decide to make a hotel booking through any of my affiliate links. I appreciate it if you do, thank you!
Stop 5 of Dresden itinerary: Lunch!
In the Metropolis Urban Bistro you can look forward to a cool interior design and lots of deliciousness.

Time spent here: 1 hour
If you're feeling a little low on energy, it's probably because it's time for lunch. Here are a few spots I think you'd enjoy—they're all conveniently located between the Royal Palace and the Zwinger (your next stop).
Metropolis Urban Bistro is perfect if you want a cool place to stop for a quick bite. They do sandwiches and hotdogs and such and the interiors are nicely designed.
Around the corner from Metropolis is Restaurant Platzhirsch am Schlosseck. Another place that broke out of the typical German design. Outdoor seating is a plus. The food is everything from international to modern takes on German classics. They are only open for lunch on Fridays and weekends, otherwise they only do dinner.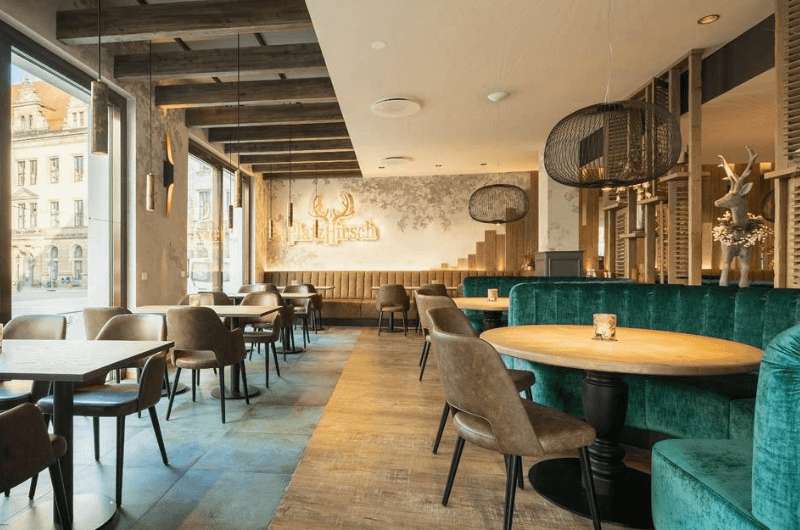 Restaurant Platzhirsch am Schlosseck

You can also have your lunch right in the Zwinger, or rather on the backside of the Zwinger facing the outer garden and the Semper Opera, at the Alte Meister Café & Restaurant. If you choose not to have some of the German, French or Mediterranean dishes on offer, maybe stop by later for a cake and coffee.
Stop 6 of Dresden itinerary: Zwinger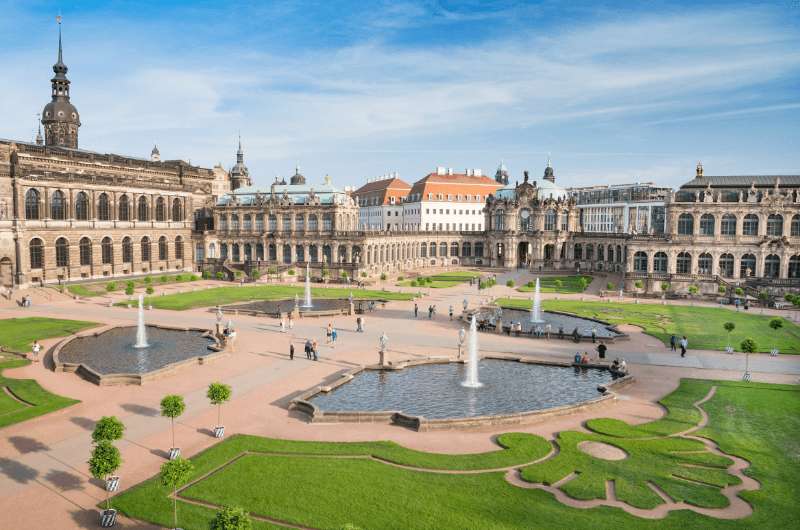 Zwinger

Time spent here: 30 minutes–2 hours (without/with museums)
The Zwinger is one of the most important Baroque buildings in Germany. It was built as a large orangery and garden. It now houses 3 galleries: the Old Masters Picture Gallery, the Dresden Porcelain Collection, and the Royal Cabinet of Mathematical and Physical Instruments. If you ask me, all of them are worth a visit. BUT, if you're planning on visiting any of the other museums on this itinerary, make sure to budget your time well.
Orange trees still brighten the place up every May through October, so leave some time for a little stroll in the gardens in the inner courtyard. There are also the outer gardens that surround the Zwinger from the back side.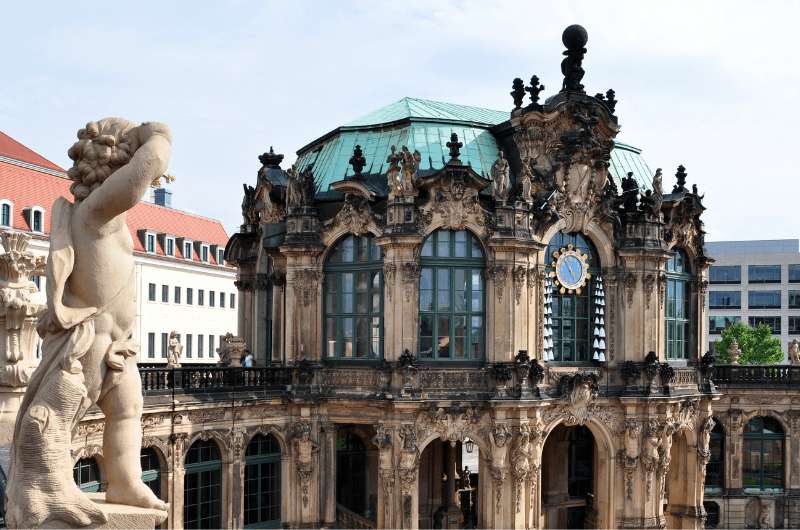 The Baroque style in Zwinger is very noticeable

Tip: If you want to experience the Zwinger as you would have in the 18th century when it was the hottest thing since sliced bread, see if you'd like the Zwinger Xperience. It's a multimedia exhibition that'll take you on "a journey through time". You even get to ride a bicycle through the gardens wearing VR glasses at the end (sort of)! Price: EUR 12 for adults.   
Remember the classy Alte Meister Café & Restaurant is just around the backside of the Zwinger, and it's worth a stop at least for a coffee (but you can also have a nice lunch here). The views from the outdoor seating area are lovely.
The inner garden is open daily 6 am–8 pm, museums are open daily except for Mondays 10 am–6 pm 
Tickets to the museums cost between EUR 6–14, entry to the garden area is free 
Stop 7 of Dresden itinerary: Town Hall, Holy Cross Church (optional)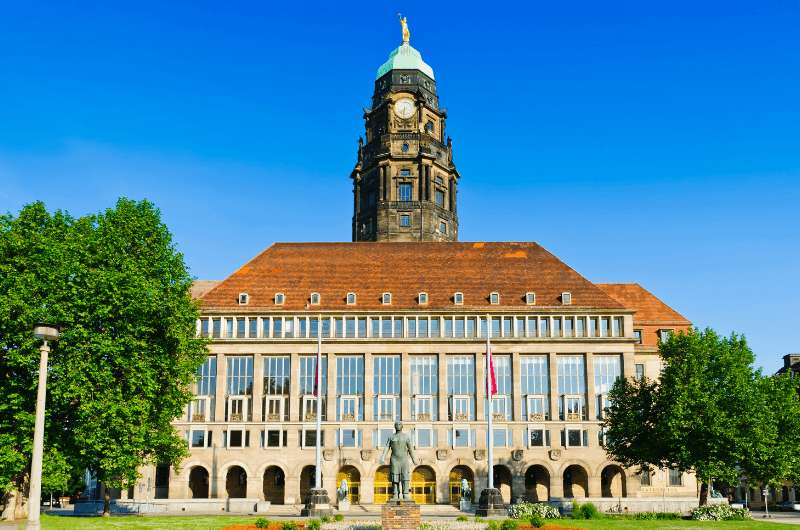 The Town Hall of Dresden


Time spent here: 15 minutes
After visiting the Zwinger, you'll want to start walking towards the southern part of Old Town towards Dresden's Town Hall (Rathaus). Just like with most working town halls, all you do it look at it from the outside.
Tip: One German Rathaus that is worth seeing from the inside and outside is in Hamburg. Now that's a beauty!
A notable building right across from the Rathaus is the Holy Cross Church (Kreuzkirche) that doesn't have a fancy interior, but you can climb the tower to get some views of the Old Town and the Rathaus as well. 
Note: You don't need to spend much time here, it's just en route to your next places of interest. This is not true if you're heading to the Transport Museum which is located next to the Royal Palace.
Stop 8 of Dresden itinerary: German Hygiene Museum OR Transport Museum
German Hygiene Museum

Time spent here: 2 hours
Since you only have one day in Dresden, you can't see all of its museums. So right now, you'll need to choose between the German Hygiene Museum and the Transport Museum. Remember they both close at 6 pm.
Here's information about both:
German Hygiene Museum
Be safe. Be like elephants.

Don't be deterred right off the bat because of the strange name—it's so much better than you'd imagine. It's a cool, modern, interactive museum which just so happened to be showing possibly the most interesting exhibit I've ever seen. EVER!
I happened to be there for the temporary Artificial Intelligence Exhibition, and I was captivated. It has since ended and been replaced by new exhibitions, but if they can do one amazing show, I'm confident they can do more.
One that's still ongoing (until March 2023) is called FAKE—the whole truth. There are tons of interactive areas where you'll learn just how often you lie and about just how detrimental to society fake news can be.
The permanent exhibition at the German Hygiene Museum is also great. It's conceived as an adventure into the human body and explores areas such as feelings, senses, sexuality, dealing with stress, and so much more. All done in a manner that tries to make your visit entertaining and hands-on. 
The museum's website is really good, so you can see what's on before you visit.  
Make sure to pick up an audio guide if you don't sprechen Deutsch.
It's easy to spend 3 hours at the German Hygiene Museum, but you may need to speed through it a bit (or stay another night in Dresden's coolest hotel!).
Parking at the museum costs EUR 1.5 per hour/free during weekends. 
Open Tuesday to Sunday 10 am–6 pm 
Tickets cost EUR 10 

Transport Museum
Transport Museum

The Transport Museum is 3 stories of exhibitions about all things transportation—cars, trains, ships, planes… you name it, they display it with a bunch of full of fun facts.
Germany's history and excellence in the industry is tied in wonderfully throughout the museum without being too detailed and boring. I especially enjoyed the fact that they even included German war machines and didn't just skip over that part as if it never happened. 
There's a great combination of text, audio, video and interactive portions that'll keep you interested from start to finish, no matter how old you are and how many kids you have in tow (zero is also a number).
Allot 2 hours to visit the Transport Museum. It's located right next to the Royal Palace.   
Open Tuesday to Sunday 10 am–6 pm 
Tickets cost EUR 11 
Stop 9 of Dresden itinerary: Grand Garden of Dresden (optional)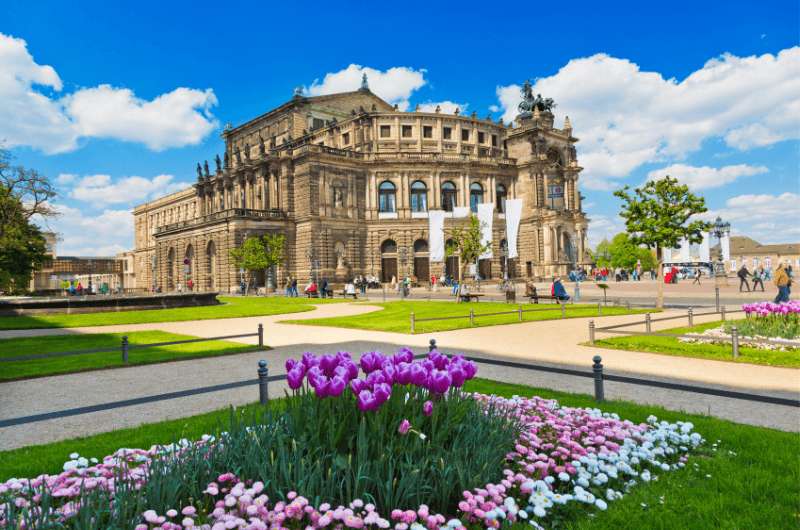 Grand Garden of Dresden

If Dresden had a Central Park, this would be it. Halfway between Dresden's Old Town and the Panometer (your next stop) is the Grand Garden of Dresden. It's a… large park. 
The Grand Garden of Dresden is a rectangular area about 2 km (1.2 miles) long and 1 km (0.6 miles) wide. How long you spend there is up to you, but since you only have a day in Dresden, you better hustle a little bit.
There's a palace, several lakes, fountains, statues, pathways full of joggers, inline skaters, stroller pushers and other annoying sidewalk folk. Just your typical large city park, but very nice.
Tip: Again, if the pace of this itinerary seems a little too much for you, you should consider spending another day in Dresden and taking it a slower. There's certainly enough to do if you want to include all of the museums.
Once you've had your fill of nature, just call yourself a taxi and head out to the Panometer. You can, of course, walk there, but there's literally nothing interesting to see along the way.
Stop 10 of Dresden itinerary: Panometer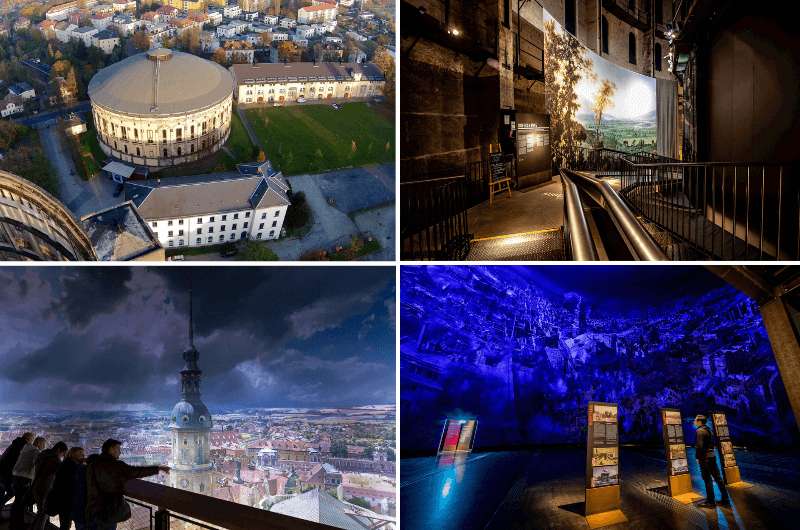 Time spent here: 1 hour
It's seriously fascinating to see a whole city on a huge chunk of fabric, and the research the artist, Yadegar Asisi, had to conduct to be able to do so. He had to look at hundreds of photographs, drawings and paintings to put the city together into one huge, life-like work of art. 
But where do you display such a huge and circular piece? A former gas holder, aka gasometer. "Panometer" comes from the words PANOrama and GasoMETER. The gasometer measures 39 metres (128 ft) in height and 54 metres (177 ft) in diameter.
There are two versions of the panorama that alternate during the years: Baroque Dresden, and Dresden 1945, which shows the destruction of the war. So two very cool experiences, but you certainly won't get both in one visit. 
Until the end of 2023, you'll see Baroque Dresden.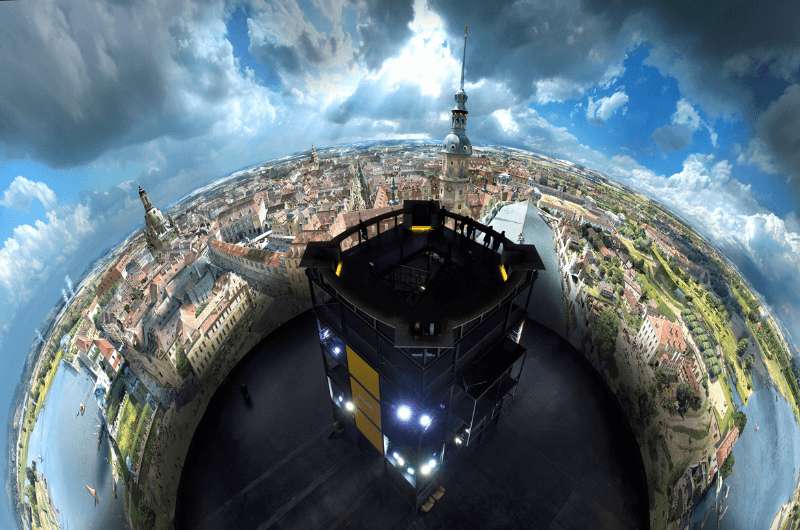 Before you get to the actual panorama, there are smaller paintings, photos and information panels that introduce the subject and the process of creating the panorama. 
Then at the panorama, there are several stories of the viewing platform that you have to climb, revealing more and more detail at the different levels. Remember this this is huge—27 meters (88 ft) high! 
Since the Panometer is further fromthe city center, I recommend taking a taxi (like Lyft). Even if you're coming from the Grand Garden of Dresden, you'll save time by taking a cab. There's nothing ineresting on the way to the Panometer, so you don't need to feel bad about skipping the walk.
Open daily 10 am–5 pm during the week and until 6 pm on weekends  
Tickets cost EUR 13 
Stop 11 of Dresden itinerary: Karl May Museum
Visiting Villa Shatterhand

Time spent here: 1.5 hours
My absolute favorite place in Dresden (because my absolute favorite film when I was a kid was Winnetou) is the Karl May Museum—it's a must-see.
You can imagine Karl May as a German JK Rowling—but instead of kid wizards, he mostly wrote about the American Old West and the experiences of his alter ego, Old Shatterhand. He sold over 200 million copies of his adventure stories that, as was only revealed later, were all fiction and not at all from his personal experience as Karl led everyone to believe.
More about the Karl May Museum (and every other place on this itinerary) in my article about the best places in Dresden.
Tip: I love going to places that bring out childhood memories. Another place that made me fanboy was one of Scotland's castles, Eilean Donan. It was where Highlander was shot, and I could almost taste the horse sweat when I walked over that bridge onto the island!
Karl May's office in the Karl May Museum

The Karl May Museum in Dresden is located in the house where Karl May spent some of his earlier years, aka Villa Shatterhand. The museum is located up in the northern boonies of Dresden in Radebeul, about 10 km (6 miles) from Dresden Old Town. Check the website for tips on how to get there by car, train, and tram. 
I recommend starting your tour of the museum from the end where there are exhibits on real Native Americans that include rare artifacts. You can then move on to learn how Karl May portrayed the Old West in his books. 
Open Tuesday to Sunday 10 am–6 pm 
Tickets cost EUR 10 
Day trips from Dresden
So you stay another day in Dresden or you just want somewhere to stop on your way to your next destination? That sounds like a day trip to me!
You could, of course, start your day out by checking out of your hotel (how did you like the mightyTwice?) and then making a beeline to some of the places in Dresden that you missed yesterday.
Or, if you're done with the city but still want something close by to explore, check out these options:
Moritzburg Castle
Moritzburg Castle

Distance from Dresden: 16 km/10 miles north of Dresden
Moritzburg Castle calls itself the "the prettiest moated castle in Saxony". It's in the middle of a lake, so yeah, it has that going for it. Water always makes things look nicer, right? Plus, it's where Saxony's only (pink) lighthouse is located.
Inside, a throne decorated with thousands of feathers, lots of dead animal heads on the walls, and leather tapestries showing scenes of Greek mythology will try to grab your attention.
If you come here during the winter months, usually sometimes in November to the end of February, only the special Cinderella exhibition is available. The cult Czech-German film "Three Hazelnuts for Cinderella" was shot here, so you'll feel like you stepped right back into the 70s fairytale.
Opening times vary throughout the year (see times here). In the summer, the castle is open daily 10 am–6 pm
Tickets cost EUR 12 (they are cheaper in the winter months)

Königstein Fortress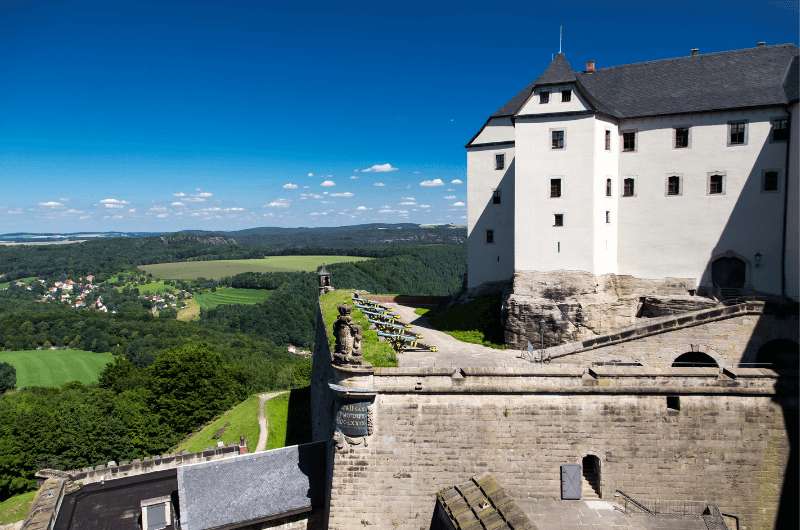 Königstein Fortress

Distance from Dresden: 30 km/24 miles southeast of Dresden
Königstein Fortress is one of the largest hilltop fortresses in Europe and, as such, gives you great views. It must've been nice to be in prison there, or go to a soldier spa hospital there, or to be a teenager getting reformed there…
The fortress has had many purposes over its 750-year history, and you will be reminded of most of them in the many exhibitions of the museum, which is its current purpose.
Königstein is easily combined with a trip to Bastei Bridge, which is basically just across the river. See next day trip.
Open daily 9 am–6 pm (closes 5 pm in the winter)
Tickets cost EUR 15 (they are cheaper in the winter months), the audio guide is EUR 3.50

Saxon Switzerland National Park
Like a scene from a fantasy movie—Bastei Bridge

Distance from Dresden: 45 km/30 miles southeast of Dresden
Saxon Switzerland is Germany's only rock national park and as such is an area perfect for hiking. The tall sandstone creations make it a fun place to explore. Some routes lead in between the peaks, and some take you straight over the tops!
You can plan on hiking part of the Malerweg Trail, which totals 116 km (72 miles).
Even before you hit the borders of the national park, you can get a taste of what you're in for at Bastei Bridge. Not only is this an easy day trip from Dresden, it can also be combined with a stop at Königstein Fortress (see previous day trip).
Check out all of Saxon Switzerland's highlights on the official website.
This post contains affiliate links. I earn a small commission if you make bookings through my links, at no additional cost to you. This helps keep this blog free, thank you!