Does the combination of epic views and 2nd World War history sound intriguing to you? Then you're a perfect match for the Eagle's Nest. Built in 1938 for the Nazi Party and located in the elevation of 1,834 meters (6,017 feet), it's one of the most spectacular landmarks in Berchtesgaden.
You can't go wrong with a visit to the former Nazi mountain house called the Eagle's Nest (that's Kehlsteinhaus in German). If you are still hesitating, here are 5 reasons why you should stop thinking and hit the road instead.
You might also be interested in reading:
Eagle's Nest has excellent views...
​
1. It's a beautiful hike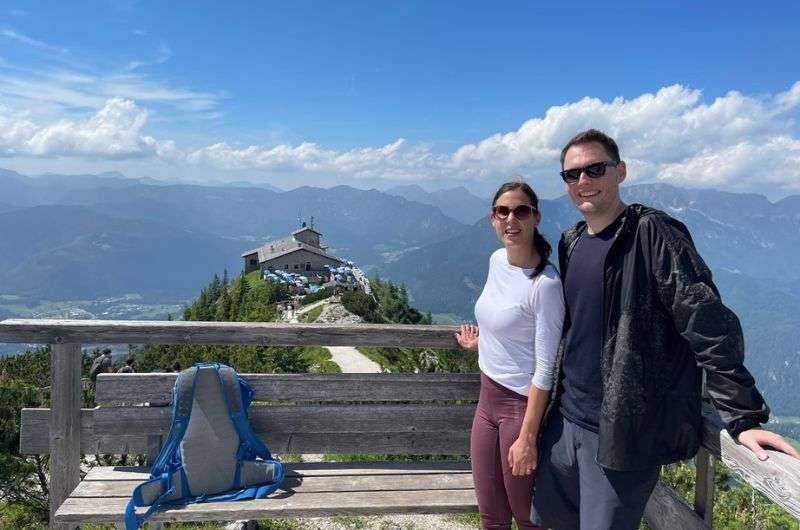 Me, Karin and Eagle's Nest

If you like hiking, it would be a deadly mistake not to visit the Eagle's Nest. The hike starts at Scharitzkehlstraße 10-12 Parking and leads up the forests and rocky slopes with an elevation gain of 900 meters (2,950 feet).
Officially, four hours are recommended for the hike but we did it in two (and our calves ached for the next three days). I honestly think nobody would take more than 3 hrs and that that dramatic sign at the Documentation Center saying 4 hours is just trying to make you buy tickets for the bus.
The hike starts under the tree line so you have wait for the views until you reach the top. But the pristine nature and solitude on the trip up the mountain makes it worth it (get ready for crowds!).
Tip: My wife and I love a good hike and during our travels to various destinations we have tried many hikes of varying difficulty. Read about them in our articles:
The story of how my wife didn't get her dumpling in the Eagle's Nest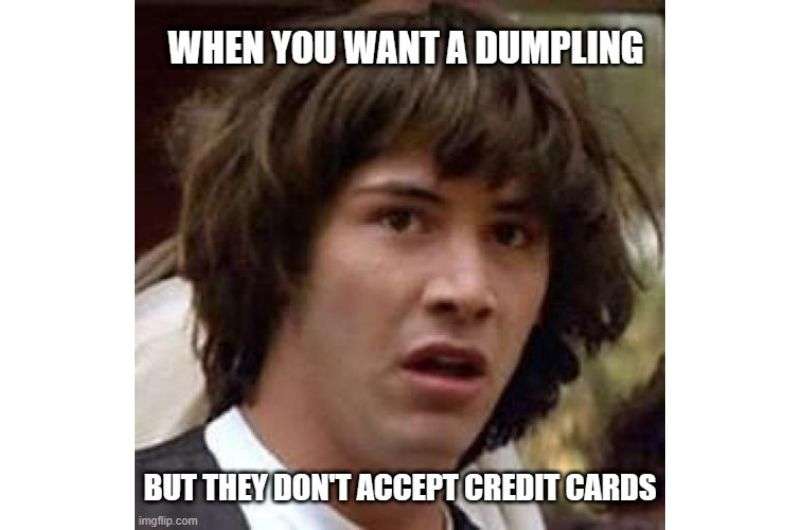 Lesson learned: If you don't want to have a hungry wife, always carry cash.

There is a restaurant at the top of the mountain. And the restaurant has dumplings. The fact that my wife wanted one really bad made us almost sprint to the restaurant from the bottom of the mountain, our credit cards ready in our pockets, ready to buy the dumpling the second we enter the restaurant.
We climbed the steep slopes twice as fast as the official recommendation, the thought of dumplings driving us forward. Trust me that it was a disaster of epic proportions when we found out that the restaurant only accepts cash. Take my advice, every time you travel somewhere, have at least some cash with you. Trustworthy ATMs and card acceptance are not always commonplace. Read about other useful travel hacks in a separate article.
Tip: Are you a foodie? Learn about traditional dishes in Spain, or find out what is good (and not so good) in Mexico!
2. The views are stunning
Don't believe me? Look at the most beautiful thing you've ever seen:
And then take a look at the mountains.

From the Eagle's Nest, you can admire epic views of Watzmann and Königssee, and, on sunny days, even those of Salzburg in the distance. Few things compare to them. You can break the journey at several viewpoints, just as I did, breathe in the clear mountain air and sunbathe a bit.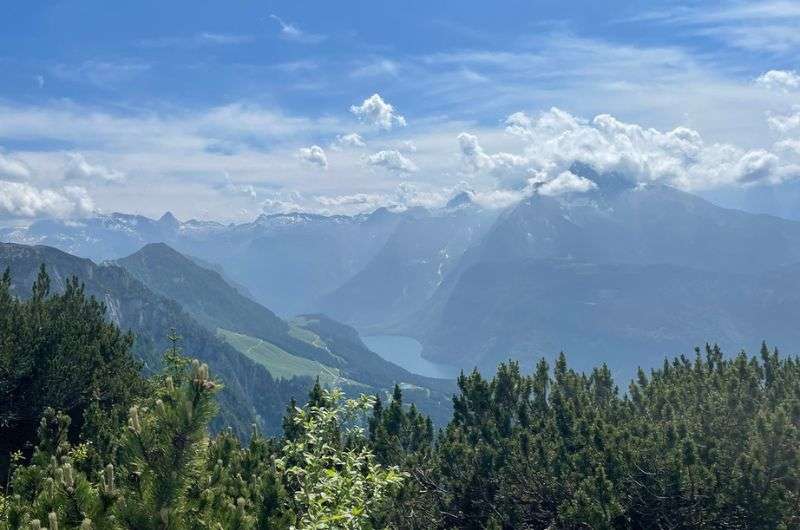 Just amazing...

These are the main landmarks you can observe from the top:
Watzmann
Königssee
Hochkalter
Hoher Göll
Jenner
Reiteralm
Untersberg
Salzburg

Our top tips for visiting the Eagle's Nest:
The hike only takes 2-3 hours, not the 4 they want you to believe
The restaurant only accepts cash!

3. It's in an awesome location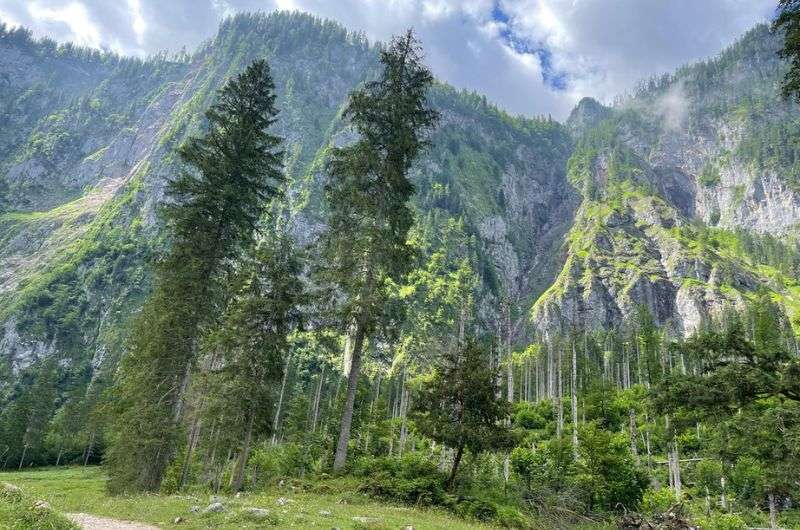 Eagle's Nest is a popular tourist target in Germany, and it's not hard to see why. It's located in Berchtesgaden, a national park that will leave your eyes open wide with awe. I thought Germany was pretty boring, nature-wise, but I admit I was wrong. Mountains and valleys, rivers and gorges, lakes and waterfalls... Berchtesgaden really shows us the power of nature. Good job, nature!
We thought it was so nice we have a whole post just about Berchtesgaden.
4. The historical significance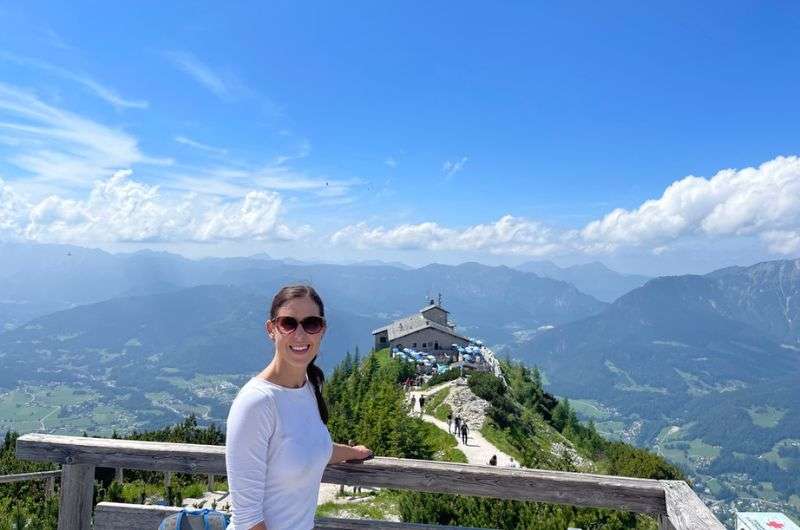 Karin and Eagle's Nest

Let's dust off your history knowledge and have a look at what happened in the Eagle's Nest. It was built in 1937 and given to Adolf Hitler as a gift for his 50th birthday. At least that's what some sources say, though the official Eagle's Nest website says that's not true. The other option is that it was built just as a power trip by the Nazis, simply because they could. I like mountain, I build completely unreasonable house on mountain. Also put elevator into mountain and need new road to elevator. That no problem—we are Nazis!
The construction took one year, and the building was finished in 1939. Back in the day, it was a truly unique construction, impressing visitors not only by its incredible location but also by its valuable furniture, including a marble fireplace given to Hitler by Mussolini.
The Eagle's Nest was used by the Nazi Party for meetings. However, Hitler wasn't very enthusiastic about his new toy (aka building). You know why? Because he was afraid of it. Allegedly, he was scared that he would get stuck in the elevator. He was also afraid of heights. What a great idea to build him a house perched on the edge of a cliff! At least Hitler's mistress and later wife, Eva Braun, enjoyed it there.
During the war, the Eagle's Nest was bombarded by western forces but survived. Nowadays, it's a sought-out attraction of dark tourism, offering a glimpse into the Nazi history. You'd expect a museum at the site, but nope, it's a restaurant that serves dumplings.
The Eagle's Nest also serves as a movie location for Hitler-themed motion pictures.
5. The Eagle's Nest restaurant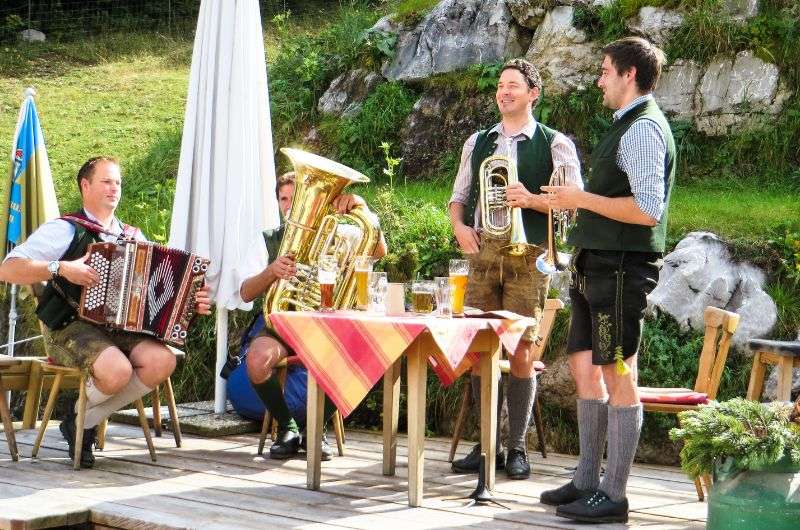 Bavarian party!

At the summit of the mountain, there is a restaurant. If you think it looks like something right out of a Hitler movie, you're right. The venue is famous from documentaries and photos of Hitler and eating there is an interesting experience. (At least I think it is, because as you know, I have NOT eaten there).
The restaurant offers German specialties such as dumplings, bratwurst or schnitzel, and if you're lucky, you'll experience a Bavarian party just like the one in the picture below.
Tip: If you enjoy good restaurants, you will definitely appreciate my research of restaurants in various destinations I've visited:
What happens at the top?
Once you get to the top, you still aren't at the top. There's a tunnel and elevator built solely to access the Eagle's Nest. If you took the bus up the mountain, your ticket includes the price of the elevator, so just follow the group into the tunnel.
If you hiked up, well, then you're screwed if you also want to take the elevator. You can't buy tickets for the elevator separately, so you have to hike the extra 10 minutes up on the path. Honestly the elevator is nothing spectacular, so you don't need to be sad if you miss it.
Alternative to hiking: Take the bus to the Eagle's Nest
A popular option is to take the bus to get up to the Eagle's Nest, and then hike down. Or just get back on the bus when you're done and don't hike at all. You'll be asked to choose a return time when you buy your bus ticket, so you can't wait and see until you're at the top to decide when you'll be done.
Either way, the bus is the way to go, since it's forbidden to drive your own car past the parking lot by the Dokumentationszentrum (Documentation Center). Everyone, including those that come here as part of a tour, take the same RVO buses for the 6 km ride up Germany's steepest road.
The special Eagle's Nest bus starts at Busbahnhof Obersalzberg, which is right next to the huge parking lot at the Documentation Center and departs every 25 minutes.
You can get nice views from the bus, especially if you sit in the front. It's a comfortable option for people who want to see the views and Hitler's Nest, but don't feel like climbing 900 meters (2,950 feet) of elevation gain.
The bus drops you off by the tunnel to the elevator.
All you need to know for an Eagle's Nest visit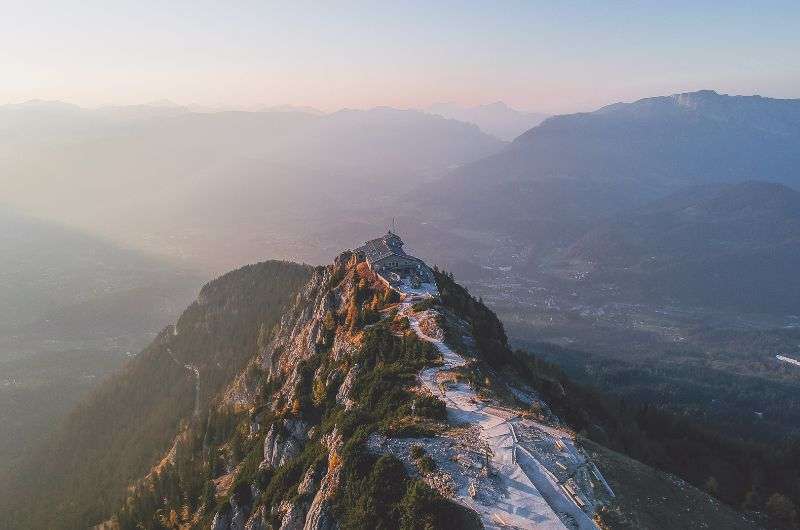 During our visit to the Eagle's Nest, we picked up a few useful pieces of info:
Prices
Return bus ride, including the elevator: 28 Euros (32.50 US dollars).
One-way bus ride, including the elevator: 22 Euros (24.50 US dollars).
English guided tour: 39.50 Euros (44.50 US dollars).
Hours
The bus rides up between 8:55 am and 4 pm. The last bus down leaves at 4:50 pm.
The Eagle's Nest is open from 8:30 am to 4:30 pm (closed in the winter).
Parking
Where to stay near the Eagle's Nest?
If you book accommodation through our link, we will get a small commission which helps us run this blog. It means no additional costs to you. Plus, booking.com makes it easy (if you want some tips on booking hotels in general, read this). These hotels guarantee you will sleep in comfort:
The stylish Almhotel Grünsteinblick
Caption: Almhotel Grünsteinblick stylish interior

Almhotel Grünsteinblick is very stylish. It's adults-only, the rooms have nice views of the mountains and breakfast is delicious. The hotel is located near Königssee, which is just several kilometers from the Eagle's Nest.
Prices start at USD 215 per night.
The modern Alpenresidenz Buchenhöhe
Alpenresidenz Buchenhöhe Hotel

More modern than the previous two hotels, Alpenresidenz Buchenhöhe is one of my favorites. It lies in Obersalzberg and offers private parking, continental breakfast and great views.
Prices start around USD 100 per night.
The luxurious Kempinski Hotel Berchtesgaden
The pool at the Kempinski Hotel with a great view of the mountains

Kempinski Hotel Berchtesgaden means luxury. It has an indoor and outdoor pool, wellness and fitness center and a restaurant. But be prepared to pay a pretty penny for it. Also, you have to book your room a lot in advance, as the hotel is usually fully booked.
Prices start at USD 360 per night.
The Alpen-style Hotel Grünberger superior
Enjoy sunbathing on the riverbank at Hotel Grünberger superior

Hotel Grünberger superior lies on the riverbank and offers Alpen-style rooms, sauna and an indoor pool. There is a sunbathing area by the river in front of the hotel, so if you want to get a nice suntan, this is a perfect fit.
Prices start at USD 150 per night.
This post may contain affiliate links. We earn a small commission if you make bookings through our links, at no additional cost to you. This helps us keep this blog free, thank you!