It's famous for its mountains, beer gardens, and Hitler-related history. Berchtesgaden is a great travel escape for outdoor adventurers who want to enjoy several days, or even weeks in the middle of the snow-capped Alps.
You might also be interested in reading:
Why is Berchtesgaden an ideal travel destination?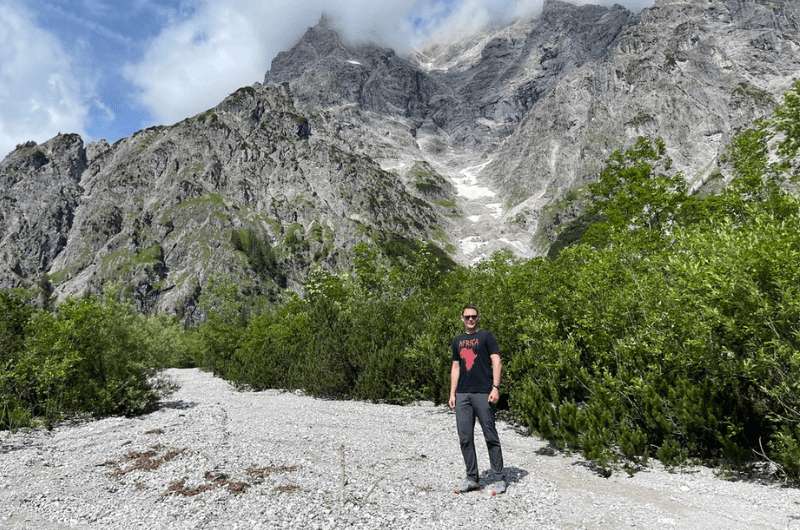 Me with goosebumps (you're going to have to trust me on that one)

In Berchtesgaden, everything is within a stone's throw away. You are able to get to anywhere you want or need, conveniently and relatively easily. Mountain peaks are just behind your windows, Austria's Salzburg is 25 km (15.5 miles) far, and Munich, the capital of Bavaria, waits for your exploration just 2 hours drive away.
Once you're fed up with mountain hikes, you can easily switch to culture, history or shopping. That's a pretty impressive package if you ask me!
The Alps in Berchtesgaden National Park aren't the highest mountains I've seen; but they certainly are dramatic. Jagged peaks rising towards the sky give you goosebumps even if they aren't the tallest in the world. Additionally, even though the altitude itself isn't that high (the highest mountain is 2,713 m—8,900 feet—tall), the elevation gain is notable.
Apart from beautiful sights, Berchtesgaden lures tourists with exquisite food and local beer, which nobody can resist.
For more interesting places in Germany, check out our articles about the fairytale castle, Neuschwanstein, or the second-largest city in Bavaria, Nuremberg.
Enjoy sunbathing on the riverbank at Hotel Grünberger in Berchtesgaden

The destination is geared towards the well-off crowd, with hotels offering prices around USD 235 per night. You can check out the hotels in the region here.
Tip: Hotel Grünberger superior lies on the riverbank and offers Alpen-style rooms, sauna and an indoor pool. There is a sunbathing area by the river in front of the hotel, so if you want to get a nice suntan, this is a perfect fit.
Whether you're an outdoor adventurer, history geek or food connoisseur, you won't be disappointed. This is our recommendation for 10 top things to do in Berchtesgaden:
10. Berchtesgaden restaurants
There she is: the world's best duck (as decided by me) at Holzkäfer

Beer and schnitzel are the bread and butter of Bavarian cuisine. We've discovered two heaven-like Berchtesgaden's restaurants and would like to share our experience with you!
The best duck of my life
We've heard some good recommendations about Holzkäfer. And good it was indeed! The restaurant is so popular that you won't get a seat without a reservation, and the food was so delicious that we went there twice.
I had duck with sauerkraut and dumplings, and I swear it was the best duck in the world. The next time I ordered schnitzel and it was delicious as well. The restaurant even brews its own beer.
Budget about EUR 70 (USD 82) for a dinner for two. Holzkäfer's website is only in German.
An exquisite restaurant in the center of Berchtesgaden
You don't need a reservation to dine in Gasthof Neuhaus. It lies in the very heart of Berchtesgaden, a few steps from the beautiful Berchtesgaden Castle, and is ideal for a beer or two with friends. The restaurant is spacious and popular, and you'll need about EUR 60 (USD 70) for a dinner for two. Check out Gasthof Neuhaus on Tripadvisor to read reviews.
If all else fails—Salzburg
In the end, you don't need to eat at a Berchtesgaden restaurant. You can be international and hop and skip over the border to Austria and pay the city of Mozart a visit. The choice of restaurants in Salzburg is much wider and you will be able to find something to suit even the most niche of tastes.
It will take you only 35 minutes to drive to Salzburg from Berchtesgaden.
9. Berchtesgaden day trip: Munich
Munich

A lively metropolis that pulses with clubs, bars, shopping malls and cultural events just two hours from Berchtesgaden: Munich, the capital of Bavaria. The city is home to 6 million inhabitants in its metro area, and is a big change from the tranquility of Alps.
In Munich, there are limitless options. You can party hard until dawn. You can eat in fancy restaurants and visit hipster cafés. You can stroll in the Olympiapark or in the English Garden Park. You can admire significant churches and cathedrals. Or, you can surf on the artificial waves in the middle of Munich:
Surfing in Munich? Sure!

How cool is that? That's why the trip to Munich is a perfect thing to do in (but not really in) Berchtesgaden! If you want to stay overnight, check out Best Western Hotel in Arabellapark.
8. National Park Center: The House of the Mountains
House of the Mountains in Berchtesgaden

The House of the Mountains is Berchtesgaden's visitor center. It's an architecturally interesting building (former hotel) that will catch your eye immediately. Once you step in, you'll find yourself in a museum dedicated to Berchtesgaden and to the Alps in general.
The exhibition educates about the waters, forests, meadows, and peaks of the national park. Even though I'm not a museum fan, I really enjoyed this one. The admission fee is EUR 3.5 (USD 4) per person with the Guest Card.
Our top tips for visiting Berchtesgaden:
7. Watzmann Therme
Problem: Your feet ache. Solution: Watzman Therme. Bonus: Your eyes won't hurt either.

What to do in Berchtesgaden when you want to relieve your protesting feet? Visit Watzman Therme, the thermal baths in Berchtesgaden! You'll experience an awesome two-hour relaxation for just EUR 12 (USD 14) per person.
The baths contain indoor and outdoor pools, saltwater pools, water attractions, and six different saunas. All of that with a beautiful view of the snow-capped Alps.
Either come here after your hike to chill or at the beginning of your trip to get hyped for trekking. The views are really nice and some lazier folk might even toy with the idea of being content with just looking at the Alps from the comfort of a warm pool. No judgement here.
Tip: Just across the river from Watzman Therme, there is Landhaus Freund, a small traditional hotel where you can continue your resting after relaxing in the baths. I'm starting to sound like a senior citizen with all the nap time! I actually always hike, I promise! I hate being bored. (Proof: hikes in Chile, hikes in Mallorca, hikes in South Africa... and there's way more where that came from!)
6. Rossfeld Panorama Strasse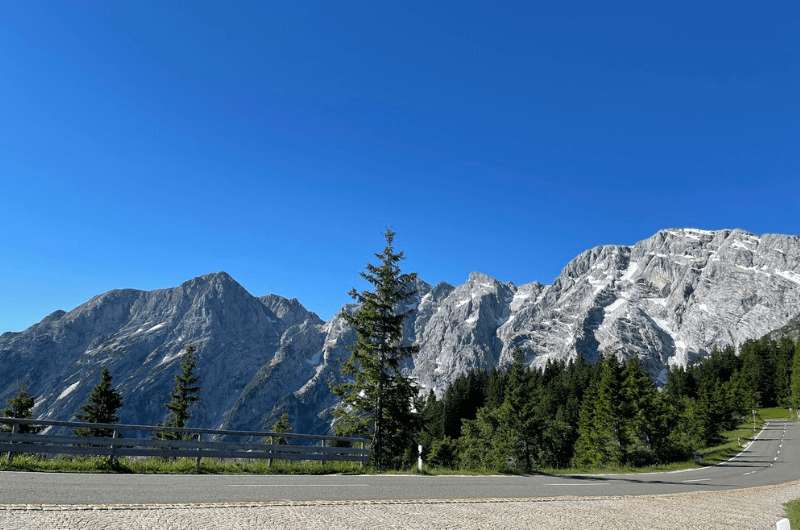 Rossfeld Panorama Strasse is a panoramic road winding on a mountain ridge on the German-Austrian border. It's a really nice ride, taking only 20 minutes without stops and costing EUR 8 (USD 9.5).
But stop you will, taking photos of the mountains and selfies of yourself and the mountains. They'll all look the same in the end, we all know that, but who can resist a good mountain pic?
From the viewpoints, you can enjoy the views of the Eagle's Nest in Germany, and the Tennen and Dachstein mountain ranges in Austria. Various hiking trails start from the road, and several refreshment opportunities along the Strasse will ensure you won't starve.
5. Wimbach Gorge (Wimbachklamm)
The stunning Wimbach Gorge

Wimbachklamm is a stunning Berchtesgaden trip; it's a beautiful gorge and an even more beautiful valley. The hike starts at Parkplatz Wumbachbrücke in Ramsau bei Berchtesgaden, goes through the gorge (USD 3 per person), and continues to Wimbachgrieshütte.
Some of the hikers are really good looking

We went on the hike and were positively overwhelmed. Epic views surrounded us from all sides. After 8 km (5 miles) and 700 m (2,297 feet) of gained elevation, we got to Wimbachgrieshütte where we had a lunch. It took us four hours to walk there and another two hours to walk back. The 2 EUR (USD 2.2) entrance fee could've been 10x as high and it would've still been worth it.
Tip: If you want to find accommodation near Wimbach Gorge, check out Hotel Alpenresi.
4. Berchtesgaden Salt Mines
Salt Mines in Berchtesgaden are still in use

Berchtesgaden's salt mines are still active; they've been used without interruption since 1517. Five centuries of history attract numerous visitors who want to experience at least part of the salt miracle.
Guided tours in the mines are one hour long, and take visitors to miners' slides, a salt cathedral and a salt lake. A salt shop is located next to the caves so that you can buy salt-related souvenirs, such as crystal lamps. You do want a salty lamp, right?
Tickets cost EUR 20 (USD 24) per person, but families get huge discounts. Get your tickets online to avoid lines at the ticket desk.
3. Berchstesgaden National Park Hike: Watzmann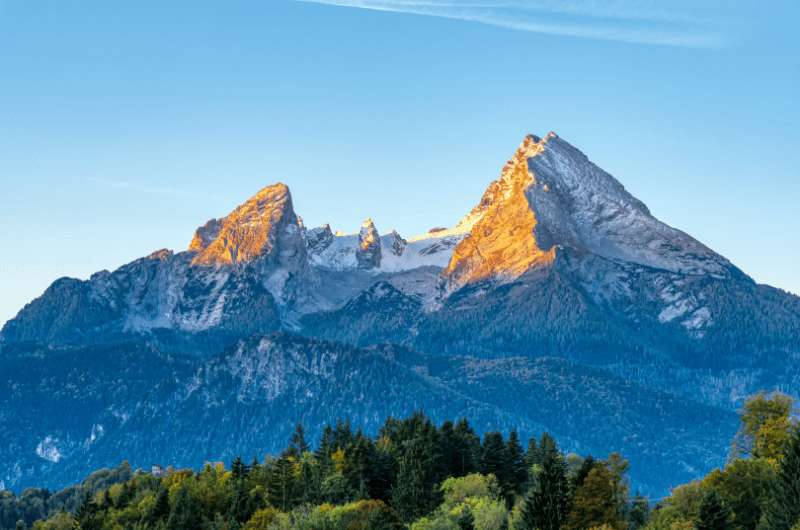 Watzmann Peak—a cruel family turned to stone or a giant's snack?

Watzmann is the dominant peak in the Berchtesgaden National Park. Its unusual shape is unmissable. A legend says the mountain is a cruel royal family cursed by a shepherdess to turn into stone. And cruel it really is—towards all who want to climb it. To me it looks like a giant took a bite out of the tip of the mountain. Everyone needs to snack while hiking, after all!
The hike to Watzmann is one of the most beautiful and at the same time most challenging in the Berchtesgaden National Park. The trail is called Watzmann Via Ferrata, is 23 km (14 miles) long and has an elevation gain of 2,000 m (6,562 feet). For conquering Watzmann, you need approximately 14 hours. And lots of steam.
The trail starts at Wimbachbrücke Parkplatz and goes up to Watzmannhaus, where you can sleep. If you decide to continue, the hard part comes. You need to climb up a steep rocky slope to Hocheck, and subsequently to Watzmann Traverse. After you reach the peak, you'll head the same way back.
Just remember the hike can get dangerous, as the trail is not well signed, the slopes are steep, and snow can surprise you at the high altitude. If you're not in great shape, just hiking to Watzmannhaus and then back down might be enough for you. The views will be stunning nevertheless!
2. Berchtesgaden day trip: Königssee Lake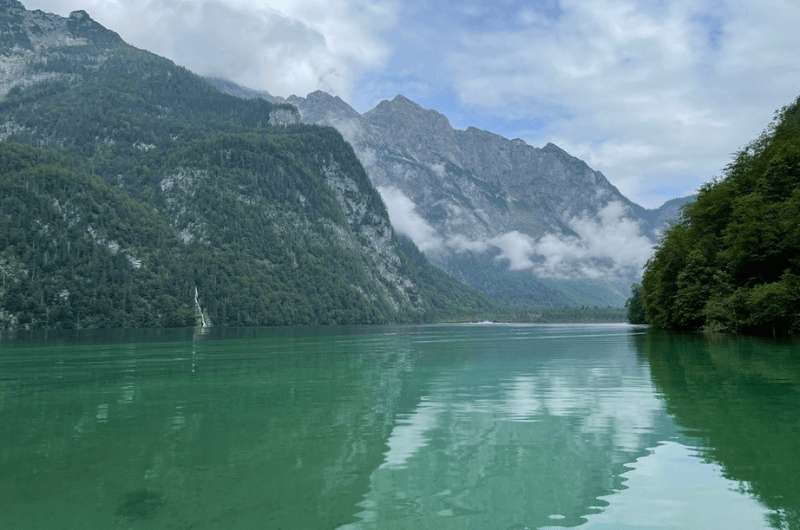 Ladies and gentlemen, the King's Lake!

A day trip to Königssee is undoubtedly one of the best things to do in Berchtesgaden! It lies only 15 minutes by car from Berchtesgaden and is absolutely worth a visit. Königssee is a natural lake, the third deepest in Germany and 7.7 km (4.8 miles) long.
We parked our car in Schönau am Königssee, the town on the northern tip of the lake. The parking lot is called Königssee Parkplatz and costs EUR 8 (USD 9.5) per day. An advantage is that the Parkplatz is located just next to Jennerbahn—a viewpoint of the Eagle's Nest, Watzmann and the rest of the Alps.
A super expensive cableway leads up the mountain. The spacious gondolas are modern, from 2019, and cost EUR 38 (USD 41) round trip, and beer is sold all around.
It takes 10 minutes to walk from the parking lot to the Königssee Lake. You can take a trip across the lake on board of an electrical boat. We did. It costs EUR 23 (USD 27) per person with the Guest Card, and you can buy the tickets online so that you don't have to waste your time on the spot.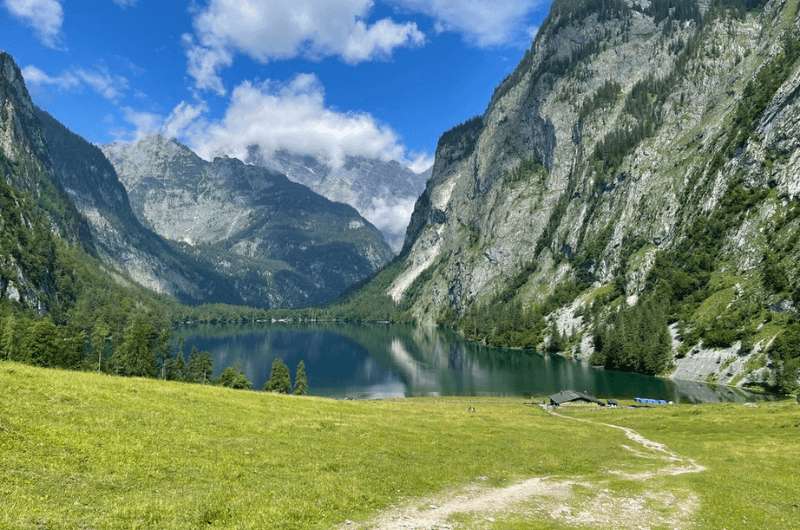 Obersee is not too shaby either

The ship brought us to the other tip of Königssee, where we got off and took a short, 20-minute walk to Obersee. Then we continued another 30 minutes to Fischunkelalm, a farm with delicious food and fresh milk, and other 20 minutes to Röthbach Waterfall.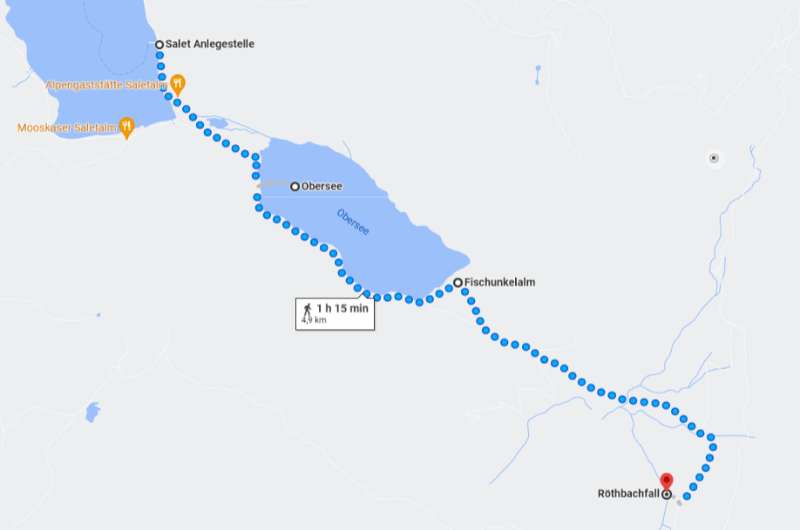 Trail from Königssee to Röthbach Waterfall

The only downside is the cruise itself. On the way there, you are enthusiastic and take photos. On the way back, you're just bored. You've already photographed everything, the ship goes slow (one journey takes about an hour), and you have no chance of catching mobile signal to pass the time by checking how many likes your trip pics have gotten on social media.
I hope you like wood! Almhotel Grünsteinblick

Tip: Does Königssee look so good you want to spend another day there? Look at the beautifully traditional Almhotel Grünsteinblick. It's adults-only, the rooms have nice views of the mountains and the breakfast is delicious. The hotel is located near Königssee.
1. Eagle's Nest
Karin and I, happy to be at the top, but sad that we didn't get dumplings in the restaurant

There are three basic facts you need to know about the Eagle's Nest:
It sits on a summit at the elevation of 1,834 meters (6,017 feet).
It was built in 1938 for the Nazi Party's meetings.
People often think it was Hitler's residence. It was not. The truth is that Hitler suffered from the fear of heights and visited the Eagle's Nest 14 times altogether. The Nazis just built it there because they wanted to show off.
We have a whole article on the Eagle's Nest if you want details about how to get there and what we liked and disliked.
The basics are this:
You can choose from two ways of getting up: by bus, or on foot. We decided to not be lame and set off on foot from the parking lot under the hill: Scharitzkehlstraße 10-12 Parking.
The elevation gain was a little over 900 meters (2,950 feet), and after hiking our brains out of their slumber, we thought the bus maybe wasn't such a lame option. Our calves hurt for another 3 days. However, the trail was beautiful, and took only two hours, even though it was quite steep and tricky.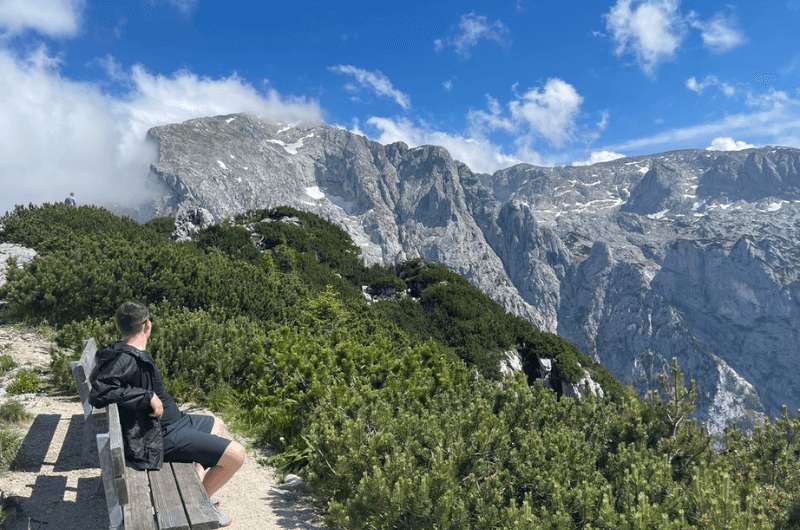 These views made out achy legs worth it

During the whole hike, Karin was tirelessly talking about getting a sweet dumpling once we reach the restaurant at the top. Once we did, we found out the restaurant accepted only payments in cash, which we didn't have. Absorbing this painful realization was hard, especially for Karin.
How much time should you spend in Berchtesgaden?
It depends. If you want to see the best of Berchtesgaden and then move on, you'll need three to five days. But if you want to go on several hikes and explore every corner of the national park, you can comfortably spend two weeks in Berchtesgaden. Such a small area, so much to do!
Save money in Berchtesgaden
Money doesn't grow on trees, and even if you have enough, it's nice to save some with a trick or two up your sleeve. In Berchtesgaden, the trick is hidden in a Guest Card. With that card, you'll get discounts almost everywhere. And not insignificant ones; the discounts are usually 10–20% of the original price.

This post may contain affiliate links. We earn a small commission if you make bookings through my links, at no additional cost to you. This helps us keep this blog free, thank you!