I've put together a list of the 11 best lakes in Bavaria, and let me tell you, they offer way more than just crystal-clear waters and Instagram-worthy photo spots.
Now, if you're picturing a solitary nature hike surrounded by mountains, lakes, and trees, think again. Many of Bavaria's lakes, especially those near Munich, are popular tourist destinations, and you'll often find more people there than in the town square. Still, their visit is well worth it, you just need to have your expectations in line with reality.
1. Königssee
Königssee is number 1 on my list

The mountain lake Königssee, nestled in the Berchtesgaden National Park, takes the gold medal for the most beautiful lake in all of Bavaria. Why, you ask? Well, it's got quite a few aces up its sleeve. Sitting at an elevation of 600 m (1 969 ft) and plunging 188 m (617 ft) deep, it's the highest and deepest lake in all of Germany. Its crystal-clear waters also earn it a spot among the cleanest lakes.
I think the best way to explore Königssee and its surroundings to the fullest is by taking a boat ride across the lake. You'll witness scenic landscapes that have inspired many artists—look out for the viewpoint known as "Painter's Corner", cruise past the Königsbachfall waterfalls, and even catch a glimpse of the famous Eagle's Nest, Hitler's former hideaway. Detailed information on where to park and the cost of the boat trip can be found in my 1-week Bavaria itinerary.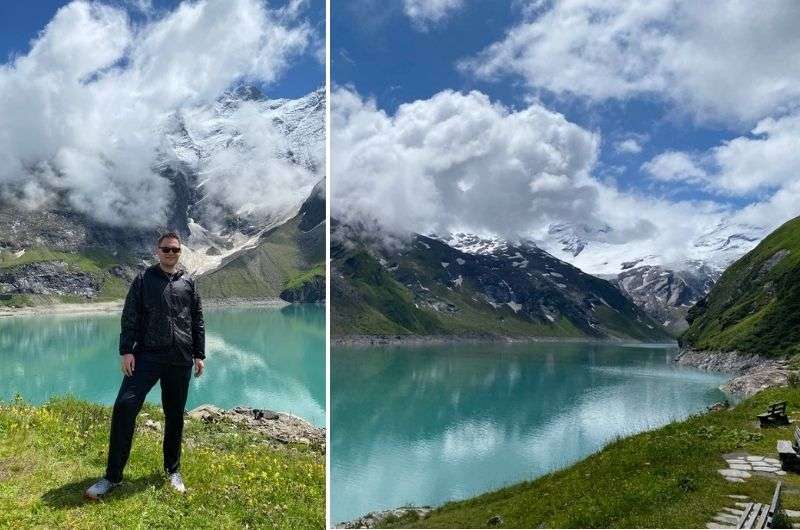 I loved exploring lakes in Bavaria!

The boat will take you to the Hirschau Peninsula, home to the pilgrimage chapel of St. Bartholomew, the patron saint of alpine farmers, dating back to the 17th century. If you're up for more than just a boat ride, I recommend a hike to Eiskapelle, beneath the towering Austrian rock wall of Watzmann, where a stream forms a pretty cool ice cave that resembles a chapel.
But the trip doesn't end there; you're continuing onward toward Salet. The boat will ferry you to the opposite end of Königssee, where you can take a short walk to the neighboring Obersee Lake. Speaking of which...
Note: When you've made it here, you must also make it back. My recommendation: Take a book with you, as the boat ride lasts over an hour. But all the things worth seeing, you've already seen on the way there and it could be just a tad boring for some folks to see it all over again.
2. Obersee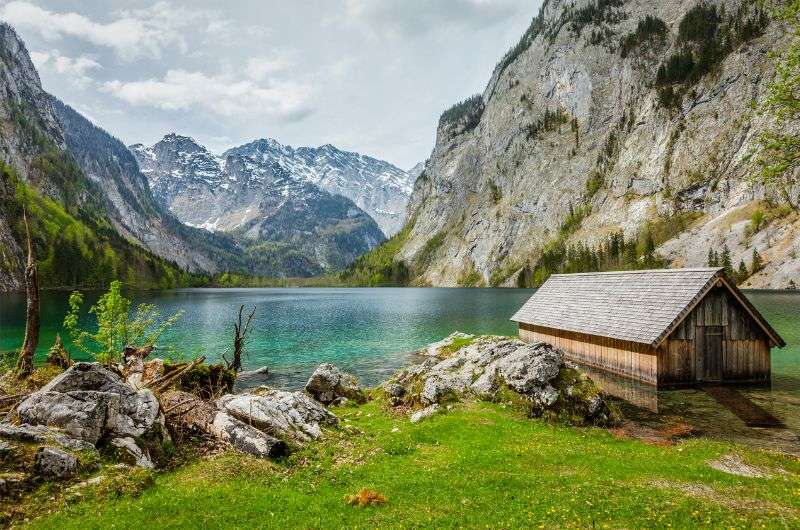 If you're in the mood for hardening off, jump into Lake Obersee!

With its crystal-clear waters and breathtaking natural surroundings, Obersee ranks among the most beautiful lakes in Bavaria, no questions asked. And as a little bonus, there's a fun Insta spot with a little wooden cottage where you'll want to take too many photos. Obersee might be smaller than Königssee, but it's a prime example of the saying, "Good things come in small packages"!
One of the absolute highlights of Obersee, in my humble opinion, is the well-known hiking trail that runs along the Obersee, guiding you to the Röthbachfall waterfall. Prepare to be amazed because this one is a jaw-dropping 470 m high! Compared to that, the Niagra Falls are a baby at 55 m (180 ft).
You can swim in both of the top 2 Bavarian lakes, Königssee and Obersee. Now, that might sound like good news, but I must admit, you'll need a bit of courage to plunge into the cold waters, unless you're a fan of dunking into cold water, you might not find the summer water temperatures satisfying. Even in July, when it's a toasty 30°C (86°F) outside, the lake water only reaches around 18°C (64.4°F).
Hotel tip: While you're in the Bertesgaden area, remember that there are a ton of things to do there (check out my Berchtesgaden guide). You'll also want to do yourself a favor and check into one of the best hotels in the area, the fabulous Kempinski Hotel Berchtesgaden. It has an amazing interior and epic views. We stayed there for 2 nights on our last visit and couldn't have been happier.
3. Chiemsee
Lake Chiemsee—the "Bavarian Sea"

Remember, bigger doesn't always mean better. I won't go out on a limb and say that Chiemsee is the absolute best lake in Bavaria, but it's undoubtedly the biggest, and it rightfully earns its spot in my top 11 list (remember, I'm a picky fella, so coming in at no. 3 means it's truly wow-material).
Situated in southern Bavaria, just a stone's throw from Rosenheim, this lake covers a whopping 79.9 km2, earning it the moniker "Bavarian Sea". Not only is Chiemsee one of the best swimming lakes in Bavaria, you can also get into cycling and mountain hiking in the area. But the main draw here is the trio of islands that grace the lake:
Herreninsel, spanning 238 hectares, takes the crown as the largest island on Chiemsee. About 30 permanent residents call this place home (is it just me or does that still sound a little too crowded?). The island's claim to fame? None other than Ludwig II of Bavaria. In the latter half of the 19th century, he had a replica of the Palace of Versailles, known as the Herrenchiemsee Palace, constructed on the island. It's not exactly my cup of tea, but if you fancy gaudy extravagance with marble, crystal chandeliers, gold, and precious fabrics, then you'll be thrilled with the palace's interior. I mean nice island but the best thing about it was its history for me.
The second, smaller island is Frauenchiemsee (aka Fraueninsel), which you can traverse in about an hour. That's why the island's approximately 15 residents don't bother with cars. The island's main attraction, and the only thing that is worth a visit, in my opinion, is the active Frauenchiemsee Monastery, also known as Frauenwörth, founded by Bavarian King Tassilo III in 782.
The Frauenchiemsee

The last and smallest island is Krautinsel. It's uninhabited and serves solely as a pasture for local wildlife. The most interesting thing about it? Its name in German means "Herb Island," because back in medieval times, they used to cultivate herbs and vegetables on it. If you need that translated, it means that you can skip this island altogether since there's nothing interesting there.
And you better hurry if you want to visit Chiemsee—the lake has been gradually shrinking, and currently, it's only about a third of its original size. It formed during the Ice Age some 10,000 years ago, covering a whopping 240 km² at its peak. Over the past century, its water surface has shrunk by approximately 2 km². So, get there while you still can! (I'm joking, obviously, it's not like anyone's pulled the drain or anything.)
4. Alpsee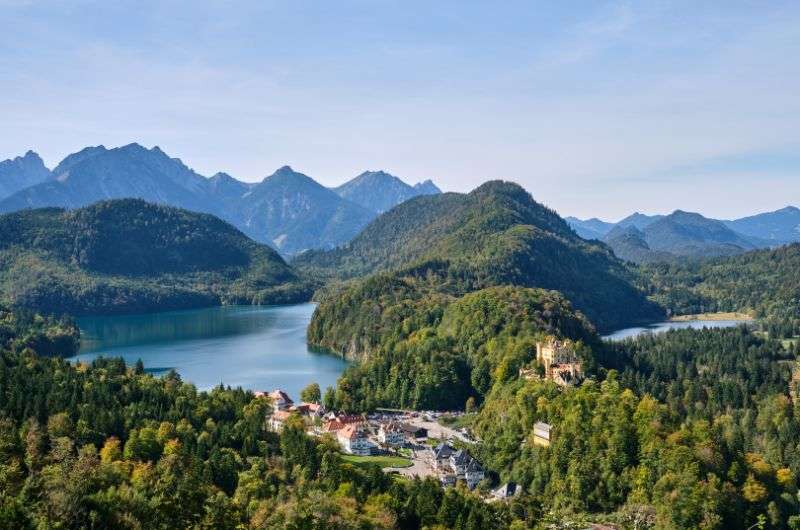 Alpsee near Hohenschwangau

Alpsee is located near the mountain village of Hohenschwangau in southern Bavaria. Apart from taking a refreshing dip or strolling along its shores, you can also rent a little rowboat and paddle around. Doesn't that sound lovely and... slow. What I can recommend is to take a walk around the lake; it's a relaxed stroll that takes about an hour and a half. Not many of the lakes mentioned on this list allow you to comfortably walk all the way around, so take advantage of Alpsee and put your walking legs on!
I've included this lake on the list mainly because it's in close proximity to the Hohenschwangau and Neuschwanstein Castles. You know, I enjoy it when there's more to see near a lake than just a lake. After a few minutes and several photos, even the most picturesque view can start to get boring really fast.
And, once again, I've got to mention Ludwig II. You see, Hohenschwangau Castle was his birthplace and childhood home. A bit further down the road stands Germany's most famous and visited castle, Neuschwanstein. Since he was a young lad, Ludwig II dreamt of building his own castle on a rocky hill he stared at every day. As they say, "dream big"! So, in 1868, construction began, and although it was never completed due to Ludwig's dethronement and subsequent passing 17 years later, it's still absolutely worth a visit.
Opening times: April—October 15th: 9 am to 5 pm (to 6pm for Neuschwanstein castle), October 16th-March: 10 am to 4 pm
Prices: Guided tour Neuschwanstein castle is EUR 15, guided tour Hohenschwangau castle is EUR 21
5. Ammersee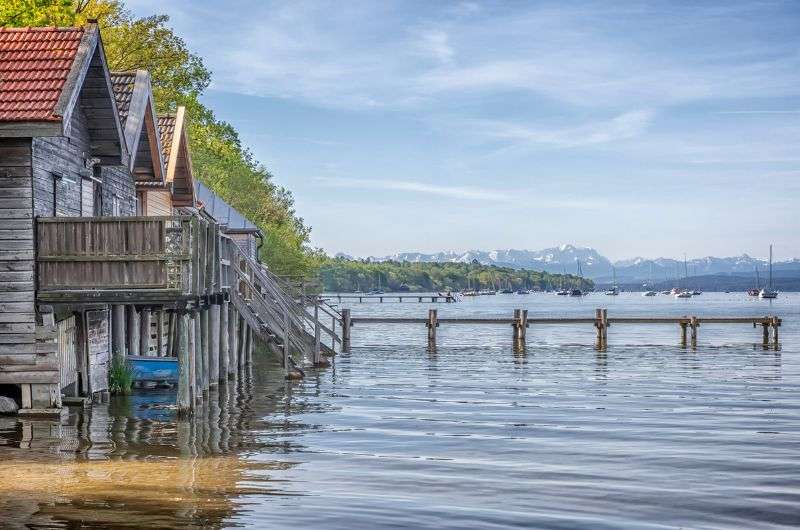 Ammersee is not just about looking at the lake—you can try sailing, surfing, spa etc.

Ammersee, a Bavarian lake near Munich, is just a half-hour drive away. So, if you're planning a trip to Munich and need a quick escape from the city's craziness, Ammersee is the perfect getaway. It's the third-largest lake in Bavaria, and besides offering stunning views of the Bavarian Alps, it's packed with things to do.
First of all, it offers a variety of water activities that'll keep any sports enthusiast entertained for hours. It's an ideal spot for sailing, windsurfing, and even a bit of surfing up at the northern end of the lake (visit in the fall if surfing is what you're after). From the shore, it's really funny to see a crowd of people bobbing in the water and above it, attempting to engage in water sports.
Outside of the water, the spa town of Herrsching lies on its shore. It's a well-loved and consequently very crowded little place that offers sports, cultural activities, and you can check out attractions like St. Martin's Church or the neorenaissance-style castle.
Again, I always like my lake day trips to offer more than just some pretty water, which is why Ammersee could be a great place to visit for anyone of a similar travel style.
6. Tegernsee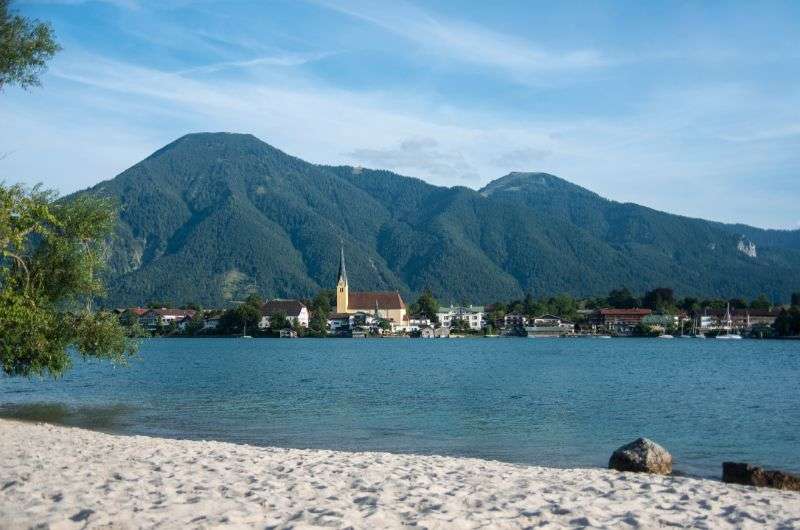 Tegernsee

Tegernsee is a lake where I could easily spend more than just a few days. It's loaded with hiking, travel, sports, and cultural attractions (and by now, you know that's a huge plus for me). Whether you're up for a strenuous hike or just a leisurely stroll, the Tegernsee area has it all. Plus, you can try your hand at almost any water sport you fancy.
What's more, it's undoubtedly one of the best Bavarian lakes for a swim, not only thanks to its crystal-clear water but also its accessible pebble beaches that line the lake. The Tegernsee's typical water temperature varies from 3°C (37.4°F) in the winter to 22°C (71.6°F) in the summer.
The region around Tegernsee is a hotspot for tourists, so finding accommodation here is a piece of cake—try the Bio Design Boutique Landhaus St Georg with a modern, sleek design of their rooms. Or, if you prefer more German-kitsch vibes (not sure why you would, but...), Hotel Leeberghof earns points for its lake views.
And if you're in the mood for traditional Bavarian taverns, cafes, and plenty of restaurants, well, you're in luck as well.
Now, what's there to do around Tegernsee? Head to Wallberg, the highest peak in the vicinity at 1,722 m (5,650 ft). You've got two options to get up there: either hike it yourself or take a cable car ride that drops you off just under the summit. And to get back down, you could even try paragliding! Jumping off the peaks overlooking Tegernsee, soaking in the views of the lake and the mountains, anyone? I mean, I haven't tried it myself because I'm not crazy, but I know some people on here are, and I love you for it!
7. Starnberger See
You can bathe in the Starnberger, cycle around the Starnberger, visit the Starnberger castle...there is just so much of Starnberger to experience!

In the Würm Valley, not far from Munich, lies Starnberger See, a lake that's interesting not just for its history but also its surroundings. What that means is that it's a popular recreational area, so be prepared for lots of people and not so much peace and quiet.
Circling the lake, there's a 55 km (34 mi) cycling path. Along the way, you should definitely make a stop in Starnberg itself. So, what's to see in Starnberg? A castle, which currently serves as a financial office (exciting, I know), castle gardens, and St. Joseph's Church, to name a few. Even though the castle might not scream 'thrilling,' the picturesque views and the sense of stepping back in time will make you appreciate it.
Let's talk a bit about history, shall we? Because it has become apparent that in this article, it's not just about Bavarian lakes but also a bit about the life of King Ludwig II. Remember how I mentioned that the Neuschwanstein Castle didn't get completed due to the king's death? Well, Ludwig II met his demise by drowning in Starnberger See. His death remains a mystery, and it's given rise to many conspiracy theories. You can see a wooden cross and a chapel in the spot where the poor lifeless king was found.
Pro tip: On the lake, you'll find the famous Roseninsel (island). It features the remains of prehistoric pile dwellings, which are even part of the UNESCO World Heritage. These wooden homes on tall stilts were built before our calendar even began, and thanks to the marshy ground, their remnants are still preserved. Go check them out if you're visiting Starnberger See.
8. Bodensee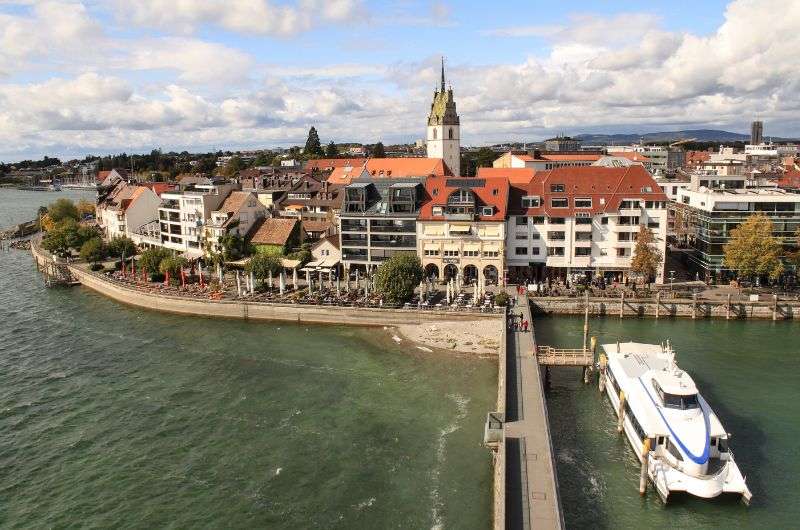 Bodensee aka Lake Constance

Bodensee (also known as Lake Constance in English) is the third-largest freshwater lake in central and western Europe. If you want to be a smarty pants and object that it isn't even in Bavaria, sit back down. Technically, you're right, but part of its shores belong to Germany, so I decided to include it in my list anyway.
Let me share what you can do and see on its Bavarian banks, and whether you decide to cross into Austria and explore the lake further, that's up to you. It's certainly worth an international trip!
Bavaria's domain includes the historic Lindau Island. This island is one of the most beautiful and beloved tourist destinations on Bodensee. I must say that Lindau Island captured my heart instantly with its narrow alleyways, historic buildings, and picturesque harbor. The harbor is the starting point for boat cruises on Bodensee. In the harbor you'll also find the 22-meter-high (72 ft) Mangturm tower, which was built in the 12th century and originally served as a lighthouse. Today, there's a new lighthouse that's even taller at 33 m (108 ft), offering a fantastic view of the lake.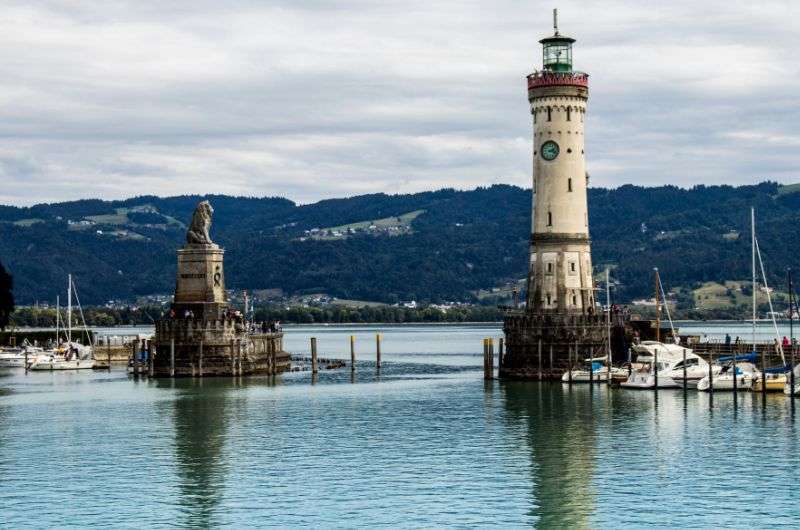 The new lighthouse on Lindau Island

While wandering through Lindau, make sure to visit Reichsplatz, the town square where the fish market used to be held. Here, you'll come across several interesting sights, like the old town hall from 1422, adorned with colorful frescoes. Not far from it stands the Lindavia Fountain, made of light red marble. The fountain features four statues symbolizing the industries that have been significant for the town throughout history—shipping, fishing, winemaking, and agriculture.
9. Eibsee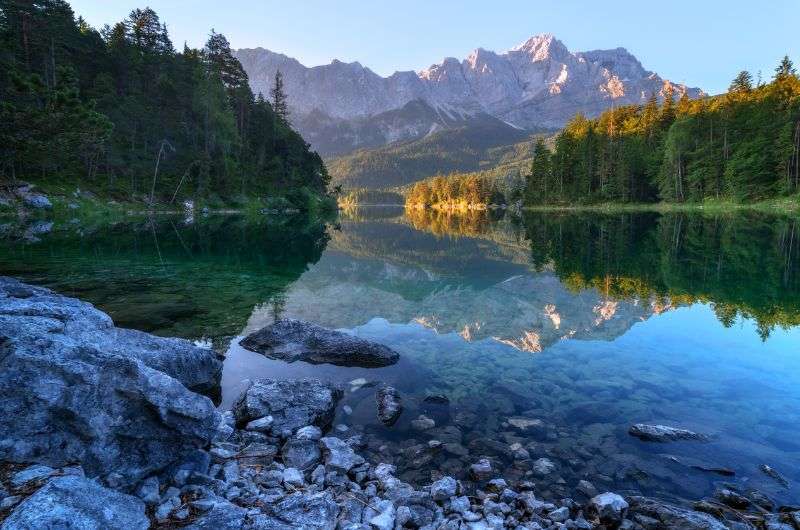 Eibsee takes you back to nature

As one of the most beautiful lakes in all of Bavaria, Eibsee's scenery is breathtaking, with its emerald waters and gorgeous surrounding nature. If you're looking for solitude (or a bit of romance), this lake and its surroundings are the perfect place... especially because you'll easily find a spot without that many people around you. It's always nice to not have to have that special memory captured in a photo with 30 other people.
To be perfectly honest, a lot of Bavarian lakes offer stunning views, but what makes this lake exceptional is its strategic location at the foot of Zugspitze, Germany's highest mountain.
Do you want to know where you can get the best view of Eibsee? Well, you guessed it, from the summit of Zugspitze! Don't worry, I'm not going to make you hike all the way up there. Instead, I recommend one of the most modern cable cars, the Tiroler Zugspitzbahn, which takes you effortlessly to the top. Plus, you'll experience several records along the way. You'll cross the world's highest steel cable car support, towering at 127 m (417 ft), and cover the highest total elevation difference of 1,945 m (6,381 ft). I just love the mountains, don't you? But yeah, lakes are nice, too.
Zugspitze cable car prices: ascent + descent in the summer is EUR 68, winter price is EUR 62
10. Funtensee
The cold, cold Funtensee lake

Funtensee is a small lake located in the Berchtesgaden National Park in southern Bavaria. Are you into Wim Hof's method? If so, you should definitely visit this inconspicuous lake. The area where the lake is situated is regularly recognized as the coldest region in Germany. In 2001, a bone-chilling temperature of -45.9°C (114.6°F) was recorded here, marking the lowest temperature ever recorded in Germany.
Why is the lake so cold? It's due to its geographic location and specific climatic conditions in the "kettle hole" in which the lake is located (a topographical feature that can trap cold air).
Another interesting feature of Funtensee is its distinctive and unique sound. You read that right—a noisy lake! The sound is described as a haunting and eerie noise that echoes across the lake and its surroundings. It's caused by the water flowing rapidly from the lake through a narrow channel and over rocky terrain. Spooky!
11. Walchensee and Kochelsee
Walchensee is the lake you go to when you're up for some hiking and Kochelsee is the one to chill out at

Walchensee is one of Bavaria's deepest and largest alpine lakes. Sitting right in the heart of the Bavarian Alps, it won't come as a surprise when I suggest it as the ideal launchpad for a hiking adventure. One of the crowd-pleasers here is the hike up to Herzogstand, perched at 1,731 m (5,679 ft) above sea level. And guess what? You've got a choice: you can huff and puff your way up on foot, or you can take it easy and catch a ride on the cable car, which will get you closer to the summit. From there, you can trek on foot to reach the peak of Heimgarten, standing tall at 1,791 m (5,876 ft) above sea level. And you thought you'd just be staring at a nice pool of water...
It won't be that hard to picture this scenario: you've just conquered a challenging hike, and you're yearning for some well-deserved relaxation. In that case, I recommend shifting your gears over to neighboring Kochelsee. Along its shores, you'll discover the Trimini aquatic center, complete with indoor and outdoor pools. It's the perfect spot to unwind and rejuvenate those tired muscles after your alpine adventure.
If you're not a passionate hiker, I suggest taking a leisurely stroll along the lake and stopping by a local restaurant, where you can enjoy a bratwurst. And if you're lucky, a traditional brass band might even play for you to complete the experience.
How many lakes are there in Bavaria?
There's a grand total of 109 lakes scattered around Bavaria. In fact, you could easily triple the size of this list because when it comes to lakes in Bavaria, they've got quite the selection! Most of these beauties are of glacial origin, thanks to the icy embrace of glaciers during the last ice age that sculpted these distinctive lake landscapes.
Can you swim in the lakes in Bavaria?
Here's the deal: you can take a dip in any of the Bavarian lakes on my list. The only potential buzzkill could be the water temperature. Since many of these Bavarian lakes cozy up to the alpine regions, the water can be significantly chillier than you'd find comfortable.
Another thing you should know about when it comes to some of these lakes is that access to the water can be tricky. See, the well-to-do folks from Munich love to escape the city for their peaceful alpine getaways. They invest in properties and lakeside houses, turning large parts of the shoes into private property. So, you'll have to find a spot with public access to get in the water, which can be easier said than done at some of the lakes I mentioned.
But hey, if you've had your fill of those blue lake waters, Bavaria has plenty of other fantastic spots to explore. You can draw inspiration from an itinerary that'll have you uncovering the best Bavaria has to offer in just one week.

This post may contain affiliate links. We earn a small commission if you make bookings through my links, at no additional cost to you. This helps us keep this blog free, thank you!