I want you to enjoy Dresden without resenting it for making you run around the city like a nut, so right off the bat I'm going to tell you that you won't be able to see everything on this list if you only have a day in Dresden.
Pick and choose your favorite attractions so you have enough time to explore Dresden's best places at a pleasant pace. Or wait! I can also help with that: see my Dresden itinerary.
If you're ready to book your stay, can I recommend the uber-cool hotel I stayed at? The mightyTwice Hotel is as unique as its name and is certainly a nod to Dresden's nickname, "Florence on the Elbe". If you're not ready to make reservations, at least scroll down to see the photos. The interiors are wild!
Is Dresden Worth Visiting?
If Dresden were just the Karl May Museum, I'd still be happy, so I may be a little biased. But I'm not at all excited about Baroque architecture, so that brings my excitement down a notch and averages it out to the final verdict of "Dresden is nice". I wouldn't go out of my way to see it, but if it's convenient for you, it's worth a day of your life.
Then again, you might be from a country where you can only see Baroque on TV, so for you, by all means, you'll enjoy Dresden.
These are what I think are the best places to visit in Dresden in a day (or two), in order of how much I personally enjoyed them:
1. Karl May Museum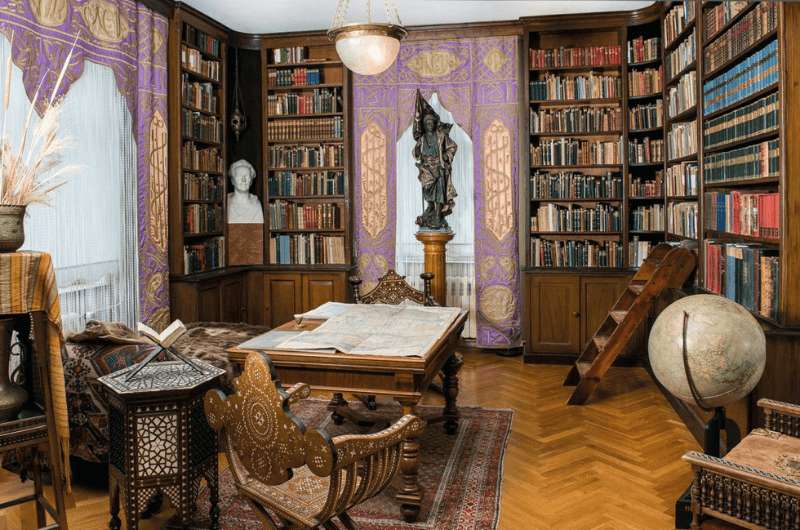 Karl May's office in the Karl May Museum
My absolute favorite place in Dresden (because my absolute favorite film when I was a kid was Winnetou) is the Karl May Museum—it's a must-see. You can imagine Karl May as a German JK Rowling—he is an iconic author that, were he alive today, would've caused an uproar on social media. But instead of kid wizards, he mostly wrote about the American Old West and the experiences of his alter ego, Old Shatterhand.
Tip: I love going to places that bring out childhood memories. Another place that made me fanboy was one of Scotland's castles, Eilean Donan. It was where Highlander was shot, and I could almost taste the horse sweat when I walked over that bridge onto the island!
He sold over 200 million copies of his adventure stories that, as was only revealed much later, were all fiction and not at all from his personal experience as Karl led everyone to believe. He may have been Old Shatterhand in his creative mind, but pretending to be him in real life? It was great while it lasted, having fooled everyone from the Archduke of Austria to Adolf Hitler.
Honestly, his sales skyrocketed after the story of his lies became breaking news, so who am I to judge. Great business plan, Karl!

Visiting Villa Shatterhand
The Karl May Museum in Dresden is located in the house where Karl May spent some of his earlier years, aka Villa Shatterhand. It showcases his life and work through original manuscripts, photos, various documents and fun interactive exhibits.
I recommend starting your tour of the museum from the back where there are exhibits on real Native Americans that include rare artifacts. You can then move on to learn how Karl May portrayed the West in his books.
The museum is located up in the northern boonies of Dresden in Radebeul, about 10 km (6 miles) from Dresden Old Town. Check the website for tips on how to get there by car, train, and tram.
Open Tuesday to Sunday 10 am–6 pm
2. German Hygiene Museum
German Hygiene Museum
I admit this is a surprising contender at no. 2 in my list of best places to visit in Dresden, but don't be deterred—it's so much better than you'd imagine. It's a cool, modern, interactive museum which just so happened to be showing possibly the most interesting exhibit I've ever seen. EVER!
I happened to be there for the temporary Artificial Intelligence Exhibition and I was captivated. It goes through AI use throughout history, from the intelligent robots and artificial beings in the myths of Ancient Greece to things like Spotify and Siri. Tons of info on apps and machine learning, a visualization of the flow of the internet, and how far we as humans still are from achieving real AI.
Another interesting, and, until March 2023, still ongoing exhibition is called FAKE—the whole truth. There are tons of interactive areas where you'll learn just how often you lie and about just how detrimental to society fake news can be. Again, super cool stuff.

Be safe. Be like elephants.
The permanent exhibition at the German Hygiene Museum is also great, though a lot of it is only in German (audio guides are available in other languages). It's conceived as an adventure into the human body and explores areas such as feelings, senses, sexuality, dealing with stress, and so much more. All done in a manner that tries to make your visit entertaining and hands-on.
It's easy to spend 3 hours at the German Hygiene Museum. The museum's website is really good, so you can see what's on before you visit.
Parking at the museum costs EUR 1.5 per hour/free during weekends.
Open Tuesday to Sunday 10 am–6 pm
Tickets cost EUR 10
It's becoming clear that you need to spend more than a day in Dresden, because the museums are just too good to skip. So, you'll need a hotel that'll elevate your experience. I humbly present to you my personal choice (that I am very happy to unhumbly recommend):

The MightyTwice Hotel Dresden is some of the best value for money I've seen for a hotel in Europe. I really liked my stay at this 4-star concoction of weirdness and luxury.
The pros:
Nice rooms and bathrooms
Music-inspired design throughout the hotel
Amazing breakfast (and I'm picky!)
Great parking
Loved the staff
The cons:
It's ugly on the outside. What, I couldn't find any real con.
It's located north of Old Town, about 15 minutes by tram or taxi.
Prices start at EUR 145 with breakfast.
Just so you know, I get a small commission if you decide to make a hotel booking through any of my affiliate links. I appreciate it if you do, you're too kind!
3. Transport Museum
Transport Museum
My top 3 for Dresden are all museums! You just can't go wrong with a museum in Germany—they're such good quality! Almost up to par with Belgium's fantastic museums.
The Transport Museum is 3 stories of exhibitions about all things transportation—cars, trains, ships, planes… all chronological and full of fun facts. Germany's history and excellence in the industry is tied in wonderfully throughout the museum without being too detailed and boring. I especially enjoyed the fact that they even included German war machines and didn't just skip over that part as if it never happened.
As a history buff and just an overall information addict myself, I thought it was a superbly well-curated museum. There's a great combination of text, audio, video and interactive portions that'll keep you interested from start to finish, no matter how old you are and how many kids you have in tow (zero is also a number).
I'd allot 2 hours to visit the Transport Museum. The location is smack in the middle of Dresden's Old Town.
Open Tuesday to Sunday 10 am–6 pm
Tickets cost EUR 11
4. Dresden Castle aka Dresden Royal Palace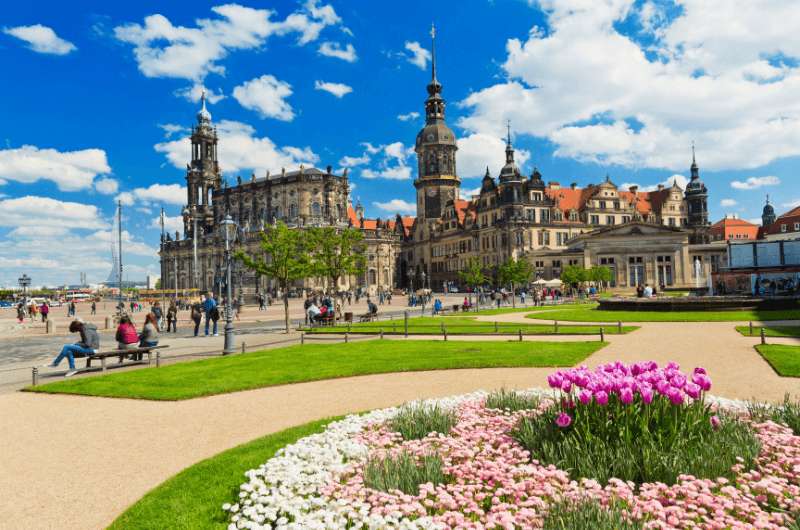 Dresden Royal Palace
Dresden's Royal Palace was almost completely destroyed during WWII, so we can call ourselves lucky that we are even able to see it at all today. After decades of reconstruction, the palace now serves as a museum complex for the Dresden State Art Collections, one of the largest in all of Europe.
Note: It's called the Dresden Royal Palace everywhere but on Google, which insists it's the Dresden Castle. Just so you know those two are the same thing.
There are 15 museums of various themes, from weapons and mathematical instruments to porcelain and puppets. You can visit the Dresden State Art Collection's website to see a good overview of the variety of museums on offer, as well as buy tickets for them there.
I recommend visiting the Historic Green Vault specifically (see the next item on this list), which is the only museum not on the all-inclusive day ticket. The New Green Vault is on the regular ticket.
If you want to focus mostly on what life was like for the hundreds of years that the palace served as a hub for those who were in power, buy just the Royal Palace ticket which includes the state apartments, the armor collection, the New Green Vault, the Hall of the Giants and the Renaissance Wing.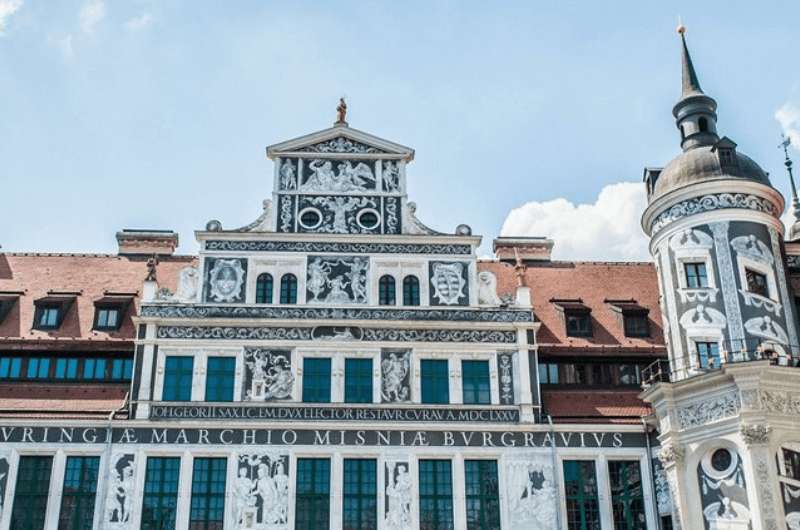 Dresden Castle
Don't forget to hike up the 327 stairs up Hausmann Tower to get a pretty sweet view of Dresden and take a good look around the courtyard to admire the sgraffito technique on the façade.
Open daily except for Tuesdays 10 am–6 pm
Tickets cost EUR 14 for the Royal Palace ticket, EUR 24 for the all-inclusive day ticket
5. The Green Vault (Grünes Gewölbe)
Grünes Gewölbe in the Royal Palace
The Green Vault is part of the Royal Palace, but it's sort of separate, because you need an extra ticket for it. I take that to mean it's extra special, confirming my placement of it on my Dresden's best places list.
The Green Vault is the palace treasury, meaning it's a place where you can find all things shiny. There are now two Green Vaults—a new one and a historic one.
The Historic Green Vault consists of 8 rooms that each look different, but they have one thing in common—they are elaborate! Each room focuses on jewels made out of a different material, and they are not housed in cases, rather being displayed openly, just like they were in the 1700s. Only in the Jewel room are the pieces under glass.
Because of the absence of cases, you need to enter through an airlock that allows for perfect climate control of the rooms. It made me wonder if I showered enough or if I'm going to get my human cooties all over the 3000 objects that they're trying to protect. Even back in the day the King only allowed those wearing nice clothes inside. Begone, filthy common folk!
Limiting the number of daily visitors is another way that the exhibited riches are protected, which is actually the real reason behind the separate ticket. Buy yours online in advance so you snag a spot.
There are also no descriptions anywhere so as to not ruin all the splendor. Instead, you get an audio guide to give you information.
The New Green Vault is very different. The design of the rooms is simple and clean, so all the focus is on the individual pieces displayed in glass cases. You can see the New Green Vault as part of the Royal Palace ticket (details in previous item).
Open daily except for Tuesdays 10 am–6 pm
Tickets cost EUR 14 and should be bought online (limited number of visitors per day)
6. Zwinger
Zwinger
The Zwinger is one of the most important Baroque buildings in Germany. It was built in the place of an old fortress section, called the Zwinger, that lie between the inner and outer fortress walls. It kept it's old name, but was no longer used as protection for the city, instead meant for festivals, races, art and relaxation.
The Zwinger was built as a large orangery and garden. It was bombed heavily during WWII, but after reconstruction it now houses 3 galleries: the Old Masters Picture Gallery, the Dresden Porcelain Collection, and the Royal Cabinet of Mathematical and Physical Instruments.
There isn't too much left in the way of it's original intended use—there are no more races or spectacular functions happening at the Zwinger—, but you can still stroll through the gardens, browse the art collections, and the orange trees still brighten the place up every May through October (since they were returned there in 2017).
Tip: If you want to experience the Zwinger as you would have in the 18th century when it was the hottest thing since sliced bread, see if you'd like the Zwinger Xperience. It's a multimedia exhibition that'll take you on "a journey through time". You even get to ride a bicycle through the gardens wearing VR glasses at the end. Price: EUR 12 for adults.
Even if you stay in real-time, you can spend 2 hours in the Zwinger interiors and 30 minutes wandering the gardens. I thought it was a really nice place to visit.
Gardens are open daily 6 am–8 pm, museums are open daily except for Mondays 10 am–6 pm
Tickets to the museums cost between EUR 6–14, entry to the garden area is free
7. Town Hall (Rathaus) and surrounding area
The Town Hall of Dresden
Dresden's Town Hall (Rathaus) is located in the bottom right corner of Old Town. Just like with most working town halls, all you do it look at it from the outside, just this one has a very tall tower built on its grounds.
A notable building right across from the Rathaus is the Holy Cross Church (Kreuzkirche) that doesn't have a fancy interior, but you can climb the tower to get some views of the Old Town and the Rathaus as well.
8. Frauenkirche (Church of Our Lady)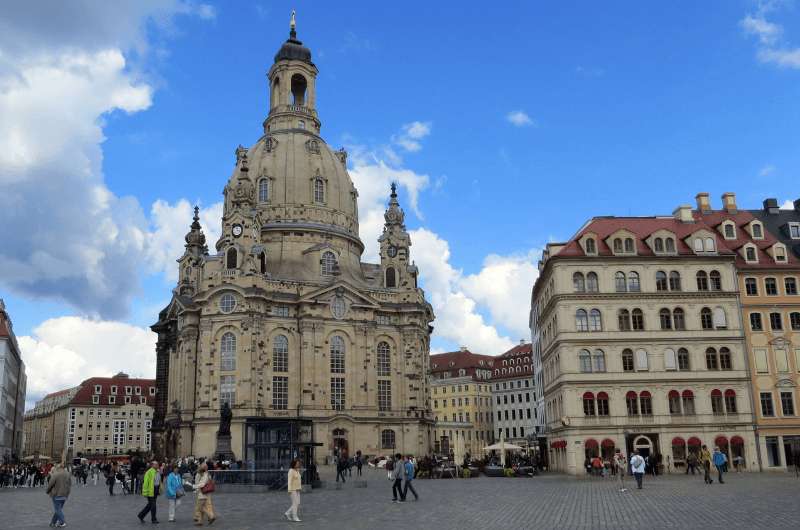 Frauenkirche aka the Stone Bell
The Frauenkirche is a Lutheran church with an unconventional high dome measuring 67 metres (220 ft), giving it a distinct bell shape, and reason for the Frauenkirche's nickname, "the Stone Bell".
Unless you take a guided tour, an audio tour or are somehow more into churches than I am, you can be done looking around inside in about 10 minutes. Since it had to be reconstructed after the WWII bombings, you can tell it's brand spanking new.
You can also choose to climb the narrow stairwells up to the viewing platform in the dome, which admittedly probably has cool views of the city. I wouldn't know, because I didn't climb up to save time. Besides seeing Dresden from a bird's view, you also have a chance to see the interior of Frauenkirche through big windows up on the first floor.
Entry is free unless you climb up the dome; that costs EUR 10.
I personally thought Frauenkirche was more impressive from the outside.
Open daily 10:00-11:30 & 13:00-17:30 10–11:30 am and 1–5:30 pm, opening times during weekends vary
Free entry
Dome Ascent: Tickets are EUR 10, open daily 10 am–6 pm, Sundays 1 pm–6 pm (closes earlier in the winter)
9. Brühl's Terrace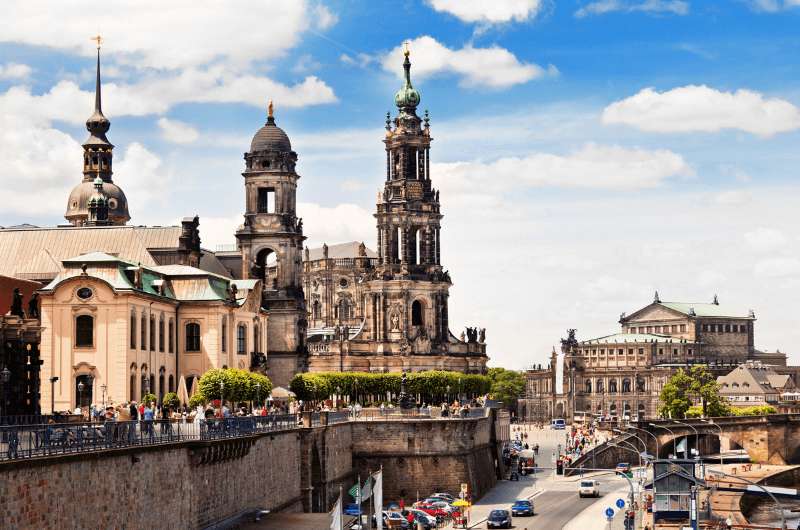 Brühl's Terrace, a promenade on the former fortress walls
The views from Dresden's Balcony of Europe are some of the prettiest in Dresden. But don't get confused by the name: Brühl's Terrace is a promenade by the river on the remains of Dresden Fortress.
The nickname "the Balcony of Europe" had me wondering if they're trying to battle Spain's Nerja and their Balcon de Europa. I didn't even think that one was particularly worthy of the title, and it sits atop cliffs by the sea!
Anyway, the promenade is about 0.5 km (0.3 miles) long, with plenty of benches to sit on and watch life and the several art installations that you'll find along the way. You have the river on one side with views of the New Town on the opposite bank, and the old historic buildings lining the promenade behind you.
I really liked that since the road is one level below you, it's like you bought the more expensive concert tickets that have the coolest view without the back of everyone's heads in your face.

Since the walkway is on the old fortress walls, you are higher up, so you're able to see more of the city than if you were just walking along at river level. If you're in a people-watching kind of mood or you need a bit of a breather before heading on to explore more of Dresden, head to Brühl's Terrace.
10. Dresden Panometer 
It's seriously fascinating to see a whole city on a huge chunk of fabric, and the research he had to conduct to be able to do so. He had to look at hundreds of photographs, drawings and paintings to put the city together into one huge, life-like work of art.
Imagine you decide to create art that requires a huge round building for you to be able to show it to the public—that's what Yadegar Asisi did.
Luckily, he not only found a place to do that—a former gas holder, aka gasometer—but was able to create a cool new word out of it, too.
"Panometer" comes from the words PANOrama and GasoMETER. The gasometer measures 39 metres (128 ft) in height and 54 metres (177 ft) in diameter, and it's the perfect spot to see a panorama of Dresden… you know, in case you don't want to see the city in real life? Like if you're scared of heights maybe?
Seriously now, no hate intended. Sure, the panometer might've been a little lame if it were a panorama of modern-day Dresden. But it's not.
There are two versions of the panorama that alternate during the years: Baroque Dresden, and Dresden 1945, which shows the destruction of the war. So two very cool experiences, but you certainly won't get both in one visit.
Until the end of 2023, you'll see Baroque Dresden.
Before you get to the actual panorama, there are smaller paintings, photos and information panels that introduce the subject and the process of creating the panorama.
Then at the panorama, there are several stories of the viewing platform that you have to climb, revealing more and more detail at the different levels. Remember this this is huge—27 meters (88 ft) high!
The Dresden Panometer isn't in the Old Town (duh—no gas holders there). You'll need to head 5 km (3 miles) southeast. Up to you if you walk, take a taxi or hop on a tram. See the next item on this list to see the gardens you'd be walking through if you opt to walk. My Dresden itinerary will help you decide on a route.
Open daily 10 am–5 pm during the week and until 6 pm on weekends
11. The Grand Garden of Dresden 
Grand Garden of Dresden
If Dresden had a Central Park, this would be it. Halfway between the Panometer and Dresden's Old Town is the Grand Garden of Dresden. It's a… large park.
There's a palace, several lakes, statues, pathways full of joggers, inline skaters, stroller pushers and other annoying sidewalk folk. You can have a picnic, visit a botanical garden, find several fountains, a puppet theater, an outdoor music venue, and the Dresden Zoo.
It's a big green place, ok. Great for a couple of hours of doing nothing much in nice surroundings.
The Grand Garden of Dresden is a rectangular area about 2 km (1.2 miles) long and 1 km (0.6 miles) wide.
It's close to the Hygiene Museum on one side and the Panometer on the other, which makes it easy to put together a Dresden itinerary that makes sense. Here, I already did it for you: Dresden itinerary.
12. Golden Rider
Augustus the Strong—The Golden Rider
The last two places to visit in Dresden on my list are across the Elbe in New Town.
The first one is a very gold statue of Augustus the Strong on a similarly strong-looking horse. He's the guy you should be thanking for all the art and Baroque buildings that make Dresden Dresden.
You can find the Golden Rider by crossing the Augustus Bridge on foot or by tram.
13. Kunsthofpassage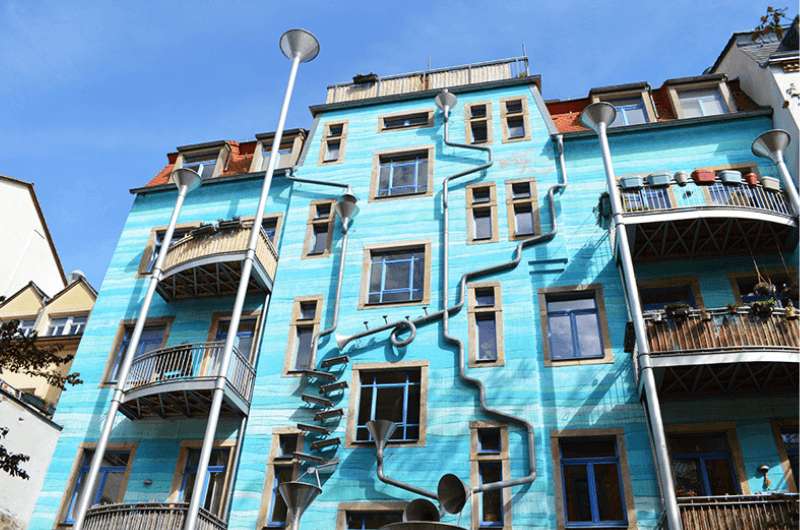 Kunsthofpassage (it's best to see this building when it's raining)
The only other place in Dresden's New Town that made my list of best place is a small network of alleyways and courtyards that are full of quirky buildings and random art—it's called the Kunsthofpassage.
Each of the 4 or so courtyards have a theme, so you'll see the Yard of Animals or the Court of Elements.
Come here in the summer and visit some of the little cafes and tiny shops and take too many pictures while you're at it.
You can also visit when it's raining to really appreciate the intricate rain pipe system that plays music when there's water flowing through it. You'll find it in the Court of Elements.
The Kunsthofpassage is in a neighborhood no tourist would otherwise venture into, so good thinking on the artists' part to get some extra tourist money to these parts of town.
Day trips from Dresden
See how to visit Konigstein Fortress in my Dresden itinerary
Now you know what to see in Dresden in 1 day, but what if you have more time to spare? I call day trip!
I've considered the most interesting attractions close to Dresden in my Dresden itinerary, so skip and hop on over there to read details.
The day trips I think are worth your while from Dresden are Königstein Fortress (30 km/24 miles from Dresden), Moritzburg Castle (16 km/10 miles), or even Saxon Switzerland National Park (45 km/30 miles).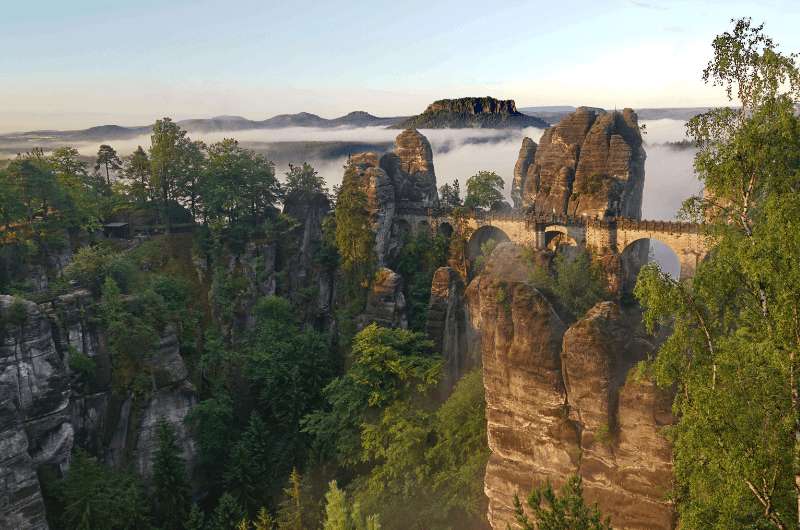 Like a scene from a fantasy movie—Bastei Bridge in Saxon Switzerland
Alternatives to Dresden
I've already answered the question "Is Dresden worth it?" in the beginning of this article. It was a slightly unenthusiastic 'yes'. But if you're not interested in Baroque architecture at all and you don't even like museums, don't go to Dresden.
You'd honestly be better off hightailing it to the cool (and much bigger) city of Hamburg. Here are the most unique places to visit in Hamburg to get you started. Or just follow my Hamburg itinerary.
Would you like Nuremberg better?
Ultimately, I think Bavaria is way more interesting thanks to the beauty of the Alps that spill over from Austria around Berchtesgaden. Hitler's Eagles Nest, Neuschwanstein Castle and another semi-interesting 1-day city, Nuremberg, provide plenty of days of excitement. See my complete Bavaria itinerary here.
This post contains affiliate links. I earn a small commission if you make bookings through my links, at no additional cost to you. This helps keep this blog free, thank you!