This is a guide for what to see in Nerja, but the highlights are actually everywhere but Nerja. Looking at you, Frigiliana!
Nerja is a beach town, and like most beach towns the main attraction is the beach, then there are restaurants, shopping and not much else. Nerja is one step up (or down, depending how you look at it) from that thanks to the main tourist sight in town: Balcon de Europa. It's also surrounded by two national parks, so if you aren't into lazing around all day, there are options for you that involve nature and hiking (through a river and along an irrigation channel for example).
I just want to be really clear right of the bat: Nerja will not blow your mind on its own. You have to put the work in and include the whole area in order to have a satisfying time.
Whatever you do, thanks to the crowds visiting the Balcon, Nerja will be touristy. There's nothing wrong with tourists (*cough* unless they are from China or the UK *cough*) and the amenities a tourist center brings. It's just not the type of place that will leave a lasting impression just for the city itself. It's not where you come to get to know Andalusia. You go to Seville or Granada for that. Read my article about 10 things you need to know before you go to Andalusia so you know what to expect.
Nerja town has the narrow alleys and white houses, too, but you want to see a really nice village, one of the prettiest in all of Spain is just 6 km from Nerja. Frigiliana is definitely worth your time, not only for its charm, but also for the unique hikes it offers. But more about that in a moment.
Tip: If you do decide to spend the night, stay at one of these top Nerja hotels.
You might also be interested in reading:
Do you like to take photos of garbage cans, too? Balcon de Europa promenade.

First, let's talk about King Alfonso XII's favorite balcony and then expand out away from town. We'll end up on a ledge biting our fingernails.
Note on beaches: The beaches in Nerja are crowded in the summer, but have amenities. If you're looking for a more natural setting where you can't hear your neighbor chewing his chips, head out towards the east. The chain of beaches east of Maro are the ones you want to aim for—for example Carabeillo Beach or Alberquillas Beach. These two are on my list of the 16 most beautiful beaches in Spain.
Nerja must-sees
Here is a list of things not to miss in and around Nerja:
8. Balcón de Europa
This is it, the famous balcony! Image source: Hotel Balcon de Europa

Yup, it's exactly what it sounds like: a balcony. Or not just a balcony – it's a spacious observation deck built on top of a cliff jutting out into the sea. Then, as it goes back into Nerja town, it is a palm tree-lined promenade with restaurants and shops on both sides, dividing into several smaller streets.
King Alfonso XII apparently named this spot in the 1800s when he visited and exclaimed "This is the balcony of Europe!" And so, it is. His statue stands at the railing, looking out at the views of the sea, with a million tourists taking a photo with him every day. There are also cannons if you prefer those over royalty in your pics.
The Balcon is a bustling spot especially in the evenings. There is always music playing or an event planned. Every procession that the town has for one of the many celebrations held annually passes through this spot, too. It is the epicenter of life in Nerja.
From the viewpoint you can check out the beaches to the left and right to see if any of them look appealing for a visit. If you love natural beaches over urban beaches, head east towards them.
Spend the night in the luxurious Balcón de Europa!

When you're in Nerja, where else to spend the night than in the Hotel Balcón de Europa. It's in the best location. You can swim in big pools, enjoy great views and rest in nice cozy rooms.
The prices start at USD 106 per night.
Just so you know, if you book a hotel (any hotel) using our booking.com affiliate links sprinkled throughout this article, we receive a small commission at no extra cost to you. It keeps our blog free and shows us you love us, so thank you!
7. Playa el Salón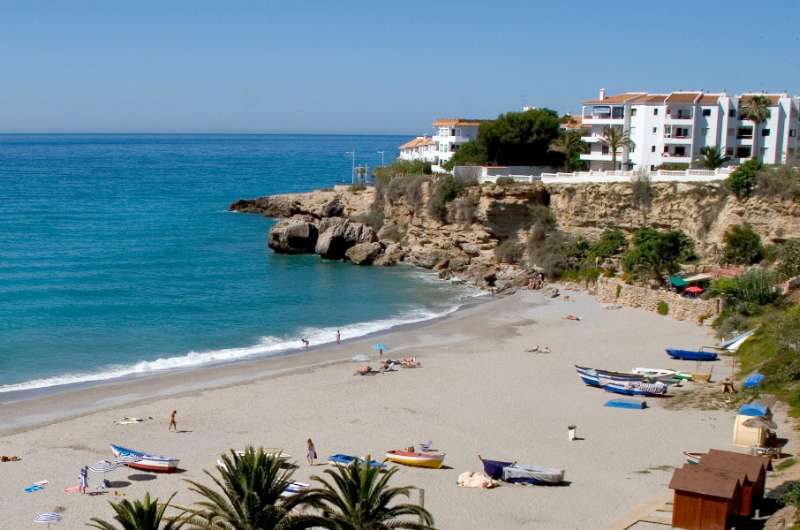 El Salon Beach

All of the beaches in and around the town center will be crowded in the main season. Playa el Salon, which is right next to the Balcon, usually isn't that bad in comparison. The few extra steps down a winding path that you need to take in order to get to it seem to deter a lot of the lazier visitors.
We're not beach bums, so we weren't looking for a beach to stay at all afternoon, but for dipping your toes in the sea it's totally enough. It seemed clean and the sand here was finer than at the other beaches. That could be a plus or a minus depending how much you hate having sand stuck in all the wrong places.
Check out other beautiful beaches you might want to visit while you're in Spain.
6. Carabeillo Beach and Del Bendito Viewpoint
This one is a double whammy. Carabeillo is a smaller cove beach at the west end of the main city beach, Playa Burriana. If you aren't fond of banana floats and beach vendors but still want to be close to all the amenities, Carabeillo is a good spot. Again, we're not the lying-on-the-beach types, but if we were, we wouldn't hate it here. As a side note, Burriana wasn't uncomfortably full in the spring either, and locals say that the crowds aren't as big as early as mid-September.
The main reason we were there was the viewpoint above the beach, Mirador del Bendito. Blue sea, white railing, cliffs, and beaches below. Basically the same things you see from the Balcon de Europa but without the crowds. You can walk up there from Carabeillo Beach, it's a spot that is at street level, easy peasy.
5. Maro Tower Viewpoint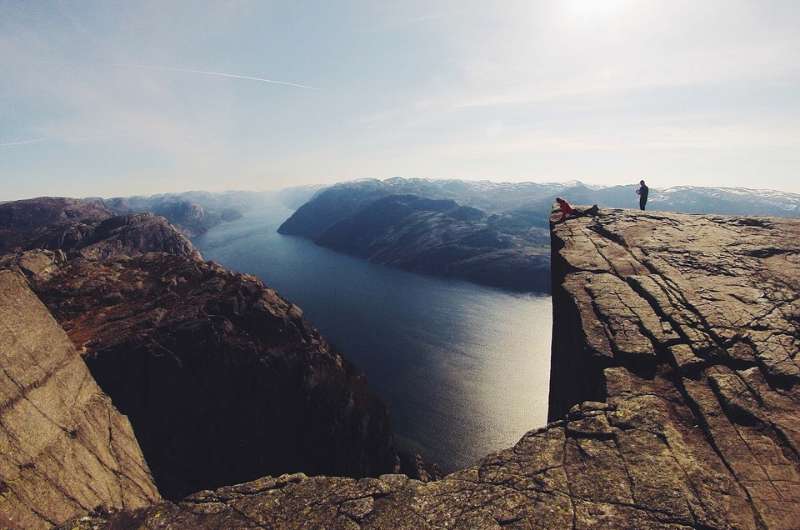 Not quite the view you'll get at Maro. But nice, eh? Thanks, Norway.

Moving steadily to the east away from town, the next stop is another viewpoint. Since we don't like lying on beaches, we choose the next best thing – looking at them from viewpoints! This being a rocky coast, the views are worth it.
Maro Beach is one of the famous ones but we didn't visit it, instead opting to head for the Maro Tower (Torre de Maro) up above it. It's an easy drive, you park your car at one of the two parking lots right off the N-340 and walk half a mile to the tower.
You can look back towards Nerja and admire the coast jutting out into the sea. I'd say worth it.
4. The best beaches: Playa de las Alberquillas and Cala del Cañuelo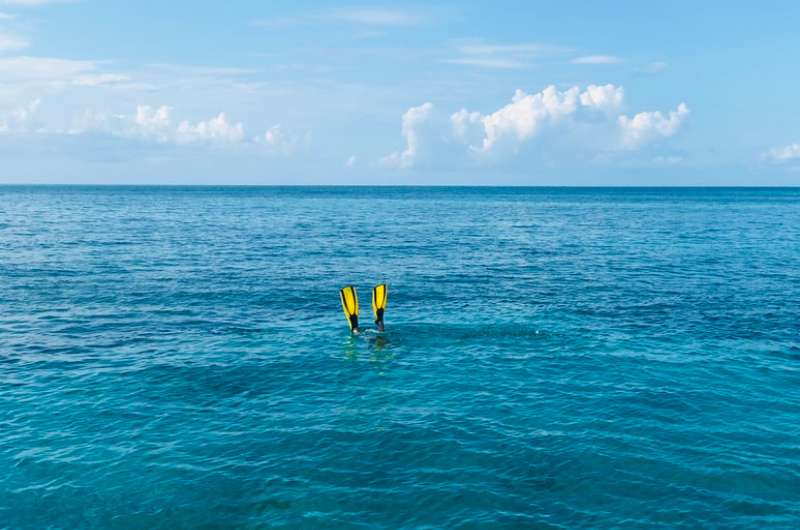 Look! A fish!

Who doesn't like a coastal drive? We do, so we added 6 more miles and drove further east from Maro so we could look at the same view from a very similar tower.
This is the area you want to drive to for the best natural beaches closest to Nerja (that also belong to my list of the 16 most beautiful beaches in Spain). Don't expect any amenities, though there are little restaurants on the side of the road if you get thirsty.
Playa de las Alberquillas and Cala del Cañuelo are also supposed to have great snorkeling, though the latter is harder to get to. You either have to walk about a mile (but the views!), or, in the summer, take a minivan for €2. Canuelo has a couple of beach shacks selling snacks and drinks. Playa de las Alberquillas is very pebbly and sells nothing at all. Both are scenic, surrounded by rock formations in and out of the water.
@ Hotel Riu Monica in Nerja

Hotel tip: Hotel Riu Monica is close to Torrecilla Beach, El Salon Beach and El Playazo Beach. The hotel has nice rooms, a swimming pool and a fitness center. However, the hotel is for adults only so if you are going with children, try El Balcón de Europa instead.
Prices for one night are around USD 121.
3. Vigía De Cerro Gordo Tower Viewpoint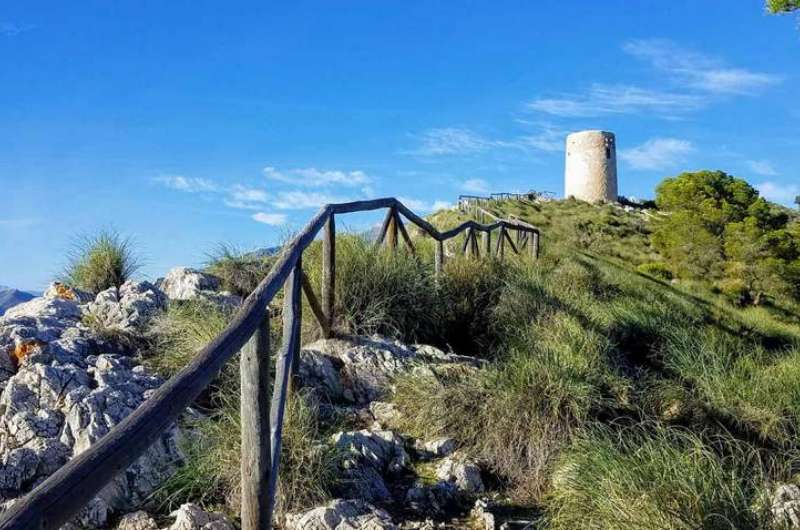 Image source: Costatropical.net

To get to the next tower, you can park at the Restaurante Mirador de Cerro Gordo and take the short hike up behind the restaurant. We came here for sunset, saw a mountain goat family, and it was lovely (the goats were fine but I mean the sunset), and ended up at the restaurant because of the terrace seating. Honestly, even though the reviews had me worried, it was not half bad. Service could be faster but after you get your drinks, you just stare out into the sea and forget about it. The Restaurante Mirador de Cerro Gordo was fine, but we were much happier about the other two restaurants which I've included in my Top 9 restaurants in Spain.
This part of the coast shoots out even further into the sea than Nerja's Balcon, so you can see very far. After dark, you see the illuminated cities in the background which makes the experience memorable as well.
Tip: Don't drive back to Nerja along the N-340 at night, it will be a pain in the you-know-what. It is easy to get onto the A7 highway and make a swift drive across the bridges and tunnels.
2. Frigiliana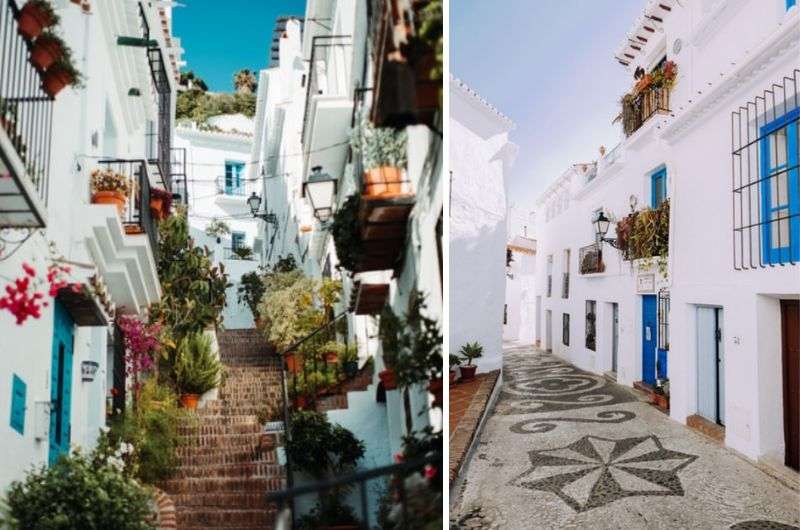 The marvellous Frigiliana streets

It might seem counterintuitive to leave the coast while you're visiting the coast, but that's exactly what I'm recommending that you do. Head 3.5 miles up north into the mountains into the cute village of Frigiliana. Don't be tempted to skip it, it is absolutely worth your while.
About a third of the inhabitants of Frigiliana are expats. So you're a tiny little Spanish village, but you get a strangely cosmopolitan vibe. The expats also like to eat and drink well, so there are many good quality restaurants in Frigiliana—a great opportunity to try some of the traditional Spanish dishes—I've summarized 16 of them in a separate article.
If that's what it takes to elevate service, Ronda needs to take note and attract some expats! (The restaurants there suck like no other.)
Since Frigiliana is stacked up on a hilly area, you are away from the sea, but you are getting incredible views of the coast at the same time.
The village itself is the definition of charming. Yes there will be tourists but can you blame them? Frigiliana is postcard material! The houses are white with flat brown roofs, the streets are narrow with tiled or cobblestone on the ground. Add hints of blues and purples, potted plants outside every door and you have an Instragram shot!
All you need to do here is wander. Don't forget your stamina though since you will be wandering on an incline.
Tip: Base yourself in Frigiliana be close to the best views and nature spots.
Another view of this beautiful village

Tip: Throughout the old town there are 12 ceramic panels that depict the events that led up to the Battle of the Peñon of 1569. It was one of the bloodiest battles in the area and was the one that forced the Moors out of Frigiliana by the Christian army. You can add some fun and education to your wandering and try to find them all.
You can't drive on many of the roads in the village center and there are signs ushering you to park at a large parking garage at the beginning of the village. Just leave your car there, it's right at the entrance to town. You pay something like €1 and hour.
If you're short on time or don't want to hike (see next tip), at least head up to the castle ruins (Castillo de Lizar) for some spectacular views. Or at least take a short walk on the first part of the irrigation channels (acequia). You'll love it, I promise! There are railings… not true anymore after about a mile in!
1. Higueron River Hike – top tip!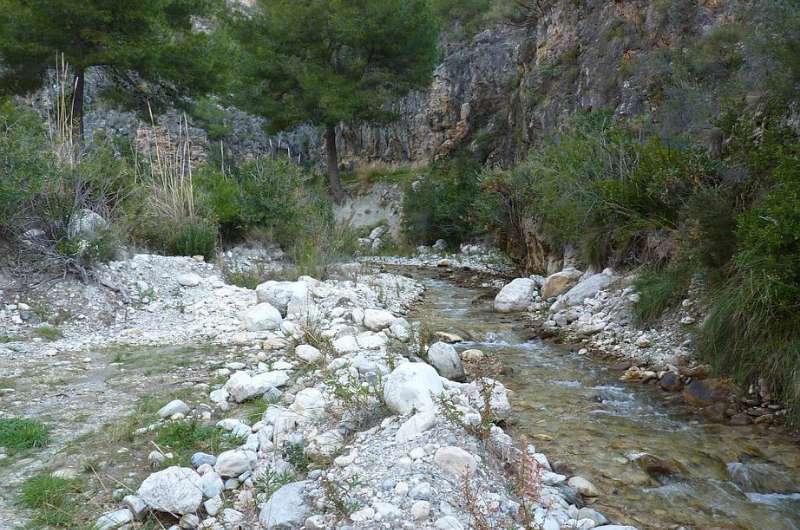 The river doesn't get crazier than this unless you walk further up and not to the acequias.

We read about the Rio Chillar hike where you basically walk through a river in the mountains. You can swim in the small pools and cool off in the summertime, families take picnics, all that jazz.
It's supposedly very popular with locals and tourists have caught on to this trend as well. The problem is that it has started to get really crowded, which is annoying since you are walking in a narrow river canyon. The local government is also not happy about thousands of people dragging their smelly feet through the riverbed, slowly destroying nature. I'm guessing not all the trash gets carried out either. The number of people there has also gotten so bad that the area was closed in the summer because of the danger of covid infection.
Enter Higueron River. We got a tip from a local (actually an expat) for a similar experience sans the crowds and with an extra adrenaline element added on. Perfect 3 hour (6 mile/10 km) loop hike.
It starts in Frigiliana and you are also walking in and around a river, but it's not the Chillar, it's the Higueron, right next door, and it features a walk up on an irrigation channel that will test your courage (and fear of heights). See the below tip for an alternative for those who suffer from vertigo.
The walk starts at the sugar cane mill at the bottom of town near the roundabout. You'll see signage pointing you towards the Higueron River. The first part of the trail is gravel and it takes a while to start feeling like you're actually walking in a river (more like a stream). The water rarely goes above your ankles. There is some shade, too.
The easy part.

Depending on how much water there is in the river, you may or may not be able to keep your shoes dry, so wear something you don't mind getting wet just in case. You should be able to hop across the river on the stones if you don't want to be wet. But no promises there.
Tip: If you don't want to walk on the irrigation channels that are high up and rail-less in a large portion of the walk, just keep going straight up the river, it get better and deeper the further you go. There is a waterfall and canyoning at the end of this hike that looks really cool. You will then walk back on the same route back to town. We took the scary route instead.
At about half way, look out for a small sign directing you to the irrigation channel, the Acequia de Lizar. And hold on to your socks, because the narrow channel has no railings and the fall would not be fun. Speaking from personal experience, it is not cowardly to walk in the actual water of the channel if that makes you feel like you aren't going to break both of your legs 60 feet below.
Luckily, the last half of the channels, about 2 km, are all nice and safe and you cannot fall to your death, so you complete the hike with your adrenaline levels almost back to normal.
If you have the time, do it! If you don't have the time, make the time! It's a great experience and you really get away from the world of the Balcón.
End note: We chose to skip the caves and the Eagle's aqueduct. With caves I feel like once you've seen some good ones, you've seen them all. The aqueduct is just something you see from the road when you drive past and is really not worth any extra effort.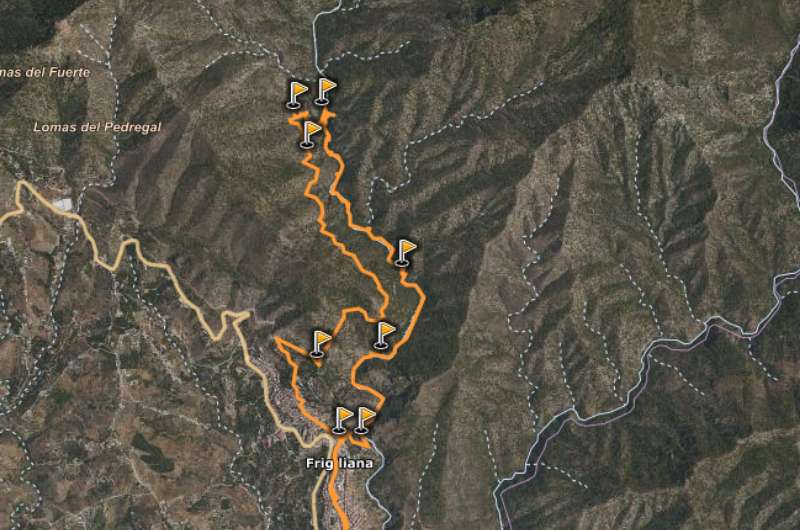 Map of the route

Anyway, in my opinion, the number one place to visit in Andalusia is Gibraltar without any doubt. There are nice restaurants and hotels, great hiking options, and beautiful beaches—find out more in a separate article about Gibraltar. And yes, I know it's not really in Andalusia. It still wins!

This post may contain affiliate links. We earn a small commission if you make bookings through my links, at no additional cost to you. This helps us keep this blog free, thank you!