Andalusia is the land of palaces, tapas and non-stop sunshine. In order to include all the highlights, you need at least 10 days of exploring, but you slower travelers could also spread this itinerary out a little more and spend 2 weeks in Andalusia, no probs.
Before you go, read 10 Things You Need to Know Before You Go to Andalusia. It's always good to know a little bit about the history, people, religion and traditions of whatever place you're gracing with your presence. 
Here is what I think it the best itinerary for 10 days in Andalusia.
You might also be interested in reading:
Andalusia itinerary map and overview
Click over to my Google Maps list to get access to all the places mentioned in this itinerary

At the beginning of the description of each day you'll find a map, a list of the main stops of the day, my restaurant tips, and some links to my other articles where you can read up on further details.  
I've also tried to save you a chunk of time by recommending the best hotels to stay in, all from my personal experience. You'll be changing hotels twice, with the main chunk of your time spent near Malaga. We were over the moon at Hacienda Fresneda María by Charming Stay, so I'm recommending that one very strongly. Like Hulk strongly.
This southern Spain itinerary expects you to be renting a car so you'll have the comfort and flexibility of being the master of your own time.
This is the itinerary route: 
Day 1: Arrive in Malaga (sleep in Malaga)
Day 2: Granada, Montefrio (sleep in Malaga)
Day 3: Nerja, Frigiliana (sleep in Malaga)
Day 4: Cordoba (sleep in Malaga)
Day 5: Caminito del Rey, El Torcal (sleep in Malaga)
Day 6: Ronda (sleep in Malaga)
Day 7: Gibraltar (sleep in Cadiz)
Day 8: Cadiz, Sevilla (sleep in Sevilla)
Day 9: Sevilla (sleep in Sevilla)
Day 10: Malaga and departure 
And now, ladies and gentlemen, the best Andalusia itinerary in all its glory and details:
Day 1 of Andalusia itinerary: Malaga
See this map of day 1 of Andalusia itinerary in Google Maps so you can just click and walk

Main sites visited on day 1: Old Town, Malaga Cathedral, Alcazaba, Gibralfaro Castle, Muelle Uno boardwalk
Restaurant tips: El Pimpi | El Tintero | Zury
Hotel recommendations: Hacienda Fresneda María by Charming Stay
Further reading: 20 Tips for Malaga | Andalusia in a Nutshell | Top Places in Andalusia 
You'll kick off your Andalusia itinerary with a wander around Malaga. I have a full article on the top things to see in Malaga with all the details, so I'll keep it simple here and defer you to that article for the juicy extras.  
You'll need to park your car in one of the many parking garages in Malaga. Expect tight spots and hard-to-find entrances, but there are plenty of options. I recommend Parking Muelle Uno, which is right by the Muelle Uno boardwalk and has big parking spots by Malaga standards. The price changes depending on how long you stay, but EUR 2 per hour is a good benchmark.  
Another good and slightly cheaper contender is Aparcaen Malaga in the north of the city center.
Day 1—Malaga—stop 1: Old Town
Time spent here: 1 hour to infinity
Malaga's narrow alleys and marble streets make up a charming Old Town (Centro Histórico)—think squares with fountains, and restaurants and shops in almost every old building in sight. Nothing too surprising. Much of Malaga's Old Town is pedestrianized.
The main shopping street is Calle Marqués de Larios, which is also the most expensive street in Malaga to live on. In the summer, it is usually covered by canopies, which is great because they don't call it the Sunny Coast for nothing! In the winter, the tunnel of Christmas lights is pretty magical.
Plaza de la Constitución lies at the northern end of the shopping street. It's a prominent square with a fountain and, err… yeah, that's it.
Day 1—Malaga—stop 2: Malaga Cathedral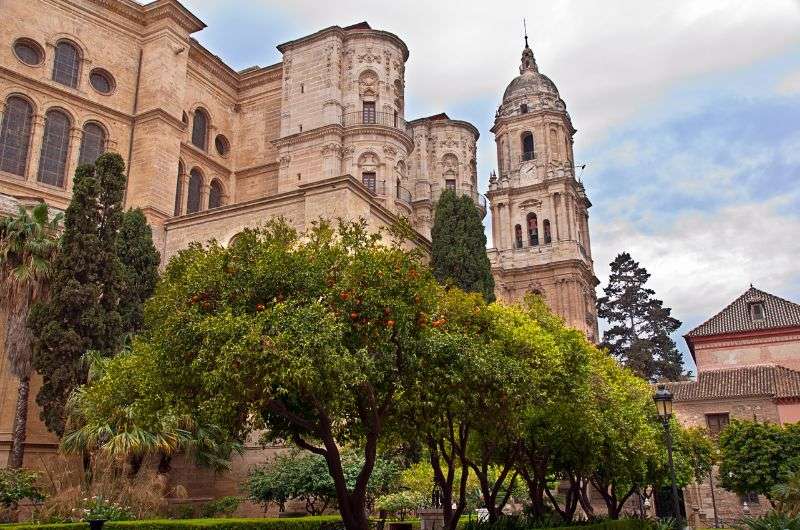 The Malaga Cathedral

Time spent here: 1 hour
Next, go see the tallest cathedral in all of Andalusia—Catedral de la Encarnación de Malaga.
What's in a name? Malaga's Cathedral is lovingly called "La Manquita", meaning "the one-armed woman", because it's missing one of its towers. Apparently when they were building it, funds ran low, and so there are just a few pillars where the south tower was supposed to be.
You can peek inside for free, but I think it's worth taking a better look. You can buy a ticket to see all of the interior and the museum for EUR 8.
The best part, though, is the rooftop tour. You will follow a guide up the 200 stairs, and then walk the perimeter of the roof, taking in some cool views of the city. See full price list below.
Opening times: Monday to Saturday 10am—6pm, Sunday 2pm—6pm. The rooftop generally opens one hour later than the cathedral, tours are every hour, on Sunday they start at 4pm.
Tickets: cathedral and museum: EUR 8, just the rooftop: EUR 8, cathedral and rooftop: EUR 12.

Day 1—Malaga—stop 3: Alcazaba de Málaga (fortress)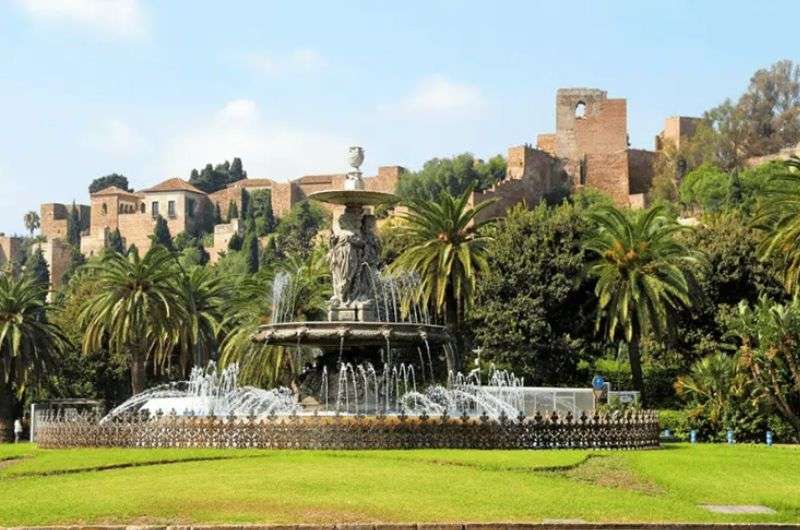 Alcazaba de Málaga

Time spent here: 1 hour
You've seen the tallest cathedral, and now you can move on to Andalusia's best preserved and most important Muslim fortresses—the Alcazaba de Málaga. It's just a couple blocks away from the Cathedral.
It is comprised of two walls, the outer one with watch towers. A path leads you through gardens with fountains and courtyards, in perfect Moorish style. You can walk around on your own or with a guide.
You can compare the architecture to that of the Alhambra in Granada, which you'll be seeing tomorrow in Granada. Malaga's Alcazaba is nicknamed "Little Alhambra" because of the similarities.
Right next to the entrance to the Alcazaba is the partially ruined Roman amphitheater that dates back to the 1st century BC, so you can check that out, too.
If you're visiting in high tourist season, you have to expect lines for tickets up to 45 minutes long. If you just can't take it or you don't want to wait, get the guided tour and skip the queue.
Opening times daily 9am–6pm in the winter, until 8pm from April to October
Tickets cost EUR 3.50 per person, or EUR 5.50 combination ticket Alcazaba+Gibralfaro

Day 1—Malaga—stop 4: Castillo de Gibralfaro
Castillo de Gibralfaro

Time spent here: 1.5 hours
Now it's time to climb up Mount Gibralfaro to the castle that was, originally built to protect the Alcazaba. I recommend coming up to Castillo de Gibralfaro when the sun isn't right above you in the summer, because the heat is overbearing.
The Castillo is connected to the Alcazaba by la coracha, a zigzagging walled corridor. You walk up the hill starting at the back of the Alcazaba, roughly at the end of Paseo Don Juan de Temboury, for about 20 minutes until you reach the castle.
The short but steep hike is a little strenuous, especially in the scorching heat of the summer. If you don't want to break a sweat, just take a taxi.
There isn't much to see inside the castle—the main draw are the views from 130m (420 feet) above sea level. You can see all of Malaga, including great sea views, which itself is worth the small entrance fee or EUR 3.50.
In the upper part of the fortress, you will see the main courtyard with ruins of Arab baths, the main tower and a Phoenician well. This is also where the visitor center is.
If you continue towards the Hotel Parador, you will find the best sunset viewpoint.
Opening times daily 9am–6pm in the winter, until 8pm from April to October
Tickets cost EUR 3.50 per person, or EUR 5.50 combination ticket Alcazaba+Gibralfaro

Day 1—Malaga—stop 5: Muelle Uno—The Port of Málaga and dinner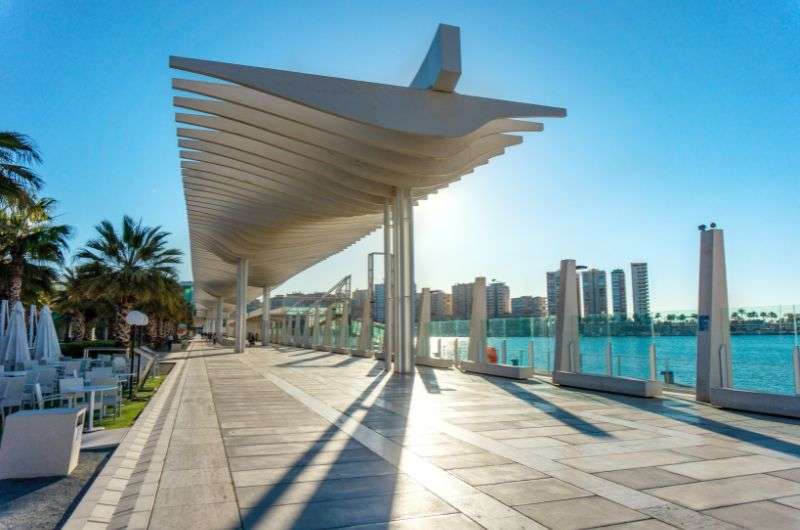 Muelle Uno

Time spent here: 1 hour plus dinner
End your day in Malaga at the boardwalk called Muelle Uno. It's a built up promenade at the city port. The shops, restaurants and frequent events are all you need to wind down after a busy first day on this Southern Spain itinerary.
There's a white roof structure that shades part of the walkway from any remaining sun, and a huge, colorful glass cube, which isn't just an art piece. It's an artistic skylight that lures you into the Centre Pompidou underneath, the only of its kind outside of Paris.
At the end of the promenade you can take a peek at the La Farola Lighthouse. You're also a few steps away from Playa de la Malagueta, Malaga's most popular beach.
If you want to eat your dinner while staring out at the sea, try Gaucho Grill or my go-to anywhere in the world, Hard Rock Cafe, which are right on Muelle Uno.
Otherwise, there are better options—we loved El Tintero. This restaurant is one of the many beachside chiringuitos further out to the east of Old Town. Don't expect fancy; expect loud and fun! The waiters walk around with all the dishes they can hold, yelling out the content, and diners just wave them over, grabbing whichever plate sounds the most delicious.
More of my favorite restaurants in Malaga and details of all the highlights to see in the city in my full Malaga article.
Your hotel in Malaga 
And now for the best hotel you'll stay at in Spain: Hacienda Fresneda María by Charming Stay is not in Malaga per se, but it's close enough and it makes the perfect base for tons of day trips to Andalusia's best places. I absolutely loved it there.  
Most of all, its secluded location is epic. The privacy and the quiet mountain views that you can enjoy from the dreamy infinity pool is like a spa for your soul.  
The interior design elements are modern, combining wood with whites and browns. The huge windows and balconies give glimpses of olive trees.  
And you won't be sad to be further away from Spain's best restaurants, either, since Hacienda Fresneda María's own restaurant is Michelin-level in both food and service.  
Need I say more?  
Day 2 of Andalusia itinerary: Granada, Montefrío
See my saved list of places for day 2 in Google Maps

Main sites visited on day 2: Alhambra, Albaicín, Sacromonte, Montefrío viewpoint
Restaurant tips: Bar los diamantes | Bar La Trastienda | Bar La Riviera
Hotel recommendations: Hacienda Fresneda María by Charming Stay
Further reading: Granada Guide| Day Trips from Granada | Top Places in Andalusia 
Since you're staying at the magical Hacienda Fresneda María by Charming Stay, you're within a 1.5-hour drive from most of Andalusia's top destinations. And today, you will only need to spend 1 hour in the car each way. Easy peasy. See, I'm looking out for you guys!
Your main goal of the day? Seeing Granada's Alhambra. It's not a palace—it's a whole city!
Day 2—Granada—stop 1: The Alhambra
La Alhambra

Time spent here: 4 hours
The Alhambra is the most impressive Moorish palace complex in the world. If you look at my Granada Guide, I mention that I don't think there's much to do in the city besides the Alhambra. BUT, you absolutely have to see the Alhambra, so there's no way you should consider skipping it. There's a reason you need to buy your tickets months in advance.
Here are a few basic things to consider before you visit the Alhambra:  
Don't expect a palace. Expect a whole city. Make sure you have 3–4  hours minimum to see everything.  
The Alhambra is on top of a hill–there's a lot of walking up and down the hill, probably in the heat. 
Get your tickets up to 3 months in advance from the official website. Plan your visit to all the other parts of the complex around the 1-hour time slot indicated on your ticket for the Nasrid Palaces. Kids need their own tickets even though they enter for free.
Important: Make sure to have your passport with you when you enter. Your ticket has your passport number on it and without a passport, you'll be forced to buy another ticket at the entrance—if you're lucky and they have any available. True story.
The Alhambra is split into three main areas: the Alcazaba (fortress), the Nasrid Palaces, and the Generalife (gardens), and your ticket and passport will be checked when entering each of these areas.
I describe how to get to and from the Alhambra and what to see inside (and how not to miss your time slot for the Nasrid Palaces—the highlight) in great detail in my Granada Guide.
Enter through the Justice Gate (Puerta de la Justicia)
Open daily 8:30 am–8 pm (closes at 6 pm from October to March)
Day 2—Granada—stop 2: Lunch and Albaicín neighborhood
The Alhambra at sunset as viewed from the Albaicín

Time spent here: 2 hours including lunch
The Albaicín is a hilly neighborhood that the Moorish population moved to after the reconquest of Granada by the Catholics, and you can see the influences of Muslim architecture everywhere.  
You'll get incredible views of the Alhambra from Plaza de San Nicolás, and even see the peaks of the Sierra Nevada in the background, with the entire city of Granada right below you. 
Tip: If you decide to stay the night in Granada, I recommend getting a place with the best views right from your room window. Try the charming Hotel Casa Morisca or Carmen de Vidal.   Click the links to see photos of those views!
Before you start your climb into the narrow streets of the Albaicín, stop at one of the fantastic tapas restaurants at the foot of the Albaicín for lunch. Head into the streets around Plaza Nueva. We were lucky there with amazing finds, like Bar los diamantes, Bar La Trastienda, or Bar La Riviera. La Riviera even lets you choose your free tapas from a menu, which is almost too good to be true.
What am I talking about, free tapas!? Yep, you heard that right. Granada is famous for serving its tapas for exactly 0 money. You just pay for drinks and tadaa, tapas land on your table! More about the tapas culture in Granada.
Day 2—Granada—stop 3: Sacromonte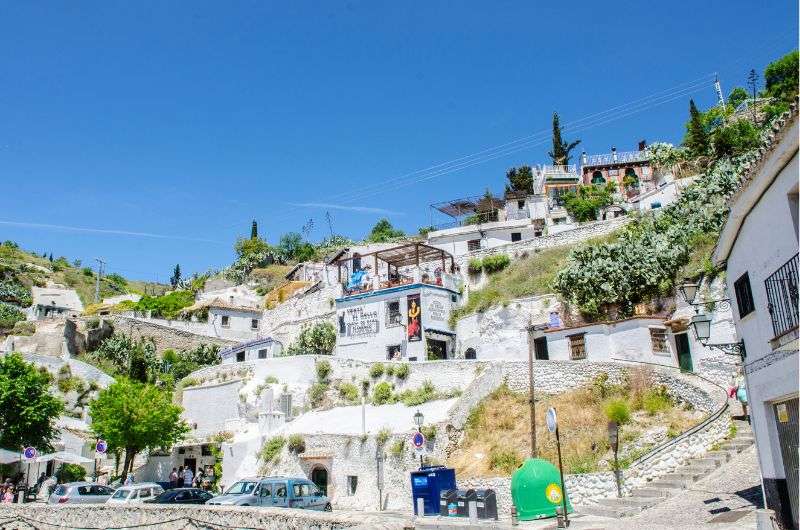 Looking up at Sacromonte neighborhood

Time spent here: 2 hours
Last but not least, the Gypsy quarter of Granada—Sacromonte—located right beside the Albaicín. The higher up you go, the better the views get.
The dwellings in the Sacromonte neighborhood are carved right into the mountain, making caves for homes. Nowadays, they've become more elaborate and aren't as humble as back in the day, and some are now restaurants or flamenco cuevas. But it's still a very traditional neighborhood that is fascinating to see.
To learn more, head up to the museum, where you can visit almost a dozen cave houses that have been recreated to look like they did back in the day. The €5 is worth the 20-minute walk through (or more if you're really into it).
Day 2, stop 3: Montefrío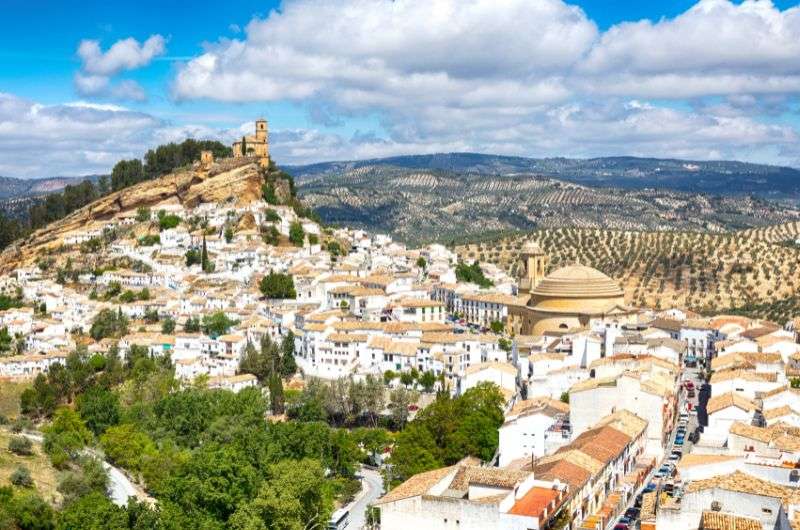 Montefrío's award-winning view

On your drive back to Hacienda Fresneda María, make a detour to one of the ten villages with the best views in the world (as chosen by National Geographic, not me this time)—Montefrío.
To judge the view that won Montefrío its "best view" title, head up to the National Geographic viewpoint (Mirador del Paseo). It's right on the road, so you can be done in a few minutes if you're hurrying back to your hotel.
The detour to Montefrío will extend your drive back to Hacienda Fresneda María by about 1 hour.
Or, if you want to explore a bit more of the village, head up to the castle, or try to find some of Montefrío's award-winning cheese, or see the peculiarly round church, Iglesia de la Encarnación, poking up from the village's center. It's the only round church in Spain and was modelled after the Pantheon in Rome.
More about Montefrío in my article about the Best Day Trips from Granada.
Day 3 of Andalusia itinerary: Nerja
See the route of day 3 in Google Maps

Main sites visited on day 3: Balcón de Europa, Frigiliana, Cala del Cañuelo, Cerro Gordo Tower Viewpoint
Restaurant tips: Restaurant Marisqueria El Sacristan | El Casino| Chiringuito Las Piedras
Hotel recommendations: Hacienda Fresneda María by Charming Stay
Further reading: Best places in Nerja| Day Trips from Granada | Top Places in Andalusia
Today you'll explore Nerja, but you'll mostly be in the Nerja area as opposed to in Nerja itself. It's not really worth spending much time in the city in my opinion.
Day 3, stop 1: Balcón de Europa
Views of and from Balcón de Europa

Time spent here: 30 minutes
From Hacienda Fresneda María , Nerja is a 1-hour drive. If you read my Nerja article, you'll see I don't recommend you stay in Nerja very much, because there's nothing there, so you'll only need to find parking for an hour or so. You'll be spending time in places outside of Nerja for the rest of the day.
First things first, you need to head to Nerja's tourist highlight, the Balcón de Europa. Yes, it's touristy and crowded, but you'd die of FOMO if you didn't at least stop there for a photo.
Balcón de Europa is a spacious observation deck built on top of a cliff jutting out into the sea. Then, as it goes back into Nerja town, it turns into a palm tree-lined promenade with restaurants and shops on both sides, dividing into several smaller streets.
Take in the views, take a picture with King Alfonso XII's statue, and then you can skedaddle. If you're intent on having a coffee on the Balcón, you're going to be looking for a needle in a haystack full of tourist traps. My best recommendation here is to use Google Maps reviews to choose your spot.
Day 3, stop 2: Frigiliana village
Postcard-perfect Frigiliana village

Time spent here: 2.5 hours including lunch
Ok, enough Nerja. Drive 7 km (4 miles) up north into the mountains into Frigiliana—a little Spanish village where the houses are white with flat brown roofs and the streets are narrow with tiled or cobblestone on the ground. It's located in the mountains, so the views out to the coast are extra nice.
You can't drive on many of the roads in the village center, so just follow the signs ushering you to park at the large parking garage at the beginning of the village for something like EUR 1 per hour.
During your wander through the village, look for the 12 ceramic panels that depict the events that led up to the Battle of the Peñon of 1569.
You can't not love the views from Frigiliana out to the coast
You can also walk up to the castle ruins (Castillo de Lizar) for some spectacular views.
Or, take a short walk on the first part of the irrigation channels (acequia)—after a while, there are no railings, so it's up to you if you want to continue or not. I'm not accepting any responsibility if you land your butt somewhere much lower than you intended (people do walk that way though)!
Tip: If you want to venture out into the nature around Frigiliana some more, see the hike described in my Nerja article.
Strangely enough, Frigiliana's sizeable expat community gives the village a cosmopolitan vibe. It's the perfect place for lunch, because of the many good quality restaurants (I guess the expats are as picky as I am).
Restaurant Marisqueria El Sacristan (seafood) or El Casino (Mediterranean) are just two of the many great places you can try.
Day 3, stop 3: Beaches
Time spent here: 1–2 hours
Nerja has some popular beaches right in the city (El Salón and Carabeillo are the best), but they aren't anything spectacular. I'd opt for something more serene—if you head out beyond Maro, you find a whole treasure chest of natural beaches.
Playa de las Alberquillas and Cala del Cañuelo are some of the most beautiful natural beaches that also have great snorkeling (they're also on my list of best beaches in Spain). Both are scenic, surrounded by rock formations in and out of the water.
It's only a 10-minut walk from the parking area to Playa de las Alberquillas, but you'll need at least 30 minutes to walk to Cala del Cañuelo from the parking. Or, in the summer, take a minivan for €2.
Cala del Cañuelo has a couple of beach restaurants selling food and drinks, and you can even rent a beach bed if you need it. The one further from the beach entrance, Chiringuito Las Piedras, is the far superior of the two.
For me, Cala del Cañuelo is the best of both worlds—still very natural and pretty secluded, but you don't need to pack a sandwich.
Day 3, stop 4: Cerro Gordo Tower (viewpoint)
Cerro Gordo Tower

Time spent here: 1 hour
As day 3 on this Andalusia itinerary comes to an end, you could time this last stop for the perfect sunset.
To get to Torre Vigía De Cerro Gordo, park right next to the Restaurante Mirador de Cerro Gordo that is literally steps away from the lookout spots. There are several other viewpoints on the way, but the old tower at the end is the main destination with the best views.
Day 4 of Andalusia itinerary: Cordoba
See the route of day 4 in Google Maps. The last stop on today's itinerary, Palacio de Viana, isn't included, as it's a little further up north.

Main sites visited on day 4: Jewish Quarter, Calleja de las Flores, Mosque-Cathedral of Cordoba, Roman Bridge, Mercado Victoria, Alcazar, Patios de Viana
Restaurant tips: Mercado Victoria | Casa Pepe de La Judería | Restaurante Montevideo Steak House
Hotel recommendations: Hacienda Fresneda María by Charming Stay
Further reading: Must-see Places in Cordoba | Traditional Spanish Food
Today, you're driving a bit further away (1.5 hrs), this time to another one of Andalusia's top destinations, Cordoba. You might be wondering why I put Cordoba as a day trip and not an overnight spot… it's because there's not that much to see there, kind of like Granada. It doesn't warrant an overnight for me, but as a day trip, it's perfect.
Cordoba's claim to fame is the mosque-cathedral hybrid.
Day 4—Cordoba—stop 1: Old Town, Jewish Quarter
The narrow streets of the Juderia on the left, Calleja de las Flores on the right

Time spent here: 1 hour
Start your day in Cordoba by parking at one of the parking garages in the city and wandering the narrow streets of the Old Town and the Jewish Quarter.
While you're walking around, you'll notice many small courtyards (patios), so don't be shy and poke your head in if you feel like it. One of the notable streets in the Old Town is Calleja de las Flores. I'm going to guess that even if you don't speak Spanish, you can guess what it's known for.
The cobblestone on the sidewalks of the Jewish Quarter (Judería) is incredible, it's made out of round pebbles from the river and sometimes in really fun patterns. You'll find this type of paving all over Cordoba, it just really stuck out to me in Judería.
The synagogue is free to visit, though it's only one small room and will take you about 30 seconds to see.
Once you've had enough random walking, head to today's highlight, the mosque cathedral of Cordoba.
Day 4—Cordoba—stop 2: Mosque-Cathedral of Córdoba
Where the mosque and the cathedral meet

Time spent here: 1.5 hours
Called mezquita for short, the mosque was first built in the 8th century by the Muslim rulers of the time and was the second-largest mosque of its day. After the Christian reconquest in the 13th century, the mosque was converted into a cathedral with almost no alterations. They threw out the Quran, added a Bible and called it a day.
It wasn't until 300 years later that the most dominating Christian structure was added: the nave and the transept… that's the large, church-looking part in the middle. The original mosque ceilings are not that high, so when you're walking through the cathedral, you will instantly notice the difference when you enter and stand under the dome. The minaret was turned into a bell tower at about the same time.
In summary, it's an interesting building. You can visit the Mezquita and the bell tower separately.  For me, the bell tower is the absolute top thing to see, while the Mesquita itself was slightly underwhelming. Maybe it's because it doesn't look very interesting from the outside.
Tickets can be bought on site or online. For the bell tower, since you go in as part of a group at a certain time, we recommend booking your time slot beforehand. For the Mezquita, it's easy to just show up and buy a ticket on the spot.
Mezquita: Monday to Friday 10am—2pm and 4pm—6pm. Saturday 10am—6pm. Sunday 8:30am—11:30am and 4pm—6pm. Times may vary in different parts of the year.
Bell Tower: Monday to Saturday: 9:30am—5:30pm. Sunday 9:30am—11am and 12pm—5:30pm. Entrance every 30 minutes. Times may vary in different parts of the year.
Tickets are EUR 11 for the Mezquita and EUR 3 for the bell tower.

Day 4—Cordoba—stop 3: Roman Bridge
The Roman Bridge in Cordoba

Time spent here: 15 minutes
Right across from the Mesquita is the Roman Bridge—a big, fat bridge with 16 arches, about 820 feet (250 m) long. Even though it is technically a bridge that the Romans bulit as early as the 1st century, most of what you can see today is the work of the Arabs in the 8th century when they reconstructed it.    
No use spending too much time here, just walk there and back and you are done. On to the next stop!
Day 4—Cordoba—stop 4: Lunch at Mercado Victoria
Time spent here: 1 hour
You're probably hungry by now, so it's the perfect time to visit the market. But not the kind where you can buy apples and celery, a gourmet market.
The building dates back to 1877 and was the oldest at the Cordoba fair that used to be held here. It doesn't hurt that the pavilion is in a park.
Don't expect anything shabby at Mercado Victoria, the stalls and restaurants here are very cool and give you a wide selection of Spanish and international fare.
You might need to pry yourself away from the burgers and pizza, but it's worth the torture to try a Cordoba specialty: salmorejo, a cold tomato soup similar to gazpacho. Get it at La Salmoreteca–they make many variants from strawberry to seafood and back to avocado. It's a disaster for anyone that gets overwhelmed by choice.
If you want to know more about not just salmorejo (like why it's pink), read my Spanish food guide.
Open daily 8 am–10:30 pm with a siesta between 10:30 and 12:30

Day 4—Cordoba—stop 5: The gardens of Cordoba's Alcazar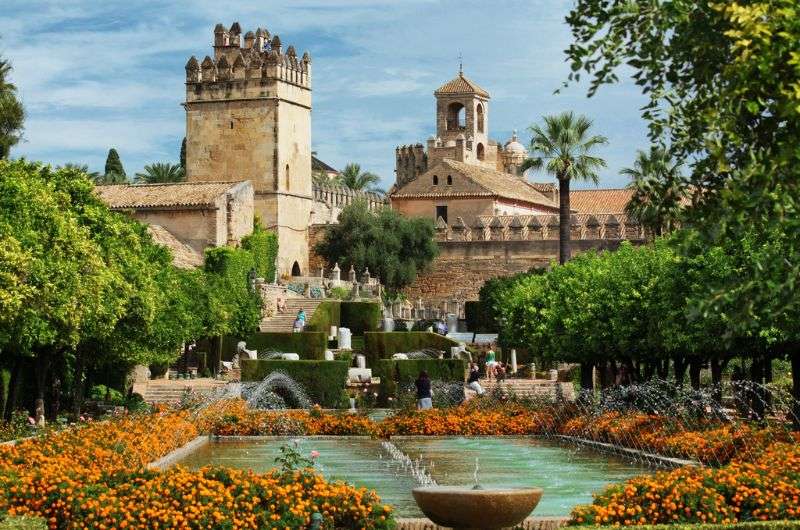 Cordoba's Palace

Time spent here: 1.5 hours
The Alcazar de los Reyes Cristianos (=The Palace of the Christian Kings) is where Christopher Columbus planned his trip to Asia, ehem America.
The thing is, since this is an Andalusia itinerary, you will visit a lot of Moorish palaces. Spectacular palaces that'll have you picking your jaw off the floor. Will that happen at Cordoba's Alcazar? Probably not, so I'm going to recommend either skipping it altogether, or just focusing on the gardens so you don't strain your travel muscles too much.
If you decide to come here, just take a walk in the gardens, passing by the lollipop-shaped trees, and go up the corner towers for some views of the city.
Before you visit the Alcazar, read about the iffy registration process you need to go through in order to get tickets. It is literally mentioned almost nowhere and people end up trying to register while standing in line at the entrance, and it can be a royal pain. Staff wasn't very helpful when we were there, either. People got turned away.
Closed Mondays. Open Tuesday to Friday 8:15am—8pm. Saturday 9:30am—6pm. Sunday 8:45am—2:45pm 
Tickets cost EUR 5

Day 4—Cordoba—stop 6: Palacio de Viana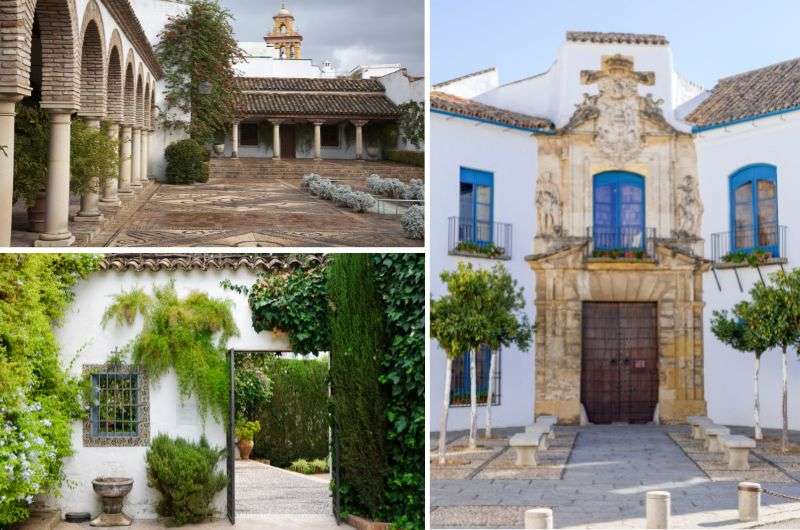 Palacio de Viana

Time spent here: 1.5 hours
Cordoba's patios, or courtyards, are an institution. The annual Festival of the Patios takes place in the first two weeks of May and during this time, all participating courtyards are open to the public and free to visit. And crowded.
If you aren't visiting in May and you want to indulge in more patios than you can find randomly in the city, go to Palacio de Viana. The palace has no less than 12 courtyards, all connected in a circular pattern. Each one is unique–there is for example the courtyard of oranges, the courtyard of Roman columns, silent courtyard or a courtyard of the cats. Get a map at the ticket office, it's really informative and you won't be stuck trying to find cats in the courtyard of pigeons (ok, I made that one up).
I'd say focus on the patios at Palacio de Viana, but you can also visit the interior. It took 500 years to build the palace complex, so you can see the diversity and layers that kept being added on through time. It was inhabited by royal families until the late 20th century.
Closed on Mondays. July and August: Tuesday to Sunday 9am—3pm. Other months: Tuesday to Saturday 10am—7pm. Sundays 10am—3pm.
Tickets are EUR 7 for just the patios, EUR 11 for the patios and palace

Day 5 of Andalusia itinerary: Caminito del Rey, El Torcal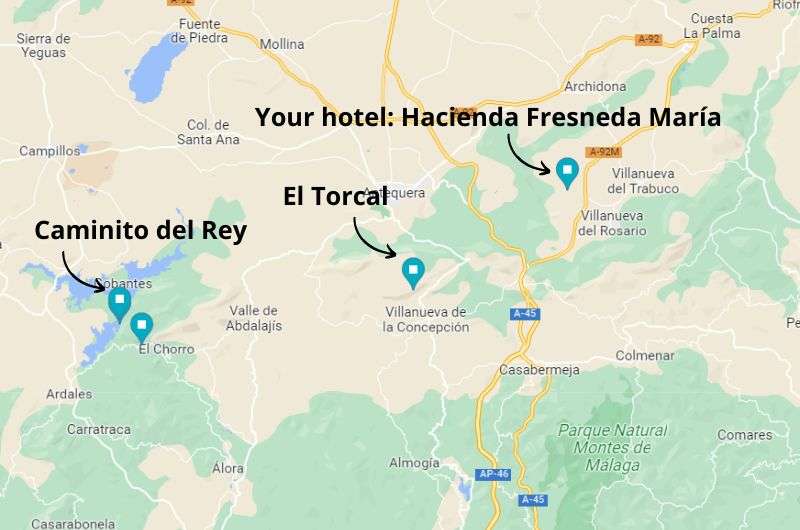 Your stops on day 5 of 10-day Andalusia itinerary

Main sites visited on day 5: Caminito del Rey, El Torcal Nature Reserve
Restaurant tips: Bar Restaurante La Ermita | Restaurante El Mirador Ardales | Restaurante Balcón del Sol
Hotel recommendations: Hacienda Fresneda María by Charming Stay
Further reading: Top Places in Andalusia | Andalusia in a Nutshell
Day 5, stop 1: Caminito del Rey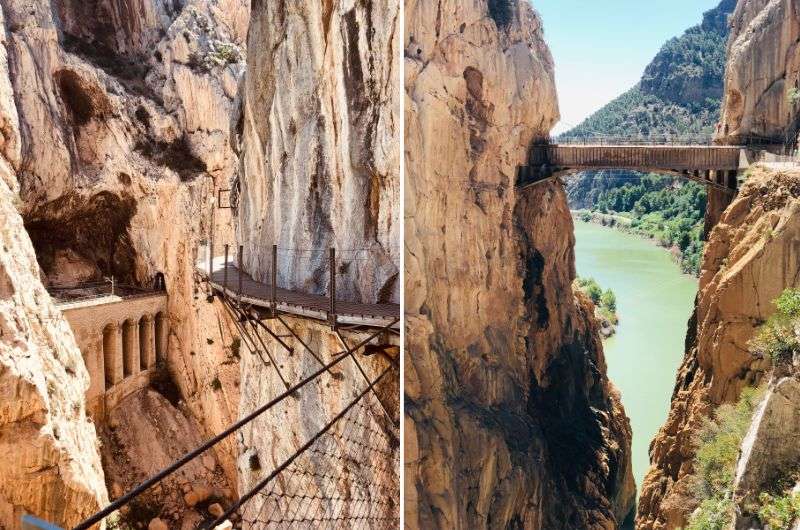 Great for vertigo!

Time spent here: 3.5 hours
Caminito del Rey is one of my top two destinations in Andalusia, and is for sure the best natural spot to visit in southern Spain. Take sun screen and a hat, because it gets unbearably hot! Don't make the same mistake we did and think "oh, it's a gorge, it'll be in the shade". NOPE.
It's a series of walkways bolted into the rock face 330 feet (100 m) above the gorge floor, so maybe also take a diaper if you can't deal with heights. This experience is a combination of nature and adrenalin. You'll be happy to notice that the path you're walking on, built in 2015, is much better than the old one still visible under it. You would not want to be on the old one. Neither did those that fell to their death from it before it was repaired.  
Beware that you need to book tickets months in advance if you want to go without a guide. For guided tours, weeks in advance is usually enough.
Secret tip: If you get a guided tour and find out that your guide moves at the speed of a sloth, you can just ditch the tour and continue on your own (like we did). This could be helpful if you want to buy tickets for a day where self-guided tours are already booked solid.
You will get a time slot and need to get to the parking area an hour ahead of time to be on the safe side. Choose a spot near El Kiosko Restaurant since that's where the shuttle bus will drop you off after your hike. The drive from the wonderful Hacienda Fresneda María by Charming Stay takes about an hour, too, so you may need to hop out of bed extra early today.
The entrance of Caminito del Rey is a 20-minute walk from the parking lot (look for the tunnel).   
The entire walk takes a minimum of 2 hours to finish and is mostly flat except for the final descent. I recommend leaving more time though, this is a place to be relished, not quickly walked through.
You will get a helmet before you embark on your walk.
Day 5, stop 2: El Torcal Nature Reserve
El Torcal karst landscape

Time spent here: 30 minutes–4 hours
Combine Caminito del Rey with El Torcal Nature Reserve (El Torcal de Antequera) for a full day trip. It's on the way back to Hacienda Fresneda María, so why not.
El Torcal is a karst landscape that is pretty impressive unless you are from a country with many karst landscapes, in which case it won't blow your mind. Still a nice trip though and those of you without much karst experience might even feel like you've landed on another planet.  
Lunch tip: I've highlighted some restaurants that are worth getting stuffed in, see them all in the table of recommendations at the beginning of day 5. They are all on the way between Caminito del Rey and El Torcal.
There are three main hiking routes at El Torcal and they are all easy. There isn't much elevation and unless it is muddy, the terrain won't give you much trouble, aside from a rock here and a step there. The green route will only take you 45 minutes, the yellow and orange routes take 2 and 4 hours respectively.  
If you have no time or desire to walk and can already see yourself in Hacienda Fresneda María's infinity pool, just head over to the visitor's center and take in the views from the viewpoint just past it.
Day 6 of Andalusia itinerary: Ronda
Your route for day 6 of 10-day Andalusia itinerary on Google Maps

Main sites visited on day 6: New Bridge, bridge viewpoints, Old Town, Arab baths, bullfighting arena, Paseo de Blas Infant
Restaurant tips: Restaurante Las Tablas | El Lechuguita | BlackCoffee
Hotel recommendations: Hacienda Fresneda María by Charming Stay
Further reading: Best Spots in Ronda | Andalusia in a Nutshell | Bullfighting in Spain
A tiny town perched up on a limestone rock formation, made famous by a spectacular bridge over the gorge in the middle of it—that's Ronda. The drive from Hacienda Fresneda María will take you 1 hour 20 minutes.
Park at one of the many parking lots, we found this parking lot good (and cheap for about EUR 1 per hour).
Read my full Ronda guide for top tips , especially if you're the type of person that sometimes enters restaurants with the intention of ordering just a cup of coffee.
Day 6, stop 1: New Bridge and viewpoints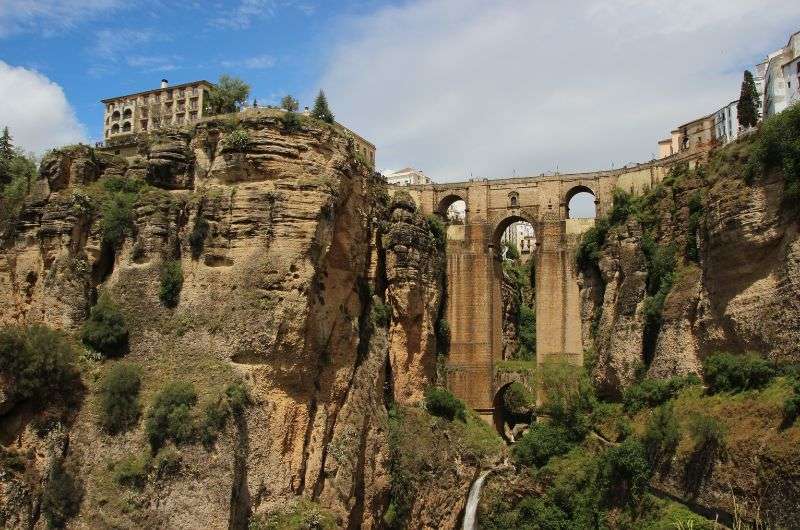 View of New Bridge in Ronda from a viewpoint in the gorge

Time spent here: 2 hours for the bridge and to hit all the viewpoints
Ronda's main thing to see it the New Bridge (Puente Nuevo). It's the highlight and is worth braving the crowds that flock here. You can stare at the views of the landscape from it, see the Rio Guadalevín flowing below it, but you won't really be able to see the bridge itself.
That's why you'll spend most of your time in Ronda walking to and staring from various viewpoints.
First, make a stop at Mirador de Aldehuela, which is right behind the bridge. Behold, the back of the bridge! (Do bridges have backsides?)
Then, go to the viewpoint called Mirador de María Auxiliadora, a little ways south from the bridge. There's a path into the gorge that is apparent from there, and you just stay on the trail and keep hitting better and better spots to take that pic of the bridge. You'll know when you hit the end, the best spot of all. Then it's back up the hill!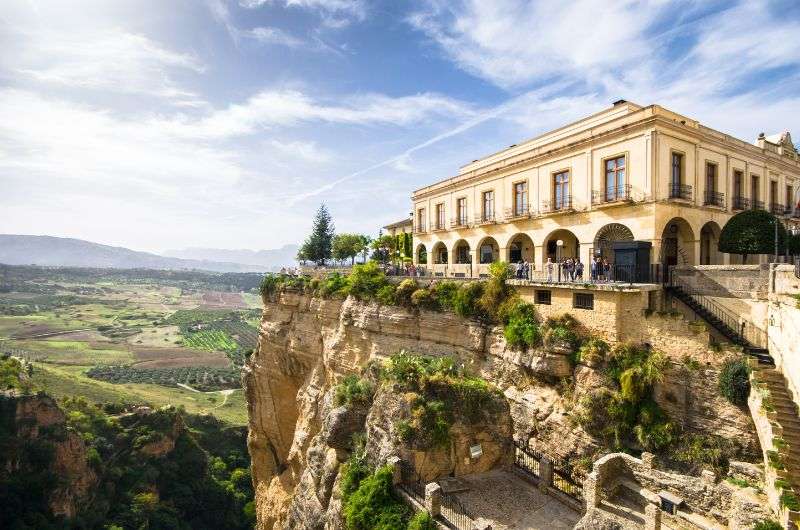 Ronda's terraced garden, Jardines De Cuenca

If you still can't get enough, cross the New Bridge and head over to the terraced garden called Jardines De Cuenca.
Day 6, stop 2: Old Town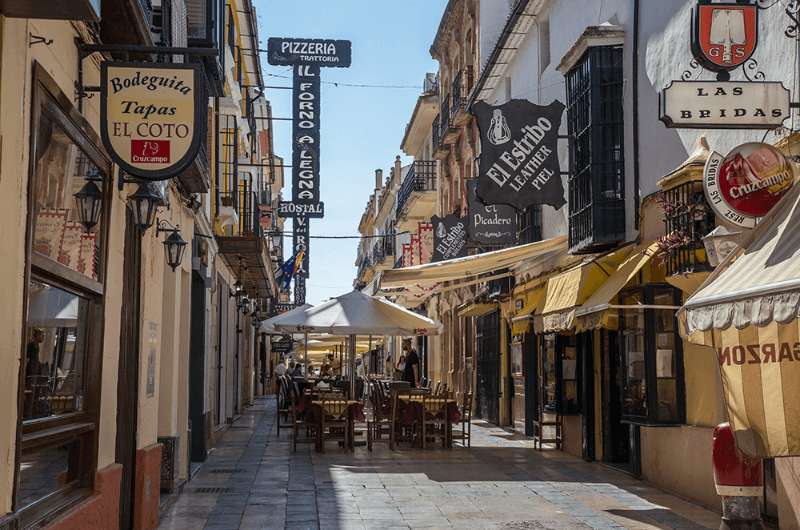 Calle Armiñán

Time spent here: 1.5 hours
You'll walk through parts of Old Town during your search for bridge viewpoints. Calle Armiñán is the main drag, with shops, bars, and historical buildings worth your gaze.
Two to look out for specifically are Casa del Gigante, which is a private home built in the 13th or 14th century and is one of very few belonging to Nasrid architecture. This is what a house of a wealthy Muslim family would have looked like in that time.
The Palacio Mondragón is a palace converted into a museum. You can learn about the history of the region here, as well as admire the two styles it presents: the Mudejar and the Renaissance.
The Iglesia de Santa María la Mayor is a mosque turned into a Catholic church (where have I heard that before?). For EUR 3, you can climb up the winding stairway to a viewing platform for some lovely views. Because I'm sure you haven't had much of those this whole stay in Ronda!
Day 6, stop 3: Arab Baths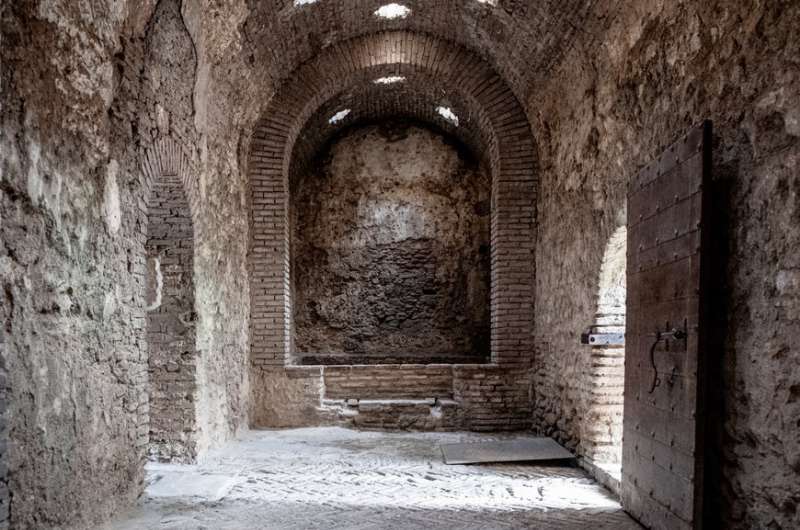 Ronda's Arab Baths

Time spent here: 30 minutes
Ronda's Arab Baths are some of the best preserved baths of this type in all of Andalusia. They were built in the 13th century and used by Muslims and visitors alike to purify themselves before visiting the mosque, and just as a sanitary facility in general.
Tip: You could imagine the procedure to be similar to what we experienced in a hamam in Istanbul.
There are three main rooms: the cool room was for relaxing and cooling down (and chatting for hours with your neighbor about your other neighbor), the warm room provided services such as massages and perfumes (and some more talking with Bob), and the hot room was very steamy, like a sauna. Repeat until you're all bath'd out!
The baths themselves are partially underground, though the first room, formerly the changing room, has lost its ceiling. The other rooms are intact.
The warm room also shows a great animation about the baths and how they used to be used.
The Arab Baths are small, so you'll be done in 30 minutes max.
Open daily 10am—6pm, with a break between 2pm—3pm on Mondays and Saturdays
Tickets cost EUR 4.50

Day 6, stop 4: Bullfighting Museum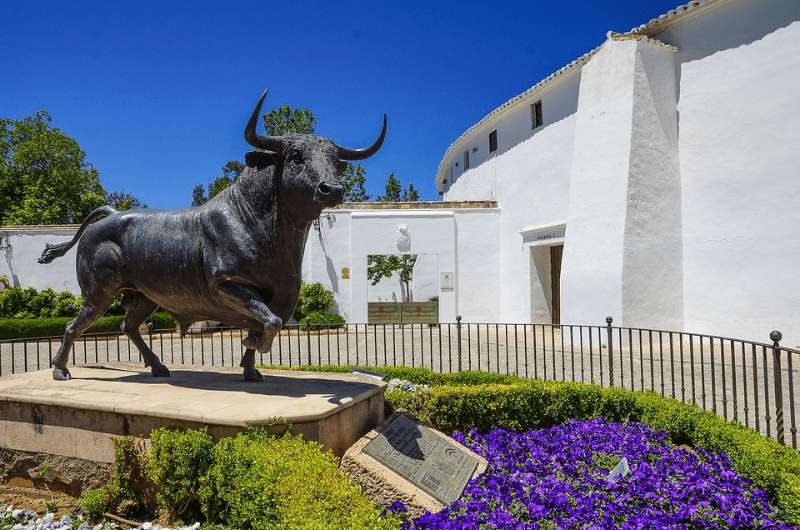 El torro

Time spent here: 1–2 hours
The bullfighting arena at Plaza de Toros (full name: Plaza de Toros de la Real Maestranza de Caballería de Ronda) is considered the birthplace of modern bullfighting. It was here that, in the 18th century, a matador named Pedro Romero got into the arena with a bull on foot, not horseback. This arena, along with the one in Sevilla, is the oldest in the world.
It's really nice with two stories. There is a museum at the arena and you can take a tour of the bullfighting ring on your own with the help of an audio guide. I consider it the most interesting place in Ronda besides the bridge.
Bullfights do still happen here, but I have a whole big, strong opinion on those.
If you happen to be in town in September, you might be there for the annual 'Feria Goyesca de Pedro Romero', a festival focused on the glitz and glam of old-school bullfighting. There is a procession of horse-drawn carriages with everyone, including the matadors, dressed in 18th century costumes.
Open daily 10am—6pm in the winter months, until 8pm in the summer
Tickets are EUR 9.50 with audio guide

Day 6, stop 5: Paseo de Blas Infante
Time spent here: 30 minutes
There, you did it, you've seen Ronda! As a last goodbye to Ronda, head to Mirador de Ronda, a viewpoint that's part of a park called Paseo de Blas Infante. This time, you'll be staring out beyond Ronda, and if you happen to be here at sunset, you might even think it's the prettiest sunset you've ever seen.
There's also an Ernest Hemingway statue and lots of stray cats.
Day 7 of Andalusia itinerary: Gibraltar
Your route for day 7 of 10-day Andalusia itinerary on Google Maps

Main sites visited on day 7: Beaches on the way to Gibraltar, The Rock in Gibraltar,
Restaurant tips: Jury's Café and Wine Bar | The Yard
Hotel recommendations: Hotel Monte Puertatierra
Further reading: Most Beautiful Beaches in Spain | What to see in Gibraltar in a day
Next up, you'll leave Spain, enter the UK, and then go back to Spain. All in less than a day. You might even see Africa!
Gibraltar is a British Overseas Territory at the southern tip of the Iberian Peninsula, about 1 hour and 45 minutes from Malaga.
You can stop by some of Spain's prettiest beaches on the way there.
Day 7, stop 1: Beaches near Marbella or Estepona
Time spent here: 1–2 hours
On the way south, you'll be spoiled for choice for a beach stop. If you prefer a natural beach, complete with a wooden beach walkway, head to the Senda Litoral Coastal Trail. It'll take you past many unspoiled beach spots.
If you packed your fancy swimming suit, continue on to Spain's version of Saint Tropez, Marbella.
For less conceited folks, the charming beach resort town of Estepona will probably be more up your alley. La Rada Beach is right in front of the cute Old Town. Complete with historical buildings with flowers in blue flower pots, castle ruins, towers, and fountains covered in tiles, it is Andalusia in mini form. Like an Andalusia tapa!  
But don't hang around for too long, because you need to see Gibraltar in however long you have left in the day.
Day 7—Gibraltar—stop 2: The Rock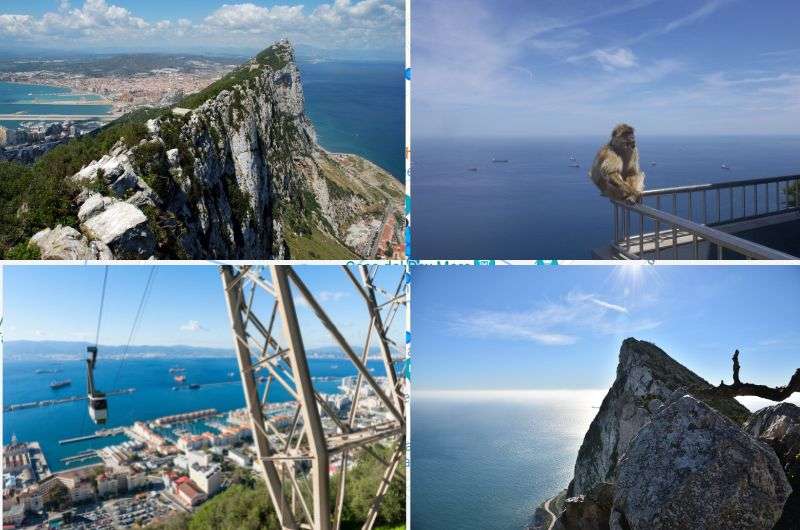 Some views from The Rock

Time spent there: Half a day
When entering Gibraltar from Spain, you need to cross the border, so have your documents in order (Gibraltar isn't part of the EU anymore).
There are often long lines of cars at the border and parking in Gibraltar is a pain. Go ahead and leave your car in La Linea on the Spanish side and just walk through the border. If you purchase your tickets to The Rock online (or at the border), you get a free shuttle from the border to The Rock cable car station anyway.
You can check the online stream from the border to determine if there is a hold up at the border if you really want to drive in. I have more detailed information about getting into Gibraltar and the traffic and parking situation in my full Gibraltar article.
The highlight of any trip to Gibraltar is a visit to the Rock, the huge limestone mound that takes up most of the land Gibraltar is on. The Rock is about 1,400 feet high (420 m) and the top of it is a nature reserve with the most magnificent views and some gnarly and surprisingly big monkeys.
Beware: Those monkeys are assholes and use humans as trampolines for bouncing between trees. I saw it more than once and it didn't look fun (for the human).
The ticket for a return cable car ride and entrance to the nature park with all its attractions (like the suspension bridge, the Skywalk and the tunnels) costs EUR 34 per person.
The ride up or down The Rock takes 6 minutes. There are many trails to walk on The Rock, and if the sky is clear, you'll see all the way to Morocco. The views are crazy good, so really budget enough time for The Rock, it's easy to spend half a day there.
The are other attractions, too, like the Skywalk and the Great Siege Tunnels, that'll take up extra time. Don't miss the chance to walk all the way to the end of the tunnels. You'll get to the balcony on the other side of the Rock!
Details on visiting The Rock, what to see, why and how, are all in my Gibraltar article.
Day 7—Gibraltar—stop 3: The city
The marina

Time spent here: just enough to grab some food
You aren't spending the night in Gibraltar, so you should be getting on your way as soon as you're done with The Rock.
But first, stop at my favorite restaurant in town, Jury's Café and Wine Bar. It's small and charming and the fish and chips with beer were great.
If you like to enjoy your meal with a side of plane engine roars, head over to possibly the most modern part of Gibraltar, Ocean Village. There are tons or bars and restaurants here at this northern end of the marina.
Day 7, stop 4: Playa de La Fontanilla En Conil
Playa de La Fontanilla En Conil

You might be ready to hit the sack by the time you're done on The Rock, in which case, skip this stop and head straight to your Cadiz hotel.
If you're up for one more stop, get back in your car and drive the 1.5 hours to Playa de La Fontanilla En Conil—a gorgeous, wide beach on the Atlantic. There are a few beach bars there that'll gladly sell you a drink to celebrate you getting past the 1-week mark on your Andalusia itinerary. If you time it right, you could be doing that while you watch a spectacular sunset.
La Fontanulla Beach is on the way to Cadiz, which is where you'll be spending the night. I recommend this hotel:
Your hotel in Cadiz
It's only for one night, but you still want to stay some place nice—choose Hotel Monte Puertatierra. It's close to the city center and has huge and weirdly comfortable beds. You can make your sleep even better by choosing your pillow from the pillow menu.
Day 8 of Andalusia itinerary: Cadiz, Sevilla
See this walking route in Cadiz on Google Maps

Main sites visited on day 8: Cadiz Old Town, Cadiz Cathedral, Santa Catalina Castle, La Caleta Beach, Plaza de España (Sevilla)
Restaurant tips: The Tapería of Columela | Puerta del Eden Restaurant
Hotel recommendations: Melia Sevilla
Further reading: Best Places in Sevilla |
Today, you'll explore a bit of Cadiz before heading out to the best city in Andalusia—Sevilla.
Day 8—Cadiz—stop 1: Old Town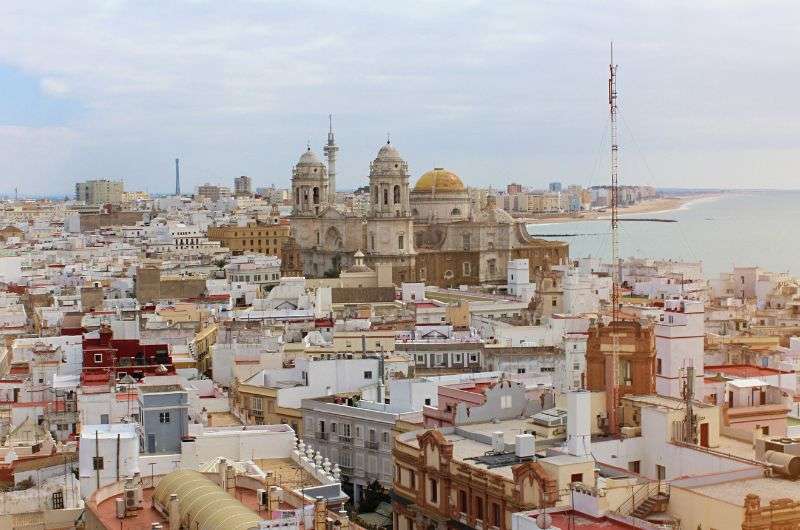 Cadiz Cathedral

Time spent here: 1 hour
Get a feeling for Cadiz by wandering the streets of Old Town. Walk randomly in the narrow alleys around Plaza de las Flores and Plaza de la Candelaria, and make your way to Cadiz Cathedral. You can get really nice views of the city from the west tower, so don't forget to climb up before you leave!
Day 8—Cadiz—stop 2: Santa Catalina Castle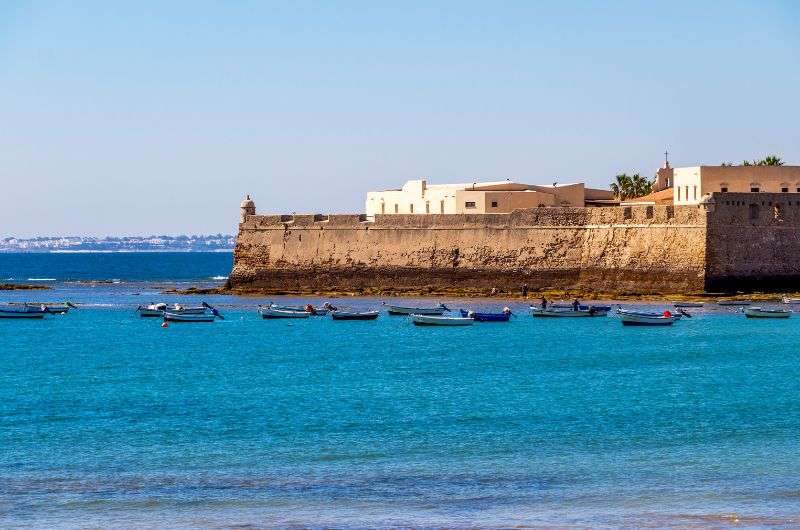 Santa Catalina Castle

Time spent here: 1 hour
The Castillo de Santa Catalina is a 17th century fortress with amazing ocean views that is free to enter. Roam around at your own leisure, find the little chapel, and don't let the sand in your ears (it gets really windy up there!) deter you.
There are frequent art exhibitions and events at the castle, so you never know what you'll see when you get there.
Day 8—Cadiz—stop 3: La Caleta Beach
Time spent here: 1 hour
La Caleta Beach lies between Santa Catalina Castle and San Sebastian Castle. The beach has—wait for it—great beach vibes. You can just chill here, grab a drink, people watch.
Or, if you're like me and can't sit still for more than 5 minutes, you can walk all the way to San Sebastian Castle on the sandy walkway that juts out 400 m (1300 feet) into the water. You can't visit the castle, so you're only going for the fun of walking.
Day 8, "stop" 4: Drive to Sevilla
See the route from Cadiz to Sevilla on Google Maps

Enough beaching, it's time to move inland! Your next destination is one of the top spots on this Andalusia itinerary—Sevilla. The drive from Cadiz takes about 1 hour, so it's easy peasy.
Your hotel in Sevilla
I'd head straight to your hotel so you can freshen up, ditch your car, and continue exploring. My recommendation is the 4-star Melia Sevilla, which is right by Plaza de España. Conveniently enough, that's where you'll be ending your day today.
Melia Sevilla pulls out all the stops without being insultingly expensive. It boasts a trendy design and lots of natural light, an outdoor pool that you'll need to cool down in almost all months of the year (Sevilla is HOT!), a spa with hamam and a sauna… in case you feel the need to warm up for some reason.
You can ask for a room with a balcony facing the Plaza de España, or, if you do want to make your stay insultingly expensive, there is "The Level", where you high ballers can congregate amongst yourselves.
Last but not least, the breakfast is superb. For all levels.
Day 8—Sevilla—stop 5: Plaza de España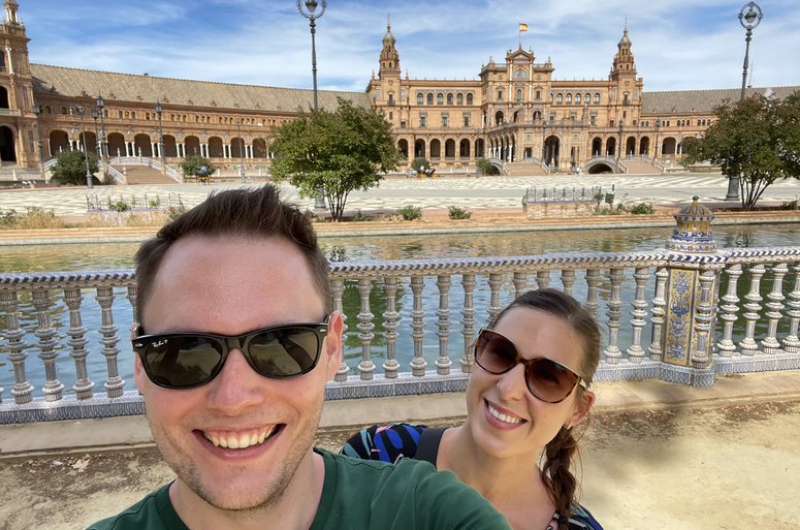 Strangely, we managed to get a pic of the Plaza with no other people in it

Time spent here: 2 hours to infinity
End your day at Plaza de España and the Parque de María Luisa (which is right by your hotel, Melia Sevilla). For me, it's one of the most monumental places in all of Spain... but it's still worth only about 30 minutes of your time to really see it.
The Plaza de España was the central, half-circle Andalusia pavilion and main focal point of the 1929 Ibero-American Exposition. Now it's just there to wow you, because it truly is spectacular.
Around the plaza there are tiled alcoves, each of which represents a different region in Spain, a canal, fountain and several other buildings that served as Spain expositions.
You can go and rent a little row boat on the canal for EUR 6 for 35 minutes unless that feels nauseatingly touristy. Otherwise it's like a tiny little Venice in the middle of Andalusia!
The main building on the plaza now serves as a seat for the main government offices. It's free to visit.
There are frequent shows around the plaza. When we visited, there was a flamenco dancer stomping the stomp on the 2nd floor of Plaza building, so just roam around and see what you can find. Extra credit if you're here for the sunset!
Day 9 of Andalusia itinerary: Sevilla
Your route for day 9 of Andalusia itinerary 10 days on Google Maps

Main sites visited on day 9: Sevilla Palace (Alcazar), Barrio Santa Cruz, Cathedral, La Giralda Bell Tower, Ceramics Center, The Mushrooms
Restaurant tips: is El Librero Tapas y Quesos | La Brunilda | Vineria San Telmo
Hotel recommendations: Melia Sevilla
Further reading: Best Places in Sevilla | Best Museums in Spain
Sevilla is my second favorite city in all of Spain, right after Barcelona. You'll see all of my favorite spots today, and then you can agree with me. Ready?
Day 9—Sevilla—stop 1: The Royal Alcazar of Sevilla
Gardens of the Alcazar

Time spent here: 3 hours minimum
Sevilla's Alcazar (palace) and its gardens are my favorite in Andalusia. That's saying a lot, because the palaces are all pretty fantastic. The sheer number of tiles and gold used in the interior will make your eyes fall out of your head. If you add the immaculate gardens, this stop will take up at least 3 hours of your time.
Heat warning: Sevilla is the hottest city in continental Europe (having a dispute about the title with Athens). If you visit anytime between June and August, you will get roasted alive. Temps reaching 40ºC (104ºF) and beyond are standard in the summer.
The Alcazar is the oldest royal palace still in use in Europe today. When the Spanish royal family is in Sevilla, it resides in the upper stories of the palace. When they're not there, you, too, can visit their apartments! No really, you can even go to the bedroom.
The Courtyard of the Maidens, the Princess Baths, the Ambassador's Hall… each area leaves you thinking it can't get any better, but then it does! There's really so much to look at, so make sure you leave yourself enough time to see it. The architecture is the most interesting part; the exhibitions... less so.
Don't skimp on the gardens, either. You'll want to take enough time to see them. It's not just a regular garden, you WILL be impressed. People even take snacks and just laze around on the benches.
Details about visting the Alcazar are in my full Sevilla article.
Open daily 9:30am—5pm, or until 7pm in April—October. Nighttime visits available.  
Tickets cost EUR 13.50 for general entry, EUR 5.50 extra for royal bedroom
Day 9—Sevilla—stop 2: Jewish Quarter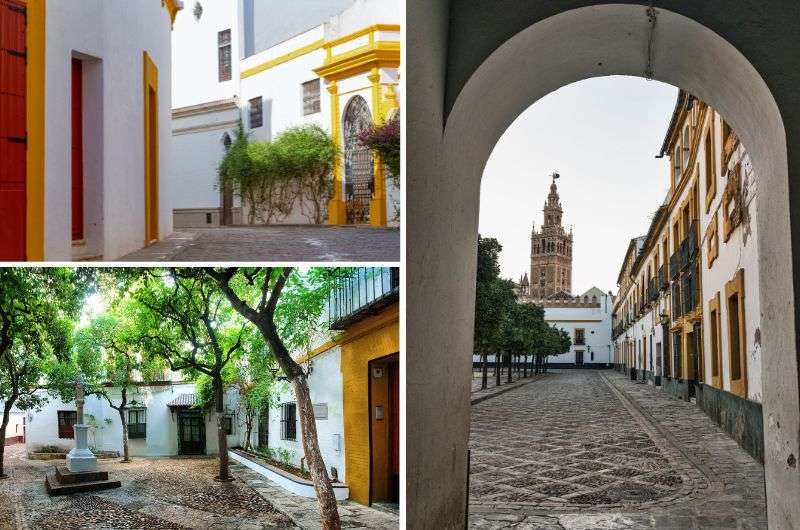 Barrio Santa Cruz

Time spent here: 1 hour
The neighborhood between the Alcazar and Sevilla's Cathedral is called Barrio Santa Cruz, the old Jewish quarter. This is where you want to wander aimlessly in the narrow alleys, passing tapas bars, tiled benches and myriads of orange trees. This is where you will really feel that you are on vacation.  
Granted, this is a neighborhood where you'll also find the most tourists and a ton of tourist traps. The quality of the restaurants is hit and miss, but one great tapas restaurant that won't disappoint is El Librero Tapas y Quesos.
Day 9—Sevilla—stop 3: Sevilla Cathedral and La Giralda Bell Tower
Sevilla Cathedral

Time spent here: 1.5 hours
When Sevilla's cathedral was finished in 1506, it became the largest cathedral in the world. Istanbul's Hagia Sophia, who held the title for over 1000 years up until then, dropped down to second place and probably cried about it a little bit.
Fun fact: The cathedral in Sevilla is currently the largest gothic church in the world, and it's also the 2nd or 3rd largest cathedral and 3rd or 4th largest church in the world. I try to explain the vocabulary and details in my Sevilla article.
Sevilla's mighty cathedral was built on the site of a mosque, adapting to its square structure. The former minaret became a bell tower, La Giralda. That's why its floorplan is not in the shape of a cross as it is in most churches.
It is HUGE and spectacular, and you really want to get a good like inside. There are no less than 80 chapels, each of them looking like you could fit another church in there. The choir stands are elaborately decorated and the main alter piece is just bombastic. Seriously, how much gold can you use?!
Aside from the regular church stuff, you'll also notice a famous man's resting place: none other than Christopher Columbus himself.
Go up to La Giralda Bell Tower for some great views of Sevilla.
You can buy tickets buy tickets online or at the door for a slight surcharge, but you risk them being sold out. I recommend the first option in order to beat the crowds (and not risk them being sold out).
If you already bought your ticket online, enter through the gate by the bell tower. If you want to buy your ticket in person, go through the main gate. It's the southern entrance by the replica of the statue that sits atop La Giralda.
Again, all details are in my Sevilla article.
Open daily, Monday—Saturday 10 am—6 pm, Sundays 2:30 pm—7 pm (last entrance 1 hour before closing time)
Tickets are EUR 11, audio guides are EUR 5 extra. Guided tours are available for EUR 20. Get your tickets online.

Day 9—Sevilla—stop 3: Ceramics Center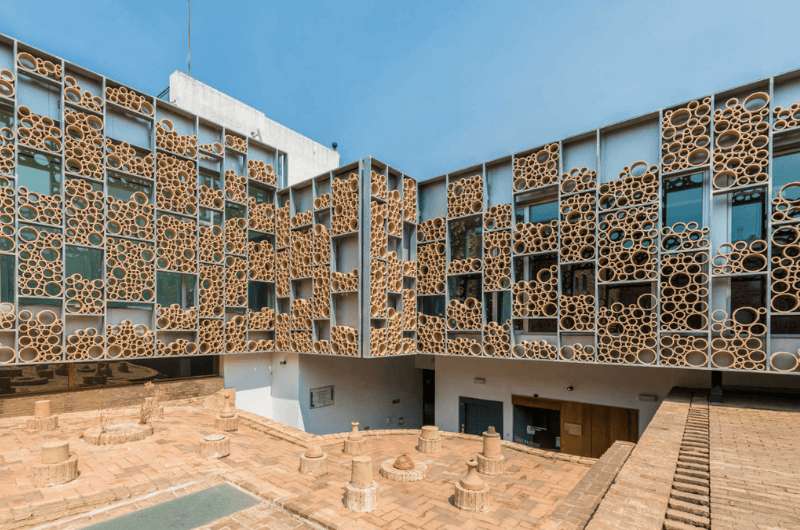 The courtyard of the Ceramics Center

Time spent here: 1 hour
Being in Andalusia—aka tile central—it's only fitting to tell you about a ceramics museum. I mean if you are on a trip through Andalusia, you would have to have your head stuck in a bucket the whole time to not notice the vast array of ceramic tiles all over the place—courtesy of the Moors.  
Centro Cerámico Triana, a smallish museum in the less touristy part of Sevilla, is a great place to learn about the history of the ceramics industry in Sevilla. It doesn't hurt that the Triana neighborhood is a vibrant, artsy place with many shops and restaurants. It is located across the river form the Old Town.  
The museum itself is in a former ceramics factory, since Triana is the part of Sevilla that traditionally produced the most tiles and ceramics. Even the tiles on the fabulous Plaza de España are from here!  
The inner courtyard used to be the main production area of the factory and has been restored to a very cool area in itself. Various sizes of pottery tubes are used to make the masterpiece of a façade. It is meant to help provide shade inside the museum and still allow light to get in.  
Inside the museum, you'll see the kilns, a water well, mineral mills and potters' wheels, all with display panels that help you understand the ins and outs of pottery making.  
The upper floors are where some impressive tiled pieces are displayed. There are also subtitled videos with ex-factory workers telling their stories.  
The Sevilla museum isn't very big and you won't spend more than an hour there. You can extend your tile tour in the streets surrounding the museum where there are many ceramics shops. You'll want to get your entire family tiles as souvenirs, I promise.    
Open Tuesday to Saturday 11 am–6 pm. Sundays 10 am–3 pm. Closed on Mondays.  
Tickets cost EUR 2.10

Day 9—Sevilla—stop 3: Sunset at Sevilla's Mushrooms
"The Mushrooms"

Time spent here: 1 hour to as long as you desire
Finally, walk to the northern part of Old Town to the largest wooden structure in the world—"The Mushrooms" (Las Setas) is a controversial group of 6 giant mushroom-looking things that the locals hated when it was first erected. Most love it now apparently. It grew on them.
Officially called Metropol Parasol, there's a light show that you need to visit in the evening, either at sunset or after, to appreciate the coolness of the place. I mean yeah, it's interesting during the day as well, but with the lights gently gliding across the top at night, it's certainly more memorable.
Just a note that you'll have to ignore the shady underbelly to really consider this place beautiful.
There's an elevator that takes you to the top where you can take in the sights from the winding walkways and platforms. A unique view of the Cathedral can be seen from it, too. The Metropol Parasol also includes a couple of (not so great) restaurants and a shop.
There are a total of 5 floors at the Mushrooms.
If you get your tickets online, note that there's a time slot you need to limit yourself to, but at least you won't get there and find out they're sold out!
Day 10 of Andalusia itinerary: Malaga and departure
Main sites visited on day 10: Picasso Museum, Soho, Malagueta Beach
Restaurant tips: El Pimpi | El Tintero | Zury
Further reading: 20 Tips for Malaga | Andalusia in a Nutshell | Top Places in Andalusia 
Today is the day you start frantically checking your work emails, because the end of your vacation is here. Check out of your hotel in Sevilla and drive 2.5 hours back to where your 10 days southern Spain started: Malaga.
You've already seen Malaga's highlights in the beginning of your Andalusia trip, and who knows how much (or little) time you have left before your flight out today. So I'll give you a few tips on what you could do to spend your time in Malaga, and highlight some great restaurants.
Day 10—Malaga—stop 1: Picasso Museum
Picasso Museum

The one thing Malaga has that other cities don't, is the claim to Picasso's birthplace!
At the Picasso Museum, you can look at pictures by and of Picasso housed in a nicely renovated building from the 16th century. There are over 200 pieces on display over 2 floors, though his most famous works are in other, more famous, museums of the world.  
An audio guide is included in the ticket price.
Open daily from 10 am, closes between 6 and 8 pm depending on the month
Tickets cost EUR 9.50 and include an audioguide
OR, if Picasso isn't your cup of tea and you're more of a cars and fashion kind of person (or couple), the Automobile and Fashion Museum in Malaga, Museo Automovilístico, could be a better option for you.
Details about it in my article about the best museums in Spain.
Day 10—Malaga—stop 2: Soho
Soho is an up-and-coming neighborhood west of the harbor with lots of murals and other urban art, perfect if you have a Bohemian streak.
You can also visit the CAC Malaga (contemporary art center) or see if the Teatro de Soho (performing arts center) is showing anything. Otherwise just browse the various art studios, quirky establishments and cool cafes.
If street art is something you are interested in, you can download a map of all the works on the website of the MAUS project (Málaga Arte Urbano Soho) and see what you can see.
Day 10—Malaga—stop 3: Malagueta Beach
I have nothing particularly good or bad to say about it, it's a city beach and it didn't make my top beaches in Spain list, but it could keep you happy for a little bit. There are palm trees to take cover under, or you can rent a chair and umbrella if you want.
And take a selfie at the Malagueta sign.
Day 10—Malaga—stop 4: Malaga restaurants
It's been a busy 10 days in Andalusia and you need to rest! That's why there's no shame in skipping the sightseeing for once and spending your last day in southern Spain exploring some superb Malaga RESTaurants.
There are many great establishments that deserve a visit, from the plain but fun El Tintero to no less than 5 Michelin eateries, so you won't be leaving Malaga disappointed in the food department.
I have an entire section on the best restaurants for brunch, lunch, seafood and tapas in my Malaga Guide.

This post contains affiliate links. I earn a small commission if you make bookings through my links, at no additional cost to you. This helps keep this blog free, thank you!