We "endured" two hours of scrubbing and bubble-bathing so we could give you a candid account of what happens in a hamam in Istanbul. And it was the best thing we did in Istanbul! In the name of research, of course.
I mentioned in my best places to visit in Istanbul article that if you want a real Turkish experience, you should stay away from the Grand Bazaar and go to the best hamam you can for an amazing Ottoman-inspired relaxation session. So we did just that.
Side note: Istanbul is a big city, so you might be lost on which area to stay in in Istanbul. Luckily for you, we have an article about the best neighborhoods to stay in Istanbul (spoiler: we think Sultanahmet is best and Taksim sucks). If you book a hotel in Sultanahmet you'll be close to the best hamams and it's where the best hotels are located as well. We think the best one is Cağaloğlu Hamam, which is, in fact, also in Sultanahmet.
(If you use any of our affiliate links and book a hotel through booking.com, we'll receive a small commission at no extra cost to you. Thank you for supporting our work this way, it means a lot!)
You might also be interested in reading:
What is a hamam?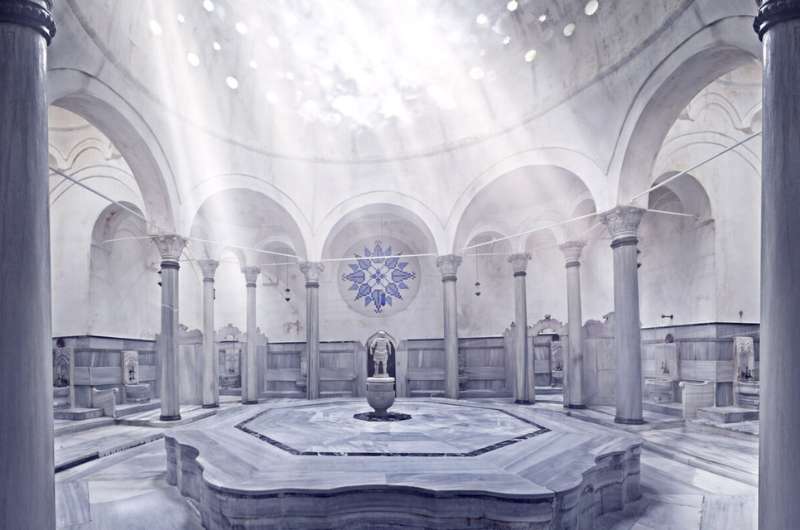 I would pay to just sit here and drink tea, let alone get scrubbed by someone! @ the fabulous Cağaloğlu Hamam, the best hamam in Istanbul
A hamam, or Turkish bath, is a public bathing facility with steam baths, regular baths, people that scrub you, massage you, put nicely-smelling potions on you, and then give you tea and send you on your way.
Men and women go separately, and all the attendants match the gender of the visitors they tend to.
If you're a single woman worried about all those naked men, you don't need to look for a ladies-only hamam—there is always going to be a separate area for women no matter where you go, unless you choose one of the co-ed hamams. Those are only meant for couples though, not singles.
At some hamams there are separate areas for men and women, so if you go as a couple, you both get your hamam experience at the same time, just in different parts of the hamam. At other Istanbul hamams there are just separate times of days in which each gender can visit, but they all use the same areas. Not the best for couples as you cannot go at once.
A hamam consists of several rooms, each one warmer than the last, each with a different function—some for relaxation, some for steaming, some for scrubbing and bathing.

Roman bath at Pompeii in Italy
Hamams are a traditional feature of the Muslim world, though they got the idea from the Romans and their thermal baths. Public bathing was a thing because households didn't have regular access to water.
For Muslim men, hamams were a place for the purification process before going to pray to a mosque.
For women, it was mostly the social equivalent of going to a coffee shop—you chat with your neighbors, catch up on gossip, and ascertain your social status based on which hamam you could afford to go to. Like social media, but naked.
They are now used only recreationally, like a spa would be. Though don't get sidetracked by all the steam room and massage mentions—you will primarily get washed.
The rooms of a hamam are heated through air ducts and through the floors.
So, what is a hamam, you ask? A hamam is a relaxing oasis that will be the most luxurious scrub you've ever had. If you go to the right one (our recommendation below).
Tip: Are you getting ready for a trip to Istanbul? Read our Istanbul travel tips and check out what the best places to visit in Istanbul are.

Livin' like a sultan @ AJWA Sultanahmet
Hotel tip: The AJWA Sultanahmet is a new 5-star hotel from 2017 that gives you luxurious Ottoman style complete with hand-made carpets, hand-painted tiles, exquisite bedding, and an overall wow factor. The common areas are decorated with art by the best Turkish artists.
This is the place to stay to complete your Ottoman experience post-hamam.
AJWA is located in Sultanahmet, the best area to stay in in Istanbul.
A restaurant on the 8th floor provides great food and views. There's also a spa and indoor pool.
Prices start at USD 270 per night for two people with breakfast.
Top tips for visiting a hamam in Istanbul:
Splurge! Pick the best hamam you can, it's totally worth it.
Undress. Expect to be naked save for ladies' panties.
Tip: Your attendants should get a gratuity at the end of your hamam visit.
What happens in a Turkish bath: The general idea of what to expect in a hamam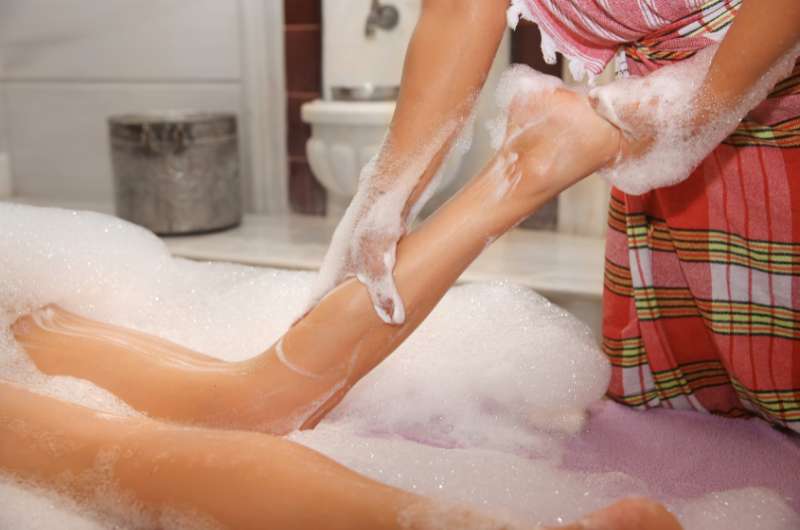 Going to a hamam means you get really, really clean
You've read about how great hamams are, you may be intrigued to try one, but you still don't quite get it? What really happens in a Turkish bath?! The detailed answer depends on which hamam in Istanbul you choose, and which program or procedure of that hamam you pay for.
I recommend going to the best hamam you can, because where else will you be able to do? So go on, book that luxury experience! It's so worth it.
My dear wife chose the Ottoman Luxury Service at Cağaloğlu Hamam, which seemed a little overboard to me, but of course she deserves only the best. And I wouldn't have it any other way if we were doing it again—it was so worth it! Best USD 160 spent in Istanbul (per person). Actually, they have even more fancy experiences at Cağaloğlu Hamam … my body would for sure appreciate a clay mask!
In general, a hamam or Turkish bath experience means you will be going to a hot steam room, getting your dead skin cells scrubbed off, and usually getting a massage. Add a couple of baths in there and you are done. Follow by drinking Turkish tea and eating treats while you relax.
Men and women are always separated in a hamam, but you will mostly be in a room with more people (of your gender only), though some hamams have private massage rooms.
And don't worry, you'll be guided through the rooms and procedures by your attendant, so you shouldn't ever be left standing there unsure of what to do next.
What do you wear in a hamam?
Men go naked, women wear some sort of panties, everyone is always covered waist down by a wrap
In a nutshell, you'll be naked, but covered in the wrap/towel that you will be provided. If you are a woman, you'll be wearing the bottom part of your underwear.
Everyone is expected to be discreet and wrapped up. This isn't the sauna in Finland.
Most hamams provide single-use underwear for women that you'll get at reception upon arrival, along with a wrap or towel and slippers. If in doubt, bring your own extra pair of underwear, because whatever you're wearing in a hamam will get soaked.
Men are always butt-naked but covered. This isn't a place for exhibitionists.
Use the provided wrap or towel for covering up your private bits if you feel especially shy about letting it all hang out.
The hamam process: Get naked, get sweaty, get scrubbed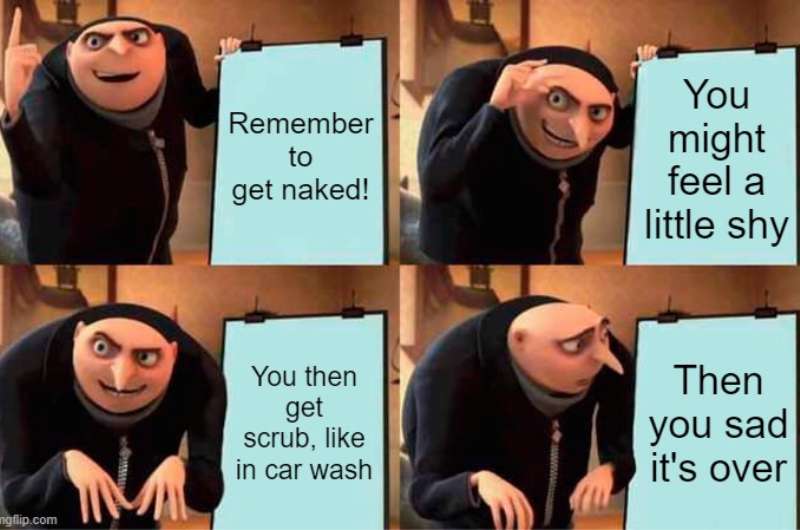 First of all, it's a good idea to make a reservation. For example, we went to Cağaloğlu Hamam, and you can make a reservation there by emailing them, filling out the contact form, or even by sending a WhatsApp message.
To calm your nerves straight away, note that your attendant will guide you through the steps, so you don't need to worry about being lost on what to do and where to go next. Unless you go to a cheaper, self-service hamam, in which case, do read the following carefully!
Once you get to the hamam, you go to a dressing room where you strip down to your underwear (for the ladies), or to nothing (for the men). I have to say that at Cağaloğlu Hamam, even the dressing area was already worthy of a sultan. Seriously, go to a nice hamam if you can.
Then next step is either a warm acclimatization room (around 30°C [86°F]), where you just sit and prepare for the heat in the next room, or in other places you go straight to the steam room (50°C [120°F]). This section will almost always be spectacularly pretty and made of marble, so you have something to look while you start sweating profusely.
Essential oils (like eucalyptus) are often added to the water that makes the steam, so you really feel like you're in a spa about to be pampered.
You put your towel on one of the marble slabs and lay down. This is where get your skin ready to be stripped of its dead cells in the next phase. There are basins with water around the room that you can use to splash on yourself if you want. This takes a maximum of 15–20 minutes, you don't want to cook yourself alive.

The scrubbing happens with either a roughly-woven washcloth or mitt
Then your attendant comes to scrub you head to toe with a washcloth called kese. It can be in the form of a mitt and is usually made of cotton and silk. This may or may not feel like they are taking off your actual skin, but it's great for circulation and ridding your body of toxins.
At Cağaloğlu Hamam and other more high-end places, they use single-use mitts so you don't need to worry about cooties. The person tending to you will be of the same sex as you.
At cheaper hamams you'll see people scrubbing off their own dead skin cells with a cloth they brought form home. Having an attendant do it for you is definitely something that adds to the luxury experience, though. How often do you pay for someone to wash you at home?!
Following the scrub, you will be lead to a bath of some sort to rinse off. Once clean, you'll get (depending on what you pay for) one or more massages. We got a bubble bath/foam massage and then an aromatherapy massage as part of the "The Ottoman Luxury Service" package at Cağaloğlu Hamam (priced at USD 160).
Massages can happen in private rooms where it's just you and your masseuse, or in rooms with several massage beds where the attendants yap away with each other while they're working on their clients.
And then you are done. Clean, smelling nicely, and perhaps a little red from all that scrubbing. But you're as soft as a baby's ass and you know you enjoyed it!
What happens after the hamam process: It's time for tea!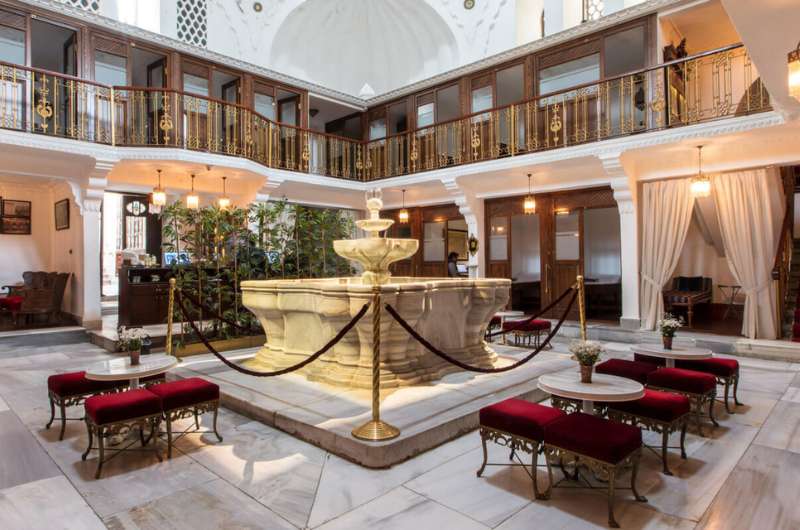 Once you're done, it's time for tea! @ Cağaloğlu Hamam
Once you have been rubbed, squeezed and lotioned up, there's either another cooler room where you can relax for a bit and get yourself back to your regular temperature.
Otherwise you head back to the dressing room and get dressed. You can then enjoy the treats and tea that is usually provided for guests (if it isn't, you need to get yourself to a better hamam!) and lounge around for as long as you want.
It's good to get hydrated after all that sweating.
Our hamam experience took about 2 hours total, without tea time.
Don't forget to tip your attendants and masseuses. Split 10 % of whatever you're spending for your procedures and split it between those that tended to you. You do this once you are back in the cooler area, waiting for your body to get back to its regular temperature after steaming and massages, or after you are dressed.
Tip: You're not supposed to visit a hamam with a full stomach, so you might be ready to eat just about now. What should you eat and drink in Istanbul? Read our article.
How to prepare for a hamam experience: Dos and don'ts
There are a few things to consider before going to a hamam:
Don't come in hungry or too full.
Don't drink alcohol before going to a hamam.
Don't go to a hamam in the first and last 3 months of pregnancy.
Don't take kids under 6. Check the rules at your hamam, age restrictions differ, some don't accept small kids at all. You should definitely think about how well yours will do in the steam room when deciding if you should take your children to a hamam or not.
Don't go to a hamam if you have diabetes or asthma.
Do be ready to be naked. Men are entirely naked. Ladies wear the bottom half of their underwear. There will be boobs.
Don't attempt to cover said breasts with a bikini unless you want to stick out like a sore thumb. Use your wrap/towel if you need to.
Do or don't shave, it's up to you. All the lotions and oils might make freshly-shaved skin sensitive. It all depends entirely on what you are comfortable with, so don't sweat it (see what I did there?). Some places offer optional waxing services (Cağaloğlu Hamam does), so you may want to consider that, too.
Do make a reservation beforehand, especially if you're going to a luxury hamam.
Do take cash with you so you can tip your attendants. Count on spending at least 10% of the total hamam expense extra for this.
At the hamam, you don't have to worry too much about doing something wrong. My attendant at Cağaloğlu Hamam were always guiding me so I wouldn't accidentally act like a total moron that's at a hamam for a first time in his life (which I was).
You can also read our article about Istanbul travel tips so you know not just what to do in a hamam, but also the whole city. And have you already considered the best areas to stay in Istanbul?

Views for days and an in-house hamam @ Gezi Hotel Bosphorus, a Member of Design Hotels
The interior design of the Gezi Hotel Bosphorus, a Member of Design Hotels is soothing for the soul, I don't know how else to put it. The cool, neutral tones of the rooms, with wooden floors and mood lighting and minimalist design just feel calming to me.
This 5-star hotel offers everything from a Turkish bath to aromatherapy showers and therapeutic water beds.
The Gezi Hotel is right by Taksim Gezi Park, which is next to Taksim Square.
More details in our article about the best areas to stay in Istanbul.
Prices start at USD 200 per night for two people with breakfast.
Are there female-only hamams in Istanbul?
You will always only be with other women at a hamam unless you're a couple that uses one of the co-ed hamams in Istanbul
You will always only be with other women at a hamam unless you're a couple that uses one of the co-ed hamams in Istanbul
No, but like I mentioned above, men and women always go to hamams separately*, so there's no need to stress. There are either separate areas for men and women, or genders are entirely separated by opening hours or alternate days.
Some hamams do a combination of both: most of the time men and women can visit a hamam at the same time in different rooms, but they have a few hours every week for just one sex or the other. I guess that's if someone hates the idea of a naked man/woman in the same building as them.
For example, Kılıç Ali Paşa Hamamı welcome women in the mornings and early afternoons and men in the later afternoons and evenings. The Historical Çeşme Bath (part of the Galata Istanbul Hotel MGallery) also alternates between men and women. Both of these hamams are in the Galata/ Karaköy area (one of the best areas to stay in Istanbul in our opinion).
*Some hamams cater to couples, and men and women steam together in the hot room. Scrubs are still done separately. You cannot go to co-ed hamams if you aren't part of a heterosexual couple. Suleymaniye Hamam is a couple's hamam, but they have a whopping 2 hours set aside for just women every Sunday morning. Note that male attendants do everyone's massages though.
The Historical Çeşme Bath is part of the 5-star Galata Istanbul Hotel MGallery
Hotel tip: The Galata Istanbul Hotel MGallery is home to the The Historical Çeşme Bath. You'll be close to the famous (but slightly overrated) Galata Tower and surrounding cafes.
This is a 5-star hotel with luxurious, high-ceilinged rooms, amazing breakfasts, and a great restaurant that overlooks the Golden Horn.
The McGallery Hotel provides guests with extensive spa facilities that include massages, sauna, fitness center, and, of course, the 300 year old hamam.
Prices start at USD 220 for a room for 2 people with breakfast.
This post may contain affiliate links. We earn a small commission if you make bookings through my links, at no additional cost to you. This helps us keep this blog free, thank you!