Culture shock is one thing, but being lost like a goose in a snowstorm doesn't help anyone enjoy their vacation. Learn to navigate your way through everyday situations in Istanbul, its traffic, prices, food, and scams, and visit Istanbul without a care in the world.
You might also be interested in reading:
Tourist scams in Istanbul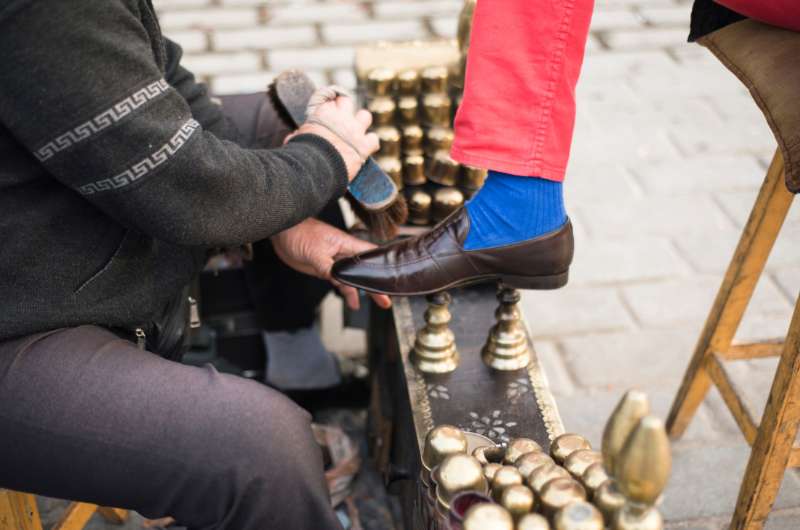 If he drops his brush, run

While Istanbul is a safe place in general (if you stay out of Şişli and some other less desirable Istanbul neighborhoods), you do need to be aware of some common tourist scams. Otherwise you'll be taking out your wallet in all the wrong places.
1. The "Oops, I dropped my brush!"
Oops, I dropped my brush and scuffed your shoe! How stupid of me! Here, let me shine your shoes for free as an apology. Again, it won't be free, and your shoes will end up destroyed in the process.
Just pick up the damned brush and go.
2. The "Let me take you to my brother's [fill in the blank] around the corner!"
We always got told as children to never do anywhere with strangers. But somehow, in Istanbul, they manage to convince tons of adult tourists to do just that.
"Follow me to this cool bar around the corner for some free drinks!", or "My brother owns a shop down the street where you can buy that way cheaper". His brother might own it, but it sure as heck won't be cheaper!
Just like it was hard for you to say no to the offer to follow the stranger, it will be 10x harder to refuse to fork over the cash whatever you are being forced to pay a few minutes later. Because it won't be just one guy, it'll be his brother, and dad, too.
It also won't be around the corner, but it's really hard to say no to these people once they have you in their claws. So you just keep walking.
3. The "Show me your ID and credit cards" (really)
If a police officer approaches you and asks for your ID and then credit cards, don't go taking out your wallet and handing important documents over just yet.
Chances are it is a fake policeman or two (they usually work in pairs). This will often happen when you are helping another "tourist" (pointing them in the right direction for example). The policemen want to make sure you are exchanging money, and need your ID and then, get this, to see your credit cards (!) to be able to phone them in to their headquarters to check if anything is suspicious.
It doesn't help that the other "tourist" complies with all of their requests, and that the "police" threaten to handcuff you when you don't want to give your CC details to them.
Just ask for their badge and say you want to call the police to verify their ID number. They'll be gone before you know it.
4. The "This perfume/rug/jewelry is great, just for you, sir!"
If someone is relentlessly offering you a bottle of perfume that certainly is not fake (it is), just ignore them. Don't engage. It sounds easy, but if the bottle suddenly lands in your hands, you'll have a hard time returning it to them and they will not stop until you pay them to leave you alone. They're like a cold. They just latch on and take forever to leave.
The same thing happens with carpets and jewelry, but the money in stake is much higher than that of a shitty perfume. You might be tempted, because the real deal, especially for rugs, would cost hundreds or thousands of dollars. But just don't. If you're on the market for a good rug, do your research and shop at a reputable store.
5. The "Here is some water and a nice appetizer before your meal"
My face when the server tries to give me "free" appetizers

You've heard of the incredible Turkish hospitality, so when a few bowls of nibbles and some water lands on your table before your meal at a restaurant, you may chock it down to that. But you'd be wrong. It's an easy way for the restaurant to make extra money on unsuspecting tourists, because you will be paying for it at the end.
For the people in the back: Nothing that lands on your table at a restaurant is free. If you eat it, you're paying for it, even if the nice server gave it to you with a big smile and proclaimed something in Turkish that sounded like he meant "It's on the house!". He probably said "Enjoy these nuts, suckers!".
Getting in
Click through the map to access our Google Maps list of places to visit in Istanbul, including restaurants

But before you get scammed, you first have to get in!
6. Fly Turkish Airlines
Turkish Airlines are the way to travel. It's a high-quality airline that has been names Europe's best airline over and over again. We weren't expecting much when flinging into Istanbul from Prague, but we got not only food (great for airplane food!), but an entertainment system, too! Now that's rare on such a short flight. Kudos to you, Turkish Airlines.
I'm not even mentioning the great service and modern planes. Turkish Airlines is the way to fly.
7. Istanbul Airport is far away from the city
Istanbul's main airport is called simply Istanbul Airport (IST). It replaced Ataturk Airport in 2019 when the old airport was no longer sufficient for the growing international plane traffic. The new airport is the busiest in Europe and the second busiest in the world when it comes the international passenger traffic (only Dubai surpasses it).
Istanbul Airport is located about 50 km (30 miles) to the northwest of the city on the European side. There is another, smaller, airport, on the Asian side of Istanbul. Nobody cares about that one.
How far you will drive also depends on which route the driver takes. His choice might depend on how gullible you seem (he could try to take you the long way), but also on how much traffic there is. For example, if you're staying at the Galata Istanbul Hotel MGallery, Google Maps shows three possible routes. There is a 10 km (6 mile) different between the shortest and longest one.
Consider staying at this cool, elegant hotel with a 300-year-old hammam @ Galata Istanbul Hotel MGallery

8. You need to take a taxi to get to the city
There are no trains from Istanbul Airport to the city, so you will have to take on the traffic in a taxi (or shuttle of some sort).
9. Getting from Istanbul Airport to the city takes 2 hours
Depending on the time of day you get into Istanbul your trip from the airport to the city center will take anywhere from 1 hour (like in the middle of the night) to over 2 hours (like when we arrived in the morning).
It's not fun getting from Istanbul Airport to the city, but what can you do. Just consider the traffic part of the Istanbul cultural experience. Just think of the wonderful Istanbul hotel you'll be arriving at (we recommend Boutique Saint Sophia or Vogue Hotel Supreme in Sultanahmet, both of which are steps away from Hagia Sophia).
10. Airport taxi prices depend on the color of your vehicle
There are taxis available at the airport 24/7. There are three taxi classes at Istanbul Airport: yellow is the cheapest with the smallest and crappiest cars. Blue are normal cars that cost 15% more than yellow. Black are fancier cars or large vehicles, and the price is 100% more than for yellow. Always use black. You are not a teenager.
A taxi from the airport will cost you around USD 20 (for a blue taxi) without traffic and up to USD 30 with bad traffic. Airport taxis do not have a fixed price and will charge you based on whatever the taximeter tells them. Just make sure it's on when you get in (it'll start at something like 11 TL in the blue taxi) and hope that your trip won't last 2 hours (but it probably will).
If you're heading to the Asian side of Istanbul, be ready to have tolls for bridges and/or tunnels added to your fare.
11. Taxi drivers do not take cards
You have to pay the taxi driver in cash, they do not take cards.
Save yourself the hassle of getting ripped off and withdraw or exchange your money into Turkish Lira at the airport. Taxi drivers will accept USD and EUR, but the exchange rate in a taxi is, not surprisingly, horrible.
12. Ubers are more expensive than regular taxis
Uber can be called to the airport. Note that Ubers in Istanbul are regular taxi vehicles. Ubers will cost more than a regular taxi, but you might prefer the convenience of calling and paying for your ride through the app.
Our top Istanbul travel tips:
Don't trust taxi drivers. Make sure the meter is on, know how far your destination is, and don't pay in anything other than Turkish Lira.
Always carry cash. A Visa or MasterCard will get you a long way, but it won't let you pay your taxi fare, tip, or buy a bottle of water (or any other small purchase).
Prices in bazaars are crazy high. That's because you are expected to haggle. Good luck (read our tips)!
Getting around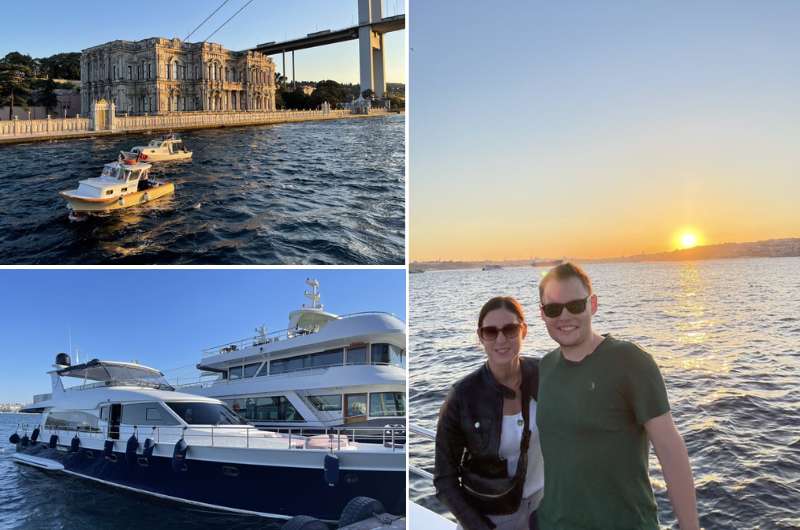 You could also take a yacht... Read our article about the top things to do in Istanbul for more details.

You've made it from the airport to the city center and you're ready to see the sights! Now what?
13. Bring your running shoes
Istanbul is built on 7 hills—wear comfortable shoes and be ready to walk…a lot! Even though the tourist center seems relatively compact, you shouldn't be surprised if your smart watch tracks you walking 30 km (18 miles) over your 3 days in Istanbul.
14. Avoid driving in Istanbul
Do not, I repeat, DO NOT rent a car in Istanbul. Driving in Istanbul is not something you want to be trying out on this trip. You risk slow suicide by traffic, there is never anywhere to park, and well, yeah, traffic.
15. Don't get run over
Traffic will annoy you not only if you're driving, but also when you're walking. Don't ever expect a car to stop for pedestrians—they will not. You will be stuck in the middle of the road with cars coming at you from both sides.
Crosswalks, if not accompanied by a traffic light, are just nice stripes on the road, nothing else. They should not make you feel safe to cross the road. Pretend they aren't there, you do not have the right of way.
If a crosswalk does have a light, don't naively assume everyone will stop at a red light, or that they will let you finish walking if you are a little slow and their green light comes on. Just run to safety.
16. Know your Istanbul neighborhoods
A map of the best areas to stay in in Istanbul: Sultanahmet for the win

All the best places to visit in Istanbul are located in a pretty small area, at least when compared to the size of the whole city. You'll be spending the vast majority of your time in Istanbul in Sultanahmet, followed by Eminönü and Galata/Beyoğlu, and possibly Taksim.
We have an article about the neighborhoods of Istanbul that you can read to get a better understanding about what is what. That way, you won't end up in a hotel that's far away from everything, or even on the wrong continent!
Book your Istanbul hotel using our affiliate links in this article not just because you want to help us with small commission we get for that (at no extra cost to you!), but because we really go out of our way to choose the best hotels we can for you. Cause we like you and don't like blogs that don't know (or care!) what they're talking about.
17. Get Google Maps offline
You can download an offline map on Google Maps that will show all the places you saved during your research (or use our own Istanbul list on Google Maps, it includes all the best places to visit in Istanbul and the best places to eat).
This will help heaps if you don't get a local SIM card.
18. Know how to take a taxi in Istanbul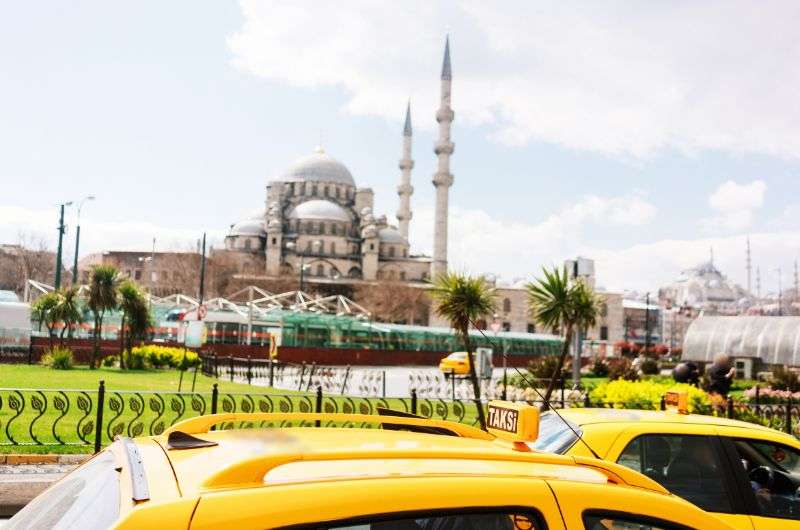 Taxi is spelled "taksi" in Turkey

You will be walking a lot, but unless you're on some sort of personal marathon, you'll want to leverage other modes of transport from time to time. If you ask me, taxis are the way to go, but there are also trams that you can try to figure out.
You can get a taxi (taksi) by simply raising your hand by the road. You won't wait long.
Only get in if it has a "taksi" sign on top. Your taxi will usually be yellow, but you'll also see blue and black taxis. All of them are official taxis, their color just indicates how fancy (or big) they are. Yellow is the cheapest and black is the most expensive. If you can, always choose black. The difference is huge.
Don't ever settle for a fixed price, you will almost always pay more than you would using a taximeter. Remember taxi fares in Istanbul! And no, the number on the taxi meter isn't in USD! Nice try, taxi man (look at common tourist scams in another section).
Money and prices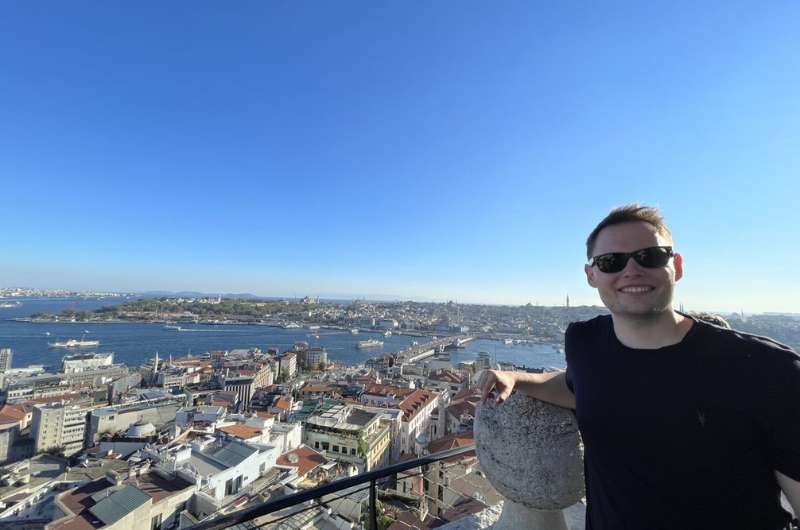 The view from the top of the Galata Tower

Istanbul is a cheap destination compared to the US or Western Europe.
19. It can be as cheap or expensive as you want it to be
I've seen comparisons with my own city (Prague, Czech Republic) that say a tourist needs twice as much money per day in Prague than in Istanbul, USD 44 in Istanbul vs USD 82 in Prague. Take that information with a big grain of salt, because we easily spent USD 100 for dinner in Istanbul every night, but I guess it is easy to spend less in Istanbul. You just have to want it hard enough.
Taxis are cheap, which is great. It's balanced out by the sheer number of taxi drivers trying to trick you into spending way more than you need to (see common tourist scams).
The price per kilometer in a taxi in Istanbul is around TL 6, with a base fee of TL 10 and a minimum total amount of TL 28.
A meal for 2 in a Turkish restaurant can be USD 10, but if you go to somewhere more upscale or targeted at tourists, you'll spend USD 100. If you're eating in Sultanahmet, which is what we did almost exclusively (because that's where the best restaurants in Istanbul are), you're looking at prices 5-10x higher than you'd pay in other parts of Istanbul (for a similar meal).
Getting into tourist sites such as museums costs anywhere between USD 2–5, and even the most expensive place, Topkapi Palace, will cost just USD 10. Mosques are always free to enter. We always put ticket prices in our articles, so it isn't hard to work out how much you'll spend. You can check out the prices of all the top places to visit in Istanbul in another article.
Lots of art and their very own rooftop bar @ Walton Hotels Galata

Hotels in Istanbul come in all shapes and prices. For example, the very cool, 4-star Walton Hotels Galata, with a great rooftop bar, goes for as little as USD 100 per night for 2 people.
The sultan-worthy, extraordinary property of AJWA Sultanahmet, will cost you USD 270 per night. Again with their own rooftop bar, close to the mesmerizing Blue Mosque. So not cheap, but cheap for what you get.
20. You'll need cash more than cards
You are never far from the nearest ATM in Istanbul, which is great because the preferred mode of payment is cash.
You'll certainly need cash in taxis or public transportation, in some shops or when your purchase is too small (there's a bottom limit), or at street food vendors (more on eating in Istanbul).
Tipping in restaurants or at hammams (more about our amazing experience of getting washed like a sultan) is also done in cash.
So you see, you'll need cash in Istanbul basically all the time.
Don't ever pay in USD or EUR, you'll always get a bad exchange rate if you're at a store or restaurant (and an exorbitant one if you're in a taxi).
21. Visa and MasterCard are your best bet
As far as withdrawing from ATMs or paying by card, you will run into problems if you carry an American Express or Discover card. Visa and MasterCard are accepted everywhere where cards are accepted, so always have one of the two with you.
22. Withdrawing from ATMs is easy
There are ATMs absolutely everywhere in Istanbul and you shouldn't be afraid to use them unless they are down a dark alley.
Most ATMs have a withdraw limit of TL 5000.
They can charge you an international withdraw fee. It varies, but is generally around 6%. If you want to avoid it, try to find an ING or PTT ATM. Note that your own bank may charge you a fee for withdrawing internationally.
Always decline the ATM's "great" offer of its own conversion rate. It'll always be crap compared to what your own bank will give you.
23. Don't haggle in Istanbul unless you're at a bazaar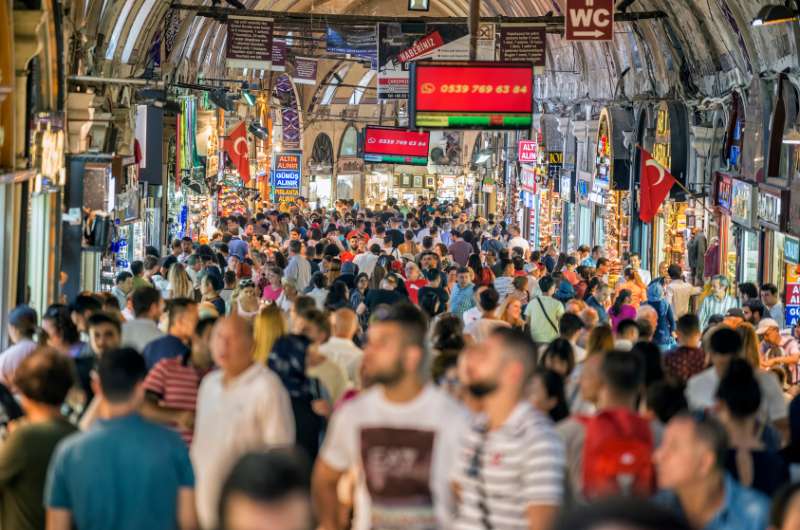 Thousands of tourists ready for some haggling practice at the Grand Bazaar in Istanbul

If you can't be swayed from visiting the Grand Bazaar (my swaying attempt here) or you have your sights set on buying souvenirs at the Spice Bazaar, you'll need to brush up on you haggling skills. It might feel strange to argue about the price of a scarf at first, but just pretend you're buying a new car or house.
First of all remember that these bazaars are visited by hundreds of thousands of visitors daily, so the merchants are very experienced in dealing with tourists trying to knock the price down.
The basic rules of haggling are this:
Stay cool. Don't show how much you want that spice set. Always maintain an unsure attitude.
Play the game. Turn your charm on and have a back and forth with the seller. They smile, you smile. They give you a line, you give them a line. It's like a dance. Don't get annoyed or angry.
Take your time. It's either time or money, and you can't save both at a bazaar.
Be ready to say no. If the price isn't right, walk away. And when you do, the price usually goes down again and the dance continues.
It's good to have an idea of what the item you're after should cost. It's standard that the price the seller offers you is 50–100% more than you'd think it should be. They are ready to haggle, so don't be stupid and go buying it for the first price they tell you. They know its way too expensive.
Pro tip: You have a better chance at striking a deal in the first part of the day when sellers are focused on meeting their quota (the bottom limit of the number of items they need to sell given to them by the shop owner). Once they meet their quota, they are more interested in making commission for themselves, hence being a little fiercer in bargaining.
Definitely do not haggle at brand stores and I don't know who needs to hear this, but obviously not at supermarkets and places like drug stores and restaurants. Bargaining is only acceptable at markets or small shops.
24. The Istanbul Museum Pass will save you time and money. But mostly time.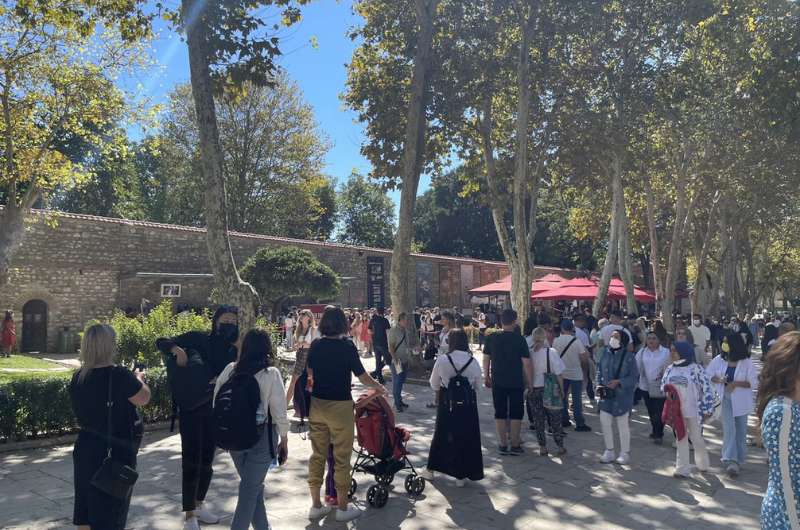 You can skip the eternally long line at the Topkapi Palace with the Istanbul Museum Pass

The Istanbul Museum Pass costs TL 700 (about USD 38) and is valid for 5 consecutive days and gets you into 13 museums in Istanbul. It can be bought at any of the museums that it is valid in.
It's not the cheapest museum pass but even if you don't end up saving money, like if you don't have time for that many museums or if you just plain don't love museums as much to try to make the price worth it, it does one other very important trick: it gets you past the lines.
At Topkapi Palace, that could mean flying past hundreds of people at the ticket desk. It could literally save you an hour of your time at just this one tourist site. It's worth considering! Btw, our article on the best places to visit in Istanbul has a whole detailed section with more tips on visiting Topkapi Palace.
Eating and drinking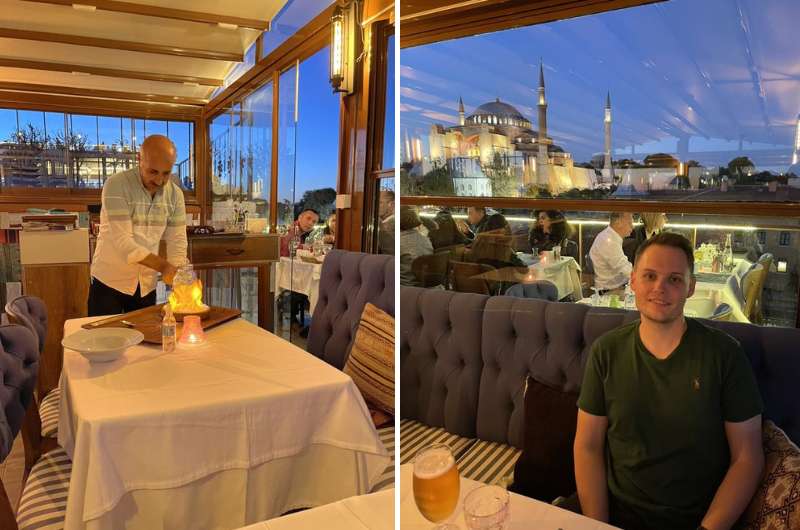 One of the best restaurants in Istanbul with a view is definitely Turk Art Restaurant in Sultanahmet. You get Hagia Sophia at your fingertips, the best waiters, and some spectacular steaks and seafood.

You won't go hungry in Istanbul. The food is wonderful and there is plenty of fun street food for you to stuff into your head when you're behind on your sightseeing schedule and can't stop. More on what and where to eat in Istanbul in another article.
25. Don't eat at restaurants that don't give you a menu
There are restaurants in Istanbul that will try to make more money off you than they should. One way to do that is to not give you a menu, or not display one outside and lure you into sitting down and ordering drinks before they show you their horrible prices.
In Istanbul, it's always a good idea to know how much you'll be paying for whatever you order. So no menu should mean no business.
Also, if the restaurant's menu is only in English, there's a good chance the prices are too high and the food will be crap.
Refer to the tourist scams section for more things to look out for.
26. Drink tea, not coffee
Karin drinking Turkish tea at the Topkapi Palace cafe: low quality food, high prices, but wonderful views

Turkish tea is served all day every day at all meals. It is a strong black tea that's typically served in a small, tulip-shaped glass cup. Made from loose leaves of (ideally) domestic tea, often taken with sugar. That is sometimes already added to your tea, sometimes you get a couple of sugar cubes on the side. It's delightful and you don't have to be English (or Turkish) to appreciate it.
Turkish coffee, on the other hand, can stay far, far away from me. Yes, the cezve, or small pot that is used to make the coffee, is cute and very Turkish-looking and all, but the taste is just nope.
27. Try Turkish sweets even if you don't like sweets
The god-like sensation you get when eating a baklava is something I'll remember until the day I…have baklava again. And I don't even like sweets in real life!
The dough of the baklava has to be the thinnest thing ever in order to make the finest layers of nuts (generally pistachios, but can also be walnuts or hazelnuts) alternating with the dough. Douse in butter, bake. The final step—soaking in a syrup, will make all your cavities sensitive, but your taste buds will feel happy.
Turks are masters of pastries, so besides baklava you'll find an abundance of cakes and cookies as well. Go ahead, give it a try. It's the Turkish way!
28. Make restaurant reservations well in advance
If you have your eyes set on a particular Istanbul restaurant, make a reservation at least 2 weeks in advance to secure a spot. This is true especially in the higher-end establishments and in popular restaurants in Istanbul with a view. We'll save you a Google and present the best ones we found in our Eating in Istanbul article.
Tip: Some Istanbul hotels have their very own rooftop restaurants, like the luxurious and Ottoman-styled AJWA Sultanahmet. Once you chow down you can walk across the hand-made carpets and head to the spa and indoor pool.
Livin' like a sultan @ AJWA Sultanahmet

29. You have to try the street food
Move over, McDonald's—you have to try the best street food in Istanbul. Get yourself a balık ekmek at one of the boats on the Eminönü waterfront. It's a grilled mackerel sandwich that'll cost you just TL 10 (50 US cents) at most of the places that sell them. It's super tasty.
There's also kebab, pide, tons of pastries, and the churros equivalent of halka tatlisi. All cheap, fresh, and delicious. More on the best street food in Istanbul here.
That's all for now, folks. Most importantly, enjoy Istanbul! We thought it was a fantastic destination. If you have questions about visiting Istanbul, shoot us a comment under this article, or even on our Facebook page.
This post may contain affiliate links. We earn a small commission if you make bookings through my links, at no additional cost to you. This helps us keep this blog free, thank you!