A traveler's gotta eat! No matter what your reason for traveling is, you need a good quality restaurant to fill your belly, and we've decided to make it easier for you. Sure, trial and error is part of traveling fun sometimes, and you can discover unexpected gems this way. But let's be honest, most of the time you just want to get a good meal without having a complete flop as an appetizer.
Through our extensive travels through Spain, we've covered it Basque country to Andalusia. So here is a list of the best restaurants in 9 Spanish cities. We'll point you in the direction of the best of the best, and add our personal favorites from each city, too, even if they weren't high-end.
Just as we make our accommodation choices based on comfort and service, we don't scrimp on eating out either. Considering Spain has over 220 Michelin restaurants, we were spoiled for choice and made the most of it. That's not to say we don't eat at regular mom and pop places, too, but this list won't include those unless they were a total highlight.
You might also be interested in reading:
1. The best restaurants in Bilbao
Bilbao really grew on me as a destination. It has a cool vibe, the Guggenheim Museum, the very interesting Vizcaya Bridge not too far out… and so many great restaurants! The city and its surrounding areas are covered with little pinpoints on the Michelin map, it's crazy.
I'm telling you, book a hotel in Bilbao and prepare to be impressed.
Michelin's choice: Azurmendi Restaurant
If you visit just one 3-star Michelin restaurant in Spain, make it this one. I dare you to go to Azurmendi and not leave in love with the place. It is unmatched in terms of… well, everything.
First, consider that this restaurant is located about a 15-minute drive outside of Bilbao. It's on a hill, surrounded by views of the rural area around it. Sustainability is at the core of Azurmendi's philosophy.
And it's a glass building—basically a greenhouse. They even have a garden above the restaurant where they grow some of their produce. You will get a tour of it and the restaurant before being seated.
You are surrounded by greenery, you will be eating flowers, and you will be served the most amazing dishes in picnic baskets. It sounds so plain, but it is anything but! It's not pretentious, but you know the quality is top notch.
Did I mention the outstanding service? I wanted to snatch up one of the servers and take them with me to every other restaurant I ever go to after this.
Verdict: Standing ovation and applause for days!
People's choice: Gure Toki Restaurants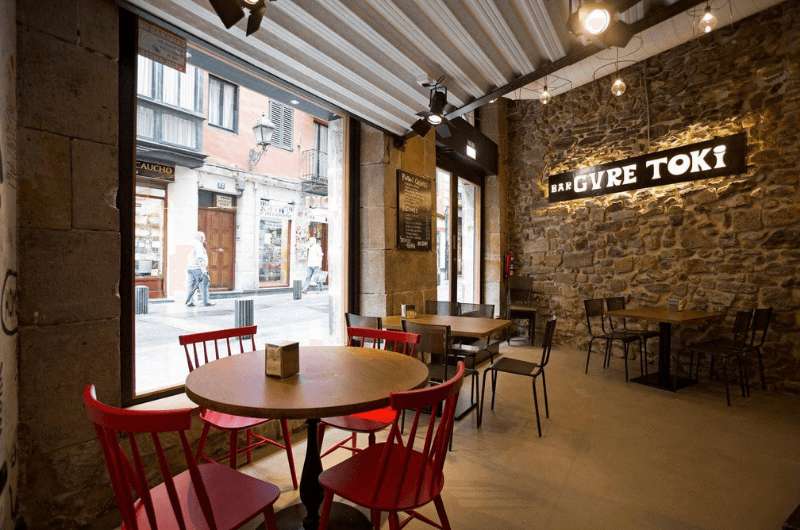 I like to try local food when I can. Go to Gure Toki to get a contemporary take on Basque cuisine. They serve pintxos as well as full-size meals, and everything is always perfectly plated.
Gure Toki is a cool, rather small restaurant right on Plaza Nueva. You can sit outside on the large terrace and people watch, or, and I recommend this, sit inside next to the bar so you can see the selection of pinxtos and point to whichever ones look the tastiest to you. Then just keep them coming!
Verdict: Classic and cool at the same time, just like Bilbao itself!
2. The best restaurants in Barcelona
We voted Barcelona the best city beach destination in Spain, but you can do more than sunbathe in the Catalan capital:
Michelin's choice: ABaC Restaurant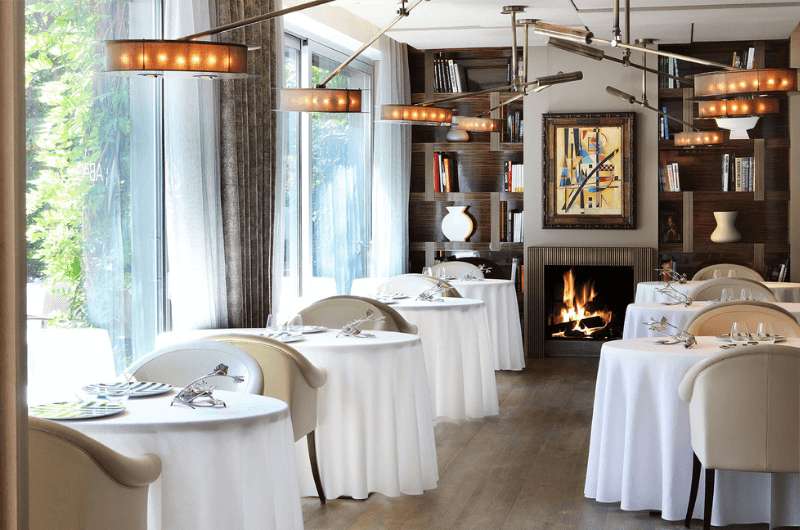 Oh that garden. The atmosphere at ABaC is light and not stuffy at all. Even if you sit inside, you get to a view into the greenery through the large windows.
ABaC Restaurant has three Michelin stars, so you expect the best and that's exactly what you get.
The dishes are beautiful, playful and delicious. The sommelier was incredible. Young guy, but really knows his stuff. Part of the experience is a visit to the kitchen where you taste several small dishes—cool.
ABaC Restaurant is a hotel restaurant. The hotel is to die for just like the restaurant. You can book your stay at the ABaC Hotel here, and then you never have to leave the premises. But that would be a shame—there is so much to see and do in Barcelona!
Verdict: Three Michelin stars in a peaceful garden setting!
People's choice: Raó Restaurant
I've mentioned this restaurant so many times (in my walking tour through Barcelona and in the best tapas restaurants in Spain posts) you'd think I own it or something. I don't, I just like to eat there.
I don't know if it's the awesome interior—combination of leather, bricks and velvet—or the grilled octopus I dreamt about in the weeks following my last visit, Raó just keeps you coming back for more. Did I mention the mustard ice-cream?
Raó is located off La Rambla, close to Plaça de Catalunya.
Verdict: I don't keep recommending it for nothing!
3. The best restaurants in Valencia
While Valencia isn't my favorite city in the world, time your visit just right and you can have a blast at the fiery Las Fallas Festival and eat at some fantastic restaurants. Book your hotel in Valencia here.
Michelin's choice: Ricard Camarena Restaurant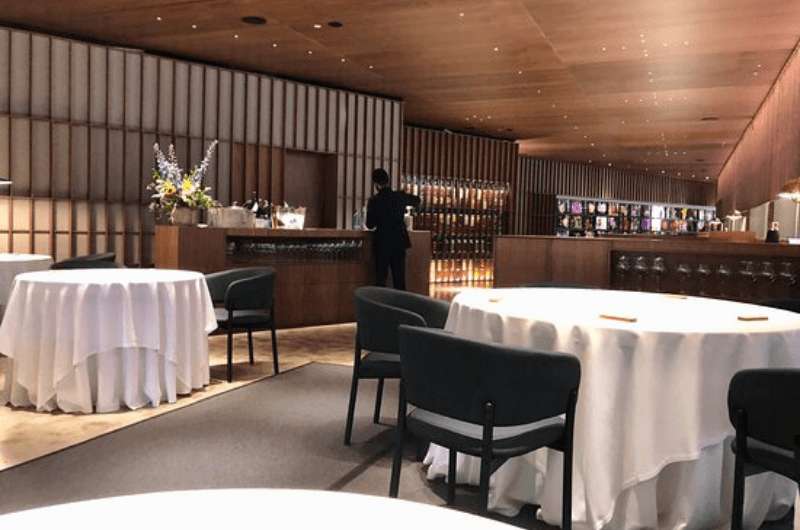 Set in a former factory not far from the center of Valencia, the building's industrial past mixed with modern vibes give the restaurant a welcoming, down to earth atmosphere despite providing an exquisite dining experience.
Chef Camarena takes Mediterranean cuisine to the next level with amazing technique. This restaurant is sustainable and grows almost all of its produce locally on its own land not far from the restaurant. They respect each product and really enhance its taste.
Verdict: It's like the vegetables have a soul!
People's choice: Casa Carmela
Close to one of Spain's most beautiful beaches, Malvarrosa, but back away from the tourist trap restaurants, Casa Carmela is an amazing family-owned restaurant with over 100 years of history.
This place will serve you some of the best paella in town. Be sure to get the real deal—paella valenciana is made with rabbit, chicken and snails, not seafood! Casa Carmela has a bright, tiled interior and cooks their paella on an open fire. They will serve it to you in the middle of the table, ready to be shared.
The seafood was also all amazing, so don't shy away. Honestly a fantastic choice, even if it isn't in the city center. Service was incredible, too!
Verdict: They made me eat snails and I wasn't mad!
4. The best restaurants in Zaragoza
Admittedly, I wasn't too impressed with the city during my visit to Zaragoza. But that doesn't mean I didn't eat well!
Michelin's choice: Cancook Restaurant
Yes, Cancook can cook! The presentation of every dish was worthy of a photo, and the wine pairings were very nice. I wouldn't have otherwise chosen the sherry, but it was perfect.
The interior is in a contemporary, minimalist style. You won't be disappointed in the service. There are three tasting menus to choose from. The middle one, with 14 dishes, was a great choice.
Verdict: Super creative dishes offset by the simplest of dining rooms.
Our top tips for restaurants in Spain:
People's choice: Restaurante Tajo Bajo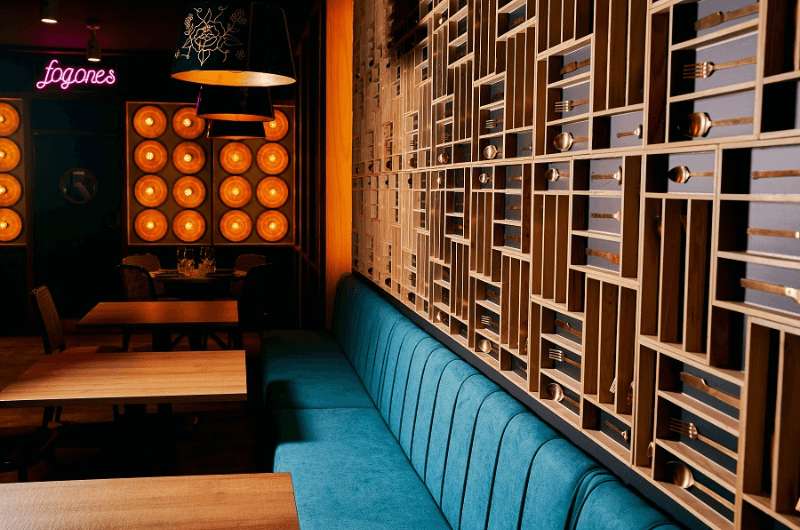 If you like to eat regional delicacies, you will enjoy Tajo Bajo immensely. It is located right by the famous Cathedral-Basilica of Our Lady of the Pillar, but it isn't a tourist trap and it is worth enjoying a meal at. If you sit outside, you get a direct view of the landmark.
You can also get comfort food like BBQ ribs or a burger. I recommend the artichoke.
The interior is classy and fun, decorated with modern furniture and dark walls.
Verdict: Comfortably cool and in a prime spot!
5. The best restaurants in Cordoba
Cordoba is famous for its Mesquita, a mosque-cathedral hybrid, and its Festival of Patios, the little courtyards that are so typically Spanish. Both of these highlights (along with two others) make UNESCO's heritage list.
A day in the city is usually all you need, but if you want to have a proper dinner, definitely book a hotel in Cordoba for at least a night.
Michelin's choice: Noor Restaurant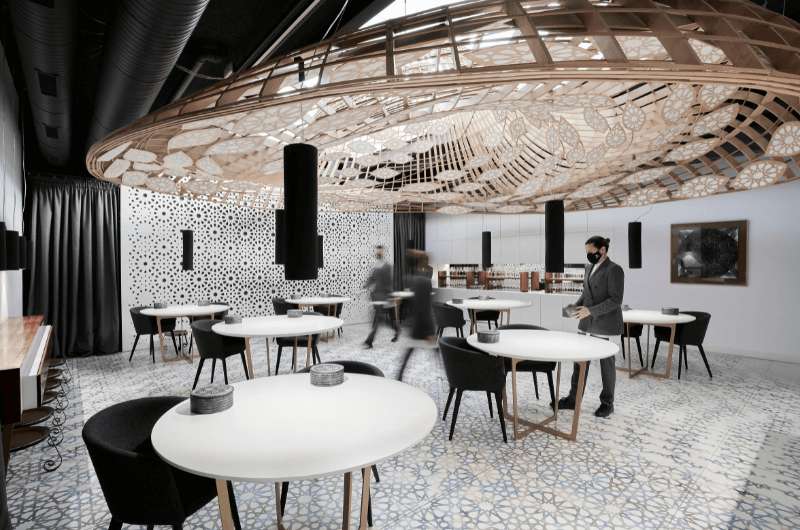 Noor's chef, Paco Morales, hails from Cordoba. He worked with documentarians, historians, archaeologists and designers to make sure Noor told the story of Andalusia.
The interior combines geometric and organic shapes and man-made and natural materials, with Moorish elements intertwined. The black and white interior is crowned by a wonderful wooden ceiling piece that makes the dining room very cozy and adds to the ambience.
The food is crafted to perfection, paying homage to true Andalusian dishes. Everything is of course with a modern take and styled on beautiful hand-painted plates.
Noor's servers are some of the best I've experienced.
Verdict: You will eat and feel like a sultan!
People's choice: Mercado Victoria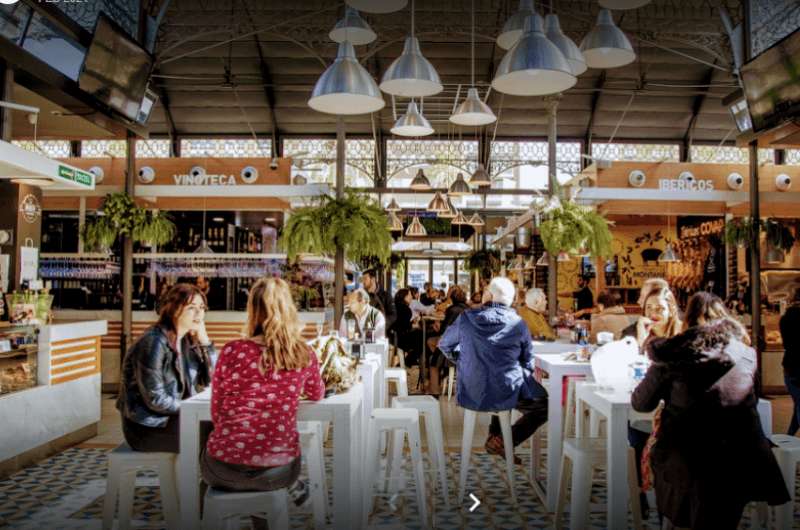 Not a restaurant per se, but a whole culinary market! Merado Victoria's open dining hall is a hip, design-forward place. There are about 30 stalls where you can buy traditional Andalusian meals, but also international delicacies and wines and beer.
The pavilion, which sits in a nice park, is from 1877 and was the oldest building at the Cordoba fair that used to be held there. Now, it has been updated and has outdoor seating as well as indoor.
Try the cold soup called salmorejo, a traditional Spanish dish that is popular in Cordoba. It's similar to gazpacho but not the same. La Salmoreteca does a large variety of not only salmorejo, but also the traditional Spanish omelet and other delights.
Verdict: A gourmet market with style!
6. The best restaurants in Seville
The Royal Alcazar is possibly my favorite palace in all of Andalusia, and Sevilla has so many things to see and do, you'll be hoping you'd stayed another night (you can book your hotel in Sevilla here).
Make sure to eat well so you have enough energy for all that sightseeing!
Michelin's choice: Cañabota Restaurant
Cañabota isn't your typical Michelin restaurant. It's more of a seafood bar, with all the seafood set out on display like at a market, and white tiles on the walls. You will be seated either on metal bar stools directly at the bar overlooking the kitchen, or at one of the few high tables lining the wall.
This place isn't huge and it doesn't try to be fancy, but you instantly know you're in good hands. The simple yet modern design of Cañabota is an inconspicuous nod to the fantastic care the cooks take in handling the food. Everything comes out absolutely delicious and beautiful.
I recommend talking to your server before choosing, they will curate a menu for you based on your preferences. You won't be disappointed!
Verdict: If the fish were any fresher they'd be swimming in the sea!
People's choice: La Brunilda Tapas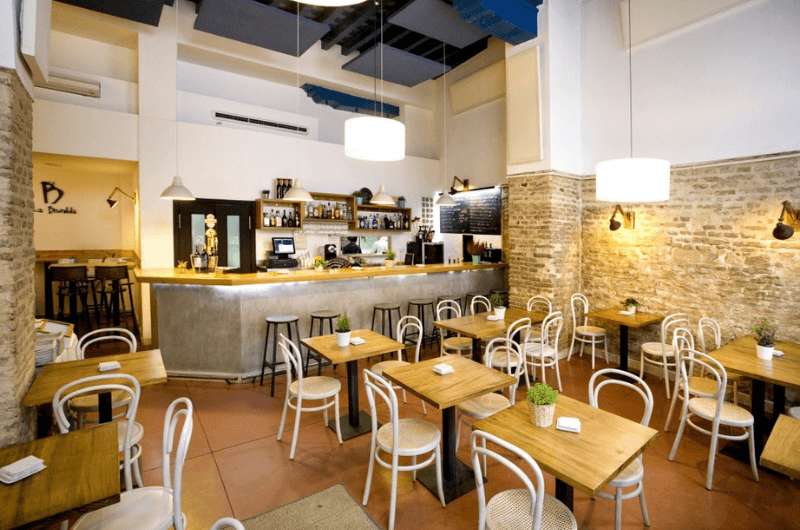 You can't really tell from the outside, but once you walk into La Brunilda through the big blue doors, you know you're in for a treat. Actually, since this place is always full, you'll know even before that when you're trying to make a reservation.
Come in for a great tapas lunch, it has bistro vibes and many locals eat here. Some of the servers don't speak English, so you might experience some unexpected levels of cultural immersion.
The tapas are larger than you'd expect and finely presented. Start out slow and then order more if you need to. They also have full-size dishes. Try some of the wok dishes and desserts, too.
Verdict: A local spot that hits the spot!
7. The best restaurants in Nerja
The coast around Nerja is popular for beach getaways. You can book a hotel in Nerja or our favorite nearby town—Frigiliana—, and then find some of the nicest beaches in Spain that are fantastic for snorkeling.
Michelin's choice: Oliva Restaurant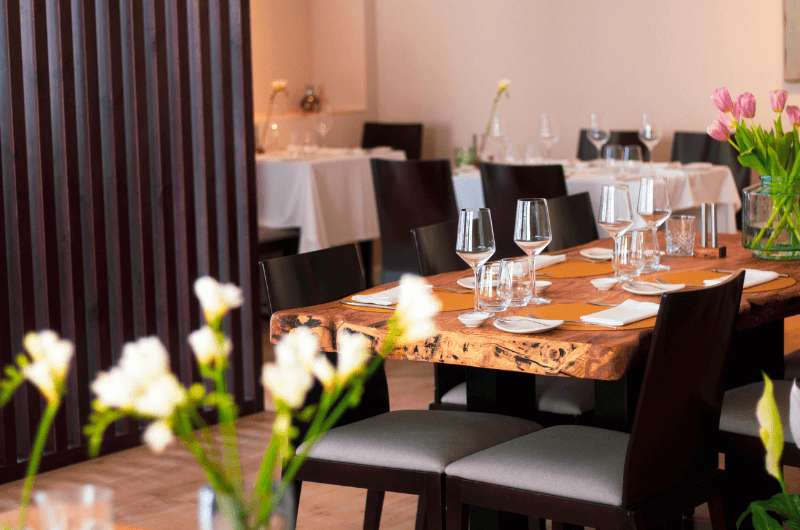 Oliva wants you to feel the essence of Andalusia. You can really tell that the cooks love cooking and everyone tries to make you feel welcome. True Mediterranean cuisine and hospitality.
There is seating in the classic, elegant interior or on the nice terrace. Each plate is wonderfully designed and offers great attention to detail.
Oliva has a tasting menu that is worth trying. You can get wine pairings as well, and we thought they did a great job with them.
Verdict: Mediterranean at its heart!
People's choice: El Lagar Restaurant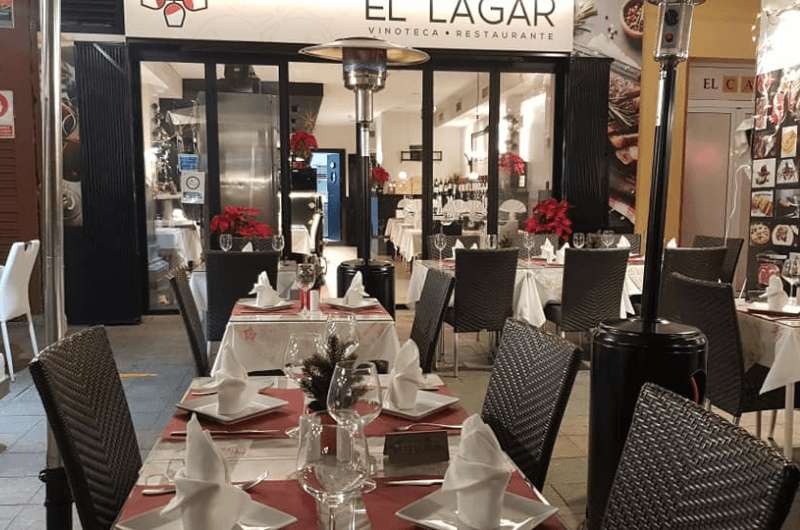 Not far from the famous Balcon de Europa, El Lagar is one of many restaurants lining the street. It's always a challenge finding a good restaurant near tourist sites, but El Lagar is the one.
It has an indoor/outdoor setting. Try any of the fish or meat dishes and you will be content. Or, let the aubergines with cane syrup surprise you! You can really tell they put in the effort and strive to be the best.
The servers are knowledgeable and attentive and always smiling, giving El Lagar a pleasant atmosphere.
Verdict: A gem between all the tourist traps!
8. The best restaurants in Malaga
With Malaga's international airport being the main gateway to southern Spain, you'll likely end up there if you are visiting Andalusia. If you need to spend a day or two in the city, Malaga has a huge number of fantastic restaurants waiting to feed you. Here are a couple that are sure to feed you well:
Michelin's choice: Kaleja Restaurant
Kaleja serves up unique dishes based on traditional recipes that celebrate the history of Andalusia. Everything is prepared to perfection and is a delight not only for the taste buds, but also for the eyes. Many of their dishes are cooked on an open fire.
Service was wonderful. Our server explained the meaning of every dish and was friendly and genuinely interested in making sure we were satisfied.
The location between the Alcazaba Palace and the Cathedral is very convenient. The interior is zen, that's the only way I can think to describe it. There is also the option to sit at the bar next to the kitchen if you want to watch the magic happen.
Verdict: Eat like a king and learn about Andalusia, all at once!
People's choice: La Tranca Restaurant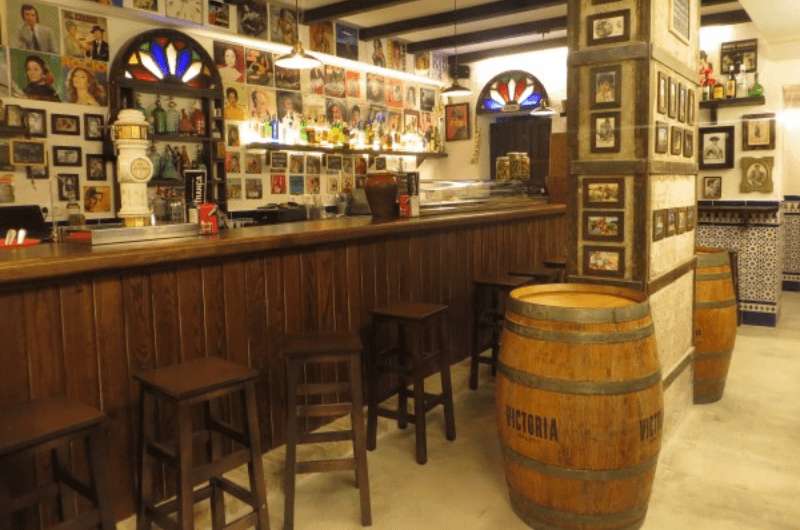 This is a traditional Spanish restaurant, complete with old-school posters and photos, tiles on the wall and people singing and sometimes dancing by the bar. You might even find yourself sitting at a barrel that doubles as a table.
La Tranca isn't a place for a quiet, high-end dinner, but if you want to experience Spanish culture while eating fantastic tapas, you've found the spot.
The waiters don't speak much English, but they do their best and the beer is cold! If you want to come for a late dinner, which is normal dinner time for Spaniards (around 8 pm and later), make a reservation in advance or be ready to stand in line on the sidewalk for quite some time.
Verdict: Experience the temperament of Spain without leaving your table!
9. The best restaurants in Granada
Home to Andalusia's most famous palace, the Alhambra, Granada is also known for the free tapas you get when you order a drink at most restaurants. I'd say stay away from the restaurants on Calle Navas, they are all tourist traps. Read our guide for Granada not only for tips on what to do in the city, but also to discover more about the city's restaurant scene. You can book a hotel in Granada here.
Michelin's choice: Faralá Restaurant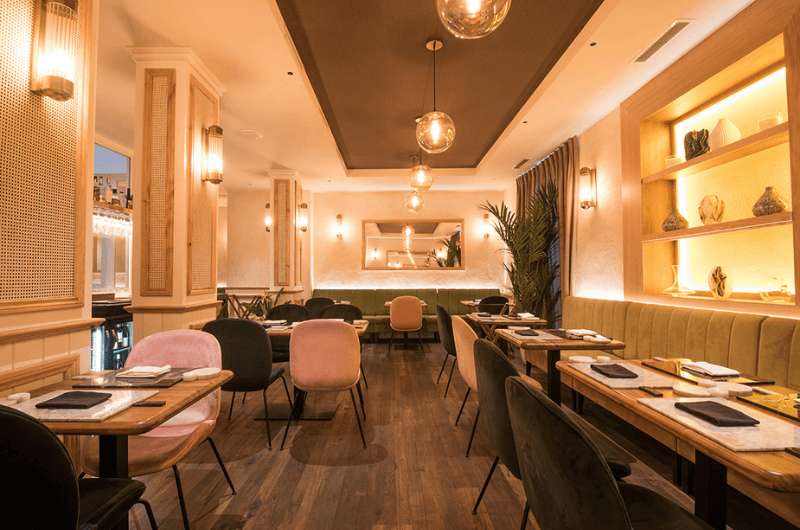 Right on the street leading into Granada's Alhambra Palace is the upscale Faralá. Their dishes are a modern interpretation of Andalusian cuisine. If you go for the tasting menu, prepare to spend hours being surprised by the great flavors.
Prices are reasonable and the ambience of the restaurant is very pleasant. The interior is modern and not overly formal. We enjoyed the stylish dishes, especially the ones with Moorish-inspired design elements. Staff was courteous and knowledgeable.
Verdict: Gourmet dishes at reasonable prices!
People's choice: La Tana Restaurant
La Tana is a charming local spot that'll make you feel like you live in Granada at an apartment around the corner. It is family run, friendly, and packed for dinner daily.
They serve not only fantastic tapas, but also offer great beer and a surprisingly wide selection of Spain's best wines. Granada is famous for its free tapas, and you will get them at La Tana as well. Or, if you don't like being surprised, order from the menu.
Verdict: Feel right at home at this family-run tavern!

This post may contain affiliate links. We earn a small commission if you make bookings through my links, at no additional cost to you. This helps us keep this blog free, thank you!