Antwerp, a center of culture, art, history, and diamonds. Those are probably the connotations you've heard of this city. And it cannot be more true, you will come across them almost everywhere in the vibrant city. Unfortunately, except for the diamonds, I'm afraid.
It is a fascinating destination for a day trip, but even for more days. The options for Antwerp things to do in a day are almost limitless. But this is my—aka the best—take on how to spend one day in Antwerp.
You might also be interested in reading:
How do I spend a day in Antwerp? This is how, step by step:
Stop 1: Antwerp Centraal
Stop 2: Saint Charles Borromeo Church
Stop 3: MAS
Stop 4: Her Steen
Stop 5: Grote Markt
Stop 6: The Cathedral of Our Lady
Stop 7: Vlaaikensgang
Stop 8: Vridajmarkt + Museum Platin-Moretus
Stop 9: The Rubens House
Stop 10: Plantentuin
(Alternative stops: ModeMuseum, Royal Museum of Fine Arts)
It's one full day, meaning you'll want to spend the night in Antwerp (ideally before and after your long day there). Where? Check this place out, doesn't it just ooze zen??
The best hotel in Antwerp: The zen-est place ever
One look at the photos of Botanic Sanctuary Antwerp and you want to not only spend the night, you want to move in and make YouTube meditation videos for a living!
The 5-star Botanic Sanctuary Antwerp has the word 'sanctuary' in its name for a reason. The indoor pool, gym and fantastic spa will keep you rested and rejuvenated, and the incredible restaurant will fill your belly in all the right ways—the hotel has several Michelin-recognized facilities and chefs on site.
Do I even need to mention that the staff is wonderful? Of course it is, who wouldn't be when working in this environment.
Antwerp Itinerary: Morning
See the route of the first half of today's itinerary

Stop 1: Antwerp Centraal
One of the nicest stations I've ever seen!

Unless you spent the night in the city, you'll probably come to Antwerp by train. I mean, why shouldn't you? In Belgium, the trains are the best means of transport on how to move around the country. Super comfortable, fast, and funny to hear the names of all those stops in Dutch—in the Flemish part; in Vallonia it's baguette language. I don't know about you, but I had my laughs while trying to figure it out and thinking "What the frack did they just said?". Golden.
So, all aboard! Next stop: Antwerpen-Centraal. Get in early, you have a full day ahead of you!
Antwerpen Centraal is probably the most beautiful train station in the world, at least from what I've witnessed so far. Definitely an Antwerp must see spot. Once you get off the train, be ready to be amazed. All the golden details around, a huge clock and a big...weird, silver thing? At first, I thought it was a dove, but then I realized it was a hand! Once you know that the hand is a symbol of legend of how Antwerp was founded, you will see it everywhere.
Explanation: According to legend, a giant named Druon Antigoon had a bit of a hand-chopping hobby for anyone daring to cross the river Scheldt. But don't worry, a hero by the name of Silvius Brabo came to the rescue and put an end to this madness by defeating the giant. And thus, the legend of Antwerp hands was born.
Antwerp Centraal is right in the city center. The station is also equipped with lockers. You can leave your bags there if you can't check into your hotel yet. Then, when you're done taking too many photos of the domed ceilings, you can just walk out and start sightseeing.
Stop 2: Saint Charles Borromeo Church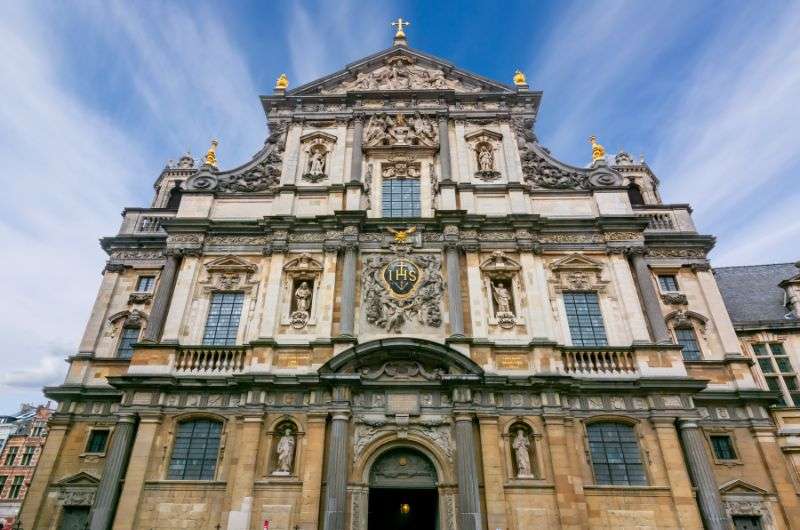 Sint-Carolus Borromeus

Distance from last stop: 1.3 km/0.8 mi, 15-minute walk
Time spent there: 20 minutes
Your second stop is one of the Antwerp must-see places. After a 15-minute walk you get to Hendrik Conscienceplein—you see, I told you the names are fun. Trying to pronounce them correctly will probably break your tongue. It reminded me of the time I thought I would be able to pronounce Neuschwanstein Castle in Bavaria.
In the middle of this tiny cozy square suddenly Saint Charles Borromeo Church stands in front of you. Locally, it's known as Sint-Carolus Borromeus, so check the signs for this lovely name. The church from 17th century is a work of art in itself. The details on its façade are insane. You'll see all the little instruments and other little knickknacks as you notice you dropped something—your jaw! Pick it up and then go inside, it's about to be dropped again.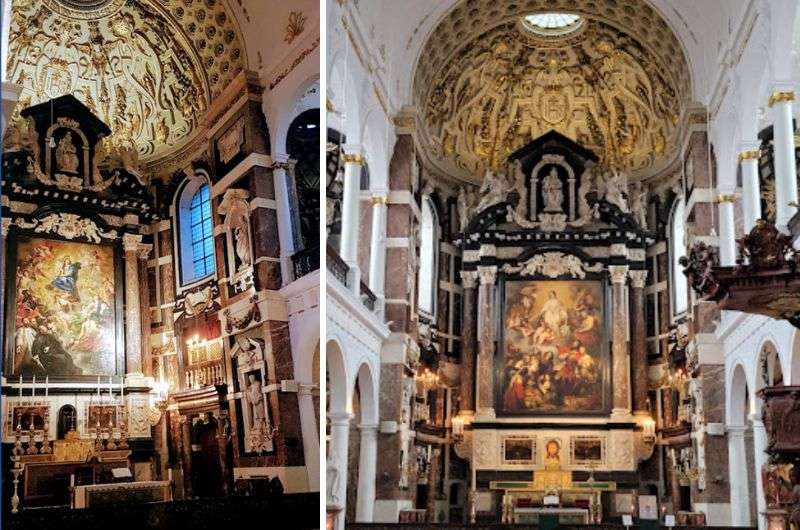 The Saint Charles Borromeo Churh's interiour

The interior was almost fully designed by Peter Raul Rubens, a baroque artist who you will see plenty more of today. Rubens lived and created in Antwerp and his work is literally on every corner! In this exact church, Rubens created almost 40 ceiling paintings, but they were destroyed in the fire, and only about half of them were saved and are preserved until today.
Stop 3: MAS
Museum aan de Stroom

Distance from last stop: 1.1 km/0.7 mi, 13-minute walk
Time spent there: 30 minutes to 1.5 hours (just views vs. exhibits too)
Continue on to Museum aan de Stroom, known also as MAS. It's a museum in a superb building that opened its doors pretty recently, in 2011. Compared to other monuments in Antwerp, it's one of the youngsters, but it ain't no underdog! It swiftly became one of the most visited and known Antwerp places to visit, that I happen to be very fond of too.
MAS offers exhibitions, both permanent and temporary, with diverse collections. You can see Belgian art, learn about the history and culture of Antwerp, covering everything from the city's role in global trade to its artistic and cultural heritage.
In case the exhibitions are not exactly your pint of beer—you see what I did there—you should visit MAS anyways. You can explore the 10 floors of the museum for free, comparing the views of the city on every one of them. You need a ticket only to enter the exhibitions.
Just wait until you get to the roof—you can see all of Antwerp from there! But don't just stare out into the distance and focus on the ground in front of MAS—look for the hidden artwork in the shape of a skull. Cool right? I mean, it's not exactly Nasca Lines in Peru, but who am I to judge. And also, do you still remember the legend? Then check out the façade of MAS and do a high five with the small hands!
Opening hours: Tuesday to Sunday 10 am–5 pm
Tickets: €10 can be bought online

Stop 4: Het Steen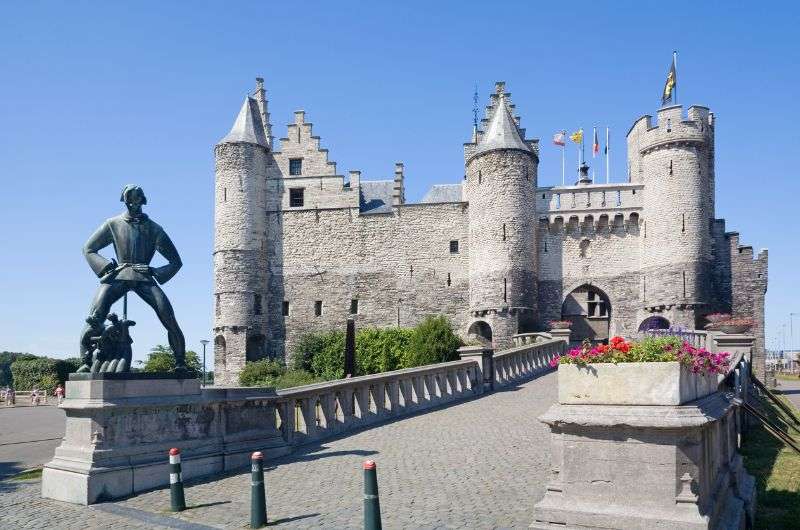 Het Steen fortress

Distance from last stop: 1.1 km/0.7 mi, 13-minute walk
Time spent there: 30 minutes
Next, walk back towards the city center along the river, and don't forget to make a short stop at Het Steen. If MAS is the youngster, the centuries-old medieval fortress is the grandpa of Antwerp. Nowadays, it serves as a museum and visitor center, but that didn't exactly shake my world.
What did was its panoramic terrace. You can get one of the best views of Antwerp from there. You can visit for free, so don't hesitate to climb it and enjoy the beautiful scenery of the busy harbor and the Scheldt river.
Opening hours: daily 10 am–6 pm (the terrace 10 am–10 pm)
Tickets: €7 the museum, the panoramic terrace for free

Stop 5: Grote Markt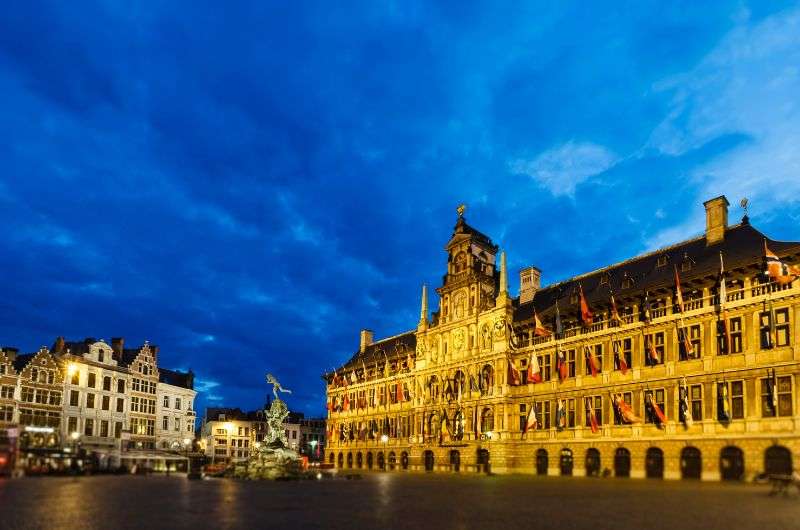 Grote Markt

Distance from last stop: 300 m/0.2 mi, 5-minute walk
Time spent there: 20 minutes
Antwerp is a super-rich city, which you will pick up pretty quickly when you see all the houses on every square covered in gold. And the biggest, goldest, perfect-est of the squares is Grote Markt. It's just around the corner from Het Steen. Walk for not even five minutes and once you are blinded by the light reflecting off the gold, you're there.
I don't know how the Belgians do it, but every city hall there I've seen is a masterpiece (for example the schizophrenic town hall in Ghent). The City Hall at Grote Markt with its elaborate façade and beautiful decorations is once again the star of the show. But there is also something else trying to steal the spotlight.
Brabo's Monument

Brabo's Monument in the middle of the square is a fountain/statue which made me wonder for a while trying to figure out "What the hell is that?!" It's the legend again! Brabo—the naked jacked fella—is throwing a hand. It took me a minute to connect the dots, maybe because of the three beers I had in one of the cafés while staring at the fountain. Who knows...
Stop 6: The Cathedral of Our Lady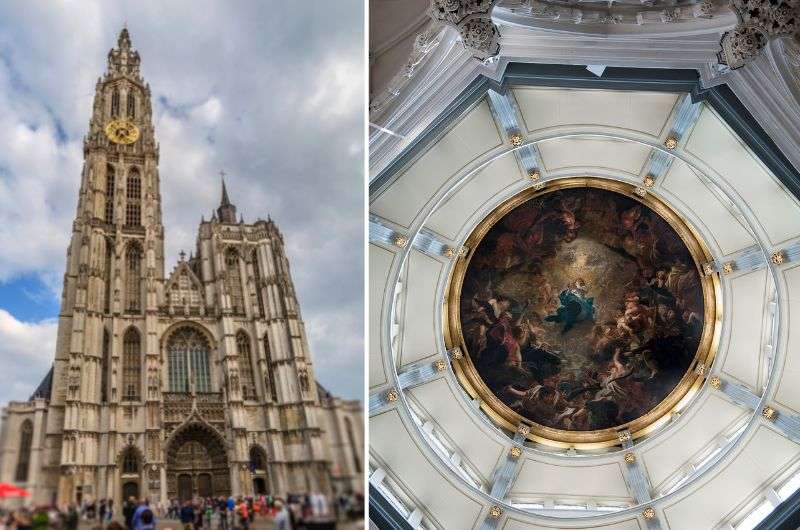 Cathedral of Our Lady

Distance from last stop: 350 m/0.2 mi, 5-minute walk
Time spent there: 20 minutes to 1 hour (if going on a tour)
If you are looking for something tall, dark and handsome, you don't have to go much further...
I can understand the confusion when you don't find me on this next stop. Sorry about that. Instead, peeking over the square's buildings is the Cathedral of Our Lady with its tower you can see from far away. The tower sure turns many heads and will make you feel weak in knees, I can guarantee you that. Or more the 500+ steps to the top of the tower do. If you are brave enough, don't hesitate to climb it up for a breathtaking view of the city.
The Cathedral of Our Lady is a beautiful church with a spectacular white interior and Rubens' work inside. You can visit this Gothic masterpiece on your own or take a guided tour if you want to learn about all the fancy stuff.
Fries stop
Fries with andalouse sauce

The first half of the day is behind us, yaay. Now it's time for a fries stop!
In Belgium, there are small shops called frituur that fry whatever you think of! Did you know you can deep fry Asian noodles into a cube shape? In Belgium they call it bami. But we've stuck to the classics and got ourselves a huge portion of fries drowning in sauce. I just love Belgian food!
Tip: Read all about my favorite (and least favorite) Belgian food, including the story of French vs Belgian fries, in my Belgian Food article.
Try Frituur No. 1, one of the oldest and best frituurs in the city known for its delicious frits—no French fries here, if you don't want crowd of angry Antwerp men chasing you around!
If you have a severe case of sweet tooth at the moment, go get something at The Smallest Waffle Shop In The World. They have the best waffles in Antwerp, almost at the same level as the one we had in Bruges.
Rest your body and mind at the best hotel in Antwerp
Relax and unwind @ Botanic Sanctuary Antwerp

Botanic Sanctuary Antwerp is the calmest, coolest, most chill hotel you could imagine. It has 5 stars, several Michelin-recognized facilities and chefs on site, the premises ooze positive vibes, and if you aren't in too much of a hurry to go sightseeing, you'll love hanging out at the indoor pool.
Antwerp Itinerary: Afternoon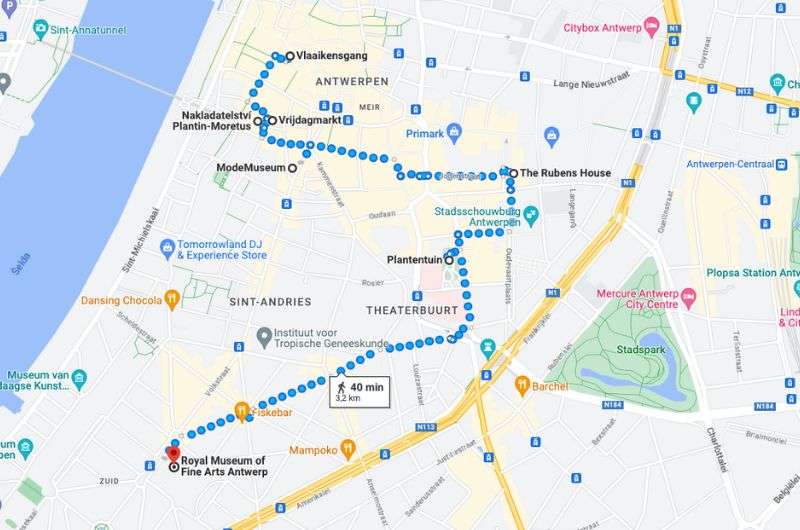 See the route of the second half of today's itinerary

Stop 7: Vlaaikensgang
The Vlaaikensgang street

Distance from last stop: 100 m/300 ft, 1-minute walk
Time spent there: 10 minutes for a wander, more if sitting down at a restaurant
After your stomachs are all packed, you can continue on your lovely walk. Time is of the essence here, we have just too many things to see in Antwerp. Remember, you're only in Antwerp for a day!
This next stop can be overlooked very easily, so have your eyes peeled. The entrance is through an inconspicuous door from either of three streets—next to Parlement ('t) Restaurant on Hoogstraat, POPOFF Restaurant on Oude Koornmarkt, and Chakana on Pelgrimstraat.
Vlaaikensgang is an itty-bitty secret street of old, very well-preserved houses from 16th century. It's a unique alley that gives you a weird feeling that you stepped into some kind of portal and are in a different century. Up until the time you see the first restaurants there, of course.
If you just want to walk through Vlaaikensgang, you'll be out the other end in 5 minutes. If you stay and sit under the fairy lights at one of the restaurants, it could take a while. Or, come back in the evening and grab a cocktail at Tazu.
A secret spot in Antwerp not many people know about, so you don't have to worry about bumping into crowds of tourists.
Stop 8: Vridajmarkt + Museum Plantin-Moretus
Walking through these wonderful streets to get to the Vridajmrakt in Antwerp

Distance from last stop: 350 m/0.2 mi, 5-minute walk
Time spent there: 30 minutes to 1.5 hours (if going to the museum)
Keep walking some more and you'll arrive at Vridajmarkt, or Friday Market in English. It's a bustling historic square in the heart of Antwerp and your next cultural stop on the walk.
It is surrounded by buildings built centuries ago. But don't be fooled by its age, it's still a hot spot for both visitors and locals to gather and hang around. Especially on Fridays, when there is—you guessed it right—Friday market, where you can haggle for fresh vegetables, flowers, and second-hand treasures. It's like a flea market, but with more cheese and less fleas.
The Museum Plantin-Moretus is right on the square. This UNESCO World Heritage Site is not your typical museum. It's housed in the former home and printing workshop of the Plantin-Moretus family, who were printing pioneers in the 16th century.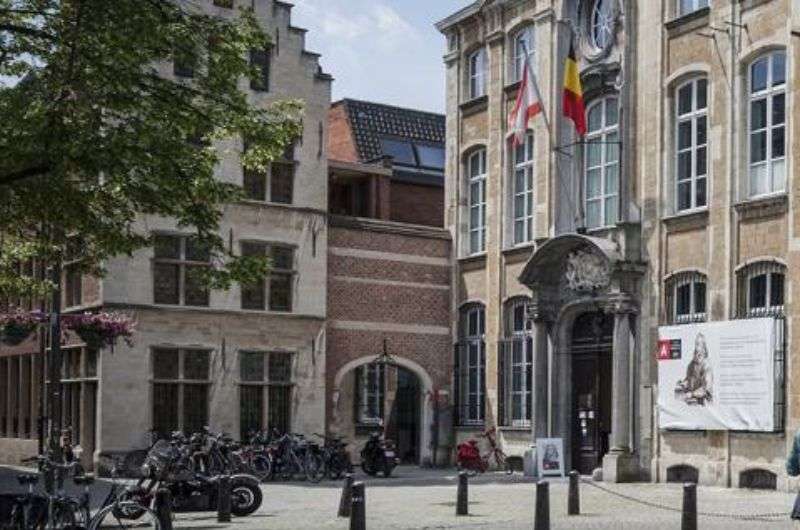 The museum's exhibits consist of original printing equipment and rare manuscripts. It's a great place to show your kids what books were like before Father Internet came along.
It may not have the glitz and glamour AND GOLD of the Grote Markt buildings in Brussels, but it's a real gem for book lovers and my fellow history buffs as we already know Belgians have the best museums. Don't forget to buy the tickets online before you go.
Opening hours: Tuesday to Sunday 10 am–5 pm
Tickets: €12
Optional: ModeMuseum
Exhibitions in MoMu—Belgian fashion museum

Distance from last stop: 200 m/0.1 mi, 2-minute walk
Time spent there: 1 hour
Antwerp is not only a diamond capital, but also a fashion metropole—many famous fashion designers and houses come from Belgium.
I've put ModeMuseum known as MoMu as an optional stop, because you might be running out of time on this itinerary, and I didn't really enjoy it that much. But I'm not exactly a fashion enthusiast, so that's probably why. On the other hand, my wife? Thrilled. And I got a list of handbags she wishes for afterwards. Maybe that also influenced my overall experience...
MoMu showcases the works of Belgian designers and houses a collection of more than 25,000 items, including clothing, accessories, and textiles. It's like a candy store for fashionistas, but instead of candy, it's full of designer shoes and handbags. Most of them are in contemporary and avant-garde ways.
Opening hours: Tuesday to Sunday 10 am–6 pm
Tickets: €12 can be purchased online
Stop 9: The Rubens House
The Ruben's house

Distance from last stop: 750 m/0.5 mi, 10-minute walk
Time spent there: 1 hour
After spending more than a half a day in Antwerp, you've probably already noticed they are big Rubens fans, right? As I said earlier, this was one of the greatest painters of the Baroque era, known for his extravagant style and larger-than-life works, and he spent his life in Antwerp. Even though he was not born there, he became one of the city's symbols.
Today's museum Rubens House used to be the home and studio of the famous Flemish painter. For art lovers, it's the place to go. But even if you don't know your Van Eyck from your Van Gogh—both anecdotes tied to this city—you'll still acknowledge how stunning the architecture and decor of the house are.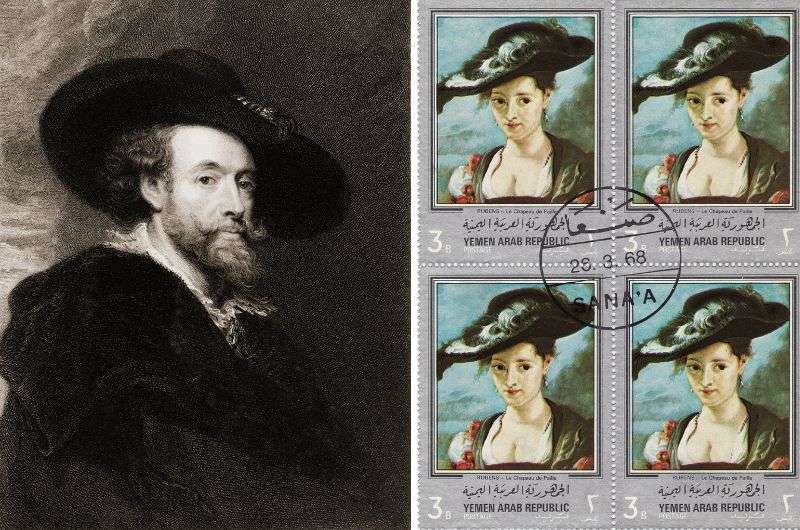 Peter Paul Rubens himself and his Le Chapeau de Paille

As you wander through the rooms, you can admire original works by Rubens himself, as well as paintings by other artists of the period. But the real highlight of the house is the studio. The tools and techniques that Rubens used to create his masterpieces are still there.
And you can even say hi to my old pal Rubens himself (or at least his statue in the garden). Just be warned: he's not very talkative. Just like my wife had been since the MoMu when I said she doesn't need any more bags.
As of March 2023 the Rubens House is temporarily closed due to renovations.
Opening hours: Tuesday to Sunday 10 am–5 pm
Tickets: €8
Stop 10: Plantentuin
Plantentuin

Distance from last stop: 450 m/0.3 mi, 6-minute walk
Time spent there: 1 hour
I love Belgium, but the huge negative it bears is it has almost no nature in the cities (or anywhere else for that matter). Me coming from Czech Republic, I'm pretty used to plenty of parks or at least trees everywhere. Here it is more of a concrete jungle rather than a green one.
If you're visiting Antwerp in the summer, you'll still be able to squeeze in a visit to this green energy booster called the Plantentuin (it's a garden, ok, I just wanted to make it sound better). It's only a 6-minute walk from the Rubens House, so if you're up for it, go find this peaceful place hidden in the city center to get away from crowds for a while.
Or, just head back to your hotel, because there's no better zen resting place in Antwerp than Botanic Sanctuary Antwerp!
Opening hours: in summer 8 am–8 pm, in winter 8 am–5:30 pm
Alternative stop: Royal Museum of Fine Arts
KMSKA

Time spent here: 2 hours
I'm adding this alternative stop if you want to ditch one or two other things I recommend on this itinerary, or because you're just too much of an art geek that you can't visit any city without seeing its best art museum.
If you go to the Royal Museum of Fine Arts, be ready to have your mind blown by some awesome pieces. Not literally, that would leave splashes on canvases... But maybe they would leave it there and call it modern art?
The museum KMSKA (an abbreviation of its Dutch name) is about to take you on a wild ride throughout seven centuries of art. Some frikin' time machine, am I right? You will see the works of artists you are already familiar with like Rubens, Van Dyck and other Flemish heavyweights. You'll take a trip not only through time, but also European space and styles of art of our history.
You don't need a PhD in art history to know that it's some top-quality stuff there. It is very easy to get lost in the art in KMSKA, but I think two hours will be enough for just the right amount of admiration.
Opening hours: weekends 10 am–6 pm, weekdays 10 am–5pm (excluding Thursday 10 am–10pm)
Tickets: €20 can be purchased online

Bonus Antwerp restaurant tip
This was a pretty exhausting day, right? But I have something special for you for an even more enjoyable day. Even though you feasted the whole day on all those amazing monuments and places of interest in the city, it is time to eat!
We went to The Jane, an exceptional restaurant in the former chapel of the military hospital. Now it's a renovated fine dining place and top place to eat in Antwerp and one of the top restaurants in Belgium!
This post contains affiliate links. I earn a small commission if you make bookings through my links, at no additional cost to you. This helps keep this blog free, thank you!