Belgium isn't a typical foodie paradise, but if you're into beer and fries, you might beg to differ. Kidding aside, we enjoyed Belgian food a great deal, and found many great restaurants to scarf it down at.
And yes, the beer helped. They pair it with everything like you'd expect with wine! Brilliant! Check out our Food in Belgium article to learn more about what to eat and drink. Who else hates mussels?! Not Karin!
But you're here for a different reason. You want to know where to eat in Belgium. We've eaten our way through Brussels, Bruges and Ghent and picked our favorite restaurants in Belgium to share with you. And 1 that we want to warn you about—sometimes the ratings can't be trusted!
A little note on hotels in Belgium: Are you already in the planning stages of your Belgium trip? Can we ask a favor? If you book a hotel in Belgium through our booking.com affiliate links sprinkled throughout this article, we'll get a small (like, really small) commission at no extra cost to you. Thank you so much!
We'll put a hotel tip or two for every city in this article, but you don't need to book that specific place for us to get a small kickback. Again, much appreciated!
You might also be interested in reading:
Restaurants in Brussels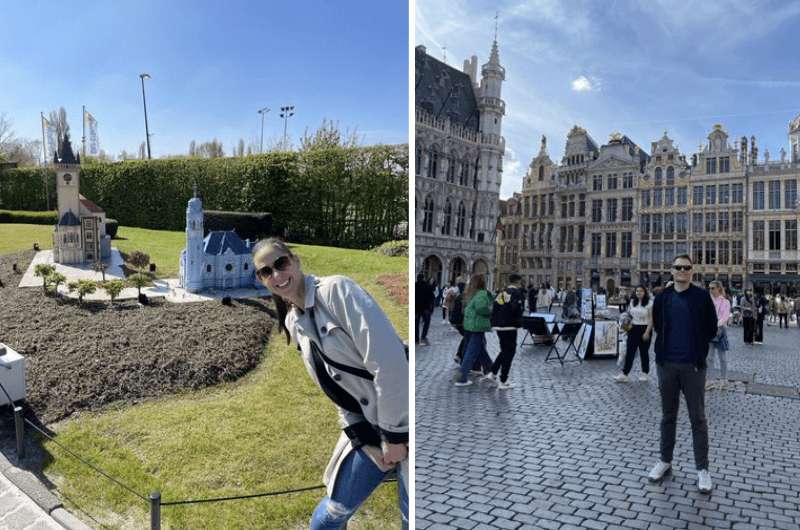 We absolutely loved our time in Brussels!

The country's capital, Brussels, turned out to be our unexpected favorite place in the country. I mean I love the EU, so I was all about visiting the EU Parliament, but then quickly realized there is so much more to Brussels than just political institutions.
We spent 3 packed days in Brussels (check out our detailed itinerary!) trying and failing to see it all. You might know that we travel fast and rarely like to spend more than 2 days in a city, so Brussels really knocked it off the chart.
Some of the best museums in Belgium, fun places like Mini-Europe and Atomium and just the sheer beauty of Grand Place make Brussels a top travel destination for us.
But a human's gotta eat!
Our hotel tip for Brussels
A human's also gotta sleep! In Brussels, we highly recommend our personal tried and tested favorite, the Radisson Red. It's in a great spot halfway between the Royal Palace and the Parc de Cinquantenaire and frankly it's just really good bang for your buck.
The cool and comfortable Radisson Red

The Radisson Red concept focuses on bringing people together through art, fashion and music. It's all very youthful and connected, they even have an app where guests can share photos. There are huge TVs in every room, along with wall art and just art in general all over the hotel, customizable lighting in rooms and numerous social spaces where you can chill and listen to live DJs playing.
Prices start at €250 per night for 2 people with breakfast.
Our top tips for restaurants in Belgium:
The best waffles can be found in family-owned Otto's Waffles in Bruges
To save time you can go to Wolf Food Market in Brussels
Make sure to book the restaurants in advance, especially for dinner
Brussels restaurant tip: Nüetnigenough
A little lunch has never hurt nobody @ Nüetnigenough

Be sure to make a reservation at Nüetnigenough if you find yourself in Brussels. Karin made the best choice possible when she ordered steak here, as you can notice by the pure happiness on her face. It was incredibly tasty in every way.
As you can see, every dish came with a side of fries. You'd think that you'd eventually get sick of all the fries in Belgium, but no. Happy to oblige.
Karin and I both thought the service was excellent, and we had a good time and a fantastic meal.
Do you know what else makes this restaurant stand out as exceptional? At Nüetnigenough, beer experts known as zitologues are ready to assist you in pairing the perfect beer with your meal. They will even tell you about the best microbreweries in the area.
Again, a reservation is highly recommended.
Brussels restaurant tip: Wolf Sharing Food Market
The Wolf Food Market

This is a very cool concept that I hated the idea of at first. Wolf Food Market is a huge food court in a historic building in the center of Brussels. There are 16 restaurants of all types that can handle a total of 755 people, a bar, a brewery, and a chocolatier.
The strange thing here is that there are no servers. There are tablets. You get a tablet and the rest is up to you. Or not the entire rest—there are humans that cook your food and they also bring you your food. But you're in charge of ordering it and then also paying for it online. Pretty cool, huh? And also fast, no language barrier, no stress. Perfect for introverts!
The design is uber cool and the variety of food is extensive. And yummy!
Brussels restaurant tip: Le Rendez-Vous des Artistes
The artsy design @ Le Rendez-Vous des Artistes

Le Rendez-Vous des Artistes is a nice restaurant with Belgian cuisine. When we arrived, it was really crowded, but the waiters were friendly, although we spoke minimal French and they spoke minimal English.
Karin enjoyed her mussels, I was satisfied with my beef tartare and fries, and we both indulged in lots of Belgian Leffe beer. The food was great. Not fantastic, but solidly great. We have to stay real on here!
By the way, our advice to you is that three Leffe beers are quite enough. Anything more and you'll have to take a nap before trying to sightsee any further.
The only drawback of this restaurant during our visit is that although the food was served fast enough, the bill took a long time. It's like they didn't want to get paid.
Brussels restaurant DON'T: Au Brasseur 
No shortage of alcohol at Au Brasseur

Au Brasseur is a busy bar that is riding the wave of some good reviews, but we're here to rebel. The good reviews have to be from tourists that don't know any better and have fun getting a tasting of beers on a wooden plank with no higher expectations.
Sure, you get beer, but the service is awful. They are rude and look annoyed that customers want to order anything.
No matter what time of day or night you visit, Au Brasseur is always packed. The inside is pretty small and feels sort of dodgy. But really, it's mainly the personnel that makes it feel like you should go elsewhere.
One other thing we felt annoyed about—and kind of trapped—was that they notified us that they accept only cash only after we made our order. Isn't that something that should be made clear upfront so that one of you doesn't have to go running around looking for an ATM while your significant other sits there waiting?
Restaurants in Ghent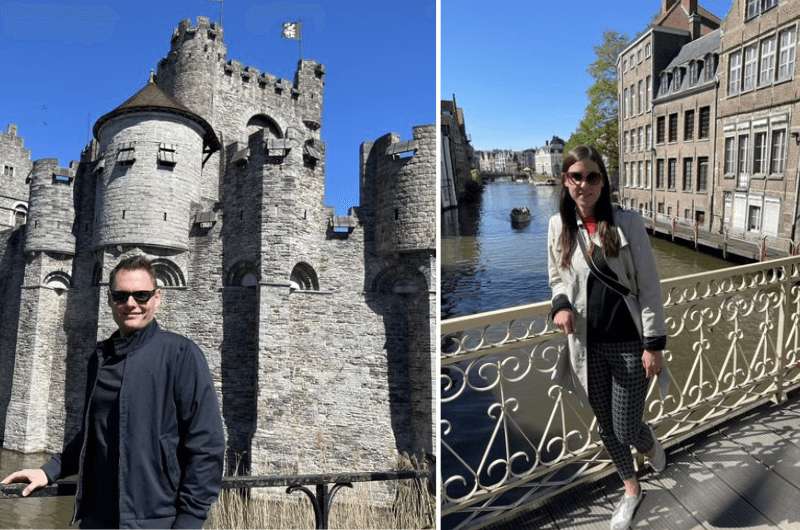 Loved Ghent, too!

Ghent is a medium-sized city with a very small city center, so you'll see it easily within a day. The canals and cool, old buildings that line them, especially the area called Graslei, give Ghent a pleasant atmosphere.
Sightseeing includes some fantastic medieval towers, like those of St. Nicholas' Church, St. Bavo's Church, and the Belfry. The canal boat tour was also lovely and we decided we liked Ghent a tad more than most other people's favorite—Bruges. But our favorite spot in Ghent was the 10th-century castle—Gravensteen.
You'll find all of the best things to see in Ghent in our Ghent guide. You need tickets in advance to see some of the sights, so read up or else be left out of some attractions like we were!
Our hotel tip for Ghent
Omfy, cool and chic @ Pillows Grand Boutique Hotel Reylof

If you want to stay the night in Ghent, note that most of the accommodation options are b&b's and apartments.
For an actual hotel, check out the cozy but fab Pillows Grand Boutique Hotel Reylof. It's close to St. Michael's Bridge and Church. It gets you contemporary design, high ceilings and rain showers in the rooms and apparently also very comfortable pillows!
Besides that, the breakfast is supposed to be amazing and there's a historic courtyard garden where the onsite restaurant has a terrace. You can wind down in the spa pool or in a sauna or gym.
Prices start around €250 per night for 2 people, including breakfast.
Ghent restaurant tip: Bridge
Sitting right by St. Bavo's Cathedral @ Bridge

Because of its amazing location next to Saint Bavo's Cathedral all the food tasted even better at Bridge, or is that a strange theory? We loved Bridge.
The waiters were extremely helpful and polite. The selection on the menu was satisfying without being overwhelming.
The food was freshly prepared and served in well-sized portions, and the fries that were served with both main courses were of high quality. Overall, it was a good dining choice. Our cravings were satisfied, and our stomachs left feeling happy. What more could you ask for?
Ghent restaurant tip: 't Koningshuis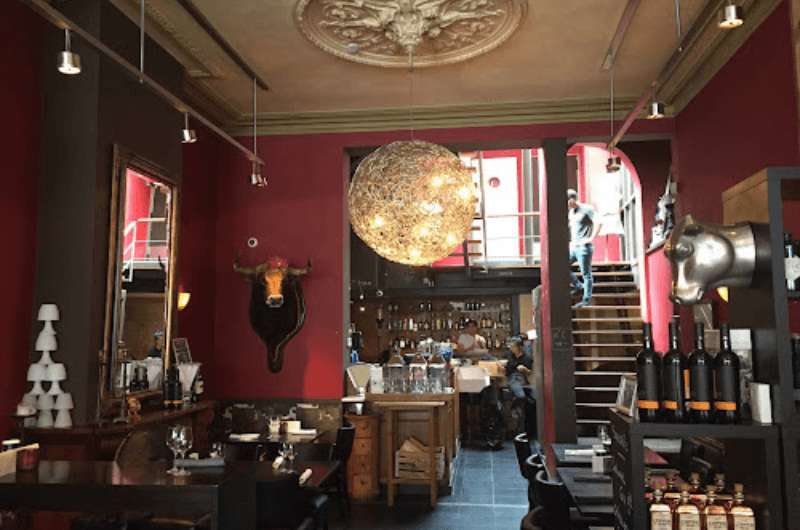 Get your burgers on @ 't koningshuis

This is a restaurant that has the words "beef" and "burgers" right in the logo. Add the dark red interior and bullheads on the walls and you've got yourself a restaurant that feels mighty and meaty.
The 't koningshuis burgers are seasoned exceptionally well and come with a literal paper bag of fries. Some people even say they had their best burger in their lives here, and I can't blame them.
Service is speedy and friendly, and I have nothing bad to say about the place. Get beer with your meat, obviously. The restaurant isn't very big and gets full especially on weekends, so make sure to book ahead if you want to guarantee yourself a table (they take online reservations).
Restaurants in Bruges
Bruges wasn't so bad either

Bruges city center is basically an island encircled by a river, and then cut further into bits by the numerous canals. So besides walking, you can also take a half-hour boat canal tour, check out the fairytale-looking city gates and hope for eternal love on Lovers' Bridge. Oh, and there are windmills.
Bruges is more Venice-y than Ghent, not just because of the number of canals, but also because Bruges is permanently overrun by tourists.
Our favorite thing about Bruges was the beer education (and tastings!) we got on the De Halve Maan brewery tour and the spectacular Bruges Beer Experience. One of those even topped our Best Museums in Belgium list!
If you want to learn more about what to do in the city, check out our Bruges guide.
Our hotel tip for Bruges
This boutique hotel sits right on the canals of Bruges @ Relais Bourgondisch Cruyce

The 4-star, waterfront property of Relais Bourgondisch Cruyce is up there in romance vibes. The staff at this boutique hotel get infinite accolades in reviews, which is always the thing that can make or break your stay.
Rooms are decorated with the owner's art collection and antiques, and they can be on the cozier side (read: small), but at this hotel, it all just feels enchanting. You'll have breakfast overlooking one of Bruges' canals and can sit by the fireplace in the dining room with your afternoon tea (read: beer). They have an off-site restaurant not far away.
Prices start at €170 per night for two people without breakfast.
Bruges restaurant tip: De Gastro
"Things worth having are worth waiting for." – Hungry us waiting for the order @ De Gastro

De Gastro is a family-owned restaurant in Bruges. While we were out and about, we happened to check TripAdvisor and came across this cozy place. Don't you just love it when you find a great restaurant?
The staff was welcoming, and there was a feeling of togetherness throughout the entire visit. We felt right at home!
The food was presented exceptionally beautifully and tasted great. The price paid is more than justified by the quality. If we find ourselves in Bruges again, you can be sure we'll be visiting again.
Bruges restaurant tip: Otto Waffle Atelier
These waffles are some kind of wonderful

Otto Waffle Atelier is one of the best waffle shops in the country! Made from scratch with just the freshest ingredients, Otto's waffles are to die for. Or at least to get fat for. In summary, not the omnipresent crappy waffles that you find all over Belgium.
This is just a small café-type place with minimal seating, so be ready to walk and waffle.
Otto and his wife ensure that everything is made to the highest standard. They make classic waffles, as well as seasonal creations. In a kitchen that is open to the public, you can watch how they prepare the waffle mix.
The girl who ordered in front of us wanted a Nutella waffle. The server just smiled and made her a gorgeous waffle with melted Belgian chocolate. Oh, those tourists…
Bruges restaurant tip: Christophe
The best steaks in Belgium are served @ Bistro Christophe

Bistro Christophe was recommended to us as a superb restaurant, and I have to say that advice was absolutely justified. The food was fantastic! As a bonus, the service was professional and the prices were very reasonable. 
Karin and I shared the degustation menu and ordered the best steak in Belgium. The créme brulée was also very nice. So, if you ever have the chance to go there—be sure not to miss it! An absolute hidden treasure that I will without a doubt recommend to anyone going to Bruges. 
This post may contain affiliate links. We earn a small commission if you make bookings through my links, at no additional cost to you. This helps us keep this blog free, thank you!