If you're on vacation in Israel, why not visit a breathtaking ancient city just across the borders? Jordan's most popular destination Petra is THE spot.
Discovering the beauty and perfection of Petra is a true adventure. This breathtaking ancient city nestled within the rock-carved wonders of Jordan is nothing short of awesome. I don't have any reason in my mind why you wouldn't pay it a visit when you are right across the borders in Israel.
The journey to Petra from Israel is a captivating expedition that takes you through historical landscapes and Indiana Jones movie-worthy archeological marvels. In this article, I'll guide you through various travel options, tell you what to expect from border crossings, and introduce you to fascinating sights you'll witness in Petra.
Whether you opt for a road trip through the desert terrains or the comfort of a flight, my simple guide will equip you with the essential tips and insights to make your journey to Petra one of the most unforgettable adventures of a lifetime. And I'll share a great hotel where you can stay after your Petra visit as a bonus. So, what are we waiting for?
You could also be interested in reading:
Why should you visit Petra?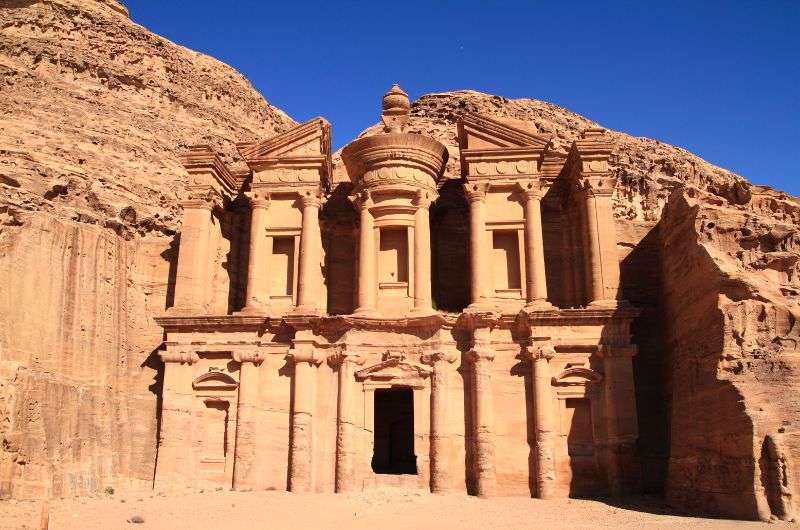 Rock-cut architecture in Petra
And why not? It's literally a stone's throw away. Petra is an ancient city located in southern Jordan and it's known for its stunning rock-cut architecture, you will be amazed by. Just like I was when I saw how spectacular the place is. Petra is also one of the most famous archaeological sites in the world and has been a UNESCO World Heritage Site since 1985.
And what's more, Petra is one of the New 7 Wonders of the World. This Nabatean ancient city will serve you an extraordinary experience that is worthy of a day trip from Israel, don't you think? If you are not hooked on the idea, I can't do more. And you were searching for this kind of article, so you probably already desire to visit this promised rocky place.
From Israel to Petra by car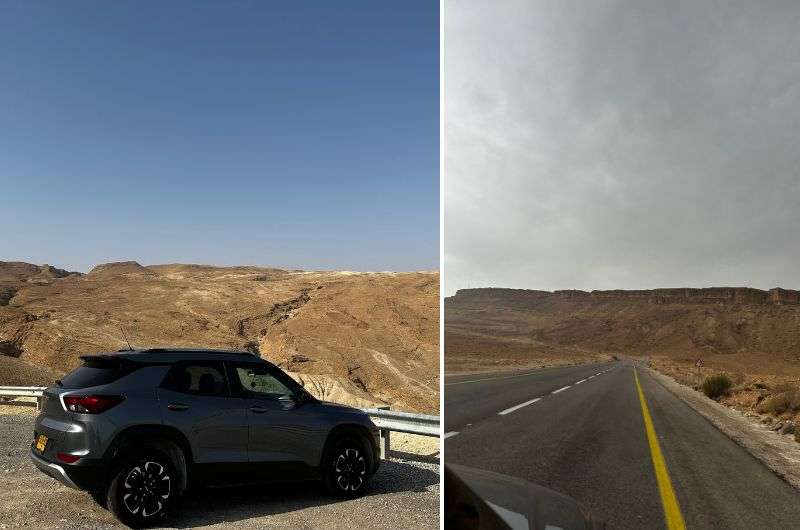 Rent a car in Israel and let's go!
My favorite way to get around when I travel is and always will be by rental car. Nothing beats the comfort of being in charge of your own timing (and music, and AC temp, etc.). And you don't want to be packed liked sardines in a bus in the summer in Israel. If you do, you'll immediately understand what Christians mean by hell. I found it on the public transport in the middle of summer and I wouldn't wish that upon my worst enemy.
And driving in Israel? Yes, please! Israel had probably the best infrastructure of all the countries I've been to. Highways are well-spread around the country, and they are in a very good state. The drive there is smoother than a baby's bottom and you'll be in Jordan in no time.
So, first step? Rent a car. And lucky for you, renting a car in Israel is a hassle-free business, my friends. We usually go with the safe option, Sixt being our go-to car rental in Europe. They offer free upgrades and have a user-friendly app for ease of booking even a child could use—but shouldn't; the drivers in Israel are already the worst I've ever met, but you'll see for yourselves.
Only warning I have: make sure to check the rental policy on traveling across borders. If you want to know more about the renting procedures and some extra travel tips, check out my 26 Things to Know Before Visiting Israel. This article will be your Bible for travelling to Israel—and I'll be your travel God, only younger and without the hippie hairstyle.
Borders crossings from Israel to Jordan
There are three land crossings you can use to get to Petra from Irael. Pay attention, because they are certainly not created equal.
The fastest route
Day trip to Petra from Jerusalem: The fastest route for getting from Jerusalem to Petra by car involves crossing the border at the King Hussein Bridge, also known as the Allenby Bridge. The drive to the bridge typically takes around 1–1.5 hours, depending on traffic and any potential delays at the border. However, this is the only crossing out of three where you can't continue in the car you rented in Israel. There is a car park at the borders, where you can leave the car for your time in Jordan before you return to Israel. And you can't get entry visas at the borders, but you have to get them issued at any Jordan embassy before you go. In that case, you must consider if the pro of being there the fastest outweighs the cons of leaving the car there and not being able to obtain a visa on the spot.
The King Hussein Bridge
The easiest way to get to Petra
Well, in my opinion, the most convenient way how to cross Israel-Jordan borders is the Wadi Araba crossing. It's a bit of a detour if your starting point is Jerusalem, but you can drive in a rental car all the way to Petra. Moreover, the average waiting time at the borders is the shortest among all three crossings. The only downside, besides the fact that it takes about an hour longer than the previously mentioned crossing, is that you need to arrange your visas in advance.
The one that's too far away
The only crossing that issues visas on the spot is the Sheikh Hussein crossing. However, it is located all the way in the northern part of Israel, and in my opinion, it's not worth the extra effort. Just go to the embassy a few days before your trip and that's it.
Border procedures
Before you go, check the official Jordan Tourist Board website, so you have the most up-to-date information. Opening hours of the crossings and regulations are frequently changed—open the goddamn website and make sure your plans stick. Better safe than sorry, waiting at the closed borders crossing. On the website, you'll also find how much the visa fees and departure tax are currently.
At the Israeli side of the border, you'll go through immigration and customs procedures to exit Israel. It's a simple and smooth process that you would expect in a modern country like Israel. You'll show your passport, any required visas, and the border officials will give you the exact instructions on what to do. It's really no biggie, if you have all the documents needed. Don't forget your passport at your hotel in Israel like I almost did. In that case—no Petra for you.
After crossing the border, you'll reach the Jordanian side. Then you'll proceed to Jordanian immigration and customs area. And there's the same process, you don't have to expect anything else—your passport, visa, and any off you go. Cooperate with the officials and follow their instructions throughout the process. Just be disciplined citizens, you saw the crowd of soldiers in the streets of Jerusalem—you don't want to cause any trouble here, trust me.
From Israel to Petra by plane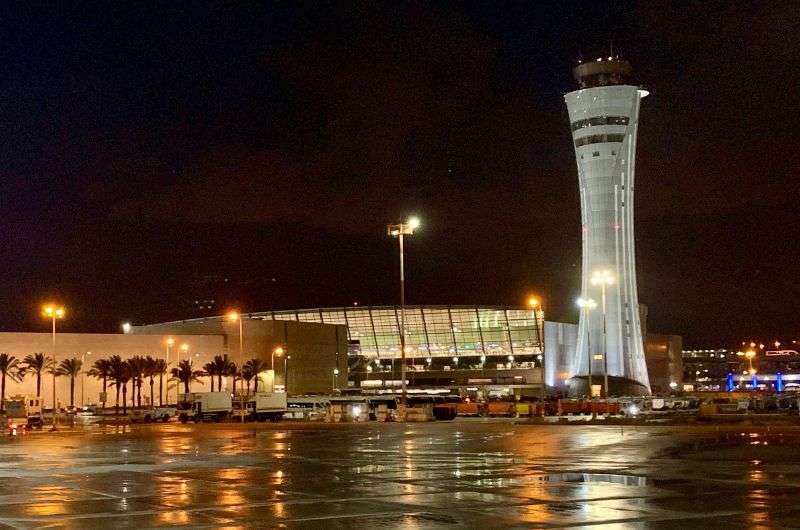 Ben Gurion Airport
If you prefer going by plane to leave a nice juicy carbon footprint or whatever reason you have, you can also fly to Jordan. In Israel, there is Ben Gurion Airport near Tel Aviv that will do you a solid here. If you are staying in Tel Aviv, it's probably more convenient to fly there, rather than drive if you don't want to stay more days—it's an ideal day trip to Petra from Tel Aviv (I have more of those for you right here). Book a flight from Ben Gurion Airport to Queen Alia International Airport in Amman, Jordan. Several airlines operate flights between these two airports, so you shouldn't have any trouble finding an empty seat.
But to be sure you'll get to Petra on time, check for flight availability and book your tickets in advance. The flight takes about an hour, you won't even have time for a proper nap! After you get to the airport, it's the same procedure—I don't even have to explain it to you, right?
Now the question is: How to get to Petra from Amman? Well, it's easy. Rent a car, get a taxi, or public transport—but if you are sane, you won't take the bus, we've already established that issue.
If you decide to rent a car, you can do so right at the airport. The process of renting a car is quite similar to the one in Israel. You'll typically need a valid driving license from your home country (check if you also need an international driving permit), and a credit card (not a debit card!). Some car rental companies may also require a minimum age for renting a car (usually 21 or 25 years old). I recommend checking the specific requirements of the rental agency you choose beforehand—so you don't end up empty handed. Many car rentals also have their own website, where you can make a reservation in advance, you might want to do that. Better safe than sorry!
The drive from Amman to Petra takes about 3 hours on mostly well-maintained roads.
Exploring Petra
There is a lot to explore in Petra!
About your visit
After you park your rented car at the free parking lot, it's time to explore the world's wonder—ancient city of Petra! It's a true archeological wonderland full of breathtaking views and historical significance that'll blow your mind!
First things first, your tickets. This is gonna be slightly tricky, so read carefully. The tickets can be purchased only at the Visitor Center after your arrival. But the fees to enter differ based on various factors—the length of your stay and number of visits to Petra. If you have traveled to Jordan only to visit Petra and then you go back to Israel, you'll have to pay the highest fee—JOD 90 (USD 127). But if you are accommodated in Jordan and will stay at least one night there, the fee goes drastically down. Your ticket will cost you only JOD 40 (USD 57). And if you decide to visit Petra more than once, the tickets are also cheaper. You can find more deets about the fees on the official website.
Hike your way around Petra!

Map and full route details available at Alltrails
Hike length: 10.6 km (6.6 miles) loop
Elevation gain: 520 m (1,700 ft)
Difficulty level: Medium
Hiking time: 3.5–4 hours (+ some time for admiring the ruins)
Trailhead: Google Maps link
Petra is an epic and vast archeological site. To avoid getting lost or walking in circles, there is a very helpful hiking trail that guides you through the monument. This place is definitely best explored on foot and alone. You can take a guided tour, but why would you? Would you prefer to be in a crowd of old German tourists or be your own guide and plan your visit according to your tempo and interests? Yeah, I thought so.
The hike starts right next to the Petra Visitors Center, where you'll buy your tickets—meaning there's no chance you could miss it. And from the first step you take, your Petra adventure begins. It's super easy to get lost as the trails are not well-marked the entire way. I recommend following the AllTrails map and to be ready to whip out your phone, so that you don't get lost for eternity in this ancient labyrinth.
Before you go on this hike adventure, make sure to pack enough water and sunscreen with a high SPF level. I have no shade on this place concerning how great the whole experience was—but there is literally no shade.
With all the ooh's and ahh's along the trail, it will take you about 5 hours based on my experience. But its beauty lies in the fact that you can spend as long as you want at each viewing point, temple, fountain or whatever will catch your eyes.
I had a great experience @ The Old Village Hotel & Resort
After this rather exhausting day, you won't probably have the energy to drive all the way back to your hotel in Jerusalem. A few minutes away from Petra there's The Old Village Hotel & Resort that will serve as a great charging hub and place to rest. I chose to stay at this place because when I did my pre-trip research, I found this hotel seriously impressive. The reviews were great, and the rooms looked very spacious. So, I decided to give it a shot—the best decision.
After I got to The Old Village Hotel & Resort, I was surprised by the fact that the rooms were even larger than I expected from the photos. And in those high temperatures you don't want to be squeezed into some oompa loompa's dungeon with no air conditioning. And a great addition to that is the outdoor pool and exceptional food from the onsite restaurant, which serves a continental breakfast in the morning.
This resort is the perfect value for money. It's better to finish your day with some R&R than driving for 5 hours, don't you think?
This post contains affiliate links. I earn a small commission if you make bookings through my links, at no additional cost to you. This helps keep this blog free, thank you!