Are you wondering: Is Tel Aviv worth a visit? Let me ask you this: Do you like exploring the best of art, modern history, and food? Yeah, I thought so.
Even though there isn't an overwhelming amount of things to do, I highly recommend spending one day in Tel Aviv, instead of just a few hours to cross it off your bucket list. Trust me, it's worth it! Whatever you do, don't skip the promenade by the port, it's probably the most beautiful one I've ever seen (and it's best at sunset). Follow this Tel Aviv itinerary, and you'll discover the city's iconic highlights along with some delightful surprises.
So, buckle up, and let me guide you through a day brimming with culture, history, incredible flavors, and the sheer magic that is Tel Aviv, the White City of Israel.
This is the itinerary with the best things to do in Tel Aviv:
Stop 1: Neve Tzedek
Stop 2: Carmel Market
Stop 3: Tel Aviv Museum of Art
Stop 4: Ben Gurion House
Stop 5: Tel Aviv Port and promenade (the top spot!)

See the route of the day on Google Map

You could also be interested in reading:
How many days is enough for Tel Aviv?
Tel Aviv is definitely a one-day destination. I've read a bazillion of articles and posts from backpackers and some travelers saying you should stay more days. But for real, what is there to do? I barely kept myself busy for a day! What did they do those 2 days in Tel Aviv? I consider it almost impossible and an incredible waste of time. What to do after a day in Tel Aviv? Day trips from Tel Aviv. There is literally nothing else, and the city makes a convenient trip base due to its location. So, take my advice, and don't plan more days there, because you could miss some other great places this country is full of.
Stop 1: Neve Tzedek—the trendy neighborhood
Time spent there: 2–3 hours
Let's start the day in the most trendy and artsy neighborhood in Tel Aviv, where history and modern life collide in one perfectly. It was the first Jewish neighborhood to be built outside the old port city of Jaffa. But today, it's an upcoming and trendy center of culture overflowing with chic cafes, fancy restaurants, and art on every corner.
The neighborhood charms you with its stunning architectonical pieces in modern Bauhaus style or some restored houses from the end of the 19th century. I got the ultimate schizophrenic vibe from this place. Like are you modern or not? You stand in front of a myriad of designer stores, then you turn around, and poof—a farmers' market. Can't this place make up its mind? But I guess it's part of its charm. It has something unique in it—when you walk down the streets it sometimes feels like a journey throughout the 20th century till the modern day.
As you've probably figured out from my description of the neighborhood, it houses many art institutions and museums. So, if you are real enthusiasts, 2 hours of walking around and discovering the nooks and crannies of the neighborhood might not be enough. You can check out the Suzanne Dellal Centre for Dance and Theatre or even catch a show there. Or, if you wear your artsy pants, hop to the Gutman Museum dedicated to the work and life of this painter and writer.
Suzanne Dellal Centre for Dance and Theatre
But don't waste all your oohs and ahhs in cultural centers, what's most interesting about this area is that the streets themselves are art. You have to keep your eyes peeled all the time, not to miss any mural, small sculptures of babies crawling up the wall (yeah, that's real), or any other project Neve Tzedek is full of. It's a haven for creative souls, and you're about to discover their incredible talents!
Now, when your tummy starts to grumble, oh fear not my friend—Neve Tzedek is heaven for us foodies! A plethora of delightful cafes and restaurants await on every corner. Let yourself relax for a while and get an energy boost in the form of a mouthwatering brunch accompanied by aromatic coffee or indulge in scrumptious pastries that melt in your mouth and allow your taste buds to enjoy your Tel Aviv trip as much as you will!
Stop 2: Carmel Market—bustling heart of the city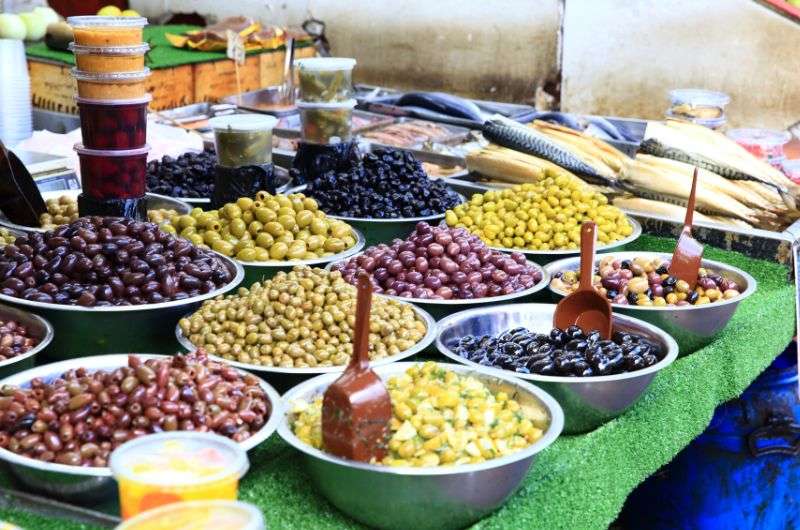 Carmel Market
Distance from previous stop: 1 km/0.6 miles, 15 minutes
Time spent there: 2–3 hours
If you are like me and you can never get enough of good food, welcome to the next stop, the beating heart of Tel Aviv's culinary scene. The Carmel Market, locally known as Shuk HaCarmel, is a swarming marketplace that will enthrall your taste buds and leave you craving more. Brace yourself for a cornucopia of sights and sounds as you immerse yourself in this divine center of gastronomic delight.
Overall, Tel Aviv is a culinary heaven. Some of the best restaurants I visited are right in Tel Aviv, so you can imagine the level of gastronomic experiences there is crazy high. And that's also why the Carmel Market also deserves a spot on this itinerary, as the locals sell you Israeli street food culinary gems on every corner. Sink your teeth into piping hot falafel, crispy and golden on the outside, tender and flavorful on the inside. Delight in the heavenly aroma of sizzling shawarma, juicy cuts of meat piled high and served with all the trimmings. Sorry, I can't continue describing the state of nirvana I came to while visiting Carmel Market, or it will make this tough guy cry. I would kill to have those dishes right now.
Scents and tastes of all kinds at Carmel Market
The Carmel Market first opened more than a hundred years ago and is still the largest market in Tel Aviv. Apart from food, you'll find there almost everything from clothing to electronics and sometimes a little bit bizarre items such as obviously fake designer products, but I guess hustlers be hustlin'. The upper section of the Carmel Market is traditionally dedicated to fashion and electronics, and a wide array of food stalls and vendors offering fresh fruit and food you'll find in the lower part of the market.
The visit to the market was a very pleasant experience, but it can be a little too noisy sometimes, and if you're not a fan of overcrowded and busy places, you should probably skip that. Another warning for you: some of the stalls don't accept other currency than the Israeli one. Don't forget to have some shekels with you.
Open daily 7 am–9 pm
Free entry
Stop 3: Tel Aviv Museum of Art—The Heavy Weights of Art Under One Roof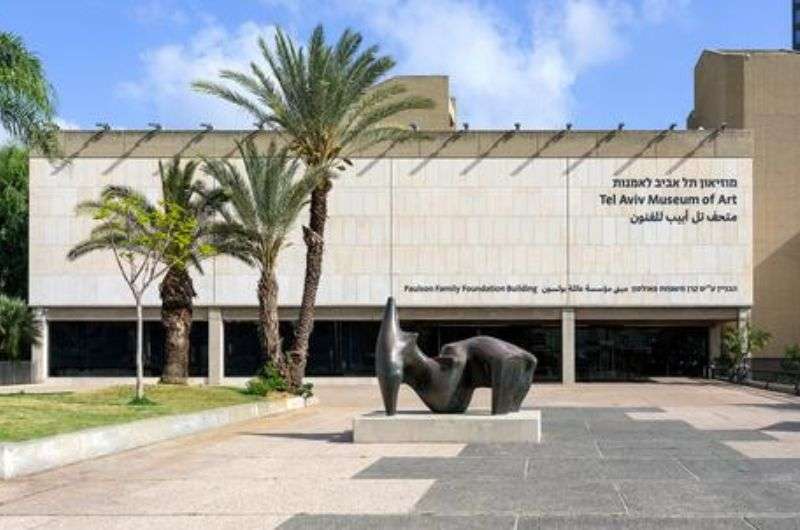 Distance from previous stop: 2.2 km/1.4 miles, 30 minutes
Time spent there: 2 hours
The Tel Aviv Museum of Art stands as a prominent cultural institution in Israel showcasing a diverse range of modern and contemporary art. Located in the heart of Tel Aviv, this museum is a must-visit destination even if you don't know your Van Gogh from your Murakami. This museum houses many original art pieces of the heaviest weights in art history such as the aforementioned Van Gogh, Picasso or Monet. So, if you changed out of the artsy pants you wore to Neve Tzedek, it's time to put them back on again!
To complement the museum's impressive permanent collection, which includes a wide range of artworks by renowned artists from around the world, there are also notable temporary exhibitions that offer new insights into contemporary art trends. These exhibitions frequently highlight emerging artists, thematic displays, or partnerships with international institutions, ensuring a dynamic and constantly evolving experience for visitors.
When I was there the museum hosted an exhibition of NFTs, which me and most of the kids appreciated. No, but for real, I have to highlight how many interactive features the museum had. I feel like it's a great place to spend the rainy afternoon in Tel Aviv, if you are not an art enthusiast, and even your kids will enjoy it fully. And the entrance is free for kids under 18 years old... I mean teenagers, please don't cancel me Gen Z.
The museum's architecture itself is a work of art, designed to create a harmonious environment for the displayed works, and I have to say, it really clicks well together. The spacious galleries and natural lighting enhance the viewing experience and allows you to fully immerse yourself in the world of colors and shapes.
Open: Monday+Wednesday 10 am–6 pm, Tuesday+Thursday 10 am–9 pm, Friday 10 am–2 pm, Saturday 10 am–6 pm, closed Sundays
Tickets: 50 NIS and can be bought online
Stop 4: Ben-Gurion House—A Walk Through History
The house of David Ben-Gurion
Distance from previous stop: 2 km/1.3 miles, 30 minutes
Time spent there: 1 hour
Nestled in the heart of Tel Aviv, the Ben-Gurion House offers you a sneak peek into the life and legacy of one of Israel's founding fathers, David Ben-Gurion. So, if you are into politics or modern history, you are in for a treat. This historic house turned into a museum provides a unique opportunity to step into the world of this visionary leader and gain insights into his profound impact on the nation.
But if you are not a history buff that lies in books every night, you might not know who this Ben Gurion fella was. Well, he was a key figure in the establishment of the State of Israel and its first prime minister, that was known for his strong leadership and national identity. So, you probably get why his house is one of the biggest attractions in Tel Aviv. Ben-Gurion's government made a huge impact on the state of Israel and is celebrated till this day.
That was my educational moment, and now back to the actual place you are about to visit. The second you cross the doorstep, you feel history breathing down your neck. You are surrounded by things from the modest furniture to the personal belongings, the interiors paint a picture of a man devoted to his cause. The study, where Ben-Gurion spent countless hours formulating policies and making crucial decisions, offers you a chance to metaphorically step into the mind of a visionary leader.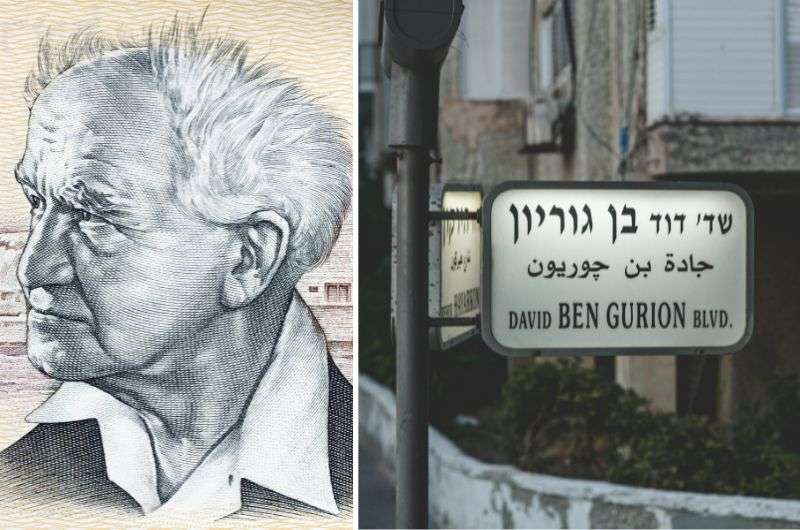 David Ben Gurion
The museum's exhibitions provide a comprehensive overview of Ben-Gurion's life, spanning his early days as an activist to his pivotal role in Israel's establishment. The photographs and documents exhibited there help you to imagine the challenges he faced, and the milestones achieved during his remarkable journey. It's like you've been right there when it happened, your FOMO will cheer with joy.
But to be honest, it's just a regular house. However, architectonic significance is not the magnet that pulls you there, that's the incredible life of an extraordinary man. Even though the visit was extremely interesting to me, I was in and out in an hour—and I'm a hardcore nerd, okay? I read every panel, every plate on the wall, and have to examine every corner possible. So, I think it can't take you much longer either. Don't forget to take an audio guide, it'll tell you many fun facts during the visit. And it's for free—the audio guide and the entrance as well—so there's nothing keeping you from diving deep into Ben-Gurion's life at his former home.
Open: Sunday 10 am–6 pm, Monday to Thursday 10 am–4 pm, Friday 9 am–1 pm, Saturday 11 am–3 pm
Free entrance
Stop 5: Tel Aviv Port and promenade—Breathtaking Sunset Scenery
The most beautiful sunset I've ever seen...
Distance from previous stop: 1.7 km/1 miles, 20 minutes
Time spent there: 1–2 hours
Before you move on to giving your last hooray in the city of Tel Aviv that is known for being a great party destination, there is one last stop left. No skipping this one my friends, it's actually what charmed me the most about this city—the Port and adjacent promenade.
I put it as last on this list on purpose, because the sunse there? An absolute Tel Aviv must see and highlight of your day, no, even better, highlight of your vacation. I know how high I'm setting your expectations right now but trust me—it's THE spot to spend your evening at, if you are not a party animal and your glory days are behind you.
A leisurely stroll around Tel Aviv port
The whole area is a picturesque place filled with bars and restaurants with delicious food. As you wander along the promenade, you get some top-notch panoramic views of the sparkling sea. It feels like a picture-perfect postcard came to life. Take some snaps for social media to make your friends green with envy.
It's really an amazing place I was so hyped about. But the only thing to do there is to walk or enjoy the views from some restaurant's porch. But is there any better way to end a busy day?
Bar tip—A whiskey a day keeps the doctors away!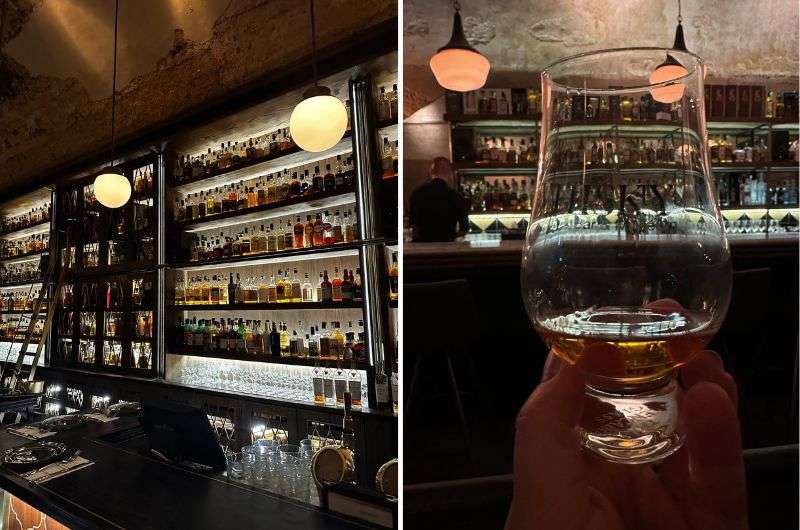 Cheers!
If you are a whiskey lover, I have a tip you'll be eternally grateful to me for. And even if you are not a fan—what's wrong with you?—it's also one of the best restaurants in Tel Aviv, so you should visit it anyways.
Whiskey Bar & Museum is a bar/restaurant with an extraordinary collection of variety kinds of whiskey, and superior food. I had one mean salmon that I will remember for a long time—which is actually questionable after all those glasses of whiskey I had that night...
But be aware and write this down as one of my many tips, before you visit Israel: Keep an eye on your bill. Sometimes, the waiters are going to try putting some extra shots or an order from a different table on your bill. And you don't want to be paying for some random pals next to you, right?
Overall, the place totally charmed me—not only because they had my favorite whiskey that I had probably a little too much of. But also, the service was excellent, the staff were very kind, and the music playing really made the whole atmosphere superior.
P.S: Shakshuka is a great hangover breakfast, remember that!
Where to stay in Tel Aviv? Literally in the clouds @ Crowne Plaza in Tel Aviv!
Hotel Crowne Plaza in Tel Aviv
During my visit to Tel Aviv, I stayed at Crowne Plaza in Tel Aviv and you should too. I had a divine sleep there. No, I'm not paid for the promo, but I was so excited, I'll promote it gladly for free. You deserve to have the sleep of your life, as I had there. Because—hold on to your hats—they had a pillow menu! Aka a list of pillows they offer with descriptions and who they are best suited for. I mean, what a great idea! Every hotel should implement this, it's an absolute gamechanger!
This post contains affiliate links. I earn a small commission if you make bookings through my links, at no additional cost to you. This helps keep this blog free, thank you!