Welcome to the promised land for foodies and history buffs! Israel is a dream destination, where you can explore holy sites and historical spots while enjoying the best falafel with hummus. What more could you ask for?
To know your way around this country with unique culture, you should be aware of a few things first. So that you don't become a victim of unnecessary faux pas, I'll share with you these 28 Israel travel tips—covering everything from practical travel advice to cultural insights and fun local experiences.
Grab a cup of strong Israeli coffee and get ready to learn all you need to know for your upcoming trip to this vibrant and dynamic country!
You could also be interested in reading:
Things to know before going to Israel
1. Get an E-SIM
This is an essential tip that can save you plenty of money and stress. If you are spoiled with the comfort of having no worries with calling wherever you are in Europe like me (I love you European Union), you can easily forget about getting a new SIM card when abroad. But you would realize once you'd seen the phone bill, trust me. To avoid those unnecessary and unpleasant surprises, get an E-SIM card before you go.
Mount of Olives
You can download an app where you can have a dual sim such as Airalo app—it's a great travel buddy you can travel all around the world with and it doesn't need you to take its picture all the time!
Via the app you purchase a local SIM card to your phone, if the phone allows you to—technically speaking. But unless you have a Nokia 3310 kind of phone, you should be fine. Buy the E-SIM needed for your destination (in this case Israel, obviously) and have everything ready before your departure.
2. Set up a Revolut account
The only thing more annoying than high phone bills are high credit card bills. Most banks have absurdly high fees for paying by card in foreign currency abroad. I say, skip this BS and download an app such as Revolut.
With it you can open an account in the currency of the state you travel to and pay small to no fees. The app includes features such as a prepaid debit virtual card, foreign currency exchange, peer-to-peer payments, and cryptocurrency trading—but Bitcoin's not what we're here for. I recommend getting a physical Revolut card as well, it'll come in handy.
3. Take credit cards and cash
So, you have an account for the trip, but will you be able to pay? I'm not going to tell you how to make money, that's your own issue, I can just advise you to take credit cards with you. Most places accept credit cards, but you will certainly need them for renting a car and also in hotels to check in. Case in point: If we did not have a credit card, we would've missed out on the spectacular breakfast at Ein Gev Holiday Resort, and that would've been something to cry about (seriously, it was that good).
Therefore, don't leave your card at home "just to be sure not to lose it" or you can be unpleasantly surprised when you won't be able to get a room without one.
On the other hand, definitely have some cash with you at all times. It'll come in handy even though the whole country is basically cashless, you can tip the guide or pay in taxi by a card.
4. The best time to visit Israel is in the winter
I'll take a winter like this any day!
What is the best time to visit Israel? First of all, Israel is a year-rounder. You can visit it basically whenever you want, but in my opinion the winter months are the best time. The temperatures are mild, you can still swim in the Dead Sea without freezing into an ice cube and it's the best time for hiking in Israel as well.
During the winter the prices are also at their lowest level, which is normally very high in this very expensive country. I say win-win, you say go-go!
5. Dress accordingly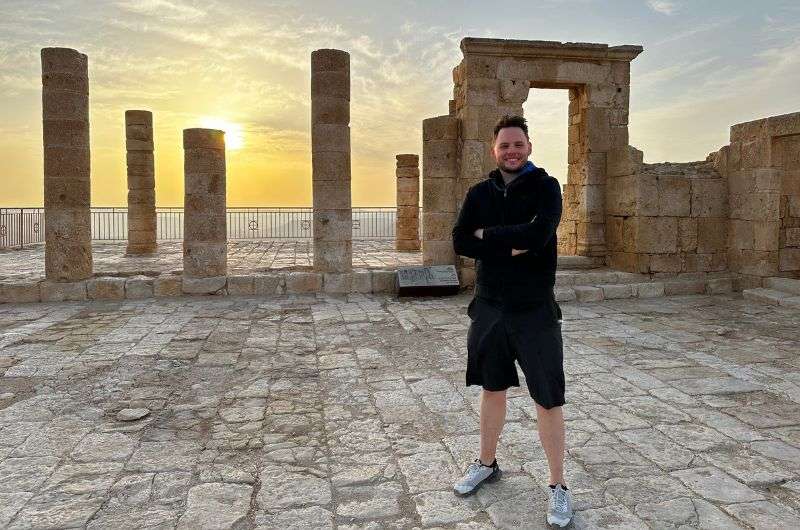 Outfit inspiration
I'm not about to advise you on the newest fashion trends and tips for the season, sorry about that. My two GAP T-shirts, one pair of regular shorts and hike shorts speak for themselves. Oh wait, that's the advice. As I hinted already, I travel to Israel mostly in the winter. It's still going to be more than 10°C (50°F) and for me that's just about shorts-wearing temperature. Not sure if you will all agree, but it's also handy when you consider traveling further south to desert areas.
Also don't forget to pack some decent clothes for visiting holy places. There are certain rules you should follow such as not showing your shoulders or knees. Be respectful of the local culture and dress modestly when visiting religious sites.
6. Israel is very safe
Is it safe to travel to Israel? Yes, it is—but let me address some simple concerns. I've always found Israel safe and felt comfortable. However, it really depends on the location you travel to.
Some areas may not be the safest because of the ongoing conflict between Israel and Palestine, particularly in the Gaza Strip, the West Bank and East Jerusalem. Some threat of terrorism is also present in Israel due to the political situation—so be aware of what's currently happening in the country before you go.
I think you will be extremely safe unless you do some stupid things such as talking to nervous soldiers, joining riots or walking around the Arab neighborhoods in the middle of the night.
7. Renting a car in Israel is easy
Renting a car is a hassle-free business, my friends. We usually go with the safe option, Sixt being our go-to car rental in Europe. They offer free upgrades and have a user-friendly app for ease of booking even a child could use—but shouldn't; the drivers in Israel are already the worst I've ever met, but about that later.
However, it is important to note that a credit card is required for deposit purposes, and there's no way around it. To ensure your peace of mind, I highly recommend opting for full coverage when renting a car. I am a huge fan of the full coverage option as I have a habit of frequently demolishing rented cars—but it's never my fault, of course. How could you even doubt that? (Looking at you, wild pig in Namibia.)
You can rent a car straight after your arrival at Ben Gurion Airport, the process is straightforward and rather painless. If you aren't arriving at this airport, catch a shuttle bus that'll take you there.
And last but not least, be aware of the special plates that Israeli rental cars have. These plates indicate that the car is rented, and some roads (like the ones near the Gaza Strip) are off-limits for rental cars, for security reasons.
8. Is Israel expensive?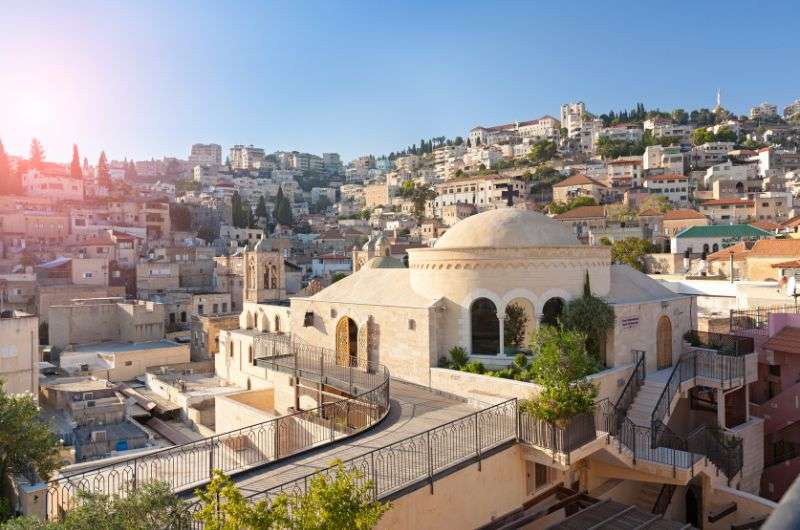 The (expensive) beauty of Israel
Israel is a very wealthy country full of rich people with fancy cars and luxurious lifestyle ergo get ready to dig deep into your pockets. Because if you don't plan on marrying a rich Israeli there, the vacay is gonna be expensive-i.
Israel is one of the most expensive countries in the world, so come mentally and financially prepared. I'm not talking about the accommodation—that's 200-400 USD per night for a decent five-star hotel such as Crowne Plaza, where we had an unbelievably pleasant stay at. Or tourist attractions, those prices I consider very reasonable.
But what's going to cost more than you would like are restaurants—there you can pay over 150 USD per person before you say Shalom. I know my sweet tooth is rather picky and I tend to visit fancier restaurants, but I still think that's just a tad too much.
But remember, when you are shopping at bazaars or markets prices are almost always negotiable—so, bargain as if your life depended on it. I had a great time haggling in Istanbul, and I can now consider myself a professional negotiator—if FBI are looking for some help, hit me up.
9. Get ready for airport checks
Before I traveled to Israel everybody went on about how insufferable the airport checks are—long and thorough they said. I was warned that you can wait about 1.5 in line to be checked. That's because the airport security can choose people to do a deep and thorough security check on just because they are somehow suspicious. I heard stories of people being detained for hours being questioned.
I don't know, maybe the universe—or Israelis—just love me, but I was done in like 5 minutes. But better safe than sorry, arrive at least 3 hours prior to your departure time, you might not be as lucky as I was. Guard yourself with nerves of steel and a lot of patience, put a nice smile on your face and you shouldn't get into any trouble.
10. Tap water is drinkable
Is tap water drinkable in Israel? Let me ask you like this. Do you think this fancy country full of rich people wouldn't have drinkable water? You're not in the U.S. anymore—here they don't want to poison you so that you'll spend a fortune for medical help.
In Israeli you can drink all the water you want as the plumbing is new and in a very good condition in general—like almost everything that belongs to the state. Maybe a slight warning, it can have a little chlorine aftertaste.
Getting around in Israel
11. Google Translator is your friend
Meet Google Translator, your new best buddy for your Israel trip. Well, almost everybody speaks English, so that's not the issue. The main problem is that almost all signs and texts are written in Hebrew, which doesn't look anything like the Latin alphabet we are used to—who would have guessed, right? It's totally incomprehensible, so have your phone ready to be able to translate those zigzags. It gets very annoying—especially at gas stations.
12. Everybody speaks English
Relax, you don't have to start learning Hebrew to travel to Israel. Everybody there speaks English and are totally fine with using it—not like some other overly proud countries, looking at you France. However, it's good to know some essential words, just to be sure and show some respect.
Here are some easy and handy phrases, you might use:
Shalom = Hello
Boker tov = Good morning / night
Toda = Thanks
Bevaskasha = Please / Welcome
Sliha = Sorry / Excuse me
Lo hevanti = I don't understand
I think with these phrases, you're a pro now and will nail the whole trip. You're welcome.
13. Use a taxi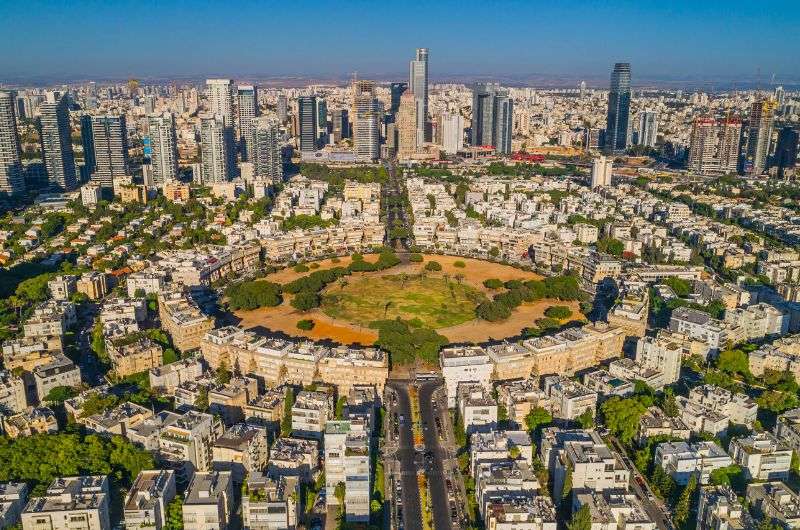 In most of the rich countries I've been to the taxi services were way too expensive to use as the main means of transportation. In Israel it's a totally different story.
The taxis are very affordable and available in most places. You can download any of the available apps in Israel or use the old good Carrie Bradshaw way—just hail it on the street. Don't get into any shady looking ones, just the licensed taxis with a yellow sign on the roof.
Typically, taxis don't accept credit cards—keep a small amount of cash with you to be able to pay for the ride. For example, our ride from Old Town Jerusalem to Yad Vashem cost about 60 shekels, and that's a bargain! Speaking of which, always agree on the price before you get on, so you avoid any unnecessary conflict that could ruin your day.
14. Eat a fresh pomegranate
What an odd tip, huh? But you'll see, pomegranates are everywhere in Israel. Usually, you'll drink them in the form of fresh juice, that is being sold on every corner. And it is delicious! I'm not going to give you a lecture on how nutritious and full of vitamins it is and how it's a symbol of beauty and fruitfulness. Nope, just get it because it's too damn good, not because you'll become more attractive—as if it was even possible.
These small stands with pomegranate juice are a great opportunity for scammers to trick you into paying more than you should. But you are ready and armed with the tips I serve you regularly on this blog and you know the price. Usually, you pay 15–30 shekels, so skip the fraudster that tries to sell it to you for more than 50 shekels.
15. Why is there a wooden box on some doors?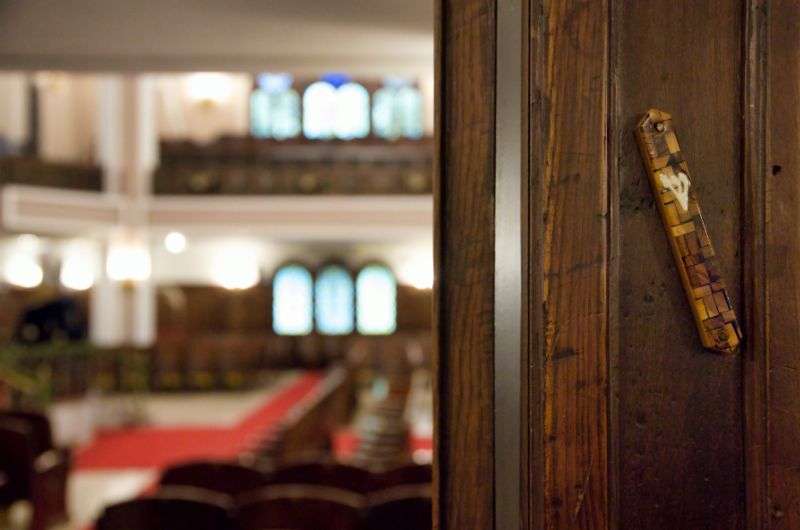 Mezuzah
After spending a while in Israel, I've noticed that there are these little wooden boxes on some doorframes. And because I'm one inquisitive fella, I became curious what this thing is about.
My investigation led to the discovery that it's called mezuzah. It's a small wooden (or can be also metal) case that contains a scroll with a Jewish prayer affixed to the doorframe of Jewish homes as a symbol of faith and protection.
If you see one on a door, feel free to take a closer look and even touch it if you'd like. Just remember to be respectful and not treat it like a tourist attraction. And if you're feeling extra curious, you can even ask a local about the significance of the mezuzah and the prayer inside.
16. Everything is accessible
And by saying everything I mean literally everything. Most of the tourist attractions were accessible for disabled. And not only the attractions in the city, to my big surprise also most of the hikes.
Obviously, Israel is a country that welcomes all the visitors with open arms, including those with disabilities. I've seen this only in the U.S. and I think it's one of the great things about Israel. I mean, they are really ready for getting old, man!
17. Download Ontopo app
Via Ontopo app, you can find plenty of great restaurants and local bistros while in Israel. I'm used to making reservations before I go to a restaurant and Ontopo saved my empty stomach multiple times already.
It's pretty neat, because it shows you the tables you can choose from. And if you have OCD like me, and you need to choose an exact spot just the right distance from the entrance, that's not too close to the kitchen door, and basically only two spots in restaurant would pass all the criteria you have—you'll love the app too, trust me.
18. Driving in Israel is great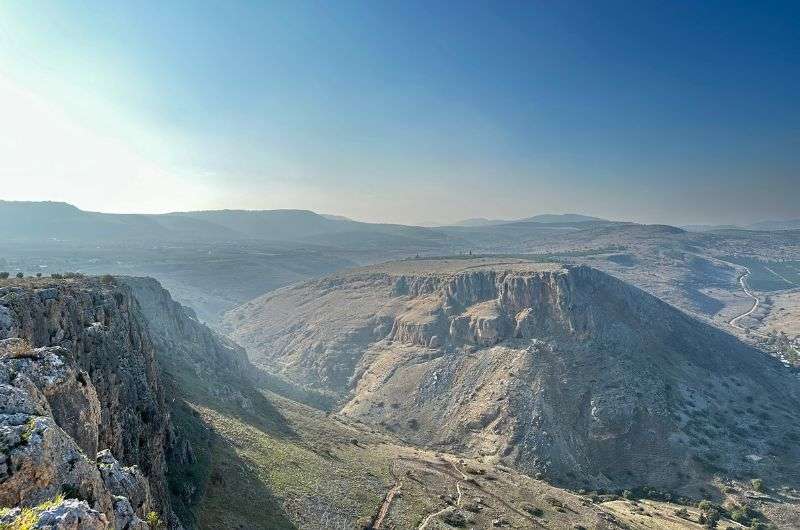 The Arbel mountain
Driving in Israel? Yes, please! Israel had probably the best infrastructure of all the countries I've been to. Highways are well-spread around the country, and they are in a very good state. The drive there is smoother than a baby's bottom!
Well, until the second you encounter another Israeli driver. You know nothing can be that perfect, let's ruin it with some irresponsible and aggressive drivers!
Israelis are notoriously known for their... let's just call it "enthusiastic" driving style. And they are definitely not shy to use their horns at you at any minor inconvenience. You'll hear honking for all sorts of reasons: to let someone know the light turned green, to say hello to a friend, or just because they feel like it and they didn't like the way you look at them. So don't be alarmed if you hear some honking during your trip. It's just what they do.
But overall don't be afraid to hit the road in Israel at all. You'll experience a few honks and cut offs probably, but apart from that it'll be a smooth ride.
19. Find parking first, then a restaurant
Ahh, parking in Israel. It can be a bit of a challenge—I've lived through a few intense moments myself, but fear not! I know, usually it goes the other way around—you choose your destination and then find the closest parking.
But you don't know the hassle it can become to find a normal spot to leave your car at in Israel. And finding a good parking spot is more valuable than discovering a great restaurant there—and I say that even as the hungriest guy there is. That's why I suggest this: find parking first and then head to eat nearby.
20. Is everything closed on Shabbat in Israel?
Western wall
Shabbat, or Shabes in Hebrew, is the Jewish Day of Rest that takes place from Friday sunset to Saturday sunset. It's truly a day of rest, peace, and quiet...unless you're driving, then prepare yourself for a wild ride.
Everybody tries to be at home before sunset, so the highways can turn into Formula 1 races—not that big of a difference than on a regular day, I would say. Even the public transport is shut down during Shabbat, so don't forget to adjust your plans if you plan on using it.
Many of the restaurants, Jewish businesses and shops are closed. But businesses that are not run by Jewish people are open anyways.
Even though many people asked me about how things work during Shabbat, I can't say it had any significant impact on my vacation. Just bear in mind, you can't use the bus and you have to go buy your hummus and pitta elsewhere. But that's it.
21. Take a free private guide in Jerusalem
Capernaum
Yes, you read that correctly. Even though nothing is free in this world, you can get a guide for a tour in Jerusalem for free. Or, to be exact, for a reasonable tip. It's called Abraham's tours and you can choose from different tours and tour guides—you can customize your tour to your liking and schedule.
These knowledgeable Jerusalem guides are volunteers who love their city and want to share its wonders. They can show you the best historical spots, perfect places to take the best Insta pics, the tastiest local food joints, and the hidden gems that only locals (and all the tourists they take there) know about.
To get your own personal guide, go to the Tourist Information Center in the Old City and request one. It's like having a friend who knows the city inside and out. And let's be honest, who doesn't want a friend like that? Quite frankly, the one we got was nothing extraordinary but for the money—great value.
22. People are nice and helpful
Me in Bahai Gardens
In my business endeavors, I've worked with Israelis before—and I've found them very rude very often. But during my travels I have totally changed my mind, Israelis must have hospitality in their DNA. They were super-helpful and nice all the time. Even when you only need to ask for directions or the best falafel in town, they will gladly guide you and share their secret spots.
I don't think it's just about being polite. Israelis are genuinely curious and interested in meeting new people, learning about different cultures, and telling you about theirs. You'll find that striking up a conversation with a stranger can often lead to a meaningful and enlightening exchange.
And as I said earlier, they speak almost fluently English, so the conversation with them actually gives you something more than only frequent What? and Lo hevanti (yes, I'm testing your knowledge of the Hebrew I taught you).
23. There's a no cheese with meat rule?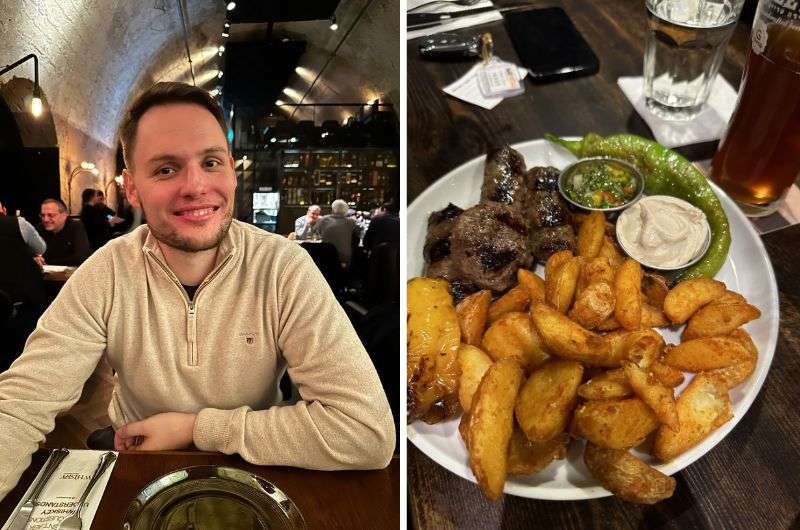 The food was delicious! Even with no cheese.
If you're a cheeseburger aficionado, be on high alert—you might be unpleasantly surprised by this. In Israel, the rules are a bit different and strict when it comes to combining cheese and meat.
According to Jewish dietary laws, known as Kashrut, it is forbidden to consume meat and dairy products together. So, no cheeseburgers or cheese pizza with pepperoni for you! And also remember, Jewish people don't eat pork.
Quite ironically, I've had one of the best burgers in my life in Jerusalem. I loved as much as they probably loved me, because they broke the rules just for me and put a nice slice of cheese on the patty. I said it before, lovely people!
But don't despair—there are plenty of delicious food options in Israel that don't involve combining meat and cheese. You can try the famous falafel, a pita filled with freshly fried chickpea balls, hummus and tahini, or savor some shakshuka, a dish made with eggs, tomatoes, and spices. The food in Israel is delicious even with the (sometimes excessive) rules!
24. Avoid self-service gas stations
Always go to the serviced stations. If you want to spare yourself some unnecessary struggle and juggling with five gas nozzles, not knowing which one is the right one for your car, don't choose self-service stands under any circumstances. To understand the system is basically impossible. On top of that, if you don't understand Hebrew, you won't read a thing.
One more point to note is that gas prices in Israel are relatively high compared to other countries, so be prepared to spend a bit more at the pump. However, if you're renting a car, you'll find that gas mileage is generally pretty good, and you won't have to fill up too often.
25. Traffic signs are trilingual
Israel has a comprehensive network of road signs that will reliably guide you on your way. The best thing is that the signs are usually in Hebrew, Arabic, and English, so you will be able to understand them regardless of your language skills.
However, the signs might still be slightly different from the ones you are used to in Europe or the United States. For example, the yield sign in Israel is a triangle with a point at the bottom, whereas in the US, it is an upside-down triangle.
I think it is a good idea to familiarize yourself with the signs before hitting the road. Additionally, you may want to exercise your math skills and learn a simple conversion from miles to kilometers, as speed limits are posted in kilometers per hour.
26. There's a significant military presence
Even though Israel is known for its strong military presence, it still feels kind of weird when you first see it. Israel is probably the most militarized country I've been to—it's completely normal seeing 18-year-old teenagers in uniform running around with assault rifles. Not dangerous—they're well-trained and know their place—it's just unusual.
And if you happen to come across a checkpoint, don't panic! Just remember to keep your cool, follow instructions, and don't make any sudden movements. It's like going through airport security, but with more guns and less complimentary snacks.
All joking aside, the military presence in Israel is something that locals and tourists alike have grown accustomed to over the years, and it's a testament to the country's commitment to security and stability. Even if you feel a bit like you're in a war zone at first (I did, especially in Jerusalem), just remember to stay respectful and appreciate the unique cultural experience.
Bonus: 2 DONT'S
27. Don't visit McDonald's
I like to visit McDonald's abroad to get the general knowledge of hospitality of the country and make comparisons. But in Israel, don't even go to get a coffee there. The service there really sucks and takes hours as people working there are probably underpaid, or I don't find any other explanation to their behavior and lack of interest. So, skip the golden arches and explore the local cuisine.
28. Don't ask questions at the airport
As I mentioned earlier, airport checks in Israel can be... intense. The last thing you want to do is raise suspicion or undergo a thorough search. Avoid asking questions like "Is this safe?" or "Do you have any bombs in your luggage?" (yes, people can be stupid enough to ask that). Just cooperate with the security personnel and keep a positive attitude. Remember, they're just doing their job to keep everyone safe.
This post contains affiliate links. I earn a small commission if you make bookings through my links, at no additional cost to you. This helps keep this blog free, thank you!