Tel Aviv is a great vibrant city full of culture and life. But its best quality is that it serves as the perfect launching pad for unforgettable day trips.
While Tel Aviv itself offers an abundance of attractions, after a while you yearn to venture beyond the city limits and explore the wonders that await just a stone's throw away. The stunning natural wonders that Israel is full of.
With its infrastructure being one of the best in the world, Israel is perfect for driving. There are so many things to see and do around Tel Aviv (mostly) within a two-hour drive—you simply have to rent a car, because nothing beats the comfort of being in charge of your own timing to see all those amazing monuments. Wouldn't travel any other way!
Click through the map to see the list of the 8 best day trips from Tel Aviv

You could also be interested in reading:
1. Sea of Galilee Sea of Galilee
Sea of Galilee
Driving distance from Tel Aviv: 138 km (86 miles)
Driving time: 2.5 hour
Parking: Google Maps link
Ladies and gentlemen, behold. The magnificent Sea of Galilee, a place where miracles (allegedly) happened. Technically, the Sea of Galilee is not a sea at all, but rather the biggest freshwater lake with the second lowest point on Earth, holding a close second after the nearby Dead Sea which is close second on this list of best day trips from Tel Aviv. Sea of Galilee is not only a place surrounded by holy site of the biggest religions, but it also serves as the water reservoir for both Israel and Jordan.
The Sea of Galilee and its surroundings is a place of immense natural beauty, with surprisingly pleasant weather during winter, at least when we visited around Christmas. I was so ready to take a dip myself, but after I saw all the enthusiasts being baptized in the Jordan River... You gotta love such a place, right?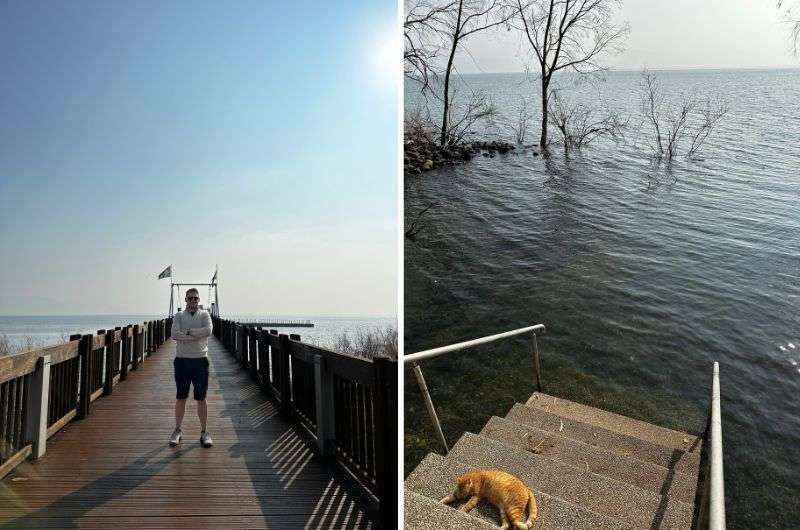 The lake that wasn't deep enough for me to be impressed with Jesus' miracle there
We spent three days exploring the area of the Sea of Galilee, which was just enough to see all the important attractions. I especially enjoyed the Mount of Beatitudes for its breathtaking views and Magdala for its modern structures. Capernaum, where Jesus is said to have walked on water, was kind of disappointment. Not that impressive Jesus, the lake is quite shallow—I could've done that and wouldn't start a religion around it. However, the surrounding mountains, superb restaurants, and pleasant weather at 25°C made it a truly special place.
A noteworthy spot is the Arbel Nature Reserve, which offers a captivating rim hike leading to one of the most beautiful views in Israel. The hike took us approximately one hour, and the scenery was stunning. The nearby ruins of Beit She'an are among the remarkable remnants left by the Romans.
Beware—it is usual for many places in the area to accept cash only. This was the only place in Israel where I was not able to pay by card, so remember this tip (out of many tips for your travels in Israel) and have cash on hand.
2. Masada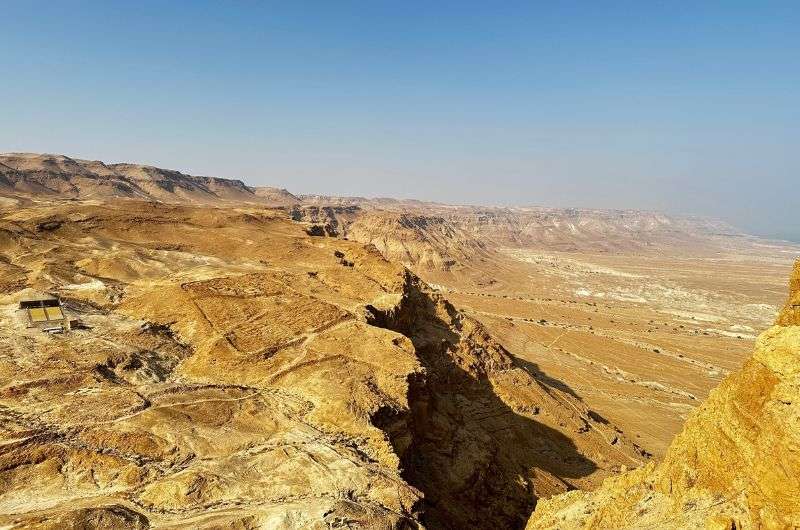 Masada
Driving distance from Tel Aviv: 160 km (99 miles)
Driving time: 2 hours
Parking: Google Maps link
Masada was another of many surprises Israel prepared for me. I wasn't expecting it to be so damn amazing, but Masada managed to exceed all my expectations. It has everything I seek in a place. Significant historical importance? Check. Breathtaking views? A giant check! A pleasant hike? An ultra gigantic check! Nearby the Dead Sea? Check—I don't seek that one in other places obviously, or my blog would be emptier than a Scottish pay toilet.
But first things first. What kind of place is Masada? One of the most beautiful natural desert fortresses I've seen in my life, for sure. It's become a UNESCO World Heritage Site thanks to its historical and cultural significance that I'll explain to you in a minute. Masada is a stone's throw away from the Dead Sea serving the most stunning views possible. The place is huge—be prepared to spend at least five hours exploring Masada.
The views from the top are simply awe-inspiring. You can see all the Roman forts that played a crucial role in suppressing the Jewish revolt, as Jewish rebels took refuge in Masada. Personally, as a European, I'm #teamRome on this one. How would you react if some peasants challenged your authority? Considering the shameful mass suicide carried out by the Jews at the end of the revolt. The rebels said they would rather die than fall into captivity of Rome oppressors. Surely, women and children would have shared the same sentiment.
Me, making Masada look good
But back to a more cheerful topic, and that's how beautiful the surroundings of Masada are. The mountain's summit is well-preserved due to the dry weather, allowing you to explore the Roman reservoirs and the grand palaces of Herod the Great. I can't think of a better place than Masada to build a palace and a monument celebrating one's own greatness. It was a super-smart move to position the fortress strategically on the top of a steep and rugged cliff. Herod obviously knew his way around.
I recommend taking the Snake Path hike, especially during winter when temperatures are reasonable—on hot days it's a real living hell there. Snake Path is a nice, roughly hour-long hike, depending on how fit you are. The trail is well-maintained, and you can conveniently descend using the gondola, saving your knees from unnecessary struggle.
3. Dead Sea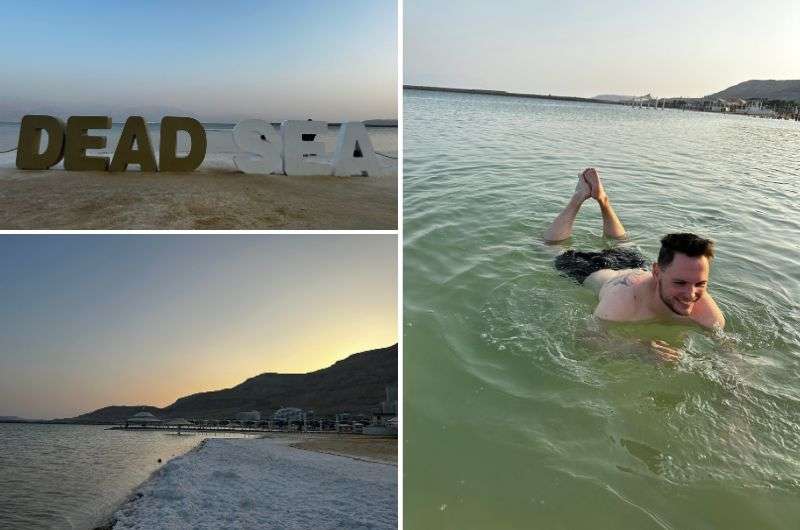 Enjoying the Dead Sea in Israel
Driving distance from Tel Aviv: 200 km (124 miles)
Driving time: 2.5 hour
Parking: Google Maps link
I honestly didn't understand why everybody loves this place so much. What's so special about a lake that's 10 times more saline than a sea? Well, everything—now I know, and I'm telling you, you have to add Tel Aviv to Dead Sea day trip on your Israel bucket list.
The oily feeling you get from the water, high swimming temperatures year-round, old hotels, and superb landscapes. This all makes it a cool spot, where you can easily spend more than one day. It's a short, mountainous drive from both Tel Aviv and Jerusalem, so it can easily fit in with all your plans, even if Tel Aviv is not your trip base—which I highly recommend, and you know my advice is the word.
We almost got a speeding ticket, but the police didn't speak English, so they let us go... Phew, dodged the bullet on this one! But overall, driving in Israel is great! Israel has a superior infrastructure to all the countries I've been to. The drive there is smoother than a baby's bottom! But the irresponsible and aggressive Israeli drivers are quite the snag—so be careful.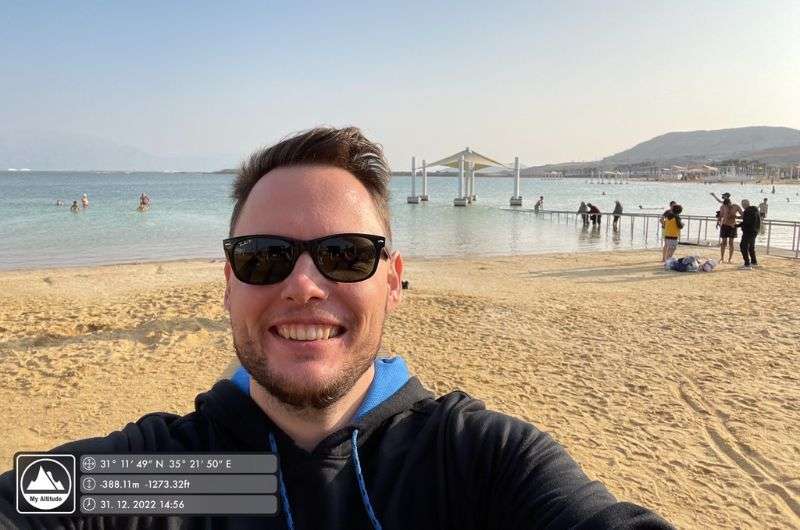 Me, under the sea and next to the sea at the same time
Despite being 450 m (1,470 ft) below sea level, the Dead Sea felt incredibly mountainous. The nearby mountains are gigantic, reaching 1,000 m (3,280 ft) above sea level. One thing I certainly didn't expect was hot water showers on most of the beaches. Well done, Israel, for keeping your citizens nice and warm, free from colds and runny noses. What could you expect from a country with one of the highest-quality healthcare systems in the world—US, you should take some notes here, okay?
Anyways, you'll probably combine a visit to the Dead Sea with the next next day trip destination, Masada. Plus, visiting Israel without dipping your toes into the Dead Sea is like you haven't been there at all!
Hotel: Sleeping in clouds? Yes, please!
Hotel Crowne Plaza in Tel Aviv
As I've already mentioned, Tel Aviv makes a great trip base, so I recommend you spend your nights there. I stayed at Crowne Plaza in Tel Aviv and you should too. I had a divine sleep there. Because—hold on to your hats—they had a pillow menu! Aka a list of pillows they offer with descriptions and who they are best suited for. I mean, what a great idea! I had the sleep of my life, it felt so heavenly. Every hotel should implement this, it's a gamechanger!
4. Akko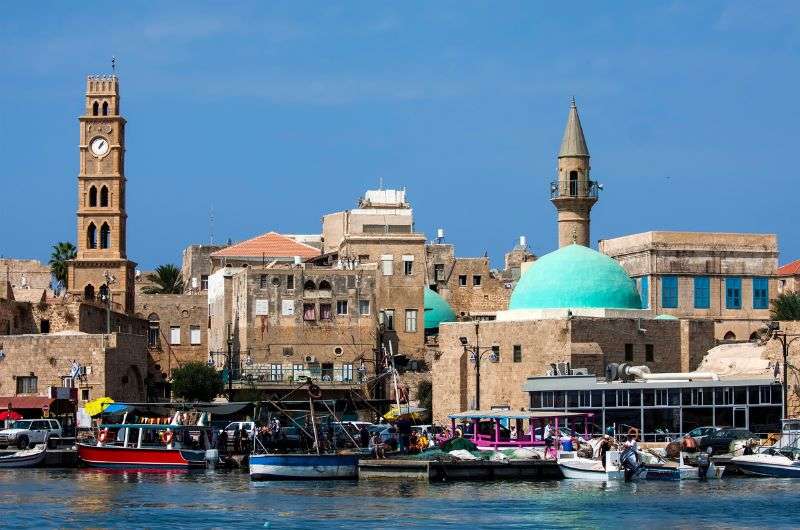 Akko
Driving distance from Tel Aviv: 120 km (75 miles)
Driving time: 2 hours
Parking: Google Maps link
Akko is a very special place to me. I love the Middle East's past and I'm a Roman History geek. So, Akko, with its rich history that spans over thousands of years, was just the right fit for me—and I believe it'll be for you too!
How much time to visit Akko do you need? Is one day enough? Yes, but no. No, I didn't get a stroke, let me explain. If you're just looking to explore the main attractions in the Old City, you could probably cover everything in a day. But if you want to dive deeper into Akko's history, culture and amazing food, you might want to plan for a longer stay. But for me one day was a perfect amount of time and I enjoyed my visit splendidly.
So, what are the best of the best places in Akko? The first spot I have to mention is definitely Knights' Halls. Simply said, it's just a big cellar. AND the most impressive cellar I've been to in my life. The Knights Halls are divided into several chambers, for instance the Dining Hall. It's a large room with a high ceiling and impressive acoustics. It's said that the knights would gather here to hold important meetings. Or just drink liters of beer, eat wild boar, and share stories about who killed more people—I mean, introduced Jesus to them—on their crusade. Ahh, simple Medieval times.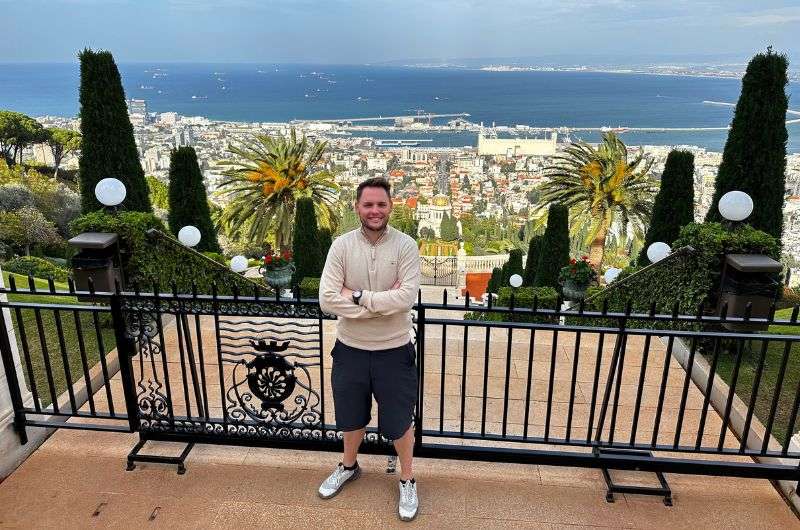 Checking out Bahai Gardens in Haifa
Akko has plenty of interesting monuments in its Old Town part. Visiting it is like you have traveled a hundred years back. The central part is very compact and walkable, so get your fitness watch ready, it's time to close some of those activity rings! Just wander through the narrow, picturesque streets and alleyways and take in the sights and sounds of this historic place. I couldn't help but imagine what life must have been like during the Crusader period. Would I be Prince Charming or a court jester? Too hard to tell as I am both incredibly handsome and funny.
Before you leave Akko and go back to your hotel Crowne Plaza in Tel Aviv that is your trip base, don't forget to stop at a local food joint and get something delicious. Israel must be one of the best countries I have been to when it comes to food and huge benefit is that Israeli cuisine is both vegan friendly and meat lovers' paradise. So, to whatever group you belong, your taste buds are in for a treat.
5. Makhtesh Ramon + Avdat NP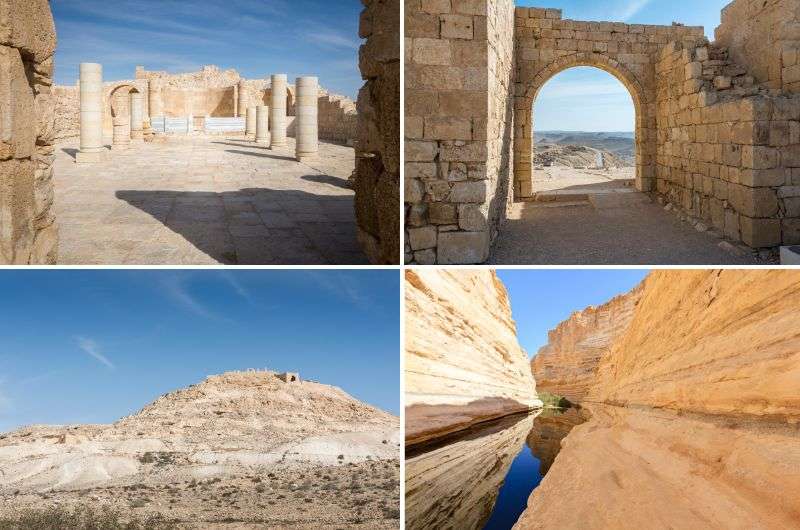 The ruins in Avdat Natoinal Park
Driving distance from Tel Aviv: 172 km (107 miles)
Driving time: 2 hours
Parking: Google Maps link
Makhtesh Ramon is a unique place, but after a while I realized it's actually not that unique at all. Interestingly enough, it reminded me strongly of Canyonlands National Park in the US—which I loved for its natural beauty and cool dramatic shapes just like I did at Makhtesh Ramon.
It's about a 2-hour drive from Tel Aviv, and once you arrive, you'll find yourself in the true desert of Israel. It was a pleasant surprise for me because I had this vision of Israel being a rugged and dry harsh land. But instead, I've got the lush greenery of the Sea of Galilee and Jerusalem. Finally, I was at the authentic Israel I had envisioned.
Makhtesh Ramon is a huge canyon that can be best enjoyed from a rim near the visitor center. When I've got there, I was surprised, that it was quite cold there. I mean, it's a desert—aren't they supposed to be flaming hot? Anyways...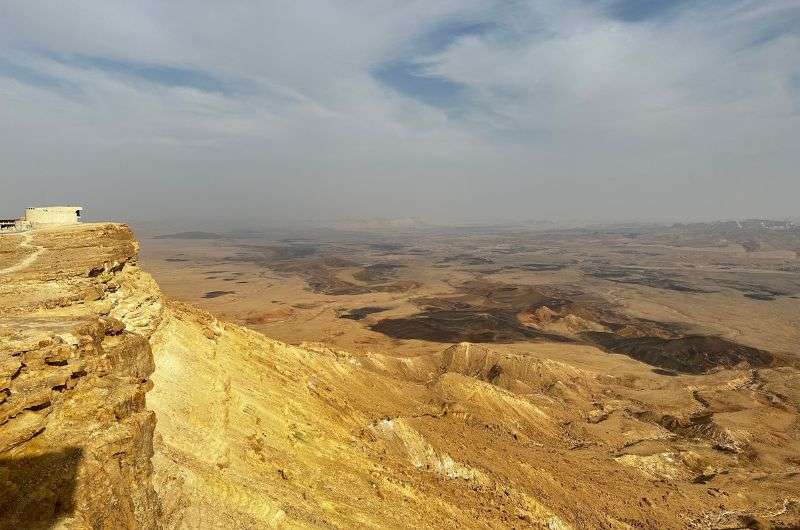 Looking down to the Makhtesh Ramon in Israel
You can also drive down straight into the canyon and embark on a self-guided tour that takes about an hour, but in all honesty, it doesn't compare to the outstanding views from the rim. Don't be lazy and up you go!
If you won't have enough of stunning and breathtaking views—or you just need to glow up your Instagram feed—there's Avdat National Park nearby just right for that. Offering superb views and beautiful Roman and Nabatean architecture, Avdat is a special place that I fell in love with immediately. What truly sets it apart is the special location. Picture this—you're standing amidst stunning ruins on a balcony overlooking the vast desert below, and if you time it exactly right, you can witness a breathtaking sunset. It's undoubtedly one of the memories I have from my time in Israel I will cherish the most.
6. Rosh HaNikra
Me, being handsome in Rosh HaNikra—Paradise on Instagram AND in real life
Driving distance from Tel Aviv: 132 km (82 miles)
Driving time: 2.5 hour
Parking: Google Maps link
This place will take you literally on the edge… of Israel, and yours if you are afraid of heights. Rosh HaNikra is a stunning natural wonder located on the Mediterranean coast, close to the border with Lebanon. And the best way to explore it? By riding the cable car, of course! Rosh HaNikra is a bit off the beaten path, and I probably would have missed it if I hadn't done my research beforehand. Luckily for you, I did, so I can offer you not only a picture of me being handsome there, but also some nice and helpful tips.
As I said, the cable car will take you there. It's supposed to be the steepest one in Israel, which on one hand gives you an ultimate view, but on the other hand, can induce a panic attack like it did for the lady sitting next to me. If you are that kind of person, bring a little bag to breathe into with you.
But focus more on the breathtaking views of the turquoise sea and the coastline with white rocks. It's a ride you won't soon forget! You know I hate those places that look like paradise on Instagram pictures, but when you arrive there, you see it's all lies and Photoshop—and the dreamy beach looks more like the backyard of your neighbor's house. Well, this one is the real deal. I went to see it twice—that's how pretty it is! And I never go see something twice, so that has to mean something.
Exploring Rosh HaNikra
You have to explore the grottoes, a series of sea caves carved out by the waves over thousands of years. They are filled with crystal-clear water, and the colors and shapes of the rocks are going to entertain you for a while. I would say about an hour, even if you walk through the caves along a designated path at a sloth's pace.
However, I have one warning for you about something that could make your experience slightly uncomfortable. Before I went, I've read how the lines for the cable car are huge, and people don't give a damn if they cut in front of you or not. Other visitors can be very rude and act like kids who couldn't wait. But I'm one lucky fella and there were no lines while I was there. Probably because life loves me or the fact that in winter there are not that many tourists in general (mark that down, it's one of my tips before you go to Israel).
Don't forget to buy tickets beforehand to make your suffering more bearable.
7. Caesarea
Caesarea
Driving distance from Tel Aviv: 52 km (32 miles)
Driving time: 1 hour
Parking: Google Maps link
Caesarea is a renowned historic city known for its archaeological sites and their cultural significance, as well as its picturesque views. However, despite its rather positive reputation, I have to admit that the visit didn't quite live up to my expectations. While there were certainly some interesting and beautiful places within the city that were captivating even to me—and that's an indicator, I found the overall experience to be somewhat underwhelming. Caesarea simply didn't leave a greater impression on me—but it still made the list.
I maybe had my expectations set too high for Caesarea. It's a site of ruins, which is quite impressive, but what bothered me the most is that they didn't quite maximize the full potential of the place. And there's nothing I hate more than a wasted opportunity. I believe that this place has much more potential, both in terms of its historical significance and the way it is presented with informative signs—but they should fire the guy who made them for sure.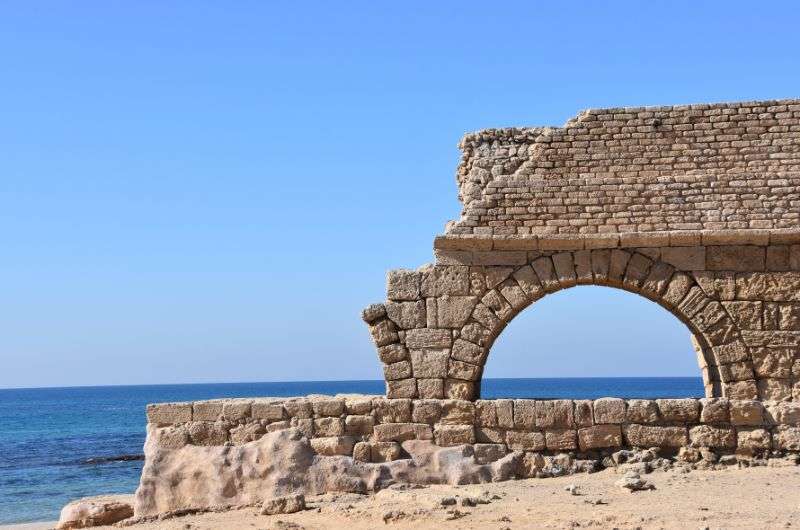 Caesarea
Interestingly enough, what I enjoyed the most was the cave where there were hundreds of adorable bats—they were so cute I wanted to shove one into my backpack and take him home. Additionally, the palace of Herod in the sea and the amphitheater were also impressive.
What I appreciated—so I don't criticize the whole time—was the video explaining the history of Caesarea, providing some context for the site that is so missed on the actual site. On the other hand, I was not a fan of the fact that parts of the ruins had been transformed into restaurants and cafes, which felt somewhat out of place. Capitalism really popped off on that one.
8. Ein Gedi + Mount Sodom
Ein Gedi
Driving distance from Tel Aviv: 149 km (93 miles)
Driving time: 2.5 hours
Parking: Google Maps link
A vibrant oasis in the heart of desert—that's natural reserve Ein Gedi. Ein Gedi is a haven of lush greenery in the middle of droughty landscape, that is already getting on your nerves. Enough with the endless sand that the wind throws into your face and bothers you in a way you can't explain without getting furious. Let's go wandering through this whimsical oasis, surrounded by palm trees, colorful flowers, and refreshing waterfalls. It's like stumbling upon a secret paradise you're not supposed to know about.
Ein Gedi natural reserve lies on the coast of Dead Sea, so you can combine these trips into one, if you want. But I think that would be a mistake, because there is simply too much to do in Ein Gedi. For starters, the nature reserve is crisscrossed with amazing hiking trails that provide different levels of difficulty. From leisurely walks to challenging treks, there's something for everyone from athletic types to slots. Each trail takes you through different and unique wonders, including great cascading waterfalls, serene pools, and breathtaking viewpoints.
Speaking of great hikes with breathtaking viewpoints, let's talk nearby Mount Sodom. Did you know it's nicknamed cooking salt mountain? Yeah, now you do, it's made of several types of rocks, one of them being salt. What is the story behind the Mount Sodom, a giant mountain-sized seducing salt lick?
The salty Mount Sodom
Well, legend has it that it all started long ago, when Lot's wife looked back at the city of Sodom and was turned into a pillar of salt. It seems that her salty transformation left an everlasting mark on the landscape. But rest assured, you won't suffer the same fate! You can safely explore this salty spectacle and witness the fascinating formations up close and even visit some of its salt caves.
As for my visit to Mount Sodom, it was a delightful experience. Or should I say delicious? No, I won't tell you whether I succumbed to the temptation of licking it to know if it really is salty. Some things are better to leave to your imagination.
This post contains affiliate links. I earn a small commission if you make bookings through my links, at no additional cost to you. This helps keep this blog free, thank you!