If you travel in Mexico, make sure to try the top 11 foods and drinks typical for Mexican cuisine. Some rock, some suck, but you know what? You don't need to learn that by trial and error. We are Jan and Karin and we have already done that for you. Dive into this article and explore the best food in Mexico.
You might also be interested in reading:
Traditional Mexican cuisine
Mexican cuisine is supposedly one of the best in the world. It's full of colors, scents, and spices, and includes recipes developed thousands of years ago. It combines Spanish and local ingredients, all fresh and juicy… Sounds almost too good to be true, right? And in fact, it is.
I looked forward to trying all the diverse food that Mexican cuisine has to offer but ended up disappointed. The only food the Mexicans seem to give a crap about is tortilla, corn, tortilla, corn, and tortilla again. And what's not corn and tortilla, is at least corn- or tortilla-based.
What I mean to say is: the food in Mexico is pretty stereotypical. But to be fair, I must also admit there are lots of variations so, in the end, it's fine.
Is Mexican food spicy?
Is Mexican food spicy? Nope. The food itself is not spicy, however, you almost always get a separate sauce in a bowl—salsa verde or pico de gallo—which burns like hell. Warning: it might even bring tears to your eyes.
Even though the sauces are hot as a firecracker, I really enjoyed them and brought them home as souvenirs. Trust me, watching my friends trying them is pure gold.
These are the best 7 Mexican foods to try:
1. Churros (the best food in Mexico)
So simple and so good!

Churro is definitely the most delicious food in Mexico (sharing the first place with tapas). It's a piece of fried sweet dough, often coated with cinnamon sugar. It's usually long and thin, but it can also have the shape of a circle. You can buy it at one of the many street food stalls all over Mexico. Sometimes you can also get it with a sweet sauce, often chocolate-based.
And I will say it again: it's the best food in Mexico. I guarantee that by the time you're done with one, you'll already be buying another.
The funny thing is that when I saw pictures of churros on the internet, I was kinda skeptical. I was like: "Come on, there is all the great food in Mexico and people eat THIS?" But the second I had the first bite, I knew I could eat a whole wagon of churros and still want more.
2. Tacos (also the best food in Mexico)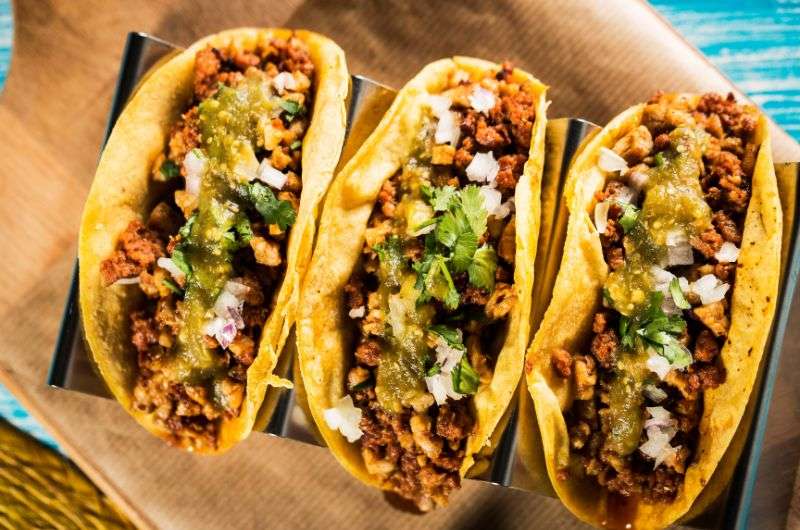 Who doesn't know Mexican tacos?

You can't visit Mexico without grabbing a bite of tacos. It's the best thing since sliced bread (and since churros).
Taco is a tortilla with a filling. (Remember when I was saying tortilla is everywhere in Mexico? Yep. This is the case.) Like churros, it's one of the most common Mexican street foods. But don't buy it just anywhere! Keep an eye on the stall and its surroundings. You can say the quality is good if there are lots of locals around the stall.
You can put pretty much anything in tacos, but most commonly, the filling consists of carne de rez (a beefsteak). You can also choose from a variety of toppings: onion, guacamole, salsa verde, meat, beans, or cheese. It's super cheap and worth the money tenfold.
3. Mexican meat
Love meat? Then Mexico is where you want to be. All meat in Mexico is divine, especially Mexican steaks. The most popular kinds of meat in Mexico are chicken, pork, beef, and seafood. You can eat them with one of the traditional Mexican side dishes: guacamole, salsa verde, or pico de gallo.
Guacamole is an avocado-based dip.
Salsa verde is a spicy green sauce made of tomatillos (green tomatoes), jalapeños, onion, garlic, and cilantro.
Pico de gallo is a type of salsa, made of tomatoes, onions, peppers, lime juice, and cilantro.
I ordered this tuna tartare and it was great through and through: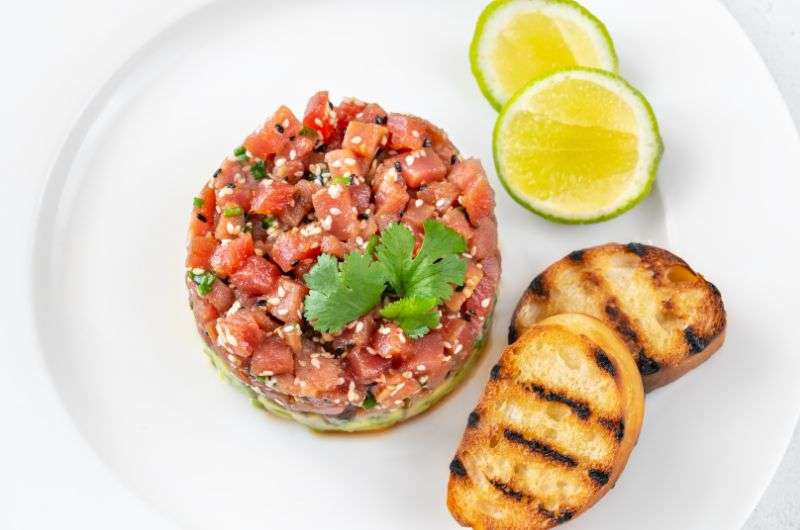 Tuna Tartare
4. Chiles en nogada
Chiles en nogada

Chiles en nogada are peppers stuffed with meat and served with pomegranate seeds and walnut-based cream sauce. They are typical for the Puebla region where they are prepared mostly in August and September, as these months are the pomegranate season. But you will probably find them in menus even in other parts of the year.
5. Tamales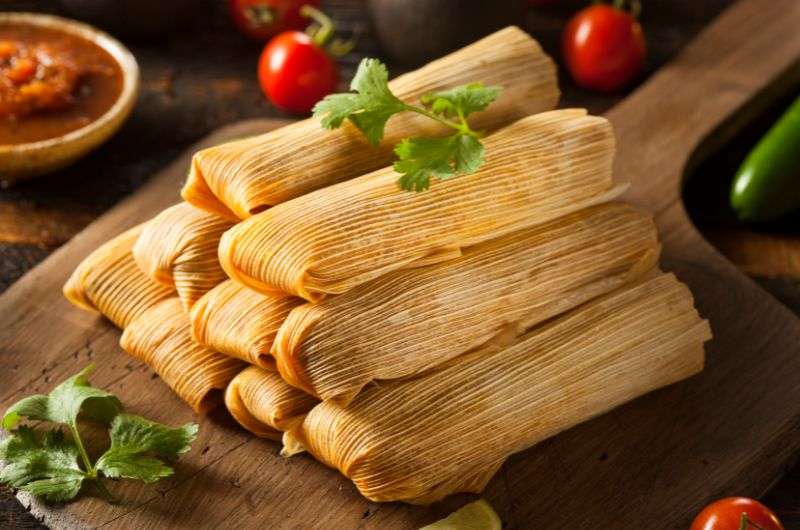 Tamales

What are tamales? In Mexico, tamales are pieces of corn-based dough wrapped and cooked in banana leaves or corn husks. They are filled with meat, cheese, and vegetables. Tamales have a great history—they originated thousands of years BC and were used by the Aztecs and the Maya as portable food for hunting.
6. Pozole
Pozole soup

Have you ever heard of Pozole? Mexico is proud of it, and quite rightfully. It's a traditional Mexican soup. The base is always a broth from hominy (hominy is Mexican food made of dried corn), then some meat is added in. It's typically served on New Year's Eve and it's so good it's hard to resist drinking it right away.
7. Tapas
Bon appetit and cheers!

Tapas are little snacks—small plates or canapés—typical for Mexican cuisine. They can include olives, cheese, ham, sausage… whatever you want to add. When you're having tapas, a glass of wine is a must!
Tapas don't win any points for complexity and you don't need to visit a top-end restaurant to try them, but they are definitely diverse and original. Any place you go, they will be different.
You might get a free starter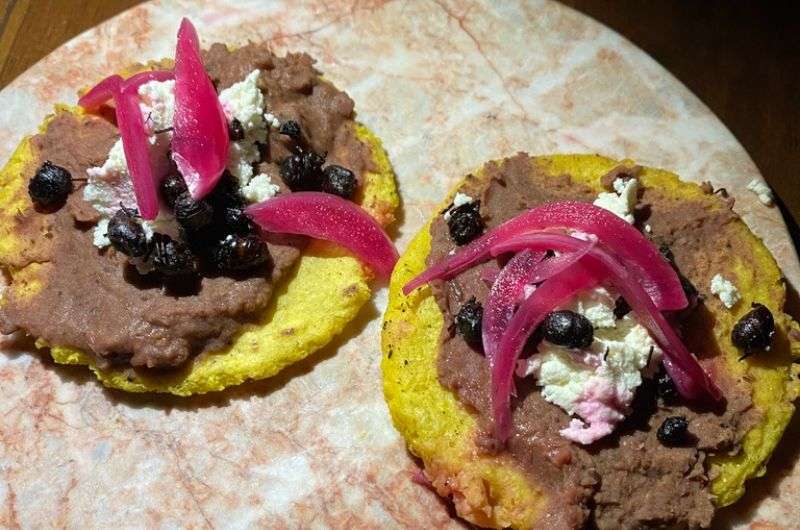 This is our starter in Ta Bonitio Restaurant

At some restaurants, you'll get a free starter while you wait for your order. As we did in Ta Bonitío in Comitan.
This is a corn tortilla, cheese, and bean paste. Those dark pieces aren't chocolate, though. Those are ants. Luckily, we are experienced travelers and ants are far from the worst thing we've eaten. If you're curious about their taste, imagine a very seasoned steak. By the way, I really recommend the restaurant. It was literally the only place in Mexico where someone spoke English, and the food was epic. Just type "Ta Bonitío Comitan" into Google Maps. Or you can look it up on Trip Advisor.
Ta Bonitio Restaurant on a map
Mexican street food is great
It's almost impossible to walk a street in Mexico without bumping into a street food stall. And no wonder. Street food in Mexico is really high-quality and cheap at the same time. As I've already mentioned, the best street food in Mexico is churros and tacos (they are worth a thousand mentions).
What to drink in Mexico?
These four delicious drinks are a part of traditional Mexican cuisine:
1. Coffee olla
It's traditionally served in beautiful clay cups

Love traditions, interesting flavors, and ornaments? Olla is the right thing for you to drink in Mexico. It's coffee spiced with star anise, cloves, and cinnamon. In some parts of Mexico, people also add orange and lemon peel. Coffee olla reminded me of gluhwein, drank at Christmas markets in Europe.
2. Tequila (Mezcal)
Arriba, abajo, al centro y para el dentro—this is the Latino saying before drinking tequila. It means "Up, down, to the centre and inside"

The easiest way to get drunk as a skunk in Mexico? Tequila. It's a world-known drink that originated in Mexico in the 16th century, and it has around 40% of alcohol. In Mexico, the beverage called tequila can be made only in Tequila city; so if you're somewhere else, the drink will be called mezcal.
3. Fresh coconut water
Karin getting her fresh coconut water

Spice up your trip on a beach by buying a fresh coconut. Locals will cut it in half and put a straw in. It's both a good drink and a good experience.
4. Mexican beer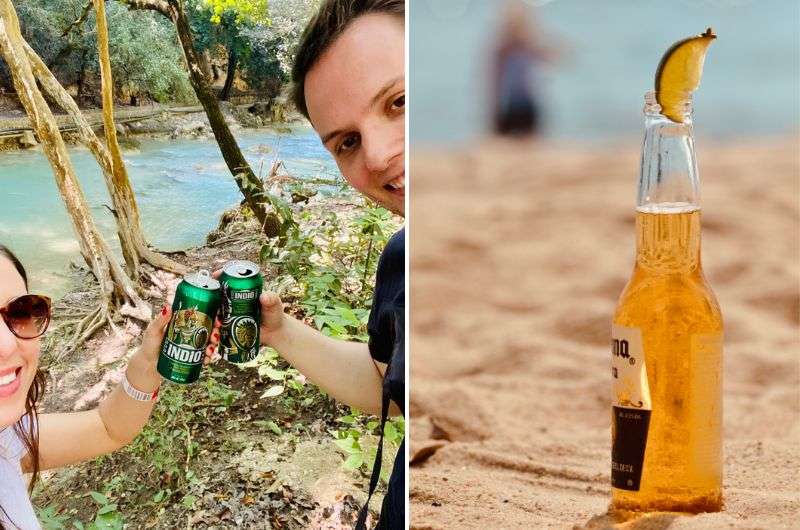 We liked the Mexican beer!

We come from Czechia, the country with the highest beer consumption per capita in the world. That means we are used to drinking beer and have high demands when it comes to quality. Mexican beer met them. I would even say it's at the same level as the beer in Europe.
I especially enjoyed these three beer brands:
3 types of Mexican food and beverages we didn't enjoy
Some types of food and beverages in Mexico rock, others suck. These three fall under the latter category:
1. Mole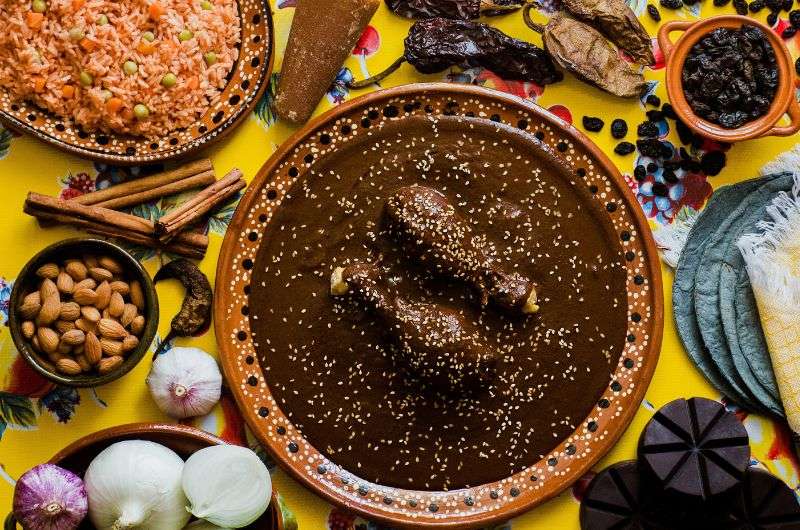 Chocolate and chicken. Yes, you are reading well.

Mole is a traditional chocolate sauce served with chicken and rice. And it's also a big mistake. I tried it and instantly regretted it. If I said mole isn't tasty, it would be a gross understatement. It's disgusting.
But however inedible mole seemed to me, the Mexicans are proud of it and it's considered one of the best foods in Mexico—and also one of the most difficult to cook. Want to try? Let your inner genius chef come forth and get ready for 7 hours of cooking. Yep, I'm not exaggerating. 7 hours is what it takes to prepare mole.
2. Michelada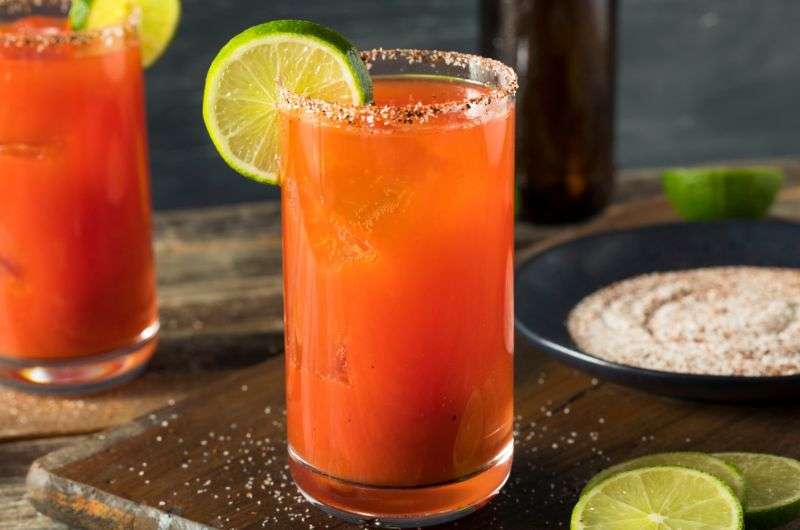 Michelada isn't my drink

Michelada is a national drink in Chiapas, made of a very weird combination: beer, lime juice, chili pepper, and hot sauces. There are also variations with Red bull and tequila.
My opinion on Michelada? I'll describe it in a single word: UNDRINKABLE. But to my great surprise, Karin took pleasure in drinking it. So don't condemn it completely and maybe give it a try. You will either love it or hate it. Nothing in between.
3. Tap water
The words "vomiting" and "Mexican water" have the same meaning. Tap water in Mexico is full of bacteria causing intestinal problems, especially E. coli. It pains me to admit, but I know exactly what I'm talking about.
I imagined a nice romantic evening with my wife in Mexico: dinner, sunset view, a glass of wine. But trust me: puking up and being green as grass is the killer of romance. I vomited all around myself, which didn't bring joy to my wife—and neither did it bring joy to the flight attendant, as we were on a plane.
So, once again: Don't drink tap water in Mexico. You can thank me for saving your bacon later.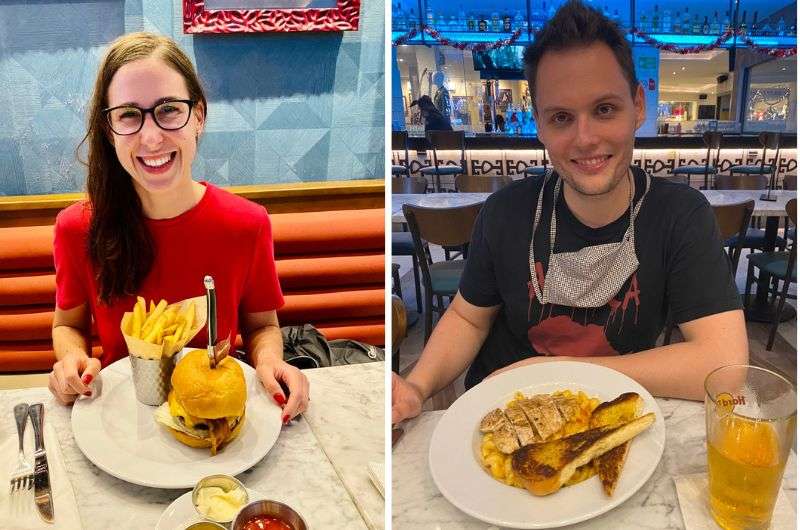 Hard Rock Cafe is a certainty

If you don't like Mexican food, you can always eat in Hard Rock Café Hard Rock Cafe is our favorite restaurant, and we visit it in every destination. So, of course, we had to visit it even in Mexico. Karin had a tasty burger with French fries and I got macaroni and cheese.
Looking for Hard Rock Cafe in Mexico? It's in Cancun on Yucatan. The restaurant is the ideal spot to enjoy the view of the Caribbean Sea, and beaches are all around. A half-day trip to this place for swimming and having delicious meals is just perfect.
Check out our favorite Hard Rock Café in Mexico!
Don't get confused: Mexican food isn't what you think it is!
Europe is full of restaurants with Mexican food. Or, I would rather say: "Mexican food". Various dishes served in these restaurants are not Mexican at all. For example, fajitas are from Texas, not from Mexico. Did you know that?
Mexico has much more great things than just food
There are probably more important questions on your mind than what to eat in Mexico. For example:
Find out the answers in the articles on our blog.

This post contains affiliate links. I earn a small commission if you make bookings through my links, at no additional cost to you. This helps keep this blog free, thank you!