Honestly, there's not much to do in Cervinia except skiing and hiking. But then again, that's exactly what everyone's looking for because it's frikin amazing there! The mighty mountains reflecting in the crystal-clear alpine lakes…well, I'm no poet but this place is so overwhelming it would make Elon Musk start writing sonnets. We are Jan and Karin and here's 5 essential things to before you head out to Cervinia.
1. Breuil-Cervinia or Valtournenche?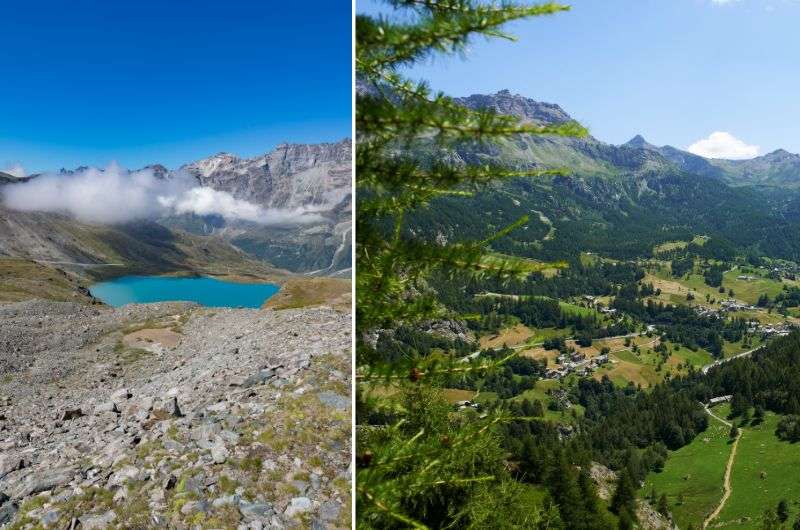 Breuil-Cervinia on the left and Valtournenche on the right

Probably the first thing you're gonna be confused about when planning your holidays is where exactly are you going? Sometimes it can be pretty tricky with names in bilingual areas, especially when you know the particular name under a third—English or German name.
To put it simply, Valtournenche is the name of the valley clutched by the Alpine mountains in the northeastern part of the Aosta Valley region. Sounds complicated? Wait for it. Valtournenche is also the name of the ski resort a few kilometers south of Breuil-Cervinia, and the Valtournenche commune of cooperating municipalities in the area both residing in the town called Paquier! It seems they really like to search for lost tourists.
Now, Breuil is the older French name of the town while Cervinia is the Italian name of the same town, pushed forward by Mussolini during Italianization in 1939. Recently, due to massive year-round tourism in that area, they finally decided to settle with the name of Breuil-Cervinia.
For simplification, I decided to further address it just as Cervinia, as it's technically an Italian town and resort and it's also more common. Good thing that the Valtournenche and Cervinia resorts are just a few minutes´ drive by car. And here is a practical totally realistic illustration for those who are still confused (I don't blame you).
2. What to do in Cervinia?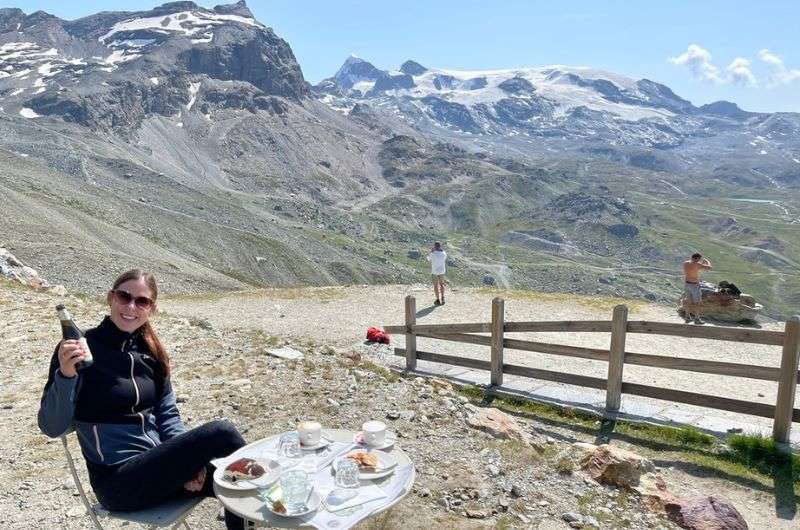 Karin and me refueling at Abruzzi hut

Hike, hike and then hike until you're dead. Nah, I'm kidding. Then have a great Tiramisu and a coffee or a beer and ride down in a cable car enjoying the views. As you may already know from the article about Aosta Valley, I was down with some serious man flu when I was in there, so we decided on the easier hike, but the views are magnificent everywhere and you won't climb the Matterhorn anyway (if you're not ready to die yet, like the 15 people who annualy die in there).
Cervinia—Orionde/Abruzzi—Plan-Maison
Difficulty: Medium
Distance: 10 km (6.15 mi)
Elevation Gain: 983 m (3 225 ft)
Time: Approximately 5 hours
Starting in Cervinia you will find it difficult to get used to the stunning views of Matterhorn and the surrounding mountains. It really plays tricks with your mind because of the elevation difference. The Cervinia resort is in 2 050 m (6 730 ft) and the Matterhorn you're looking at is at 4,478 m (14,692 ft), so the difference is more than 2 000 m (6 560 ft) which is simply too hard for your brain to process. Anyhow, if you manage to stop taking selfies along the way, you'll get to reward yourself at Rifugio Duca degli Abruzzi. Amazing hotel and restaurant up in the mountains with the best homemade Tiramisu I've ever had. They also have amazing coffee and all sorts of pies and cakes, and beer. And they accept credit cards.
From the hut, you can continue to the Croce Carrel (a memorial place further up the hill) or follow route 65 from Orionde leading to the Lago di Orionde Lake and further round to Plan-Maison, where you can take the cableway down to Cervinia.
I say the hikes in this area are idiot-proof. You're so high (metaphorically of course ?) that you can clearly see all the routes and get oriented. However, for better illustration, I marked this route at komoot.com for you.
Cervinia—Lago del Goillet
Difficulty: Easy
Distance: 8.50 km (5.30 mi)
Elevation Gain: 564 m (1 850 ft)
Time: Approximately 4 hours

Mr. Hotty, sweating the fever off

Nice walk around the resort to the Lago del Goillet dam (or Lac de Goillet). The combination of the mountainous landscape and the azure lake is from another world. If I wasn't so miserable due to sickness, I would feel like I'm in paradise. Just don't think about skinny dipping, unless you practice the Wim Hof Method. You're at around 2 500 m (8 440 ft) above sea level, so even in summer, there's 8–10 °C (46–50 °F). Again, if you're too tired or need to speed up a bit, you can hop on the cableway at Plan-Maison.
Cervinia—Theodul Pass—Plateau Rosa
Difficulty: Hard
Distance: 10 km (6.10 mi)
Elevation Gain: 1 448 m (4 750 ft)
Time: Approximately 5 hours
If you're up to some serious workout, here's a trail to the Theodul Pass and Plateau Rosa. The pass connects Cervinia with Zermatt on the Swiss side, so you can also use it as a road trip inspiration. It's quite a challenging hike with big elevation gain, nothing for the faint of heart, but the landscape is rewarding. At the Plateau Rosa, there are year-round ski slopes and also cableways connecting you to Matterhorn Glacier Paradise and further to Zermatt. Look for the up-to-date ticket prices and operation times at the Matterhorn Paradise official websites. Eventually, you can make it a sleep-over trip to Switzerland to spend some time at Zermatt too.
Tip: Be sure to look out for the wildlife around, there are chamois, ibex, eagles, and many more. Perhaps the easier to spot are the marmots. It's like someone is whistling at you, only it's not a hot chick, but a furry mountain squirrel.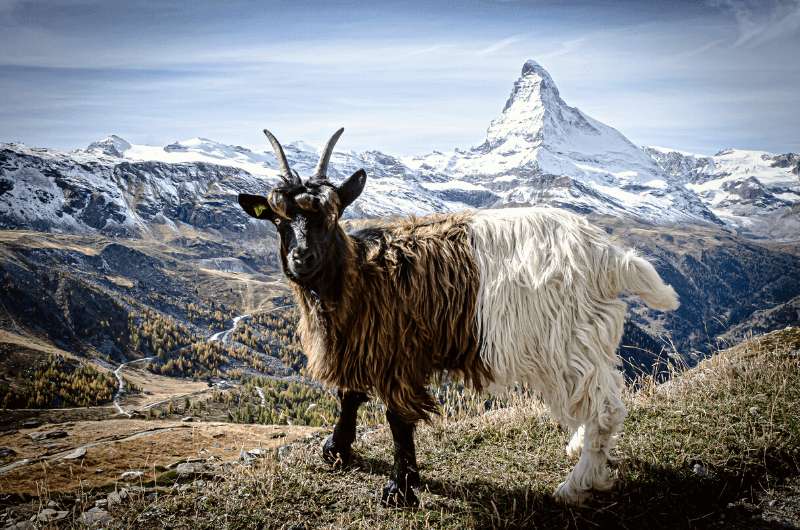 Sometimes it's not even the ibex, but just an ordinary friendly goat.

3. Where to stay? Best Hotels in Cervinia
Cervinia is a ski resort, which means the city is basically a party place: many hotels, number of restaurants and café on every corner. However, in the end, you merely stay there at night, because you're out all day so, whatever. The only goal is to find something better than the Shining version of the mountain resort, right?
Art Hotel Grivola
Right in the city center, the stylish Art Hotel Grivola provides pretty decent service. I can imagine it's a perfect base during the winter, as it's just a short walk away from the nearest ski slope and the tinder and stone decoration create a cozy atmosphere, not to mention the sauna. However, we stayed there in summer, so…it was alright. The service was pleasant and the restaurant good (which is hard to find in there). The big plus is free private parking and the location in the city center. I would say good value for money.
Price: from 130 EUR per night (111 GBP / 150 USD)
Address: Via Jean Antoine Carrel, 11021 Breuil-Cervinia
Hotel Hermitage Relais & Châteaux
In a different price rate, Hermitage Realis & Chateau is one of the truly luxurious places to stay in Cervinia. This boutique hotel also has its own spa with a pool and fitness. Completed by the top-notch restaurant, there's everything you may possibly be looking for in a hotel. It's one of the most popular and best rated hotels in that area, which of course comes with a bit different price.
Price: from 418 EUR per night (358 GBP / 482 USD)
Address: Via Piolet, 1, 11021 Breuil-Cervinia
Bergman Mountain Hotel
If you're looking for something more peaceful than just a typical resort hotel, Bergman Mountain Hotel is your best choice. This family-run hotel is famous for the owner's kind accommodating personal approach and stunning views. Thanks to its location on the hill over the city, it provides more intimate experience and at the same time offers all the facilities you might need: restaurant, gym, spa, and bar. And the modern stylish touch is just something really hard to come across in these parts.
Price: from 285 EUR per night (243 GBP / 329 USD)
Address: Via Giomein 53, 11028 Breuil-Cervinia
4. Restaurants in Cervinia? Okay-ish
Well, my general experience with dining in Italy is that the food is (usually) phenomenal, the service slow and at the Swiss or Austrian borders also terrible décor. During our stay in Cervinia, we dined at the hotel restaurant (Grivola) which was alright, the food and the staff. Then we tried La Grotta pizzeria and restaurant, the food was good, local mostly and generous portions, but the service could be better. And finally, La Bricole Cervinia. It's a bit further from the center, but worth it. The staff is super friendly, the food is great and for a good price and the service is quick! That is rare by itself in Italy.
5. How to get to Cervinia?
The nearest airport is in Turin, 120 km (75 mi) from Cervinia. However, it takes less than two hours by car. From Torino, you'll follow the highway A5 (later E25) to Aosta. When you reach Châtillon, turn off and follow the route SR 46 della Valtournenche towards Breuil-Cervinia. I personally recommend staying in Aosta city, which represents a great base to one day trips to whole Aosta Valley including Cervinia. From Aosta, it's hour drive to Mont Blanc and Matterhorn too!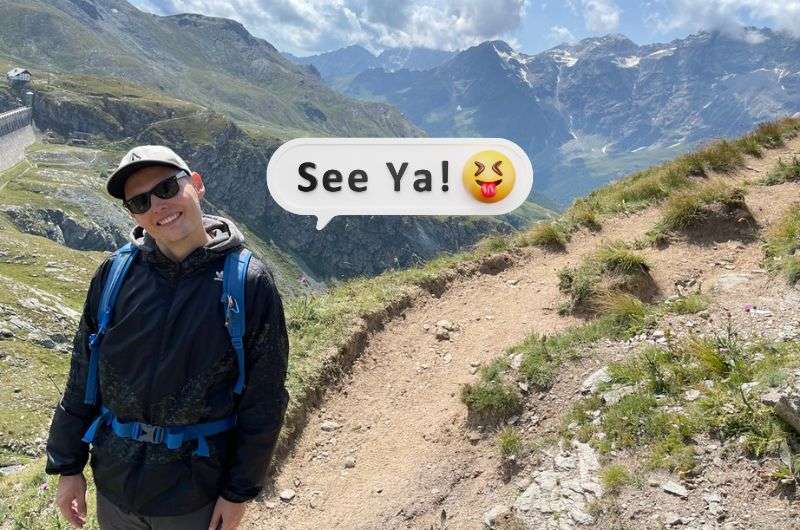 See ya on some next adventure!

This post may contain affiliate links. We earn a small commission if you make bookings through my links, at no additional cost to you. This helps us keep this blog free, thank you!