Glencoe means incredible hikes and drives on the A82 road with a little bit of Harry Potter and James Bond thrown in. We've seen it all and put together a list of the top 11 things to do and see in Glencoe, complete with an itinerary and all the practical planning information you might need. It's time to put your trip together!
And before we start: Do yourself a big favor and pack all the waterproof gear you have and buy what you don't have so you don't have to go on a shopping spree after arriving to Scotland and finding out you are utterly ill-prepared (guess how we know this).
Check out our 10-day Scotland itinerary for our complete packing list and a ton more tips before you go.
You might also be interested in reading:
Glencoe Scotland Map of Highlights
Notice how the majority of things to do in Glencoe are along the A82 road. You can click through the map to our list of places on Google Maps.

Itinerary for A82 Glencoe drive
We think Glencoe Valley is worth at least 2 days of exploration. You won't pack in everything that's on this list, but you'll see the highlights, and it's part of Scotland's A82 road—one of the best scenic drives in Scotland. So basically, you can't miss it.
The A82 road goes all the way from Inverness in the north of Scotland to Glasgow in the south. In the Glencoe Valley section of it, we suggest this itinerary at the very minimum:
Day 1:
Glenfinnan Viaduct (not right on the A82, but take the detour, trust me)
Commando Memorial
Pap of Glencoe
Day 2:
Ben Nevis walk
James Bond Road
I also want to put Eilean Donan Castle on here as a must-visit, but it's way out by the bridge to the Isle of Skye, so it's better suited as a stop to or from there. Check out our Isle of Skye itinerary. Eilean Donan Castle is on there as the very last stop on the way off the island.
After all of this scenic driving around Glencoe, continue on the A82 towards Glasgow or Edinburgh.
And now, on to our list of the best things to do in Glencoe, with all the planning information you could possibly be looking for, in order of coolness:
Our top tips for Glencoe:
Don't shy away from hiking the tallest peak in the UK, Ben Nevis. It can be done by beginners!
The Glenfinnan Viaduct isn't just for Harry Potter fans. Make sure to take the walk as well.
Be a patient driver. Some roads are single-lane, meaning both directions share. There is a lot of slow passing and waiting.
1. Ben Nevis Walk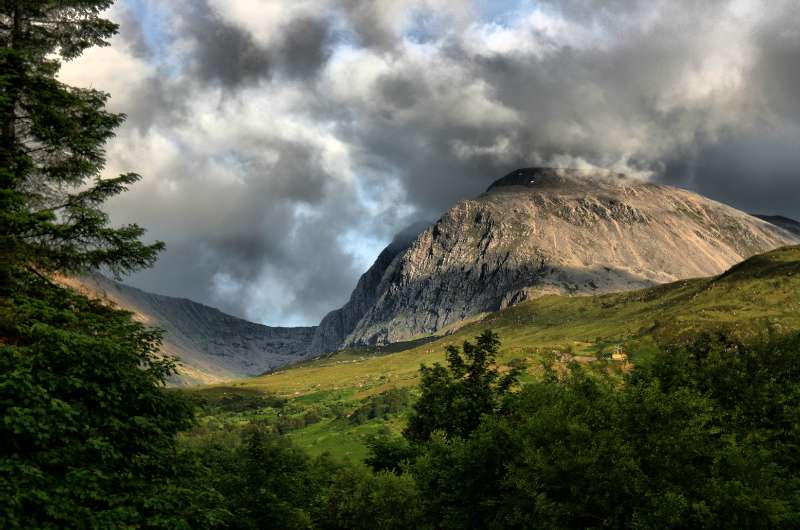 The Ben is a dreamer with his head always stuck in the clouds

Ben Nevis aka The Ben is Scotland's iconic mountain and the highest peak in the UK at 1345 m (4412 ft). Climbing it takes the better part of a day, but it can be done by beginners. On average, getting up to the summit of Ben Nevis and back down takes 7–9 hours.
You'll be starting almost at sea level, so the elevation gain is significant. The first half is a walk up a mostly stony or gravel-y trail, and the second half is a zig-zag rocky trail that'll have you unsure whether to look under your feet trying not to trip, or at the awesome views.
That said, there's an annual Ben Nevis Race, and the best hikers get up and down The Ben in under 1.5 hours, so there's definitely room for average time improvement!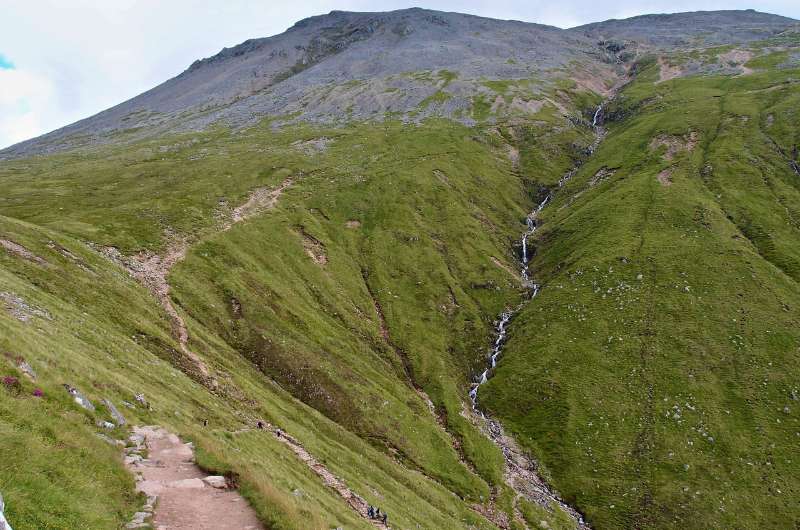 A part of the trail on the Ben Nevis Walk

Remember it is always necessary to have a map, a compass, and good clothing—Scotland's weather changes its mind very frequently and you don't want to get lost. There is no signposting on the trail, though it is mostly easy to see. About 1000 people go on the Ben Nevis Walk every day in the summer months, so you won't be alone.
You'll get all the information you need at the Ben Nevis Visitor Center near For William, which is also where you'll start your hike (unless you are looking for a real challenge, in which case you can hike up the other side of The Ben).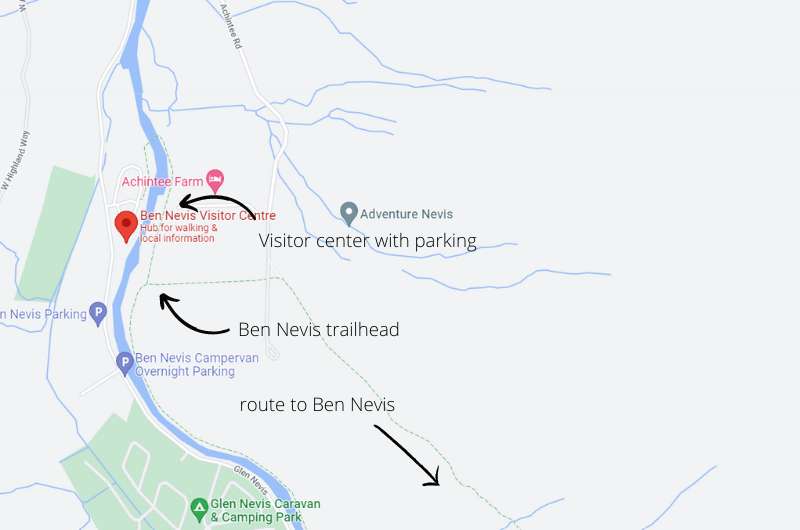 Park at the Ben Nevis visitor center

There's easy parking at the visitor center.
Walking up Ben Nevis makes sense mainly in good weather, because if you have to hike through clouds, you'll see diddly squat at the summit. A good app for weather is AccuWeather, or you can check the latest forecast at the Mountain Weather Service website.
When you summit Ben, you can cross off your first Munro and take up a new pastime—Munro baggin! If you want to know why you are now baggin' things and why it's a popular hobby for the British, check out our Scottish fun facts.
Tip: You could stay at the Clan Macduff Hotel near For William to be super close to the Ben. It's one of the very few hotels in the area that we feel are worth staying at. Check other recommendations at the end of this article.
Just so you know, we get a small commission whenever you book a hotel through one of our affiliate links. You pay nothing extra. Thank you for showing the love, we really appreciate it!
2. Hidden Valley hike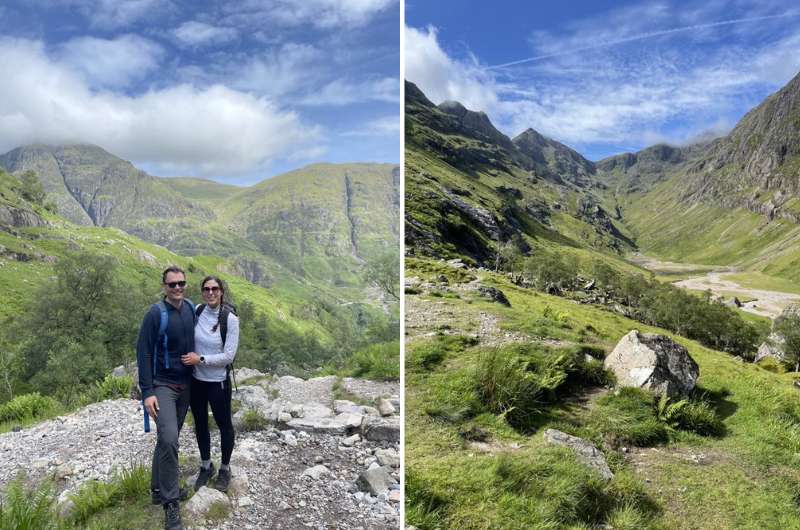 We were lucky with the weather at Hidden Valley, but you can easily do it in worse conditions, too

The Hidden Valley (also known as Lost Valley) hike is a very pretty hike, with rugged mountain tops all around you, similar to the Alpine valleys in Austria and Germany. The dramatic views are superb!
During the Massacre of Clan MacDonald in the late 1700s, the Hidden Valley is where those who escaped the massacre would hide their cattle.
The hike takes only takes 2–3 hours to complete (it's 4 km/ 2.5 miles out and back), depending on how far you want to go. Be ready for some scrambling and very rocky paths and an elevation gain of about 250 m (820 ft). I'd say a moderate route.
If you are a serious trekker, you can even continue on into the Bidean Nam Bian mountain range.
Of course, aim for good weather, but even in worse weather it was doable and didn't seem dangerous.
Map of Hidden Valley hike and parking

Try to get an early start at Hidden Valley because, as in most popular places in Scotland, parking spots are limited. There are several small parking lots on the road at the trailhead (here or here, for example), so you may need to try a few before you find somewhere to leave your vehicle.
There's even a great viewpoint just next to the car parks, so even if you don't want to do the hike, you can still see the Three Sisters.
Google Maps shows the trailhead and the Hidden Valley trail nicely.
3. Eilean Donan Castle
Head across the bridge from the parking lot to reach the small islet

I was so very excited to see Eilean Donan Castle, I've already written about it the Best things to do on Isle of Skye article and even include it in the Isle of Skye 2-day itinerary, because it's just so special! It's located right at the bridge to Skye, which is why I can put it in both articles and not even feel bad about it.
This is the most important castle of my childhood as I loved the B-rated 80s action movie Highlander starring Sean Connery and Christopher Lambert, so in my mind all the castles in the UK look like this. It's my hero of a castle.
Tip: Read our article about the best castles in Scotland.
It's located on a tiny islet of its own, just a short walking bridge away from the mainland. Sometimes there is almost no water around it, but if you are lucky and manage to see it when the little island is actually an island, it's magic!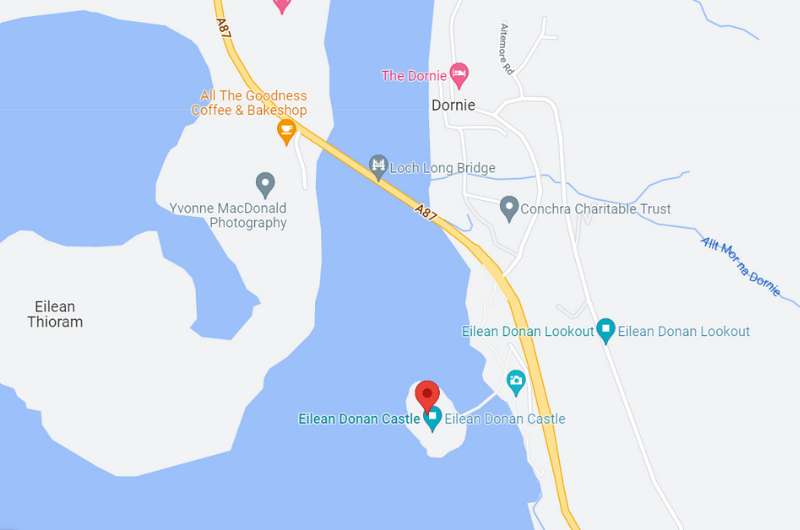 Map of Eilean Donan Castle and surrounding area—don't miss the lookout point!

I advise you to not skip the castle interior (I saw some people just walk around the outside—big mistake!), it's really interesting and modern! It's done up really nicely to show how life in the castle would feel like, fully furnished, with mannequins cooking dinner and discussing business over some documents, and even projections on the walls.  
The tour takes 2 hours.
Our tip: Don't forget to visit the viewpoint above the castle. You can drive or walk there (on the road). 
Learn from our mistakes and make sure you put "Eilean Donan Castle" into Google Maps (not just "Eilean Donan"), otherwise it'll navigate you to the opposite side of the lake.
There is a parking lot right before the small bridge to the castle. The entrance fee is GBP 10 and you also have to pay GBP 2 per hour for parking. You don't need to book tickets ahead of time, just rock up and in you go. 
There's a visitor center with a coffee shop and gift shop.  
For lots more Eilean Donan details, click over to our Isle of Skye article.
Eilean Donan Castle, Dornie, by Kyle of Lochalsh, Scotland 
Open daily 9 am–6 pm (last entry at 5 pm) in the summer months, check other opening times on the website.  
Tickets cost GBP 10 for adults, there are discounts available for children, seniors and families 
4. Glenfinnan Viaduct and Monument
Managed to take a pic of Glenfinnan Viaduct without the crowds in it

Glenfinnan Viaduct is a 120+ year old railway viaduct on the West Highland Line. It is the longest concrete bridge in Scotland, measuring 380 m (1250 ft). It is single track and it has views to Lock Shiel and the Glenfinnan Monument.
For us, one of the best places to visit in all of Scotland.
Even though the Glenfinnan Viaduct featured in several movies (and a video game!), it gained the most fame when it featured in several Harry Potter movies. Fans then became nuts about the bridge and started visiting in droves, going as far as walking on the viaduct and almost getting hit by the train. The police were not impressed.
Karin, having grown up on Harry Potter books, loved this trip. She had a huge smile on her face the whole time.
Besides the viaduct, you can visit the visitor center, the Glenfinnan Monument, and check out Loch Shiel. All in all, put aside 2–3 hours for the entire visit.
Glenfinnan Viaduct train times
It's the Hogwarts Express!

If you want to get the most out of you Glenfinnan Viaduct visit, time your trip so that you are there when the train goes across the bridge.
A steam train crosses the Glenfinnan Viaduct twice a day—at 10:45 am and 3 pm, and it is well worth being there for the crossing.
Get there early, since parking can take a minute and then there's about a 10-minute walk from the parking lot to the viaduct.
Glenfinnan Viaduct trail, parking and visitor center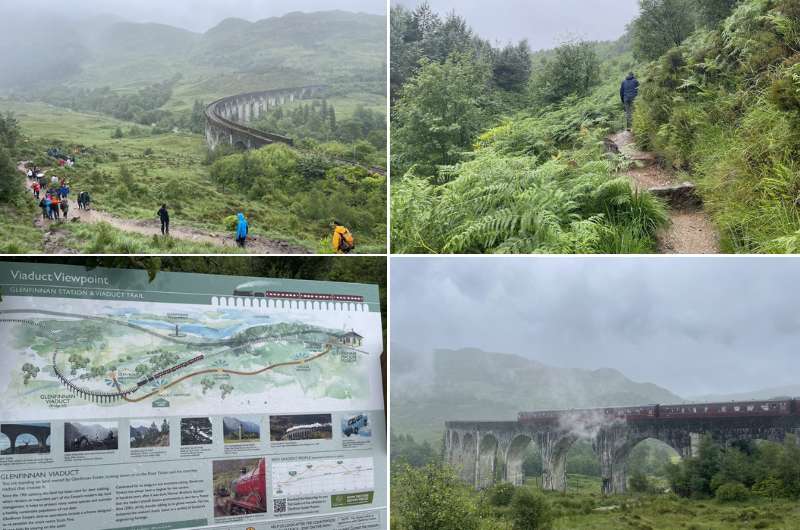 It's worth it to walk the trail and get there in time for the steam train crossing

Parking at The Glenfinnan Viaduct can be tricky. The parking lot is huge, but so are the crowds, especially before train crossings. Parking costs GBP 3.50. We saw a couple other smaller parking lots close by that could save you in a pinch.
There's a 3.5 km (2 mile) circular trail that you should definitely spend the hour or so walking. The parts further up look like they could be from the Lord of the Rings. The trail takes you past awesome viewpoints of the viaduct and of Loch Shiel, and the Glenfinnan Monument is just off it close to the parking lot.
The visitor center is right by the main parking lot, and I think it's worth visiting to get an understanding of the Jacobite uprising, which was a huge event in Scottish history. It's free to enter and is open daily from 10 am to 5 pm for most of the year. There's a café attached, too.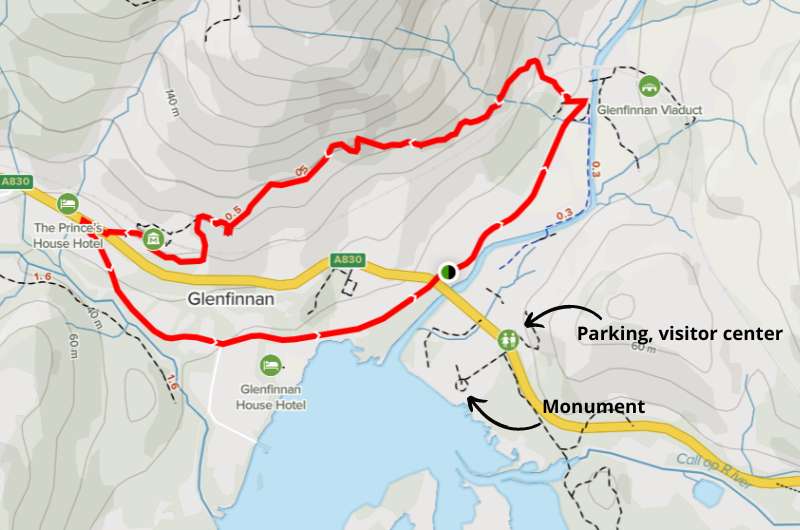 Map of Glenfinnan Viaduct trail and facilities (details @ Alltrails)

Glenfinnan Monument
Glenfinnan Monument with Loch Shiel view

The Glenfinnan Monument is located close to Loch Shiel, not far from the parking lot. It's dedicated to the soldiers of Loudon's Highlanders who fought in the Jacobite uprising in 1745.
You can climb up the monument for some pretty views over the lake and the surrounding landscape.
You can book your ticket in advance if you really want to be able to climb the monument, since it's only open for a very short time each day. Honestly I think it's nice even just looking at it from the ground. Tickets cost GBP 5 per adult (discounts available).
5. Pap of Glencoe hike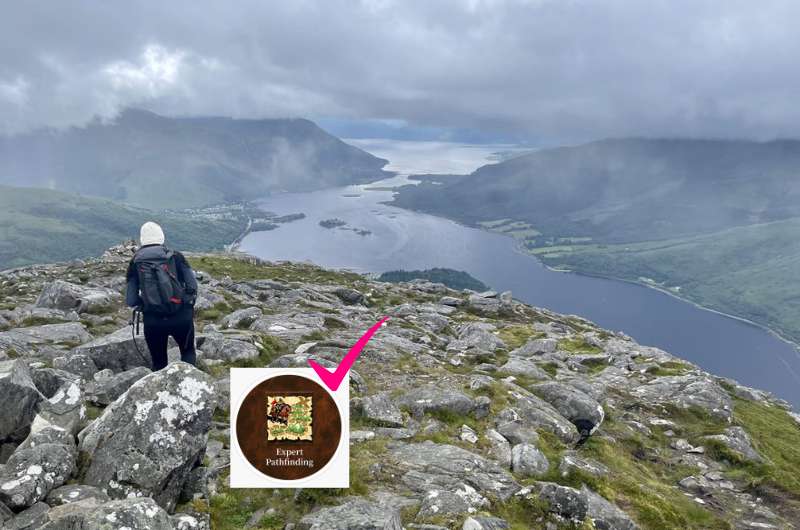 Karin conquering the Pap, only possible with pathfinding skillset

Known as Sgòrr na Cìche in Gaelic, the Pap of Glencoe hike felt really hard because of the path—it's either muddy (even in sunny weather!) or super rocky the whole time. Any Heroes 3 fans here? You need the pathfinder skill to get to the Pap of Glencoe!  
It is worth the struggle to get to the top of the cone-shaped peak since the views are incredible (or is it… read on).
It took us 2 hours up and about 1.5 hours to get back down. I definitely wouldn't take kids or dogs on this trail. Do wear proper footwear.
We really enjoyed the views from Pap of Glencoe, but honestly, the last 100 m-high mound is not worth the extra effort to scramble up. You are already getting the best views when you're right under it, so unless you are set on summiting, you can turn back without getting all the way to the end.
Pap of Glencoe parking and trailhead
Pap of Glencoe map with parking and trailhead locations

This hike's parking area is not visible on Google Maps. You can see the place where you can leave your car here. It's about 300 m (980 ft) from the trailhead. If it's full, you need to park in Glencoe and walk the extra 1.5 km (1 mile) to the trailhead.
Speaking of which, the trailhead to Pap of Glencoe also isn't on Google Maps. Here's where it starts. You'll have to walk through a gate to start, and then it's just straight up the mountain. Navigation is easy, but the walking isn't!
Tip: You can check other hiking options in Glencoe on this blog—I found it very useful when I was making our plans.  
6. James Bond Road
The scene from Skyfall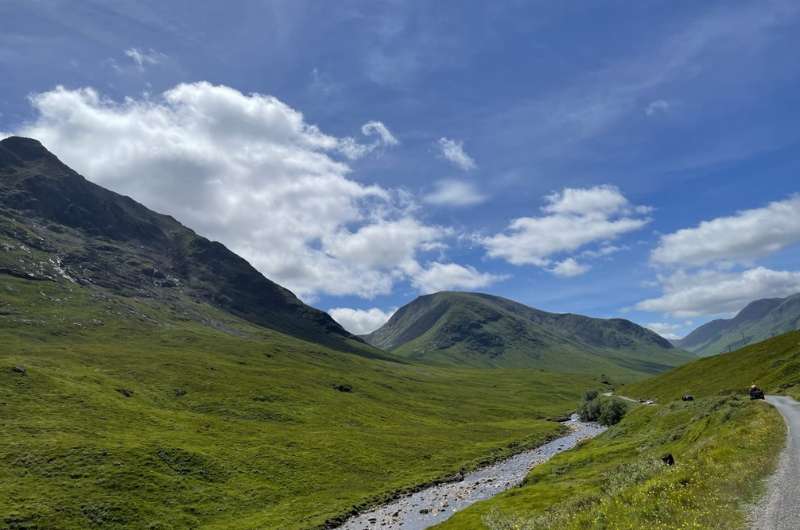 A scene from our trip @ James Bond Road

James Bond Road, famous for being featured in the 2012 James Bond movie, Skyfall, is a scenic road of 20 km (12.5 miles) between the A82 and Loch Etive.
It's easy to navigate, but it is single lane, so be prepared for it to take time to drive through while letting others pass or stop to take photos. You then need to drive the same way back again, so don't hurry and just take in the magnificent views of Glen Etive.
There are spots on the way where people stop and take photos of the most beautiful and famous parts. If you do this (you will want to), just keep traffic moving and don't linger too long. Sometimes there's only room for one car, so take your pic and get out of there.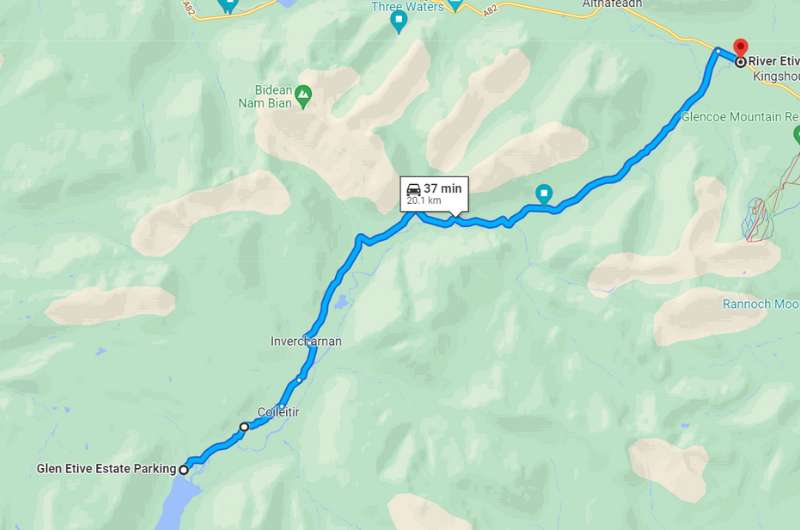 James Bond Road

7. Lairig Gartain hike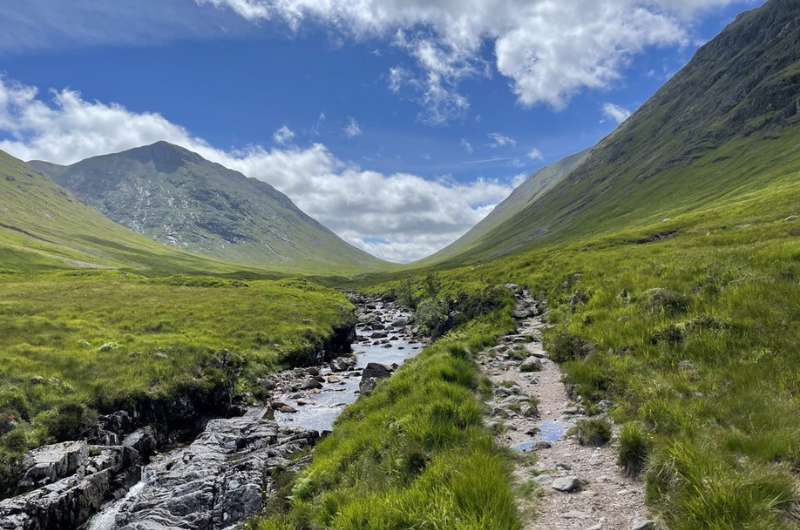 River, trail, views @ Lairig Gartain

This is a beautiful valley walk with incredible views of the surrounding peaks. You can walk for ages, but since it is an out-and-back trail, you can stop and turn around whenever you choose to. The minimum you'll want to go totals a 5.3 km (3 mile) round trip, which will take about 2 hours to complete.
If you can, go all the way to the spot with the view to Glen Etive Lake, though that almost doubles the hike to a roughly 9 km (5.5 mile) round trip (still out-and-back).
Arrive early if possible, we had trouble parking since the trail starts at a small parking area which has the best views around. Many people just stop here to look at the views and then drive further, so traffic is an issue.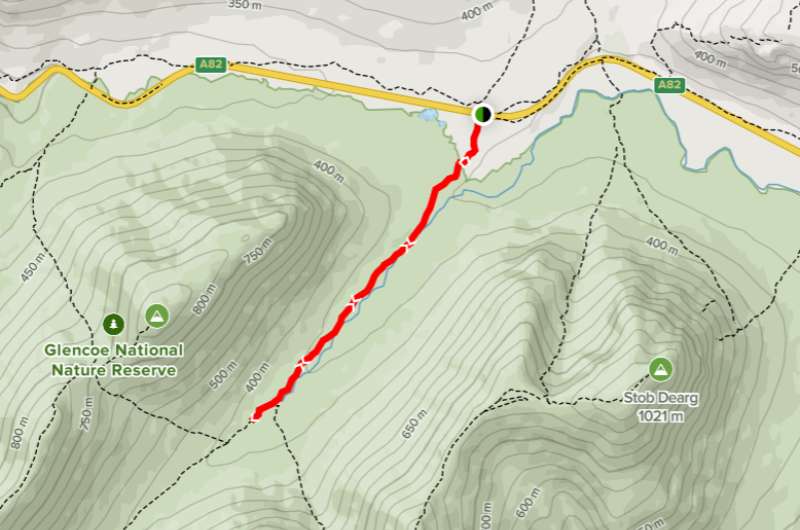 Check Alltrails for the shorter version of the hike. You can just keep going along the same trail to make it to the Glen Etive Lake viewpoint.

There is a visible trail the whole way, so no worries about getting lost, though it can get muddy and boggy. And very, very windy, so come prepared.  
To me, the Lairig Gartain hike looks very similar to some hikes in Wyoming. I mean that as a compliment!
8. Commando Memorial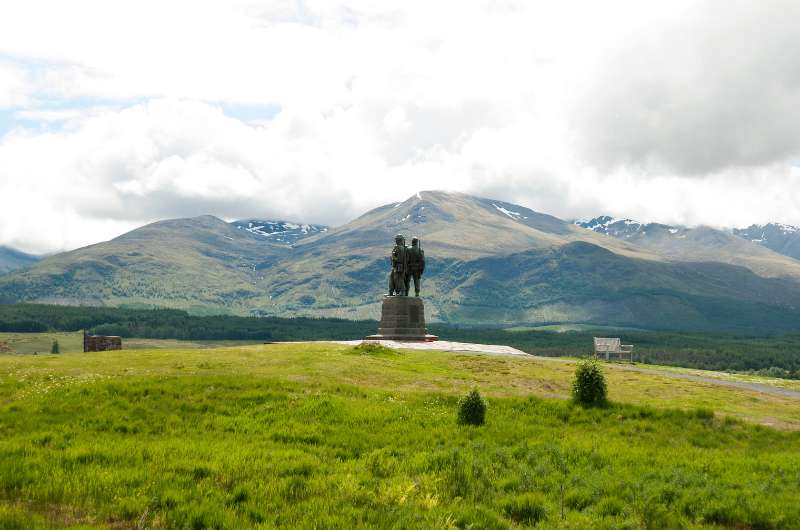 Formerly the training grounds of the WWII soldiers, now the Commando Memorial site

The Commando Memorial is a bronze statue of 3 army men dedicated to the British Commando Forces that fought during World War II. It was unveiled in 1952 and is one of Scotland's busiest memorial sites—busloads of people come to see it daily.
It's popular not just because of the memorial itself, but also because of the views surrounding it. In good weather, you can even see Ben Nevis. The memorial overlooks the former training ground of the soldiers.
Besides the statue, a circular Garden of Remembrance sits nearby, with individual plaques of soldiers that have died in later years—either WWII veterans, or those that fell in more recent conflicts.
It's a beautiful place that is easy to visit. Parking is free and is right next to the Commando Memorial.
Several hikes start from the memorial, so it's easy to add a nice walk onto this stop.
Tip #1: Old Pines Hotel & Restaurant is close by and they have the most spectacular views of any restaurant we've been to in Scotland. We'd also choose this place as a hotel next time we visit and made sure to put it in our 10-day Scotland itinerary as a definite recommendation. A view of Ben Nevis from just about every window sounds incredible!
Tip #2: Read all about Scottish food before you go so you aren't afraid to try haggis.
9. Loch Ness
It wasn't even that hard to spot Nessie…

Loch Ness is a big lake—it has a larger volume than all of the lakes in England and Wales put together! It is a long, thin lake—about 35 km (22 miles)—from Fort Augustus in the south to Lochend in the north (near Inverness).
And yes, Nessie lives there! Or so people have though since at least the 6th century. Alas, even after some extensive research, there has been no Nessie DNA found. Ever. And that famous photo turned out to be a fake.
We didn't see Nessie (duh), but I must say it's part of the fun thinking this is the place where a mythical monster is supposed to live. A nice change from all the fairies on the Isle of Skye!
What to do at Lock Ness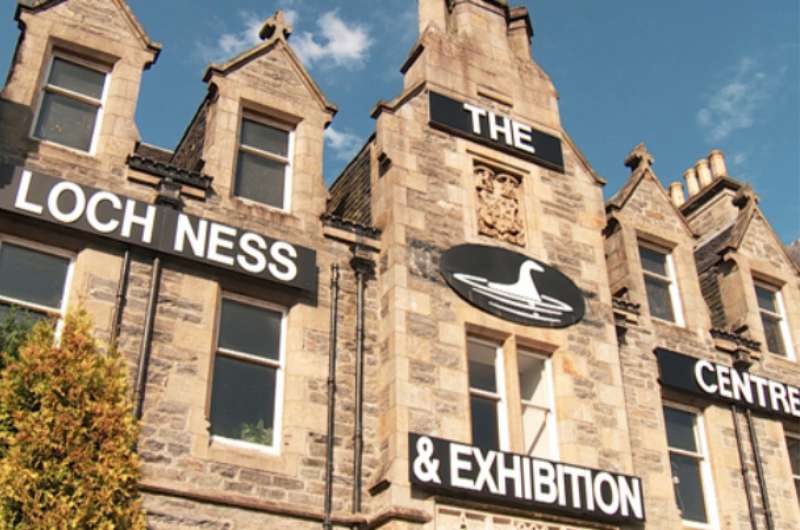 Learn about the lake and its famous monster @ the Loch Ness Visitor Center & Exhibition

For starters, pop into the Loch Ness Visitor Center & Exhibition to learn all about the famous lake, from its geology to the legends and mysteries surrounding it. A ticket will cost you GBP 9.95 for adults. There's also a café and gift shop onsite with lots of Nessie merch. Parking is free. The center is located on the left bank of the lake, a little higher than the halfway point, in Drumnadrochit.
If you want to discuss the possibility of Nessie being real with a real Nessie enthusiast, stop by for a chat with the Nessie Hunter. Steve's been permanently looking out for the Loch Ness Monster for 30 years straight right from his research van on the shore of the lake. He sells photos and little clay Nessies.
Then you can treat Lock Ness as any other loch and just have a nice day out in nature. The lake is circled by the Loch Ness 360° trail, but you probably won't want to walk all of it—it's 128 km (80 miles) long! Unless you rent a bike, you'll want to choose one of the 6 sections it is conveniently split into, or just walk as you wish. Note that the southern half of the loch is wilder and less developed.
If you want to see the lake and surroundings, but aren't keen on using your own legs, hop on one of the boats that usually take about an hour to cruise around Loch Ness.
For families with kids there's Nessieland.
10. Signal Rock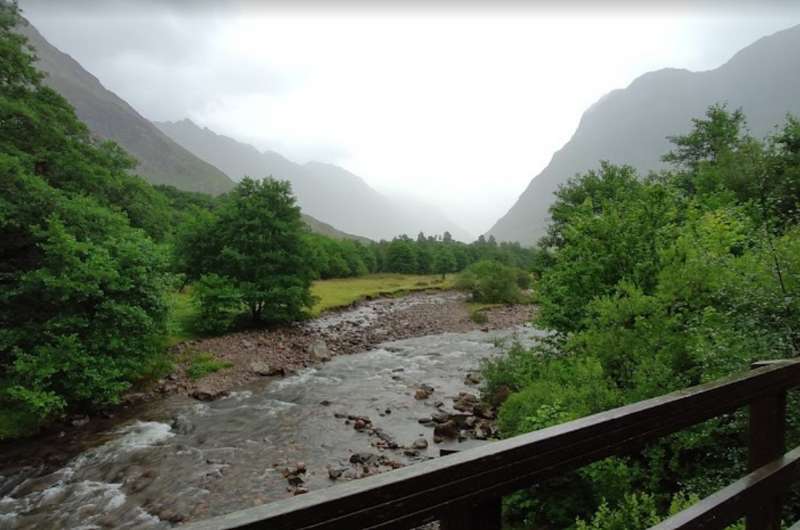 A river crossing on route to Signal Rock

If you've read our 32 Fun Facts About Scotland article, you know about the MacDonald Massacre. The one where the Glencoe clan of the MacDonald's were "visited" by the king's soldiers for almost 2 weeks, after which they were killed by said visitors.   
Signal Rock is supposed to be the place where the signal was given to start the massacre. Some don't agree with this story, rather saying that Signal Rock was where the MacDonalds themselves would gather and signal in case danger was approaching.
There is a path that leads to the rock that takes you through pretty woods, small gorges and across rivers. It's an easy 1.5 hour walk (total). Don't expect amazing views from the rock, the trees block most of it. Not saying there aren't views on the way, but just trying to manage expectations.
The 2.5 km (1.5 mile) trail starts in the parking lot (which is free). You can read a detailed trail description here.
Signal Rock is located off of A82.
11. Whale watching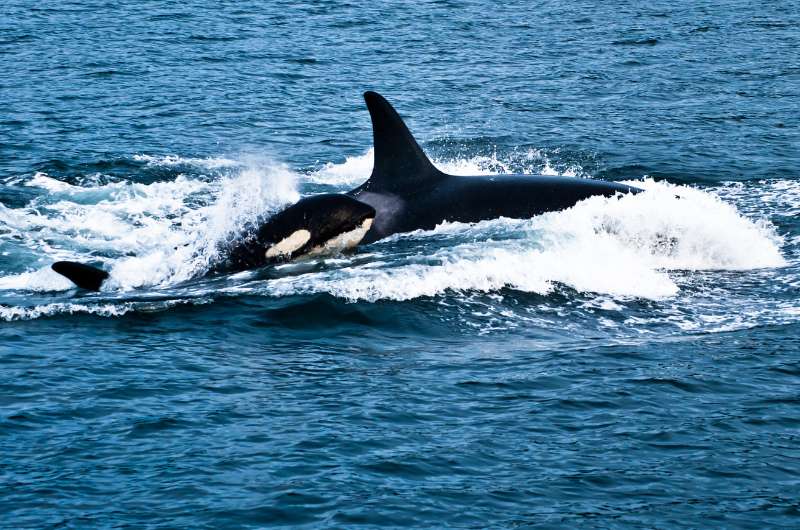 Scotland is possibly the best place in Europe to see whales and dolphins, including the ever-popular orca, which looks like a whale, but is in fact a dolphin.
You can see them between May and September all over Scotland, though species will vary from place to place and month to month.
That said, spotting any sort of whale is a special occurrence, so count yourself lucky if you see some! Dolphins are much easier to spot.
On the west coast, you'll certainly see bottlenose dolphins, but also orcas and fin and minke whales like to come around.
You can check the best-rated whale-watching companies in the Scottish Highlands on Tripadvisor.
Bonus recommendations
Since you look like you're heading to the Glencoe area sometime soon, we thought we'd share even more knowledge and recommend some places for you to eat and sleep. Finding a reasonably priced hotel in Scotland isn't easy!
Restaurants in Glencoe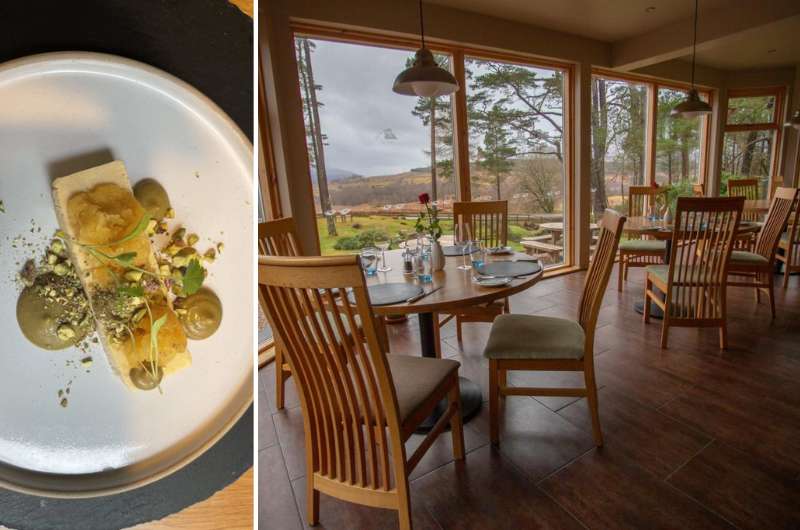 Old Pines Hotel & Restaurant

We'll be mentioning Old Pines Hotel & Restaurant in both the restaurant and the hotel section, because it's awesome.
For the restaurant, it has to be the top place I've ever been to thanks to the 360 views. You can see Ben Nevis on one side and a beautiful glen (valley) on the other. You basically sit there staring while your food gets cold in front of you.
Expect fine dining and a degustation menu at a very good value for money. We paid about GBP 100 for the two of us (5 courses and 2 drinks per person).
It's close to the Commando Memorial.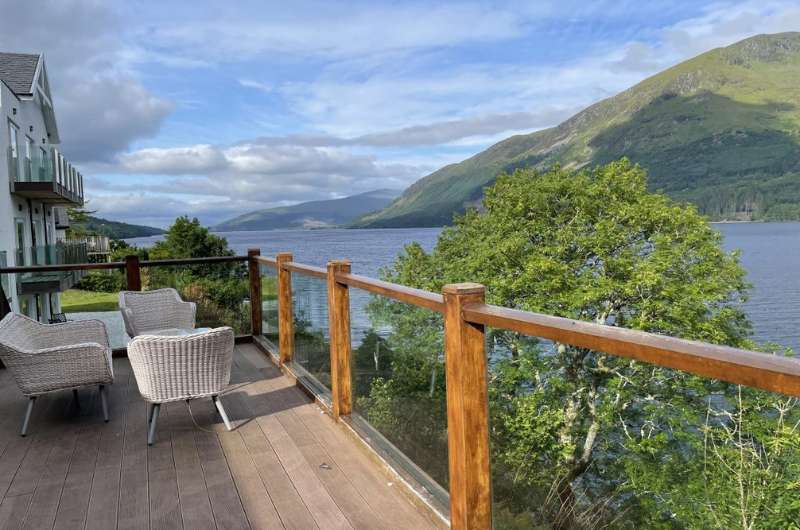 The terrace views at the restaurant of the Whispering Pine Lodge

The Whispering Pine Lodge on Loch Lochy will also be mentioned in both sections, but for very different reasons (we wouldn't stay there again).
The restaurant was really nice. There is a great terrace with incredible views, and they serve delicious Indian food, which was a nice change of pace after all the fatty foods that are generally available in Scottish restaurants.
It is a little pricey at about GBP 100 for two. We each got a main course, desert and 2 drinks.
The best hotels in Glencoe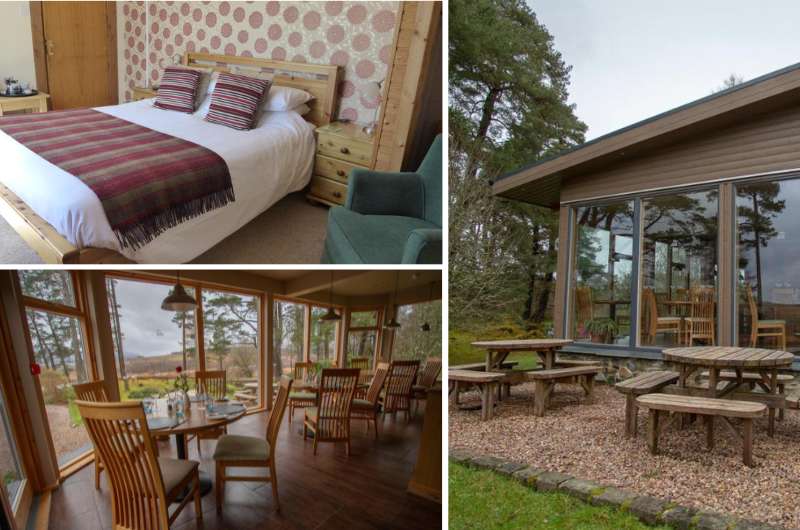 Our top hotel pick near Glencoe: Old Pines Hotel & Restaurant

We didn't like our hotel (we were in Whispering Pine Lodge), but would absolutely base ourselves in Old Pines Hotel & Restaurant next time around.
The restaurant is amazing and not only it, but also some of the rooms have views of the highest peak in the UK (and one of the best places for a hike in Scotland!), Ben Nevis. In a country with some of the worst/most expensive hotels we've seen, the Old Pines takes the cake for being excellent value.
Prices start at GBP 120 for 2 people per night.
Whispering Pine Lodge didn't meet our expectations

We weren't crazy about our stay at the Whispering Pine Lodge.
They did have a great breakfast and the restaurant has the perfect terrace to sit on overlooking the Loch Lochy (plus a little bit of Asian cuisine doesn't hurt!).
But we just weren't happy with the staff at this hotel. The rooms are also a bit outdated and very small. I had big expectations from this hotel and it just didn't deliver.
Prices start at GBP 120 for 2 people per night.
Clan Macduff Hotel near Fort William

The only other hotel I would probably choose in Glencoe (in Fort William) is the Clan Macduff Hotel. If you want reasonable-looking and still reasonably priced, this could be it.
It doesn't feel as cozy as the other two and looks more like a hotel and less like a cottage, but it is 4-star, clean, and with a great staff. Some rooms come with loch views and balconies.
Everywhere else you risk it being overly expensive or just plain shit. 
Prices start at GBP 230 for 2 people per night.
This post may contain affiliate links. We earn a small commission if you make bookings through my links, at no additional cost to you. This helps us keep this blog free, thank you!