Everybody in Europe always says that the UK has the worst cuisine in Europe. I call bullshit.
UK, and Scotland in particular, has some of the best restaurants in Europe and I've had some of the tastiest meals of my travels in the UK. Though the food does tend to be a lot of the same—all the fat and meat and chips.
Still, I consider Scotland one of the best countries for food. And for Karin, it the best country. Typically, there's porridge for breakfast, a quick fish and salad for lunch and a hearty dinner, which is Karin's style all day every day.
So what Scottish foods are on my top list? Find out what and where to eat in Scotland. It could be useful if you're curious or if you're planning a trip to Scotland. (Are you? Check out our Scotland itinerary, or the shorter Isle of Skye itinerary and start planning!)
You might also be interested in reading:
1. Whisky
In Scotland, it's whisky, not whiskey

Just like when we listed beer as the first and best food of Belgium, we're putting whisky at the top of our list for Scotland.
We know whisky isn't a food, but it's everywhere and its more important than any food in Scotland.
On our fabulous tour of Torabhaig Distillery on the Isle of Skye, we learned why whisky is such a premium drink, or that single malt is aged for 5–20 years in barrels, and has a 40% (sometimes even 60%!) alcohol content.
We went onto this tour not caring much for whisky, but learned we were just drinking the wrong kind! Plus the production is a fascinating process. So now we love whisky and think it is pertinent that you learn about "Scotch" so you can fall in love with it too.
Fun fact: It's spelled whisky in Scots and whiskey in Irish.
Our top tips on eating in Scotland:
Don't have smoked haddock and salmon for breakfast. It's good, but way too smoky for the first meal of the day!
Try haggis. It looks gross but tastes good. Really!
Scotland's deserts are rarely spoken of, but they deserve some proper attention. Enjoy some sticky toffee pudding whenever you can.
Distillery recommendation
Go on the best whisky tour @ Torabhaig Distillery on Isle of Skye

For more information on visiting the Torabhaig Distillery, see our best things to do on Isle of Skye article. It should be on any Isle of Skye itinerary.
2. Haggis
Haggis looks awful, but tastes pretty great!

I feel everyone comes to Scotland half intrigued and half grossed-out by the thought of haggis.
Haggis is the national food of Scotland and it tastes much better than it sounds. It's even healthy (includes lots of vitamins and minerals).
What is haggis? It's a sheep's stomach filled with onions, liver, heart and lungs all mashed together with oatmeal and blood… I didn't say it sounded lovely! The fact that it's boiled doesn't add to the allure, does it? Boiling is like the least sexy cooking style.
Still, I thought it was really good. Traditionally eaten with mashed potatoes and mashed yellow turnips, or, as the Scottish say, mashed tatties and bashed neeps.
Haggis is hearty and great. At least once in a while.
Tip: You do not eat the stomach skin. Just chuck that and eat the content.
Restaurant recommendation
The best views you could wish for @ Cuillin Hills Hotel at The View Restaurant

The View Restaurant is part of the Cuillin Hills Hotel in Portree on Isle of Skye. They use the highest quality produce and the freshest seafood to cook up some of the best traditional Scottish food.
It's elegant but friendly and with a fabulous view. If you're a guest, you can try The View's haggis as part of their full Scottish breakfast.
Cuillin Hills Hotel is located close to the best that Isle of Skye has to offer, like Old Man of Storr and Quiraing Walk.
3. Fish and chips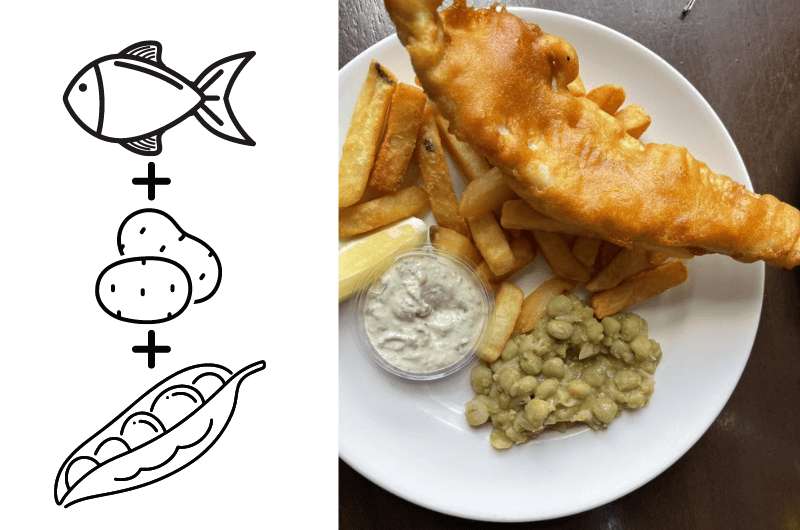 Peas are an important part of the fish and chip classic in Scotland

Fish and chips isn't a typically Scottish food, but it's everywhere and you're going to eat it when you're in Scotland. What's not to like? A nice fish fried in a batter with some thick fries. Easy, quick, yummy.
I have a neutral relationship with fish dishes, but Scotland must be one of the prime places to eat them since they are as fresh as it gets due to the proximity of the sea. For a guy from a landlocked country, that goes a long way in terms of elevating my love for fish to a new level.
So brace yourself, you're going to be eating fish and chips every other day in Scotland. It's really good and comes with many styles of peas, mashed or otherwise, and chips.
Plus, calling fries chips helps solve the conundrum of "should I call fries French??" Yeah, I've had that problem ever since we visited the mecca of fries, Belgium, this past spring. I'll once again point you in the direction of our food in Belgium article to get the scoop on just how much of a problem it is to say "French fries" in Belgium. It's like you spit in their face!
Restaurant recommendation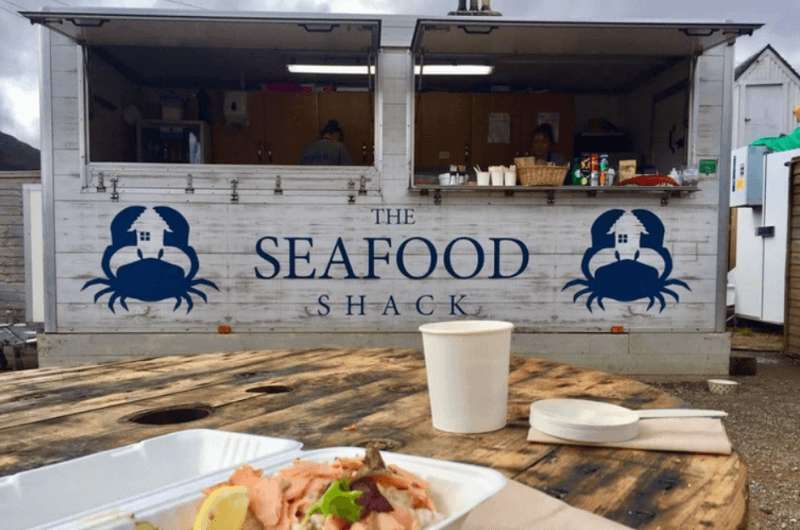 Humble (but cool!) facilities, 5-star food @ Seafood Shack

We highly recommend stopping by Seafood Shack in Ullapool, which is where the best hike in Scotland, Stac Pollaidh, starts. It's literally a tiny shack with no indoor seating.
The two young ladies that own and operate it found a huge gap in the market when they realized that all the amazing seafood that local fisherman bring in each morning is getting sent elsewhere.
They now cook fantastic meals from the daily catch, bringing the best seafood to locals and visitors alike. That means you never know what's on the menu until you get there. We had a fantastic haddock wrap a top-smoked trout.
Outdoor seating at the 8 or so tables is cool and always full over lunchtime, with great views over the mountains and 90s pop hits playing. Prices are ok.
4. Prawns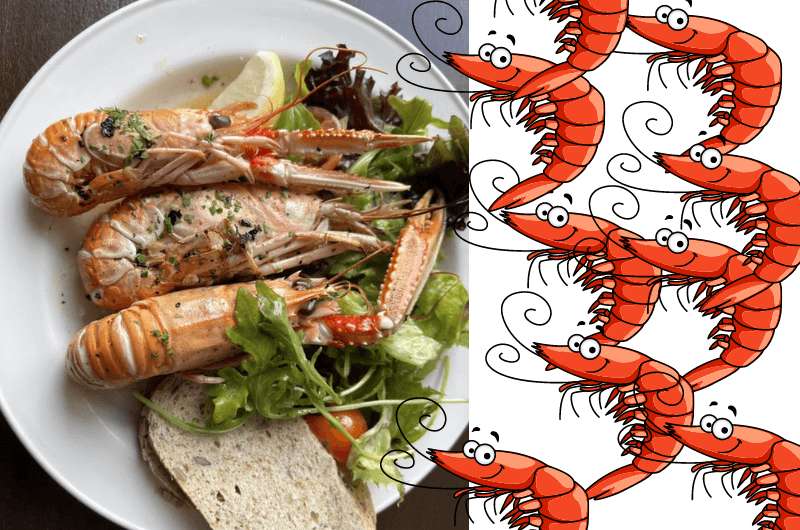 The prawns we ate @ Applecross Inn were divine

We've already mentioned that seafood it of top quality in Scotland, so here's another creature to try.
Scottish prawns, otherwise known as langoustines, are shipped (and highly sought after) all over Europe, and only a small portion is kept for Scotland's restaurants. Why? Apparently, the nippy guys are a handful to handle!
I think the best way to eat prawns in Scotland is just as they are, in their shell, with some garlic, with a side of salad and bread. But you can get other variants as well, like prawns in whisky cream.
Restaurant recommendation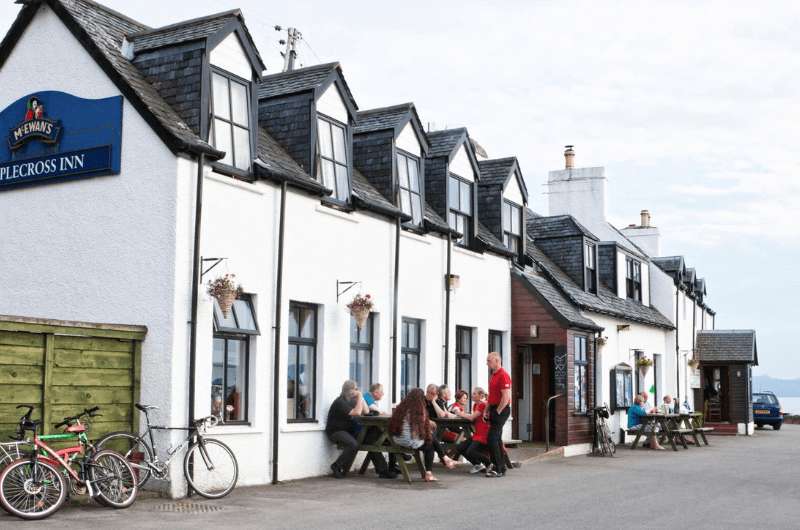 The journey to Applecross Inn is very much worth it!

Applecross Inn's restaurant is a cute little local place in a cute little local inn that has been mentioned in the Michelin guide for years and years. They specialize in seafood and really know their stuff. The prawns and fish and chips we tried there were excellent! Plus you feel like part of the family when you eat there.
Getting to Applecross Inn is a part of the fun, since you're in a very remote part of the Scottish Highlands. The views you get on the way are amazing. It's about 1.5 hours from the Isle of Skye bridge.
Read about driving in Scotland.
5. Smoked haddock and salmon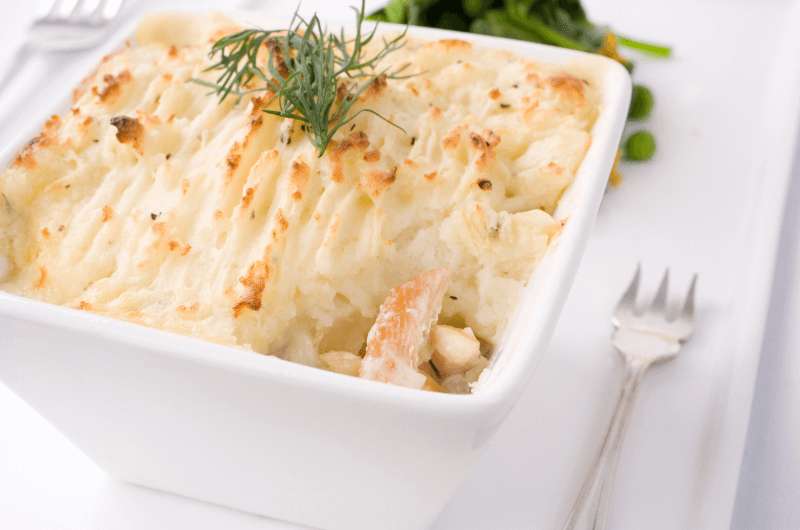 Here in the form of a pie, smoked haddock and salmon is just too much as a breakfast food for me

Smoked Haddock and Salmon usually comes together in the form of a pot pie or fish cake and it's popular for breakfast and dinner.
For me, it's not something I want to eat at breakfast, because it's super smoky and just too much for my taste buds first thing in the morning. But it's good. Very famous and available all over the place in Scotland.
Alternatively, smoked haddock and smoked salmon are also available separately. Smoked haddock aka finnan haddie needs to be cooked before it's eaten, so you'll often find it fried in a batter or made into a soup. Smoked salmon is eaten as is.
Restaurant recommendation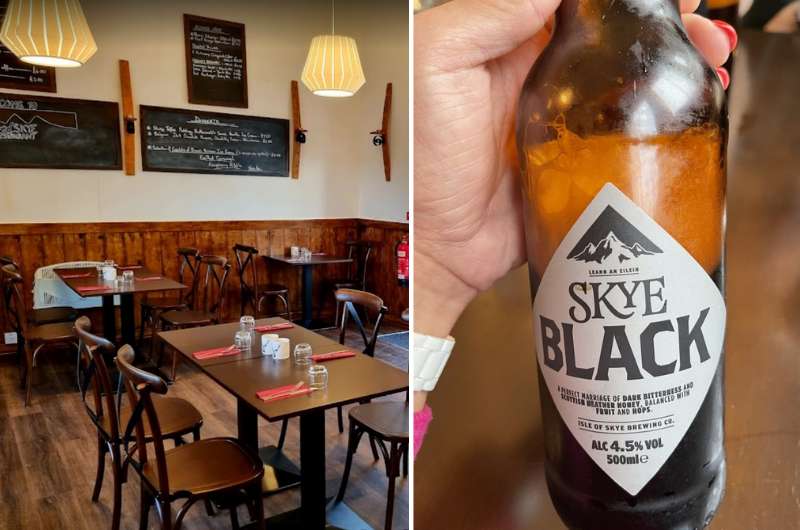 We had Black Skye in Red Skye

We loved Red Skye Restaurant on Isle of Skye, though it is necessary to book in advance, which is a little hard to do since they have no working website. Still, I guess you could try using a good, old-fashioned phone, or, stop by like we did, and then come back later.
Red Skye specializes in typically Scottish fare. The restaurant is in an old schoolhouse with fantastic views.
It's conveniently located near one of our top recommended hotels on the Isle of Skye, the Broadford Hotel. A great place to be based for the best hikes on Isle of Skye.
6. Sticky toffee pudding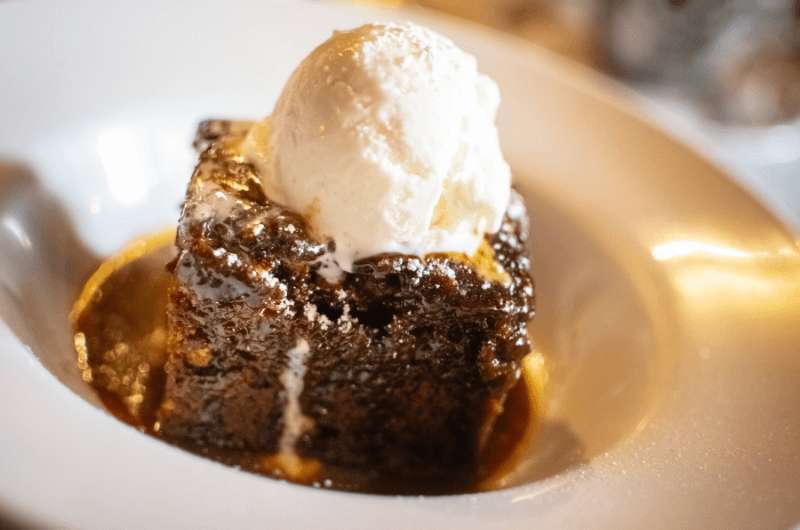 Karin's favorite, sticky toffee pudding

This one is actually Karin's favorite dessert in Scotland. She ate at least 10 of them while we were on vacation there this summer.
Though it probably originated in the Lake District in England, sticky toffee pudding is not an uncommon occurrence in Scotland (or it might be now that Karin ate all of them).
It's a sponge cake made with dates that's covered in a toffee sauce. Oftentimes you'll get your sticky toffee pudding with a blob of vanilla ice cream on top. Yummy!
7. Gin
My favorite, gin and tonic

Again, not a food, but who's counting.
Gin is probably my favorite alcohol (besides beer) and it's everywhere in Scotland. Though now I love whisky at least just as much!
It's most important ingredient is juniper berry, but can contain other botanicals as well. There's not one recipe for gin, so the fact that it includes juniper is the main sign of a gin.
Over 70% of the gin made in the UK is made in Scotland. This includes famous brands such as Gordon's, Hendrick's and Tanqueray.
I would absolutely skip the visit of any distillery as its rather low level compared to Whisky distilleries (read about out underwhelming gin distillery experience in Edinburgh), but gin and tonic has always been my savior especially throughout my visits of countries in tropical climates. 
8. Goat's cheese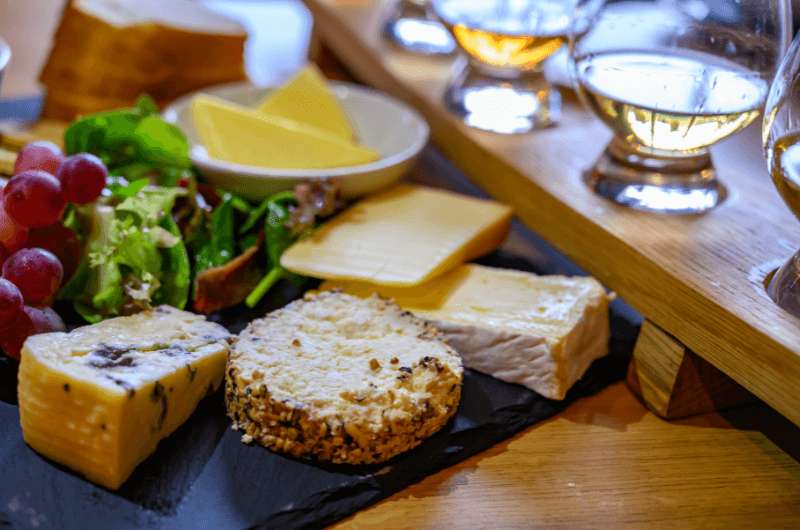 A selection of (probably very stinky) cheeses in Scotland

Scotland loves its cheeses. No matter what animal's milk they are made from, they are usually pungent and with a strong or sharp flavor.
If you ever come across a cheese that looks sort of like a brain, i.e. gray (or sometimes white) and wrinkly, it's likely made of goat's milk. It's aged fresh cheese and the 'skin' is mold. It is…flavorful.
A creamier and milder goat's cheese is the Ailsa Craig, which is a white blob that's usually sold wrapped in paper like a little present. This is like goat's cheese for beginners.
Hey goats! Got cheese?
9. Potatoes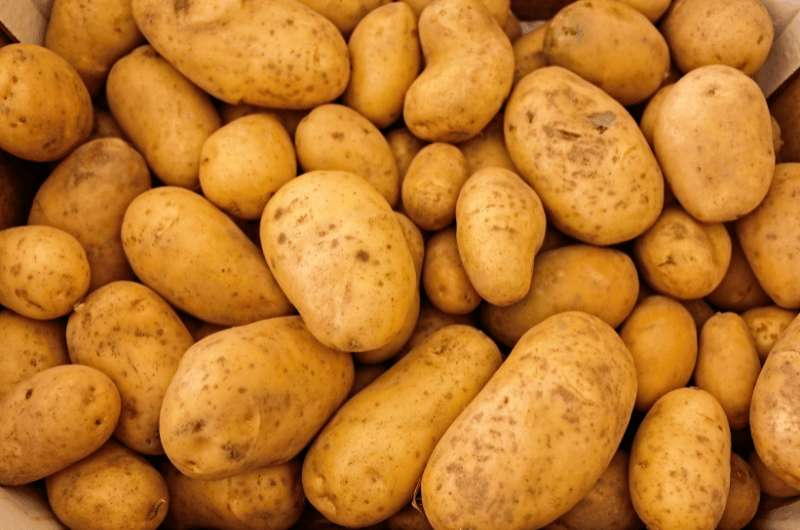 Scotland's staple food: potatoes

Scotland is like a potato superpower. You can't eat a dish in Scotland without getting potatoes, jeez I was really craving rice in Scotland after a while!
Potatoes became a staple food in Scotland in the 17th century and they've stuck ever since. You get potatoes with your haggis, you get potatoes with your fish. Basically, if you're not sure of the side dish you will get, it's probably potatoes (boiled or mashed).
The funny thing is that in Peru, which in the home country of the potato, people eat tons of rice and potatoes are nowhere to be found in their dishes. Read about what they eat and drink in Peru here (yes, even coca tea and guinea pigs).
10. Venison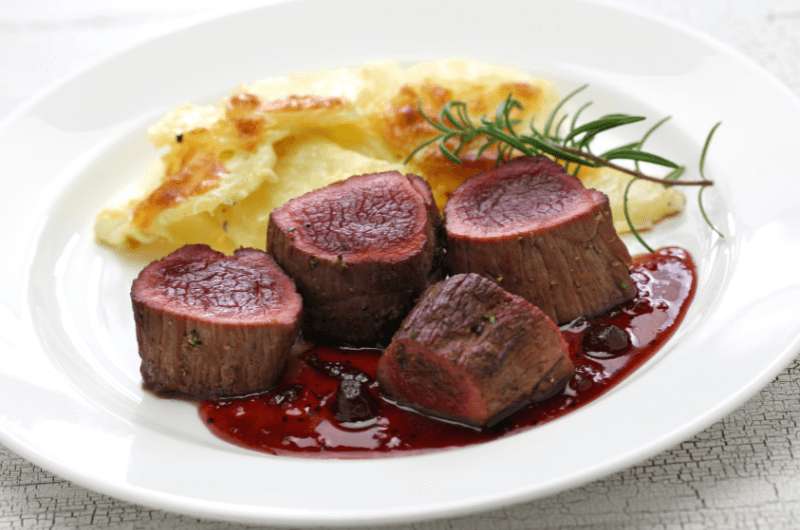 Venison with mashed potatoes

Well you "meat" a lot of deer in Scotland, and so you can also eat a lot of deer in Scotland! It's a very low fat meat that tastes really good. It's smoother and firmer than beef, and with a richer, more exciting taste.
The venison can be from the wild—and most of it is because deer are overpopulated in Scotland—as well as from a farm. There are four types of deer in Scotland: red, roe, fallow and sika.
Mostly you'll get it as a steak.
Restaurant recommendation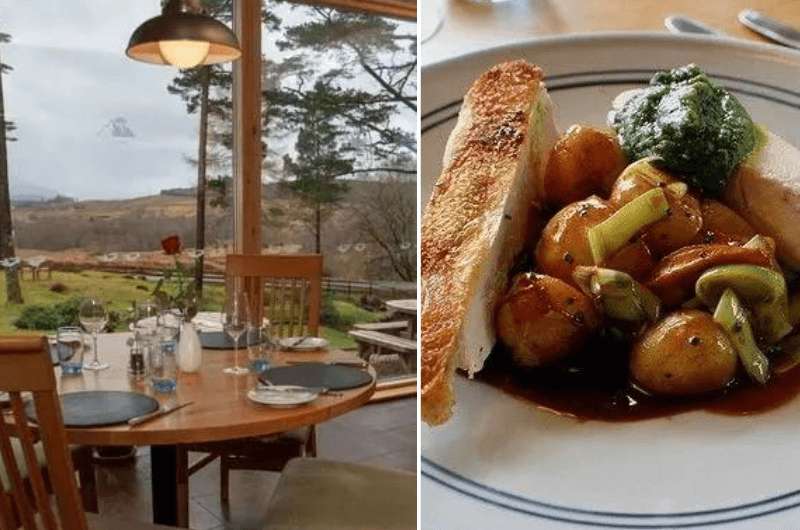 Lovely food and views @ Old Pines Restaurant

There are many restaurants in Scotland that serve great food and are in a spectacular setting. One of the ones that stood out to us was certainly Old Pines Restaurant near Ben Nevis (one of the best hikes in Scotland).
At the Old Pines Restaurant (part of the Old Pines Hotel), you get views of Ben Nevis and the glen (valley) below, but most importantly, you get an amazing multiple-course menu for GBP 45 per person. We got 5 courses and 2 deserts—all so good!

This post may contain affiliate links. We earn a small commission if you make bookings through my links, at no additional cost to you. This helps us keep this blog free, thank you!