In this article, I focus on day hikes, meaning no overnight treks. Some are only a couple of hours long, some will take all day and have you dead in your hotel by 6 pm, but all deserve their spot on this list… except for the last one. That one's there just as a warning so you're not left scratching your head in confusion like I was.
All of the Isle of Skye is like the national parks in the US—beautiful with lots of driving. You wouldn't believe it by looking at a map, but it's no problem to spend 3 hours in the car every day just getting between destinations. Read my article about driving in Scotland for driving tips and the best scenic roads in the country.
That said, it is very much worth all that driving to be able to see some of these spots—just wow! Scotland's Isle of Skye has some incredible hiking opportunities for all fitness levels.
You might also be interested in reading:
Isle of Skye hike map
Click through to my Google Maps list of the top hikes on the Isle of Skye to see (and save) all of these spots (with parking locations included as well)
1. Quiraing hike
Even in bad weather, Quiraing can't be beaten

Hike length: 6.3 km (12.5 miles) circuit or shorter out-and-back alternative
Elevation gain: 390 m (1290 ft)
Difficulty level: Moderate  
Hiking time: 2.5 hours
Parking and trailhead: Google Maps link

Fun fact: Legends say dragons and fairies used to live here (or perhaps they still do), but science says dinosaurs lived here. You can even find over a dozen dinosaur footprints on nearby An Corran Beach—check out my Best places on Isle of Skye article for details.
There is no landscape more Scottish than Quiraing. What you see during the Quiraing walk is what you imagine when you hear the name Scotland—epic, grassy cliffs that dramatically tower up over the sea, getting lost in the clouds.   
Quiraing is located in the northeast of Skye off the coveted A855 road (which is hands down one of the best scenic drives in Scotland).
The views start right at the parking lot and never end. If you cannot walk, rest assured that even if you just drive up here and stare at the place from the parking lot, you'll get your money's worth (parking costs GBP 3 for 3 hours).
Of course, if you do set out on the hike, you'll get your money's worth and then some. There are two hiking alternatives at Quiraing: the full Quiraing Circuit, and the Prison Walk. (I link Alltrails on here a lot, not because we're affiliated—we aren't—but because it's the best hiking app/website I've seen and always use it myself.)
Make sure you dress for bad weather even if it looks like nice weather, and don't go if it's raining. That could be dangerous. Some areas of the trail get extremely muddy, are steep, and it just won't be a nice experience if you're scared you won't make it out in one piece.  
Quiraing Circuit
Map of Quiraing Circuit, details on Alltrails
The full circuit hike at Quiraing is 6 km (12.5 miles) long and of moderate difficulty. Stick to the trail and expect slippery mud and some rocky sections. The trail is open year-round, but I wouldn't attempt it in extremely bad weather.
This is a very popular hike, so if you're visiting in the summer like the majority of visitors, expect some crowds. You won't have Quiraing to yourself unless you arrive early in the morning.
The actual Quiraing Rocks are near the end of the 2.5-hour circuit walk and aren't even the highlight. It's one of those spots where the journey is the destination and just being there and seeing the scenery is what it's about. It's spectacular.

Prison Walk
Map of Prison Walk, details on Alltrails
You can also opt for the shorter Prison Walk, which is about 1.5 hours total there and back—basically just the last bit of the circular walk. The total hiking distance is 4.3 km (2.6 miles) and the elevation gain is just 170 m (550 ft).
This trail is more rocky than muddy, so could also be a good option if it had been raining and you're not in the mood for slipping and sliding. You might need to hold on to the fencing at the Prison, it is narrow and steep there.
It's called the Prison Walk because of the rocks at the end (which you will be looping around) that are supposed to look like ancient prison walls.
Parking at Quiraing
Google Maps takes you right to the trailhead where both hikes start. There is a parking lot right there at the start and it costs GBP 3 for 3 hours or GBP 5 for 6 hours.
2. Old Man of Storr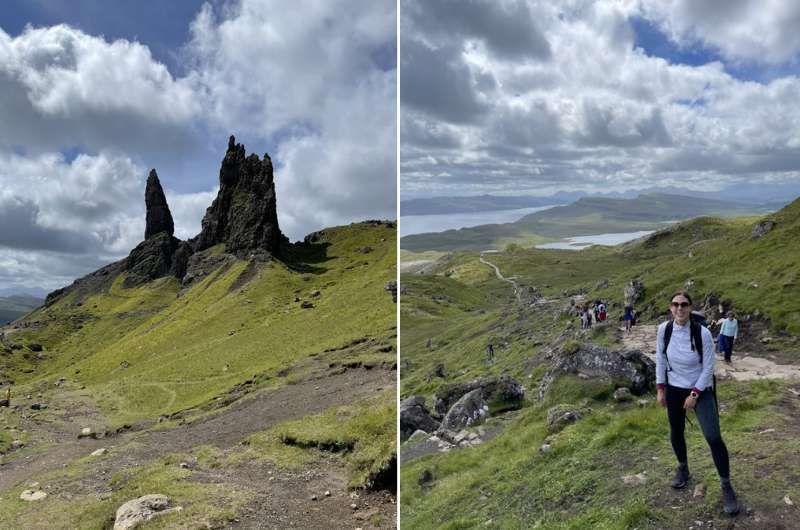 Views on the Old Man of Storr hike (the "giant's thumb" is on the left)
Hike length:  4.7 km (3 mile) circuit 
Elevation gain: 350 m (1100 ft)
Difficulty level: Moderate  
Hiking time: 2 hours
Parking and trailhead: Google Maps link
Another walk, another time you'll be picking your jaw up off the ground. Classic Scottish views of green mountains, lochs and rugged rocks. It doesn't get better than this!
Or it does, at Quiraing just up the road (the A855). You can connect the two and complete both walks in one day as part of your Isle of Skye itinerary.
The Old Man of Storr is named after the rock formation that, according to legend, is part of a local giant that died and is now buried here. Some say it looks like the face of the old man, some say it's the giant's thumb that's protruding through the ground. Either way, there was a giant of some sort here and he is now dead and you'll be staring at his bits.
Old Man of Storr walk—route and difficulty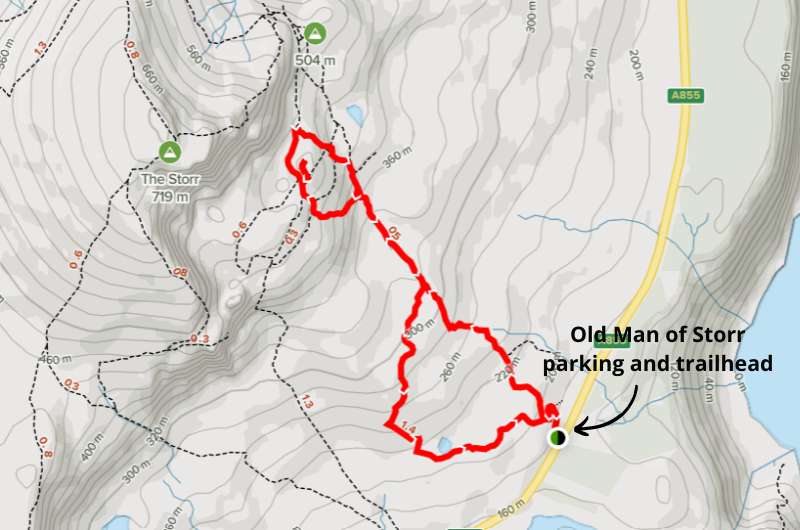 Based on the shape of the trail, you'd think you'll see something other than the old man's thumb protruding from the ground… Old Man of Storr walk map, details @ Alltrails
The Old Man of Storr walk takes about 2 hours to complete. It's a 4.7 km (3 mile) hike—not typically circular, there is a section which you'll repeat there and back—with around 350 m (1100 ft) elevation gain.
For fit people it's moderate, for slightly unfit people it can get a bit more strenuous. But it's doable for almost everyone without mobility issues.
Expect to be walking on a narrow dirt (or muddy) path, stones and, at the Giant's Thumb, stone stairs. To get to the Old Man, you will need to scramble a bit to overcome the rocks, and this last bit is the hardest part.  
And then… views. Epic views.  
Once you've reached the Thumb, it's all downhill on the way back to your car.
It gets very windy at Old Man of Storr. Dress in adequate layers and wear waterproof, sturdy shoes.
Parking at Old Man of Storr
Car park at the Old Man of Storr walk trailhead
Google Maps does a great job showing the parking lot and the trailhead, so navigating to Old Man of Storr is easy peasy. Parking costs GBP 3 for 3 hours or GBP 5 for 6 hours. The hike isn't long, so 3 hours should be more than enough.  
In an ideal world, you'd arrive at Old Man of Storr early, because the parking lot is big, but the crowds are endless, and parking fills up quickly. If you can't squeeze in, you can park on the side of the road. You won't be alone, trust me.
If you're driving up from your hotel in Portree, it'll only take you about 15 minutes to get to the Old Man of Storr parking lot.
The best views you could wish for @ Cuillin Hills Hotel
Hotel tip: The best place to stay in Portree is the 4-star Cuillin Hills Hotel. It has views over Portree Bay with mountains in the background, so you feel like you're exploring Skye's beauty even when you're sitting at breakfast.
Portree is a great base for exploring Skye (or at least the northern half of it)—you're on the scenic A855's doorstep.
Plus, The View Restaurant is always highly praised in reviews, and you know how important it is to eat well when you're doing all this hiking. You can taste award-winning whiskies from the Malt Embassy there as well.  Again with those gorgeous views.
If you book any hotel through my affiliate links in this article, I get a small commission at absolutely no extra cost to you. I take it as a sign of appreciation, so thank you for being awesome and supporting my efforts!
3. Bla Bheinn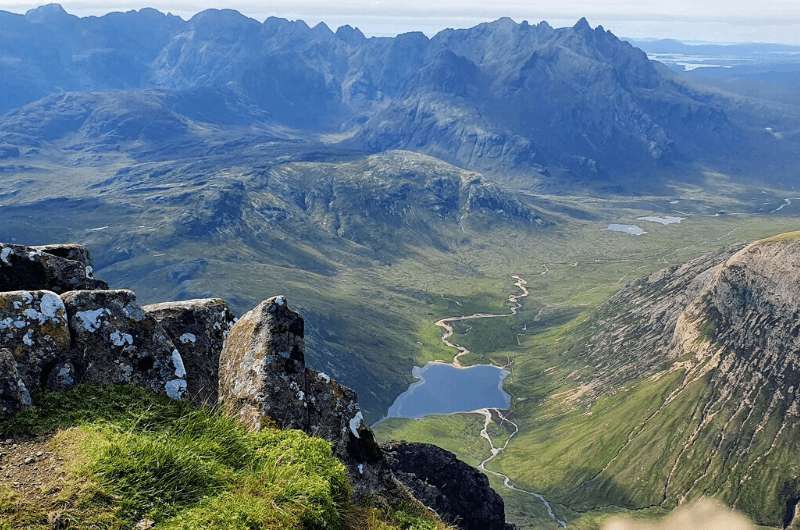 Bla Bheinn…you've got to earn these views, but wow!
Hike length: 8.5 km (5.3 miles) out and back
Elevation gain: 900 m (2950 ft)
Difficulty level: Hard 
Hiking time: 5 hours
Parking and trailhead: Bla Bheinn parking lot
One of the top hikes on the Isle of Skye is Bla Bheinn in the southern part of the Island, in the Cuillin Hills.
It's probably the most difficult hike on this list. This 8.5 km (5.3 miles) out and back trail takes about 5 hours to complete including some short breaks.
You'll want to choose a sunny(ish) day to get the best views and most comfortable hiking conditions. If it rains, the stream you'll be walking next to most of the way can swell into a river that can make walking difficult or even impossible. Waterproof shoes are a must!
The Bla Bheinn trail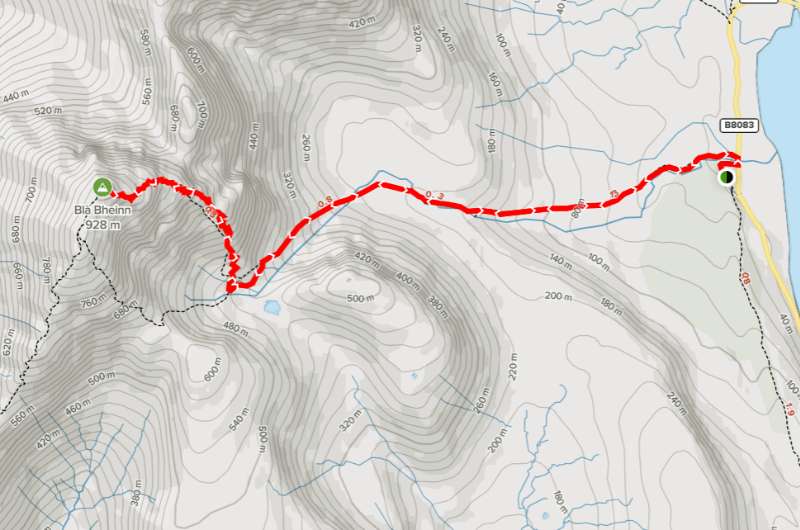 Bla Bheinn northern approach on Alltrails (which is what this map shows), or see the southern approach on Alltrails for an alternative route.
It's 5 hours of very difficult walking (total) on loose rocks on a trail that tends to disappear here and there, so pay attention to where you are so you don't get lost. There are sections where you'll be scrambling up the rock face, and even a small ridge.
You need good shoes, good stamina and great balance to get to and from Bla Bheinn unscathed. The strong wind at the top doesn't make things easy, either.
But unless you totally underestimated this route, you'll be glad you went on this incredible hike, even though it'll be harder than you think. Those views man, they just get you. Mountains, lochs, streams, waterfalls, you name it, you get it on the Bla Bheinn hike.
You can approach Bla Bheinn from the north or south. They are similarly long and difficult, so I guess just take your pick. The northern approach is more popular. Or you could make it a loop. The descent is a killer either way.
Parking at Bla Bheinn
The parking lot at Bla Bheinn is small and sometimes closed (park on the road if that happens), but it has a toilet and it's free!
The trail starts right there as well.
Tip: When driving to the Bla Bheinn parking lot and trailhead, you'll be driving from a town called Broadford. Broadford is a great place to base yourself to explore the southern half of the Isle of Skye, not just because it's superbly located close to all the best tourist sights, but because it's where we ate the best food, too. Red Skye, Deli Gasta, and Lean to Coffee are all really close by. More on restaurants on the Isle of Skye at the end of this article.
The Hebridean Inn (in Broadford) is a hotel I can recommend in this part of Skye (details below).
4. Nest Point Lighthouse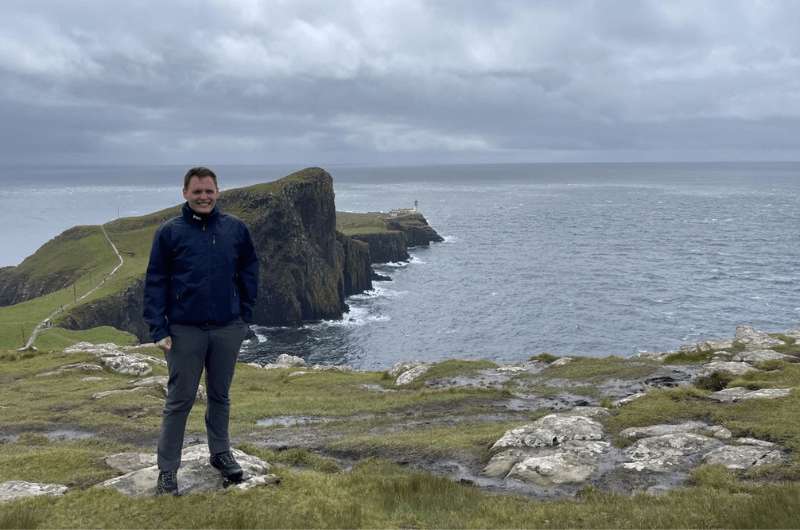 Neist Point Lighthouse waaaay in the back
Hike length:  2.5 km (1.5 mile) out and back, plus extra trail available
Elevation gain: 135 m (440 ft)
Difficulty level: Moderate  
Hiking time: 1 hour
Parking and trailhead: Neist Point parking lot 
Neist Point Lighthouse is the westernmost point of the Isle of Skye, which protrudes so dramatically into the sea. Just to be clear, it's not the lighthouse that you come here for, it's the scenery.
The lighthouse is just there to look pretty in pictures, you can't even visit it. It's just an extremely picturesque place, especially at sunset.
I recommend visiting Neist Point even if you have mobility issues, because the views of the lighthouse even just from the parking lot or the top of the trail are worth the somewhat arduous drive to get there.
There are a couple of trails available at Neist Point—one to the lighthouse, one along the cliffs with views of the lighthouse.
The two walking trails at Neist Point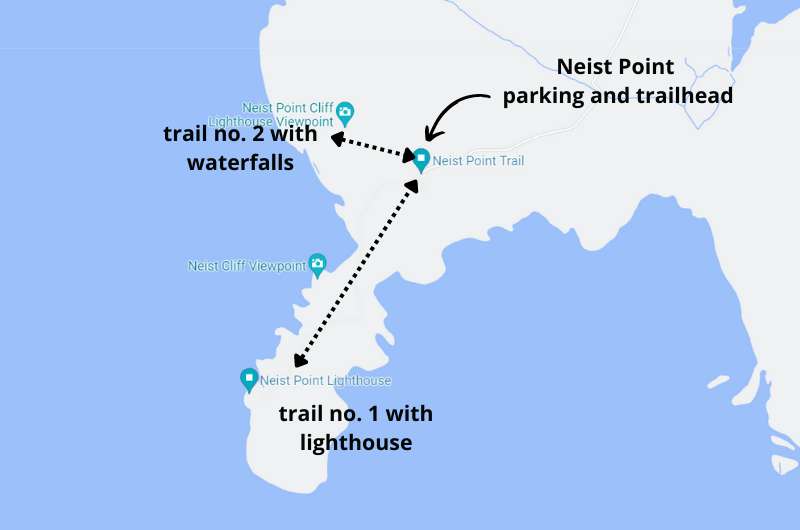 Don't forget to go down the other trail as well! 
The main Neist Point trail, the one down to the lighthouse, is only about 2.5 km (1.5 mile) long, so it's easy to be back at your car in an hour. That's not realistic though, since you will want to stop and take photos multiple times, so allow enough time to enjoy it. You'll even see people having picnics.
The trail starts with a steep downhill portion with lots of stairs, meaning it ends with a steep uphill section. This might be rough on some of your older/less functional joints. Other than that, it's an easy walk.
The side trail also starts at the parking lot. You'll walk towards the right when facing the lighthouse, you can't miss it. It takes you along the cliffs, going as far as 1.5 km (1 mile) one way, giving you more incredible coastal scenery, complete with waterfalls! It's also where you get great views of the lighthouse.
It's common to spot whales and dolphins from the cliffs, so keep an eye out!
Parking at Neist Point
Prepare for a tricky drive on single-lane roads to get to the parking lot at Neist Point, which is right where the trails starts. There are many spots to stop and let cars pass on the road, it just takes time and patience.
Tip: Single lane roads are not rare in Scotland and will often slow down your already slow drive. See this article for tips on driving in Scotland for the first time.
There are no facilities at Neist Point, so take a potty break somewhere else on your way there.

Neist Point is the perfect place to witness sunset, so you'll probably be driving back to your hotel after this stop (I recommend the Cuillin Hills Hotel). The drive back to Portree, which is the perfect base for exploring the Isle of Skye (or at least the northern half of it) takes about an hour.
5. Sligachan Valley, Sgurr na Stri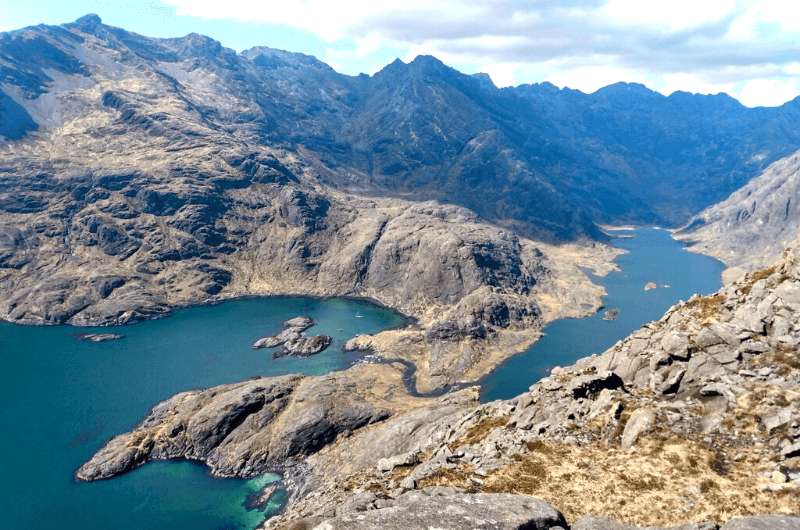 The view from Sgurr na Stri (at the end of the long version of the hike)
The Cuillin is the dominant mountain range on the Isle of Skye split down the middle by the Sligachan Valley, which separates the Black Cuillin on one side from the Red Cuillin on the other.
One of the longest day hikes in the Cuillin takes you through this valley, though there's nothing saying you have to go the whole way. Unless of course you want to see for yourself if Sgurr Na Stri, at the end of the glen, is in fact the UK's best viewpoint.
Either way, it's not difficult. The short version can be done by virtually anyone, and the long hike can be done by anyone that is reasonably fit and that would consider walking 24 km (15 miles) in one day a fun time.
As always, it's important to take Scottish weather into consideration, have proper clothing and shoes, and expect rain, hail, or snow at any time of the year at short (or no) notice.
The Sgurr na Stri hike is a continuation of the Sligachan Valley walk
Sligachan Valley short trail
Hike length: 9 km (5.6 miles) out and back
Elevation gain: 190 m (620 ft)
Difficulty level: Easy to moderate  
Hiking time: 2 hours
Parking and trailhead: Sligachan Hotel (in the back) or the Old Bridge Car Park
If you don't want to or can't go the entire 23 km (14 miles) to and from Sgurr na Stri, then don't. You can turn around at any point you choose, because the trail is out and back. This 9 km (5.6 miles) return walk takes you through the first portion of the longer hike.
It's an almost completely flat trail, so it's easy to go on with older kids, dogs, and even a fit grandparent or two. You'll be back at the Sligachan Hotel in no time (if 'no time' means 2 hours).
Glen Sligachan is a pretty valley where you'll be walking past (and over) streams with the Cuillin Hills on either side giving you the exact views you came to Scotland for. It's an easy hike if you remember that your feet will get wet unless you're wearing good shoes.
Sgurr na Stri summit trail
Hike length: 23 km (14 miles) out and back
Elevation gain: 820 m (2700 ft)
Difficulty level: Hard due to length
Hiking time: 8 hours
Parking and trailhead: Sligachan Hotel (in the back) or the Old Bridge Car Park
The first section is the same trail as the Sligachan Valley short hike. It then keeps going almost in a straight line all the way to the end. If you make it all the way to Sgurr na Stri, you'll have walked through the valley to the sea shore, which makes the viewpoints that much more amazing.
The first 2/3 of this walk is flat, and then it starts to climb. But this isn't Mount Everest—Sgurr na Stri's summit is at 494m (1 621 ft). So nothing too strenuous if you are ok with rocks, some big boulders to get over, and of course (this is Scotland, afterall) bogs and mud.
The trail is out and back and will take roughly 8 hours to complete.
Parking in Sligachan
You can park at a parking lot near the back of the Sligachan Hotel (the front parking lot is only for guests of the hotel), by the playground. You'll then be just across the bridge from the trailhead. Alternatively, there's another parking lot called the Old Bridge Car Park on Google Maps, which is almost right at the trailhead.
Both are free of charge.
Further reading:
6. Talisker Bay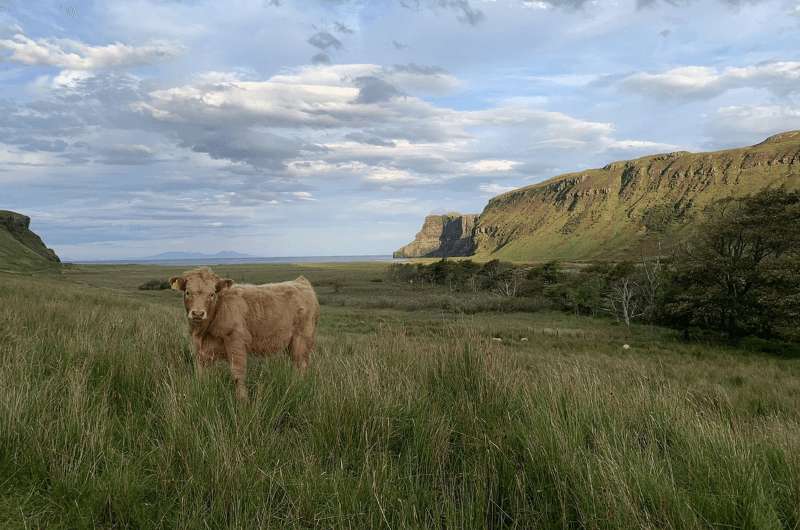 You will see animals in Talisker Bay
Hike length:  3.5 km (2.1 miles) out and back
Elevation gain: 50 m (160 ft)
Difficulty level: Easy
Hiking time: 0.5 hours
Parking and trailhead: A tiny car park at the end of the road
Talisker Bay is an easy hike on the western shore of the Isle of Skye. To get to the minuscule parking area, you drive from Drynoch with the crowds heading to the Fairy Pools, but when they turn left, you keep going straight.
Of course because of the location, it's easy to see the Fairy Pools and Talisker Bay in one easy trip. Just be ready for a narrow single-lane road with tons of people in the first part and lots of waiting and passing.
Once you reach the end of the road, you'll see just a small strip of land where you can leave your car and walk to the beach from.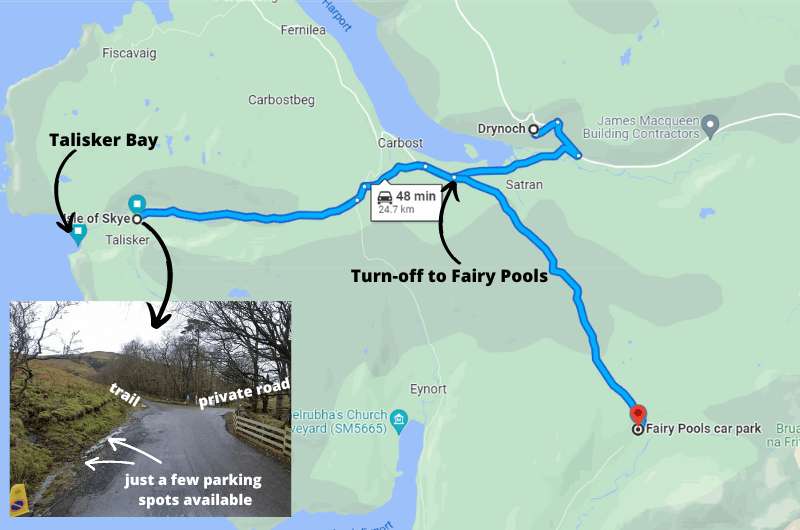 Details of the walk on alltrails.com (tbh there are no real details, the hardest part of this walk is parking)
The 30-minute walk to Talisker Bay beach will have you surrounded by sheep, cows and lush green vegetation. And then, a dark grey sand beach with cliffs on both sides and even a waterfall nonchalantly falling into the sea. As if that's something you see every day.
If you happen to visit on a hot day, note that there is shade in the beginning and then no shade at all, so take a hat and enough water to get you through your grueling, hour-long walk!
Hotel in the south of the Isle of Skye
Talisker Bay, the Fairy Pools, and all the hikes in the Cuillin Hills are best reached from a base in the southern half of the Isle of Skye. I don't think it makes sense to explore the south of the island while staying in the north (stay at the Cuillin Hills Hotel in Portree for that portion of your Skye itinerary)—it's just too much driving and backtracking.
The south of the Isle of Skye has many points of interest besides all of these hikes, like Armadale Castle and the Torabhaig Distillery. It's best to stay in Broadford for the easiest access to everything you'll want to visit (and also the best restaurants!).
Hotel tip: I'd recommend basing yourself at Hebridean Inn for the exploration of the south of Skye. It's a cozy hotel with its own restaurant and bar that's an easy drive to all of the south's best places.
It's located in Broadford, which is not only on the main A87 road that leads onto Skye from the mainland and then up to Portree, but it's also where you'll turn off to places like the Bla Bheinn hike and further south to the Torabhaig Distillery.
Plus, some of Skye's best eateries are right around the corner!
If you're lucky (or ask nicely), you can get a room with beautiful views of the sea.
7. Cuillin hikes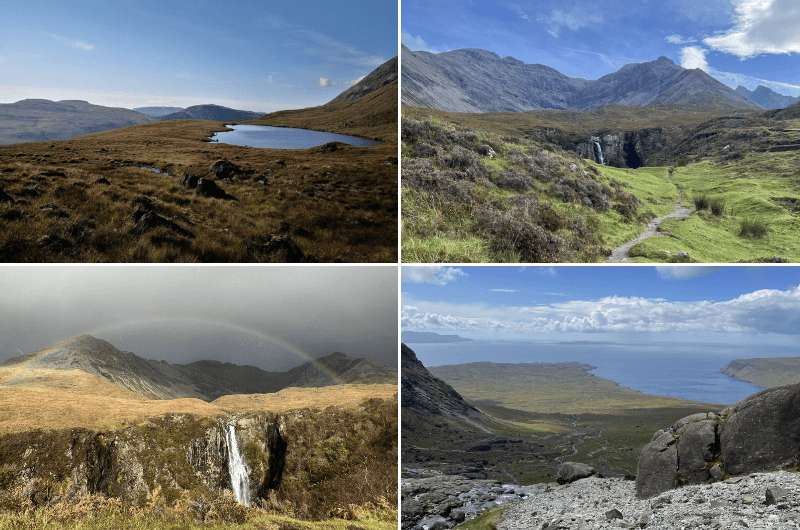 Is your jaw on the floor yet? These are all views from the two hikes mentioned here
The Cuillin is a famous mountain range in the south-central part of the Isle of Skye, and a popular hiking area. It consists of the Black Cuillin, which is considered the most challenging mountain range in the UK, and the Red Cuillin, which is a little gentler and therefore more popular for hikers that aren't ready to go out mountaineering just yet.
There are many hikes of varying difficulty and length to choose from. We've already mentioned the Bla Bheinn and Sligachan hikes as separate items on this list, as those are considered highlights of the Cuillin.
Most hikes in the Cuillin start either in Sligachan or in Glenbrittle. We'll focus on some popular routes from Glenbrittle.
I like to go on alltrails.com (no affiliation) to look at hike details and reviews. If you look at a map of the Cuillin, you see there are many trails to consider. Here are a couple I thought could be of interest: interest:
Coire Lagan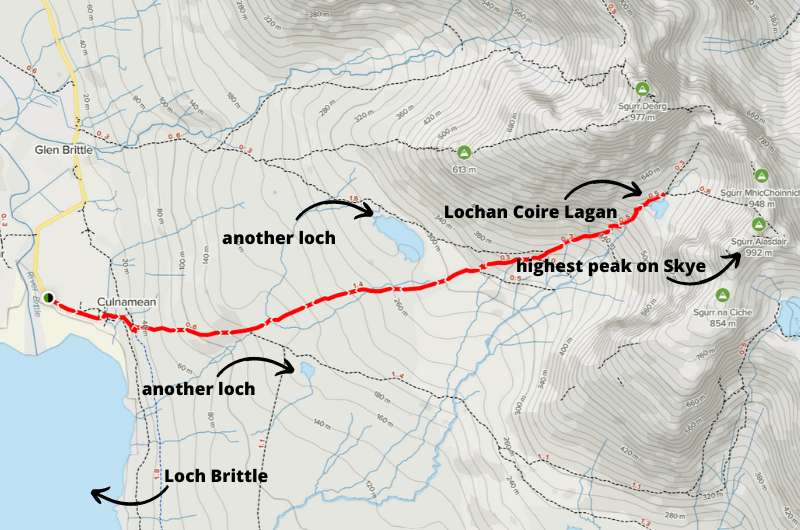 See the route map of the Coire Lagan hike on alltrails.com (without my handy extra details)
Hike length:  7.7 km (4.7 miles) out and back
Elevation gain: 570 m (1870 ft)
Difficulty level: Moderate most of the way, hard at the end
Hiking time: 3.5 hours
Parking and trailhead: Parking near Glenbrittle campsite 
This hike takes you from Glenbrittle to Coire Lagan, a beautiful mountain lake with beautiful mountain lake views. There are more lakes along the way that you'll see, including Loch Brittle which is almost the open sea, and once you reach the end of the hike, you'll be at the foot of Sgur Alasdair, the highest peak on the Isle of Skye. Expect to take lots of photos! There are even waterfalls.
The hike is moderate until the last kilometer, where the trail turns into loose rocks that are a pain to walk on. If you have good shoes, you can take an easier (though wetter) route around the waterfalls.
If you want to continue to the actual peak of Sgur Alasdair, put your mountaineering hat on, because it isn't for beginners. Granted, the peak is only 992 m (3,250 feet) high but getting there is way tougher than you'd expect.
Coire Lagan hike details on Alltrails.com.
Cuillin loop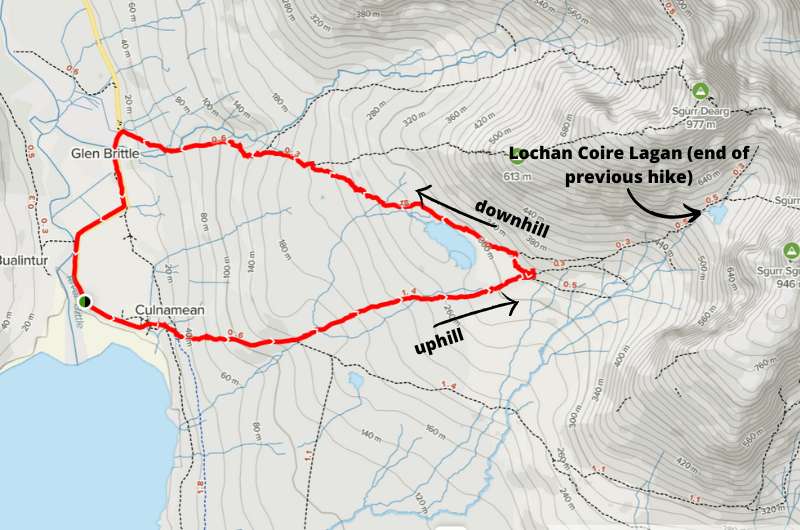 See the route map of the Cuillin loop hike on alltrails.com
Hike length:  7 km (4 miles) loop hike
Elevation gain: 335 m (1100 ft)
Difficulty level: Moderate 
Hiking time: 2.5 hours
Parking and trailhead: Parking near Glenbrittle campsite 
This hike follows much of the same route as the previous Coire Lagan hike, but veers off about 2/3 of the way without reaching Coire Lagan, therefore skipping the last hard bit. Instead, you walk around Loch an Fhir-bhallaich, which is the highest point on the route, and then make a downhill loop from there.
Look out for the waterfall along the way!
The full loop will take you just under 3 hours at a steady pace.
Cuillin loop details on alltrails.com.
8. Dunvegan Castle Gardens and Coral Beach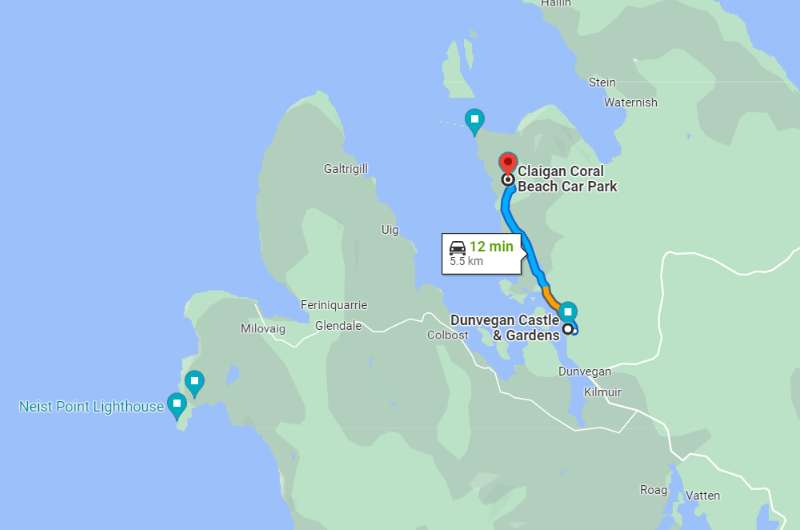 The short drive from Dunvegan Castle to Coral Beach parking lot. The actual beach is the blue marker up top, which is where you'll be hiking to.
Hike length:  random walking paths at Dunvegan, 2 km (1.2 miles) at Coral Beach
Difficulty level: Easy  
Hiking time: 1 hour at Dunvegan Gardens, 1 hour at Coral Beach
Parking and trailhead: Dunvegan parking, Coral Beach parking
This item is a 2-in-1: a stroll around the castle gardens and a hike to a pretty nearby beach. If you're looking for an easy hiking route in Scotland, this is it.
Dunvegan Castle Gardens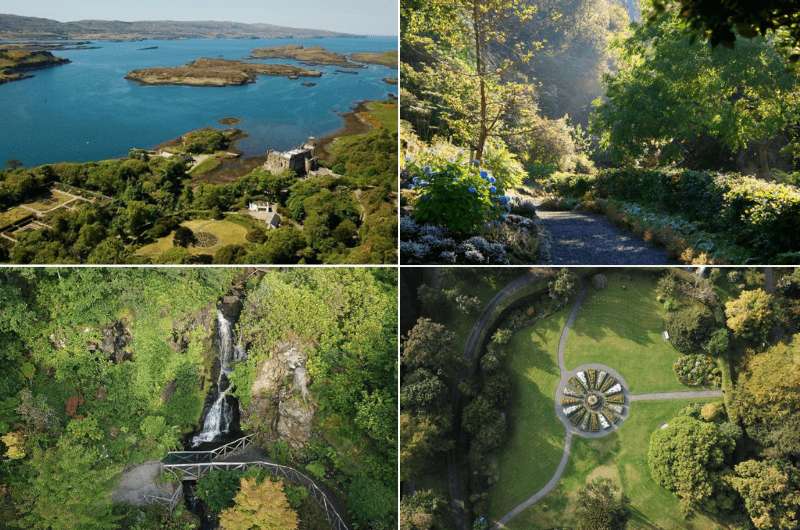 Snapshots from the gorgeous Dunvegan Castle Gardens
Dunvegan Castle is the longest continually-inhabited castle in Scotland. The MacLeod clan has been hanging out there for something like 800 years. That said…
…Dunvegan Castle interior is nothing special. The gardens are considerably more worth your time. If you look at the ticket price, you'll see that even the owners agree (you only save GBP 2 if you buy a ticket for just the gardens).  
Tip: If amazing castle interiors are what you are after, check out my list of the best castles to visit in Scotland).
The gardens and views of the castle exterior are fantastic. There are rhododendrons everywhere and curly-branched trees that look just magical, along with exotic plants, waterfalls, bridges, and overall prettiness.
The gardens reminded me of Olympic National Park in Washington DC. Take at least an hour to look around the 5 acres.
Parking is free and gets completely packed, so good luck finding a spot if you arrive later than in the morning.  
You can also make a quick stop at a viewpoint close by that's on the way to the next stop, Coral Beach.  
More details about our Dunvegan Castle visit in my top things to do on the Isle of Skye article.  
Open daily April to October 10 am–5:30 pm (last entry 5pm) 
Tickets cost GBP 14 for interior and gardens combo, GBP 12 for just the gardens  
Coral Beach
Coral Beach and the coral on the beach
Coral Beach is a 10-minute drive north of Dunvegan Castle (5.5 km/3.5 miles). Once you leave your car at the parking lot, it's about a 2 km (1.2 mile) easy walk to the beach (about 20 minutes one way).
It's just a beach, but somehow more special, just like everything else on the Isle of Skye. What looks like white sand is made of itty bitty bits of coral (don't take them home as souvenirs!), hence the name.
There are nice views of the shore and the walk is pleasant. You might even meet a cow.
It gets very windy in these parts, so come prepared!
9. Fairy Pools 
Fairy Pools
Hike length: 7 km (4.4 miles) loop
Elevation gain: 300 m (980 feet)
Difficulty level: Easy to moderate
Hiking time: 2.5 hours
Parking and trailhead: Fairy Pools parking lot
A lot (a lot!) of people visit the Fairy Pools every day, so be prepared for crowds. You'll be driving on a shared-lane road for the last 10 km (6 miles) before you get to the parking lot, so be patient—it could take a while.  
Fun fact: The number of people visiting Isle of Skye is nuts: for an island with 10k permanent residents, the 650,000 visitors per year are quite the crowd, especially considering they all visit mostly within a 3-month window in the summertime.  
Related tip: If you want to feel like you have the Isle of Skye all to yourself, consider staying in the lesser visited parts, like at the Tigh Phadraig at Marys Thatched Cottages. You can feel the serene Skye atmosphere that only the locals know how to find.
The Fairy Pools are an area of little streams and pools of water and a small waterfall here and there that look magical in photos. The dramatic mountains in the background are in juxtaposition to the blue water in the streams. 
But this isn't Instagram, it's real life, so come here with managed expectations. The water isn't bright blue unless you get good lighting (and add a filter), and there is no guarantee of the weather. If you get an extra serving of clouds, they'll cover all the dramatic rocks in the background. 
Still, this place is beautiful. I need to mention that the actual pools aren't that spectacular on their own, you have to look at the big picture to see why the place is special. 
Fairy Pools circular hike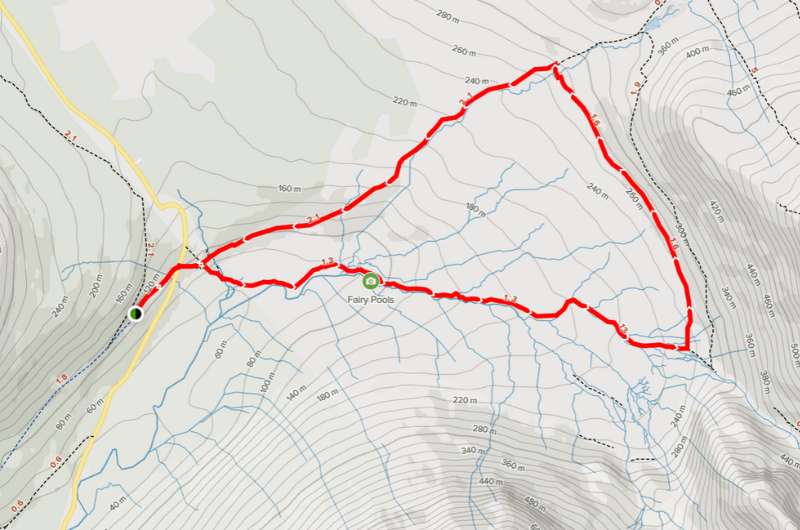 See the route map of the Fairy Pools hike on alltrails.com
One option is to just walk around like a good tourist. From the parking lot, it'll take you about 20 minutes to walk to where the Fairy Pools start. You can then wander around for a bit and head back. About 1 hour total time. 
OR
There is a full circular loop that's 7 km long and would take about 2.5 hours to complete. You'll get more of the same special scenery, more pools, more mountains in the background, and less crowds. The views get better as you progress.
You'll also get your feet wet if you aren't wearing high boots, or even proper rain boots, so consider that before heading out.
It's an easy to moderate hike that's fine to do year-round, maybe unless it's crazy raining and you don't feel like getting stuck in the boggy paths.
Parking at the Fairy Pools
Parking at the Fairy Pools is GBP 6. It's well organized, with attendants showing people where to park so it doesn't become a big traffic-y mess.  
10. Fairy Glen
I just didn't get what the hype is about
Hike length: 1.6 km (1 mile) loop or just a random wander
Elevation gain: not worth mentioning
Difficulty level: Easy 
Hiking time: 30 minutes
Parking and trailhead: Fairy Glen parking lot
I don't understand the purpose of this place, it's a nice walk in little hills but nothing more. I would visit it if you're in the area (like if you're driving on the A855 anyway, which you will be), but if not, you could easily skip it. 
Glen means 'valley' in Scots, and that's what you get. A valley full of little bumps and rocks and rolling hills that looks like fairies would have a blast on. There are some legends about this apparently "otherworldly landscape" that I just didn't appreciate for some reason. Scotland has so much more to offer than this!
I guess if I were a kid, had a kid, or were somehow more affectionate towards fairies, I could see the magic of Fairy Glen a little more.

Fairy Glen "hike" route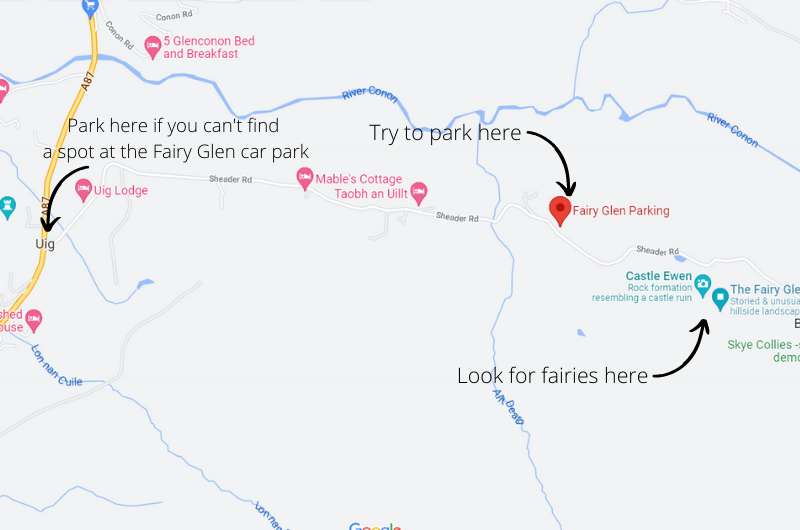 Map of Fairy Glen access
From the parking lot, set your navigation (in your phone or just in your head) to Castle Ewen, which is where you'll get your first proper glimpse of the glen. The castle is naturally where a fairy queen lives (or something like that). You can then wander around until you're satiated and then head back to the car.  
If you insist on a proper hiking path, you can follow the loop that's on Alltrails. It's only 1.6 km (1 mile) long.
You'll need a maximum of 30 minutes if you're like me and maybe an hour if you actually enjoy the place.  
There's no entrance fee to Fairy Glen.
Parking at Fairy Glen
To get to Fairy Glen, try to get there in the morning before 10 am, because the parking lot only holds around 20 cars (costs GBP 5) and it gets full fast in the summer.
If you can't find a spot there, you'll need to drive to Uig and park there, which would add 1.5 km (1 mile) to your walk. There's a shuttle from Uig to Fairy Glen in the summer months, too, specifically for this reason.  
Isle of Skye restaurants  
One thing to note is that you need to make reservations at the restaurants in Isle of Skye. We weren't able to eat in like 10 restaurants because they were absolutely full.
The best restaurants on the Isle of Skye (as far as I'm concerned) are all coincidently located close to Broadford in the south of the island. For some fine dining in the north, the restaurant in the Cuillin Hills Hotel in Portree won't disappoint!). Here are my top picks of places to eat and get some great coffee:
Red Skye Restaurant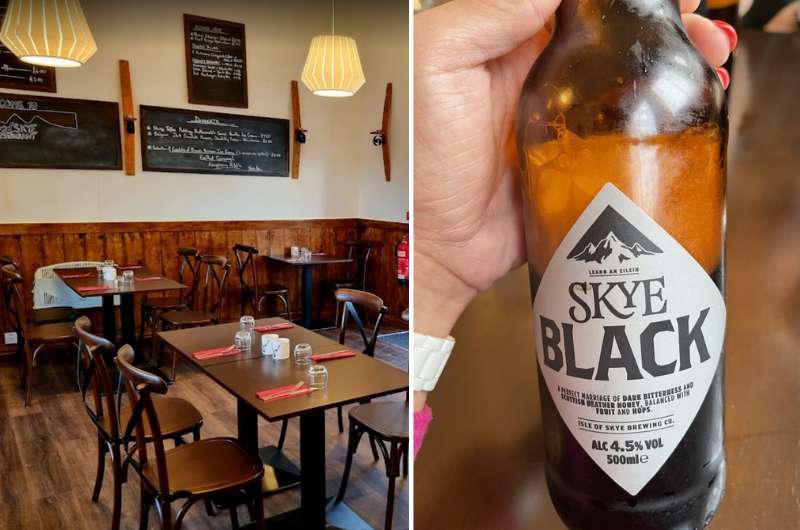 Anyone up for some Black Skye in Red Skye?
The restaurant's website is down or under reconstruction (but it's been months and it still isn't available, so…), so in order to make a reservation, you need to call them or stop by and then come back. They are open!
Red Skye is in the southern part of the island, close to Torabhaig Distillery.  
I had really good steak at Red Skye, and Karin had the best burger ever.  
We paid about GBP 70 for a meal and drinks for 2 people. A great price if you ask me!
Lean To Coffee Skye Cafe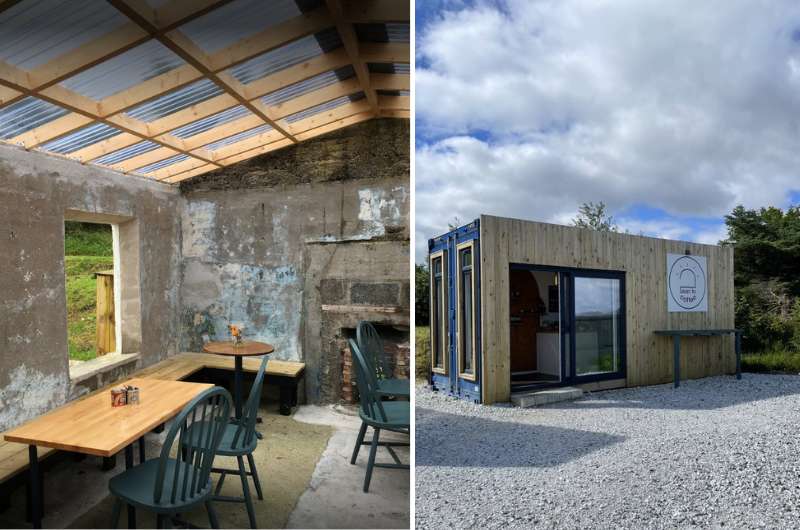 The old and the new make something really cool! Lean to Coffee
A five-minute drive from Red Skye is the very cool coffee place called Lean to Coffee. Their kitchen is in a new unit, and the indoor/outdoor seating is in an old, partly ruined building right next to it, complete with shabby walls and concrete floors but new furniture. Super fun!  
The coffee here was really good, which, if you know me, is something I can appreciate. 
Deli Gasta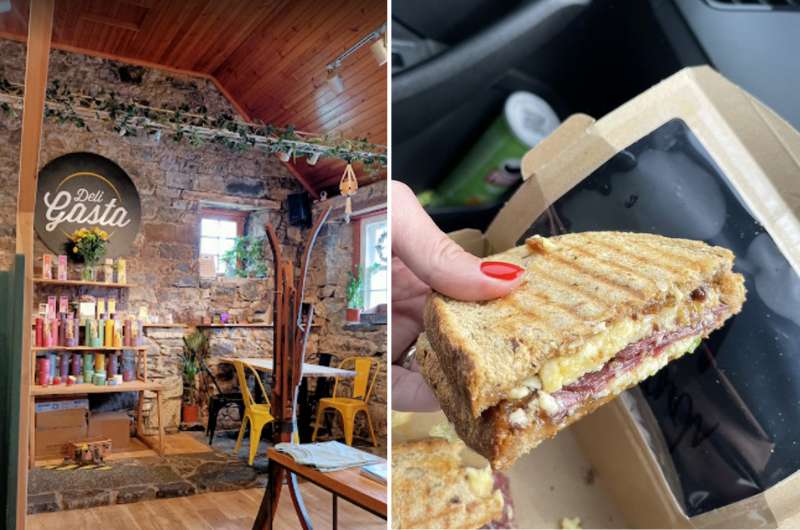 We had some take-away sandwiches because that's all we could get without a reservation. Totally worth it though @ Deli Gasta
Also close to the other two (it's a coincidence that our favorite restaurants on Isle of Skye are right next to each other!), Deli Gasta is the place to go for premium sandwiches, salads, and cakes. So you can basically live there.  
We took ours to-go, but the interior of this old stone building is a hipster dream come true.  
We thoroughly enjoyed our pastrami sandwiches and they're probably the best we had in all of Scotland. They have a "to-go" window, though it's definitely not fast food. You wait quite a while by the window. Still, worth all the waiting (it wasn't that bad). At least you know it's fresh!  
This post contains affiliate links. I earn a small commission if you make bookings through my links, at no additional cost to you. This helps keep this blog free, thank you!