Some hikes you might've heard of aren't on this list. Why? Because if I haven't been there, I won't be writing about it, pretending to review something I have no clue about. That would be unfair to you, dear reader.
Still, I think I have enough Scottish hikes under my belt to be able to put together a totally awesome list. Let's be honest, there aren't too many places in Scotland that suck completely. The few that I think fell short of expectations are also included here, at the very end, where they belong.
You might also be interested in reading:
1. Stac Pollaidh (Assynt)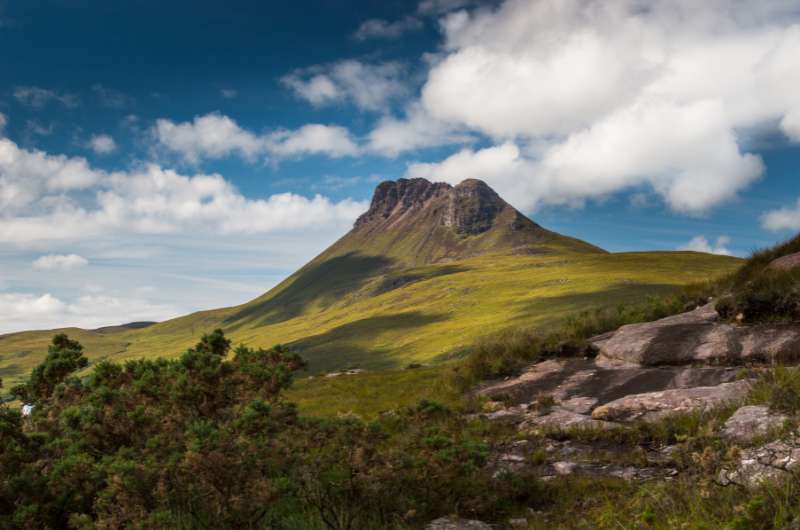 It won't be easy, but it'll be worth it! Stac Pollaidh

Hike length:  7 km/4.3 miles out and back or 4.5 km/2.7 miles for the circuit 
Elevation gain: 450 m (1470 ft) without summit, add 150 m (490 ft) for the summit
Difficulty level: Hard
Hiking time: 3–4 hours out and back or 2.5 hours for the circuit
Parking and trailgead: Stac Pollaidh parking lot  

What I love about hikes like Stac Pollaidh is that you can see such incredible scenery in such a short period of time. If you do the circuit, you'll be back in 2.5 hours, but you've still just been on the best day hike in Scotland. Mind blown and you're back before lunch!
I've hiked some of the most beautiful places on the planet—Las Torres in Chile, Nevada Falls in Yosemite, Grossglockner in Austria, Cape of Good Hope in South Africa—and Stac Pollaidh is up there with them. Hiking in the Scottish Highlands is unlike anywhere else.
The hike went like this: take a step, take a photo, take another step, take another photo. Repeat endlessly. You'll see views of the Isle of Skye on one side and Assynt on the other, it's magnificent and honestly super romantic (a great place for couples, too!).
Stac Pollaidh parking
The hike starts at the Stac Pollaidh parking lot, which is about 30 minutes north of Ullapool in Assynt. There are no amenities there. Parking is free.
Stac Pollaidh trail and difficulty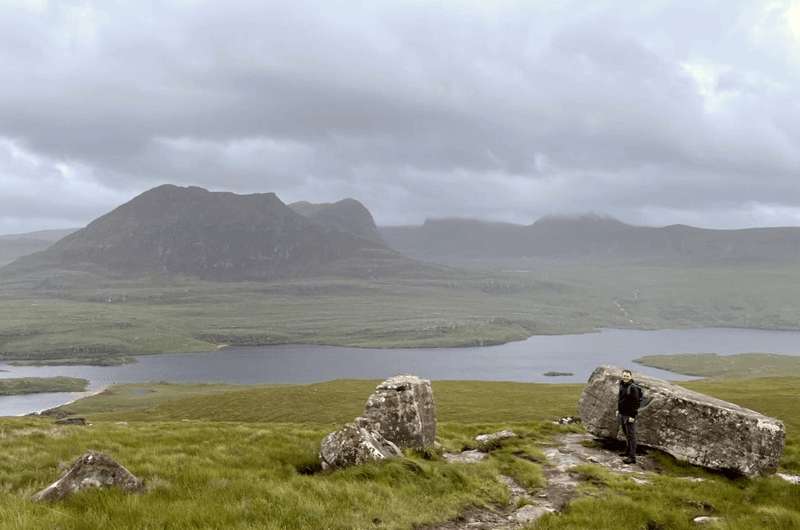 The weather was lovely as always. Be prepared to get moist! Yes, I used the word moist. Moist.

My tip: Lots of people do the circuit clockwise, but I would definitely go anti-clockwise and make it out-and-back. You would walk about ¾ of the path and then turn back. The path will is better and has the best views. This way you avoid the muddiest/marshiest part of the trail in the western part, which is especially annoying on the way down. Note: This isn't true if you want to summit, because the trail to the top is in the west.
The Stac Pollaidh hiking trail is pretty steep and hard, because of the rain and muddy paths (especially in the western section). Everything is slippery and you need to be focused on your footing the whole way.
I didn't do the summit, so can really comment on that, but even without it, be ready to take on lots of rocks and even bigger boulders. It's not a walk and it's classified as hard for a reason. Good clothes and shoes are essential. I visited in July and it was super windy and snowing.
You will also gain about 450 m (1470 ft) elevation on the relatively short hike of 7 km/4.3 miles out and back or 4.5 km/2.7 miles for the circuit. You can also summit and add another 150 m (490 ft)—that's only suited to people that are experienced with scrambling.
Stac Pollaidh hike map (full circuit). More details and reviews on Alltrails.

Stac Pollaidh is less than 30 minutes from Ullapool, which is where I recommend you base yourself for exploring the Northern Highlands. Read about more highlights of the Northern Highlands region.
Cozy to the max @ Aultguish Inn

Hotel tip: Aultguish Inn, about 25 minutes from Ullapool, was the first place we stayed at in Scotland, and it was spectacular! The location is so scenic, the rooms were very cozy and comfortable, even large for Scotland.   
It's also where we had the best sleep in the country, it was just so peaceful.  
It's owned by Romanians, which added a nice flare to the food at the restaurant (read more about Scottish food). There's also a coffee machine in all rooms, which you gotta love.   
Prices from GBP 140 (USD 160) for two people with breakfast.  
My top tips for hiking in Scotland:
Take a jacket wherever you go, even if it's sunny and warm out. That can change in an instant.
Seriously, it will snow even in July. Bring layers!
Waterproof shoes are a must, hiking in Scotland is synonymous with hiking in mud.
2. Quiraing (Isle of Skye)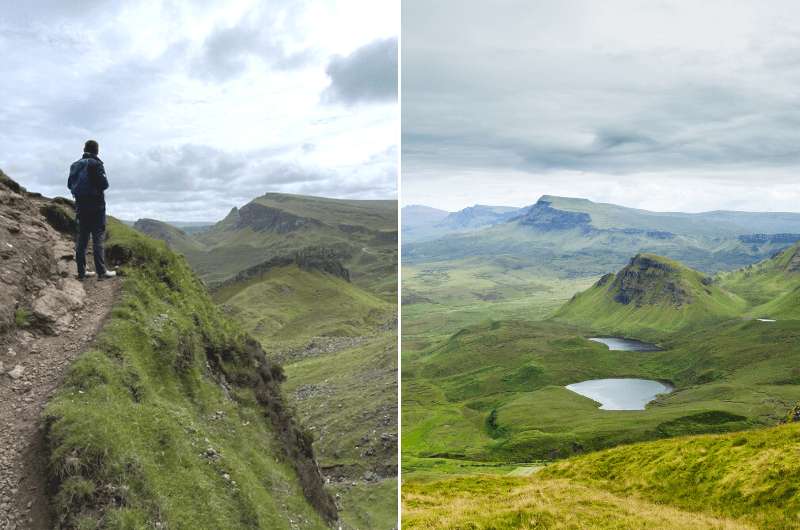 Even in bad weather, Quiraing can't be beaten (except by Stac Pollaidh in bad weather)

Hike length: 6.3 km (12.5 miles) circuit or shorter out-and-back alternative 
Elevation gain: 390 m (1290 ft) 
Difficulty level: Moderate   
Hiking time: 2.5 hours 
Parking and trailhead: Google Maps link 
 
Isle of Skye hiking is some of the most magical in all of Scotland. What you see during the Quiraing walk is what you imagine when you hear the name Scotland—epic, grassy cliffs that dramatically tower up over the sea, getting lost in the clouds. 
Tip: For more of the best Isle of Skye hiking trails, see a separate article.
The views start right at the parking lot and never end. If you cannot walk, rest assured that even if you just drive up here and stare at the place from the parking lot, you'll get your money's worth.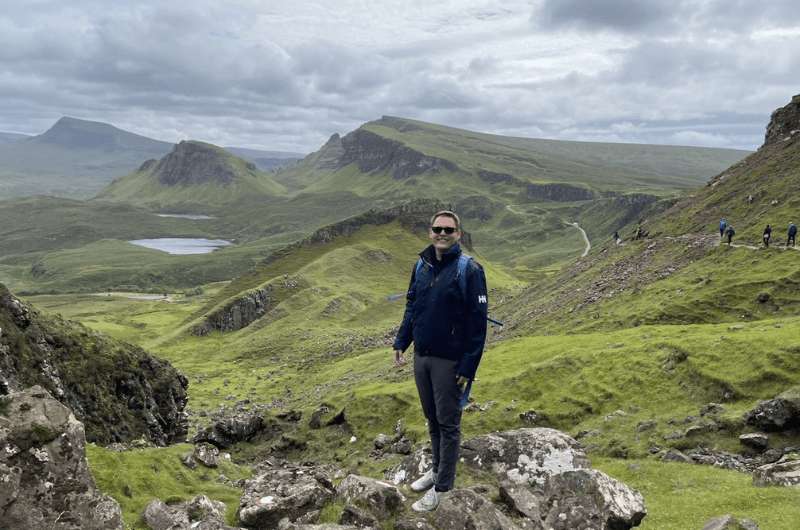 Quiraing hike

Of course, if you do set out on the hike, you'll get your money's worth and then some. There are two hiking alternatives at Quiraing: the full Quiraing Circuit, and the Prison Walk. (I link Alltrails on here a lot, not because we're affiliated—we aren't—but because it's the best hiking app/website I've seen and always use it myself.)  
Make sure you dress for bad weather even if it looks like nice weather, and don't go if it's raining. That could be dangerous. Some areas of the trail get extremely muddy, are steep, and it just won't be a nice experience if you're scared you won't make it out in one piece.   
Parking at Quiraing 
Quiraing is located in the northeast of Skye off the coveted A855 road (which is hands down one of the best scenic drives in Scotland).  
Google Maps takes you right to the trailhead where both hikes start. There is a parking lot right there at the start and it costs GBP 3 for 3 hours or GBP 5 for 6 hours.  
If you're staying in Portree, you're on the A855's doorstep. Cuillin Hills Hotel in Portree is a fantastic hotel that'll serve as a great base for your Isle of Skye exploration.
Quiraing Circuit trail
Map of Quiraing Circuit, details on Alltrails

The full circuit hike at Quiraing is 6 km (12.5 miles) long and of moderate difficulty. Stick to the trail and expect slippery mud and some rocky sections. The trail is open year-round, but I wouldn't attempt it in extremely bad weather.  
This is a very popular hike, so if you're visiting in the summer like the majority of visitors, expect some crowds. You won't have Quiraing to yourself unless you arrive early in the morning.
The actual Quiraing Rocks are near the end of the 2.5-hour circuit walk and aren't even the highlight. It's one of those spots where the journey is the destination and just being there and seeing the scenery is what it's about. It's spectacular. 
Prison Walk trail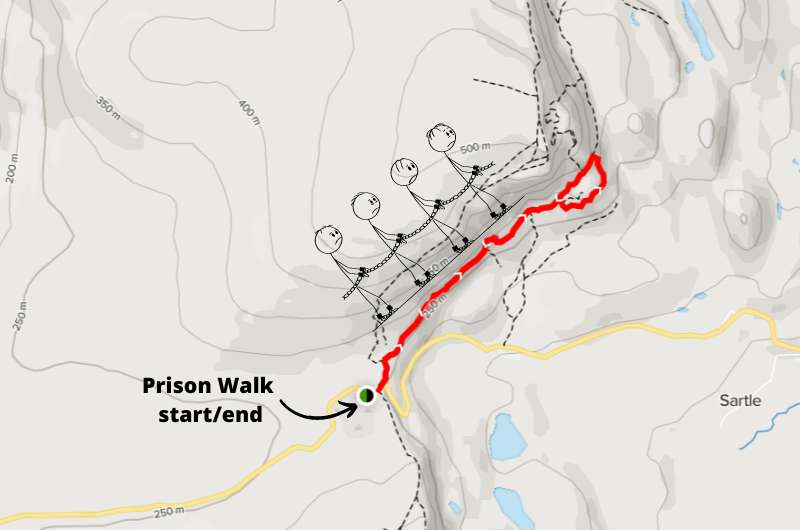 Map of Prison Walk, details on Alltrails

You can also opt for the shorter Prison Walk, which is about 1.5 hours total there and back—basically just the last bit of the circular walk. The total hiking distance is 4.3 km (2.6 miles) and the elevation gain is just 170 m (550 ft).  
This trail is more rocky than muddy, so could also be a good option if it had been raining and you're not in the mood for slipping and sliding. You might need to hold on to the fencing at the Prison, it is narrow and steep there.  
It's called the Prison Walk because of the rocks at the end (which you will be looping around) that are supposed to look like ancient prison walls. 
3. Ben Nevis (Glencoe)
Scotland's iconic Ben Nevis

Hike length: 15 km (3 miles) out and back 
Elevation gain: 1340 m (4400 ft)
Difficulty level: Hard 
Hiking time: 7–9 hours
Parking and trailhead: Ben Nevis Visitor Center (Google maps link)

Located in Glencoe Valley, Ben Nevis aka The Ben is Scotland's iconic mountain and the highest peak in the UK at 1345 m (4412 ft).  
Climbing it takes the better part of a day, but it can be done by beginners. Be ready for a wonderful landscape with birds and other animals, some ruins and even a waterfall.
About 1000 people go on the Ben Nevis Walk every day in the summer months, so you won't be alone.
Walking up Ben Nevis makes sense mainly in good weather, because if you have to hike through clouds, you'll see diddly squat at the summit. A good app for weather is AccuWeather, or you can check the latest forecast at the Mountain Weather Service website.  
Ben Nevis parking and visitor center
You'll get all the information you need at the Ben Nevis Visitor Center, which is also where you'll start your hike. 
There's easy parking at the visitor center.   
Ben Nevis trail and difficulty
Parts of the trail at Ben Nevis (notice the waterfalls!)

You'll be starting almost at sea level, so the elevation gain at Ben Nevis is significant—1340 m (4400 ft).
The first half is a walk up a mostly stony or gravel-y trail, and the second half is a zig-zag rocky trail that'll have you unsure whether to look under your feet trying not to trip, or at the awesome views.   
Remember it is always necessary to have a map, a compass, and good clothing—Scotland's weather changes its mind very frequently and you don't want to get lost. There is no signposting on the trail, though it is mostly easy to see. You'll get all the info you need at the visitor center.

Ben Nevis trail details on Alltrails

Tip: When you summit Ben, you can cross off your first Munro and take up a new pastime—Munro baggin! If you want to know why you are now baggin' things and why it's a popular hobby for the British, check out our Scottish fun facts.
My top hotel pick near Glencoe:  Old Pines Hotel & Restaurant

If you can't or don't want to undergo the hike up The Ben, there's a restaurant/hotel that has not only the best food and most wonderful staff, but also some fabulous Ben Nevis views. Old Pines Hotel & Restaurant is THE place to stay. I only found out about it when I ate there and then regretted not staying there as well. Don't make the same mistake I did!
4. Beinn Eighe (Northern Highlands)
Beinn Eighe when the sun is kind of out

Hike Length:  5.5 km (3.5 miles)
Elevation gain: 600 m (2000 ft)
Difficulty level: Hard
Hiking time: 3–4 hours
Parking and trailhead: Beinn Eighe National Nature Reserve Car Park (Google Maps link)

This was the first hike I did in Scotland and it was the rainiest day I had during my entire trip—boy was I lucky it was this particular hike! The Beinn Eighe circular hike has the best signposting on any hike I ever did in the UK. There's a proper hiking path (that starts right by the parking lot) with good signs and directions and it's rock solid (not sliding or disappearing into the mud).  
The views on the Beinn Eighe circular trail are breathtaking. Now this is hiking in the Scottish Highlands! Lochs everywhere and lush green vegetation in the first part of the trail that for some reason reminded me of the Araucaria forests in Huerquehue NP in Chile.  
Beinn Eighe is one of my favorite places in the Northern Highlands. It's a challenging hike, but since the trails are superbly signposted, it's appropriate even for a fit beginner.
This mountain trail starts in an old pine forest, but as you climb the paths steeply higher and higher, you're soon surrounded by bare rock and views for days. That also means you're exposed to the elements, so remember to take weather-proof gear.
Tip: There are many other walks through Beinn Eighe National Nature Reserve available. If you don't want to do this hard circular one, you'll be able to get some easier tips at the visitor center.
Beinn Eighe parking
The parking lot is easy to find, free, and it's also where many walks through the nature reserve start. There's a visitor center where you can pick up maps and get all the information you need.
Beinn Eighe trail and difficulty
Left: The first, very steep part of the trail. Right: The "views" at Beinn Eighe is you're "lucky" with the weather

Be ready for almost 600 m (2000 ft) elevation gain over 5.5 km (3.5 miles). You'll climb the steepest section within the first 2 km (1.2 miles), but then you're rewarded by an almost 1.5 km (1 mile) plateau. Great for ogling those views without being afraid to fall to your death!
Beinn Eighe is also the place where I encountered the highest number of frogs in a day, and I've been to quite a few jungles before. They could literally build an army of frogs, like the newts from Karel Capek's novel.
The clouds didn't cover all the views @ Beinn Eighe

Because of rain and fog (and frogs!), it's a place of great imagination. Sometimes it was so foggy that I could let our imagination run loose, because you literally couldn't see what was hiding in it—there could be a loch, the sea or maybe Mount Everest—who knows!
I think Beinn Eighe is the only hike in Scotland where you don't need to worry about the rain. Not that it won't rain (it will), but the path is so good you don't have to be afraid of it getting crazy muddy.
Beinn Eighe hike map. More details and reviews on Alltrails.

5. Ben Aan (The Trossachs)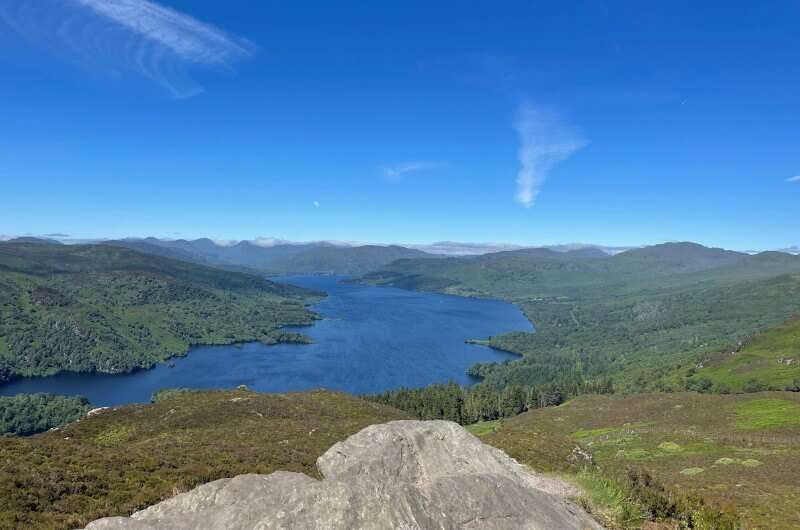 The views from Ben Aan

Hike length: 4 km (2.5 miles) out and back  
Elevation gain: 350 m (1100 ft)
Difficulty level: Moderate       
Hiking time: 2 hours for out and back
Parking and trailhead:  Parking right off the A821
The Trossachs National Park covers an area of 1900 km2 (720 square miles), which is a lot to cover on foot! Luckily, you can drive around the park in your car, making stops along the way and enjoying the nature (see them all in our 10-day Scotland itinerary). The road through the Trossachs is one of my favorite scenic drives in Scotland.
The best hiking route of the Trossachs has to be to Ben Aan, a mountain centrally located in the national park that has views of all sides of it, including several lochs. Just beautiful.
What makes it moderate as opposed to easy is how steep and rocky it can be, especially towards to end of the ascent, but it's also very well marked and not technically challenging.
Parking at Ben Aan
You park right off the A821 and has a GBP 5 daily fee. It isn't big, so if it's full when you get there, keep going. There's another parking lot down the road at Ben Venue.
Don't park along the road.
Ben Aan trail and difficulty
Details about the route on Alltrails

This hike is very popular, probably due to how short it is and how much bang you get for your effort in such a short time. The 4 km (2.5 miles) return trail takes about 2 hours total to complete, but it can be done in even less if you're a speedy hiker.
The trail has an elevation of about 350 meters (1100 ft) and can be steep and very rocky in some areas, but the great views (that never stop!) totally beat any feelings of fatigue along the way. 
The trail is in very good condition, so I think it is the right fit for almost everyone—even the unfit. We saw children and the elderly taking on Ben Aan, so don't be afraid and join the crowd (there will be crowds).
6. Neist Point Lighthouse (Isle of Skye)
Neist Point Lighthouse waaaay in the back

Hike length:  2.5 km (1.5 mile) out and back, plus extra trail available 
Elevation gain: 135 m (440 ft) 
Difficulty level: Moderate   
Hiking time: 1 hour  
Parking and trailhead: Neist Point parking lot   
Neist Point Lighthouse is the westernmost point of the Isle of Skye, which protrudes so dramatically into the sea. Just to be clear right from the start, it's not the lighthouse that you come here for. It's the scenery.  
The lighthouse is just there to look pretty in pictures, you can't even visit it. It's just an extremely picturesque place, especially at sunset.  
I recommend visiting Neist Point even if you have mobility issues, because the views of the lighthouse even just from the parking lot or the top of the trail are worth the somewhat arduous drive to get there.  
There are a couple of trails available at Neist Point—one to the lighthouse, and one along the cliffs with views of the lighthouse.
Parking at Neist Point 
Prepare for a tricky drive on single-lane roads to get to the parking lot at Neist Point, which is right where the trails starts. 
There are no facilities at Neist Point, so take a potty break somewhere else on your way there.
The two walking trails at Neist Point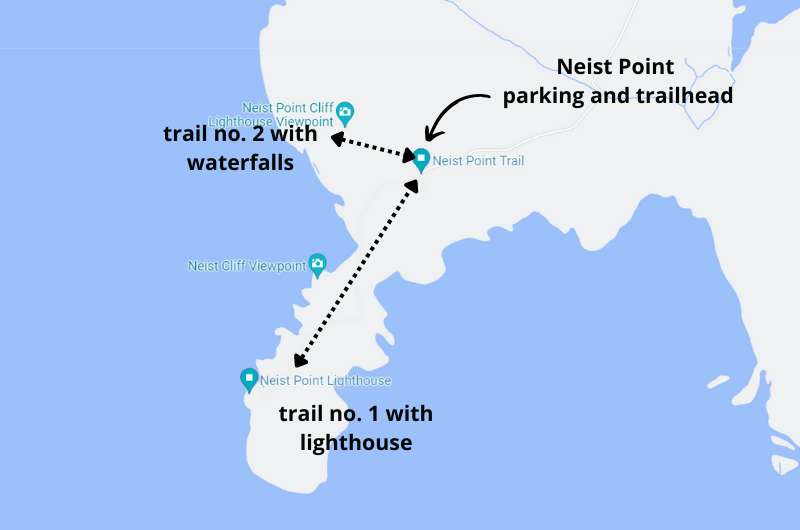 Don't forget to go down the other trail as well!

The main Neist Point trail, the one down to the lighthouse, is only about 2.5 km (1.5 mile) long, so it's easy to be back at your car in an hour. That's not realistic though, since you will want to stop and take photos multiple times, so allow enough time to enjoy it. You'll even see people having picnics.  
The trail starts with a steep downhill portion with lots of stairs, meaning it ends with a steep uphill section. This might be rough on some of your older/less functional joints. Other than that, it's an easy walk.  
The side trail also starts at the parking lot. You'll walk towards the right when facing the lighthouse, you can't miss it. It takes you along the cliffs, going as far as 1.5 km (1 mile) one way, giving you more incredible coastal scenery, complete with waterfalls! It's also where you get great views of the lighthouse.
It's common to spot whales and dolphins from the cliffs, so keep an eye out!
7. Knockan Crag interpretive trail (Assynt)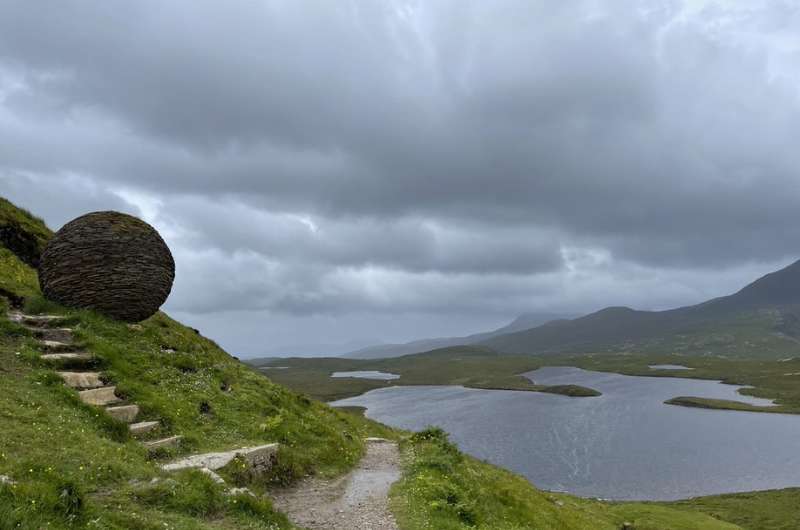 Knockan Crag: views from the trail. Queue snow in 3... 2...

Hike length: 2 km (1.5 miles) loop
Elevation gain: 130 m (420 ft) 
Difficulty level: Easy
Hiking time: 2 hours (1 hour for just the walk, I added time for all the stopping)
Parking and trailhead: Knockan Crag parking  
My memories of Knockan Crag go something like this: When we set out on this hike, it was a balmy, sunny day. Finally, I thought, as I peeled off my jacket and threw it in the back of the car. A hike in Scotland just in t-shirts, how cool! I was almost skipping on the trail. Then, 20 minutes later, mid-skip, the clouds crept in, and guys, a blizzard started!! An effing snow storm!
We finished the hike frozen like a couple of ice cubes. And never ever did we leave any layers in the car again.
You know how great memories don't have to be positive, they just have to be strong? I remember Knockan Crag like it was yesterday, and down to my bones!
Knockan Crag is the place where it was discovered that Scotland was originally not anywhere close to being a part of England, only floating together a relatively short time ago (in Earth years). Due to the unique geology you can actually see the crag where two tectonic plates meet.   
It's also where you can see the oldest rocks on Earth—4 billion years old! Or, if you think God created the Earth, then a whopping 6,000 years!    
Don't just stare at the rocks though and look around once in a while—you'll be getting fantastic views of Assynt in the Northern Highlands (my favorite part of Scotland!). 
Parking at Knockan Crag
Parking, toilets and a small coffee shop are all located in one place, and the trail starts right there as well. The geopark is all outside, so don't think you'll be hiding from the elements. 
Knockan Crag trail and difficulty
Knockan Crag hike details available on Alltrails

Knockan Crag is more of a walk than a hike, plus it had the added value of being educational with signs along the way.
First, visit the open-air interpretation center—the Rock Room—and then take the trail up above the crags to get amazing views. There are 3 walks to choose from depending on fitness level and length. We did the longest one, which is roughly 2 km (1.2 miles) long.    
The trail is very well marked. There are some stairs and a few steep bits, but nothing a reasonably able person couldn't manage. Dogs and kids as well.
There's an audio guide available on the Knockan Crag official website in case you want to just pump your brain with info while walking around.   
There's no entrance fee. It will take you about 2 hours to explore the center and the educational trail which is immensely interesting and probably the best educational trail I've seen in my entire life. 
People of any fitness level can visit Knockan Crag, just don't underestimate the weather. When we started the hike it was blue skies, but then the temperature dropped by like 15°C in 20 minutes and it started to snow! In July! The wind was crazy as well. I thought I'd freeze by the end of it, wearing just a t-shirt.
8. Falls of Measach (Assynt)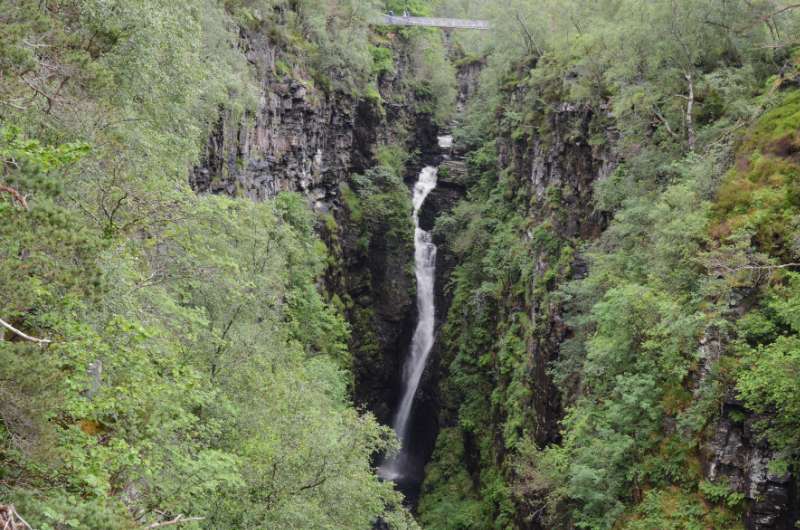 Falls of Measach (notice the bridge!)

Hike length: 1 km (0.6 miles) out and back
Elevation gain: 30 m (100 ft) 
Difficulty level: Easy
Hiking time: 0.5 hours (you can make it longer though)
Parking and trailhead: Parking lot on road A832   

When you do to the bridge over the gorge…wow, it's a very dramatic drop of about 70 m (230 ft), with a limited number of people that can be on the bridge at any given time. And there, in the middle of the gorge, is the spectacular Measach Waterfall!  
The Falls of Measach are located in the Corrieshalloch Gorge in Assynt. The falls are very easy to find and access, and very easy to fall in love with.
It's a 20-minute drive south from Ullapool to Measach Falls.  
Parking at Measach Falls
There's parking on A832, use the QR code on the donation box to pay for it. The trails to view the waterfalls start right from there.
Falls of Measach trail and difficulty
Measach Falls on Alltrails

It's a very good path that should be easy enough for everyone to take (you have to go down into the gorge to get to the bridge), plus if you just want to get to the bridge, take a look and go back, you can be done in 30 minutes or so.
If you follow the trail further, you get more views of the falls from other (also slightly hair-raising) viewpoints.

After the bridge, you can (and should!) keep going down the path to another viewing platform, sort of just hanging in the middle of the gorge. It's awesome, a little scary for the faint of heart, but I definitely recommend it.  
You can go back to your car the same way or keep walking through the gorge for a longer outing.
9. Hidden Valley (Coire Gabhail) (Glencoe)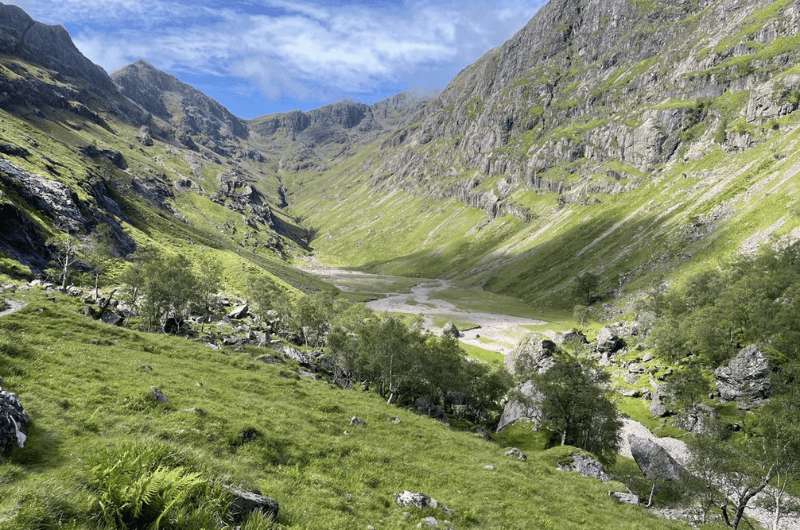 I was lucky with the weather at Hidden Valley

Hike length: 4 km (2.5 miles) out and back
Elevation gain: 260 m (850 ft) 
Difficulty level: Moderate
Hiking time: 2 hours
Parking and trailhead: One of the small parking lots along the A82 (like here or here)
The Hidden Valley (also known as Lost Valley or Coire Gabhail) hike is a very pretty hike in Glencoe Valley, with rugged mountain tops all around you, similar to the Alpine valleys in Austria and Germany. The dramatic views are superb! 
During the Massacre of Clan MacDonald in the late 1700s, the Hidden Valley is where those who escaped the massacre would hide their cattle. More about the back-stabbing massacre in this Fun Facts About Scotland article.
There's even a great viewpoint just next to the car parks, so even if you don't want to do the hike, you can still see the Three Sisters.  
Parking at Hidden Valley
Try to get an early start at Hidden Valley because, as in most popular places in Scotland, parking spots are limited. There are several small parking lots on the road at the trailhead (here or here, for example), so you may need to try a few before you find somewhere to leave your vehicle.
Hidden Valley trail and difficulty
Map of Hidden Valley hike and parking

The hike takes only takes 2–3 hours to complete (it's 4 km/ 2.5 miles out and back), depending on how far you want to go and how fast you walk. It's out and back, so you can turn around whenever you're ready.
Be ready for some scrambling and very rocky paths, I'd say a moderate route. There is a stream to get over as well.
Tip: If you are a serious trekker, you can even continue on into the Bidean Nam Bian mountain range.   
Of course, aim for good weather, but even in worse weather it was doable and didn't seem dangerous. If there's a lot of rain, some parts may be too wet to pass, and the trail may be slippery.
You can find route details for Hidden Valley on Alltrails.
10. Suilven (Assynt)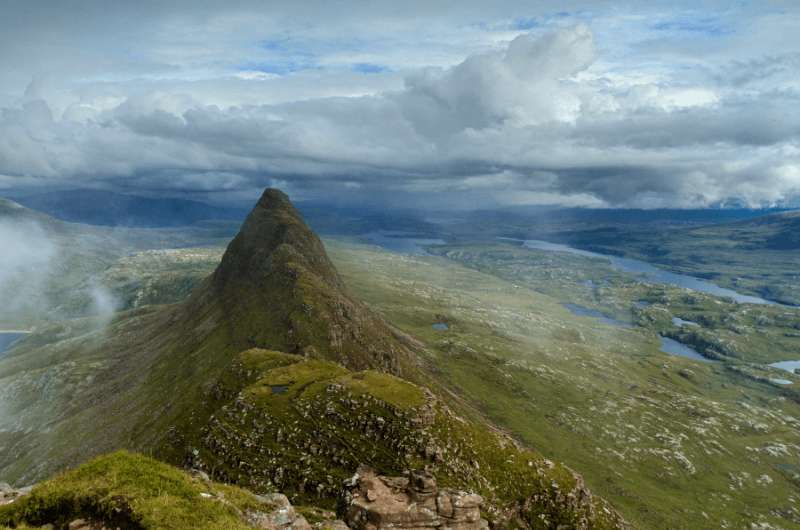 Suilven hike

Hike length: 20 km (12.5 miles) out and back
Elevation gain: 1,370 m (4,500 ft) 
Difficulty level: Very hard
Hiking time: 6–7 hours
Starting point: Glencanisp Lodge 
Parking: Parking lot about 800 m (0.5 miles) before reaching Glencanisp Lodge
You'll also see rocks that are 500 million to 3 billion years old, so pretty darn cool. Be ready for a long hike. I thought the views were a little repetitive, plus this being an out and back trail, you need to love the views a lot so you don't get bored of them!
You'll feel like it's the end of the world at Suilven. At least this is how I imagine it. Or that it looks like the views in Game of Thrones. Just really barren an open.
Parking at Suilven
You can park at the car park about 800 m (0.5 miles) before reaching Glencanisp Lodge, which is where the Suilven trail starts.
1 km down, 19 more to go! @ Suilven

Suilven trail and difficulty
Be prepared for a very long, 20 km (12.5 miles) hike. It is classified as hard mainly because of the length. The trail itself isn't too demanding, though of course you need to expect some steeper sections, a couple of smaller scrambles, and rocky paths in areas.
The summit gives you a fantastic overview of the area.
I probably liked the first part of the trail the most, because you see some really pretty lochs with those cute miniature islands in them that are full of lush vegetation and trees in an otherwise bare place.
Beware the final section up to the summit is steep and you need to be ready to scramble. I think you can still enjoy the Suilven hiking trail even if you decide not to go all the way to the top of the mountain. Get the trail details on Alltrails.  
I'm going to repeat myself for thousandth time, but please be ready for rain and possibly snow and wear waterproof everything. And layers. This path was the windiest of them all that I hiked in Scotland!
The full hike takes at least 6–7 hours round trip. It's not a circuit, so on the way back you get more of the same views, yay!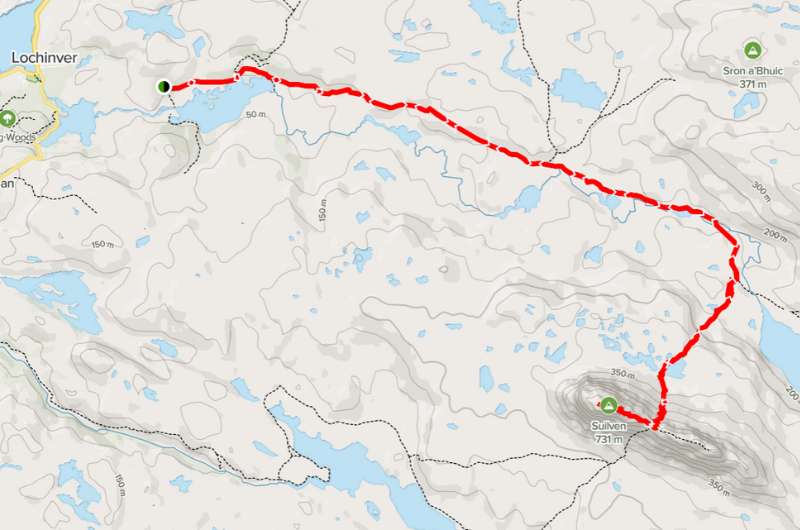 Suilven hike map. More details and reviews on Alltrails.

11. Glennfinnan Viaduct (Glencoe)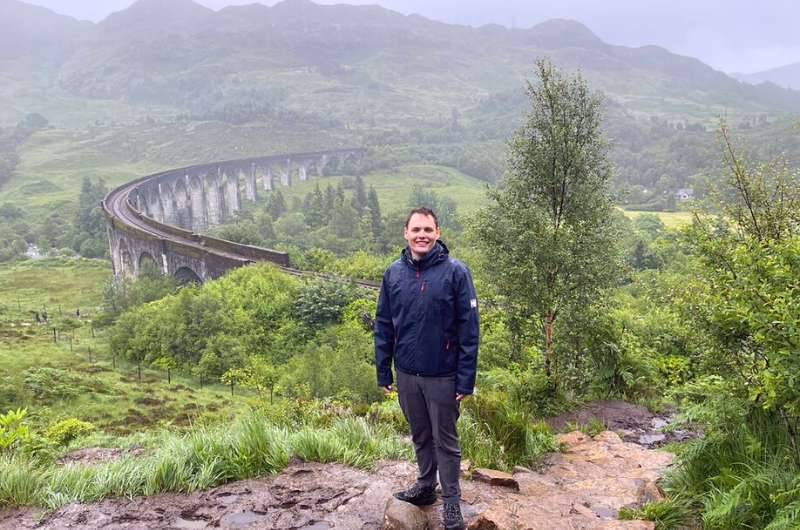 Managed to take a pic of Glenfinnan Viaduct without the crowds in it

Hike length: 3.5 km (2.1 miles) loop
Elevation gain: 92 m (300 ft) 
Difficulty level: Easy
Hiking time: 1 hour for the hike, up to 3 to take in everything in the area
Parking and trailhead: Parking at The Glenfinnan Viaduct

Glenfinnan Viaduct is a 120+ year old railway viaduct on the West Highland Line. It is the longest concrete bridge in Scotland, measuring 380 m (1250 ft). It is single track and it has views to Lock Shiel and the Glenfinnan Monument.  
Even though the Glenfinnan Viaduct featured in several movies (and a video game!), it gained the most fame when it featured in several Harry Potter movies. For Harry Potter fans, it's one of the best places to visit in all of Scotland.  
Besides the viaduct and trail, you can visit the visitor center, the Glenfinnan Monument, and check out Loch Shiel. All in all, put aside 2–3 hours for the entire visit.  
If you want to get the most out of you Glenfinnan Viaduct visit, time your trip so that you are there when the train goes across the bridge.  
A steam train crosses the Glenfinnan Viaduct twice a day—at 10:45 am and 3 pm, and it is well worth being there for the crossing.  
Parking and amenities at Glenfinnan Viaduct
Parking at The Glenfinnan Viaduct can be tricky. The parking lot is huge, but so are the crowds, especially before train crossings. Parking costs GBP 3.50. We saw a couple other smaller parking lots close by that could save you in a pinch.  
If you're there hoping to see the train cross the viaduct, get there early, since parking can take a minute and then there's about a 10-minute walk from the parking lot to the viaduct. 
The visitor center is right by the main parking lot, and I think it's worth visiting to get an understanding of the Jacobite uprising, which was a huge event in Scottish history. It's free to enter and is open daily from 10 am to 5 pm for most of the year. There's a café attached, too. 
Glenfinnan Viaduct trail and difficulty
It's worth it to walk the trail and get there in time for the steam train crossing

There's a 3.5 km (2 mile) circular trail that will take about an hour to walk. There are some boggy bits that can be passed on a wooden walkway, so it really is an easy route.
The parts further up look like they could be from the Lord of the Rings. The trail takes you past awesome viewpoints of the viaduct and of Loch Shiel, and the Glenfinnan Monument is just off it close to the parking lot (just make sure to book book your ticket in advance).
Map of Glenfinnan Viaduct trail and facilities (details @ Alltrails)

12. Pap of Glencoe (if you are fit) (Glencoe)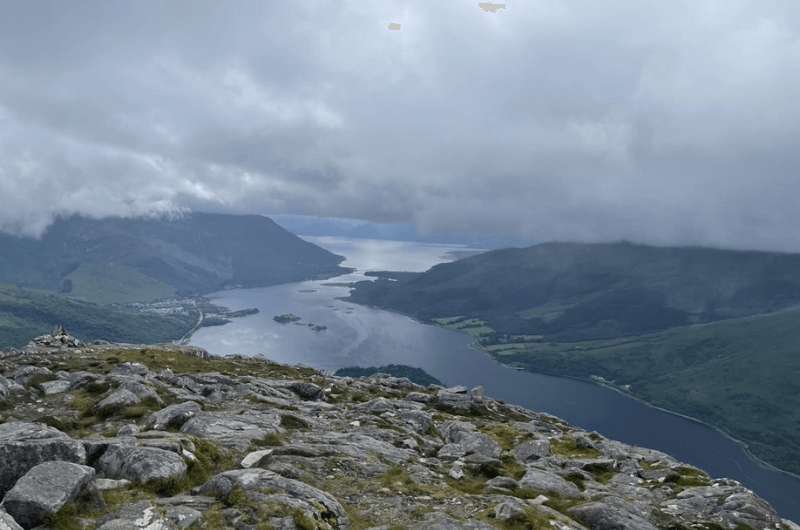 Conquering the Pap

Hike length: 6 km (3.7 miles)
Elevation gain: 680 m (2,230 ft) 
Difficulty level: Hard
Hiking time: 3–4 hours
Parking: Google Maps link to where you can leave your car   
Trailhead: Google Maps link to trailhead (go through the gate)  

Known as Sgòrr na Cìche in Gaelic, the Pap of Glencoe hike felt really hard because of the path—it's not that long, but it's muddy and hard to follow!
I really enjoyed the views from Pap of Glencoe, but honestly, the last 100 m-high mound is not worth the extra effort to scramble up. You are already getting the best views when you're right under it, so unless you are set on summiting, you can turn back without getting all the way to the end.  
It took me 2 hours up and about 1.5 hours to get back down. I definitely wouldn't take kids or dogs on this trail.
Parking at the Pap of Glencoe
This hike's parking area is not visible on Google Maps. You can see the place where you can leave your car here. It's about 300 m (980 ft) from the trailhead. If it's full, you need to park in Glencoe and walk the extra 1.5 km (1 mile) to the trailhead. 
Pap of Glencoe trail and difficulty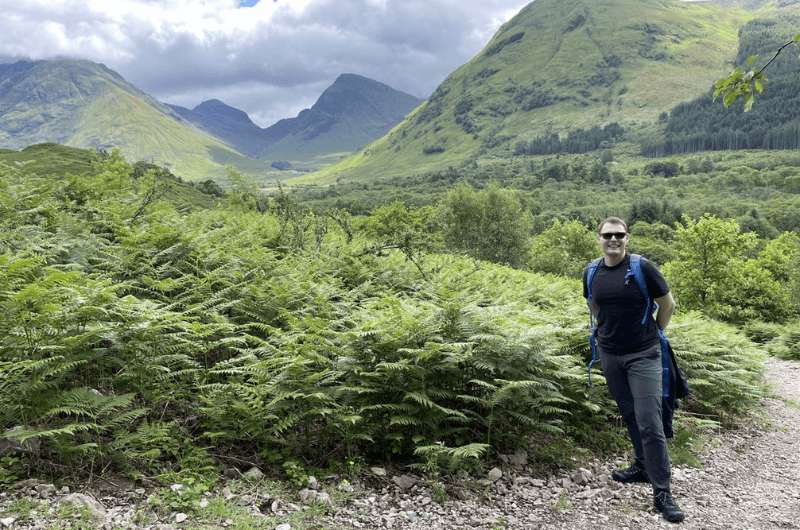 Hurray, an easy section on the trail leading up the Pap of Glencoe

Speaking of hard to find places, the trailhead to Pap of Glencoe also isn't on Google Maps. Here's where it starts (close to Strath Lodge). You'll have to walk through a gate to start, and then it's just straight up the mountain.
You'll have to walk through a gate to start, and then it's just straight up the mountain on a steady incline the whole way. The trail is muddy (even when it's sunny out!), rocky, and sometimes hard to see.
There are several trails to the Pap, so decide what you want to do beforehand. Alltrails has details on one of the paths here, another trail is here (see just the first half). It isn't recommended to take the most direct route on the way down unless you're planning on sliding down it on your butt.
One of the possible ways to hike up the Pap of Glencoe. Details of this hike on Alltrails.

Hiking trails in Scotland that are NOT worth it
There are a few spots that I think you can skip without FOMO. Sure, they're still nice, because Scotland is nice even if you're just in a parking lot, but I wanted to mention them because they are way high up on some highlights lists and I just don't get the hype.
1. Coral Beach (Isle of Skye)
Coral Beach and the coral on the beach

Coral Beach is a 10-minute drive north of Dunvegan Castle on the Isle of Skye.
Once you leave your car at the parking lot, it's about a 2 km (1.2 mile) easy walk to the beach (about 20 minutes one way). 
It's just a beach with what looks like white sand but is actually itty bitty bits of coral.
There are nice views of the shore and the walk is pleasant. You might even meet a cow. But that's it. Compared to everything else on the Isle of Skye, skippable.
2. Fairy Glen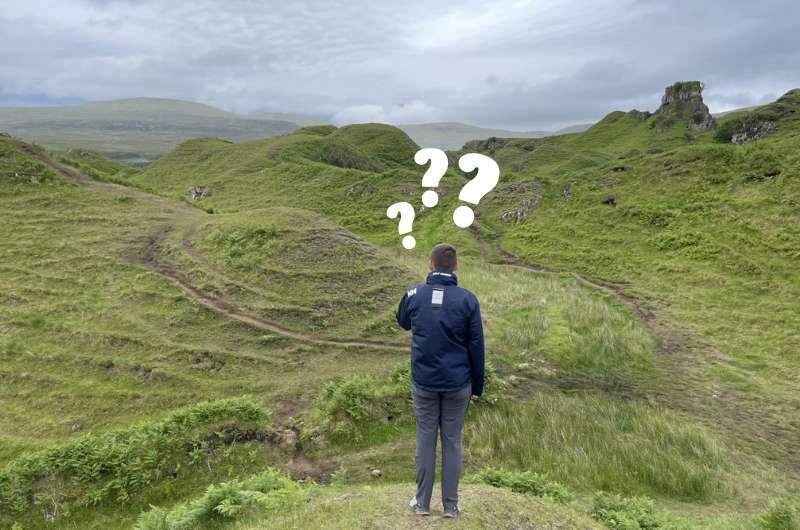 I just didn't get the fascination with Fairy Glen

This is my favorite to un-recommend. I thought it was such a meaningless stop on the otherwise packed A855 road on the Isle of Skye.
Fairy Glen is a valley full of little bumps and rolling hills that looks like fairies would have a blast on. There are some legends about this apparently "otherworldly landscape" that I just didn't appreciate for some reason.    
From the parking lot, you walk maybe 10 minutes before you get to Castle Ewen, which is where you'll get your first proper glimpse of the glen. You can then wander around until you're satiated and then head back to the car. 
But seriously, don't.
3. Pap of Glencoe (if you are as fit as a sack of potatoes)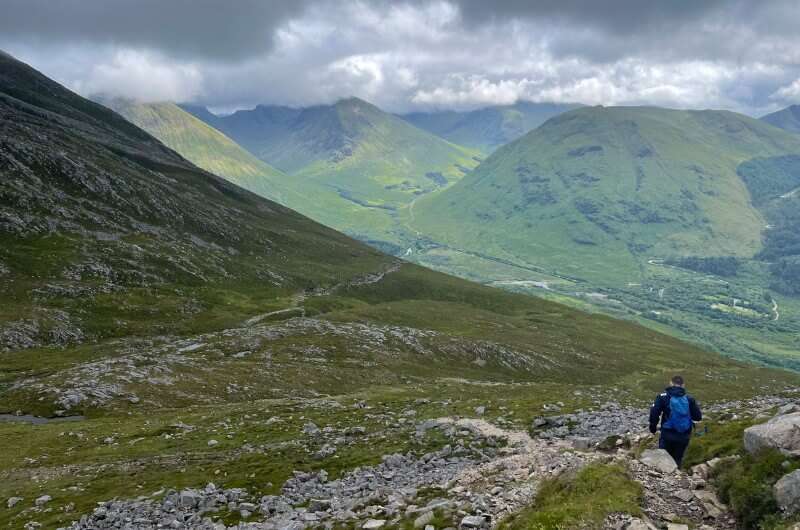 This is no walk in the park. Get ready for a hell of a hike.

I've talked about hiking the Pap of Glencoe in the list of recommended hikes above. But I only recommend it to those of you that are up for a challenge.
If you don't consider yourself fit and full of stamina, don't try hiking the Pap. You'll start hating it in a matter of 30 minutes. The trail is rocky, muddy, and at a steady incline the entire way. No breaks.
The way down is even worse. It hurts unfit knees, and you might even end up on the ground more times than once, especially if you try to cut corners and take the more direct route down the hill. Even with poles!
4. Conic hill (Trossachs National Park) 
This view was a good reward for a not so interesting hike.

I was underwhelmed by Conic Hill. Trossachs National Park is a beautiful place, and you're much better off hiking Ben Aan (mentioned in the list above) than this.
If you crave views of rolling hills and lots of Loch Lomond views, then by all means, hike up Conic Hill.
To me it seemed like just a upward forrest walk and then a nice view, but again, spotting cows was probably the most exciting part.

This post contains affiliate links. I earn a small commission if you make bookings through my links, at no additional cost to you. This helps us keep this blog free, thank you!