Mallorca's secret weapon is the Serra de Tramuntana mountain range. It takes a standard beach destination and takes it to a whole new level—literally! From great hikes and mountaintop villages to spectacular viewpoints, it's easy to add on a bit of adventure and fun to the undeniably stunning beaches of Mallorca.
And it's not just one type of beach on Mallorca. They range from wide and tropical-looking to small and hidden among the cliffs. I obviously include a tasting menu of beaches in this Mallorca itinerary, but if the sand by the sea is actually your main travel objective, check out my full list of Mallorca's best beaches.
You might also be interested in reading:
How many days do you need in Mallorca?
Mallorca is a small island—it's about a 90 km drive from north to south and 100 km from east to west—so you can base yourself in one spot and still won't be spending very much time getting to and from each spot.
I think a week in Mallorca is just enough time to see the highlights, and honestly, there's not much else to do there aside from what I put in this itinerary. You can of course always see another beach or another mountain village, but do you need to? No.
Can you see Mallorca in less days? Sure, but you'll need to be a little pickier on what you want to focus on, or just cram in more into each day.
I say base yourself in Soller (I recommend Ecocirer Healthy Stay Hotel or L'Avenida Hotel) and take day trips from there.
Mallorca itinerary map and summary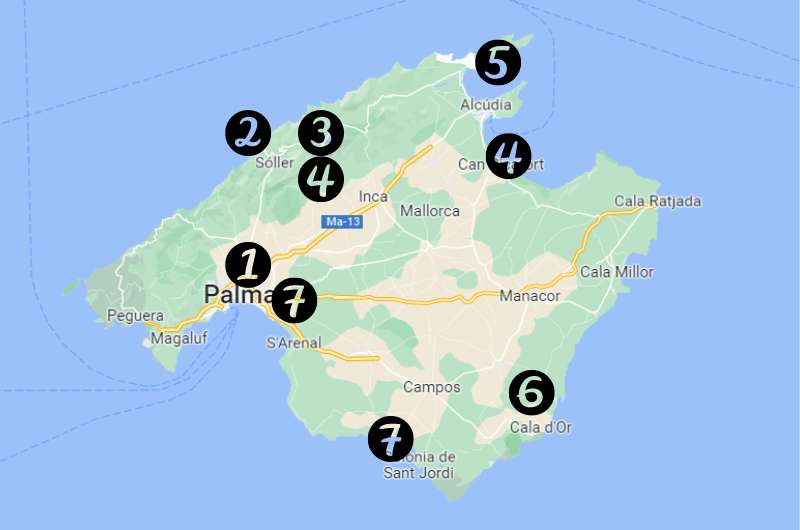 Here's where you'll be traveling (the numbers correspond to the days of this itinerary)

Here's an overview of what you'll see during your 7 days in Mallorca, while using Soller as a base:
Day 1: Palma de Mallorca
Day 2: Sóller and Port Sóller
Day 3: Fornalutx, Cúber Reservoir, Sa Calobra, Santuari de Lluc
Day 4: Hike Castillo de Alaró, Muro Beach
Day 5: Alcudia old town, Cap Formentor
Day 6: Drach Caves, Sanctuary of Sant Salvador, Cala Mitjana, Portopetro or Cala d'Or
Day 7: Es Trenc beache, Palma Aquarium
Mallorca basics: layout, driving, accommodation
Here's a map showing the general layout of Mallorca

If you look at my amazingly accurate map, you'll see that Mallorca might as well be a ring. The middle is a lot of rural nothingness that you might be interesting only if you want to visit a vineyard.
Mallorca road conditions
Aside from a couple of very useful highways, the roads in Mallorca are mostly smaller two-lane roads, but they are in good condition and will get you to your destination comfortably.
That is not true of the mountain roads, which are narrow, winding, nausea-inducing nightmares full of cyclists, but hey, no pain, no gain. They are a great place to practice meditation and breathing exercises.
Parking is similarly annoying and sometimes non-existent, so you have that to look forward to as well.
Do yourself a favor and rent a small car. Like really small, because you will be driving and parking in insanely tight places (especially in Soller and in the mountains). It's kind of cute really, unless you actually want to get somewhere.
Day 1 of Mallorca itinerary: Palma de Mallorca
Palma de Mallorca map

Main sites visited on day 1: Royal Palace of La Almudaina, Mallorca Cathedral, Bellver Castle
Restaurant tips: Restaurante El Pilón | Restaurant Botànic
Hotel recommendations: Ecocirer Healthy Stay Hotel| L'Avenida Hotel
Further reading: Mallorca background | Top places in Palma | Best places in Soller
Getting in
Once you fly into Palma de Mallorca Airport and pick up your rental car, make your way into the city for your first taste of just how small parking spots can be when trying to leave your car in one of the central parking garages, like this one or, if you're lucky and find available spots, this parking lot is right in front of the cathedral. It'll cost you around EUR 2.5 per hour.
Beware that there is at least one parking garage that I personally know of (I have the fine to prove it) that looks well located—it's next to the cathedral, but it is prohibited for you to drive on the road into it, hence said ticket. Don't park here unless you want to get a ticket in the mail a couple of weeks later.
What to see in Palma de Mallorca
Once you have been freed from your vehicle, it's time to head out into town. You can walk around Old Town, but make sure to stop at:
Royal Palace of La Almudaina
Royal Palace of La Almudaina

The Royal Palace of La Almudaina is right next to the famous cathedral, so you can't miss it. What used to be a Moor stronghold is now an official residence of the King and Queen of Spain.
I feel like Moorish architecture is always stunning (for the best of the best, see my Best Places to Visit in Andalusia), and this palace is no exception. You can admire the numerous styles in different rooms and divine gardens with the view of the harbor, either on your own or on a guided tour. It's a great introduction to Mallorca.
Spend about 1 hour at the palace.
Open daily except for Mondays, 10 am–6 pm
Tickets cost EUR 7, a guide is EUR 4 extra
Mallorca Cathedral
Mallorca Cathedral

Next up, quite literally, because it's next door to the palace, is Mallorca Cathedral. If you looked at least one photo of Palma before you travelled there, you've seen the cathedral. It's truly a landmark, it's huge, and it sits in the prime position right near the shore.
It's monumental—its central nave is 44 m (144 ft) high, making it one of the tallest cathedrals in Europe. Inside you can find the largest rose window offering a breathtaking light play. There is also a modern touch to it—after an extensive fire, the Cathedral had to be renovated—by the hands of Antoni Gaudí himself.
Tip: Gaudi fans will want to head to Barcelona to marvel at some of his most famous works. My Barcelona article is put together in a way that it's easy to follow as a walk through the city. You're welcome!
The audio guide tends to ramble on and on, so unless you are really interested in the history, maybe just use your eyes and take in the beauty and give your ears a rest. There's also a guided tour available.
You'll spend 30 minutes to an hour here.
Open daily except for Sundays, 10 am–5 pm, Saturdays only until 2 pm. Closing times differ in the winter months, check website for details.
Tickets cost EUR 9

Bellver Castle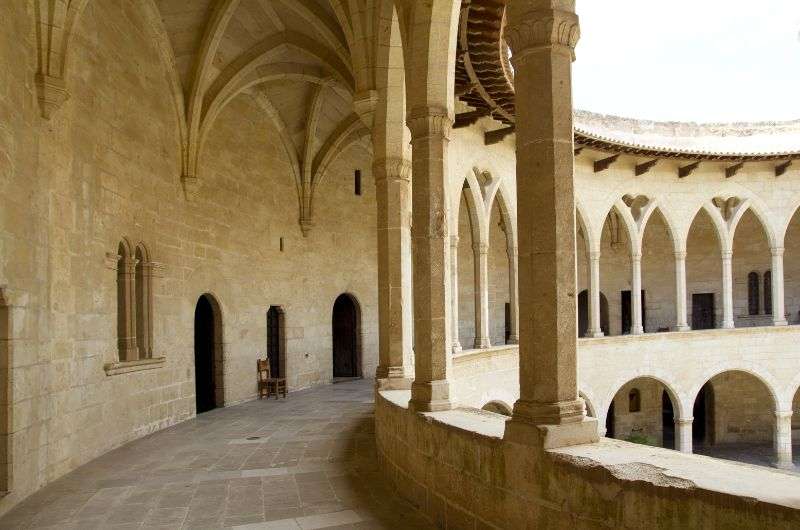 Bellver Castle

Once you're done in Palma's historical downtown, head west out of the city to the hilltop Bellver Castle.
Fun fact: Bellver is Spain's only round castle.
You don't need a guide and can wander around the three floors on your own. Make sure to make it to the rooftop to take in the wonderful views of Palma, the bay, and the mountains!
If you are a history lover, you should definitely visit the museum inside that teaches you about Mallorca's past.
You can easily spend an hour here.
Tickets to the castle are sold at the parking area, not at the actual entrance, so stop by there first to avoid frustration of walking back and forth.
Closed on Mondays. Tuesday to Saturday 10 am–7 pm, Sundays only until 3 pm. Closing times differ in the winter months, check website for details.
Tickets cost EUR 4 (free on Sundays)
Drive to Soller
Valldemossa

After you're done in Palma, drive the 30 minutes (27 km/17 miles) to Soller and get comfy in your hotel.
Alternative route: A more adventurous alternative to driving the straightforward way to Soller is to take the scenic way through some of the best mountain villages in Mallorca: Valldemossa and Deià. It'll double your route (in time and distance), but you'll see some more of Mallorca!
Unless you have some sort of unhealthy village obsession, you probably don't need to visit more than one village in Mallorca, because they are all the same, albeit cute. Driving through them on your way to your destination could be a way to see them but not waste precious time doing so.
Your hotel in Mallorca
I recommend staying in Soller for the entire duration of your Mallorca itinerary. It's the place that has the best atmosphere and best scenery on the island, close to both mountains and beaches. It's also a working city, which in my book is always nice and it gives you a sense of what real life is like on the island, unlike a beach resort.
That's also why Ecocirer Healthy Stay Hotel is one of the hotels I think you'd love staying in. I love how it's in one of the typical stone Soller houses. It's on one of the narrow streets just to the south of the very central part of Old Town, where many locals live, so you'll feel like you're one of them.
The location is perfect—just a block from the famous wooden tram departure point, so when you forget your sunglasses, like I did, you can just pop into your room and run back just in time for boarding.
The rooms are surprisingly spacious, bright, and with very comfortable beds. Plus, the hotel has wonderful views of the Tramuntana Mountains.
Breakfast is fresh, local, colorful—it's basically art!
Parking is limited, so make reservations in advance and make sure your car is tiny!
Prices range from EUR 170–240 per night, breakfast included.
Day 2 of Mallorca itinerary: Soller and Port Soller
See my Google Maps list with all the places of interest mentioned in this itinerary

Main sites visited on day 2: Plaça de la Constitució, Sant Bartomeu de Sóller, wooden tram, Port Soller, Plaça de Santa Catarina
Restaurant tips: Restaurante Luna 36 | Can Karlito | Nunu | El Sabor
Further reading: Mallorca background | Top places in Soller | Best Hotels in Mallorca
Before I start listing all the things you need to see today, I think I need to explain how the layout of Soller works:
Soller's Old Town is on a hill about 5 km (3 miles) above the port, which is called Port de Soller. They are one city, but kind of aren't.
The port has your typical beachy vibes and is lined by restaurants and hotels and not much else.
The town up on the hill is where you'll find the gorgeous main square, the pretty, stone buildings, much better hotels and tons of charm (and restaurants and shops, too).
A wooden tram goes up and down between the two throughout the day, 1–2x per hour.
Exploring Soller Old Town
Soller's Old Town

As I mentioned, Soller (the part up on the hill) is where you'll find the mesmerizing (but little) main square, Plaça de la Constitució, with the utterly fantastic church, Sant Bartomeu de Sóller, serving as the main focal point.
This is where the bulk of tourist life is centered at. The square is lined with one restaurant next to another, with chairs and tables out front.
I don't think anyone ever sits inside unless you're there for a torrential downpour. I know this because I was there for one, but it turned out to be a good thing—once everyone piled inside, it was like we were one happy family!
In the middle of the square is a fountain and in the evenings it's where people just sit around, kids run around, and it's just cool like that. There's usually also live music, so the atmosphere is always lively.
And once you see Sant Bartomeu de Sóller's façade lit up at night, you won't be able to unsee it. And you won't want to, it's just really beautiful (day and night).
And cutting right through the middle of all this madness is the famous old wooden tram that goes up and down between the port and the old town. It dates back to 1913 and is Mallorca's first electric tram line.
Branching out from the square are endless narrow alleyways that are so typically Spanish, with potted plants outside every door. Some are pedestrianized and chock full of shops of all sorts. The best one for souvenir shopping is Carrer de a Lluna.
Others are actual roads that you will have the best time trying to turn the corner on, lol. Sometimes I wished I was driving a slinky car because if the car was one inch longer and I just wouldn't be able to fit! Also, "sidewalks" are about 2 inches wide, so watch your step and don't get squashed by oncoming traffic.
Walk the Gran Via Avenue and the Cristofor Colom streets to witness the most splendid modernist residences.
Read more about what I loved in Soller.
Exploring Port de Soller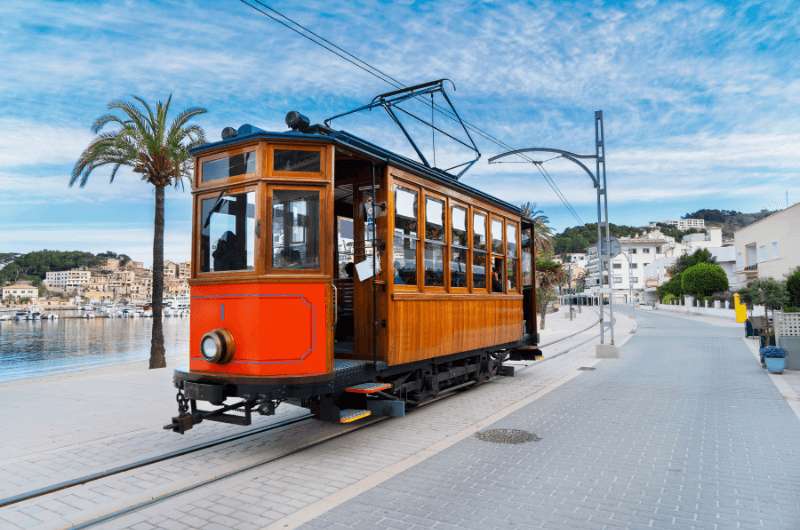 Wooden tram at Port Soller

Walk or hop on the wooden tram to get down to the port. The tram departs just behind the church once or twice an hour (there is a schedule outside the station). You don't need to do anything or go inside the station at all, that's for the people that want to take the train to Palma.
Tram tickets are bought in cash only once you board the tram. The attendant walks around the tram once you depart and sells tickets. In October 2022, the price was an extortionate EUR 8 one way.
The trip down to the port takes about 15 minutes and it makes several stops. There are two stops at the port, one on each end of the beach.
There's nothing specific you need to do in the port besides taking a walk along the beach or stare at other people's boats or going swimming on one of the two beach areas. The water is shallow and there are sun beds available for hire on parts of the beach. It's not a beach to write home about, but it gets the job done if you just can't wait to take a dip in some salty water.
Port de Soller

Secret tip: You'll notice that the port is almost closed in in the bay by the surrounding cliffs. If you want some great views out to the open sea, I recommend taking a little walk up the cliffs through the winding streets on the northern side of the port (where the black and white lighthouse is). Aim for Plaça de Santa Catarina and behold—the waves crashing into the rocks right below you!
This is also where the entrance to the for-whatever-reason-secret maritime museum is located. Google Maps fails to even show it properly, but it's there and it's free, so you're lucky you're reading this, because you'll be the only one there! It's actually quite nice. They have an English packet of information at the reception desk, it only takes maybe 15 minutes to get through, so you might as well go.
Day 3 of Mallorca itinerary: Driving through Tramuntana
See the route from Soller through Fornalutx to Sa Calobra and Lluc in Google Maps

Main sites visited on day 3: Fornalutx, Cúber Reservoir, Sa Calobra, Santuari de Lluc
Restaurant tips: Can Benet by Don Pedro | Ca N'Antuna (both in Fornalutx)
Further reading: Mallorca background | Top places in Soller | Mallorca Weather
I'm sure you've been staring out your hotel window at the majestic Tramuntana Mountains and can't wait to see them, right? Ok, I know you're reading this while you're still at home dreaming up your Mallorca itinerary, but come on, just imagine it. You want to go explore those mountains.
Today's drive will take you on a scenic (and twisty and turny!) drive through part of the Tramuntana. You'll first stop at one of the uber cute villages, Fornalutx, then climb up above a mountain lake, and then proceed to question your sanity and drive all the way down to a tiny beach, and then calm your nerves (but probably not your stomach) at a sanctuary. And then back again.
Fornalutx
Fornalutx

The drive from Soller's Old Town takes about 15 minutes. And even that short drive will have you rubbernecking around every bend, because the views start instantly.
Parking is tight in Fornalutx, but Google Maps will help you locate a parking lot. This one is as central as it gets, and gets full fast. This one is a bit under the hill and has more spots available.
Fornalutx is undeniably one of the prettiest hilltop villages close to Soller, but since it's also referred to as "the most beautiful Spanish village", you can gage just how much people love it. It was originally a Moorish farmstead.
The rustic cobbled streets of Fornalutx While there, I recommend visiting the town hall with its' 17th-century defense tower and the gothic church with a baroque touch (off of the main square, Plaza de España). But even without looking for a particular landmark, you'll enjoy getting lost in the countless alleys, walking up and down stairs between the stone houses and getting glimpses of mountains from every corner.
Cúber Reservoir
Cúber Reservoir

From Fornalutx, drive another 20 minutes to Cúber Reservoir. Don't forget to stop just before the tunnel at this epic viewpoint. You may be getting some views from the passenger seat, but your driver sure hasn't had time to take a proper look!
There are a couple of tiny parking lots just before you get to Cúber, so keep an eye out for a spot. Cars are usually piled up in the small lot, so squeeze in where you can. It's free.
Cúber Reservoir provides water to Palma de Mallorca, so you've probably had a drink of it by now. It's a manmade lake that's just a pretty stop on the way to Sa Calobra.
You can either just get a glance and walk to its shores or walk the 4 km (2.5 mile) trail around it, but it's very flat and considering the lake is surrounded by mountains, gives you the same view over and over again. If you have the stamina, take a short but steep hike up the mountain on the eastern shore (it starts right near the entrance from the parking lot) to get much better views.
Or, if you're up for a proper hike, choose from one of the many trails that start here. Alltrails will help you choose the right one.
Sa Calobra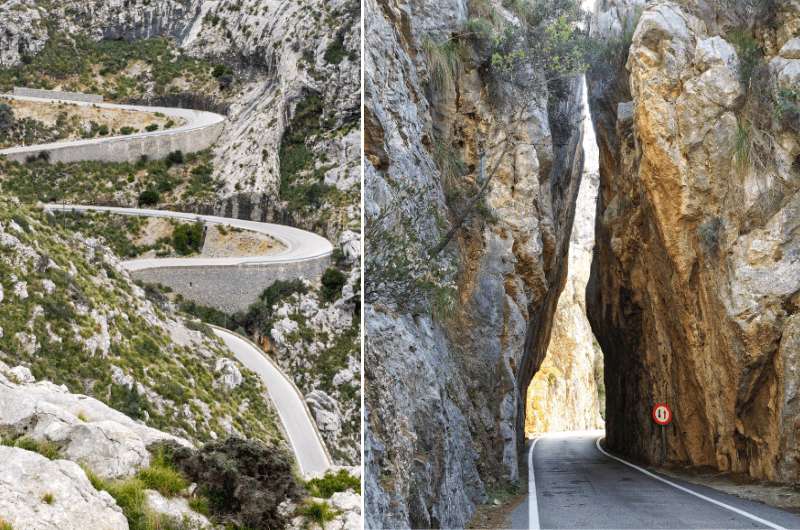 From the drive down to Sa Calobra

Last up (or rather down) is Sa Calobra, a tiny beach in between sky-high cliffs that you get to through a series of pedestrian tunnels carved into the mountain.
You continue driving along the road from Cúber for just 7 more minutes, and just when you thought it can't get any twistier, it does.
But first, make a pit stop at The Orange Juice Man. It's a simple stop popular with cyclists, just a small shack off the road with plastic chairs on the gravel, but it's got great orange juice and really bad coffee to go with whatever pastry he has on sale that day. Don't forget to say hi to the donkey in the back.
The Orange Juice Man is directly at the turnoff down to Sa Calobra, so make a sharp left there and that's when you start you descent to Sa Calobra.
If you look at a map, you'll see why I say the journey is the destination on this one (I like the beach too, but seriously, take it all in!). The crazy curvy, narrow road provides fantastic views down to the shore, and a great driving lesson in one.
Make sure to stop just above the most visually stunning section of the road and stare at the other cars driving on it from this parking lot. You'll notice cars parked along the road as well, because the parking lot will be absolutely full. Just stop where you can.
Walk through the tunnel right after the little café just across from the parking lot and walk onto the rocks to the right of it... you'll get fabulous views and have a fun time clambering over the rocks.
About a 20-minute drive down from the viewpoint, you'll get to the official Sa Calobra parking lot. It's huge by Mallorca standards, so you'll always find a spot. You pay per minute, it comes to EUR 3 per hour.
Sa Calobra

You walk down to the beach from there, it's only about 10 minutes until you reach the tunnels, just follow the crowds. Ignore the little tourist area down there, it's is awful. There's a handful of "restaurants" serving "food" for ridiculous prices. I recommend saving your appetite for anywhere but here.
It's only a short walk through the dark (and slippery!) tunnels and then voila! You've reached the beach. You can't miss it, it's only about 15 m (50 ft) wide, with the tall rocks framing it on both sides, with the stream coming from the mountains to the sea forming a small lake just behind it. People go for a swim, or you can walk through the canyon as well.
Santuari de Lluc
Santuari de Lluc: pilgrimage site and hotel all in one

Once you are done at Sa Calobra and drive all the way up back to the junction at the Orange Juice Man, keep heading 20 more minutes east to get to Santuari de Lluc—Mallorca's most important pilgrimage site, a monastery and hotel all in one.
Once you arrive at a left turn-off to Lluc (and also to the pharmacy) you're only about 750 m out from the parking lot. Beware you pay EUR 8 for the day but accept the rate as a sort of payment for the entire site, since there are no more tickets to be bought anywhere at the sanctuary. Bring cash!
You can visit the secluded botanical garden, basilica and small museum for free (included in the parking ticket price).
The entire grounds at the sanctuary just ooze calmness and serenity, so slow down and allow 1–2 hours to look around.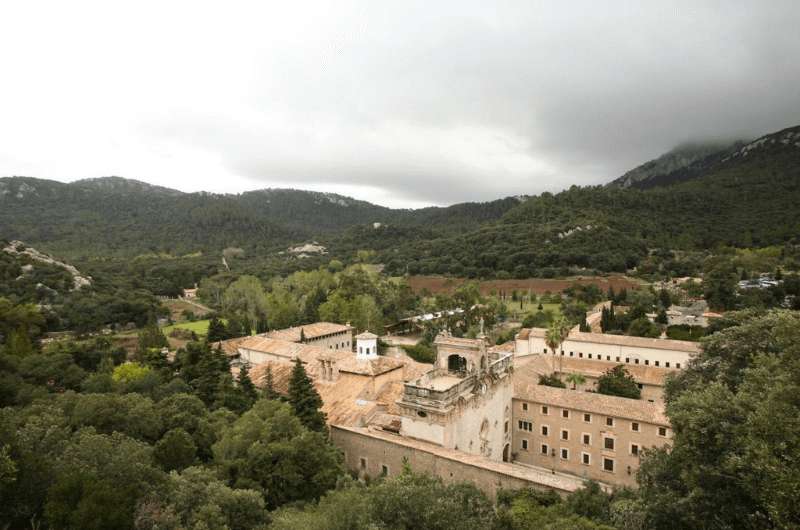 Back to Soller
It's time to drive the same way all the way back to Soller. You can make a stop in Fornalutx and grab a late lunch/dinner depending on your timing. Tomorrow you'll see a lot more Tramuntana and then one of the best beaches in Mallorca.
If you have no littles in tow and are looking for a Soller hotel with a pool, L'Avenida Hotel is an adults-only 4* hotel close to the town square. It's full of character and elegance, and breakfast is served by a large private pool on the sundeck and near the secluded garden.
They don't have their own parking, but there are public parking spots nearby that you should be able to snag.
Prices range from EUR 160–280 per night, breakfast included.
Day 4 of Mallorca itinerary: Hike to Castillo de Alaró, Muro Beach
See the route from Soller through Alaro to Muro Beach in Google Maps

Main sites visited on day 4: Castillo de Alaró hike, Muro Beach
Restaurant tips: Es Verger restaurant (at Alaró) | Figueret Restaurant (on Muro Beach)
Further reading: Mallorca background | Top places in Soller | Mallorca Weather
Pack your hiking shoes and your bikini/swimming trunks, today you'll be hiking in the mountains and then swimming on one of Mallorca's most beautiful beaches!
Hike to Castillo de Alaró
Views on the hike to Alaro Castle

Distance: 5.3 km (3.3 miles) out and back
Hiking time: 2 hours
Elevation gain: 269 m (883 ft)
Difficulty: Moderate 
This is one of the top 3 things to see in Mallorca! The hike to Alaro castle was a pleasant surprise for me and I'd recommend it to anyone that doesn't mind a steep hill. The views are magnificent from the top and it only takes about an hour one way. That's a bargain!
The drive takes about 1 hour to get to the start of the hike from Soller. The road up to the parking lot from Alaro town is a challenge in itself, so prepare yourself mentally for some single-lane, steep, pothole-y hairpins. You can grab a beer (or lamb chop) at the Es Verger restaurant right by the parking lot if you need some time to stop shaking before heading out on your walk.
If you can't stomach the road, you could theoretically hike all the way from Alaro town or Orient (also a town), which would double the hike distance.
The stairs leading up to Alaro Castle

The hike itself is very doable. Obviously it leads uphill and sometimes the terrain is quite rocky and there are stairs on the way, but nothing too challenging. There are great views the whole way.
The castle ruins on top or a bonus and make for some nice photos and something to do but stare out at the sea and mountains. Don't forget to stare though, you should be able to see more than one of Mallorca's shores.
Muro Beach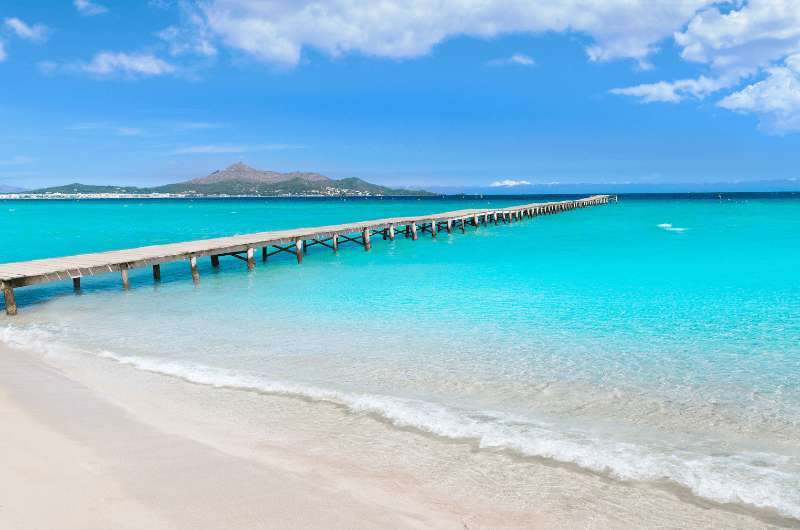 Muro Beach. You'll need to walk for 10 minutes to reach water deep enough for a swim, but look at those colors!

It's your 4th day on Mallorca and you haven't been to a proper beach yet. I'm not a beach bum myself but come on, you need to allow for some beach time when on an island! You might as well make it a gorgeous, almost-white, soft-sand beach with turquoise waters that seems to never end.
Once you inch back down from the hike parking lot to Alaro town, it's only about 40 minutes mostly on a comfortable highway to Muro Beach near Port d'Alcúdia.
Muro Beach starts where Alcudia's main beach ends, and it is very popular, but so long that it's never too crowded. It doesn't have a promenade, instead being lined by either residences or hotels. For shops, you'd need to get off the beach and onto the main road, though you can find a café or hotel restaurant that faces out to the beach here and there.
Parking is in any of the many side streets that lead to the beach. There are so many that you'll always find a spot.
For the most part, Muro Beach is perfect for actual beach time. The waters are shallow, so you need to go pretty far into the water to have a good swim. Some sections have rentable beach loungers, some are just naked and you can spread your towel on the sand the good old-fashioned way.
Day 5 of Mallorca itinerary: Cap Formentor, Alcudia Old Town
See the route from Soller to Cap Formentor and Alcudia in Google Maps

Main sites visited on day 5: Mirador de Es Colomer, Albercutx Watchtower, Cala Figuera or Cala Murta, Alcudia Old Town
Restaurant tips: NATUR POKE Puerto Pollensa | Maca de Castro | Restaurant Celler Ca'n Costa Alcúdia
Further reading: Mallorca's Best Beaches | What not to miss in Alcudia | Mallorca Weather
Yes, you're taking almost the same drive as yesterday, but it's so worth it you won't even mind. You're going to the northernmost point of Mallorca at Cap Formentor, followed by a walk on top of the old fortress walls in Alcudia's Old Town.
And honestly, the drive is only an hour long, so nothing you should be upset about. You'll be driving on the highway again.
Note: The roads on Formentor are restricted access during roughly the middle of June to middle of September to prevent overcrowding. That means that between 10 am and 10:30 pm, you have to get on a bus in Port de Pollença and see the cape that way. It stops in all the main places I mention.
The following is info for those of you visiting with your own vehicle. Be prepared for tons of cyclists, so take your time and be careful out there!
Cap Formentor
I hope you don't get motion sickness! @ Cap de Formentor

This entire drive could take you half a day with all the stopping and ogling, plus beach time if you want it. In total, the road from Port de Pollença to the lighthouse is only 25 km (15 miles) long. Pack a lunch, because there's no place to buy food. The lighthouse does serve something, but you don't want to wait in that line!
You're first stop will be Mirador de Es Colomer, a viewpoint that's so easy to visit that it doesn't seem fair that it has such gorgeous views. The drama of the bare, grey cliffs jutting up from the sea is pretty darn awesome.
You park (for free) right at the start of the manmade walkway. It's only a 300 m (980 ft) walk along the cliffs, but since you'll be wanting to stop and stare and take photos every two seconds, you can easily spend 30 minutes here.
There's a little shack selling refreshments at the start of the trail. Don't get startled by a random goat or two that like to hang out there and then pop out of the bushes unexpectedly.
The views at Mirador de Es Colomer

If you want to see the same views but from higher up, drive up from the parking lot for about 7 minutes to the watchtower on the hill. Leave your car at the small clearing and then walk the last 300 m (980 ft) to the Albercutx Watchtower. You'll pass some not so nice ruins of buildings where graffiti and goat poop has taken over, and then you can actually climb the ladder up onto the top of the tower (at your own risk). Again, expect some garbage inside, but it's a neat thing to do.
Once down the hill and out of the inevitable traffic jam at the parking lot exit, continue your drive towards the end of the cape.
If you feel like some beach time, good luck trying to park in the vicinity of Cala Figuera and either head down to the beach there, or, if you don't like sharing with a hundred other tourists, take the donkey-filled walk to Cala Murta on the other side of the cape and feel like you've found something not everyone knows about.
Past this point, you're only 7 km (4.3 miles) out from the Formentor Lighthouse at the end of the cape. You can't visit the inside of the lighthouse, but you will get spectacular views from the base of it and even an overpriced snack and beer if you crave it.
There are always tons of people trying to park at the lighthouse, so you might end up parking on the road that leads up to it. If you get there and get stuck in a long line of vehicles, don't even try to wait until the parking lot and just park in any space you can find on the road and walk the rest.
The lighthouse at the end of the cape!

Once you manage to get all the way back from the lighthouse to Port de Pollença, feel free to stop for a healthy lunch and a really good coffee (that's a lot coming from me!) at NATUR POKE Puerto Pollensa. It's a little place right by the sea that deserves some attention. Otherwise just head straight to Alcudia.
Alcudia Old Town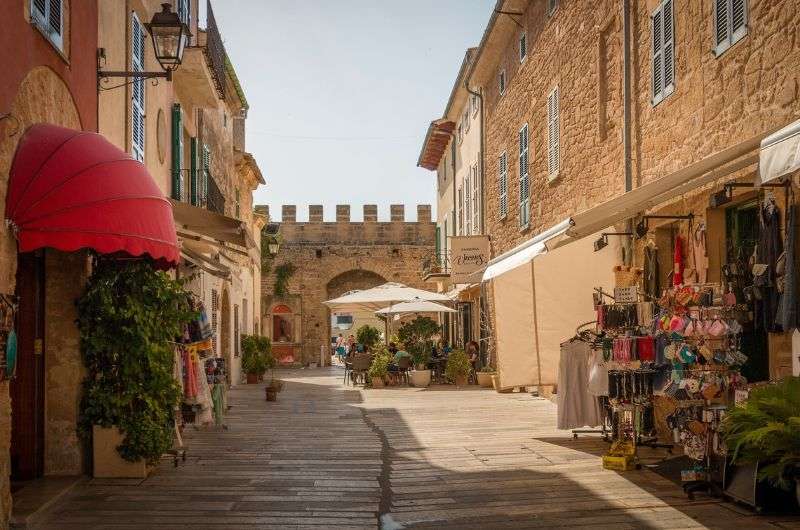 Alcudia Old Town with a bit of the old fortress walls

Your final destination today (aside from heading back "home" to Soller) is Alcudia's Old Town. It used to be a walled fortress, which is great for us tourists today, because you can walk on the remains of those walls.
Park in the parking lot on the northern side of the city and then start walking. You'll see the way. Get off the walls at St Sebastian's Gate and head down the charming streets towards Plaça de la Constitució. Find more city gates and the church.
The Church of Sant Jaume was rebuilt in 1893 to a neo-gothic piece of art. Besides the church itself, you can visit the baroque Chapel of Sant Christ and the display up on the gallery, provided by the Alcúdia parish. The entrance is only EUR 1.
The walkway on the fortress walls of Alcudia

Restaurant tips: Alcúdia is home to Michelin star chef Macarena de Castro. At her family-owned restaurant called Maca de Castro in Alcudia's port, the most skilled interpretation of local flavor can be found together with diverse selection of fine wines.
If you want to stay in the Old Town for your meal, try Restaurant Celler Ca'n Costa Alcúdia (lunch or dinner for €15–30). It's a small restaurant, right in the heart of the old town, with lovely rustic courtyard to spend an evening at.
For more highlights in and around the city, see my Alcudia Guide.
Day 6 of Mallorca itinerary: The far south(east)
See the route from Soller to Portopetro in Google Maps

Main sites visited on day 6: Drach Caves, Sanctuary of Sant Salvador, Creude Sant Salvador, Cala Mitjana, Cala d'Or/Portopetro
Restaurant tips: El Baúl Restaurant Porto Petro | BrezelBros and Soy Sushi & Asian Fusion in Cala d'Or
Further reading: Mallorca background | Top places in Soller | Best places in Palma
Another day, another viewpoint! But first, let's head underground! And then a beach and a cute town. But don't worry, it might sound the same, but it so is not!
Drach Caves
The Drach Caves

Arguably the favorite tourist attraction on the east coast is the Drach Caves (Cuevas del Drac), hiding one of the largest underground lakes in the world.
You should be able to make the 85 km (52 mile) journey from Soller in a little over an hour. Try to be there for the first tour of the day, it is usually one of the quietest (they start at 10 am or 10:30 am depending on the time of year).
Parking at the Drach Caves is free.
Buying your tickets in advance is a must unless you love standing in line at tickets desks for ages. Once you have your online ticket, go straight to the Drach Cave entrance (not the ticket desk!).
If you think caves in general are boring, you might want to give the Drach Caves the benefit of the doubt. They are some of the most incredible I've seen. The sheer number of stalactites on the ceilings will have a conspiracy theorists looking for glue or other human interventions.
You go down the 1.2 km (0.7 mile) path through the caves on your own... or more specifically, with a ton of other tourists, but with no tour guide apart from the guys ushering you along so they can let more people in.
Drach Caves

The path is easy to navigate, though the human traffic can be a little annoying and you will feel like you're being herded at some point or another.
At the end you take a seat in a "concert hall" and take in a short classical music concert, after which you can wait in another really long line to board the little boats that will take you on the lake towards the exit of the Drach Caves.
The boat isn't mandatory and you can just walk the short distance out. The boats pass right by the walkway, so it's not like you're missing anything.
It all takes about an hour to complete, including the extras at the end.
Interestingly, it's not freezing inside as is the norm in most caves.
Tip: If you like being on large lakes underground, there's also a place you should visit in Austria: Seegrotte Hinterbrühl. It's easy to visit as a day trip from Vienna.
Sanctuary of Sant Salvador
Creude Sant Salvador

From the Drach Caves, it'll take you 30 minutes to reach the hilltop church and former monastery of the Sanctuary of Sant Salvador.
The drive from the base of the hill to the top is winding, but easily doable. The parking lot at the top is spacious and free and you get out of your car right in from of a huge monument that gives you terrific views all the way out to the sea.
Remember the area around this part of the island is mostly flat, so you can see far and wide.
After some mandatory photo ops, head to the actual sanctuary. Don't get coffee at the little café, it's horrible. But if you want to sit down for a bit and get a soft drink, here's your chance. Go up on the rooftop for more views, and then walk inside and look for the church. It's small but somehow memorable.
The road up to the sanctuary, and a clever view to the Creude Sant Salvador

If you have change with you (it needs to be EUR 1 coins), throw a couple euros into the cash box and witness the most outrageous light and music show! You'll watch for a few seconds, lol, cover your ears, and then run outside. Mallorca at its best.
You can also walk a ways downhill and then clamber back up another hill to the impressive Creude Sant Salvador—a big cross monument with more views.
Plan on spending about an hour at the sanctuary, more if you want to do more hiking.
Cala Mitjana
The tiny Cala Mitjana beach

Your next stop will be a tiny beach with the softest sand, access to which was only granted several years ago by the person who owns access to it (and the massive estate that is right on the beach and atop the surrounding cliffs). So consider this a generous invitation to a beautiful and sort-of-hidden little bay.
The fun bit is that you can't just drive there, you need to take a 20-minute walk along some dramatic cliffs to get there.
Start by parking your car at the Cala Sa Nau parking lot. It's free and relatively spacious, and there are even some trees that—if you're lucky to nab a spot under them—will keep your metal steed cool on sunny days. The trip from the Sanctuary of Sant Salvador will take you about 25 minutes.
Cala sa Nau is another pretty beach right by the parking lot, and, unlike Cala Mitjana, has a few rentable sun beds and a place to buy drinks. For Mitjana, pack everything you'll want to eat and drink with you.
But you aren't going to Cala sa Nau, so don't take the steps and instead head straight into the trees/shrubs on a narrow dirt path. When you reach a fork in the road, keep left. It's a path that'll take you right along the cliff's edge.
In about 10 minutes, you'll reach Mirador Sa Roqueta. It's a spot you'll want to admire for a few minutes, it's pretty spectacular.
Mirador Sa Roqueta on route to Cala Mitjana

Keep walking along the (very rocky) plain until you pass the fence. Turn right right when you pass it and walk along it until it ends. You'll see signs navigating you to the path to Cala Mitjana beach at this point, as well as "private property" signs reminding you where not to go.
It's a little strange in the otherwise dry area where there's nothing but shrubs and cacti, and once you start approaching this gorgeous little beach, suddenly there are all kinds of plants and flowers and grassy lawns. That is, of course, due to the care (and buckets of cash!) invested into it by the property owner.
The owner's estate sits right on the (very small!) beach, literally a foot away from the last "private property" sign. The beach itself actually isn't private, but I think all the paths leading to it are. But I guess they didn't want to keep this little slice of paradise to themselves, so now they have daily visitors on "their" beach, plus those that arrive in the bay on boats.
The sand at Cala Mitjana beach is so soft, and the water is somehow even clearer than anywhere else. It's also full of little fishes, so take your snorkeling gear if you're into that sort of thing.
Warning: These fish are feisty, and standing in one spot in the shallow waters is almost guaranteed to get your toes eaten. While it doesn't hurt, the surprise of it happening will have you trying to pull a Jesus—walking on top of the water to get away from the little critters!
You can leave Cala Mitjana the same way you got there, or, once you pass the fence, head up away from the cliffs for a different path through the trees to the Cala sa Nau parking lot.
Where to eat in Cala d'Or or Portopetro
Remembering the great food and service @ El Baúl Restaurant

After all that beaching and viewing, you're due for some food. You have two great options to choose from, they're both very close to Cala Mitjana/Cala sa Nau.
Cala d'Or is a typical busy beach resort with one restaurant next to the other in its relatively large town center, so you'll be spoiled for choice. Just don't choose one of the shitty places.
Portopetro is a much smaller town where the tourist action is centered around the tiny bay and port. Come here if the mention of a touristy beach resort made you gag.
If you want to take a bit of a wander in a busy town and buy some postcards and souvenirs while you're at it, Cala d'Or is the place to do that.
I have some tips for you as far as food and drinks go, and none of them are what you'd typically look for in a Mallorca town.
The first one is a Thai restaurant called Soy Sushi & Asian Fusion. Great food and atmosphere. Even the bathrooms are fun! You'll need to go see for yourself. Not to mention the two hilarious parrots that are always arguing across the alley at the over-the-top kitsch cocktail bar Tuttifrutti.
If you want to drink without a rainbow plastic lei around your neck, step into The Little Tavern that's just next door.
And last but not least, I need to tell you about the amazing German pretzel place called BrezelBros. There isn't even an indoor area, just a couple of tables off the sidewalk, but oh my god these pretzels are to die for. It doesn't matter if you get the regular naked pretzel or turn it into a pizza pretzel or a hot pretzel sandwich, this lovely German couple know their twisted pastry!
If you hate a tourist town full of, well, tourists, or if you want to try what I think is the best restaurant in this part of Mallorca, head to Port Petro. Go straight to El Baúl Restaurant and just stuff your face. The service here is so good, and the food will make you want to come back tomorrow even though it's all the way across the island from Soller. Try to grab a spot on the terrace so you get a nice view across the little bay.
Day 7 of Mallorca itinerary: A beach and an aquarium
See the route from Soller to Es Trenc and then to Palma Aquarium in Google Maps

Main sites visited on day 7: Es Trenc beach, Palma Aquarium
Restaurant tips: Restaurante Flor d'Ámetler (Es Trenc) | Up-Up Beach Bar Restaurant (Palma)
Further reading: Mallorca Weather | Best hotels in Best Hotels in Mallorca | Best places in Palma
If today is the day you leave Mallorca, you'll want to make sure you can fit both main stops in and still get to the airport in time. You'll also be checking out of your hotel in Soller.
Es Trenc Beach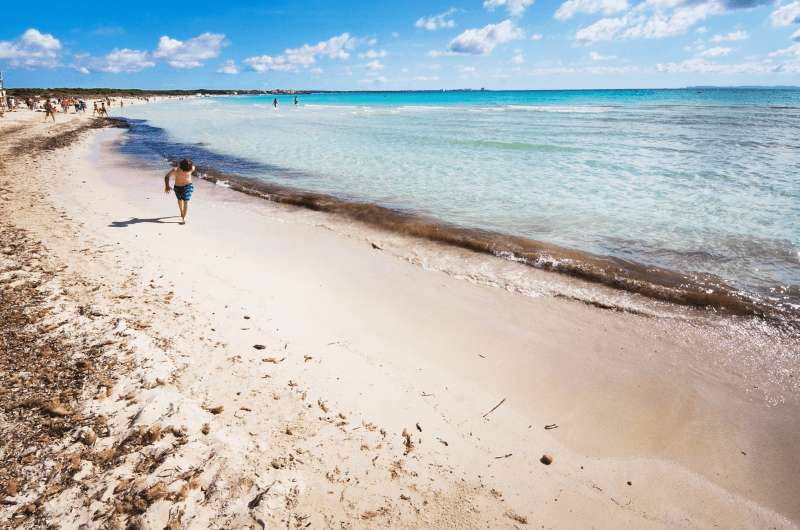 Es Trenc

Thanks to its Caribbean blue waters and sandy coast, Es Trenc is considered to be one of the most beautiful beaches in Mallorca. That said, remember this is an almost entirely wild beach, so if nature feels like it, the beach will be covered with sea grass. People annoyed by this annoy me.
Es Trenc is a wide and flat beach on the south coast of Mallorca that isn't too crowded even during high season. To get Es Trenc at its most peaceful, go in the morning.
There are no facilities on the beach and don't expect any kind of watersports here either. You can enjoy the natural wild beauty and the remoteness though. And just between us, there is also a nudist part of the beach on the remote end.
Parking costs EUR 7 for the day. Brace yourself for traffic at the parking lot, since it seems a lot of people are trying to turn around and leave once they see they price, which is wonderful considering the road barely fits one car, let alone two.
Tip: If you want a guarantee of barely any other people around you, head further south to the completely wild but similarly idyllic Platja es Carbó. You'll have to walk 30 minutes to get there from Colònia de Sant Jordi (you can leave your car at the aquarium there), but if silence and seclusion is what you're after, you'll certainly get it here.
Palma Aquarium
Palma Aquarium

Once you're done at the beaches of Mallorca, it's time to head back up to the capital. The Palma Aquarium is a fantastic place to spend a few hours, plus it's right by the airport.
There are several parking options at Palma Aquarium. The best one is the small parking lot out front that is free but was full when we went. I expect it to be full basically all the time unless you're a lucky ducky.
We just parked at the beach just past the aquarium building. Parking there is easy and free and it's literally just across the road from the entrance.
The last option is to use the designated underground parking garage which costs EUR 3.
The aquarium is big, so you'll need at least 3 hours to see it, and that's even if you don't stop and read all the information panels, and definitely not if you add any of the experiences they offer.
The inside exhibits is where it's at, whereas the outdoor area… not so awesome. It's like they forgot to take care of those poor guys that live out there.
There is a huge, partly-shaded outdoor playground that could come in handy if you have children.
If you get your tickets online, you get a small discount and a time slot for entry. Once in, you can stay as long as you like.
You also get another ticket at the ticket counter (where you'll be showing your online ticket confirmation) that has a specified time when you can see the 3D whale movie. It's just 15 minutes long with not a lot going on, but somehow being "close" to a whale doing whale things in 3D is pretty cool.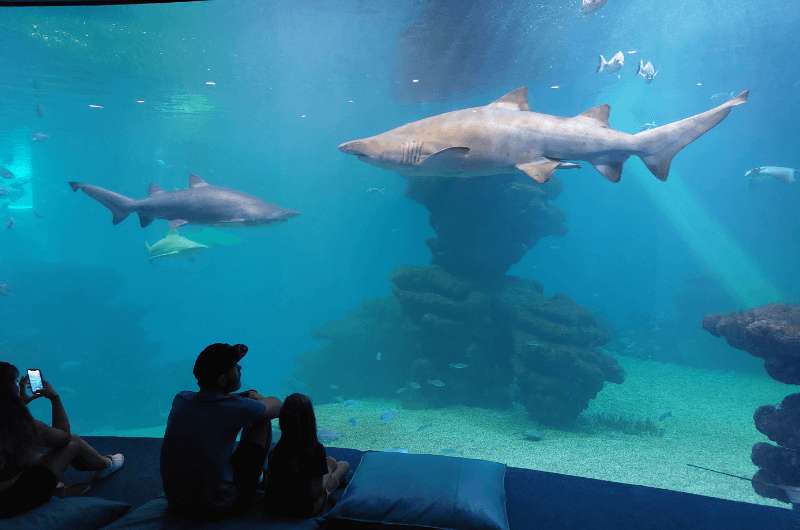 I always wonder if the little fish that live with the sharks taste bad

Everybody's favorite has got to be the shark tank. You can sit on one of the many large pillows and just watch them slowly swim past over and over again. If you're a shark fanatic, you might want to check out the option to go on the shark vision boat or even dive with the sharks! You'd need to book that up front though.
The whale exhibit obviously has no actual whales (at least I would hope it is obvious in this day and age), but it's the most educational part of the aquarium with lots of interactive parts. You can also book a backstage tour which would get you much more information on some of the residents.
The aquarium restaurants are what you'd expect—they'll do in a pinch, but don't expect anything tasty (or reasonably priced). They stupidly close like 2 hours before the aquarium does, which makes no sense at all and had us tempted to guerilla grill one of the fish in the Mediterranean exhibit.
Open daily, Monday to Friday 10 am–3:30 pm, weekends 10 am–4 pm
Tickets for adults cost EUR 27.50 if you pay at the ticket office and EUR 22 when bought online
A note about Mallorca hotels
This Mallorca itinerary is full of adventure and long days. Make sure to book a good hotel to come back to every evening! Like L'Avenida Hotel in Soller
Mallorca is only home to about a million people, most of whom huddle in or around Palma. The other 6 million you'll be bumping into are tourists, usually from Spain, Germany or the UK.
What that means is that you should book your hotel in Mallorca in advance, far more than I would usually recommend. This does not apply to you if you are have a very generous budget, since those special gems that cost EUR 600 and up somehow always manage to be available.
If you're hoping for something in the range of EUR 150–300, get on booking.com sooner rather than later. Know that if you prefer to stay in hotels as opposed to apartments, you may even have trouble finding anything at all if you try to book close to your travel dates.
This post contains affiliate links. I earn a small commission if you make bookings through my links, at no additional cost to you. This helps keep this blog free, thank you!