Alcudia is the main tourist destination in the north part of the island. Apart from the medieval city center, the crystal-clear beaches, the Michelin restaurant and beautiful natural reservation are to be admired here. We are Jan and Karin, and these are the best places in Alcudia.
You might also be interested in reading:
Visit Alcudia, Mallorca
The picturesque streets of Alcudia

Alcudia is a medieval town in the north of the island, sitting peacefully in between the bays of Pollença and Alcúdia. Alcúdia boasts with beautiful long beaches with crystal clear water, majestic rocky cliffs, and rich history. And it's just a stone's throw from Palma with international airport. So, when you land in Palma you can rent a car and take the MA-13 highway, the route takes about forty minutes. You can as well take a taxi⁠—the local taxi number is +34 971 549 870.
Read also: 5 Top Things You Will Love in Palma de Mallorca
1. Taste Alcudia: Open-air markets and Michelin restaurant
Taste the best seafood in Mallorca!

Want to tickle your taste buds a little bit? You may be surprised, but the Alcúdia is actually a home to Michelin star female chef Macarena de Castro. At her family-owned restaurant called Maca de Castro, the most skilled interpretation of local flavor can be found together with diverse selection of fine wines. In addition to fancy restaurants, local fresh markets take place every Tuesday and Sunday. If you want to try traditional Mallorcan dishes for a fair price, try Can Costa Celler (lunch or dinner for €15–30). It's a small restaurant, right in the heart of the old town, with lovely rustic courtyard to spend an evening at.
2. Alcudia pubs and clubs: Party with locals
Mallorca, like all of Spain, did not disappoint with its fun nightlife.

For live music and performances all week long, visit one of the 'traditional Mallorcan' Irish pubs. The Shamrock and O'Malleys being the best for relaxed evening. Both pubs serve good dinners, drought Irish beer, and you can even play a game of darts or table football with locals. For a night out, the Prince of Wales bar is a must! Open till 5 am every night, with lovely atmosphere and drinks from the other world. And finally, if you want to really let off the steam, visit the Banana Club for a crazy party experience.
3. Stroll the Old town
The Church of Sant Jaume

Alcúdia has one of the most beautiful historical city centers in Mallorca. Its history dates back to 2000 BC and it witnessed the Phoenicians, Greeks and Romans, who shaped the city the most. But the Moors and Spanish conquistador made their mark as well. Nowadays, you can enjoy a walk over the medieval city walls and admire the majestic gates, that survived to these days. Originally a part of the town fortification, The Church of Sant Jaume was rebuilt in 1893 to a neo-gothic piece of art. Besides the church itself, you can visit the baroque Chapel of Sant Christ and the display up on the gallery, provided by the Alcúdia parish. The entrance is only €1 and if you're interested in the Roman Catholic mass, you should come in the following times:
Tuesday to Saturday: 8.30 pm (7.30 pm from October to March)
Sunday: 9.30 am; 12 pm; 8.30 pm (7.30 pm from October to March)
Tip: Interested in the guided tour around the old town? The not-so-secret time and place for getting a free tour is... (drum roll) 9.50 am at the church. Thank me later.
4. Port de Pollença: Escape the rush of the city
Port de Pollença

A picturesque town just about 7 km north of Alcúdia is one of the hidden gems in the surroundings. A small harbor is home to all kinds of water and also to grand annual festivities on 2nd of August, which remind the victory of Christian defenders against Moors. You can stroll through the town and visit the Roman aqueduct, which is one of the most iconic sights in Port de Pollença.
5. Sa Bassa Blanca Museum: Art inside the nature reserve
You can also enjoy yourself in a beautiful nature reserve just 7 km outside of the city. No filthy thoughts you scoundrel! You can enjoy yourself with art. Sa Bassa Blanca Museum provides the fusion of modern art and heritage. It includes several exhibitions, a sculpture park, rose garden and observatory. Be sure to check out the wish tree created by Yoko Ono, when you get there.
Tickets:
General: €10/adult, €8/seniors 65+, €7/Youths 7 to 18, FREE for kid under 6
Sculpture Park and Rose Garden: €5
Opening Times:
Wednesday–Saturday: 10.00-18.00
Sundays: 10.00-15.00
Mondays, Tuesdays: closed
The galleries close from 14.00 to 15.00, but the Sculpture Park and the Rose Garden are open.
6. Alcudia beach (Platja d'Alcúdia)
Platja d'Alcúdia

First of all, the Alcudia beach is made of fine golden sand and sapphire-blue sea and stretches over 7 kms down from Port Alcúdia to Can Picafort. And now down to Earth. It is also super family friendly. There are all the necessary facilities with showers, toilets and changing station. The parasols and sun loungers go without saying. You can find there several playgrounds for kids as well as adults (meaning bars, chill zones, water sports equipment and more adult fun). Plus, the beach is so immense, it can never feel overcrowded.
Tip: Check out the best beaches on Mallorca, family friendly, secluded or great for snorkelling.
7. Rent a boat or enjoy a thrilling boat trip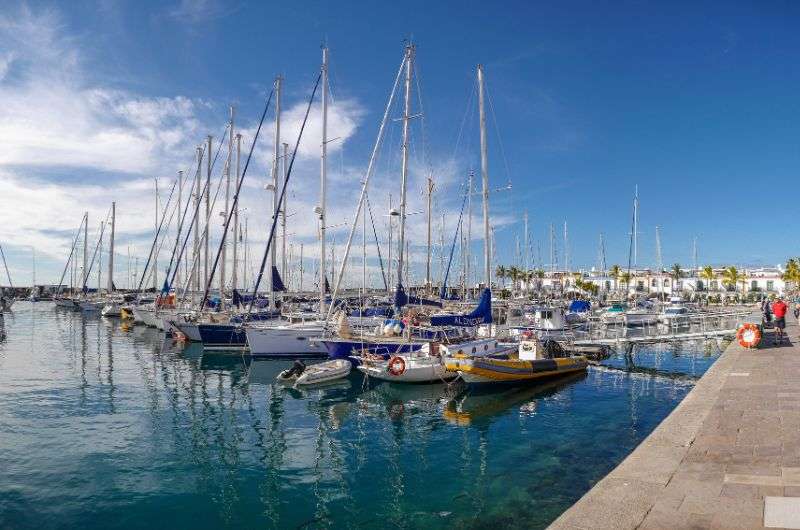 Pick a boat in Port de Alcudia!

Port Alcudia offers plenty of choices when it comes to fun. Besides the windsurfing and jet skiing, there are plenty of boat rentals. When it comes to choice, you have wide options: boats without license (250–300€/day), speed boats and sailing boats (400–800€/day), and if you want to go full fancy, even yachts (1400–5000€/day).
These places are best for boat rentals in Alcudia:
Mallorca Boat Hire
Quest Heroes
Llaüts Alejandra's Charter
Romantic Sailing Mallorca
Boat Rental Mallorca
If you want to play it safe and just enjoy the cruise, you can book a boat trip. Do you prefer a catamaran trip, fancy watching dolphins or maybe explore the sea on glass bottom boat? Everything is possible in Alcúdia. You can find boat trips for a fair price with the best reviews at Nofrills Excusions.
8. Tramuntana mountains within your reach
You've probably noticed by now that I like a good view after a good hike

Alcúdia represents a perfect starting point for hikers as it lies in the foothills of Tramuntana mountains. After a whole day of wallowing on the beach, you should surprise your muscles and set off to the nature. Stretching over 90 kms from west to east of the island, Tamuntana mountains forms a backbone of Mallorca. In 2011, they were awarded the status of UNESCO World Heritage. Just another reason to visit.
9. S'Albufera reservation: Home to more than 350 animal species
S'Albufera reservation

Just a 7 km away from the city center a large natural park spreads out on the 2.036,23 hectares. To give you an idea, it's area bigger than 5 000 football fields. Comprised mostly of wetland and marsh it represents a perfect habitat for over 350 animal species from frogs and birds to horses and cattle. The reservation is easily accessible by foot or by bike. However, if you're too lazy for that, you can get there by car. The parking is available along the road in the residential area adjacent to the park.
Tickets:
The entry is FREE, but the permit is required by the reception.
Opening times:
April–September: 9.00 to 18.00
October–March: 9.00 to 17.00
10. Mirador de la Victoria viewing point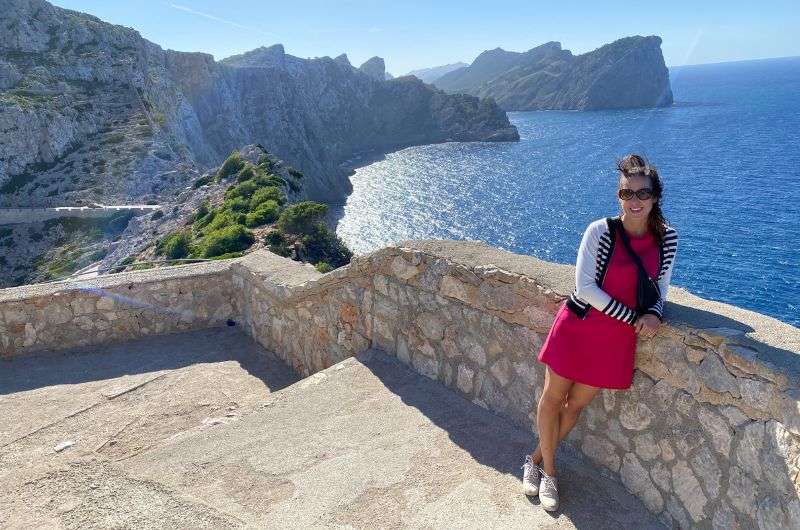 Great for Instagram pictures!

Ready for a heavy romantic? Plan a trip to Mirador de la Victoria. After you climb up the hill, you can refresh yourselves at the restaurant on the top with a magnificent view of the bay and Cap de Formentor. Because the locals really keep falling over themselves to make it easier for you, the place is accessible by car and there is free parking available. For super honeymoon-like feeling, you can accommodate right there in the small inn. The Petit Hotel Hostatgeria La Victoria represents rustic refuge from the city life 150 meters above the sea level. And it's no ordinary hotel... it's part of the preserved 13th century fortress building!
Opening times of the restaurant:
Tuesday–Sunday: 13.00–15.30 and 19.00–23.30
Monday: closed
11. Roman ruins with the amphitheater
Roman city of Pollentia

You can explore the Roman city of Pollentia, where you can find the smallest Roman theater in Spain. Don't get your hopes up though, the tickets are looong expired. Anyhow, you can visit the ruins of ancient noble houses, forum and the Capitolino temple.
Tickets: €3.50/adult, €2.00/Concessions (groups, senior citizens and children)
Opening Times:
Winter:
Tuesday– Friday: 10.00–16.00
Saturdays–Sundays: 10.00–14.00
Mondays Closed.
Summer:
Tuesday–Friday: 09.30–20.30
Saturdays–Sundays: 10.00–15.00
Mondays Closed.
12. Cap de Formentor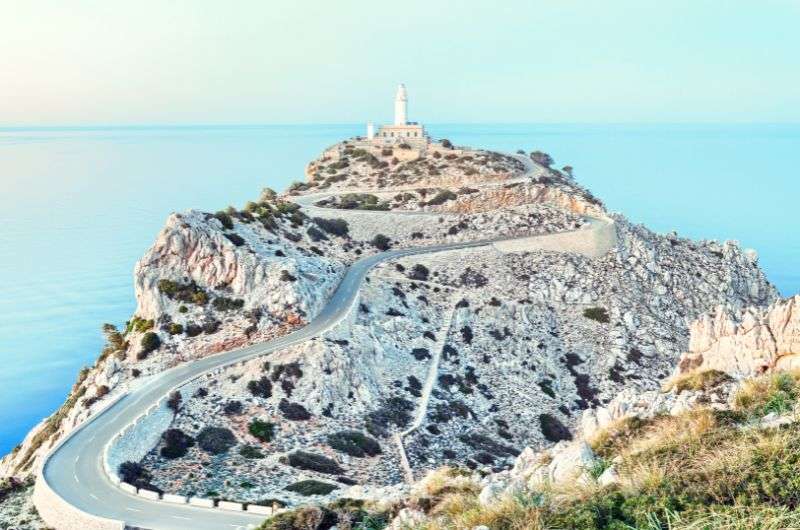 Cap de Formentor

If you want a perfect Instagram shot, you definitely shouldn't miss the oportunity to visit the Cap de Formentor. A lighthouse on the peninsula is not open for tourists, but it's worth to visit nevertheless. When you get there, don't forget to visit the renowned Hotel Formentor, founded in 1930. Now, you're thinking, it's just a hotel, what can I see at the hotel, right? Well, you can sense the spirit of Charlie Chaplin, Winston Churchill or Scott Fitzgerald, who loved this place and visited it repeatedly.
Where to stay in Alcudia
Where it comes to accommodation, Alcudia offer a wide range of diverse options. Be it a luxurious boutique hotel or romantic farmhouse. Here are some of the best options.
Can Tem (from €100/night)
Can Tem is a great place to lay your heads, when you plan to savor the historic atmosphere of the old town. With its antique rooms and furnishings, you're going to feel like an aristocrat. The hotel can boast with private romantic courtyard, which provides a cool place to stay in the hot evenings with a glass of wine.
Can Mostatxins (from €150/night)
Can Mostatxins represents a combination of luxury and laid-back atmosphere with impeccable service. And you can be sure to find it, even when you have one too many at the bar at night, because it's only 30 meters away from the main square. A grotto-like spa area will take your breath away. Situated in the sunken courtyard (what's the deal with the Mallorcan and courtyards, right?) and overlooked by a gothic arch, it leaves a powerful impression.
Agroturismo Son Siurana (from €130/night)
Set in the countryside, this farmhouse offers a perfect oasis of peace, while being in close proximity to the Alcúdia city. Sailing by day and relaxing in the gardens in the evening, you will feel like a royalty in Agroturismo Son Siurana.
For the best hotel options across Mallorca, read more in Top 25 Hotels in Mallorca: Luxury, Wellness or Rural Retreat

This post contains affiliate links. I earn a small commission if you make bookings through my links, at no additional cost to you. This helps keep this blog free, thank you!