Now this is the good stuff—Georgia's nature is astonishing, and almost made me forget about the insanely frustrating people I met. Georgia is a challenging destination, but the mountains are 100% worth seeing. I'm not an overnight camping kinda guy, so I satiate my love for hiking in one day bursts. If you're looking for multiday trekking in the Georgian Caucasus, keep scrolling. That's not to say these day hikes are easy—I huffed and puffed plenty and felt my knees for months after returning back home!
You see, Soviet vibes are still going strong in Georgia. Some travelers from further away (aka those that have not lived under the pathetic display of authoritarianism of the Russians) might think it's cute and interesting, but it's not. Just treat your visitors well and you'll get people that want to return to your country—I'd think that that's common sense, but in Georgia, I guess not. Anyway...
Here are the best trails for hiking in Georgia. I chose those that I think are absolutely worth seeing, so it's not a comprehensive list, but rather a highly curated one. Each hike description comes complete with trailhead locations, trail and difficulty information, practical details, and maps.
And I have something for less capable hikers, too. If you aren't for any reason willing or able to go out on long or strenuous hikes, you still deserve the chance to see Georgia's mountains. Just for you, I've included shorter/easier alternatives to each hike on the list.
And I'll always recommend good hotels that you can base yourself in before and after the hike. Because comfy beds are a must (and a needle in a haystack in this country!).
Let's hit the slopes!
You might also be interested in reading:
1. Hike to Kazbeg Mountain and Gergeti Glacier
Keep going straight up and eventually you'll reach Gergeti Glacier!
Hike length: 21 km (13 miles) there and back (you can loop parts of it) [can be shortened by 6 km/3.7 miles by starting at Gergeti Trinity Church]
Elevation gain: 1,860 m (6,100 feet)
Difficulty level: Hard
Hiking time: 9 hours
Trailhead: Google Maps link (there are several ways up to the church, but this is the best one)
Hotel in Stepantsminda: Hotel Memoir | Rooms Hotel Kazbegi
Easier alternatives: If it sounds like too much for you, you can do just the first part of this hike—to Gergeti Trinity Church. See next item for the very short version. You can also shorten to half the total length by only making it to the Arsha Pass, about halfway up, and skipping the Gergeti Glacier altogether. The views are already incredible from there.
This map has you starting on the "wrong" path up to Gergeti Trinity Church, I'd recommend using the end route both ways. See the full map and description on Alltrails
This hike is nothing short of epic. Epically beautiful, epically hard, epically crowded and you end up smelling like an epic horse. The Kazbeg hike ranks as one of the most challenging hikes I've ever conquered.
Our day-long adventure covered a grueling 21 kilometers, with an elevation gain of around 1,800 m (6,000 ft). My knees were begging for mercy by the end (and didn't forget to remind me about this hike for months after I got home).
This day hike takes you to the majestic Kazbeg glacier, or Gergeti glacier, whatever you want to call it. Kazbeg was the first mountain that ever made me feel small. Towering above at over 5,000 m (16,400 ft), it remains one of the most spectacular sights I've ever laid eyes on.
The highlights of this hike are the views and the scramble up the glacier, a white wonder that stretches from around 3,200 m (10,500 ft). Crampons become your best friends as you navigate the icy terrain, but trust me, it's worth every step. If you want to skip the glacier part, you don't need any special equipment.
Now that's a pretty mountain! Views on the way to the glacier
Hiking up Kazbeg Mountain is anything but off-the-beaten-path, so you will literally have to go off the path to pass the crowds. Speaking of the devil, it's not the best path to begin with. Be ready to trudge through rocks and mud, testing your footing and determination. And it's basically straight up the entire way, and then very much downhill on the return route. No breaks, no switchbacks.
Oh, and brace yourself for the scent of horses in the air—there's an endless caravan of them carrying supplies and people's bags up the mountain. I personally hated them, and not just because I'm allergic to them.
The hike starts under the famous Gergeti Trinity Church, Georgia's picture-perfect landmark. There are several routes up to the church, some stupidly steep, and one that is the obvious winner: take the trailhead behind Gergeti Cafe (both ways if you ask me). Make sure to allow yourself time to take in the views of and from the church—it's on all the postcards for a reason.
Side note: You can easily drive to Gergeti Trinity Church and start your hike from there if you're short on time or the desire to walk up to a place that has a road leading to it.
Start early so that you have enough time to get back down before dark—we barely made it. You'll also have a higher chance to not join the human traffic jam. By 10 am, Gergeti Trinity Church is flooded by hikers high on excitement, ready to set out for the day.
You can look at Alltrails to see where you can take different routes and make little loops instead of taking the same route up and down.
Stay in Stepantsminda before/after the hike. It's a lovely little town with surprisingly good restaurants. I recommend either Hotel Memoir or, if you're budget stretches further, Rooms Hotel Kazbegi. Both of these hotels have incredible views of the mountains, so it's like the hike never stops.
Don't try to do this hike as a day trip from Tbilisi, it's just too much, too far, too tiring. Plus, you'd miss out on some great stops on the Georgian Military Highway. Read about all these cool places in my Georgia Itinerary.
2. Gergeti Trinity Church hike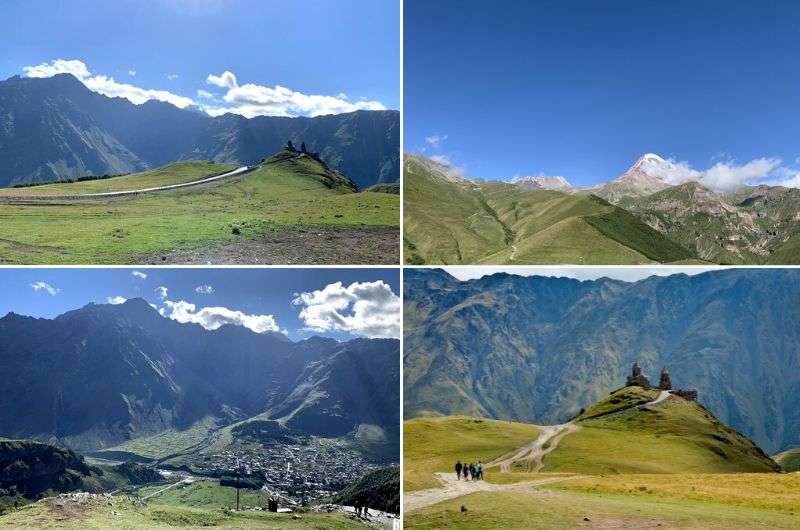 It's just a short hike to Gergeti Trinity Church, but the views are already epic
Hike length: 4 km (2,5 miles) there-and-back (this is if you park in Gergeti by the cafe, it'll be longer if you start walking from Stepantsminda)
Elevation gain: 300 m (1,000 ft)
Difficulty level: Medium
Hiking time: 1.5 hours (+ 1 hour to explore in and around the church)
Trailhead: Google Maps link (there are several ways up to the church, but this is the best one)
Hotel in Stepantsminda: Hotel Memoir | Rooms Hotel Kazbegi
Easier alternative: Well, you can drive to the church, so this hike can be done with no walking at all! Or, just hike up and take a taxi down.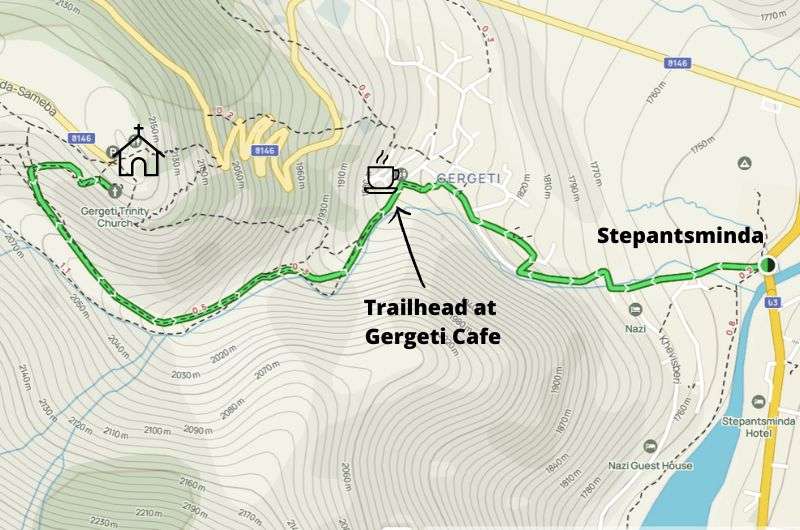 Map and full route details available at Alltrails
This day hike is more of a half-day (steep) walk, but I'll include it because though it's much easier than scrambling up to the glacier, I won't call it lame because the views are simply amazing, even if you do just this little hike (it's the start of the full Gergeti Glacier hike, see item above).
Gergeti Trinity Church's location is as dramatically picturesque as it gets. The reason it steals the show is that the town of Kazbegi/Stepantsminda is far below and the mountain has at least 4,000 m (13,000 ft) prominence (elevation difference) from the town to the peak. So, even if you're only hiking up to Gergeti Trinity where the "real" hike up Mt. Kazbeg starts, you'll feel like you're on top of Mt. Everest.
The trick is to take the correct trail up to the church. There are at least 3 others that can confuse you, especially when you see everyone else turning onto the wrong route. Ok, it's not wrong, but it's sure as heck not as nice—the other trails are too steep, too crowded, and you end up having to cross the road several times. I'm not sure about you, but dodging Georgian drivers is not what my hiking dreams are made of.
You'll be smart and look for the trailhead past Gergeti Cafe. Then, instead of crazy SUVs, you'll be walking along a little river, away from annoying humans. Now that's what I call bliss.
Stay walking along the river for as long as you can and then veer off. Once you do that, it'll be very steep, narrow, and rocky, but the trail is easy to follow.
On the way down, you can take the same route or take a different route to make it a loop. Also worth mentioning is that you can easily drive all the way to Gergeti Trinity Church, so it's not like you'll have found a hidden gem or anything once you get there.
The church is open daily form 9 am to 5 pm. The interior is just like any other church in Georgia—it smells like incense, it has frescoes, all that jazz. Nothing particularly amazing. The mountain views are why you're there.
Unlike the Kazbeg Mountain hike (previous item), the Gergeti Trinity Church hike can be done as a day trip from Tbilisi. I'd still stay the night in Stepantsminda though, it's a pleasant place (and you get epic mountain views at all times).
3. Koruldi Lakes hike in Svaneti National Park
Yeah, we drove to the cross halfway to the Koruldi Lakes
Hike length: 16 km (10 mi)
Elevation gain: 1,360 m (4,460 ft)
Difficulty level: Hard
Hiking time: 7.5 hours (plus extra time for a beer at the cafe and many photos at the top!)
Trailhead and parking: Google Maps link to trailhead and Google Maps link to parking on Seti Square
Hotel in Mestia: LileoInn Boutique Hotel. Beware that I had my worst hotel experience ever in Mestia, so choose wisely (not that you can foreshadow shitty behavior).
Easier alternatives: A good 4x4 will get you all the way up to the lakes, so you can just walk around some viewpoints there if for whatever reason you can't hike properly (we both know you're just a lazy bastard!). Another alternative is to get your semi-lazy ass driven part of the way up to the cross and nearby cafe. That'll shorten your total hike to about 8.5 km (5.2 mi) and you skip the hardest part, which is in the beginning of the full hike.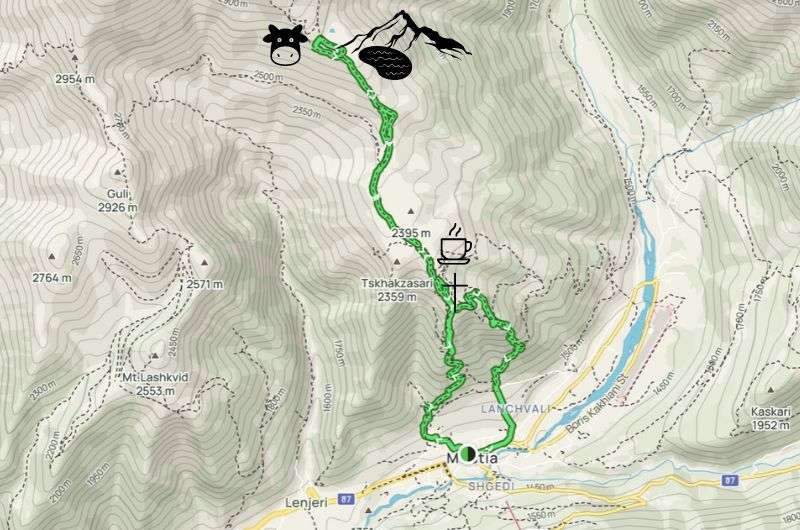 I hope you appreciate my map pimping. You can get the boring version at Alltrails
I loved loved loved this hike, even though the lakes are nothing more than big puddles with a lot of cow dung in them. Yeah, if you catch the right light and the lakes aren't covered in snow (which they are, until June), you might get that shot with the mountains reflecting in the water. Good for you. I wouldn't get your hopes up, but no matter what, I can promise that the mountain views are absolute stunners! Forget about the cow-filled lakes and just look at those peaks!
This hike is in the Svaneti National Park, which is gorgeous, unlike the closest town, Mestia, which is horrid.
The trail starts off challenging to say the least (read: really steep) but gradually becomes easier as you reach the 2,400 m mark, about half way to the lakes. Fittingly, there's a cafe at around this point and the beer you'll have there will be the best ever (subjectively, obviously). You'll know you're almost there when you pass the Cross of Georgia just a couple hundred meters before the cafe. It's a skinny, tall cross visible from the entire valley.
After a break at the cafe, you're just 1.5-hours of easy walking at a gentle slope away from Koruldi Lakes. When you hear cows, you've made it. Again, don't expect anything from the lakes, but do expect to be wowed by the views. I literally spent 2 hours just checking out the various viewpoints up there. And they say I'm not a romantic!
Who needs lakes when you get these mountain views
The trails are rocky and it can get cold on this hike, so bring proper clothes and shoes, even if you're there in the summer. But also a lot of sunscreen. Don't attempt the hike in the winter, it's dangerous!
Side note: I hated Mestia, the city that'll serve as your base for the Koruldi Lakes hike. Mestia left me yearning to shoot myself out of a cannon to escape its clutches and return to civilization (or just shoot myself, period). It's an absolute shithole. Forgiveness may be a virtue, but Mestia won't be ready for meaningful tourism for at least three decades, and I ain't coming back. Everywhere you turn, they're trying to squeeze every last penny out of you. The ghost of the Soviet mentality looms over Mestia, and it didn't look like it would let go anytime soon.
4. Easy hike to Chalaadi Glacier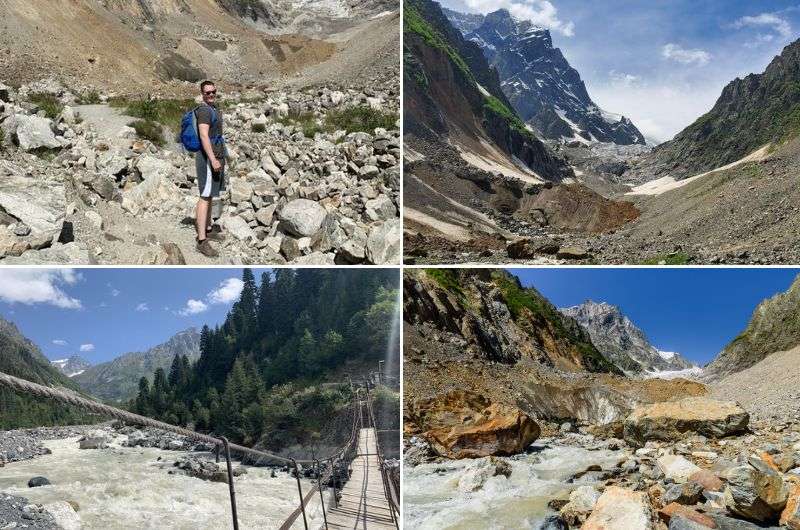 The rocky "trail" to Chalaadi Glacier
Hike length: 5 km (3 mi)
Elevation gain: 270 m (885 ft)
Difficulty level: Easy
Hiking time: 2 hours
Trailhead: Google Maps link to trailhead
Hotel in Mestia: LileoInn Boutique Hotel. Beware that I had my worst hotel experience ever in Mestia, so choose wisely (not that you can foreshadow shitty behavior).
Easier alternatives: It doesn't get much easier than this, the hike described here is the easier version. See the description below to see what I mean.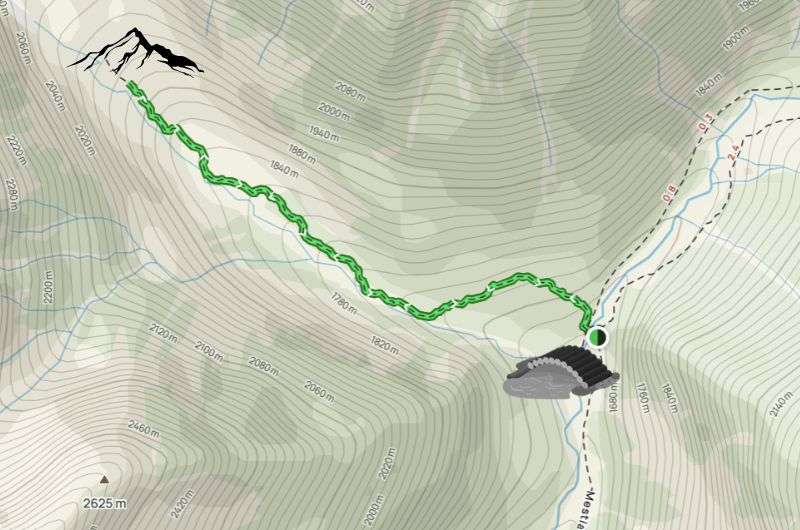 See this map on Alltrails
People used to hike to Chalaadi Glacier all the way from Mestia, but since construction started to get crazy, the road that you have to follow is no longer a peaceful path and rather a dull and annoying (and busy) road. Me no likey.
Instead, make your way (by taxi, parking is tough) to the little bridge across the river and start your hike there. It's where the scenery gets interesting anyway, so you don't need to mourn the extra 9 km (5.5 mi) each way that you'll be skipping.
The bridge itself is a sight, since it allows you to cross the sometimes wild river and it's just this dainty little wooden thing (it can get slippery!). You'll be greeted by a small cafe and probably some soldiers from the nearby military checkpoint. Have your passport with you so they can wave you by and you can be on your way to the glacier.
The trail to Chalaadi is straighforward (and straight), just keep the river on your left and you're good. You'll be going a little bit through the pine forest at first, but a lot of the trail follows the river. Once you're out of the woods, the view to the glacier opens up. Watch your step and expect lots of big (big!) rocks and paths where you can easily lose your footing especially if it had rained recently.
This short hike is fun, very scenic, and a perfect way to spend a couple of hours. It's like a bite-size portion of hiking in Svaneti National Park, but the views of the glacier are spectacular, and you won't feel like you missed out on anything. Just don't go too close to the glacier—people have gotten killed by falling rocks, you'll probably even see some while you're there (the falling rocks, not dead people hopefully). Also, I've heard about bears and wolves in these parts, so keep an eye out.
Your return journey will be exactly the same as it follows the same path.
5. Truso Gorge hike (or drive, or both)
This map will only make sense if you read the hike description. It's the beginning 5 – 10 km section that you can hike 2 different ways, or skip altogether by driving it
Hike length: 10, 20 or 30 km (6, 12.2, or 18.5 mi) out-and-back
Elevation gain: It's almost flat
Difficulty level: Easy but can be long
Hiking time: 4–6 hours
Trailhead: Start in Kvemo Okrokana for full hike, drive to the first travertines for shorter version
Hotels in Tbilisi: Blue Balcony | Hotel 21
Easier alternative: There's a "road" that snakes its way through the entire gorge, so if you have a good car and feel like some offroading, you can drive Truso Gorge instead of walking it. The "road" gets iffier and iffier the further you go, which is why I suggest driving to the first travertines and then hiking from there. That'll make the Truso hike just 5 km long each way.
Whichever route you take, Truso Gorge won't disappoint!
Truso Gorge is up near Kazgeb in the northern part of Georgia. There are so many options to hike in these parts, you'll be in a hiking wonderland. Obviously, hiking to Mt. Kazbeg and Geleti glacier is the crème de la crème, and it's the single best day hike is Georgia's Caucasus Mountains. But unless you're one and done, you'll want more. So, here's more:
This day hike is different in that it's almost entirely flat. It's basically a walk, so if you want something challenging, this ain't it. It can be long, depending on your chosen route, so that could make it more interesting for some of you.
No matter which option you choose, you'll end at Zakagori Fortress. It continues further, but the border guards will very gladly tell you that you can't. On the way, you'll see horses, some tiny villages (some abandoned) that look like they're stuck in the 17th century, a monastery, and even a "cafe" or two. It'll be just some dude selling water and soda by the trail, don't expect a building or anything.
Option 1: Driving Truso Gorge
There's a dirt road that weaves through the entire valley, making it possible—if you have the right type of car—to drive this whole hike. It's really nothing more than some dirt tracks, very bumpy, sometimes disappearing into the mud, sometimes impassable, so it's not exactly easy to do (and might not even be possible if there's too much mud or if the river crossing gets too crazy).
Option 2: The full Truso Gorge hike (2 variants)
Then there's the option to walk the whole way from the village of Kvemo Okrokana. From there, I know of two trails you can take: the bottom route that follows the Terek River makes the full hike 20 km (12.2 mi) long, and the top route that gives you more elevation gain, fantastic views right off the bat, but brings the total distance that you'll need to conquer to 30 km (18.5 mi).
Option 3: The part drive/part hike Truso Gorge hike
This last option is a compromise, because who really needs to walk straight for that long anyway—honestly, the views don't really change that much on this hike. And, if you have a good vehicle—like our trusty Suzuki Vitara—you can skip the first, and arguably most boring section of the full hike, and drive all the way to the first travertines. Then, abandon your car, put on your walking legs, and hike to Zakagori Fortress from there. This way, it's only a 10 km (6 mi) round trip. Easy peasy.
6. Likani Valley Black Trail in the Lesser Caucasus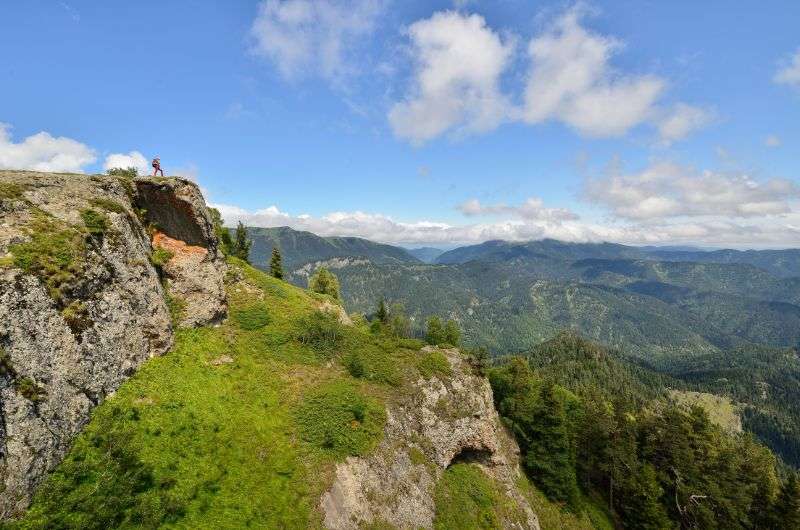 Hiking in the Lesser Caucasus: Borjomi-Kharagauli National Park
Hike length: 10 km (6 mi) out-and-back (loop is possible, but see description)
Elevation gain: 500 m (1,600 ft)
Difficulty level: Easy unless you meet a bear or decide to do the full loop
Hiking time: 4 hours
Trailhead: Google Maps link
Hotel in Borjomi: Borjomi UnderWood
Easier alternatives: If you're looking for something shorter, take the Cross Mountain trail directly from Borjomi. It's only 3.5 km (2 mi) long.
Do yourself a favor and skip the final descent of this hike. See full map on Alltrails.
Borjomi is a pleasant spa town with an unpleasantly visible Soviet legacy. It has some natural spring water that people pretend to like to drink, and it's the gateway to hiking in the Lesser Caucasus.
Now, I don't want to be insensitive, I know it's not his fault, but this Caucasus really is less fantastic than the Greater Caucasus further up north. Still nice, but if I could only choose one, I'd go with the Greater. And the fact that it's in the middle of nowhere can only mean one thing... extra time on the road with Georgia's "amazing" drivers to get there, yay!
So buckle up and eat lots of chocolate, you're going to need nerves of steel for this one. Here's a bit more info about visiting the town itself, but we're here for some hiking!
Right outside of Borjomi you can venture out into Borjomi-Kharagauli National Park. There are 12 official hiking trails, but some are closed/damaged, and new ones are being marked, so it's hard to tell the exact number. A lot of them span more than one day, but you can choose shorter, single-day hikes as well. So I did. Because I don't sleep in tents or basic mountain huts that are surrounded by bears, thankyouverymuch.
My chosen trail, the Likani Valley Trail is supposed to be a loop, but the final section is an annoyingly steep descent that has zero views, so I decided that it's not worth the knee pain. For this reason, I recommend making this hike an out-and-back variant.
This hike goes through the forest a lot, which isn't my favorite, since the views into the landscape are obstructed, but it's still pretty, and it gets better the higher up you go. Most of the mountains you see are equally green and full of trees, but all the way in the back you do get glimpses of snow-capped peaks and Borjomi Gorge, which is slightly redeeming.
Important: There are bears in the area, and you need to register to go on this hike at the Borjomi-Kharagauli National Park Administration office in Borjomi. It's quick and free.
7. Hikes near Kutaisi: Okatse Canyon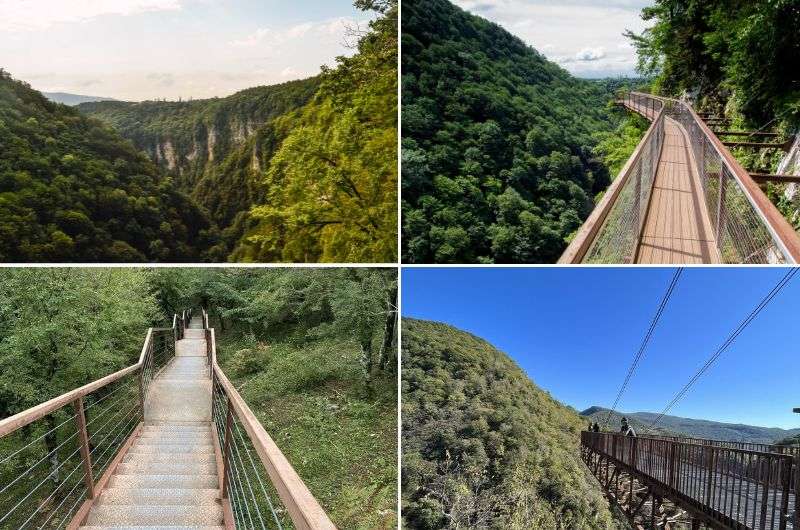 Not untouched, but if you're in Kutaisi, Okatse Canyon is a great little day hike
Hike length: 6 km (3.7 mi) out-and-back
Elevation gain: 280 m (900 ft)
Difficulty level: Moderate to hard (if you don't like stairs)
Hiking time: 1.5 hours
Trailhead: Google Maps link (the Okatse Canyon Visitor Center)
Hotel in Kutaisi: Newport Hotel
Easier alternatives: You can drive the first 1.5 km (1 mi) of the hike to make it shorter (see description for details). Or, try Martvili Canyon if you want to see a canyon without much effort at all. There's even a little tourist boat! It sounds terrible but it's actually really nice, and the trail is super short and sweet.
This is me trying to show you where the Okatse Canyon Visitor Center, how far the jeeps will take you, and where the main viewing area is. Regular map is from Alltrails
Looking for a day hike near Kutaisi? Coming right up! This short hike won't please you if you're looking for wild nature and an untouched canyon experience. This one has certainly been touched, and for some, even manhandled. But if you're ok with a long metal walkway, a bridge that doesn't allow little kids, lots of stairs and viewpoints hanging from the canyon edges, you're in for a good time!
Seriously, Okatse Canyon can be a fun experience if you know what to expect. So, first thing's first, don't forget you're in Georgia, where making money is more important than integrity or truth. Your first encounter will be with the lovely gentlemen on the parking lot of the visitor center, all trying to get you to pay them to take you to the bridge. They'll tell you that if you try to walk the entire way, the hike will take you 4 hours. Or that you can't drive your own car in there.
It's all lies, obviously. The entire hike will take a maximum of 2 hours, and that's if you're slow. And, if you want to and have a good car (higher clearance, 4x4), you can just drive in yourself. If you have someone take you, expect to pay GEL 20 one way.
My recommendation is to walk the whole way. You'll be going on a trail, not the road the cars take, and the beginning is nice and is worth the short walk. Once you reach the main part of the canyon, you'll know. Walk over the bridge and continue on a long metal walkway. You can't get lost, and
It's certainly not a hard route by regular hiking standards, but expect lots and lots of stairs.
This post contains affiliate links. I earn a small commission if you make bookings through my links, at no additional cost to you. This helps keep this blog free, thank you!