Kutaisi is little more than a mediocre provincial town, so don't expect it to sweep you off your feet with its urban charm or award-winning restaurants—there are definitely zero of those. Kutaisi's more of a practical pit stop—a base for adventures into the surrounding area.
Gelati Monastery, the single most important reason to visit Kutaisi, isn't even in the city! So, here are the only few notable places to visit in Kutaisi, and then get the heck out of there by embarking on some epic day trips.
You might also be interested in reading:
Is Kutaisi worth visiting?
Yes, Kutaisi is worth visiting, but less for Kutaisi itself and much more for the attractions close by. I wouldn't even go to Kutaisi if it wasn't for Gelati Monastery, which is the single most incredible place to visit in Kutaisi—it's just outside of town. Luckily, there are a few places in town that'll keep you occupied for a couple of hours. You know, that time you need to kill right before you move on or right after you arrive in a new city and just want to get a feel for it.
Top places to visit in Kutaisi
We've established that Kutaisi isn't a fantastic urban destination, but more of a base for visiting the surrounding area. But since you'll be based there, you're still curious about what to see in Kutaisi, right? Well, here are the offerings within the city limits (followed by the more amazing Kutaisi day trips):
1. Bagrati Cathedral: The one with the botched reputation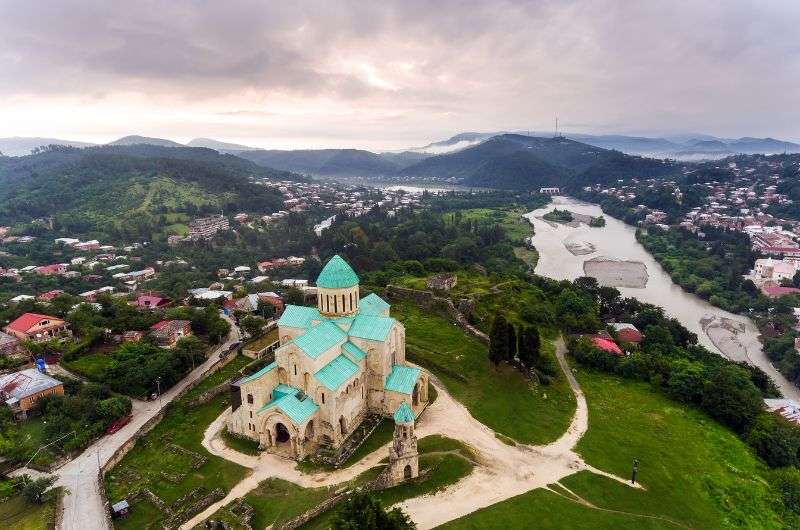 If you're as unimpressed as UNESCO by Bagrati Cathedral's interior, you can still give it brownie points for the views of the scenery around it
Don't you love a good plot twist? Once upon a time, the 11th century Bagrati Cathedral stood tall as one of the most important landmarks in Georgia and drew visitors from far and wide. But then things took an unexpected turn. UNESCO, the heritage watchdog, decided to strip Bagrati Cathedral of its World Heritage List status, because they were less than thrilled with the "renovations" that ended up damaging the cathedral's historic value.
Despite its tumultuous journey, Bagrati Cathedral is still interesting (and still attracts tons of tourists) and remains a testament to Georgia's mentality—a mix of inconsideration and disrespect, but somehow also tenacity. And honestly, you're in Kutaisi already, so why not go see a discredited Heritage site—it's a very rare thing to see. Plus, there are nice views over the city and landscape from the cathedral grounds.
​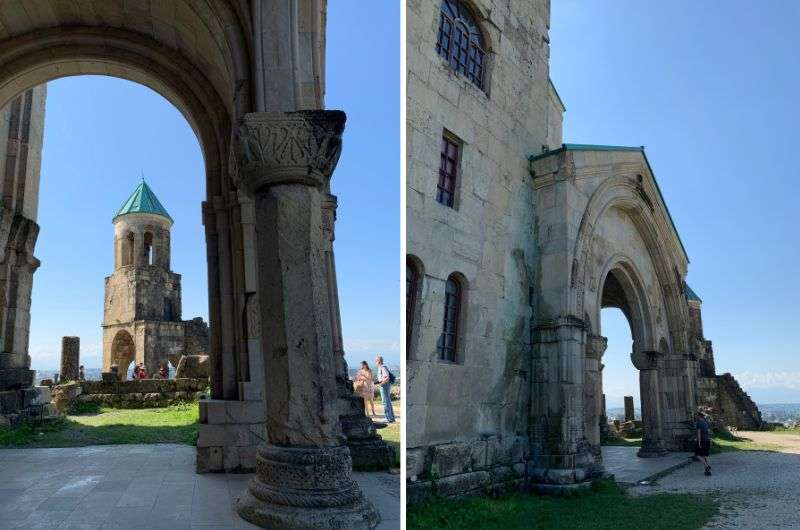 Some fun shots from around Bagrati Cathedral
When you arrive at Bagrati Cathedral, you'll be greeted by a standard-looking cathedral on the outside. Inside, you'll see more hints of its former glory. The cathedral's walls tell stories of the past through (what's left of the) intricate frescoes, offering you a captivating history lesson.
So, prepare to be captivated either by the cathedral—the main architect did receive the Georgian gold medal for his work!—or the audacity of Georgia's mindset as you stand in the presence of Bagrati Cathedral.
It's about a 1.5-km (1 mi) walk from downtown Kutaisi, up towards the north where the Botanical garden is. Remember, entrance to all Georgian churches is free of charge, so giving money to anyone at the door asking for it is not.
Bagrati Cathedral on Google Maps
2. Fight off traffic at Colchis Fountain
​
Colchis Fountain with Meskhishvili Theatre right behind it—photo taken while dodging a sedan
One of Kutaisi's most famous landmarks is Colchis Fountain. And while it may look just cute, there is actually a deeper significance behind the random-looking choice of fountain fauna. They aren't just cute golden animals; they are enlarged models of archaeological artifacts—it's like a mini-museum right in the heart of Kutaisi. Those two horses on top of the fountain? An ancient woman's temple jewelry! Kinda cool, right?
​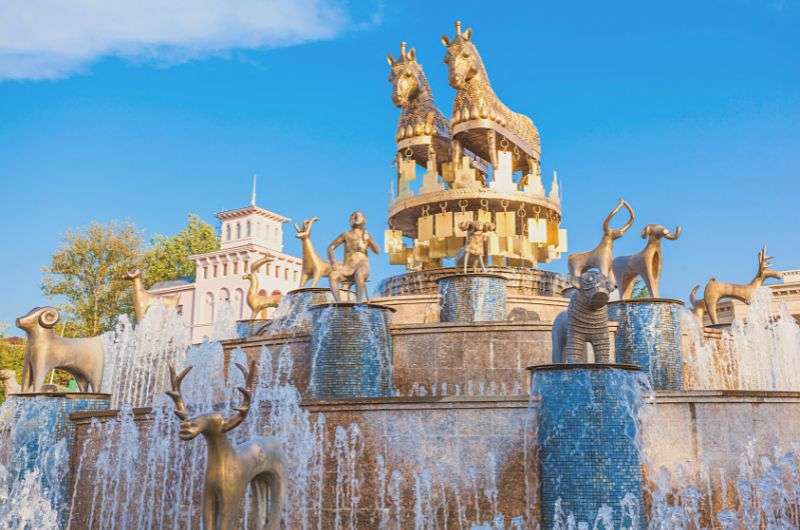 When a charm necklace and a fountain have a baby: Colchis Fountain
One word of caution: Try not to get run over when you're getting your Colchis Fountain pic! Colchis Fountain sits in the middle of Kutaisi's busiest square, which somehow completely forgot about pedestrians. You'll probably get the best look at Colchis Fountain while circling it in a car on the busy roundabout. Seriously, what is this place?! To make matters worse, there are no real lanes, so you can't tell where the roundabout ends and the parking lot starts, so basically, a classic Georgian shitshow. In summary, there are cars everywhere and it's like they're playing the fun game of tourist tag at all times.
Oh, and, while keeping one eye on the traffic, try to take a look at the surrounding buildings as well-- Meskhishvili Theatre and the TBC Bank building are some of the grandest structures in the city.
Colchis Fountain on Google Maps
3. Stay in a heritage building @ Newport Hotel
You can't miss the baby blue exterior of the Newport Hotel
Sometimes, looking just isn't enough to get the full immersive experience you're after. And since riding the horses on top of Colchis Fountain is frowned upon, I thought staying in a Georgian heritage building would be the next best thing.
Bonus points for the spacious roof terrace—you could be sipping your beer with views of Bagrati Cathedral and call it sightseeing.
The Newport Hotel Kutaisi is a baby blue building from the beginning of the 20th century that's located very close to Meskhishvili Theatre and Colchis Fountain.
Newport Hotel is the perfect base in Kutaisi. It even made my list of the best boutique hotels in Georgia
The interior is a mix of classy and modern design with lots of blues and golds. Now, this is an old building turned into a hotel, so it isn't perfect: some rooms are on the small side, and the cobblestoned streets that surround the hotel make for some noisy mornings. So, make sure to ask for a quiet room, or bring ear plugs if you're a light sleeper. Or, just call it part of the experience.
Olfactory side note: the hallways always smelled so nice! Another immersive experience!
Newport Hotel Kutaisi on Google Maps
4. Holy Annunciation Temple
​
The unique exterior of the Holy Annunciation Church
A couple of blocks up from the Newport Hotel, right by the Rioni River, is a unique church called Holy Annunciation Temple. Though there are many stunning monasteries and churches in Georgia, they all look pretty similar from the outside. Nice, but similar.
Holy Annunciation is different, mostly because it used to be a Catholic church before the number of Catholics dropped so low that it was decided to turn the church into an Orthodox one. Particularly the large arches at the front entrance are a nice touch that set it apart from the rest.
​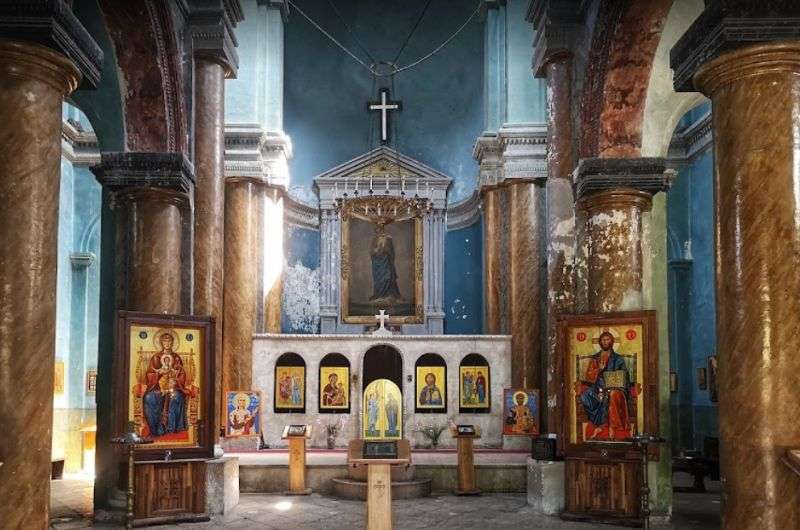 The interior is worth 30 seconds of your time
Inside, the faded blue interior isn't going to hold your attention for very long, so take a peek and head out again. You're now in the French Quarter of Kutaisi, so you can add a little wander in the surrounding streets to see if you can find some interesting old buildings to stare at.
Holy Annunciation Temple on Google Maps
5. Kutaisi Synagogue
​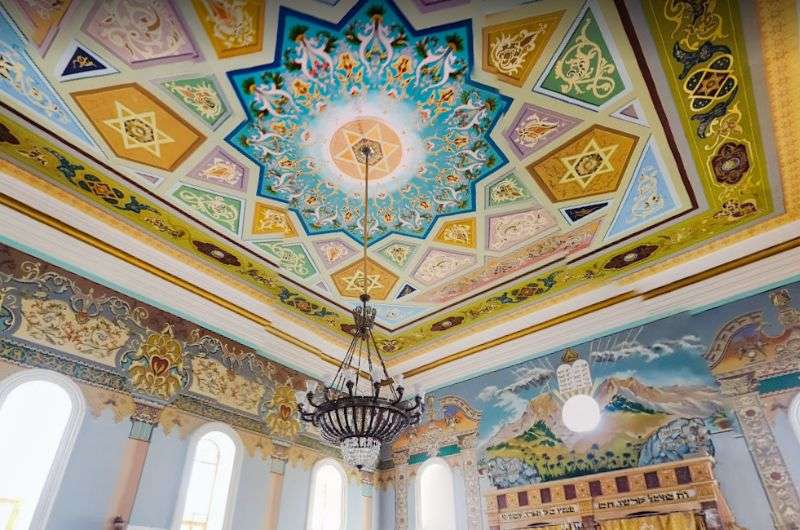 The unexpected splash of color on the inside of Kutaisi Synagogue
Rounding off our tour-de-religions, it just so happens that Kutaisi's French Quarter, where the Annunciation Temple is located, is right next to the Jewish Quarter, so let's see some Jewish stuff, shall we? Kutaisi Synagogue is pretty easy to spot as it's the only building around that isn't slowly but surely falling to pieces. Look for the light stone, block-shaped building.
While the synagogue may not be on the top of everyone's must-see list, it's a unique glimpse into the cultural tapestry of Kutaisi (and Georgia as a whole). Take a moment to appreciate the history and stories told by the rabi that'll gladly let you take a look inside.
Unlike the monochrome, stone exterior, the interior of the synagogue is vibrant with colors. There are actually 3 synagogues in total very close to each other, so if one just isn't enough for you, you can check out the others as well.
Kutaisi Synagogue on Google Maps
Kutaisi day trips: Because Kutaisi isn't worth visiting on its own
The list of places to see in Kutaisi is short, because it's really not a destination that holds up on its own. It does, however, serve as a great base for some awesome day trips that are close by. For example, Gelati Cathedral is the single best thing to do in Kutaisi, and it's not even in Kutaisi!
Here are my favorite Kutaisi day trips:
6. Gelati Monastery: The best place to visit in Kutaisi
Photos don't do Gelati Monastery justice!
Unlike Bagrati Cathedral, Gelati Monastery holds onto its UNESCO status like a boss. And I wholeheartedly agree with UNESCO—Gelati was by far my favorite place "in" Kutaisi, as well as one of the highlights of my entire visit to Georgia. I
Gelati Monastery was one of Georgia's first monasteries, founded in the beginning of the 12th century. And you can see they really took their time to make this place worthwhile for us tourists 1000 years later. How nice of them! If you feel like you can see Gelati from miles away, you'll make the founders very happy, because the goal was for the complex to be visible from the entire country.
Exploring Gelati Monastery
The monastery grounds are comprised of several buildings, which you can wander in and around. Don't forget to peel your eyes off the old structures to also take in the views of the surrounding hills. One of the buildings serves as an exhibition hall, so make sure to peak in to see what's going on there when you visit.
But most of all, it's like you can feel history emanating from the stones of these buildings. Inside the church, you'll find awe-inspiring works of art on the walls, including triptychs and mosaics, as well as some pretty cool and very, very old doors. You'll also probably find scaffolding due to ongoing works, but it's a small price to pay to make sure Gelati Monastery is still standing 1000 years from now when tourists are floating around in solar-powered, cutting-edge explorer vehicles.
Gelati Monastery complex is located 9 km (5.5 mi) northeast from Kutaisi's city center, so about a 15-minute drive. You'll need at least 1.5 hours to enjoy all there is to see.
Gelati Monastery on Google Maps
7. Kutaisi to Batumi day trip: A city with a side of beaches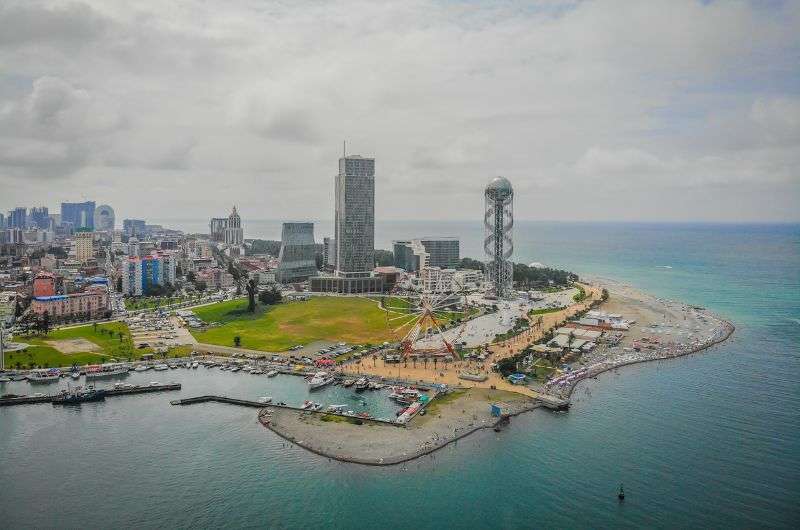 Batumi, Georgia's #1 beach resort
Batumi is Georgia's second largest city with a population of 150,000 and the country's no. 1 beach resort. And even though I think the city is worth a visit, the main beach isn't anything to write home about. So, for a beach day, it's a big NO in my book.
I liked strolling around Batumi, and the restaurants weren't half bad, either. I've heard it be called the Las Vegas of Georgia, and I can see why. It's entertaining.
Batumi is a mix of everything: old and new, modern and very post-Soviet, fun and kitsch. There are peculiar high-rise buildings (like Batumi Tower with a built-in Ferris wheel), cool sculptures and palm trees along the 7 km-long Batumi Boulevard, and busy Europe Square where some of the buildings had me scratching my head. You'll see street art next to Soviet mosaics, street vendors and clubs of all sorts, and laundry lines hanging high up above the sidewalks.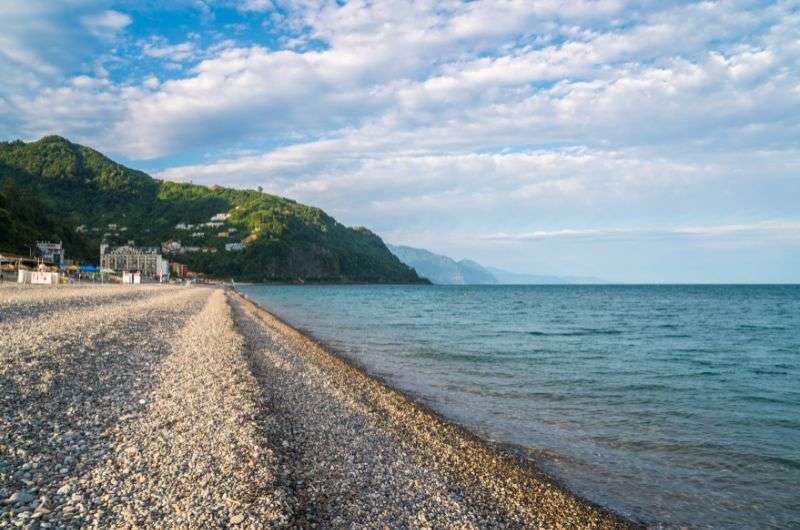 Kvariati Beach south of Batumi
Instead of the main beach, head further away from the city. To the south, try Gonio and Kvariati Beaches (one turns into the other halfway down). These beaches are cleaner, prettier, and way less crowded than Batumi Beach. The southernmost bit, Kvariati Beach, is the perfect combination of relaxing and built-up, with a few good cafes and eateries.
Or, switching directions and going north from Batumi, Mtscane Kontskhi (Green Cape) Beach is 9 km (5.5 mi) from the city. It's right under the Batumi Botanical Garden, giving it a nice, green background, plus it works as an extra side trip if you're not the lying-on-the-beach-all-afternoon type. You also get cool views of the Batumi skyline from Mtsvane Kontskhi Beach.
8. Martvili Canyon: An easy trip into nature
The turquoise waters in Martvili Canyon
Lots of people seem to hate on Martvili Canyon because of how touristy it is, but as I always say: if there's nobody going there, it's probably not worth it. Hey, the Dadiani family used to use these parts as their royal bathing spot, so it has to be nice enough for us regular folks, right?
You can visit Martvili as a day trip from Kutaisi—it's only 50 km (30 mi) away, about a 1-hour drive. The Martvili trail is only 700 m (0.4 mi) long. Since the majority of your time in Georgia will be spent chasing glaciers and embarking on challenging day hikes, a little bit of easily accessible nature might be just the thing you're looking for.
This canyon is unique in that it stays lush and green all year long thanks to the high humidity. You could go there over Christmas and still see the turquoise waters flanked by big, moss-covered boulders. Add a couple of cute bridges and viewing platforms (and a waterfall or two), and you've got yourself a winner!
When you get to Martvili Canyon, it's easy to park right by the trail. You then take a little walk, all while staring at the pretty water below. Then, get a boat ride to the other side. Don't skip the boat! It may sound tacky, but it takes you to the opposite side of the canyon than the trail, and it's the only way to see the canyon from the bottom up.
The price might seem steep: GEL 17 for the trail and an extra GEL 15 for the 20-minute boat ride. It is relatively expensive compared to other places, but it's still just USD 12, which I'd hope won't make you go broke.
9. Katskhi Column: A little church on a big pilar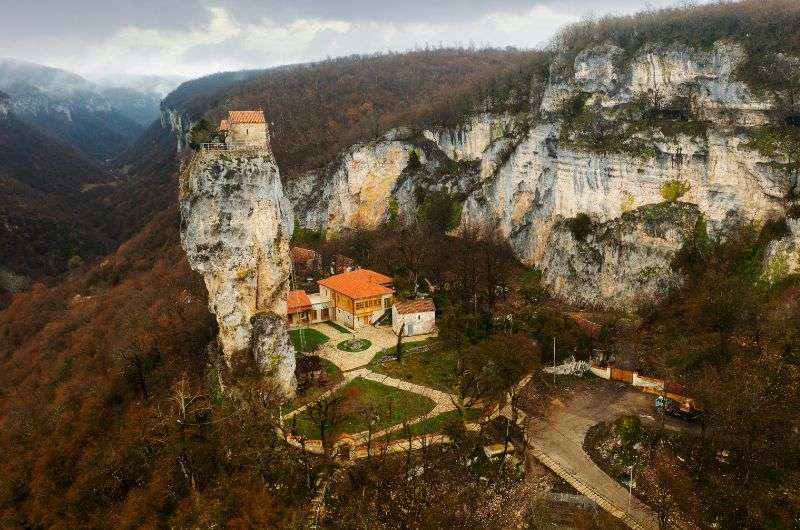 The little church on top of Katskhi Column (and a bigger one at the bottom)
Katskhi Column is a little church on a big pillar near Chiatura, a little over an hour away from Kutaisi driving on pretty good, though sometimes narrow, roads.
There's not that much to say about it, it's really just a small church on a 40 m (130 ft) limestone column. Then again, you can't actually visit the church, so don't get your expectations soaring too high.
Men (and men only) used to be able to climb up the ladder and turn Katskhi into a limestone column with a church and a human on top, but that is no longer possible. There used to be a monk that lived there for over 20 years, and now the monks from the church at the base of the column (which you can visit) come up to the church from time to time to hang out with God. But the public is not invited over for tea.
You'll see signposts directing you to Katskhi Column parking. Park at the first parking area and walk the rest of the way unless you enjoy driving on bumpy dirt roads.
So, embrace the quirkiness, snap a selfie, and head on over to the next item on this list, Chiatura. It's close by, so it makes sense to connect the two (and add Mgvimevi convent while you're add it, too—it's also on this list).
10. Chiatura: The ugly city with cable cars
Chiatura... isn't she pretty?
What Chiatura lacks in beauty, it makes up in uniqueness. You will only enjoy Chiatura if you're an urban explorer and can find allure in old, defunct buildings and cable cars.
Chiatura is a former manganese mining town known for its network of Soviet-era cable cars (originally set up to help the miners commute) that crisscross the city. All the old cable cars are now discontinued and will probably spend the rest of time rotting. They are supposed to be restored, since they are classified as a heritage site, but I'll believe it when I see it. Too bad most of the old, rusty cars have been removed from the lines—they were pretty photogenic and Chiatura looked much more zombie apocalypse with them.
The good news is that 4 new cable car lines were opened in 2021, allowing more than just those seeking photo ops of derelict buildings and sad-looking stations a chance to enjoy the place. To ride on one (or all) of the lines, head to the imaginatively named Central Cable Car Station.
Apart from the cable cars, it seems the majority of Chiatura enthusiasts love walking around finding old, abandoned buildings. Not my cup of tea, but if this is something you enjoy, you'll have a blast in Chiatura.
Chiatura is located very close to Katskhi Column and Mgvimevi convent, all about a 1.5-hour drive from Kutaisi, so they can easily be grouped together into one day trip.
11. Mgvimevi Convent: A respite carved into a mountain
Mgvimevi Convent
Mgvimevi Convent is a slightly hard to find little cave monastery right outside of Chiatura. Once you manage to locate the steep staircase up the mountainside, you'll be treated to what'll feel like a secret church. The main part of the church is in a natural cave, but it was built up in the 13th century into a simple place of worship that exudes a sense of serenity and humility.
Being quite a bit up off the ground, you might be looking forward to the panoramic views into the landscape, right? Well... if you keep your gaze up and ignore the ugly industrial area that's right below Mgvimevi Convent, you will be able to see some hills! But the church is why you're here. Keep that in mind so you're expectations aren't radically different from the reality.
While Mgvimevi Convent may not boast the same fame as other religious sites in Georgia, it's still worth exploring. If you're visiting this spot after Chiatura, you'll feel like you've found heaven itself.
Mgvimevi Convent on Google Maps
12. The black sand beaches beyond Kobuleti: Shekvetili, Ureki, and Grigoleti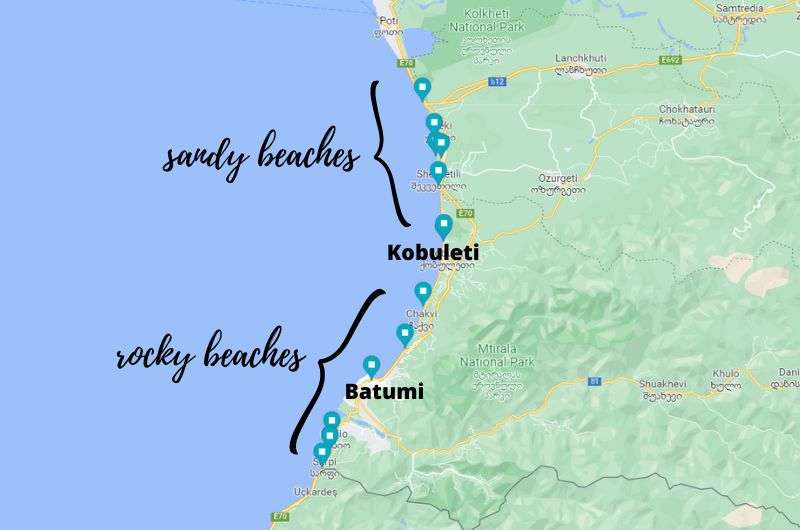 For black sand beaches, head north of Kobuleti
If you're looking for a beach day, but you prefer sand to pebbles, you'll need to skip Batumi (and all the southern Black Sea beaches), and head up further north past Kobuleti.
Kobuleti is Georgia's second most popular beach resort, a city that's way less hectic than Batumi but still has all the amenities you might need (it's also where the best Black Sea beach hotel is located: Magnetic Beach Resort). There are no crazy skyscrapers with Ferris wheels and neon lights, and the beach here seems to go on forever. And they're sandy. They're supposed to have healing properties, too.
The black(ish) sand of Shekvetili Beach
Kobuleti Beach continues north and turns into Shekvetili Beach. Worth a mention is the Shekvetili Dendrological Park where you can walk through an amazing forest of huge bamboo and chat up some parrots and lemurs.
The beach that's just beyond the dendrological park is called Karovani Beach, which then turns into Ureki, and then Grigoleti Beach even further north. All of these beaches as basically the same, with limited or no amenities, black sand, and an overall peaceful vibe. You can't go wrong with any of them.
If you prefer to be in or close to the city, head 2 hours from Kutaisi to Kobuleti. If black sand and the sea is all you're after, Ureki Beach is only 1.5 hours away.
This post contains affiliate links. I earn a small commission if you make bookings through my links, at no additional cost to you. This helps keep this blog free, thank you!