Honestly, I think if Georgia just exiled everyone that lives outside of the capital, kept its mountains and the pretty city of Tbilisi, they'd have a tourism winner. Because holy heck the customer "service" in this country is so crap it's hard to explain even by the Soviet mentality, which, unfortunately, is still very much alive and kicking.
You can read a detailed account on why I have no problem proclaiming that Georgians are some of the meanest, unfriendliest and scammiest people I've met during my travels, but lucky for them, they still have Tbilisi. I'd go to Tbilisi again. Can we just move it outside of Georgia first?
Tbilisi is a city that left a positive lasting impression on me, despite my reservations about the country as a whole (those impressions are also lasting and make my blood pressure surge for all the wrong reasons).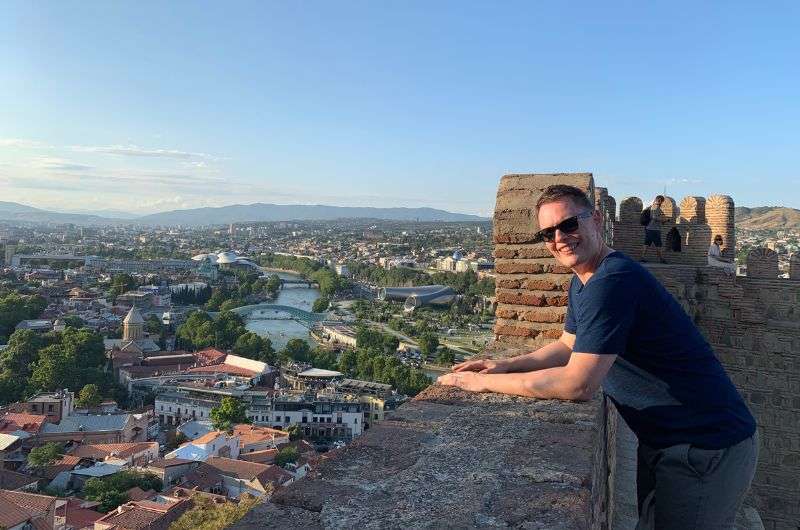 Tbilisi is great!

I must admit that the experience wasn't without its challenges even in Tbilisi, but after the intro, you wouldn't expect it to be, right? Prepare yourself for scorching heat and long walks as you navigate the hilly terrain. And the hotels in Georgia? Horrible, Tbilisi or not. But I do have one super special secret tip on that front: Hotel 21! More on it below.
You might also be interested in reading:
If you're ready to brave Georgia, or even better, if you're ready to spend a couple of days in and around Tbilisi, here's my detailed Tbilisi itinerary, as well as the top day trips from Tbilisi that you can use to extend your stay.
But if you just want to be inspired and figure out if Tbilisi is worth visiting, here is a list of what I think are the best things to do and some great tourist attractions in Tbilisi:
1. Chronicles of Georgia: A blast from the past
The epic Chronicles of Georgia—find the tiny human!

My favorite place in Tbilisi and perhaps in all of Georgia are the Chronicles of Georgia. This massive monument was rarely mentioned on the best places lists that I checked before I visited, so to me, I found a hidden gem! And I usually hate hidden gems. But I found this one, so I'm allowed to love it.
Disclaimer: You won't be there by yourself nowadays; there are plenty of other savvy tourists that have caught onto the epic spot that is the Chronicles of Georgia, but when I visited a couple of years ago, I really felt like I discovered something. Did I start a trend?!
Picture this: a massive, black giant of a monument perched atop a mountain, looking like it just stepped out of a Soviet documentary. It's a monument so monumental that it's practically screaming, "Look at me! I'm big and proud and utterly unmaintained!" It reminded me of war memorials in Russia, but somehow it felt almost sacred. Strange but captivating vibes for sure.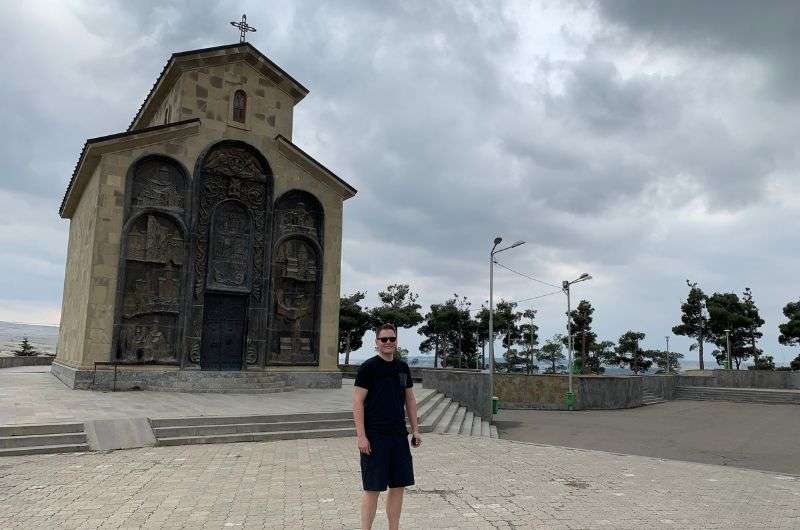 When you're standing under the long stairway lined with extra big statues, staring up at the main monument up at the top, you feel so small, and like Big Brother is watching (from Russia).
The Chronicles of Georgia are built from a mix of stone, bronze, and copper. This bad boy was meant to celebrate a whopping 3,000 years of Georgian statehood and 2,000 years of Christianity in this quirky country.
It's an open-air monument, meaning you can visit it at any time of day or night (it is illuminated), and there's no gate or entrance fee.
We spent a couple of hours here before heading to Kazbegi (one of the places I recommend as a day trip from Tbilisi). There's a small parking lot right at the monument. If you're visiting as part of your Tbilisi itinerary, just take a taxi. It's just 15–20 minutes from the city center.
2. Narikala Fortress: Not much fortress, but lots of views
Narikala Fortress

Narikala Fortress is the supposed pride and joy of Tbilisi. I had high hopes for this place, imagining a majestic fortress straight out of a fairytale. But then reality hit.
So, imagine this: I'm sweating buckets in the scorching heat, dragging myself up what felt like an eternal climb. Finally, I reach the top, expecting to be blown away by this iconic fortress—because from down below, it really does look formidable. And what do I find? A pile of ruins laughing at me like "Sorry, Jan, we fooled you!"
I mean, come on, Tbilisi, you call this your main attraction? But hey, it's not all doom and gloom up there. Once you catch your breath and wipe off the sweat stains, you'll be rewarded with some nice views of the city, meaning you can partially forgive Narikala for being just an ok fortress.

On the way to Narikala Fortress... or what's left of it

So, if you're up for a challenging hike that will leave you questioning your life choices, Narikala Fortress might be right up your alley (or take a taxi or the cable car from Rike Park).
You'll want to wander and find the built-in staircase that's on one of the fortress walls, that's actually a really cool (and hazardous) feature.
While you're up there, poke your head into St. Nicholas's Church. Just make sure you're dressed appropriately. Jesus doesn't want to see your shoulders or knees, and for women, your hair.
Narikala Fortress is free to visit and is always open.
3. Sameba aka the Holy Trinity Cathedral of Tbilisi: The Big Mama of churches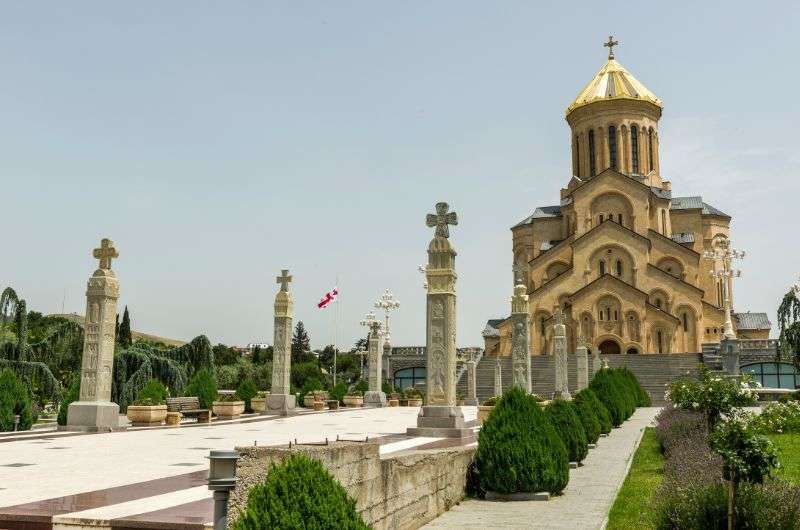 Sameba Cathedral's grand entrance. Too bad you can't enter that way.

Sameba is Tbilisi's main church and one of the largest religious buildings in the world. When you look at it, it looks like a church on a church on a church on a church. It fits 10,000 people inside!
It's a colossal cathedral with its golden roof shining brighter than a disco ball. You can't miss it, seriously. It's like the Big Mama of all churches, dominating the Tbilisi skyline.
The inside of the church is like stepping into a Renaissance painting, minus the stuffy museum vibes. Think intricate frescoes, golden icons, and ornate details will make your eyes pop.
A complex this big will obviously have several entrance points, but the main entrance is where Erevan Street turns into Samreklo Street. This is the way you should enter to get the full grand entrance to the cathedral—complete with wide staircase lined with statues. But don't be feeling like Ilia II just yet, you can't use the main entrance of the actual church to get in. The public door is around the corner to the right of the fancy, tall doors that are not meant for us regular folk.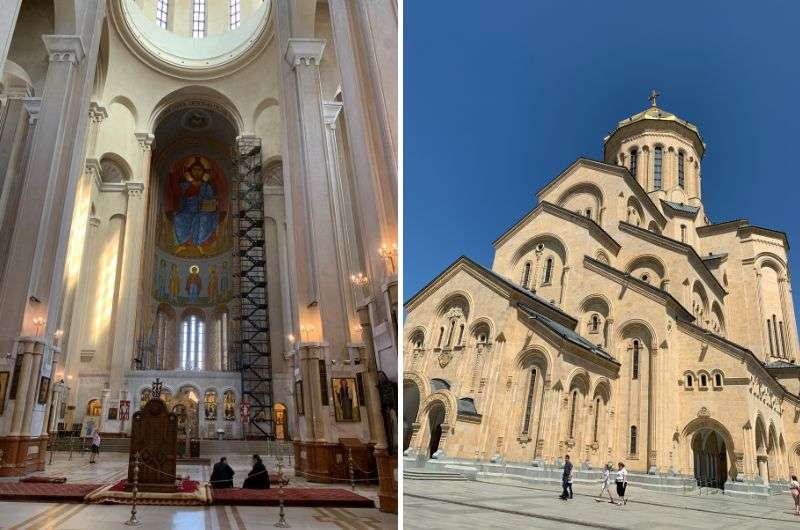 The Holy Trinity Cathedral aka Sameba—a closer look

The interior is open daily from 7 am to 10 pm and is free to visit. For that extra special experience, try to be there for the Orthodox Mass (Saturdays at 4 pm and Sundays at 10 am). If you don't care about the unique singing that happens during mass, aim for a visit later in the day to catch a nice sunset.
Sameba is located on the opposite side of the Kura River from the Old Town, so you'll either have to walk 30 minutes (from Liberty Square) or take a taxi.
Remember, at all religious sites in Georgia, there is a dress code. Cover your shoulders, legs, and hair (for ladies). They'll let you borrow knee and hair covers at the entrance, but I wouldn't trust that they haven't been used by dozens of other inappropriately dressed visitors before you, even if they look disposable. Remember, this is Georgia, and they couldn't care less about tourist hygiene standards.
Bonus tip: The best hotel in Tbilisi is literally Sameba's neibghour

Cool design and in a prime spot: Hotel 21

With heavenly beds and a angel-like, professional staff, and bathrooms almost as big as Sameba herself, you'd think some of the holiness of Tbilisi's chief cathedral rubbed off on Hotel 21! I mean, it is literally right next door to it.
Get yourself booked into a room on the higher floors of Hotel 21 for incredible views of the mountains or of Sameba's towers. But no matter which room you get, I bet you'll appreciate the tasteful, modern design.
If you're a breakfast enthusiast like me, you'll be happy to know that the offerings change every morning. Boring food is a no-no in my book.
4. Mziuri Park: Fancy a silver hippo?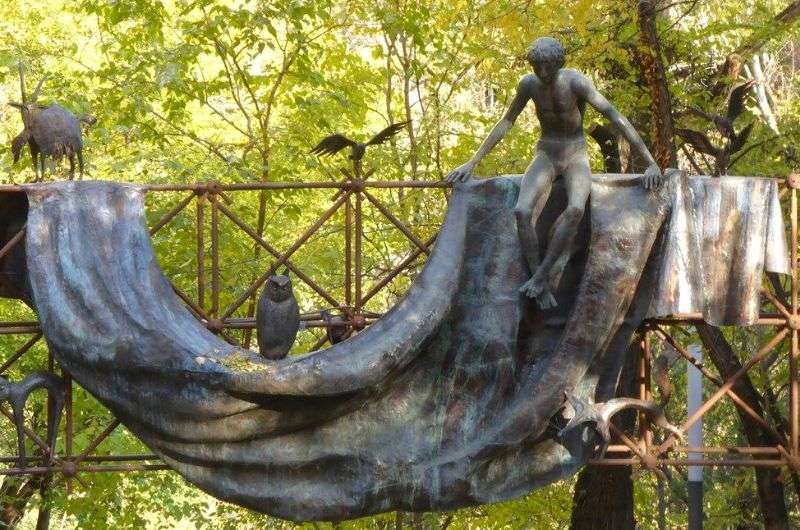 One of the many art installations in Mziuri Park

Every city needs its Central Park, and in Tbilisi, it's Mziuri. It's the ultimate place in the city for locals and visitors to come and relax. It's always interesting to me to see "Central Parks" wherever I travel, since you get to see the regular people just hanging out, going about their day. And in Georgia especially, it's like the one place nobody's trying to rob you of your nerves. (You can tell I'm still very bitter about Georgians, yes?)
There are people jogging, kids running, grandmas strolling, and everyone seems to get along. There are playgrounds, a skate park, a lake, and most interesting of all, a big, silver hippo. I'm kidding about how interesting it is, it really isn't all that fantastic, but it is big and silver.

Mziuri Park was established in 1982, and severely damaged in the 2015 flood. Since then, it has continued to be rebuilt, so it's now better, cleaner, and fuller of sculptures than ever before.
One of those shiny additions is Begi, a silver sculpture of the hippo that escaped the zoo (that is also in Mziuri Park) in 2015, becoming an instant sensation as he munched on leaves in front of the Swatch store and promenaded himself down the city's central highway.
Before you get to Begi, you can start looking for other art around the delightful Cafe Mziuri in the southwestern corner in the park, which is where many of the park's most interesting sculptures are located. Grab a coffee or a salad or soup, they're homemade, and the design of the little house is trendy.
Then you can make your way through the park all the way to said silver hippo, but make sure to stop at Cube in Context. What used to be one of Tbilisi's rotting, discontinued cable car stations is now a cool white cube in the middle of the park that serves as a cafe and art center.
5. The Bridge of Peace: Walk across like Michael Jackson
Tbilisi's Bridge of Peace: Where funky architecture meets Soviet history in a captivating display

For me, it was a strange feeling walking on a bridge that's so connected to the Soviet Union, which I wholeheartedly hate, along with the whole stupidity of communism and socialism.
Tbilisi's Bridge of Peace is one of the most recognized landmarks of the capital, and you can clearly see why. They didn't make it inconspicuous, that's for sure.
The steel and glass bridge connects the Old Town on one side of the Kura River with Rike Park on the other shore. The park itself it a cool place to visit, if only to see the similarly out there Rike Concert Hall. I'd say the bridge and the concert hall are built in such extravagant style that they are out of place in Tbilisi, but they don't even feel like it. Tbilisi has some funky (in both good and very bad ways) architecture up its sleeve and has have no trouble shoving weird buildings right up next to historical buildings.
There are a ton of LED lights on the Bridge of Peace, and, starting every evening before sunset, they put on one of 4 light shows every hour on the hour. The actual walkway of the bridge lights up for each person walking across (motion sensors, not AI in bridge form). I felt like I was the one they were waiting for to come to Tbilisi thanks to this feature. Fun stuff!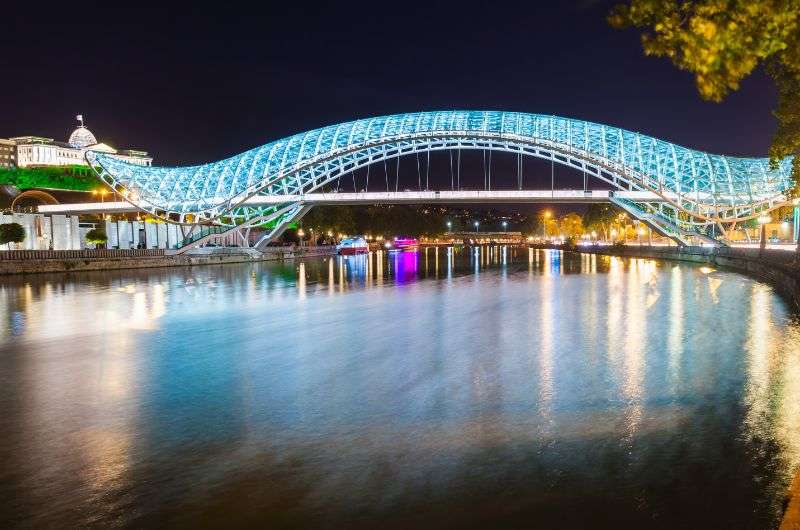 The Bridge of Peace at night

You get great views of the Narikala Fortress, Mother of Georgia and the Presidential Palace from the bridge and Rike Park.
As you can probably gage from its name, the Bridge of Peace was built as a symbol of Georgia's transition from post-Soviet struggles to a nation overflowing with life, peace, and unicorns dancing on rainbows. Now that I think of it, a whole lot of the more ignorant and annoying Georgians that I met on my trip should go walk across the bridge a few times, because judging from their socialist ways, it seems they missed the peace memo.
6. Mother of Georgia: Would you like wine with that?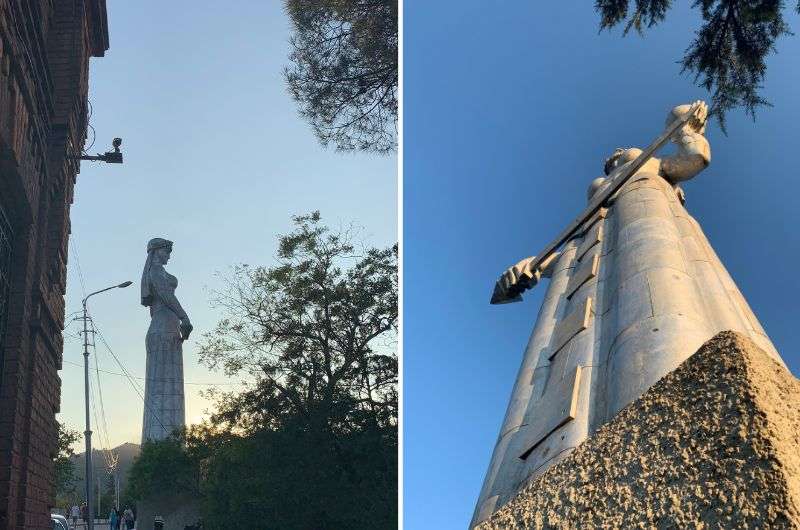 Mother of Georgia: Meet the ultimate party mom, armed with wine and a sword

What do you want for your birthday? Well, if you're Tbilisi and you're turning 1500 years old, you get a mother—Mother of Georgia aka Kartlis Deda! And she's got a bowl of wine in one hand (ready to party) and a sword in the other (won't take any nonsense). So basically, a typical mom.
The 20 m (65 ft) aluminum woman in national dress stands above the city, close to Narikala Fortress and the Botanical Gardens. She greets enemies and friends, each of them with a different hand. She symbolizes the history of the city of Tbilisi with the never-ending battles with the enemies, while welcoming the new era at the same time.
You can reach Mother of Georgia either on foot or by taking the cable car up from Rike Park. There's no entrance fee to see her. She's up on a hill, so you'll also get some great views of the city.
7. Sulphur Baths and Leghvtakhevi Canyon: Watch out for the smell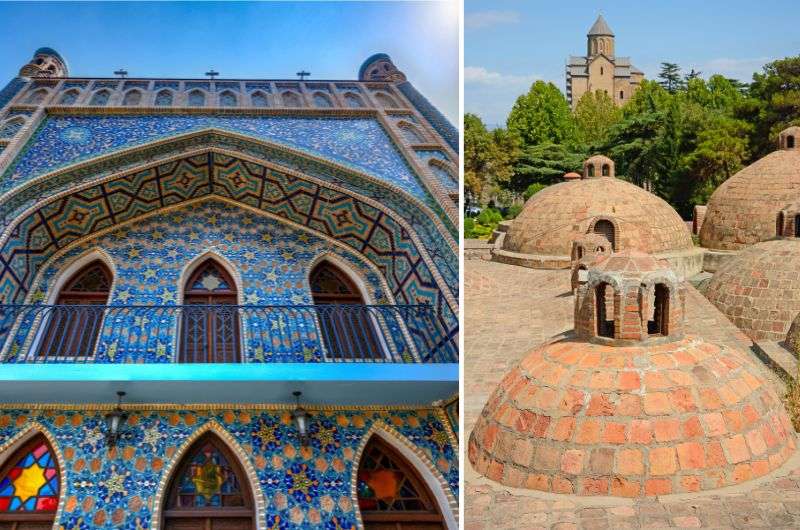 Get steamy: Insta-worthy visuals and a nose-pinching aroma await in Tbilisi's Sulphur Bath district

The area right below the fortress is nice place to spend an hour or so, too. The colorful wooden balconies on the houses all around are a nice touch. You'll be feeding your Instagram faster than you can say khachapuri.
Maybe leave the visit of the Sulphur Baths for your way down from Narikala Fortress, since you'll be huffing, puffing, sweating like a pig on the way up. I didn't take an actual bath and think just looking around is good enough. If you do want to experience the Turkish-style baths, do your research first! There are something like 15 individual bath companies and some of them are bad even for Georgian standards. But hey, the rotten egg smell that looms in the air is free for everyone!
Leghvtakhevi Canyon

Closeby, there's Leghvtakhevi Canyon, which is certainly a hyperbole, but it's an almost-dry river bed lined with wooden walkways and some cafes, and most of all, superb views of traditional houses that stand on the cliff's edge. You can find a waterfall there, too.
8. The leaning clock tower of the Gabriadze Theater: Made by a world-famous puppeteer
Gabriadze Theater and its clock tower straight from a twisted storybook

A fun little stop on any wander through Tbilisi's Old Town is definitely the clock tower of the Gabriadze Theater—it looks like something right out of a children's book that fell into a warp tunnel and came to real life.
It was designed by award-winning artist, writer, and director Rezo Gabriadze, and it fits right in when you learn that the theater it's attached to is actually a marionette theater. And while he didn't build it with his own hands, he did paint the couple hundred tiles that are at the bottom of the tower.
I wouldn't bother trying to time your visit for the hourly ding dong and little angel that rings a bell up top, but you might be interested in the 12 pm or 7 pm puppet show that's added to the bell ringing and takes place in the tiny theater that's part of the tower. It's called "Circle of Life"... spoiler alert: it starts with birth and ends with death.
9. The other highlights of Tbilisi's Old Town: Because they're close together anyway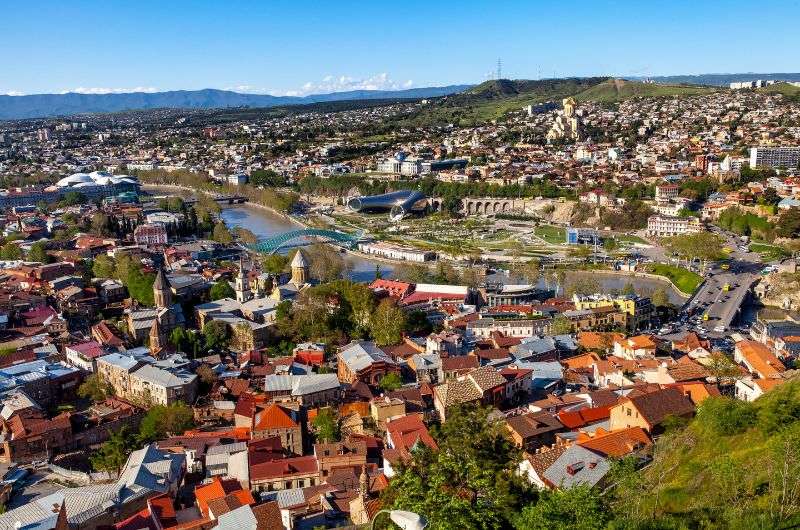 Tbilisi Old Town with Peace Bridge

Speaking of the Old Town, I've lumped all of its other highlights into one item on this list of things to do in Tbilisi, because it's just a whole vibe. A place that'll make you want to love Georgia (before you head out of Tbilisi and quickly change your mind).
Anyway, right next to Gabriadze Theater is Tbilisi's oldest church, the Anchiskhati Basilica. Built in the 6th century by King Dachi of Iberia, it went through all sorts of ups and downs: damage in wars between Georgia and the Persians and Turks, adding a dome in 1870, and then the shitshow that was the Soviet Union, when religious ceremonies at the church were banned. They eventually got rid of the extra dome in the 50s/60s of the 20th century, but it wasn't until 1991 that Jesus moved back in.
This little church is the home base of the Anchiskhati Choir a world-renowned Georgian polyphonic choral. You can witness the chilling sound of these men singing in the historical church every Sunday at 10 am.
If you're used to the narrow alleys of Old Towns around Europe being well-maintained and restored, you'll need to shift your mindset in Tbilisi. There are some nice little streets, and some that just look plain old old. Like yucky old. Or you could use hippy-dippy language and call them authentic.
As you wander towards the busy roundabout that is Liberty Square, you'll get a good idea of what I mean. It's part of the main thoroughfare of Tbilisi, so take a look at St. George way up on his granite pedestal and get the heck out of there, back into the little streets of Tbilisi's Old Town.

To find those nice, restored little streets, do like we did when we stumbled upon Gudiashvili Square. So many cute, colorful houses, and clean streets, I felt like I was in a dream version of Georgia!
If you decide to walk up to Narikala Fortress, you can do so in several ways, one of which is taking the popular Betlemi Stairs. It's a stairway that take you up the hill between traditional Georgian houses and even some churches, with lots of twists and turns, lending you a new view around every corner. Again, they are in desperate need of some TLC, but hey, maybe it's part of the charm.
10. The Museum of Illusions: I can't believe this is on the list
Museum of Illusions—nothing new but good if you have time (or kids)!

I liked Tbilisi, I really did. But if there's a Museum of Illusions on the top attractions list, it must mean there's not that much to do in the city, considering there's one of these exact museums with the exact same exhibits in just about every country capital I can remember. I had to try really hard to put together a good 2-day itinerary for Tbilisi. You know me, I'm a man of action, not a man of mundaneness.
The museum will probably be a big hit with the kids, but even childless me, an eternal kid at heart, had fun there. For like an hour. Besides otpical illusions and fun photo ops—the "standing on the ceiling" room has to be the favorite; you can also break your brain in the puzzle game room.
11. More churches and monuments: If you have extra time in Tbilisi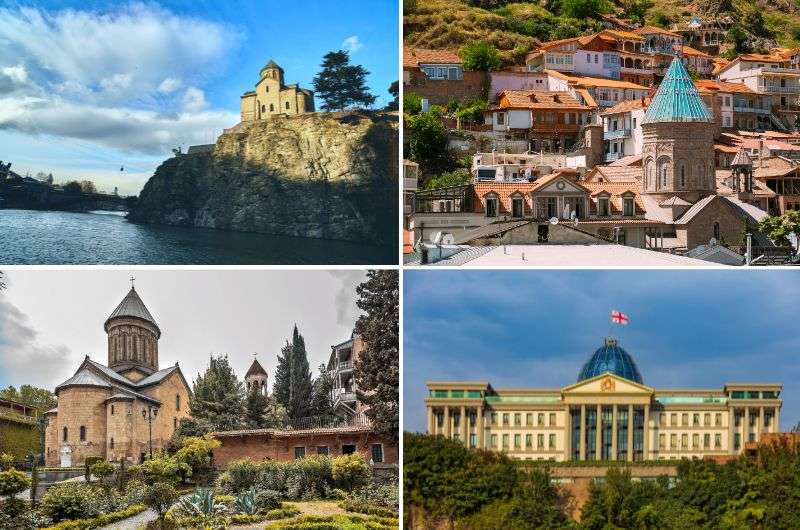 Metekhis Church, St. George Cathedral, Zion Cathedral and The Ceremonial Palace of Georgia

Even if you're not a church fan, you'll have to agree that Tbilisi has a fascinating offering of religious buildings. You'd think being kind and not stealing from visitors of your country would be a much more popular trait in the country, but sadly, no.
Apart from the ones I already mentioned in this list of places to see in Tbilisi, here are a few extra that you won't be mad about visiting:
Metekhi Church. Location, location, location. Metekhi Church is across the river from Tbilisi's Old Town, perched up on a cliff, so going there means not only seeing a cool church, but also some of the best views of the city. Visit King Vakhtang Gorgasali, the city's founder, in the courtyard (he's a statue, not a mummy, in case you were wondering).

St. George Cathedral. Just a skip and a hop (and a little swim) away from Metekhi is St. George's Cathedral, with its distinctive, pointy turquoise rooftop. And guess what? It's turquoise on the inside, too.

Zion Cathedral. It's pretty plain on the outside, and kind of spooky on the inside. This used to be Tbilisi's main cathedral before Sameba won over that honor. I guess sometimes, bigger is better.

The Presidential Palace. How... tasteful and not cringe at all.

If you're craving more non-religious monuments in Tbilisi, try these:
Queen Darejan's Palace. The little that is left of the palace after the Shah of Iran, Agha-Mohammad-Khan, razed the city to the ground in 1795. Head up to the iconic blue balcony or wander in the small garden and find the small chapel. You can hear nuns from the onsite convent singing there on Sunday mornings.

The Ceremonial Palace of Georgia (also known as the Presidential Palace). I can't say I find the strange concoction of styles nice, but it screams Georgia to me, and it's where the country is lead from, so that's important, I guess. How tasteless is the architecture tough?! There is a museum in there that exhibits gifts that the President of Georgia has been given by world leaders.

This post contains affiliate links. I earn a small commission if you make bookings through my links, at no additional cost to you. This helps keep this blog free, thank you!