I've decided that Tbilisi is the only place in Georgia that I don't hate. I wholeheartedly despised the Soviet mentality of the people of Georgia outside of the country's capital (not that it's missing there completely, either). Come on, guys, it's been 32 years, you're not Russia's puppet anymore, lean into the West a little!
With that, I'll say that though I have no desire to re-visit Georgia, Tbilisi is a city I'd give another go. I like it there, and that's saying a lot given how distressed I felt everywhere else. The nature was beautiful, I'll give it that. Here are the best places to visit in Georgia.
You might also be interested in reading:
How many days do you need in Tbilisi?
You need 1 – 2 days to see Tbilisi's highlights. I can't imagine spending any more than that, unless you're the type of traveler that likes to sleep in until noon and then people watch for half of the afternoon. The top places you need to visit in Tbilisi can really be seen in a day or two, it's a smallish place and you don't need to go out searching for hidden gems in the unappealing outskirts. Yikes.

Here I am finalizing my itinerary for you on a scroll of paper in the Chronicle of Georgia in Tbilisi

Now that that's settled, here's a detailed trip plan for your 2 days in Tbilisi. I'll include hotels, places to eat, and all the practicalities of each attraction or tourist site.
Day 1 of Tbilisi itinerary
See the route of day 1 on Google Maps

Main sites visited on day 1: Sameba, Queen Darejan Palace, Metekhi Church, St. George Cathedral, Great Synagogue, Zion Cathedral, Anchiskhati Basilica, Gabriadze Tower, Bridge of Peace, Rike Park, Mtatsaminda Park
Restaurant tips: Organique Josper | Blue Fox Restaurant and Bar Tbilisi | Shin Restaurant
Hotel recommendations: Hotel 21 | Blue Balcony Hotel
Further reading: Top places in Tbilisi | What to do in Kutaisi | Georgia's coolest landmarks
Day 1, stop 1: Sameba
Sameba Cathedral's grand entrance. Too bad you can't enter that way.

Time spent here: 1 hour
Sameba aka the Holy Trinity Cathedral of Tbilisi, is an eye-catching structure that's the city's main church and the best place to start out your itinerary to catch some epic views of the city. That's because it's located on a hill on the other side of the Kura River from the Old Town center. And, if you visit on a sunny day, that golden rooftop shines bright like a diamond!
If you're staying at Hotel 21, Sameba's right on your doorstep. If you're in the Old Town, you'll need to make your way there—I suggest taking a taxi (ask your hotel reception or use Bolt). There's enough walking going to happen for the entire rest of the day (and honestly, Tbilisi isn't a city with pretty backstreets or cute little alleyways).
The church is open daily morning to night, but if you're visiting on a Sunday, pop in for liturgy service at 10 am. You'll get to witness not only the intricate frescoes, golden icons, and ornate details, but also some Georgian polyphonic signing that happens during liturgy.
I felt like a king walking towards the church on the fancy, tiled walkway leading up to the main door. Until, that is, I found out I'm more like the jester—you can't enter through the main gate, us common folk need to use the door to the right.

The Holy Trinity Cathedral aka Sameba—a closer look

Make time to wander around the church grounds, they're nice and well-maintained, and you get a different view from every corner.
Remember, at all Georgian religious sites, you need to follow the dress code of covered shoulders, and long pants or skirt/dress, and covered hair (just the ladies). There are usually wraps at the entrance to churches, but for the mother of hygiene, carry your own head scarf!
Open daily from 7 am–10 pm, liturgy is Saturday at 4 pm and Sunday at 10 am
Free entry

Day 1, stop 2: Queen Darejan Palace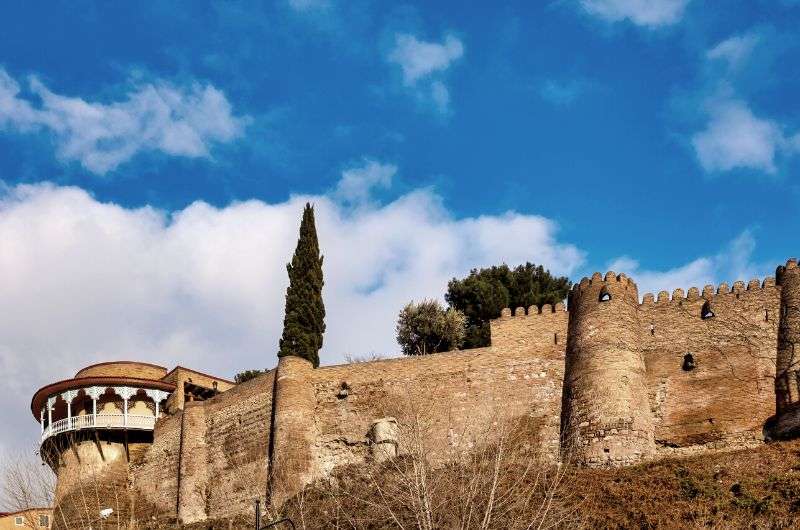 There she is! The blue balcony of Queen Darejan Palace

Distance from previous stop: 800 m/0.5 mi, 10-minute walk
Time spent here: 20 minutes
From Sameba, walk down the hill and then towards the city center, making sure you stop by Queen Darejan Palace, if only to walk on that blue balcony. The palace was built as part of the city walls in 1776 for Erekle II's wife, Queen Darejan, and then used as a monastery, a warehouse, a theater, and now a monastery again.
The grounds are not huge, but they do feel special. There's a church and several buildings including a hospice and educational center, but you're there mostly for the views from the iconic balcony.
To get to Queen Darejan Palace, look for the stairs leading to Bricks Hotel. It's pretty straightforward after that. Don't be deterred by the generally rundown state of the alleys that you'll be walking through. Everything's ok, this is Georgia. They can't keep things tidy if their life depended on it.
Get your views in and move on, there's not really much to do here.
Open daily 10 am–6 pm
Free entry

Day 1, stop 3: Metekhi St. Virgin Church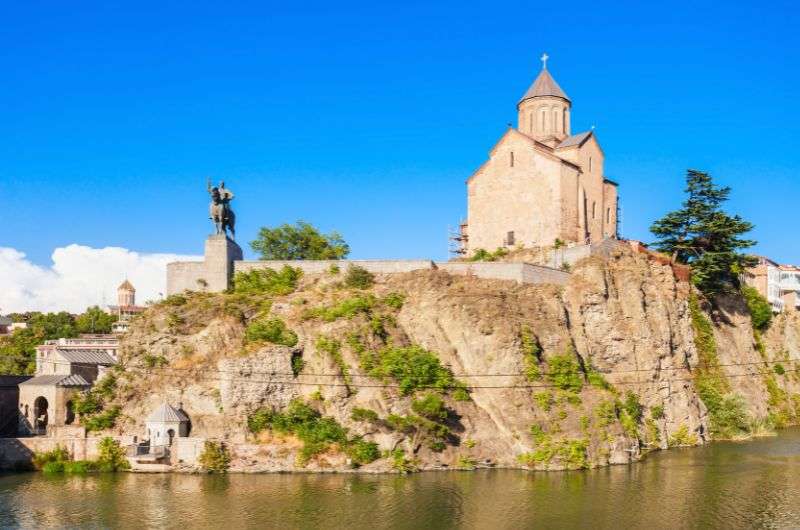 Metekhi St. Virgin Church

Distance from previous stop: 400 m/0.3 mi, 6-minute walk
Time spent here: 15 minutes
Tired of all of these views of Tbilisi yet? Too bad, because you're getting more on this next stop.
Metekhi Church is just steps away from Queen Darejan's Palace. Sure, it's a nice church, but so are the other 3,741 you'll see today (here's my complete list of Georgia's most beautiful churches and monasteries). Its picturesque setting is the real reason you want to visit. And this time, you'll be right by the river, so it's totally different from the other views you've gotten so far!
Say hi to King Vakhtang Gorgasali, the city's founder, in the courtyard (he's a statue, not a mummy, in case you were wondering).
Day 1, stop 4: St. George Cathedral of Tbilisi
St. George Cathedral

Distance from previous stop: 300 m/0.2 mi, 5-minute walk
Time spent here: 10 minutes
Tired of of seeing so many churches in Tbilisi? Too bad, because you're getting more on this next stop (and then at least 2 more and a synagogue to boot). This time, you'll finally cross the Kura River to the actual Old Town of Tbilisi.
What sets St. George Cathedral apart from the rest of them on this itinerary is its turquoise roof, and the turquoise accents in the interior. It's also one of two Armenian churches in Tbilisi.
The church is small, and you'll be done with your visit within minutes, but the beautifully decorated walls are worth a peek inside.
And just in case you were wondering, no, there are no views of Tbilisi from St. George's. Bummer, I know.
Day 1, stop 5: Great Synagogue of Tbilisi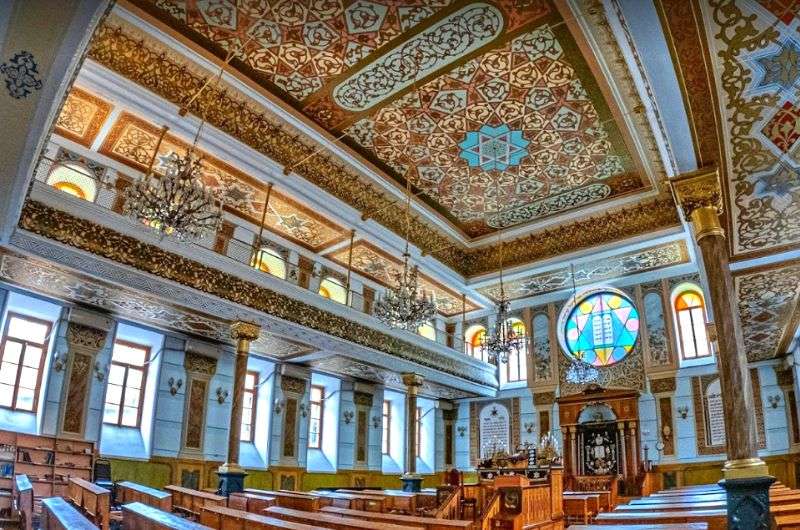 The Great Synagogue

Distance from previous stop: 250 m/0.15 mi, 4-minute walk
Time spent here: 15 minutes
This stop is only for the brave, since you have to ask the person at the door if you are allowed to take a look inside. That shouldn't stop you; actually, you can look at it as practice for dealing with the unfriendly, conniving Georgians outside of Tbilisi. Compared to them, a semi-indifferent Jew should be a piece of cake!
Unless there is a service or event going on inside, he'll let you in. If you have questions, the guard will probably tell you to read the info on the signs and then look away promptly, so don't even bother. Google is your friend.
I can't say it impressed me as much as some of the amazing religious buildings in Israel that I've visited recently, but for Georgia, this synagogue is a worth seeing. It's also a really nice diversion from all the Orthodox Christian churches you'll be visiting. You know, to keep your religious senses on your toes!
Day 1, stop 6: Lunch at Jan Shardeni St (or just lunch)
Jan Shardeni Street

Distance from previous stop: 250 m/0.15 mi, 4-minute walk
Time spent here: 1.5 hours
If you've worked up an appetite by now, you can stroll down the popular Jan Shardeni Street, also known as the lively heart of Tbilisi. This is a street full of cafes, restaurants, and some shops, and if you visit at night, it'll be full of people.

I'm not one to eat at overpriced tourist traps, and this street is full of them. But there is a unicorn in a sea of donkeys there where you can eat well, be on the most popular street, and people watch without being ripped off—I can guarantee you'll enjoy your meal at Organique Josper—order a burger or salad and follow it with their fantastic crème brulée and you're in for a treat.
You could also just visit Jan Shardeni like a good tourist, but then get your meal a couple of blocks down at Shin Restaurant. This is a Georgian restaurant with a cool, modern interior, which I enjoyed because Georgian restaurants are usually dark, rustic, style-less, or all of the above.
Day 1, stop 7: Zion Cathedral of Tbilisi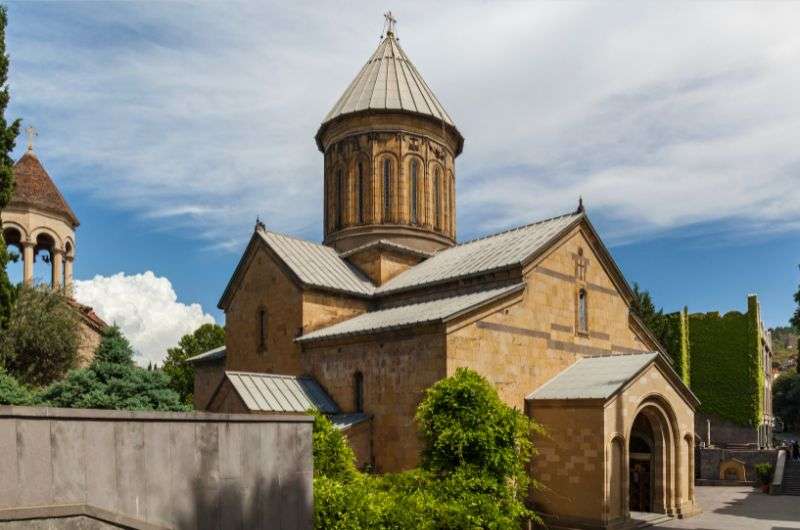 Zion Cathedral of Tbilisi

Distance from previous stop: it's right at the end of Jan Shardeni
Time spent here: 20 minutes
Even the many different styles and color palettes inside the Zion Cathedral weren't enough for it to keep its status as Tbilisi's no. 1 church. Sameba just came and took that honor over with her hugeness.
Zion is located right at the end of Jan Shardeni, so it's easy enough to take a look at it. Don't be fooled by the plain exterior, there's a lot going on inside, decoration-wise. To me it looked like the artists painting the walls were on shifts, and each new painter always brought their own paints and styles and just never talked about continuing what the other guy had started. So, if you don't enjoy one bit of wall, just look a little to the side and voilà! A very different fresco!
As is the case with most Georgian churches, Zion Cathedral is pretty dark on the inside. It adds to the mystery. And also, quietness. Now that I think about it, it was surprisingly peaceful at Zion despite it being smack in the middle of the city center.
Day 1, stop 7: Anchiskhati Basilica
Anchiskhati Basilica

Distance from previous stop: 750 m/0.5 mi, 10-minute walk
Time spent here: 20 minutes
Make your way up past the Bridge of Peace (you'll come back shortly) to the Anchiskhati Basilica—the oldest church in Tbilisi. This is the type of old church where you can really tell it's old. When you step inside, you witness the undeniable signs of age. Exposed bricks on the columns and hard-to-make-out frescos, probably as gloomy back then as they are now, add an extra touch of intrigue.
Anchiskhati Basilica was built in the 6th century and then damaged, rebuilt, and changed several times. Even now it's not in the best shape. There's a bell tower next to it that was built in the 17th century.
This little church is the home base of the Anchiskhati Choir, a world-renowned Georgian polyphonic choral. You can hear the chilling sound of these men singing in the historical church every Sunday at 10 am.
The church changed its name to Anchiskhati Basilica in 1675 when the Icon of Ancha was brought there from today's Turkey to protect it from the Ottomans. Virgin Mary, to whom it was dedicated until then, had to take the back seat. If you are interested in seeing the magical imprint of Jesus' face that named the church, it's waiting for you in the National Art Museum of Georgia.
Day 1, stop 8: The Clock Tower (Gabriadze Theater)
Gabriadze Theater and its clock tower straight from a twisted storybook

Distance from previous stop: 0 minutes, it's right next to Anchiskhati Basilica
Time spent here: 10 minutes
Congratulations, you've seen all your churches that were on the itinerary for today! Magic Mike your way out of those modest clothes—it's time to venture into the land of the living!
First up... a crooked puppet theater tower? It sounds random, it is random, but hey, this is Georgia and you can't expect any type of logic here. Right next to the country's oldest church is a funny-looking tower built in 2010 by noted Georgian theater and film director and award-winning puppeteer, Rezo Gabriadze.
The tower looks like something right out of a children's book that fell into a warp tunnel and came to real life. It fits right in when you learn that the theater it's attached to is Gabriadze Marionette Theater. Gabriadze himself painted the couple hundred tiles that are at the bottom of the tower.
I wouldn't bother trying to time your visit for the hourly ding dong and little angel that rings a bell up top, it's as unremarkable as it sounds. But you might be interested in the 12 pm or 7 pm puppet show that's added to the bell ringing and takes place in the tiny theater that's part of the tower. It's just borderline worth seeing, like if you're curious about Gabriadze's marionette work but not enough to go to the actual theater. The tower show is called "Circle of Life"... spoiler alert: it starts with birth and ends with death.
Day 1, stop 9: Bridge of Peace and Rike Park
Tbilisi's Bridge of Peace: Where funky architecture meets Soviet history in a captivating display

Distance from previous stop: 400 m/0.3 mi, 6-minute walk
Time spent here: 1 hour to infinity
I'm not sure about you, but I'm ready for some fresh air and sunshine. Say goodbye to puppets and saints and hello to some weirdly out of place modern structures and some park benches.
You can conclude your first day in Tbilisi in Rike Park, which is a centrally located park right across the futuristic Bridge of Peace. The bridge is one of the most recognizable landmarks of the capital, and you can clearly see why when you walk on the LED light-infused bridge. I see a space-age variation of the shape of a traditional Dutch head piece.
If you walk across close to sunset, it'll light up your steps like you're part of some kind of dance show. And every hour on the hour, you can enjoy one of 4 light shows.
The Bridge of Peace was built as a symbol of Georgia's transition from post-Soviet struggles to a democracy. If you have any sense of how stupid communism and socialism is, you might feel a strong vibe when walking across the Bridge of Peace. I did.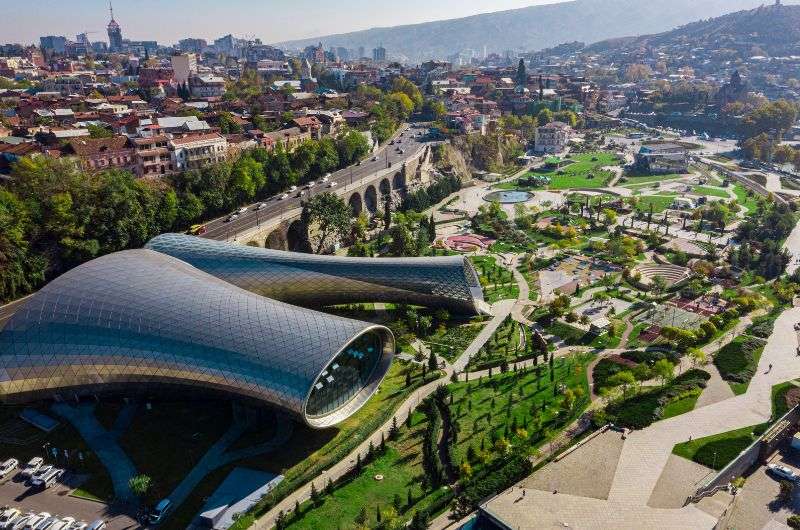 The view of Rike Park and the strange looking but fascinating Rike Concert Hall.

Across the bridge, in Rike Park, is the even stranger Rike Concert Hall. This one is a blend of spaceship and something you might find under a microscope. It's also very big and shiny.
Once you've decided on what it reminds you of, take a look around the park. You get great views of Narikala Fortress, Mother of Georgia and the Presidential Palace from the bridge and Rike Park. You'll visit two of these places tomorrow, so it's like a teaser.
Note: The cable car up to Narikala Fortress has its bottom station at Rike Park, down near Europe Square. You'll be going up to the fortress tomorrow using your own two feet, but if that sounds like a terrible idea to you, this is where you can catch a lift.
Day 1, stop 10 (optional): Take the cable car up to Mtatsminda Park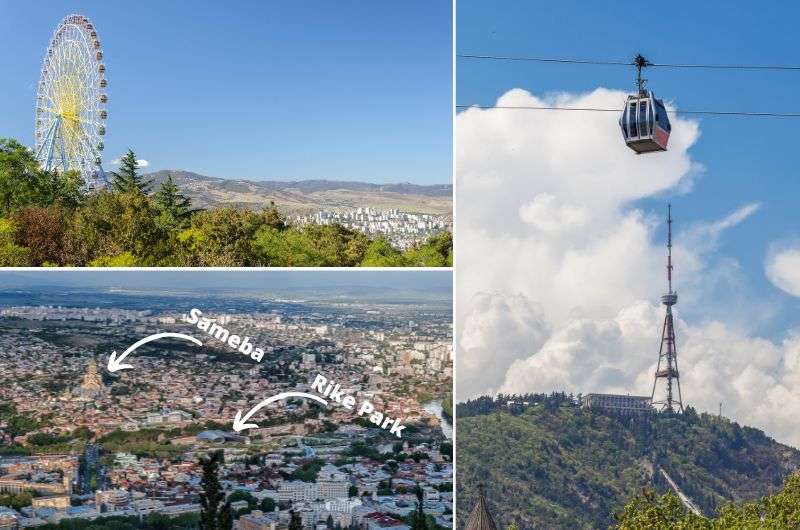 Mtatsminda Park: The ferris wheel, TV tower, and views to Tbilisi city center

Distance from previous stop: 400 m/0.3 mi, 6-minute walk
Time spent here:
If you're dying to see one more view of Tbilisi or you just aren't ready for dinner yet, consider going up to Mtatsminda Park. It's way above the city on a big hill—you've certainly noticed it from down below, it's where the TV tower is located.
Mtatsminda Park is actually an amusement park, but let's just say you'll be happy there's no entrance fee. You can wander around the amusement park if you want to, but don't say I didn't warn you. Instead, take in the views right from the area beside the cable car station.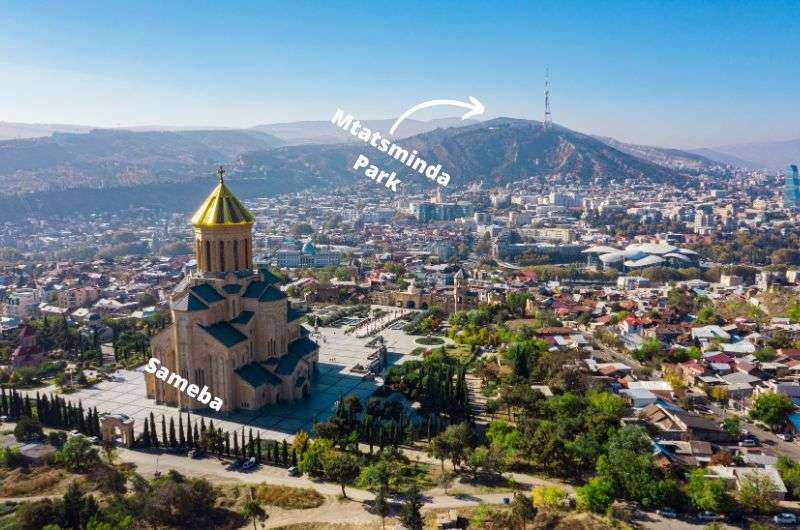 Mtatsaminda Park as viewed from Sameba

The cable car up to Mtatsaminda leaves from Vilnius Square, which is about 1 km (0.6 mi) from Liberty Square (the big one in the city center). Easy peasy, though in the main tourist season, you might find yourself waiting a couple of crowded cars before you can squeeze onto one. You could, of course, also walk.
The cable car costs GEL 10 each way (about USD 4), plus GEL 2 for the Mtatsaminda Card. The card is mandatory and non-refundable, and it's different than the regular Tbilisi transportation card. You can also use it on Mtatsaminda amusement park rides which work on a pay-per-ride system.
The amusement park is open daily until 11 pm, the cable car runs until midnight.
Day 2 of Tbilisi itinerary
See the route of day 2 on Google Maps

Main sites visited on day 2: Betlemi stairs, Mother of Georgia, Narikala Fortress, Sulphur baths, Leghvtakhevi Canyon, Mziuri Park, Heroes Square, Chronicles of Georgia (bonus)
Restaurant tips: Restaurant Usakhelouri | Legvi Cafe | Cube in Context
Hotel recommendations: Hotel 21 | Blue Balcony Hotel
Further reading: Day trips from Tbilisi | Best religious sites in Georgia | Georgia's top boutique hotels
Day 2, stop 1: Betlemi Street Stairs or cable car from Rike Park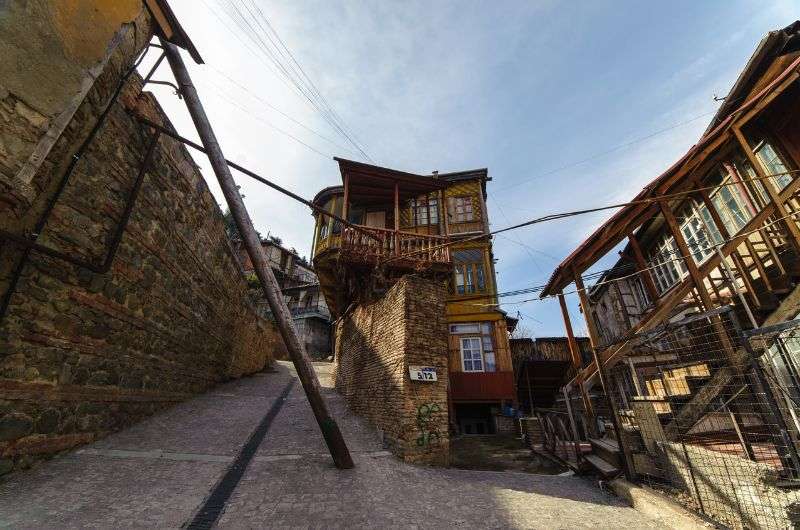 Making our way up the hill through Betlemi's little alleys

Time spent here: 30 minutes
Start your day with a fantastic breakfast—both Hotel 21 and Blue Balcony Hotel do breakfast very well, so if you stay in one of those, you're in for a treat.
Today, you'll be heading up to the hill above Tbilisi city center for some epic views and some of Tbilisi's major claims to fame. Not sure if I'd call them "the best for last", but they're certainly up there. Haha, pun intended.
I recommend getting your blood pumping in the morning by taking the Betlemi Street Stairs to reach the top of the hill. There's nothing like building up suspense to the fabulous views on top than by walking through a maze of little alleys and staircases. You'll see lots of traditional houses up close (ignore the occasional garbage), and then arrive at the top where the view opens up and you get Tbilisi on a silver platter below.
Note: If you can't or don't want to take the stairs, go to Rike Park and take the cable car up instead.
Day 2, stop 2: Mother of Georgia
Mother of Georgia: Meet the ultimate party mom, armed with wine and a sword

Distance from previous stop: 0, she's right at the top of the Betlemi Stairs
Time spent here: 10 minutes
The Betlemi Stairs lead you up to the Mother of Georgia— a 20 m (65 ft) aluminum woman that stands above Tbilisi, bowl of wine in one hand, sword in the other. She's protective, proud, and doesn't take any nonsense from enemies (hence the sword).
There's no entrance fee to see her, and you certainly can't enter her, but she is a symbol of the city and visiting her gets you nice views and brownie points. And it's not like you can ignore her, she's a big lady. Take a look and then keep moving towards the nearby Narikala Fortress.
Day 2, stop 3: Narikala Fortress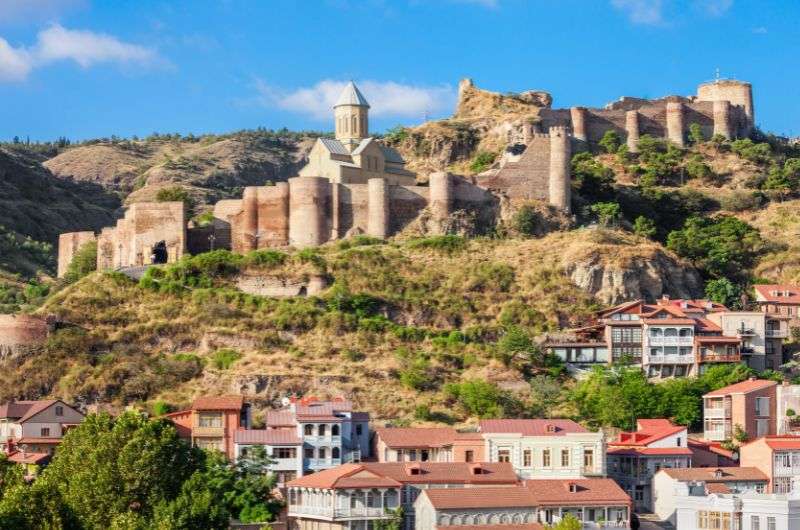 Narikala Fortress

Distance from previous stop: 500 m/0.3 miles, 7-minute walk
Time spent here: 30 minutes
Narikala is one of the main things to see in Tbilisi, and it had even me fooled, thinking I'd get to visit a majestic fortress straight out of a fairytale—it looks like there would be something more up there when you're looking at it from down below. But no. To avoid disappointment, just know that you don't visit Narikala for the ruins, you visit for the views of Tbilisi.
There's nothing left of Narikala Fortress except for some parts of the walls. One thing you can do is wander around and find the built-in staircase that's on one of them, that's kind of fun (and hazardous).

Bet you didn't even notice the bit of wall stairs visible righ behind the handsome dude

And then there's the only structure that hasn't been eaten by time, St. Nicholas's Church. You might still be sweating buckets from your hike up the hill, and Jesus is ok with that. Just make sure you're covering up those sweaty knees, shoulders, and hair.
Narikala Fortress is free to visit and is always open.
Day 2, stop 4: Sulphur baths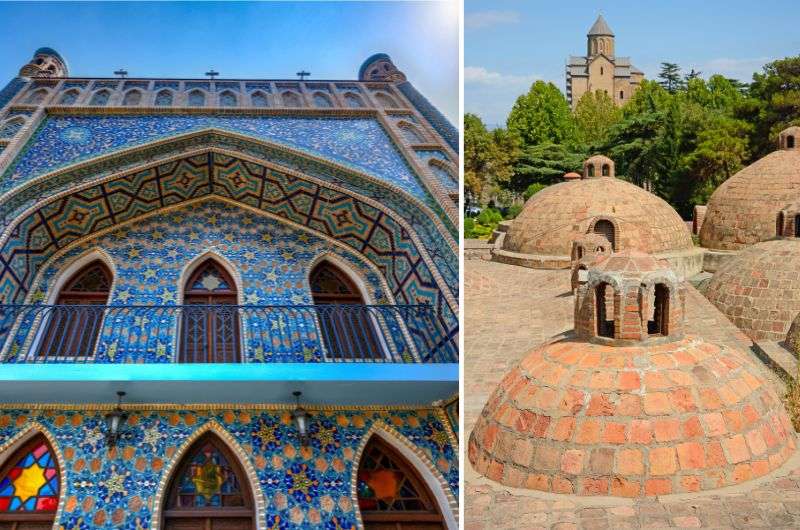 Get steamy: Insta-worthy visuals and a nose-pinching aroma await in Tbilisi's Sulphur Bath district

Distance from previous stop: 300 m/0.2 mi, 5-minute walk
Time spent here: 10 minutes, longer if you're taking a bath
When you're ready to continue on your Tbilisi itinerary, take the path on the other side of the fortress from where you entered and head downhill to the bath quarter. You'll be surrounded by traditional Georgian houses with their colorful balconies, and then suddenly, it'll start to get a little smelly. That's when you'll know you've made it to Tbilisi's Sulphur baths.
Once you see the brown mounds popping up out of the ground, you'll be double sure you've made it. There are something like 15 individual bath companies and some of them are bad even for Georgian standards. Keep that in mind if you're thinking about going in and paying for any of the procedures.
I didn't take an actual bath and think just looking around is good enough. There is one especially pretty bath house called Orbeliani Baths where you can admire the blue tile work on the façade. I checked to see they have good reviews, and they do, so if you're after a Turkish bath experience, this could be your spot.
Day 2, stop 5: Leghvtakhevi Canyon and lunch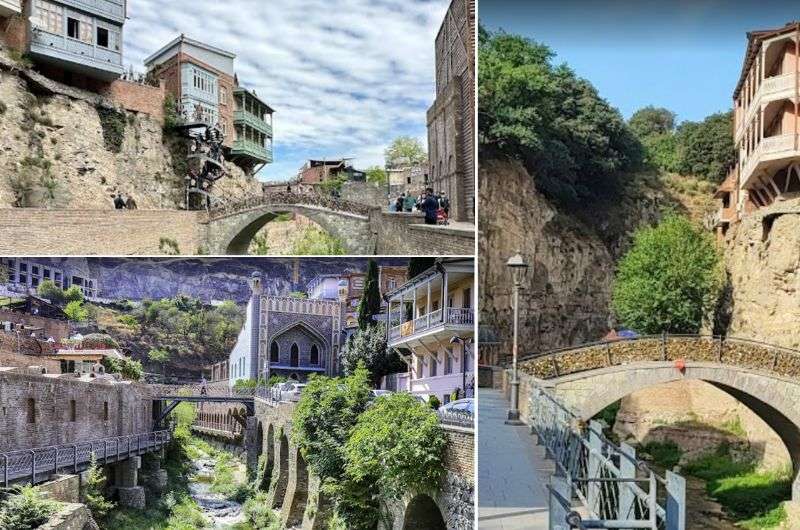 A canyon in the center of a city? Sure, why not! (Notice the location of the Orbeliani Baths on the bottom left photo.)

Distance from previous stop: 0
Time spent here: 30 minutes + extra time for lunch
When you do find Orbeliani Baths, you'll notice it stands right on the edge of Leghvtakhevi Canyon. No worries, it's not that dramatic, but it does make for a charming place. I like me a good canyon right in a city center, don't you?
You can descend onto some wooden walkways and bridges that traverse the almost-dry river bed, find some cafes, but most of all, notice the superb views of traditional houses that stand on the cliff's edge above it all. Ok, it's not exactly awe-inspiring, but it's a charming spot.
There are a couple of those bridges with tacky love locks on them, and on the south end of the canyon, there's even a waterfall!
Go ahead, join in on the little city hike, it only takes like 15 minutes to get to the end (and you have to be walking slowly and taking pictures). Stop by Legvi Café for a decent lunch right inside the canyon.
Day 2, stop 6: Mziuri Park and Heroes Square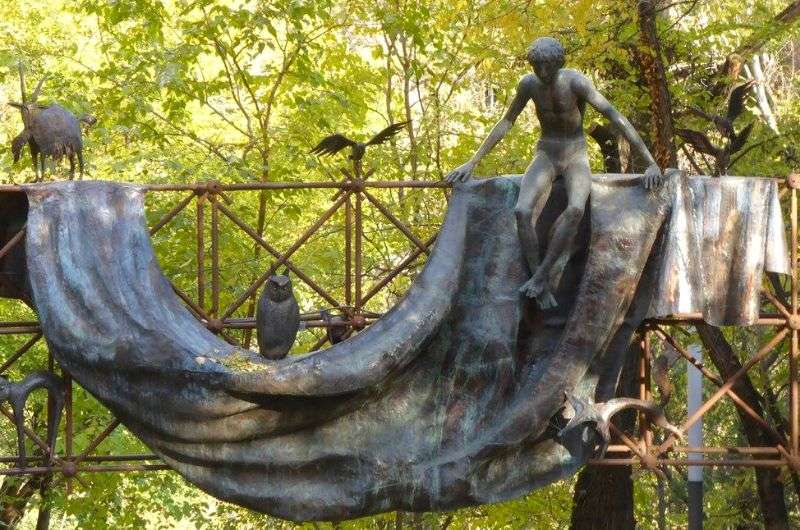 Mziuri Park

Distance from previous stop: 4 km/2.5 mi
Time spent here: 1–2 hours
If you thought Leghvtakhevi Canyon was a nice break from the hustle and bustle, you'll be ecstatic to visit this next place. Tbilisi's Mziuri Park is like a Central Park, but outside of the city center in Vake district, about 4 km (2.5 mi) from the sulphur bath area, so put your walking legs on or take a cab.
Mziuri isn't just a big park with numerous sculptures, but it's a secret area with great coffee shops! And that's a big yes in my book. The reason for all this delicious caffeine is probably the several university buildings that surround the park. Thanks, students!
Mziuri Park was established in 1982, and severely damaged in the 2015 flood. Since then, it has continued to be rebuilt, so it's now better, cleaner, and fuller of sculptures than ever before.
One of those shiny additions is Begi, a silver sculpture of the hippo that escaped the zoo (which is also located in Mziuri Park) in 2015, becoming an instant sensation as he munched on leaves in front of the Swatch store and promenaded himself down the city's central highway. So, he got a statue to commemorate his little city trip.
Before you get to Begi, you can start looking for other art around the delightful Cafe Mziuri in the southwestern corner in the park, which is where the largest number of the park's sculptures are located. Grab a coffee or a salad or soup, they're homemade, and the design of the little house is trendy.
Then you can make your way through the park all the way to said silver hippo, but make sure to stop at Cube in Context. What used to be one of Tbilisi's rotting, discontinued cable car stations is now a cool white cube in the middle of the park that serves as a cafe and art center.

Heroes Square

And finally, at the eastern end of Mziuri Park is Heroes Square—a memorial to the fallen in the war against the Soviet Army. Not sure why they decided it's appropriate to have such a special spot in the middle of a huge highway traffic circle, but that's Georgia for you. There's a tall tower that you can't miss, and two soldiers that stand at attention by the wall with 4,000 engraved names.
Bonus must-see place in Tbilisi: Chronicles of Georgia
The epic Chronicles of Georgia—find the tiny human!

The Chronicles of Georgia is my favorite place in Tbilisi, and one of the top spots you can visit in the country. Probably because it was such a surprise and I felt like I found something nobody knows about. Ok, not nobody, but it's a super underrated spot for sure.
Chronicles of Georgia is a gigantic monument (so again, not a little undiscovered spot by any means), built in celebration of a whopping 3,000 years of Georgian statehood and 2,000 years of Christianity. It's a mind-blowing, almost arrogant monument that defies the norms of historical landmarks. The Chronicles of Georgia give Soviet vibes to the max, the utter hugeness, blackness and over-the-top-ness of it is incredible. It almost felt sacred!
The top half of the 16 mammoth pillars show the kings, queens, and heroes of Georgia's past, while the bottom half takes you through the adventures of Jesus Christ. There's a stairway that takes you up there, and you get amazing views of Tbilisi from there as well.

Visiting the Chronicles of Georgia is free and it's always open, because there's nothing to close. It's up in the very northern part of Tbilisi. A drive there will take about 20 minutes from Liberty Square. If you drive, you can park right underneath the Chronicles of Georgia for free. Otherwise, Bolt it.
We spent 2 hours at the monument and used it as a stop on our way to Kazbegi. More on this and other most beautiful spots you need to visit in Georgia.
FAQs: Is Tbilisi worth visiting?
Tbilisi is absolutely worth visiting, and you'll love it even more once you visit the rest of the country. It's the only place I didn't want to rip out all my hair. The Soviet mentality is very much present in Georgia, but Tbilisi is a welcome exception. It has a good number of attractions and monuments that'll keep you busy and happy for a couple of days. Also, make sure to eat like a king in Tbilisi, because it's where the country's best restaurants are located.
FAQs: How many days do you need in Tbilisi?
I can't figure out what you'd do in Tbilisi for more than 2 days. Heck, even 1 is enough by my standards! But I guess if you're a slower traveler, you could stretch this itinerary into 3 days, or more if you include day trips.
FAQs: When's the best time to visit Tbilisi?
The best time to visit Tbilisi depends on what you want from Georgia. If you're up for hiking and summer adventures, aim for May to October, but keep an eye out for sneaky mountain snow in May/June and chilly weather in September/October.
If you're itching to hit the slopes (yes, Georgia has ski slopes!), December to February is where it's at. And then you'll get Tbilisi without tourists and see it in a way not a lot of people see. Just remember, skiing above 3,500 m might make your head spin (here's my article on dealing with altitude sickness, just in case).
There's a lot of precipitation in Georgia, especially on the coast and in the mountains, so expect rain whenever you visit. We always got about 50% of rainy days during our stays.

This post contains affiliate links. I earn a small commission if you make bookings through my links, at no additional cost to you. This helps keep this blog free, thank you!