Jan here, ready to spill the beans on the best hotels in Georgia. I must admit, Georgia as a whole left me underwhelmed. From mind-boggling customer service to encounters with 80-year-old scam artists, this country had its fair share of frustrations. I still have PTSD whenever I think about it (like now, writing the Georgia series).
But that's not why we're here today. Right now, I want to dive into the world of boutique-quality hotels that defy the odds and managed to catch my attention in various corners of Georgia. We'll start in Tbilisi and then move on to the trickier accommodation landscape in Kazbegi, Borjomi, Kutaisi, and Mestia. And when I say tricky, I mean I felt like Leonardo DiCaprio in The Revenant.
I've scoured the land to bring you some memorable accommodation options, and it wasn't a walk in the park, my friends! So, no, I won't give you 5 tips in each city, because I want to recommend the best places to stay, not all the places to stay. Most of the time, you'll be glad there's 1 solid hotel option.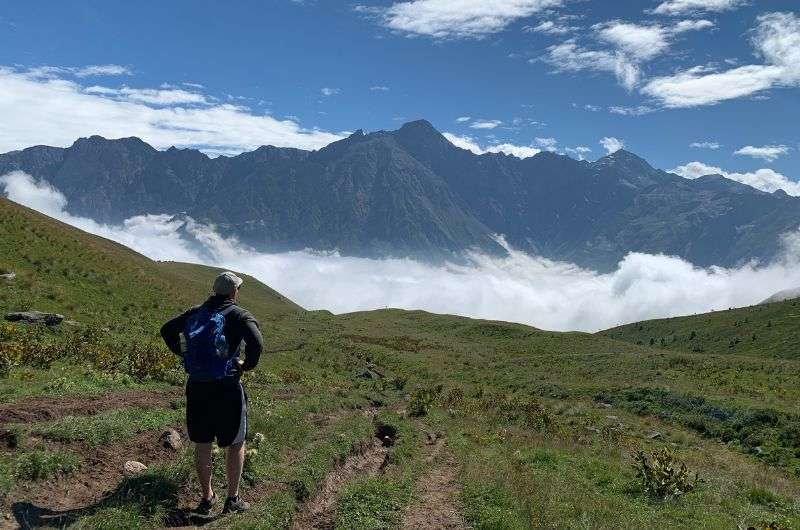 Me in Kazbegi, after a good night's sleep in a very nice hotel

For each hotel that I've decided to give my blessing, I'll list the perks, the cons, and my secret tips. And I will give you some "level up" options in case you feel like booking the occasional splurge.
I believe in comfort and a good night's sleep, but I typically draw the line at selling my soul for a luxurious palace. After all, my days are spent exploring, not lounging at five different spas on site, so why spend my hard-earned cash on useless fluff?
Off we go on an adventure through the frustrating world of Georgian hospitality. It's time to uncover the best hotels in Georgia—the good, the bad, and the hilariously absurd. Let's go!
Bonus scavenger hunt: Can you find all the instances of velvet furniture in this article? Is velvet a thing in Georgia? Does it equal good quality hotels? Is there such a thing as a bad hotel with velvet chairs? I have so many questions about velvet.
You might also be interested in reading:
Boutique hotels in Tbilisi
Young man in Tbilisi Old Town

Tbilisi is the city that almost managed to redeem Georgia in my travel-weary eyes. Too bad I started out my itinerary in Tbilisi, because then it just got worse from there.
When it comes to finding a good boutique hotel in Tbilisi, I must say, it's like a breath of fresh air compared to the rest of Georgia. They actually know how to change the darn bed sheets without putting up a fight! Oh, the horror (Mestia, you horrible, horrible memory).
In the heart of the city, where the action is, you'll find a good enough selection of hotels that cater to your comfort and sanity.
Here are the 2 hotels in Tbilisi I'd stay at again:
Hotel 21: A newcomer with great potential
Hotel 21 is as fresh as a daisy, having sprouted into existence in the glorious year of 2023. That can only mean 2 things: it's still clean and staff aren't annoying yet!
Let's talk about the perks: This 4-star haven knows how to treat its guests right. The staff is on point, professional enough to rival the angels themselves. You know how crappy service can ruin an otherwise great experience? It works the other way as well, and you can forgive Hotel 21 for some of its shortcomings because the people working there really care about guests and it shows.
And oh boy, those beds! They're so comfortable, you'll wake up feeling like you've been blessed by a slumber deity. I love the overal cool design of Hotel 21, and, being located right next to Sameba, its location isn't too bad either. But...
Here's the catch: Hotel 21 is right next to Tbilisi's main cathedral, Sameba. Sounds impressive, right? But it's not exactly the main entrance you'll be strolling past. It's around the corner from the main gate in a bit of a blah neighborhood. And you'll have to ignore the unfinished building next door. Rumor has it they're on Georgian time, which means it might stay incomplete for eternity.
Here's a little secret: If you manage to teleport yourself to the breakfast area within five minutes of starting time, you'll be treated to a feast fit for a king. But, and I mean a big but, they need to figure out how to keep that breakfast warm! If you don't do early mornings, check the newest reviews before booking to see if they've figured out that those eggs won't keep themselves warm.
Blue Balcony Hotel: Historical delight with the creaky floors
Another newcomer saving Georgia's butt in the accommodation realm is Blue Balcony Hotel. Picture this: a charming (and blue) boutique hotel housed in a centuries-old building, restored to its former glory (creaky floors included!).
Let's talk about the perks. Again, the staff at the Blue Balcony Hotel are like rays of sunshine, making this hotel stand out in the land of the unfriendly (I'm not backing down from that assessment of the country. More on that in my Tips and tricks for traveling to Georgia).
The location is perfect. It's on the northern edge of Old Town, close to the oldest church in Tbilisi, Anchiskhati Basilica, and the strange but great tower of the Gabriadze Theater.
Here's the catch: If I'm being totally honest, and I am, because that's my default setting, I wasn't totally into the weird grey walls in the rooms—it felt like sleeping in a closet. And the colorful velvet furniture were certainly not my personal style, but overall they do a good job of mixing the old with the new throughout the hotel's common spaces.
If you're a light sleeper, the old wooden floors might lead to some impromptu tap-dancing performances from your neighbors, so bring ear plugs. Nothing too major, and to be expected in a historic building. And while you're packing, throw in an eye mask because those curtains aren't quite the blackout variety.
Here's a little secret: If you want to make the most of your stay at Blue Balcony Hotel, be sure to choose a room with a balcony. Why? The top floors have sleek patios, but they lack that historical Tbilisi vibe you should be after. So, for that true authentic experience, opt for a room with a traditional balcony on the lower floors.
Want to level up? Luxury hotel in Tbilisi
You know you're staying at an upscale place if the bathtubs, sinks, and even gym equipment are black. And then there's the fact that the hotel is a corkscrew tower with epic views. That's Pullman Tbilisi Axis Towers.
Oh, what's that? You prefer your tub golden? Sure, no problem at Stamba Hotel. They also have a rooftop pool, but those white sinks? Yawn.
Boutique hotels in Kazbegi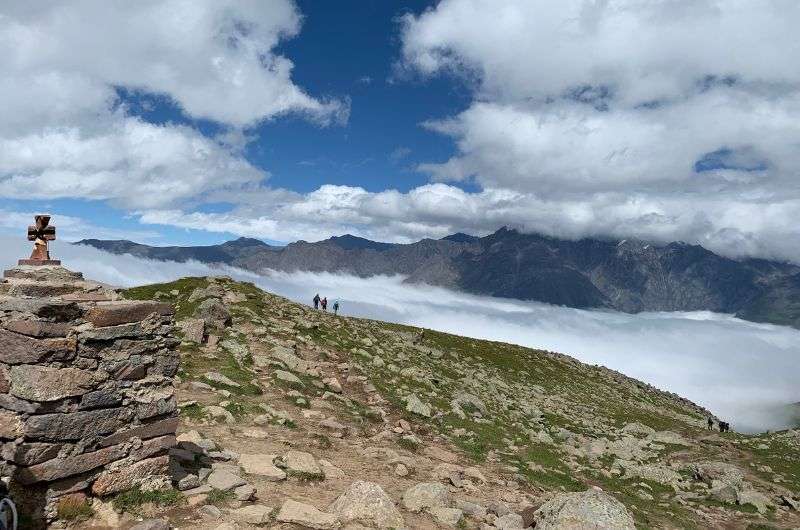 Kazbegi

Moving away from the capital now, so buckle up tight. The reason is this: Georgians are batshit crazy drivers and you'll be driving on the Georgian Military Highway—probably one of my top 10 drives in the world—so you're in for a journey you won't soon forget! But no worries, if you expect the drive to be an adventure, you might even enjoy it—I did.
For me, Kazbeg was the first 5,000 m+ (16k ft) mountain I'd ever seen up close, and I have to admit that it remains one of the most spectacular ones on my list. Even if it's in Georgia.
Once you make it through the 3-hour driving ordeal from Tbilisi, you'll be happy to settle into anything that doesn't move.
Here is a hotel I can recommend in the Kazbegi area:
Hotel Memoir is in Stepantsminda, a small town that deserves a place on my Top Places to See in Georgia list. The town has several good restaurants and cafes, which is saying something in Georgia, where hospitality is almost a curse word.
Let's talk about the perks. I'd point out the epic location with great views, but most of all, I found it to be the best option that was still at an easy-on-the-wallet price. You can get those views from not only the rooms, but also the rooftop bar and terrace.
Breakfast had a surprisingly large variety of options for this neck of the woods.
This is a 4-star hotel, and staff are professional and friendly, though this being a new place, it seemed like they still needed time to settle in and learn the ropes a little, but overall it was good vibes.
Here's the catch: When you look at the photos, the rooms at Memoir look boring. It's not bad photography, they really are that forgettable. They're comfortable and clean, sure, but you'll need to think of the design as a blank canvas for your imagination.
Here's a little secret: The rooms in the back of Hotel Memoir have better views, so make sure to specify you want to stare at very big mountains from your bedroom window when making a booking. And get a balcony while you're at it.
Want to level up? Luxury hotel in Kazbegi
If Hotel Memoir doubled its size, got a pool, and hired a way better interior designer, you'd get Rooms Hotel Kazbegi. You'd also pay twice as much for it, but hey, you're the one that wanted to level up! It's also perfect for those who want to go to the mountains, but not actually go out to the mountains, if you know what I mean.
Boutique hotels in Borjomi
Borjomi

Borjomi's a spa town, but not the kind where you'll be pampered with fluffy robes and cucumber slices on your eyes. Here, it's all about the weird-tasting mineral water rumored to have magical healing properties. Once you are all potioned up, you can visit the nearby ancient cave city in Vardzia, complete with over 700 chambers, secret tunnels, and a monastery! Or, if you prefer architecture that isn't made of mountain, get over to Akhaltsikhe Castle in Rabati.
If you're already planning your trip, don't work harder, work smarter! See my Georgia itineraries.
This was a surprise that I didn't like. You know that occasional splurge I mentioned? Well I thought this would be a good one, but nope!
We stayed at the famous Crowne Plaza in Borjomi and I wanted to be wowed, but I really wasn't. I mean there's nothing really wrong with it, it's not like the bedding still had someone else's hair on it (looking at you, Mestia!!), but it's the little things, especially in a 5-star hotel, that are noticeably not up to standard. It's a little dated and could do with a spruce up, technologically-wise and furniture-wise. Problems with AC all the time, and rusty balcony chairs, are you kidding me?
Staff was good but not fantastic, and the same goes for breakfast, and even the water at the pool could be a tad warmer—we're here to relax, not for cold exposure training!
In case I wasn't clear, I'm recommending not to stay at the Crowne Plaza.
There's not a ton of choice of good hotels in Borjomi, and by that I mean almost none. I'd sacrifice a star and some amenities, and focus on getting a comfortable, clean bed with a good breakfast, and you can do that very well at this place:
Borjomi UnderWood is the best hotel in Borjomi. It's a fantastic 4-star that is a great base for the 1 or 2 days max that you'd want to stay in this small spa resort. And it's right across the river from the Crowne Plaza, so you don't even need to be worried about the location—it's perfect.
Let's talk about the perks. It's a small hotel, so you'll have the staff's full attention, and they know how to make you feel welcome. The owner single-handedly puts the rest of Georgia and their non-hospitality to shame.
Like I mentioned, it's across from the Borjomi Crowne Plaza, meaning it's set among the trees of the valley, away from the streets but close to everything, so you'll get a good, restful sleep. No car noise.
The design of Borjomi UnderWood is almost hipster cool, but not quite (again with the velvet, guys!), though they did a great job with the restaurant decor. Every room has a balcony; I even saw one where the bathroom had a mini balcony of its own!
And now, the criteria that I'm most strict about: the hotel breakfast. I'm as meticulous about the morning meal as a librarian armed with a ruler. No soggy cereal or lukewarm coffee shall escape my discerning taste buds! Drum roll please... Borjomi UnderWood passed the test with flying colors! Hot and cold options galore!
Here's the catch: Some rooms can be small, so don't just book without thinking and really look at what you choose. The rooms up on the higher floors are more expensive for a reason. Overall I think the price point is a tad high, but what can you do. There's nowhere else to stay!
Here's a little secret: One: If you have bigger kids in tow, get the family room, they'll have a blast in the attic bedroom. Not great for the little ones though, they'd come tumbling down like a pack of wild monkeys on a slippery banana peel. And two: the owner makes his own wine, which is an interesting cultural immersion and makes the guests come together in the evenings.
Want to level up? Luxury hotel in Borjomi
Borjomi Likani Health & Spa Centre

You can't level up. This is it. The Crowne Plaza sucks, and there's no better place to go. If you're dead set on a pool and 5 stars, Borjomi Likani Health & Spa Centre is your only other option. But I don't know man, it's basically the Crowne Plaza, but further from everything and with a lot of brown. Don't say I didn't warn you.
Boutique hotels in Kutaisi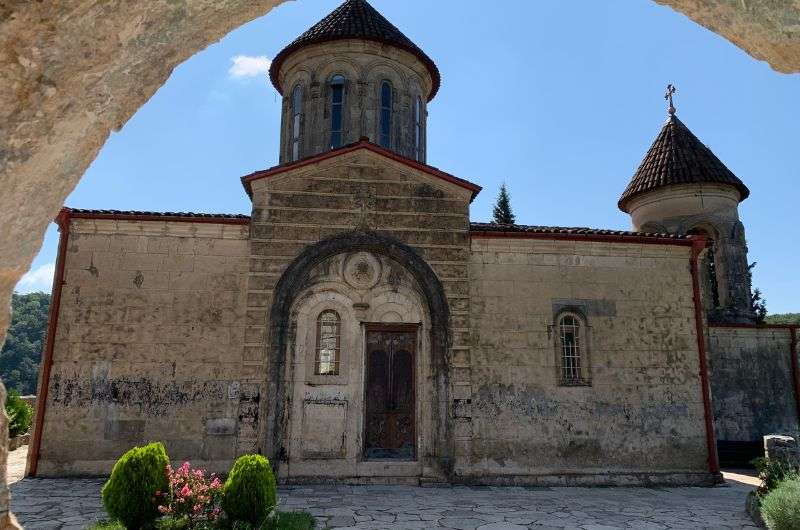 Kutaisi Gelati Monastery

Kutaisi! Another popular tourist destination in Georgia, very different from Tbilisi... and not in a good way. It's supposed to be one of the oldest continuously inhabited cities in the world, but to me, what stood out were the horrible restaurants and annoying street cats.
You can't wait to book a hotel in Kutaisi, am I right?! Well, I know that you know that there are actually good reasons to stay in Kutaisi, like Bagrati Cathedral and Gelati monastery. If you want to know how to make the most of your trip, and if we managed to find a place that would serve us food, see my Kutaisi Guide.
Apology: I feel like the further we go in this list, the worse the hotels look. It's not me, it's them! Honestly guys, the hotels in Georgia are generally crap, so even if these picks don't look like all that, they really are the best you can do in the country. Believe me, I tried. I know I don't talk especially favorably about Georgia, but I wouldn't go as far as to sacrifice my beauty sleep to prove a point. These places are the cat's pajamas. The bee's knees. The monkey's eyebrows... wait...

Now that that's settled, we can move on to why you should stay at Newport Kutaisi
I thought long and hard about recommending Newport Kutaisi, but I'll do it. With a disclaimer or three, it works.
Let's talk about the perks. Starting with the positives, the Newport Hotel Kutaisi in a prime position at the northern end of Old Town, about five steps from Meskhishvili Theatre and Colchis Fountain (the one with the extra-large, cute animals). Parking is free.
The interior is pretty tasteful if you're into a classy/modern hybrid. Lots of velvet chairs, of course. Luckily, the color palette of blues, whites, and gold, keeps it from getting kitschy... it's a slippery slope here in Georgia with the kitsch! Olfactory side note: the hallways smelled nice.
Another plus for the Newport Hotel is the big roof terrace that boasts very nice city views.
Here's the catch: Now's where I take off those pink, velvety glasses. Some rooms are small. Staff at the reception were great, but other staff is hit and miss. Some don't speak English, and some are just too Georgian. You don't just keep the change if I don't tell you to! How tacky.
Newport's breakfast looks fantastic, but upon closer inspection, the variety is lacking. As a proper breakfast VIP I asked them to make my eggs separately, because ain't nobody have time for boring eggs, and they came out just the way I like them. But if you don't ask, you may leave with less-than-eggcellent morning food.
Here's a little secret: The secret here is another con really, and that's how annoying the car noise from the street out from can be. You gotta love cobblestones right outside your window. So, ask for a quiet room. If you get a free upgrade, make sure it isn't a downgrade in disguise!
Want to level up? Good luck finding a luxury hotel in Kutaisi

The 5-star Kutaisi Inn just doesn't do it for me, and doesn't feel like a splurge-type hotel. I mean the rooms look like office space! So that's a no.
I don't think you can level up in Kutaisi, but if you wanted to level down, people seem to love the theater meets grandma's house meets Georgian esthetic at Hotel Memoire Kutaisi. It's only 3-star, but the rooms are ridiculous, the location is great, and breakfast is apparently delicious!
Boutique hotels in Mestia: Don't kid me!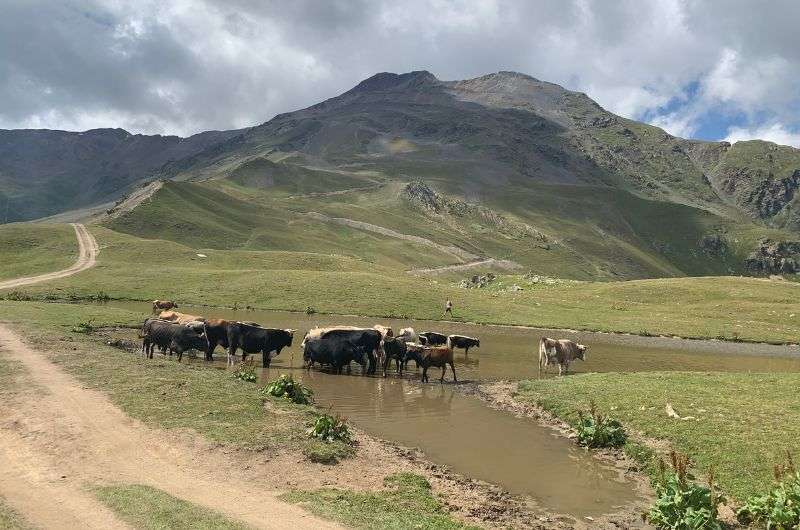 This was the nicest group of people I met in Mestia

Finally, it's story time. Mestia is where I had the worst hotel experience in Georgia. And the worst overall experience in Georgia, honestly. I hated the place. Not only is it expensive, but it's where I met the worst people on my travels, EVER. It's like they gathered the stupidest bunch and let them take care of tourists in Mestia.
Want to get taken advantage of? Go to Mestia!
Want your camera stolen? Go to Mestia!
Want horrible restaurants, all serving the same crap food? Go to Mestia!
Want cute little grandmas stare you in the eye while withholding your money to "count change again correctly for tourist". You'll find a bunch of them in Mestia!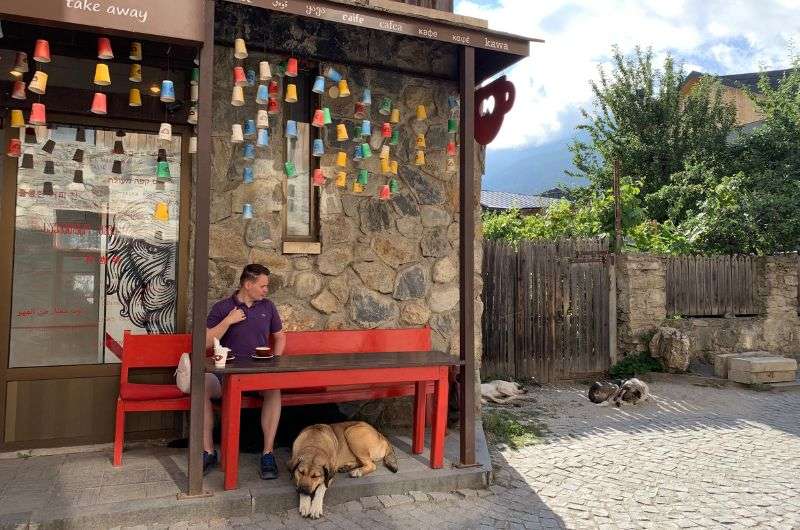 Also, I'm allergic to dogs and this is me trying to eat my food in Mestia... this was actually the least unpleasant situation

If you're not convinced by this incredible advertising, and are still thinking of going to Mestia, here's another story:
I am one to harshly (but objectively) critique everything, and give reviews that may not sound all unicorns and rainbows. But never to this day have I left a hotel before staying the first night. But Mestia outdid herself!
When we got to our hotel in Mestia, we checked in, and went to our room. They very obviously didn't change the sheets from the previous guest. I could smell their perfume on my pillow. There was hair. Horrified, I went to the reception, expecting a new room, and apology, a free drink, an upgrade to the presidential suite (had there been one), anything!
You know what I got? Side eye. A smirk. Confusion about what my problem is. Demand for payment before I packed my bags and left. Yeah right.
Obviously, Mestia was the highlight of my stay in Georgia, and I omit it from both of my Georgia itineraries that I prepared for you. It's not worth it, guys. The mountains are just as pretty out in Kazbegi, if not better.

This post contains affiliate links. I earn a small commission if you make bookings through my links, at no additional cost to you. This helps keep this blog free, thank you!