I doubt you're heading to Georgia (the one in Europe) specifically for a beach vacation, but if your legs hurt from all the incredible hiking, you might be digging for a decent beach resort to spend a few days at.
Right off the bat, let me tell you that if you are looking for a fantastic beach close to a charming town with great restaurants, and want to stay at a boutique or high-end hotel, you're looking for a needle in a haystack.
The obvious choice, Batumi, is not where you should be looking for the best beaches unless you're an oversize, arrogant Russian, in which case, you'll feel right at home on the beach there. You'll need to try a little harder and look a little further to find the good beaches.
You might also be interested in reading:
What are the beaches in Georgia like?
Here's the list of what to expect if you're visiting the beaches in Georgia:
The beaches on the Black Sea coast are either pebbles or black sand. Generally, it's pebbles in the south and sand in the north (starting north of Kobuleti).
There are no beachfront hotels in Georgia that'll blow you away. It's Georgia, for Peet's sake! You will not find some hidden beach dream vacation here. But, here are your best bets: Magnetic Beach Resort (Kobuleti), Neptun Palace Kvariati, Le Meridien Batumi. Details below.
The Black Sea is just mildly salty. The official salt counting people state that it's about half as salty as the Mediterranean.
The water gets deep fast, making it great for swimming, diving, and drowning children. The sandy beaches are shallower, the pebbly beaches are better if you want to swim asap.
Batumi and Kobuleti are the main beach resorts in the country. Batumi is the crazier one and has worse beaches.
Map of Georgia beaches and resorts
Here's a link to my Google Maps list of all the beaches mentioned in this article
Spoiler! You have two options for a decent beach vacation on Georgia's Black Sea coast: Either stay in Batumi and travel outside of town to the pebbly beaches or choose a place in Kobuleti and hang out on the fine, black sand in that area.
Beaches in and around Batumi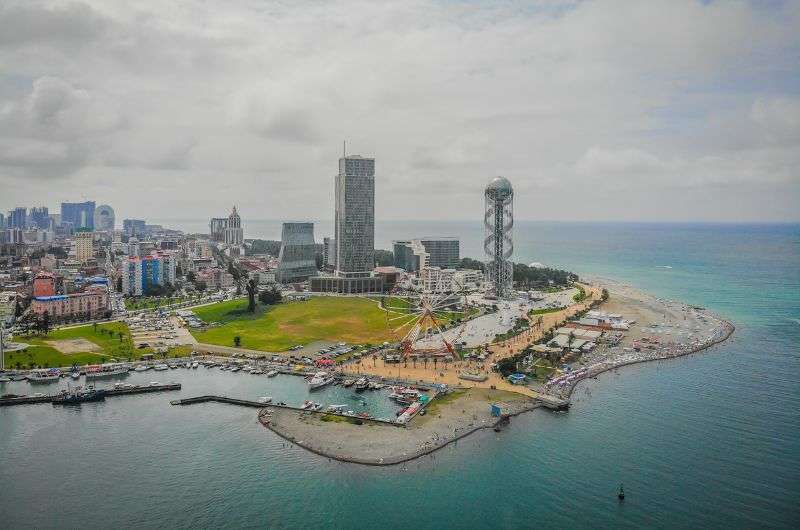 Batumi's wacky city center
Batumi, Georgia's second largest city with a population of 150,000 and no. 1 beach resort, is a strange place. Yes, there are beaches, but they are full of fat Russians baking themselves to death (seriously, that was the reality when I was there, and it wasn't pretty). So, for a beach vacation, it's a big NO on my list.
On the other hand, I liked strolling around in the city, and the restaurants weren't half bad, either. I've heard it be called the Las Vegas of Georgia, and I can see why. It's entertaining.
Batumi is a mix of everything: old and new, modern and very post-Soviet, fun and kitsch. There are peculiar high-rise buildings (like Batumi Tower with a built-in Ferris wheel), cool sculptures and palm trees along the 7 km-long Batumi Boulevard, and busy Europe Square where some of the buildings had me scratching my head. You'll see street art next to Soviet mosaics, street vendors and clubs of all sorts, and laundry lines hanging high up above the sidewalks.
I can't get enough of the over-the-top architecture in Batumi! But I quickly had enough of the main beach
The main beach lines the entire city of Batumi, but like I said, it's not the greatest beach in the world (or even in the country). It gets very crowded, and has vacation in Bulgaria in 1987 vibes.
It would be a shame to ignore Batumi altogether, though, so instead of the main beach, head further away to find better spots for the beaching part of your stay. You can still use Batumi as a base for all your restaurant, strolling, and entertainment needs, but skip the blah beach. If you want to stay right in the city center, choose Le Meridien Hotel.
Here are your beach options:
1.+2. Gonio and Kvariati Beaches: Something for everyone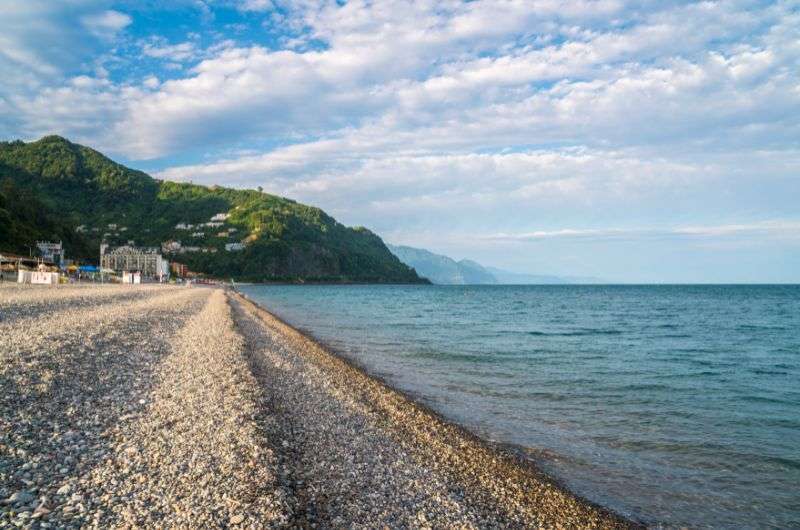 Looking towards the end of Kvariati Beach
First, let's head south of Batumi. I've put these two into one because Kvariati is just the southern extension of Gonio Beach, and it goes on forever. These beaches are cleaner, prettier, and way less crowded than Batumi Beach.
What I like about this area is that you can choose where to plonk yourself down on the pebbles depending on your mood: Need some peace and quiet? Go to the northern section where the beach is backed by nothing but a wide grassy area. Trying to make friends? I can't help you with that, but the main stretch of Gonio is lined with hotels and it's where the beach is the busiest.
And when you look the other way, you're staring towards the livelier Gonio Beach
The southernmost bit, Kvariati Beach, is the best of both worlds. It's got some nice cafes, beach bars, and the best views of the green hills. Tip: Visit the super-Georgian Cafe Rakushkebi Fridastan at the end of the beach. It serves everything from traditional fare to pizza and avocado toast, and while service can take a while, it was nice to see servers that were friendly!
Amazing Neptun Palace Kvariati!
I hyped up Kvariati as a more chill beach base, and it could serve as a place to stay if you'd like to be close to Batumi, but not in Batumi. I could see Batumi being a little too much for some people, because inconspicuous it ain't.
Neptun Palace Kvariati is newly renovated, so everything is spic and span (and it's impossible to find on Google Maps!). There's a sauna, and the outdoor pool's nice and heated, even though it doesn't have a sea view. The restaurant, on the other hand, is right on the sand, which is a big plus in my book.
3. Sarpi: Skip it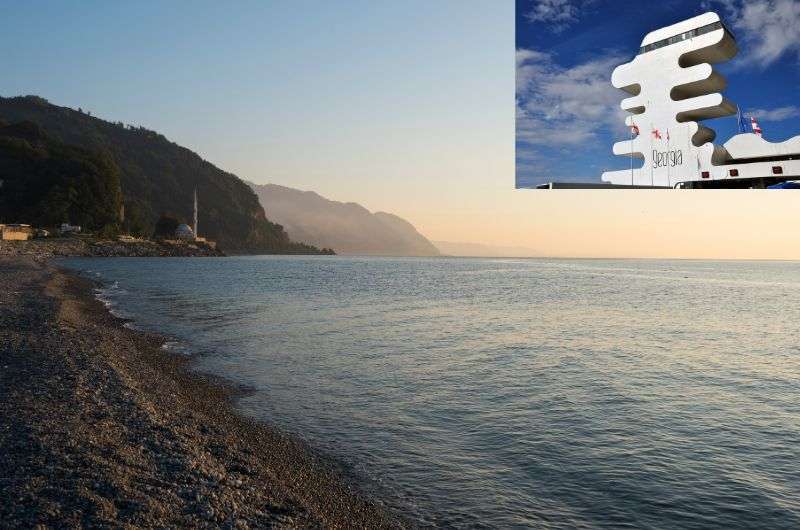 Looking into Turkey from Sarpi Beach, and the strange border building
To me, Sarpi feels like a place you might stop at if you're driving through to somewhere else and the kids need to stretch their legs. The truck traffic that's constantly making its way through the border isn't exactly charming, nor is the bold border building that some call "interesting".
Sarpi is a small, pebbly beach just a stone's throw from Turkey. Literally, you could take some of those pebbles and chuck them into the next country.
The water is supposed to be very clean due to the lack of rivers draining into the sea in this area, so that's a plus. And it's backed by green hills, but that's about it.
4. Mtsvane Kontskhi: Ok with views of the Batumi skyline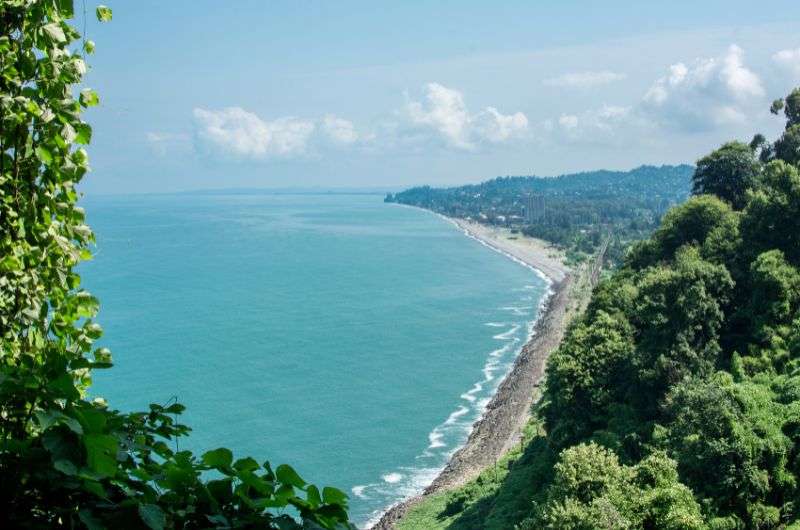 Mtsvane Kontskhi
Now, switching directions and going north from Batumi, Mtscane Kontskhi (Green Cape) Beach is 9 km (5.5 mi) from the city. It's right under the Batumi Botanical Garden, giving it a nice, green background, plus it works as an extra side trip if you're not the lying-on-the-beach-all-afternoon type. You also get cool views of the Batumi skyline from Mtsvane Kontskhi Beach.
This beach itself is ok. It's pebbly, with the rocks at the beginning of the water getting a little too big for comfort, but still manageable. The water is quite shallow for a pebbly beach, pretty clean, and far from crowded when I visited at midday in the beginning of summer. But even with the botanical garden adding some extra value, I wouldn't go as far as calling it beautiful. It'll do, and it's certainly a much better option than Batumi's main beach.
You can get your drinks and some snacks at the 2 or 3 small establishments right on the sand. I just wish they'd work on their esthetic—why does everything in Georgia look like it's in dire need of maintenance and care? Probably because they just don't care, that's why.
If you're staying at Le Meridien in Batumi and get lost on your way to your hotel, just look up and find the Batumi Tower. That sky-high Ferris Wheel will lead you straight home! Le Meridien is built around the bottom of the tower, not in the tower itself.
If you're ready to explore the beaches around Batumi but still want to make the most of the country's top beach resort, stay in what just might be the best hotel in Batumi, the Le Meridien. Part of the Marriott group, Le Meridien Batumi is a 5-star stylish hotel that'll make you feel like you aren't even in Georgia. You'll pay the price for it, but hey, sometimes it's worth keeping your sanity in this frustrating country. And it's not even that expensive for the level of comfort and service that we experienced.
Extra points for incredible views and a delicious breakfast.
Beaches beyond Batumi
But Georgia's Black Sea cost isn't just Batumi. Frankly, the best beaches are anywhere but. And if I were to make my choice of the best beach hotel in Georgia, I'd give my vote to Magnetic Beach Resort in Kobuleti.
Here's what you can find beyond Batumi:
5. Tsikhisdziri Beach: Pretty and deserted, just the way I like 'em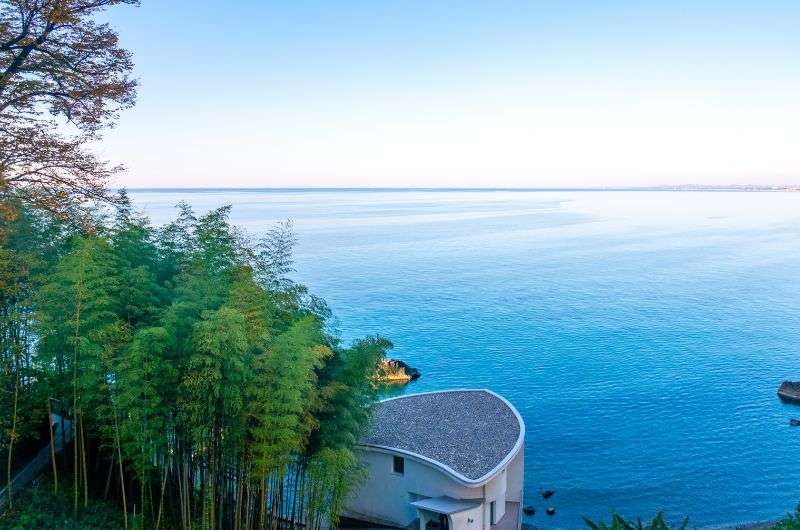 Views from above Tsikhisdziri
If you really hate people—and in Georgia, that's not a hard conclusion to reach—you may be looking for some peace and quiet. If you don't mind a bit of annoying access, Tsikhisdziri Beach could be your spot. It's one of the few Black Sea beaches that were even memorable to me, because otherwise they are kind of look the same. It's a very pretty beach with clean water, pebbles, and even some big boulders to break up the monotony.
And best of all, Tsikhisdziri could almost be called deserted if it weren't for the couple of houses, the odd camping area (all hidden in the trees), and the severely overpriced Castello Mare Hotel in the far north (5-star prices for 3-star services!). Still, you won't have any trouble finding a spot where there are zero humans as far as your eyes can see. Or, like me, you might see some naked humans in what looked like a voluntary case of the Castaway, family edition (they had a baby).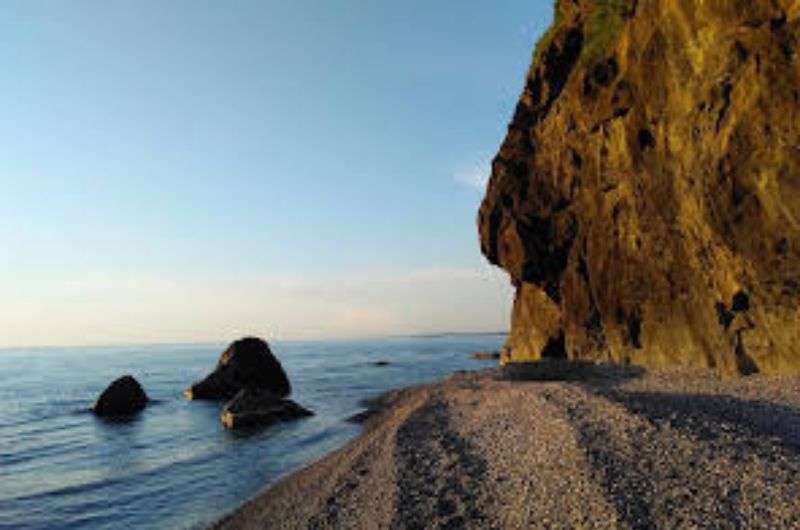 Ah, peace and quiet
Speaking of trees, they provide not only shade, but also a semi-adventurous access route to the beach. It might not look like it on Google Maps, but there are quite a few paths that will get you to the beach from the main road through the forested area (and over the train tracks). The problem is that there's nowhere to leave your car on the main road thanks to the guardrails, so you'll need to get creative. We had luck close to the Buknari train station.
Just 25 minutes from Batumi, you could still be based in the city when you visit this beach. It's even closer to Georgia's #2 resort town, Kobuleti, so you could just as well visit Tsikhisdziri from there.
6. Kobuleti: The actual top beach resort in Georgia
This is the calm end of Kobuleti Beach...
Kobuleti is Georgia's second most popular beach resort, and if you are looking for something less hectic than Batumi but still want to have all the amenities nearby, it's worth looking into. There are no crazy skyscrapers with Ferris wheels and neon lights, and the beach here seems to go on forever.
Granted, being a popular resort, you won't be on the beach alone. But here's a tip: the annoying, rowdy people and the fat bastards that act like they own the place tend to also be the laziest, so move further away from the city center and you'll find yourself a good spot pretty easily. It's enjoyable to walk down the long promenade along the sea, but I'd leave that for the evening.
For beach time, head further north away from Kobuleti city center towards Central Park, which isn't central at all, and has a famous Soviet fish mosaic, as well as a fountain and a bunch of restaurants nearby. There will be less people on the sand, but you'll still be close to the action.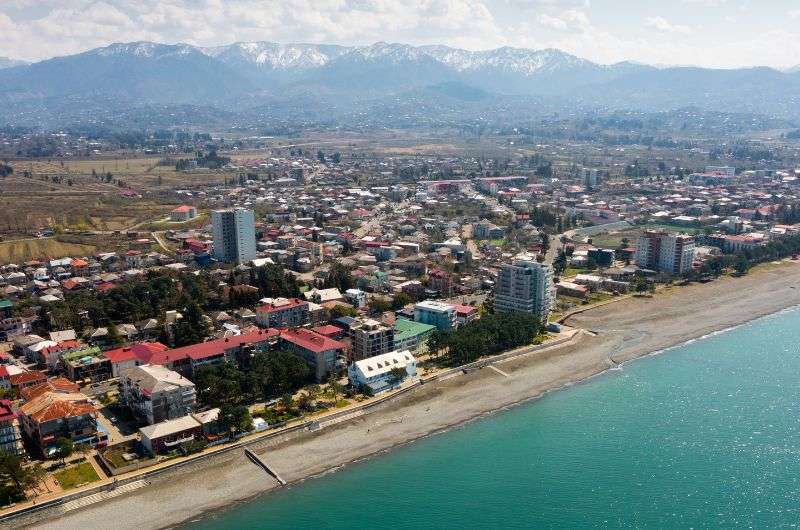 …but it lines the entire city of Kobuleti, so you can choose from different levels of development
Another possible good thing about the beaches in these parts is that the water is shallower, so you're not in over your head within 10 steps of getting in the water.
For complete solitude and sandy beaches, head even further north to the beach near Magnetic Beach Resort, which in my opinion is the best beach resort in Georgia (details below).
Beyond this point, the beach continues, but the development does not, so it'll be just you, the Black Sea, and the trees lining the beach. And bonus! The pebbles all but disappear by this point, so you'll be lying on black sand. It's supposed to have healing properties, too.
My beach hotel tip #3: Magnetic Beach Resort
Magnetic Beach Resort: my top pick for beachside hotels in Georgia
It may be number 3 in the list, but I think it's the best beach resort in Georgia. It has luxurious design details, incredibly comfortable beds, fantastic breakfast, and is located on the finest stretch of sand in the north of Kobuleti. It's far enough from the city center so that the beach isn't crowded, but close enough that you don't feel there's no place to go when you step outside of the hotel.
Tip: Get a sea view room! The views are gorgeous from the all-glass balconies. And if you do end up in a "garden view" room, make sure it's up on a high enough floor so you get to see the snow-capped mountains in the background.
7.–10. Shekvetili, Kaprovani and beyond: The ones with the black sand
The black(ish) sand of Shekvetili Beach
If you're not careful and keep walking north on Kobuleti Beach, you'll reach Shekvetili Beach. There's a point where the Choloki and Natanebi Rivers flow out to the Black Sea, which is where the beach names change. It's black, sandy goodness, and it can easily be reached from your base in Kobuleti (I will again mention Magnetic Beach Resort, because it's the best).
Worth a mention is the Shekvetili Dendrological Park where you can walk through a amazing forest of huge bamboo and chat up some parrots and lemurs. Part of the park reaches out almost to the Black Sea coast, and it's a great spot to break up your beach hopping day.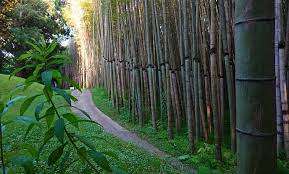 The huge bamboos of Shekvetili Dendrological Park
The beach that's just beyond the dendrological park is called Karovani Beach, which then turns into Ureki, and then Grigoleti Beach even further north.
All of these beaches as basically the same, with limited or no amenities, black sand, and an overall peaceful vibe. You can't go wrong with any of them.
This post contains affiliate links. I earn a small commission if you make bookings through my links, at no additional cost to you. This helps keep this blog free, thank you!