The Cinque Terre region is a feast for the senses, with its colorful villages, scenic hiking trails, and delicious local cuisine. It is a true paradise for me—a hiking enthusiast and a foodie! However, this place won't entertain you for more than 2 days. It simply can't—there's really not that much to do in Cinque Terre. And in my opinion, it's not even that good... But who am I to judge, go see for yourself!
You can also smash it into one day—making it your own Cinque Terre itinerary for 1 day. But if you want to just slow down a bit and enjoy the Italian atmosphere a little longer than a few hours, just follow my itinerary and become an expert on Cinque Terre with my wisest and brightest tips for the place.
Whether you decide to do a Cinque Terre day trip or spend a week there, these are the places you shouldn't miss.
Day 1:
Riomaggiore village
Via Beccara hike
Manarola village
Corniglia village
Day 2:
Sentiero Azzuro hike
Vernazza village
Monterosso al Mare village
How to get around Cinque Terre?
The chaotic, the crowded, but super-fast Cinque Terre train (at Manarola station)
Most people get around the Cinque Terre villages by train. It's the fastest way how to get from one village to another, but man I lived through my worst nightmares in that train.
First of all, there's nothing like "THE Cinque Terre train". It's a regular rail link between Genoa and La Spezia and it's totally chaotic. So, we ended up spending over two hours on the packed train. But as I said, it's the fastest way... So, my recommendation is: travel by train in Cinque Terre.
If you don't have the nerves, you can still drive around in your car. Despite what most of the travel blogs say, all the villages are easily accessible by car. On the other hand, driving in Italy and searching for a free parking spot is another thing. Too much hassle, even compared to the train (shocking, I know!).
We were in Cinque Terre during peak season, so you can clearly imagine the parking situation was like... We spent a good two hours looking for a free parking spot. It was infuriating and you don't want it, believe me. Hence, even though it's possible to get there by car, as I said before—take the train.
And the last option to get around the villages is to hike between them. The Sentiero Azzuro hiking trail connects all five villages. However, not all of them are open all the time. Check out the status of trail on the official website before you go, just to be sure. I put the best parts of the trail into this itinerary, check out the deets:
Day 1 of Cinque Terre itinerary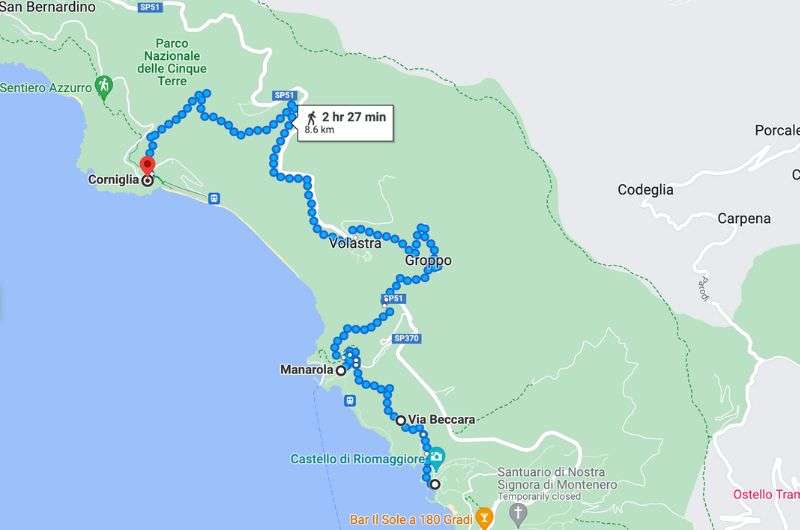 See today's route on Google Maps
Main sites visited on day 1: Riomaggiore, Via Beccara hike, Manarola, Corniglia
Restaurant tips: Trattoria dal Billy | La Cantina del Macellaio | A Cantina da Mananan
Hotel recommendations: Cinqueterre Residence
Further reading: 10 Travel Tips for Italy | Top 15 Things in Genoa | 10 Places in Turin
Day 1, stop 1: Riomaggiore village
Riomaggiore village
We'll start at the southernmost village of Cinque Terre Riomaggiore, which is a perfect introduction to the region. Colorful houses, narrow streets, and charming views—that's what defines Cinque Terre. And it's what'll cheer you up after you get off the sweaty train.
The most interesting place in the village has to be Castello di Riomaggiore, the ruin of a castle so old that in the first written record of it from the 500s, the castle is already called "ancient"! Moreover, in the 8th century, part of the castle was torn down to make a cemetery out of it.
To get the best views of the city, go to the lookout point where you will be offered beautiful scenery of colorful buildings in the village and the small port with cute little Italian boats like from the romantic comedies your mom watches in the evening.
That was the first perfect Instagram photo spot of the itinerary, so make a note of it.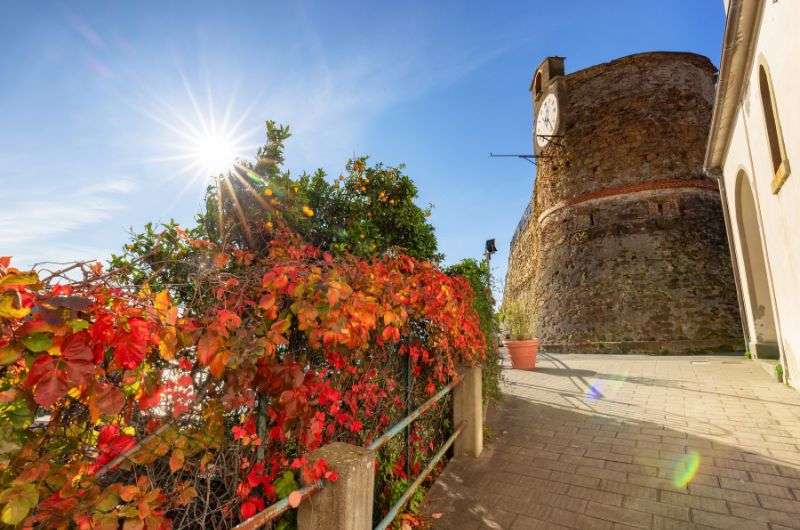 On our way to Riamaggiore Castle
If you are already in the mood to dip your toes in the sea, head down to the beach called Spiaggia di Riomaggiore. It's the only proper beach in the village, so if you visit during the main season, get ready, there will be more tourists than fish.
The beach is rocky, with stones being very uncomfortable to lie on. My back looked like a book written in Braile—I wonder what story it would have told...
Day 1, stop 2: Via Beccara hike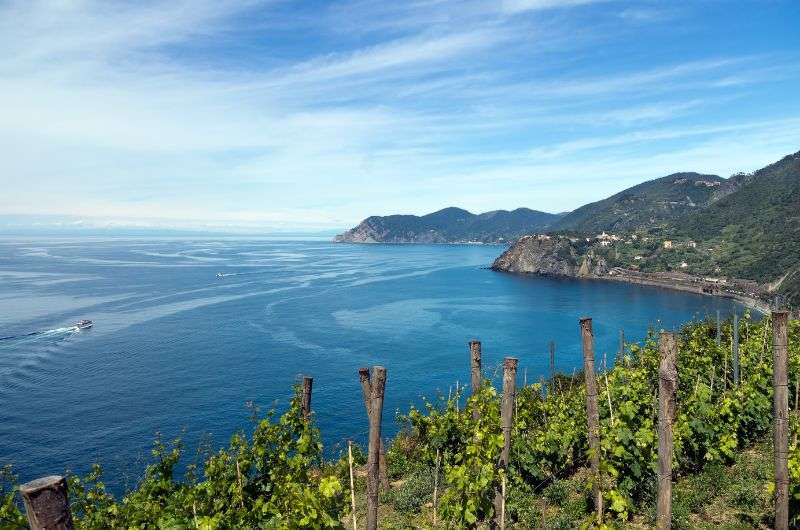 Views from the Via Beccara
Hike length: 1.3 km (0.8 miles)
Elevation gain: 343 m (1122 feet)
Difficulty level: Moderate
Hiking time: 45 minutes
The Via Beccara trail connects two Cinque Terre towns and is a convenient way to get from Riomaggiore to Manarola. And my PTSD told me to have a rest from trains for a while...
I would recommend it to everyone, but if you don't feel like you'd manage the sometimes steep hike during very hot weather, maybe skip it and just take the train or car.
In general, the two villages are connected via the Sentiero Azzuro hiking trail. So, it's up to you, how you want to travel in between them—hiking or taking trains that were my absolutely worst experience ever.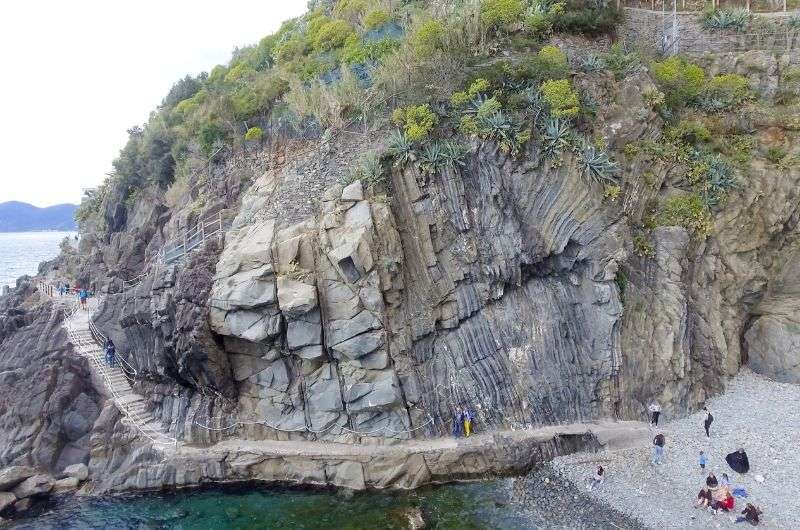 Giant rock staircase on the Via Beccara hike
The Via Beccara hike is literally just a giant staircase made of rock you walk up and then down. It's a full-on mountain hike, so exchange your flipflops for regular hiking shoes, lather yourself up with about ten layers of sunscreen, take plenty of water, and up you go! You can't even imagine how many tourists in crocs we met on our way. Well, A—you don't look cool in those, it's not the 2000's anymore, and B—you'll hurt yourself and probably others when they stumble over your sorry a$$ after you twist your ankle.
While you are sweating profusely, you'll be offered stunning views along the whole way, and that's a bargain, my friends! Oh, and a slightly important warning: If you are afraid of heights, this might not be the perfect choice for you either.
Day 1, stop 3: Manarola village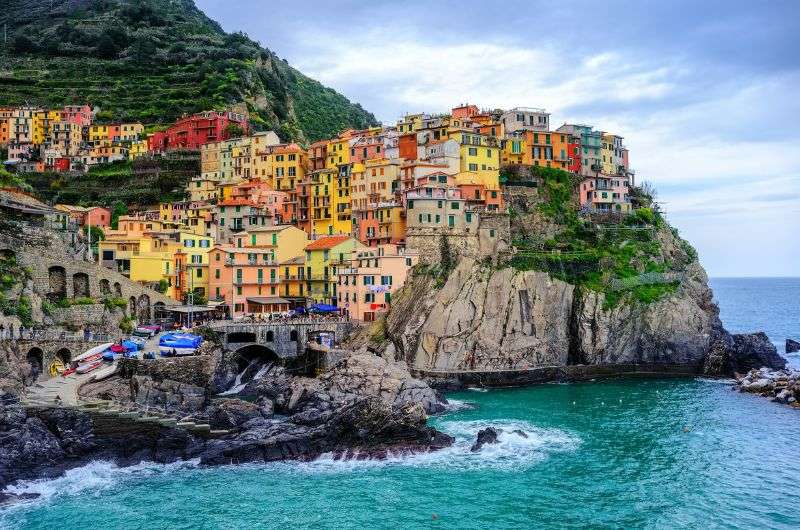 Manarola village
Manarola is the second smallest of the villages. So, the activity you'll be doing in every village in Cinque Terre—strolling through the narrow streets and admiring local architecture and colorful buildings—won't take you that long here. There's nothing particularly interesting to do in Manarola besides said strolling, so stroll like you've never strolled before!
If you skipped the dip in Riomaggiore or you just can't get enough of the Italian sea, you might feel a bit lost here while finding a proper beach. Because there is none. Just head down to the pier and find yourself a nice tanning spot on one of the rocks.
You can have fun exploring all the caves along the coast and the life underwater. The access is a bit tricky, but it's worth it. Just beware the deep waters that start right from the shore might not be the best fit for your little ones.
Manarola streets
Speaking of kids, those little rascals have to be hungry after the busy morning! And so am I, so let's get lunch!
I can't recommend Trattoria dal Billy enough. Firstly, the views are just indescribable. The restaurant is nestled in the mountains and overlooks the whole city and the sea. Secondly, the pasta I had there was heaven in disguise. In general, I LOVE Italian food, and here they clearly know what they're doing.
Day 1, stop 3: Corniglia village
Corniglia Village
The last stop of the first day is here and it's Corniglia—a small and charming village perched on a rocky promontory overlooking the sea. Corniglia is the only village of the five that is not directly connected to the sea, and it's a bit more off the beaten path, sitting on the top of a hill. That's pretty convenient as you'll burn all the pasta calories you gained earlier.
You can take a 5-minute train ride from Manarola, or hike for another 2 hours (is that a difference or what?!).
To get to the top of the hill from the train station, you have to walk up a steep flight of stairs that leads to the village square. Don't let yourself be fooled—this piazza is more of a teeny tiny courtyard than the Italian version of Trafalgar Sqaure.
There you'll find one of the must-see places in Cinque Terre, the Church of San Pietro. It's a Romanesque church that dates back to the 14th century and offers great views of the sea and the coastline.
From here, you can also take a stroll along the scenic terrace that offers panoramic views of the surrounding hills and the sea. And then back to walking through the narrow streets, blending in with the locals as the evening crawled upon us and enjoying a nice glass of wine in some cozy bar.
When you're ready to hit the sack, hop back on the train for the 7-minute train ride to Riomaggiore. It runs roughly until 1 am, so you have all the time in the world.
Day 2 of Cinque Terre itinerary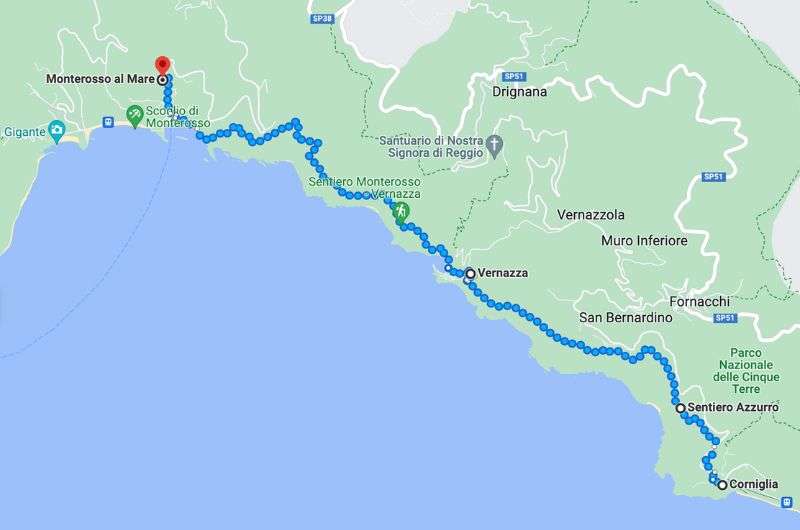 See today's route on Google Maps
Main sites visited on day 2: Sentiero Azzuro, Vernazza, Monterosso
Restaurant tips: Miky Ristorante | Belforte
Hotel recommendations: Cinqueterre Residence
Further reading: Food of Italy | Best 7 Places in Lombardy | Top 10 Things to Do in Aosta Valley
Day 2, stop 1: Sentiero Azzuro: Vernazza—Corniglia hike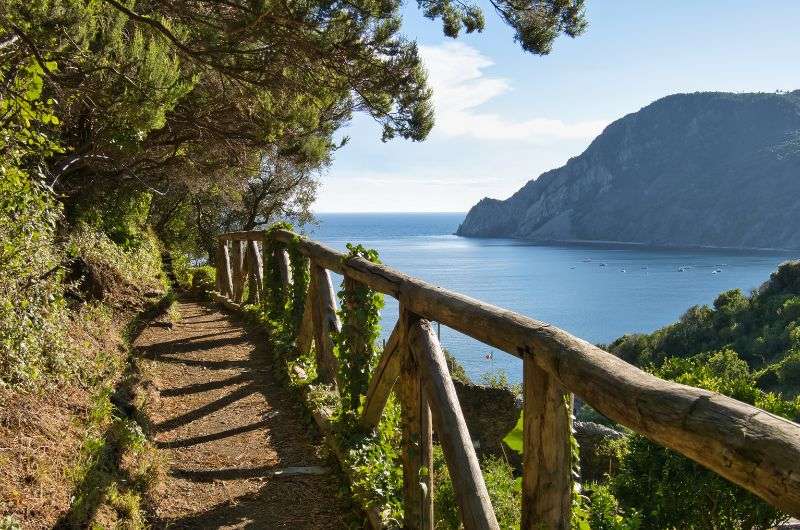 Sentiero Azzuro hike
Hike length: 3.4 km (2.1 miles)
Elevation gain: 211 m (692 feet)
Difficulty level: Moderate
Hiking time: 1.5 hours
Is there a better way to start your morning and wake your body up than with a hike? Not for me! And this particular hike was my fave in Cinque Terre, so boots on, let's hit the trail.
You'll need to hop on a train to Corniglia as soon as you can get your eyes open in the morning, because this can be a hot one! It only takes 7 minutes on average for the trip, so no need to wake up before the crack of dawn.
Sentiero Azzuro—the most famous Cinque Terre hike—connects all the villages, but due to landslides some parts were closed when we visited (check out the status of trail on the official website). We decided to hike the part I'm about to describe and what a great decision it was! No visit of Cinque Terre would be complete without hiking the Sentiero Azzuro.
One of the most scenic sections of the Blue Trail (aka Sentiero Azzuro) is definitely the stretch between Corniglia and Vernazza. The path winds along the rocky coastline, offering breathtaking views of the sea and the surrounding hills, and passing through vineyards, olive groves, and fragrant shrubs.
Lovely views and a lovely path on the Sentiero Azzuro hike
Again, even though it is rated as moderate, I get why some people might find it challenging—especially the first half, where you go uphill, could be a little harsh for some. You climb up the hill via stairs, pretty uneven most of the time—mind your steps, okay? Note you don't have to roll all the way down from the cliff, you'll get your beach time later.
There is the reason why you should walk this hike early in the morning. Even though the temperature was about 25°C when we started it, it sure felt like 35°C—at least! Be armed with some strong-ass SPF and gallons of water.
To enter this part of Sentiero Azzuro, you have to pay a hiking fee of €7.50/day or have the Cinque Terre Card. On the official website you can find out on which parts of the trail you need to pay a fee.
Day 2, stop 2: Vernazza village
Vernazza village
Okay, let's talk about the beach time I promised you earlier. In Vernazza there is an urban beach which is honestly nothing that special and it was kind of dirty when I was desperate to cool myself down with a splash. I saw the garbage and lost my appetite! I postponed said beach time to the proper Spiaggia di Fegina, but about that later.
A way better and funnier activity than fighting for your spot in the sun with the crowds is visiting the adventurous ruins of Castello Dorio atop a hill, where you can channel your inner princess or knight.
The castle is accessible once again via a steep uphill climb like probably everything in this goddamn region. I probably haven't been to a place more wheelchair and stroller unfriendly than Cinque Terre. But once you get there, you'll get the most spectacular view of the town.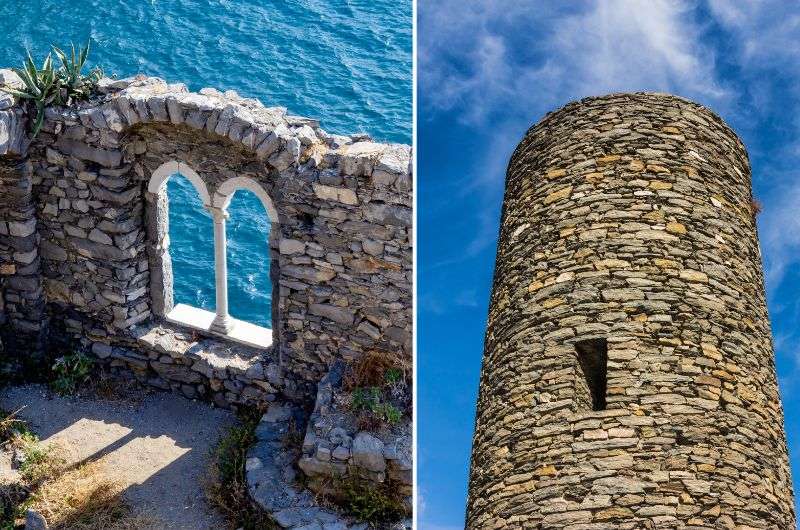 Castello Dorio
The entrance is €2, but hey—it's money well spent. From the castle's terrace, you can admire the picturesque village and its colorful houses, the surrounding hills and sea. It's the perfect place for taking photos—another Instagram photo spot, I told you—enjoying a romantic sunset, or just soaking up the beauty of this unique corner of Italy.
Vernazza is also the only village with a natural harbor. For centuries, fishing and wine production were the only sources Vernazza could rely on. Lucky for you, that means you can enjoy wonderful fresh seafood and a tasty glass of wine there—the pride and joy of Italian cuisine.
To get to the next village, you can hike the rest of Sentiero Azzuro or take the train—you already know the drill.
Day 2, stop 3: Monterosso village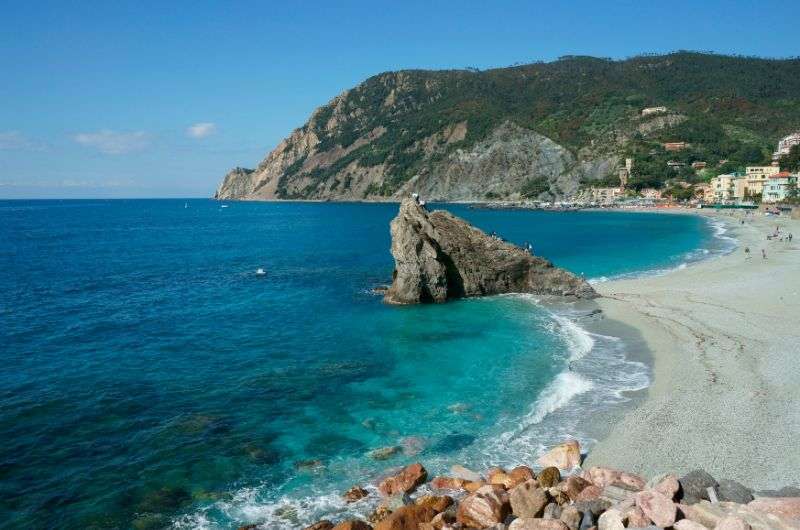 Monterosso beach
And now on to the last Cinque Terre village—Monterosso al Mare. It's the northernmost and the largest village of the big five, so you bet your shirt and pants it'll be the most touristy one. But that means also benefits, like more modern facilities which give it more of resort-like vibe.
The city is divided into two parts, the New Town and the Old Town—and we're about to discover the best of both of them.
The Old Town is literally a maze of narrow streets and colorful houses, with several churches, towers, and palaces dating back to the Middle Ages. It's a charming and atmospheric area to explore, with plenty of local shops selling handmade crafts, food, and wine—this is the place to buy all your aunties and nanas the gifts you promised them, including the most unhinged and cliché magnets.
When you get to the New Town, you immediately see it's a more modern area, with wider streets, larger buildings, and a more commercial vibe. It's where you'll find most of the beach resorts, hotels, and restaurants, as well as the train station and the ferry port.
Monterosso
But the main draw of Monterosso that makes it the most visited of all the villages is the only sandy beach in Cinque Terre—my favorite clean and beautiful Spiaggia di Fegina. It's a long stretch of golden sand with clear blue waters that are perfect for swimming and sunbathing. The beach is equipped with all the important facilities such as showers, umbrellas, and bars or restaurants.
If you're looking for more privacy and tranquility than being around sweaty German tourists, you can head to the smaller coves and rocky outcrops along the coast. You can access them via a scenic coastal path on foot. These hidden spots are super handy for snorkeling, diving, or simply relaxing in the shade of a cliff away from crowds.
Yeah, Italy is alright.
After your ADHD starts to kick in and you can no longer lie on the beach, pick up your already tanned bum and head to another significant monument of Monterosso. The Convento dei Cappuccini is a monastery founded in the early 17th century by the Capuchin Friars, a branch of the Franciscan Order—if you head there to get a cup of cappuccino I must disappoint you, my friends.
The church is a small and cozy space, featuring frescoes, paintings, and sculptures by local artists. The highlight of the Convento dei Cappuccini is its panoramic terrace, with a killer view. The terrace is a popular spot for sunset-watching and taking some hundred-likes-worthy photos—the last perfect Instagram spot of our itinerary, yaay.
This post contains affiliate links. I earn a small commission if you make bookings through my links, at no additional cost to you. This helps keep this blog free, thank you!