Olmec heads, spectacular lakes, shamans, macaques, mountains, and ancient ruins… Little bit off the beaten path, Veracruz is the perfect Mexican destination for your vacation. Read our guide to the best places to visit in Veracruz, including prices, opening hours, and other useful info.
You might also be interested in reading:
Veracruz Mexico: What you need to know about the state
In Mexico, we've already explored Mexico City and Chiapas, and now we'll move to the northern coast. Our next steps will lead us to the state of Veracruz de Ignacio de la Llave—or just Veracruz, if you don't insist on being super formal.
Veracruz geography
Veracruz is one of the 32 federal states in Mexico. It's a strip of land as narrow as a slice of salami—only 35 kilometers (22 miles) wide in its narrowest place. On the other hand, it stretches 650 kilometers (404 miles) from north to south. Crossing it from one side to another would take 13 hours by car. (So use your noodle and don't do it). There are other options for how to enjoy Mexico to the fullest—check my top 10 hikes in Mexico instead!
The capital of Veracruz is Xalapa, located approximately in the middle of the state, and home to 800,000 people in its metro area (that's not a lot, compared to Mexico City with its 22 million inhabitants).
Veracruz is bordered by the Gulf of Mexico on the north-east side, and by several federal states on the other sides—Tamaulipas, San Luis Potosi, Hidalgo, Puebla, Oaxaca, Chiapas, and Tabasco. Apart from sun-splashed beaches, Veracruz also offers harsh mountains, including Pico de Orizaba—the highest peak of Mexico.
Tip: There is much more to know about the geography and history of the country. Read 12 most important facts about Mexico you should know before you set off.
Luxurious Hotel Emporio Veracruz!

Hotel tip: Hotel Emporio Veracruz, in a great location, equipped with 3 swimming pools, a spa, and 3 restaurants with delicious breakfast, is a perfect choice you'll appreciate after a day full of walking.
The prices range around USD 90 per night for two people.
We have an affiliate link for booking.com not because we get rich off of it (we don't, trust us), but because we sincerely think it's the best place to book your hotels and use it ourselves all the time. We do get a small kick-back if you book through our links, at no extra cost to you. We appreciate the love!
Veracruz climate
The climate of Veracruz in Mexico reflects the geographical diversity. It's hot and sunny in the lowlands and on the beaches, with the average annual temperature being around 25 °C (77 °F), which is truly devastating (at least for visitors who want to do anything else than swim and sleep). Just to compare, similar annual temperatures are in Nigeria.
It's fortunately a bit colder at higher altitudes. Above 1,600 meters (5,250 feet) above sea level, the average temperature is around 15 °C (59 °F); that's comparable to Rome in Italy.
Tip: If you're planning to visit Veracruz, always look up the weather for your specific location. The climate varies significantly across the state. Find out more about climate and Mexico in general in a separate article about 12 facts you should know about Mexico.
8 best places in Veracruz
We're here to help you plan an unforgettable vacation! These are the best places to visit in Veracruz—all tried and tested by us.
1. El Tajín ruins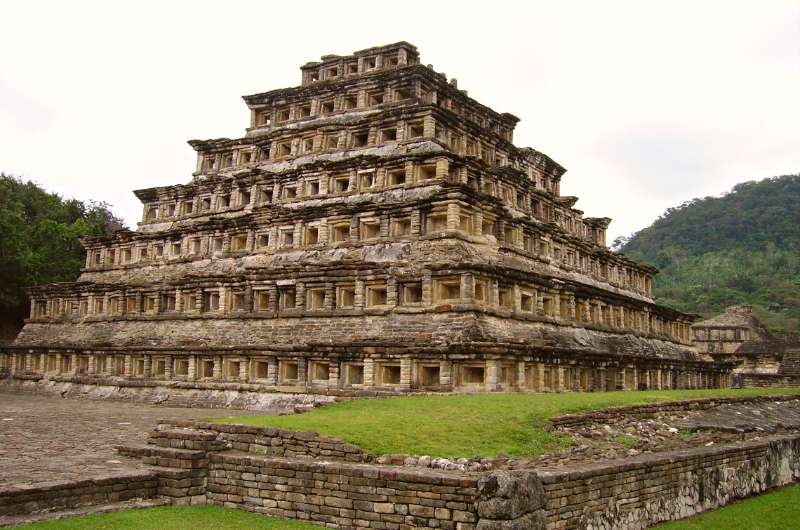 The ruins of El Tajín

El Tajín is one of the most interesting Aztec ruins in Mexico, and definitely one of the best places to visit in Veracruz. It's a site full of unique structures that can't be seen anywhere else in Mexico.
Among numerous temples, pyramids, and palaces, the Pyramid of the Niches is the most impressive one. Its seven terraces are made of flagstones and decorated with niches, originally red and black. The building has probably served as a temple.
The city flourished from 600 to 1200 AD, and after its collapse, it fell into oblivion. It was the Pyramid of the Niches, which was discovered at the end of the 18th century when a European accidentally bumped into it. Imagine the shock it must have been.
Opening hours: 8 AM – 5 PM
Price: 80 Mexican pesos (4 US dollars)
Address (parking lot): Rinconadas de Sta. Fe, 93537 Hgo., Mexico
2. Orizaba city
Pico de Orizaba

Lush vegetation, deep valleys, and a breathtaking view of Pico de Orizaba in the background. The city of Orizaba is not only a great day trip from Puebla, it's also a good destination on its own.
Pico de Orizaba is a popular tourist attraction, even though hiking enthusiasts usually get disappointed. You can't hike the mountain; you can only view it from the distance. If you do want a good hike – I've summarized the 10 best hikes in Mexico in a separate article.
In Orizaba, you can follow the hike called 500 Escalones (500 stairs) that will lead you to Los Sifones lake. Or, you can let the Teleférico cableway get you up a hill to oversee the city from the height. Another option is to walk alongside the river where a free zoo is run by the locals, and then admire Palacio de Hierro built by Eiffel (yes, the Eiffel). The options are almost limitless. The good news: all of them are good.
Me, on the 500 Escalones in Veracruz

In the picture above, I'm hiking the trail of 500 Escalones. The best part is the beginning with overwhelming sights; the rest is rather underwhelming. And even a bit dangerous, if you ask me.
This colonial-style hotel in the historical center of the city offers a pool and air-conditioning. Ideal, in my opinion. And the ambience is great, too.
Prices start at USD 55 per night for 2 people.
3. Laguna Catemaco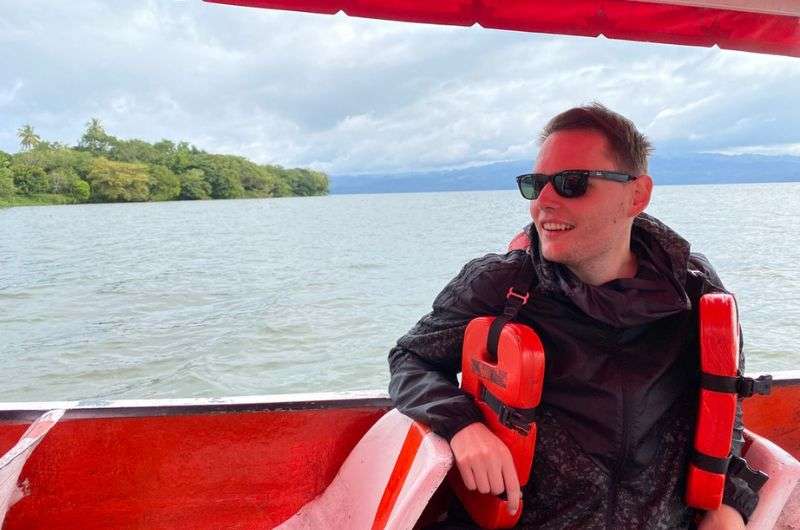 Taking a boat trip on Laguna Catemaco

Laguna Catemaco is a lake in central Veracruz. But beware! It's not an ordinary lake. It has macaques and shamans.
You can hire a raft and paddle or take a boat tour just as we did. The boat will take you on a route across the lake and you'll spot macaques from Asia, kept by local university researchers to observe if they can live in local conditions or not. The monkeys are extremely fat because tourists don't have limits when it comes to feeding cute fluffy animals.
When you've had enough of fat macaques, you can look for a local shaman to get you rid of evil spirits. To tell the truth, the procedure is actually a moderately relaxing neck massage that will destroy your clothes with super expensive oil. And once you're trapped and can't escape, the shaman will offer you overpriced talismans and souvenirs. Awesome, isn't it?
Did the shaman purify my soul? Nope. Did he make me laugh? Hell yes. Especially after narrating it to my friends over and over back in Czechia. That's why I tout it as a great experience everyone should try in Veracruz.
The boats set off: between 7 AM and 6 PM
Price (private boat trip): around 1,000 Mexican pesos (50 US dollars)
Address (one of the boat trip providers): 95874 Catemaco, Veracruz, Mexico
I've had a similarly good experience in Mexico when I visited Lagunas de Montebello in Chiapas – check it in my Chiapas itinerary.
4. Los Tuxtlas hike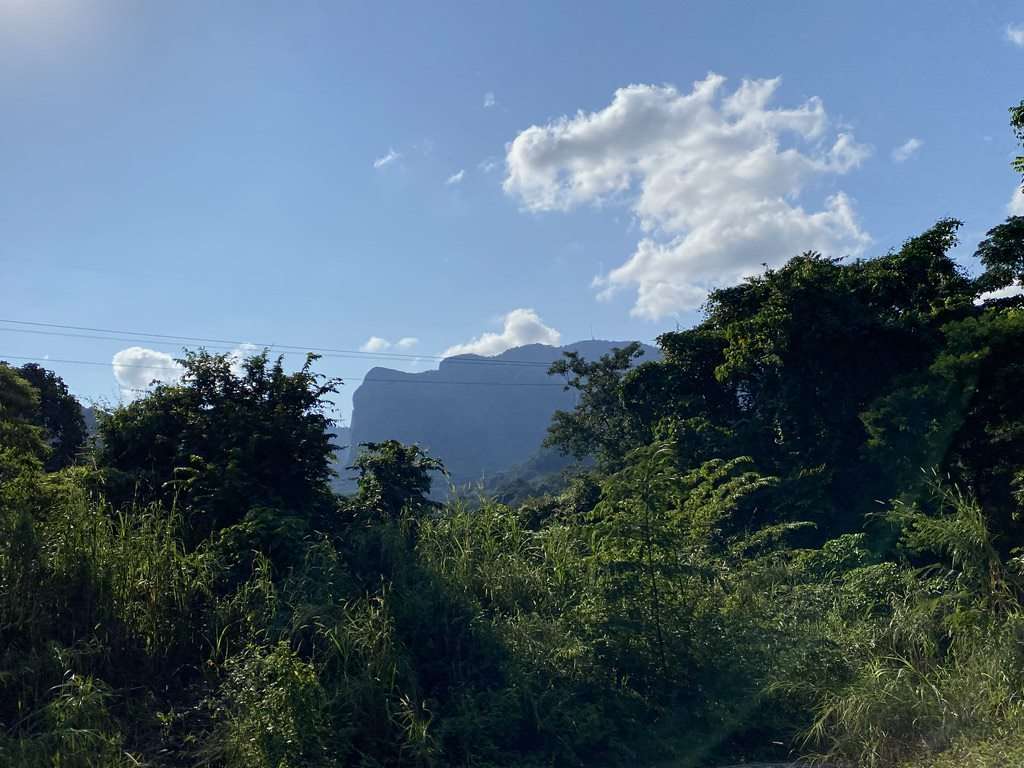 Enjoy the nature while hiking in Tuxtla

Los Tuxtlas is a mountain range of volcanic origin, full of wonderful hikes and spectacular views. I recommend walking and hiking in Cerro Del Venado, but you can also start in San Andrés Tuxtla or Catemaco and choose from the dozens of available trails, just waiting to be explored.
A special place is Laguna Encantada, especially its Laguna azul o el almendro. You can comfortably walk there from San Andrés Tuxtla, the road is flat, wide and only 4 kilometers (2.5 miles) long, with an elevation gain of 130 meters (426 feet).
5. Tlacotalpan
Tlacotalpan is a colonial UNESCO town, known for its Caribbean architecture and former fame as a significant river port (until the railroad was built). Once you dive into the colorful streets, stroll around the historical center, and sample local seafood, you will never want to get out.
Where to stay: Try Hotel Doña Juana with rooms just as colorful as the town behind the windows. A TV, air conditioning and 24-hour front desk are at your disposal.
Where to eat: Delicious food with river views? That's Restaurante Los Jarochos.
6. Salto de Eyipantla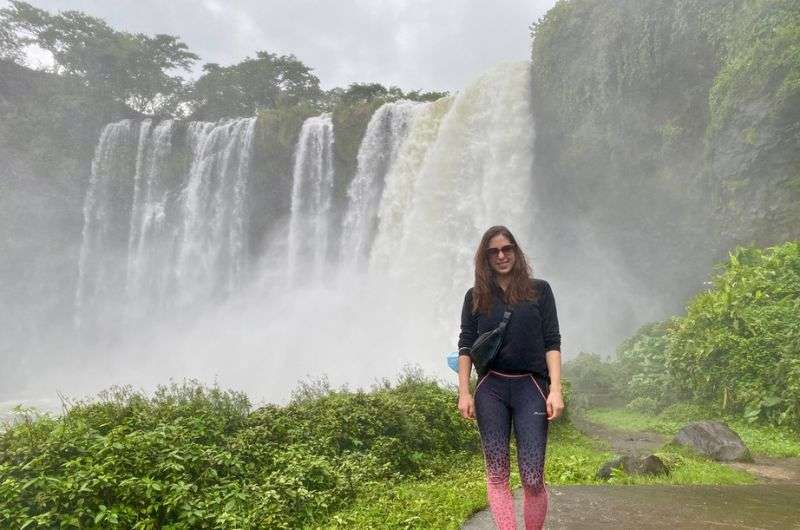 Karin in front of the Salto de Eyipantla falls

The fifty meters tall Eyipantla Falls are definitely the best waterfall attraction in Veracruz. Roaring and spraying water all around, the waterfall is, according to the legends, home to the ancient god of rain, Tlaloc.
Restaurants and souvenir stands line the path to the falls, making it a rather busy place. You can visit the free mirador and watch the waterfall from above or go down nearly 250 stairs to see it from below. I recommend trying both perspectives.
Poor skinny children often roam near the hike and offer to guide you or to take photos of you. On one hand, you can accept, give them money and help them get out of poverty. On the other hand, if you do so, you'll support child labor and agree with children working instead of going to school. The choice is yours.
Tip: Are you fascinated by waterfalls? Then you should consider visiting Cascada El Aguacero near Tuxtla Gutiérrez or Cascada El Chiflón near San Cristóbal.
Opening hours: 8 AM – 6 PM
Price: around 50 pesos (2.5 US dollars)
Address: Juan Aldama, La Guadalupe, 95805 Salto de Eyipantla, Ver., Mexico
7. Tres Zapotes and Santiago Tuxtla (Olmec tour)
The Olmec head

"Tres Zapotes—Ancient Olmec site with stone heads," says the map. And the map is right. Tres Zapotes used to be one of the major cultural centers for over 2,000 years, starting around 1,000 BC. Numerous stone structures and monuments were discovered there.
Among the famous Mexican cultures, the Olmecs were the oldest one—much older than the Aztecs or the Maya. They built colossal heads, stone sculptures carved from boulders. The heads represent a mystery for us. They are extremely heavy (several tons each) and tall (1,5–3 meters, 5–12 feet), and advanced skills are required to create them.
In Tres Zapotes, which is a lively town nowadays, you can breathe in the air of Olmec history in the archeological zone and the museum of Olmec culture.
Opening hours: 9 AM – 5 PM, closed on Mondays
Price: 31 Mexican pesos (1.5 US dollars)
Address: Estela Núñez, 95839 Tres Zapotes, Ver., Mexico
Another Olmec Head in Santiago Tuxtla

Knock, knock. Who's there? Another Olmec head! This time in Santiago Tuxtla, just 35 minutes by car from Tres Zapotes. You can kill two birds with one stone and visit both locations during one Olmec trip.
The town of Santiago Tuxtla, mostly poor and agricultural, is home not only to the biggest colossal head in Mexico, but also to the whole Olmec museum called Museo Tuxtleco. It stands right next to the Olmeca Park (the main square in the town) and makes for a nice 2-hour trip.
Opening hours: 9 AM – 5 PM, closed on Mondays
Price: 25 Mexican pesos (1.25 US dollars)
Address: Angel Carvajal, Centro, 95832 Santiago Tuxtla, Ver., Mexico
Want to see all the best places in Veracruz? This is how
Do you want to squeeze all the Veracruz attractions into one itinerary? Well, let me disappoint you. The distances are large, and it's better to combine the sites with other visits in other Mexican states. Instead, check my longer and shorter Chiapas itineraries.
When you visit the Veracruz state, I recommend sleeping in Veracruz city, Xalapa or Tlacotalpan. The quality of services is incomparable to those in minor towns, the prices are friendlier, and the choice is bigger.
1. Orizaba
Orizaba is a great day trip from Puebla, just 140 kilometers (87 miles) and two hours long drive far. You can go to Orizaba, walk along the river, visit Palacio de Hierro, use Teleférico, and hike 500 Escalones. After you've had enough, it's time to drive back to Puebla.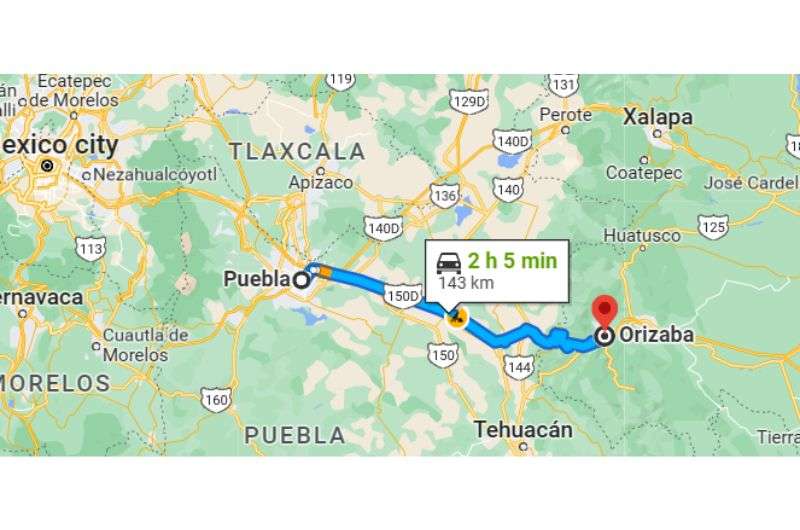 140 kilometres from Puebla to Orizaba

2. Tlacotalpan, Tres Zapotes, Santiago Tuxtla, Eyipantla Falls
The colorful town of Tlacotalpan is a great destination to stay at. It's in comfortable driving distance from Veracruz attractions, and the hotels and restaurants are fine. You can easily get to Tres Zapotes and then Santiago Tuxtla, both sites full of Olmec treasures. Then you can finish the day by visiting the Eyipantla Falls and go back to Tlacotalpan again.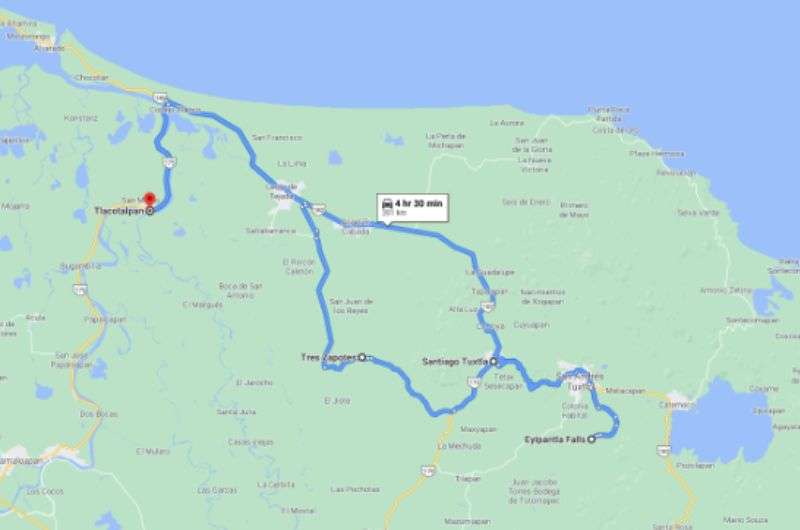 Route around Tlacotalpan, Tres Zapotes, Santiago Tuxtla, Eyipantla Falls

3. Cerro del Venado, Laguna Catemaco
You can take two hiking trips from Tlacotalpan: to Cerro del Venado and to Laguna Catemaco. There are quite a lot of trails in both destinations, all you need to do is arrive on the spot and ask local guides. After the hikes, it's good to go back to Tlacotalpan for the night.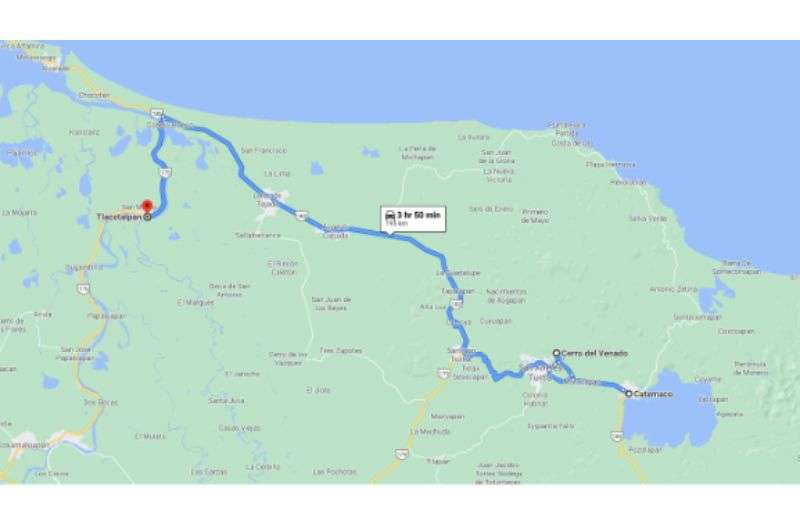 Route from Tlacotalpan to Cerro del Venado and Laguna Catemaco

4. El Tajín
It would take over four hours to get from Veracruz city to El Tajín, and over five hours from Tlacotalpan. If traveling 300 kilometers (185 miles) just to see one ruin isn't exactly your thing, forget El Tajín. Maybe another Aztec ruin or Mayan city could fit your Mexican plans better? On the other hand, El Tajín is really unique, so consider if your visit would be worth the journey or not.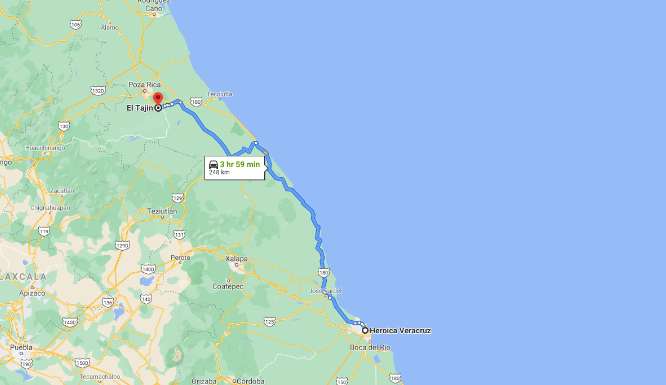 Drive from Veracruz city to El Tajín

This post contains affiliate links. I earn a small commission if you make bookings through my links, at no additional cost to you. This helps keep this blog free, thank you!