Ah, Etosha National Park—where the lions are as big as your dreams and buying tickets is a bureaucratic nightmare. If you're a safari enthusiast, you've probably heard about this magical land of abundant wildlife. It's one of the best safaris in Africa, so you'd be nuts not to go there while visiting Namibia.
We spent 3 days in Etosha National Park, so here's the lowdown on how to plan your perfect trip to the safari: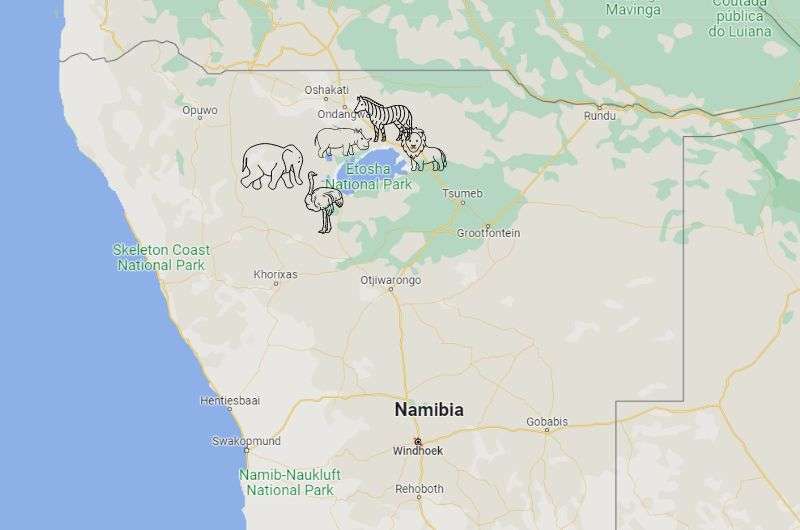 Etosha NP is at the very north of Namibia


1. Can you see the Big Five in Etosha?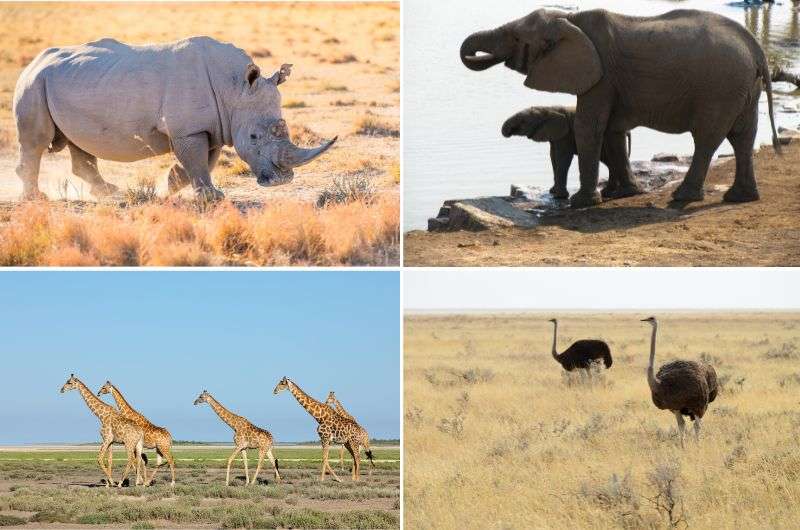 Etosha National Park will make you feel like you're in the Lion King

Obviously, the safari in Etosha National Park is an experience you won't forget, and you have the animals to thank for that. There were so many elephants when we were there that by the end of our second day, they almost lost their cool factor!
So, the million-dollar question: What animals can you see in Etosha National Park safari?
Four of the Big Five live in the park. The buffalo took a raincheck, but I'd take a leopard or rhino over him any day. Anyone else feel like they're just big, naked cows?
Actually, I loved seeing ostriches just as much as the big mammals. There's just something about them. Other Etosha residents include the mighty lion and tons of elephants, but also leopards, rhinos, giraffes, wildebeest, zebras, and a bunch of other guys with weird names like kudu, gemsbok and eland.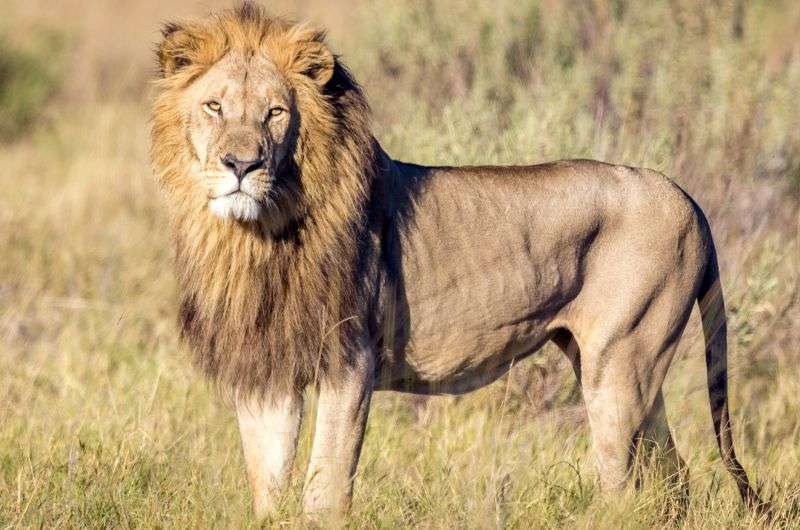 Yes, these predators are also in Etosha National Park in your immediate vicinity. Beware and don't leave your car!

There are also supposed to be cheetahs, but you'll have much better luck with those fast bastards in the Waterberg Cheetah Conservation Center.
I have an entire article on the animals of Namibia, so head over there for details of who is who.
2. How many days do you need in Etosha?
For us non-Africans, seeing these big animals in their natural habitat is truly a sight to behold. But after a day or two, you will be satiated. Those lions all look the same!
We found that three days in Etosha was one day too many. The animals are amazing to watch, but the landscape can get a bit repetitive. It's mostly bushy and deserty, so you may need to give yourself some extra things to do to keep it interesting. For example, my personal favorite activity was spotting giraffe carcasses (apparently a favorite snack for the local lion population).
My top tips for visiting Etosha NP safari:
Don't stay inside Etosha. Accommodation outside of Etosha is better quality and with much better service. My tip: Ijaba Lodge at Buschfeld
Two days in Etosha are enough. I know lions sound exciting, but the novelty does wear off eventually.
Expect and pack for the freezing nighttime temps in the winter, which is when you should be visiting (May to September).

3. The best accommodation is outside Etosha NP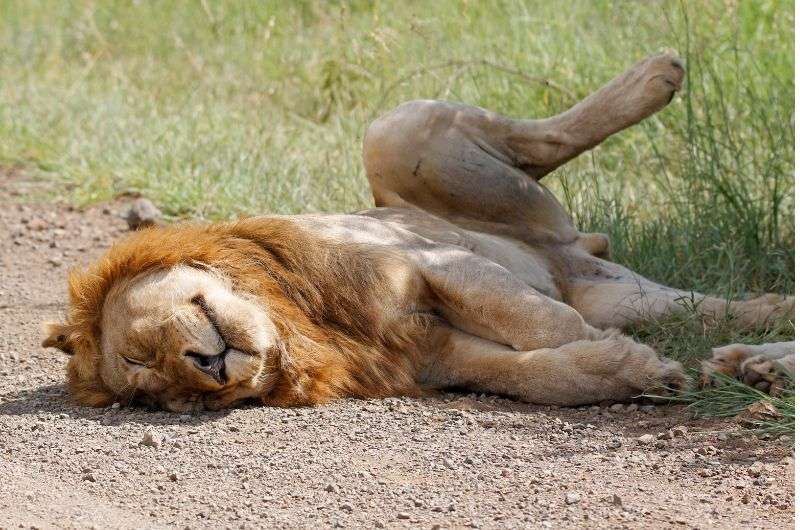 Don't forget to have a good rest after an adventurous day!

If you're thinking about staying overnight in the park, let me give you a bit of advice–don't. Trust me, the service is not great, which is extra annoying given the prices. If you really want a good night's sleep, stay in one of the accommodation options outside of Etosha National Park.
Why not stay inside Etosha? Honestly, it's not worth the hassle—the service provided by park employees can be a real pain in the elephant's trunk. Sure, the rooms can look luxurious in the pics, but they charge over USD 1000 per night, and let's face it, the reality will almost certainly not be as great as they want you to believe.

Ijaba Lodge at Buschfeld is the best accommodation outside of Etosha NP

If you're looking for a place to stay near Etosha NP, I highly recommend the Ijaba Lodge at Buschfeld.
We were incredibly happy with our stay there. The staff was so friendly, and the food in the restaurant was delicious, even if—after two weeks in Namibia—I was getting sick of game steaks. The rooms were huge and nicely decorated.
And as a bonus: You might spot some zebra snakes and black mambas! Don't worry, they're more afraid of you than you are of them! Or was it just me that scared them with my bulging muscles and strong charisma?
The only downside is that it's about an hour's drive from Etosha NP, but let's be real, in Namibia, an hour is basically next door. Read all about driving in Namibia (spoiler: you'll hate yourself if you get a sedan).
My top tip for accommodation in Namibia: Don't be fooled by photo editing tricks! Choose the nicer places, because the cheaper ones tend to be bad and expensive, or just decent and expensive.
4. Can you self-drive in Etosha?
I really enjoyed driving this beauty across the Namibian landscape

You are allowed to drive your own car through the park, which is the best way to experience it in my opinion. You can also book guided tours, but I'm fiercely independent and prefer my own wheels.
You don't need a 4WD in the park itself, but anywhere outside of the park you'll be banging your head on your steering wheel with a 2WD in Namibia. It's a good idea to read more about driving in Namibia before you go (we saw lots of those poor headbangers on our trip!).
So, unless your car can fly into Etosha, get a 4WD for your Namibia trip and don't overthink it. You'll also have a better view from a Toyota Hilux than when you're sitting a foot off the dusty road in a sedan. It's also harder for the lions to eat you in a bigger vehicle.

In Etosha National Park, elephants and other animals always have the right of way

There are traffic signs throughout the park, so don't be a douche and respect the rules. Most importantly, no offroading, no speeding, and no stupid ideas like feeding the animals.
You can also book a guided tour if you're afraid that you'll lose control of the car (and possibly your bowels) at the first sighting of a leopard. Going into the park in an open vehicle with a knowledgeable guide will cost you about USD 45 per person.
5. Rules of the safari in Etosha NP
We also observed these peaceful giraffes from a safe distance and from the stable, solid and comfortable Toyota Hilux.

Some specific rules and guidelines keep you and the animals safe. For example, stay in your car at all times unless you're in a designated area, and don't try to touch or feed the animals.
As for driving, don't go past the speed limit and stay on the road—no off-roading! And for Peet's sake, stay in the car.
I hope nobody reading my blog needs this to be specified (otherwise, the door's over there, you idiot!), but don't harm or try to take any animals or plants from the park.
You're also expected to be quiet and not litter.
Just writing these reminds me why I hate humans sometimes. Like how stupid are we that we need someone to spell these out for us?
Also, no drones and no motorcycles.
6. Getting in (Etosha access points)
Etosha is located in the north of Namibia, about 6 hours by car from the capital, Windhoek. Since all of Namibia's best places to see are in the top half of the country, you'll always be "close by".
There are four main gates where you can access Etosha National Park:
the Anderson Gate in the south is one that we used and it's the most popular. It's about an hour's drive from the best accommodation option outside of Etosha NP—Ijaba Lodge at Buschfeld.
the Von Lindequist Gate in the east,
the Galton Gate in the west,
and the King Nehale Gate in the north. I assume nobody uses this one because there's nothing to the north of Etosha except for Angola.
I'll be recommending you find accommodation outside of Etosha National Park, so you'll need to factor in travel time for your visit each day. See below for details about what I think is your best option as far as sleeping quarters.
7. Tickets for the safari in Etosha National Park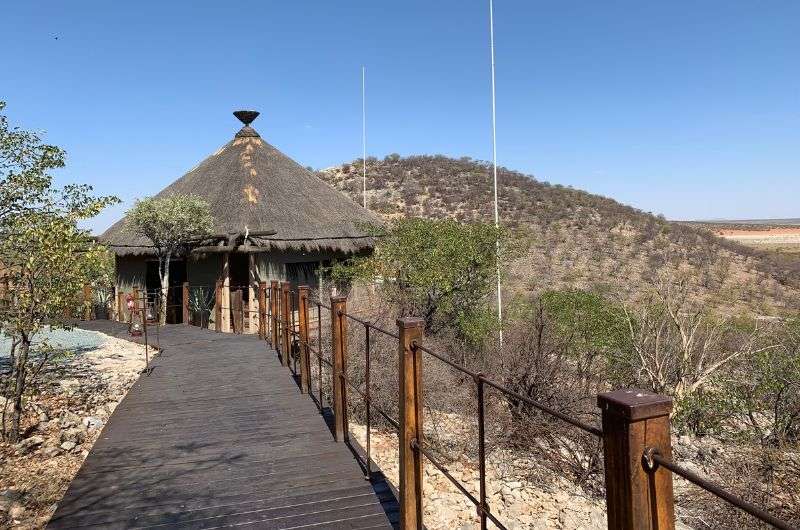 We were the first ones there and we still waited more than 30 minutes for tickets

This is where I added a little hate to my love-hate relationship with Etosha NP.
There's a ticket desk at each access gate. I want to say that you should arrive early in the morning to avoid waiting times, but it doesn't even matter. There were zero people in line when we got there and it still took 30 minutes to buy our tickets.
The park workers move at a snail's pace, and I swear they do it on purpose just to test your patience. So, don't forget to bring a book and a snack to pass the time while you wait for the bureaucracy to move along.
I was also made aware that the workers might have a bone to pick with you if your name is Jan. Apparently, the name is associated with a contentious Afrikaans culture, so just, err, expect to be hated so you're not surprised when it happens.

As of 2023, the entrance fee for international visitors is N$80 (a whopping USD 5) per adult per day, and N$10 (about USD 0.70) per vehicle per day. Kids under 16 get in for free.
Your pets aren't welcome, they have enough food for the animals already.
Tickets can't be bought online.
8. What is the best time of the year to visit Etosha?
It's like National Geographic, but you're part of the show!

Unless you like being air-fried in daytime temps around 40°C (104°F), don't visit Etosha in the summer months of October to April. If you are a masochist and visit during the hottest months of January to March, you may see some animal babies, since this is when the animals give birth. It's also when Etosha gets the most rain.
The best months to visit Etosha are May to September. There's no rain and the temperatures hover around a pleasant 27°C (80°F) during the daytime. Beware it can get below freezing at night!
9. When's the best time of day to see animals?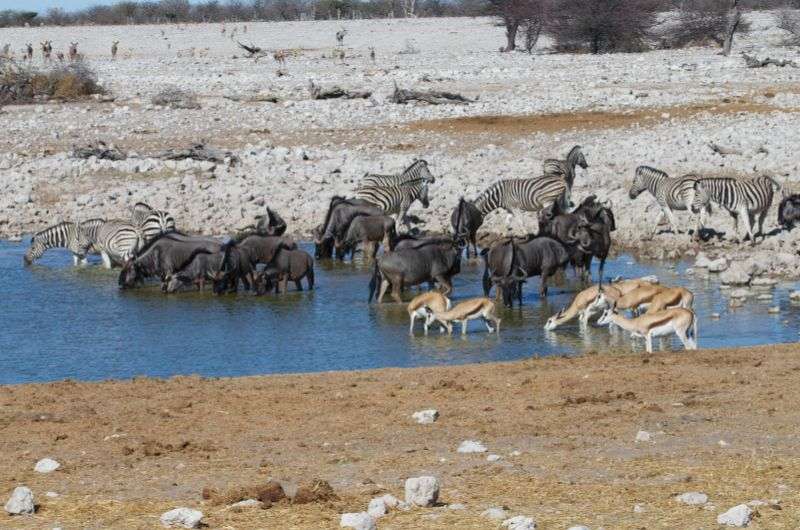 Animals at the watering hole

You'll see animals all day long at Etosha, but, especially if you're visiting in the winter months of May to September, go early in the morning or stay until late afternoon for the best sightings.
These are the most popular refreshment times for the animals, and they congregate at the many watering holes in the park.
In the summer, there will probably be animals at the watering holes all day, because it's just so frikin hot.
If you get to a watering hole and there's nobody there, be patient and stick around for a while. That said, there are 33 watering holes in the park, so you don't need to spend all day in one spot hoping for that rhino to come closer.

The park is open year-round. Opening hours in Etosha vary by season and follow sunrise and sunset times. During the winter months of May to September —which is when you should be visiting—the gates are open around 7 am to 6 pm, in the summer it's more like 6 am to 7 pm.
Open daily year-round from sunrise until sunset
Tickets cost N$80 (a whopping USD 5) per person per day plus N$10 (about USD 0.70) per vehicle per day. Under 16s enter for free.

This post contains affiliate links. I earn a small commission if you make bookings through my links, at no additional cost to you. This helps keep this blog free, thank you!