Get ready to experience the vastness and beauty of this sparsely populated country, where you'll find yourself wondering if anyone lives there at all. But fear not, there are plenty of adventure and sightseeing opportunities to be had… you just need to know where to find the right spots.
In Namibia, you'll often find yourself staying in a sightseeing/adventure hub and exploring your surroundings from there before moving on to another beautiful place.
Frankly, it's a great setup for self-exploring the country. Namibia is one of the few African countries that you can safely visit on your own, as long as you're comfortable with lots and lots of driving—in the desert (read my tips for driving in Namibia).
Now, I have a bit of a love-hate relationship with Namibia. There's no denying the stunning beauty of the Namib Desert and the unique experiences it offers, but let's just say it's not exactly my favorite landscape. I couldn't help but feel like the desert was slowly sapping the life out of me. It's never-ending! But hey, that's just my opinion.
So, without further ado, here are my top picks for the most breathtaking places to visit in Namibia:
You could also be interested in reading:
15 Tips for Self-Driving in Namibia: Avoid Common Mistakes and Maximize Your Adventure
The Best Lodges in Namibia: 9 Places I Absolutely Loved
10 Tips on Discovering Namibia's Wildlife: How to See the Animals?
Namibia self-drive itinerary: Full trip plans for 10 and 14 days
1. Swakopmund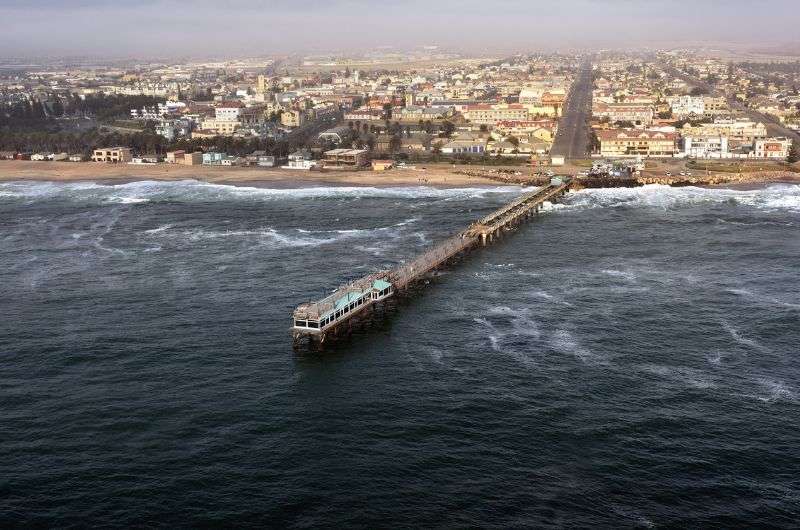 Swakopmund

Maybe surprisingly, the top spot in my list of Namibia destinations goes to Swakopmund. There's no place quite like Swakopmund. Trust me, I know: I've been there, done that and loved that. And by "that", I mean the Living Desert Tour with Tommy, the infamous Dune 7, and quad biking in the desert. But let's be real, the highlight of my trip was the snakes. I saw more snakes than I did tourists!
Firstly, let's talk location. Swakopmund sits right in between the vast Namib Desert and the chilly Atlantic Ocean. It's like the city can't make up its mind on whether it wants to be a beach town or a desert oasis. But that's precisely what makes it so unique, because it's both.
Now, let's get to the good stuff. Swakopmund is the perfect hub to explore the entire area, especially for those of you looking to explore the Namib Desert and get their adrenaline fix. With activities like quad biking and sandboarding, you can experience the dunes in all their glory.
Check out these Swakopmund hotels: Driftwood Guesthouse, The Stiltz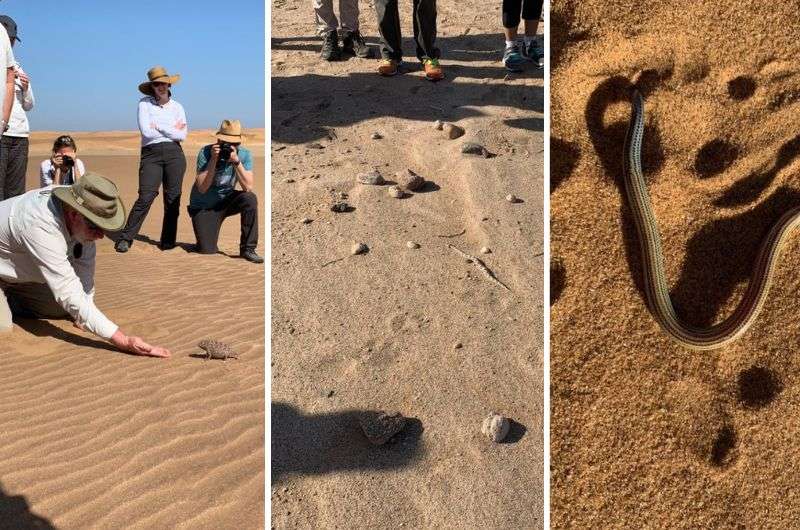 Tommy's Living Desert Tour is the best thing you will do in Namibia! It's like a scavenger hunt, but with wild snakes and lizards

And if you're a snake enthusiast (like someone I know), then Tommy's Living Desert Tour is an absolute must-do. Trust me, you'll see more critters than you ever thought possible in the deserted-looking desert. And if that's not enough, you can always go take some selfies with the more dangerous serpents at Swakopmund's Snake Park.
Swakopmund's also close to Dune 7, the highest sand dune in Africa. Hike up to the top for some stunning views of the ocean and the desert and a pretty good workout (it only takes 20 minutes though).

Dune 7

But Swakopmund isn't just about outdoor adventures. The town itself is charming and has a laid-back atmosphere. It's a great place to wander around, check out the beach and lighthouse, and explore the local markets and boutiques.
And let's not forget about the restaurants. While Namibia might not be known for its cuisine, Swakopmund has some of the best dining options in the country. The German influence rubs off on the restaurants in Swakopmund, which can only mean one fabulously hopsy thing: beer!
Overall, Swakopmund is a city that shouldn't be missed. With so much to do, you can easily spend three nights (or more) and still not see it all. So, whether you're a thrill-seeker or just looking for a unique vacation spot, Swakopmund has something for everyone.
Details in my full Swakopmund guide.
2. Namib Naukluf NP – Sossusvlei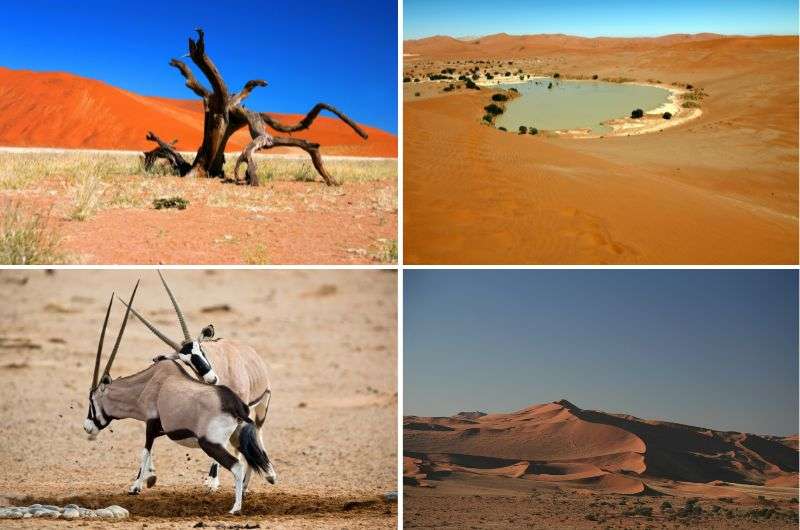 Namib Naukluft National Park and tree skeletons of Sossusvlei

Welcome to the land of the dead trees! If you're looking for some one-of-a-kind scenery, then you need to head to Namib Naukluft National Park and its star attraction, Sossusvlei.
Self-driving is the way to go so you're flexible to come and go as you wish. If you're feeling confident, that is—the sand is not your friend. Make sure to get a high-clearance vehicle, ideally 4WD vehicle to drive to Sossusvlei. Trust me, getting your car stuck in the middle of nowhere is not a good look (thanks for unstucking us, Mr. Kind Ranger Man!). And if you're nervous about getting eaten by an onyx after getting stuck on the sandy "road", you can always hop on the shuttles that go back and forth between the gates and the parking lots.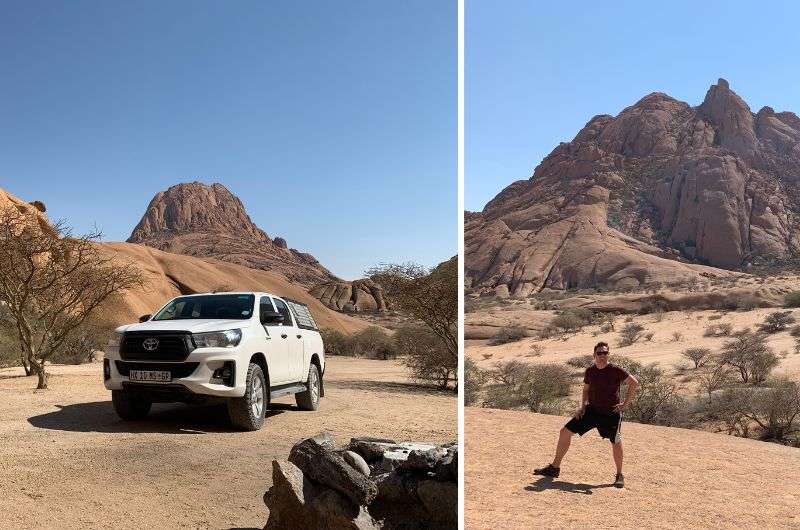 Trust me. Get a 4WD to travel through Namibia and you'll be much happier

But let's get to the good stuff. The trees. Oh, those trees. They've been dead for over 600 years, and yet they still stand tall and proud, defying the harsh desert conditions. They look like something out of a Tim Burton movie, but they're real! But dead. But still spectacular.
Deadvlei is the most famous of them all, and for good reason. The contrast between the white clay ground and the bright orange sand dunes is simply mesmerizing. It's like a work of art, but with tree skeletons.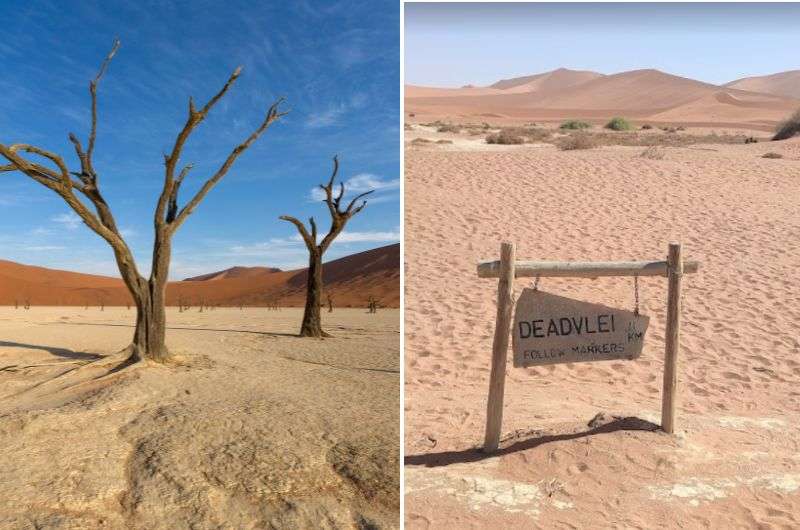 Follow the signs to the individual destinations in Sossusvlei to see the dead trees

And did I mention the sand dunes? Not surprisingly, they're everywhere. And they're huge. If you're feeling adventurous, why not climb one and take a selfie at the top? You can wait around for sunset for the ultimate end of the day. Just be careful not to roll down and end up in Australia.
But here's a pro tip: If you want to get an even more special look at Sossusvlei—sunrise—you'll need to stay within the national park, like at the incredible Kulala Desert Lodge. Only those on the inside get to be there before the main gates open (which is frustratingly right after sunrise)!
3. Fish River Canyon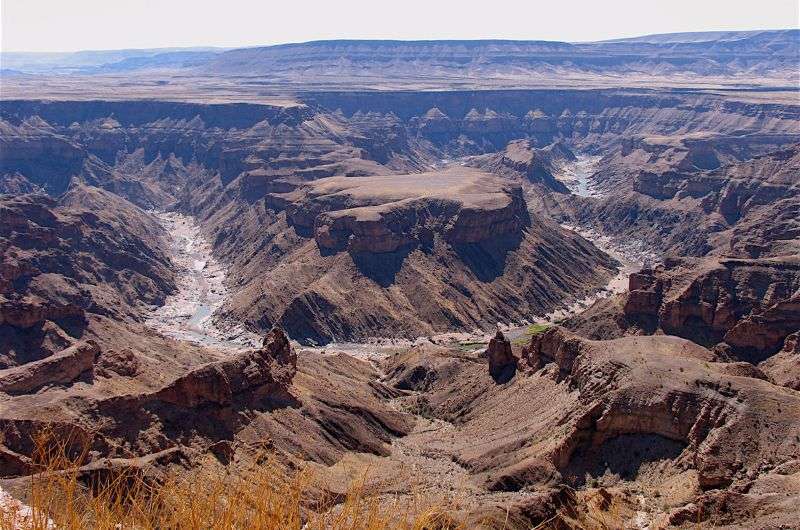 Fish River Canyon

If you're into hiking, camping, or just taking in jaw-dropping views, Fish River Canyon is the spot for you. Fish River Canyon, the Grand Canyon's less flashy and way harder to reach cousin, is the largest canyon in Africa and second largest in the world. It's so big, you could fit an entire football stadium in it (assuming the football stadium was 160 km/100 miles long and up to 27 km/16 miles wide).
You can either do the ultimate 4-5-day hike down into the canyon, where you might spot some of Namibia's coolest wildlife, like kudus, antelopes, baboons, and even leopards (if you're lucky, or maybe unlucky, depending on how hungry they are).
For those who aren't up for a multi-day hike, because, who the heck wants to sleep in a tent anyway, fear not! There are plenty of shorter hikes available—if you know where to look. You aren't allowed in the canyon for a short hike without a guide, and Fish River Lodge basically has a monopoly on those. But if you are lucky enough to stay at their incredible canyon-rim bungalows, you won't even care about the injustice.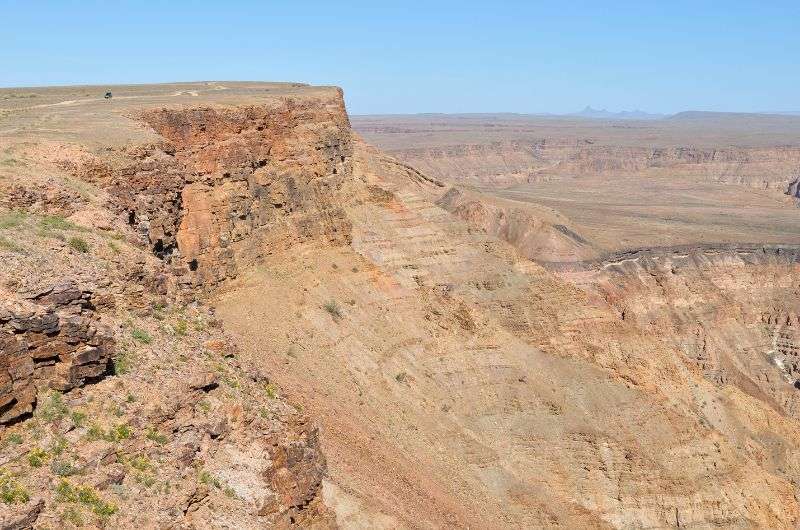 See that teeny tiny car on the left? On their way to some fantastic views!

Plus, there are some amazing viewpoints that are just a short drive away from Hobas, one of the main campsites in Fish River Canyon. I detail all of them in my Fish River Canyon Guide.
If you're feeling particularly adventurous, you can even take a fat bike tour or mule trek through the canyon, or get a bird's eye view with a helicopter tour.
And if you're looking for a little R&R, check out the hot springs at Ais-Ais, which are a great way to unwind after a long hike.
Now, getting to Fish River Canyon takes some effort. You'll need at least 3 days to explore the area, and that's assuming you don't mind spending two of those days driving from Windhoek (or anywhere else that's close to anything of interest in Namibia). So if you only have a week in Namibia, you might want to save Fish River Canyon for your next trip.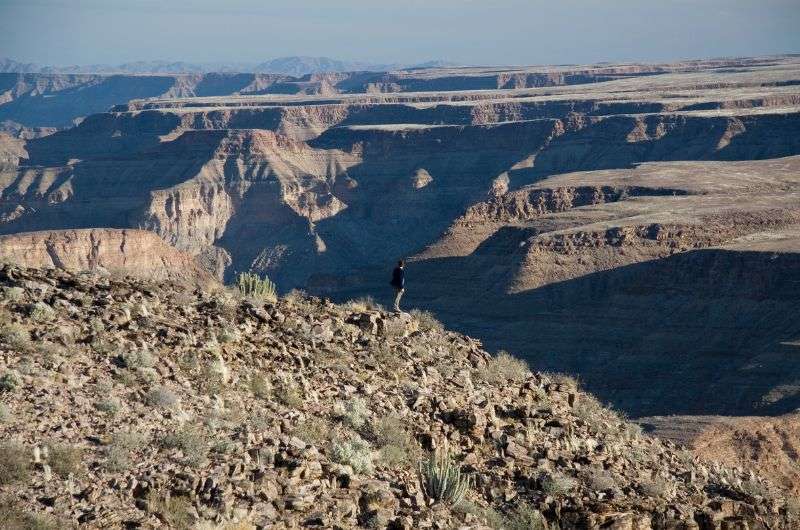 Check out Fish River Canyon at sunrise and sunset for the complete wow factor

Whether you're staring out at the canyon from a lookout point, hiking through its depths, or sipping a cold drink in a bungalow on the canyon rim, Fish River Canyon is a must-see destination for any adventurous traveler.
4. Etosha National Park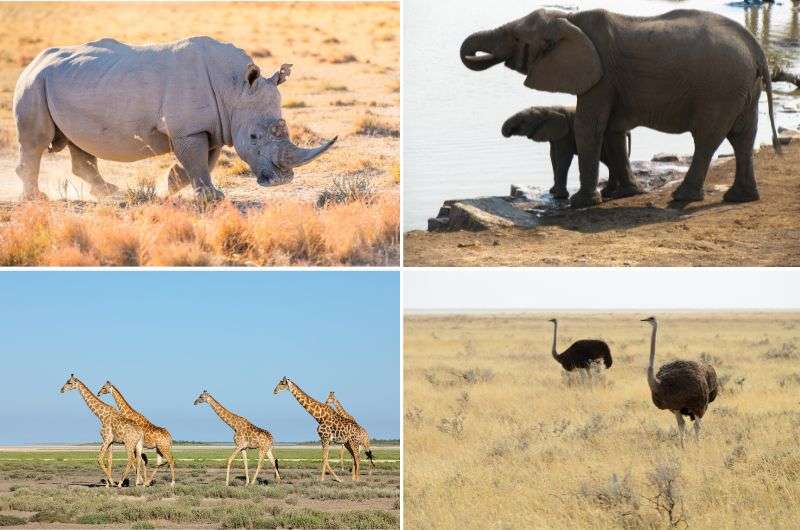 Etosha National Park will make you feel like you're in the Lion King

What do you think when I say Namibia? Don't say sand. The correct answer is wildlife! Etosha National Park safari is the best place to spot cool animals in Namibia! Sure, it doesn't have the big five (buffalo is missing, poor guy, but you can see it in Waterberg Plateau that's not too far away), but who needs them when you can see herds of zebras and giraffes and rhinos grazing in the sunset (night safari tours are available, too!)?

We observed these peaceful giraffes from a safe distance and from the stable, solid and comfortable Toyota Hilux.

You know what's wild about Etosha NP? No, seriously, it's wild—like, there are wild animals everywhere. And the best part? The watering holes. There are over 30 of them, which means you can watch lions, elephants, and rhinos all quenching their thirst together like it's happy hour at the local watering hole. It's like a scene straight out of The Lion King, except you don't have to worry about singing warthogs ruining the moment.
Etosha NP is huge, and I mean really massive. It's a vast expanse of land centered around the Etosha Pan, a massive salt pan with numerous salt springs that animals use as salt licks. It covers an area of over 22,000 km2 (8,500 square miles)—to put that into perspective, that's roughly the size of the entire state of New Jersey in the United States.
So if you want to see it all, plan on spending at least two full days there. And if you're feeling adventurous and want to stay longer, well, be my guest. But the fun does tend to wear off after a while, so I'd say there's no need to extend your stay.
Fun fact: Etosha NP is home to the world's largest population of black rhinos.

Rush hour at the watering holes @ Etosha National Park

Now, here's the thing about Etosha: the services suck, the bureaucracy is appalling, and the accommodation is overpriced and in no way looks like the photos online. Luckily, you're going for the animals, so it's not that hard to ignore the annoyances caused by humans.
My tip for you is to stay outside of the park and drive in each day. We stayed an hour away at Ijaba Lodge at Buschfeld Park which in Namibia is like a block away, and it was way better. Think swimming pool, delicious food in the restaurant, and, as a bonus, black mambas and zebra snakes! (Read my tips on driving in Namibia if you are confused why an hour is nothing.)
5. Caprivi Strip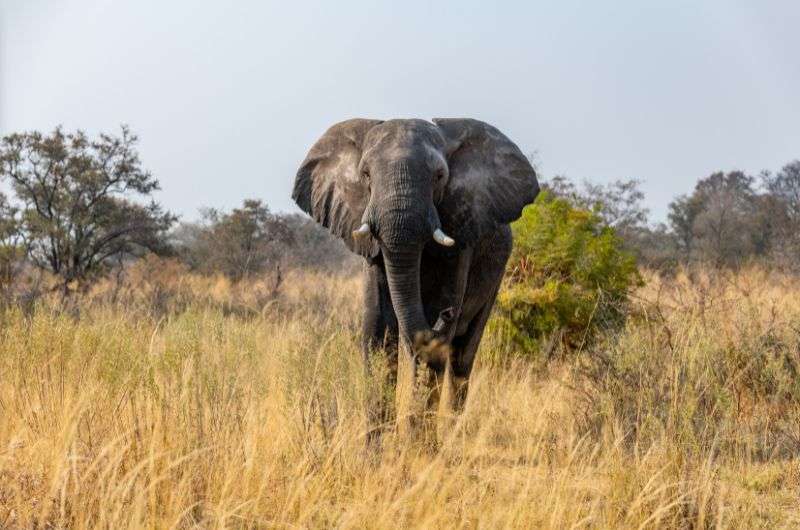 Caprivi Strip wildlife

If you thought the rest of Namibia was deserted, this place will make you feel like you're the only person on the planet. The Caprivi Strip is a stretch of land that looks like it got separated from the rest of Namibia and decided to go on its own adventure right through Botswana and Angola.
Caprivi is a great place to spend some alone time with the wildlife! Unlike in Etosha NP Safari, you won't be stuck in a traffic jam when you spot zebras at the watering hole.
It's basically a mash-up of woodlands, valleys, and flood plains, held together by a few unpronounceable rivers. The water is what makes it so special, wildlife-wise, and you can take a refreshing swim or a terrifying encounter with a crocodile, depending on your preferences! Seriously though, you'll be able to see all kinds of wildlife, either from your car or on one of the boat tours.

Popa Falls

There are many national parks in the Caprivi Strip. Bwabwata National Park even has a few villages scattered throughout the park, adding to the charm. Mahango Game Park is the place to be for wildlife like elephants and even leopards (if you manage to spot them between the baobabs). Plus, you can't miss Popa Falls—they may be more rapids than actual waterfalls, but they're still worth a visit for the natural beauty. And if you're lucky, you might even see some wild dogs in the Kwando Core Area.
Wherever you go, keep an eye out for pesky baboons—they're like the annoying little siblings of the animal kingdom, always begging for your snacks and getting aggressive if you don't hand them over. You'll also run into buffalo, elephants, zebras, antelopes, hippos, crocodiles, lions, giraffes and more birds than you knew existed in the Caprivi Strip.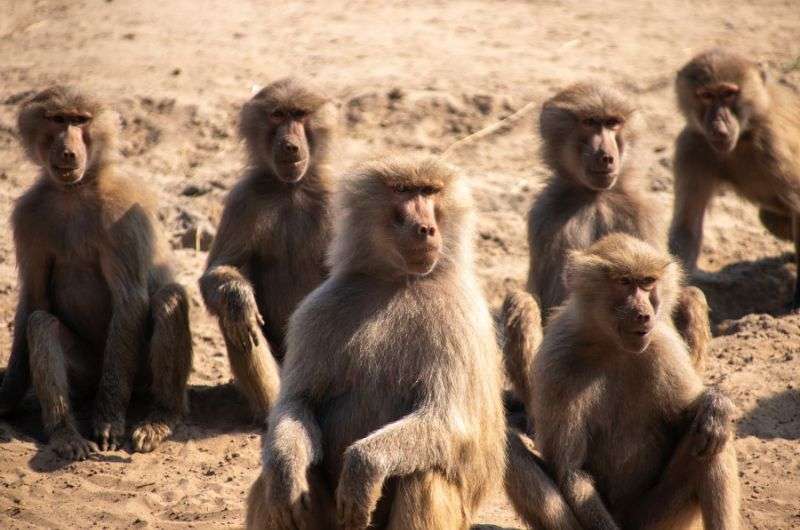 Baboons—very annoying creatures, but actually fun to spot (just don't be holding any snacks)

But be warned, this isn't your typical luxurious safari destination. Accommodation here is either very pricey or basic, and most often pricey and basic at the same time. The infrastructure is less reliable (and almost non-existent) than in other parts of Namibia.
Most importantly, don't make the mistake of coming to the Caprivi Strip in a 2WD vehicle. Though the main roads are passable, you would miss everything that's great about this area in the first place.
So, make sure you bring your trusty 4x4, a good map, and maybe a machete (only slightly kidding), and be prepared to be self-sufficient. I mean, I once got stuck in the sand in Sossusvlei, but getting stranded in the Caprivi Strip? That's a whole other level of wild. A level you don't want to be on, I'd imagine.
6. The southern part of Skeleton Coast: Cape Cross
South good, north bad

The Skeleton Coast—a name that strikes fear in the hearts of sailors, and excitement in the hearts of adventure-seekers. It's where the barren desert meets the mighty Atlantic, a part of the Namibian coastline that's… littered with shipwrecks?
I have to be honest, the northern bit of the Skeleton Coast didn't do much for me, even though it's supposed to be one of the top Namibia destinations. Umm, dead ship carcasses and sand? Yawn. But Cape Cross in the south? An entirely different story.
First of all, there's the smell. With over 100,000 seals in the colony, left to live and die as nature pleases, you can imagine how...pungent...it can get. We washed that scent out of our hair for days. And don't even think about wearing your fancy clothes—death is not a stain that comes out easily.
But the seals themselves? Absolutely mesmerizing. The massive colony frolics in the waves and naps all over the beach. My favorite were the pups, though it's not recommended to get too close, because where there's a pup, there's a mother just waiting to release her inner mama bear and defend her little one with tooth and nail.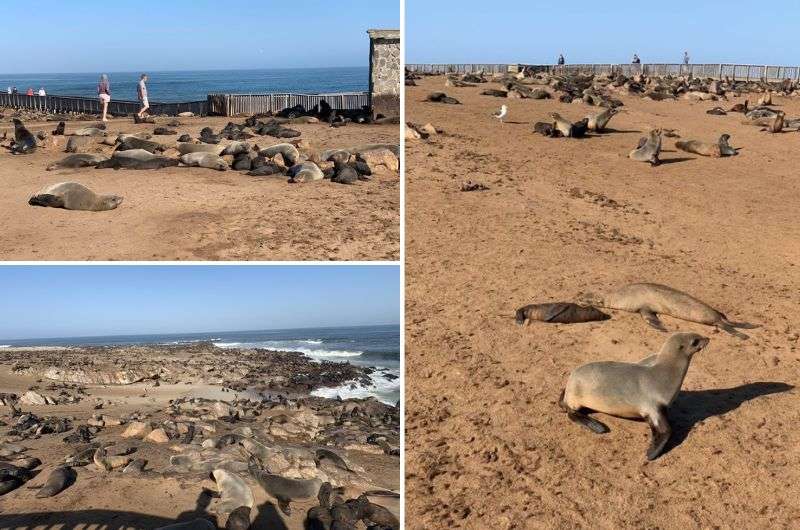 You can see the wooden walkway that helps you walk among the seals unharmed—they can bite

You can walk amongst the seals semi-safely on the wooden walkway that runs along the beach. The truth is that in some bits, it's in dire need of repair, as the seals napping on it will prove. Just step over them… carefully.
If the smell of seals isn't enough for you, check out Cape Cross's bird population. That's right—this place has got it all. Seal enthusiasts, bird lovers, and anyone else with a nose for adventure (and some binoculars) will have a grand old time at Cape Cross.
Cape Cross is only about 120 km (74 miles) from Swakopmund, so it's practically next door by Namibian standards. Or, if you base yourself in Desert Rendezvous like we did, you're already about midway on the drive from Swakopmund to Cape Cross, meaning an easy 30 minutes in the car.
7. Spitzkoppe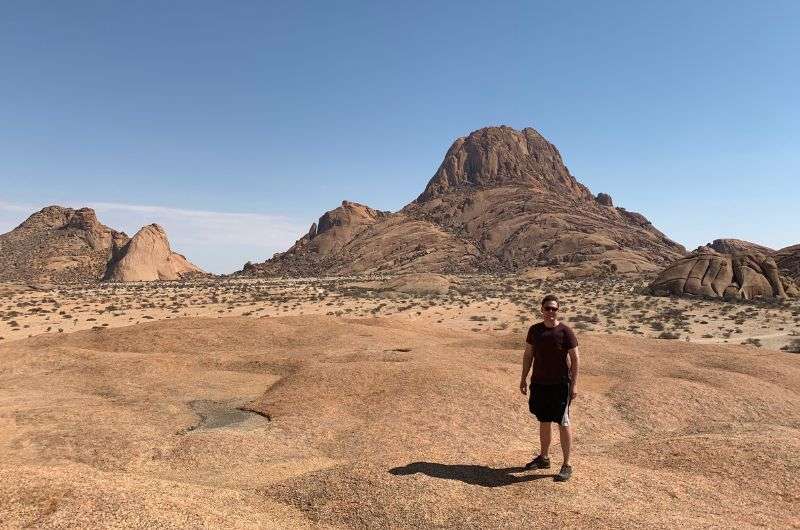 Spitzkoppe

Let me tell you about the biggest (granite) rock in the world. And no, I'm not talking about Dwayne "The Rock" Johnson (though he is certainly a national treasure of sorts). I'm talking about Spitzkoppe in Namibia, and let me tell you, it's not just a rock, it's a whole vibe! Get your camera ready.
But hold up, before you go packing your bags, there are a few things you need to know. Getting to Spitzkoppe from Swakopmund takes about 1.5 hours, which is doable. But the heat is something to consider—even in the winter, it can reach a blistering 35°C (95°F). So, bring your sunscreen, your hat, and maybe a personal fan or two.
But don't just admire it from afar. Grab your 4x4 (you're not one of the slowpokes on the road in a 2WD, are you?) and hit the trails for some amazing drives or take a walk to explore the incredible scenery on foot. There are plenty of hikes to choose from. You can even just take a wander from where you park your car, including dipping your legs in the slightly green waters of Rock Pool to cool off.
Make sure to climb up to Rock Arch and see it from all different angles but be warned: you'll want to take too many photos. Not just of the arch, but Spitzkoppe is just so photogenic, you'll be camera happy for sure. I was, and I'm not afraid to show you!

You have to see this

Now, apart from being the biggest rock you've ever seen, Spitzkoppe is also steeped in history. The San people, who have lived in the area for thousands of years, consider it a sacred site. They left behind some cool, well-preserved murals on the rock walls. Take a guide to show you exactly where to look (it's not hard finding one, they will literally find you, so you don't even need to try).
But wait, there's more! This place is also a haven for bird enthusiasts. I know nothing about birds, and don't really care for them, but I'm told if you do care and you're lucky, you might even catch a glimpse of a Verreaux's eagle or a lanner falcon. I'm thinking that's a good thing if you like birds, yes?
If you want to spend the night, you'll be able to do some camping in Spitzkoppe. There are several campsites available, the quality of which I haven't tested, because tents. That's a no for me, but I imagine the stargazing is amazing! If you are the camping type, be sure to bring everything you need to survive—most places don't have electricity or water.
8. Mt. Brandberg and Königstein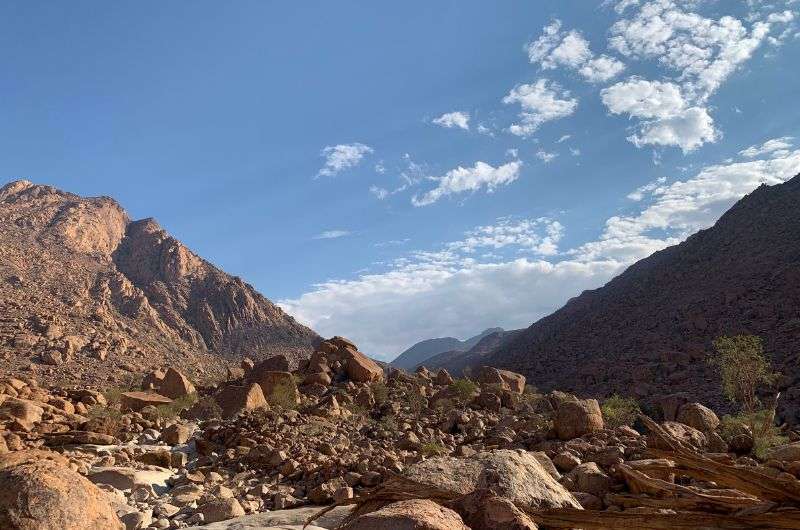 Mt. Brandberg and Königstein

Next up, the magnificent Mt. Brandberg and Königstein—the highest peaks in Namibia. They tower over the land like giants, making you feel like a tourist ant gazing up at them.
These peaks are no walk in the park, and hiring a guide is strongly recommended and mandatory in some places. The trails can be difficult to navigate, and the terrain is rough—you'll be giving your knees a run for their money hopping over rocks and scrambling on boulders.
I was lucky to get a fantastic guide when I visited, he was like a walking encyclopedia of Namibian knowledge. He knew every rock, every plant, and every creature that crossed our path, and he was funny. We were basically twins.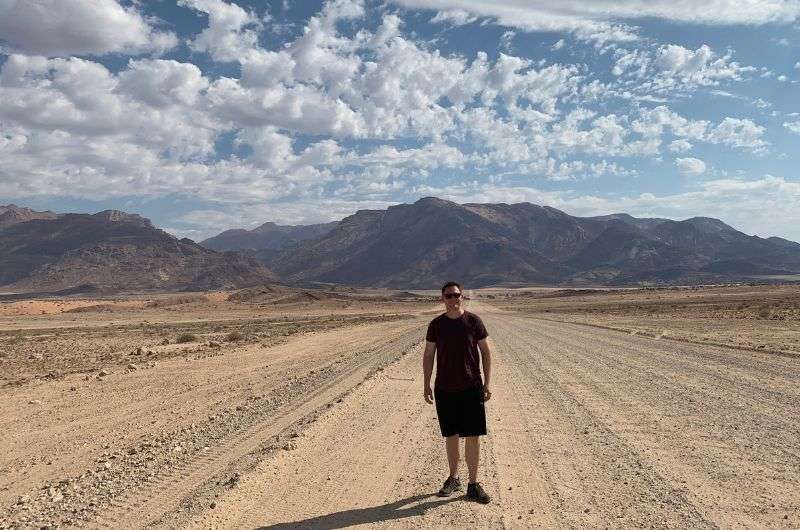 Sand, sand, sand... and then boom! Mountains!

There are several hiking trails at Brandberg to choose from—multiday options included for you camp-happy folks. I'm more of a single-day hiking kind of guy myself.
Basically, all of the trails are considered at least moderately difficult, so you won't have a good time here unless you're physically on the mountain goat side and less on the couch potato side.
There are over 40,000 rock paintings in the Brandberg Massive, so you'll want to include some natural gallery time in your visit. The most famous are the White Lady rock paintings, which are quite easy to get to if you survive the bumpy road first. Again, you can't go without a guide.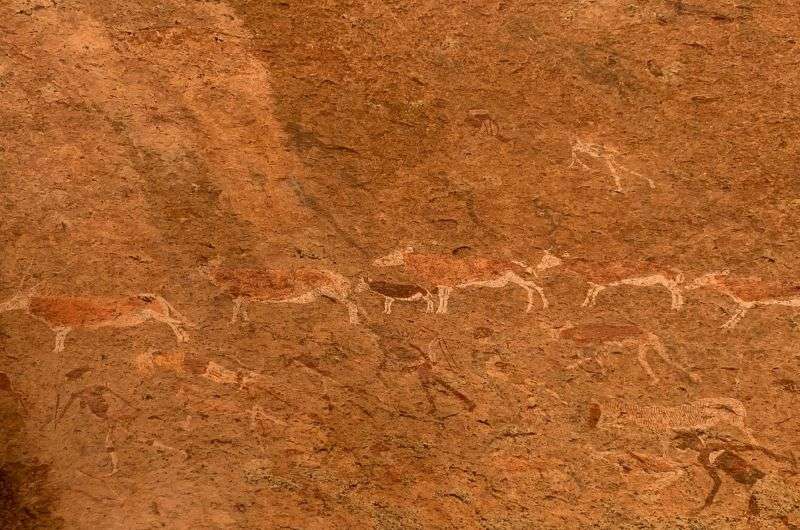 Wall art in the Bardberg Massive

Brandberg Mountain and Konigstein are located in the northern part of Namibia—as are almost all points of interest—, approximately 40 km (25 miles) from the closest town of Uis (which is about a 3 hr drive from Swakopmund, which is a great base).
It's quite a remote area, so don't expect any convenience stores or gas stations on the way. You'll need to bring everything you need with you or stock up in Uis before you set off on your hiking journey.
Visit in the winter months (May to August) to avoid scorching temperatures but be prepared for the unexpected—it may still be hot enough to fry an egg on the mountain. It was when I was there!
9. Waterberg Plateau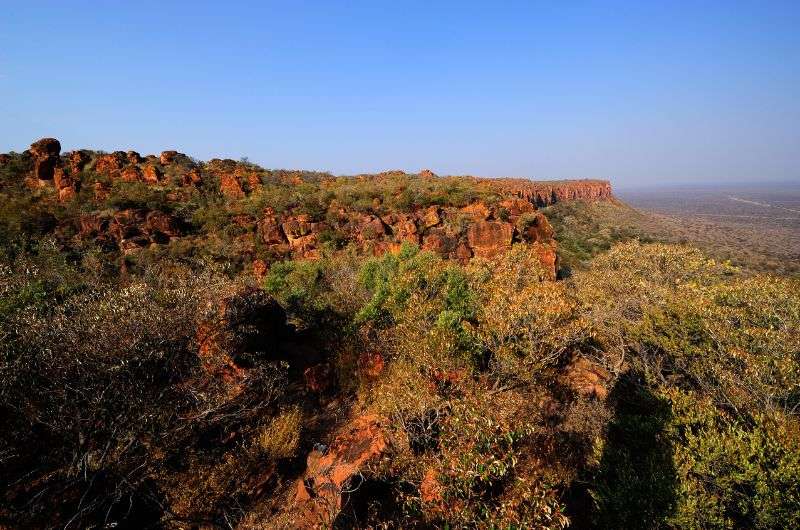 Waterberg Plateau

The Waterberg Plateau is a flat-topped mountain that towers over the surrounding plains in north-central Namibia. But it's not just any old plateau. It's a plateau that overlooks several game farms with private lodges, all working together to protect the fastest animal in the kingdom: the cheetah.
The Cheetah Conservation Fund does excellent work for the protection and education about cheetahs, hopefully preventing humans from running them right off the face of the Earth. Don't forget to visit the Research and Education Centre to learn about the conservation fund's efforts to protect these speed demons.

You can see cheetahs right from the veranda of The Babson House

The Babson House, part of the Cheetah Conservation Fund, offers the ultimate experience for cheetah lovers. You can literally watch cheetahs from your veranda, or if you're lucky, even from your bed! Talk about a room with a view.
Staying at any of the lodges that fall under the Cheetah Conservation Fund is like doing good for the world while enjoying a fabulous view. It's like two-for-one karma points.
Or, if you like your animals on the heavier side, maybe these big horny dudes will pique your interest: Waterberg is also the stomping ground of the African buffalo—the final member of the Big Five that you can't see in the relatively closeby Etosha National Park Safari. So go ahead and get 'em checked off your Namibian wildlife bucket list!

African Buffalo

Other cool fauna includes oryx, giraffes, leopards and even rhinos. You may need the help of a guide to track those, though, especially if you're hoping to find them while on foot. If the thought of being outside the safety of your vehicle sends shivers down your spine, opt for a game drive instead. There's nothing wrong with a nice sturdy car shell between you and the rhinos, especially if you're not quite feeling like risking your life for the perfect photo.
But wait! The Waterberg Plateau isn't just about animals. There are many hiking trails that you can take advantage of to fully enjoy the scenery of this magical place. Most trails start at either NWR Waterberg Camp or Waterberg Plateau Lodge, both of which provide guides as well.
And finally, even if you're not that into hiking or cheetahs (but why?) and maybe looking for something a bit more low-key, you'll still enjoy the Waterberg Plateau—just unwind and take in the stunning views. And if you see a cheetah, just look away, ok?
10. Damaraland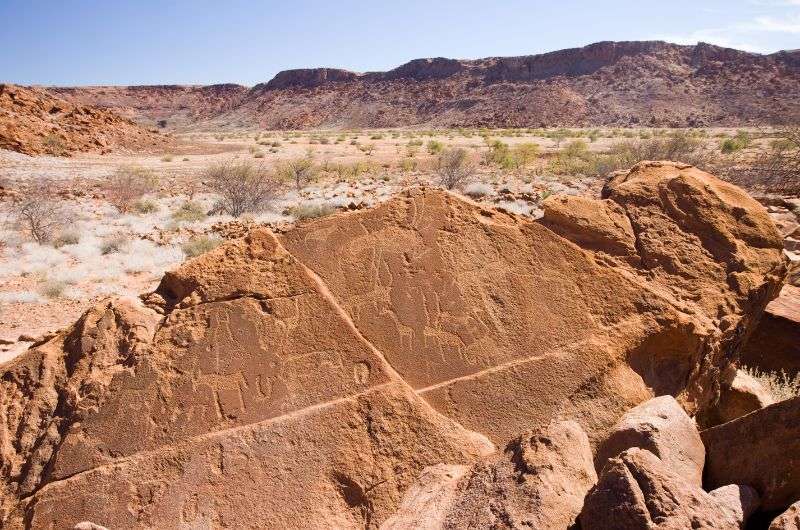 Greetings from the Bushmen of Damaraland

Damaraland, the wild north-central section of Namibia, is a ruggedly beautiful region that challenges even the most adventurous traveler. Adding to the allure are stunning geological formations, such as the Organ Pipes and Burnt Mountain, and the rich cultural heritage of the Himba people.
But, let's be real here, we all know the main attraction: the elusive desert-adapted elephant.
And if you're feeling extra bold, make sure you take the opportunity to track the black rhino on foot (with a guide, of course). Damaraland is the only place in the world where rhinos live without any kind of conservation status. It's incredible to see how these creatures are able to survive in a region where it seems almost impossible. Like seriously, how are they not thinner?!
Damaraland is one of the best places to embark on a night safari.

Animals in the night

For those interested in culture, Damaraland is also a great place to learn about the Himba people, one of the last truly traditional tribes in Africa. I'll be honest, the Himba villages that have been turned into tourist attractions aren't my cup of tea, but I can't exactly keep them a secret. If you decide to visit, just try not treat them as a sideshow or human zoo.
If you visit the a UNESCO World Heritage Site of Twyfelfontein—that's the actual name, not just a random grouping of letters—you can see some of the finest examples of Bushman paintings and rock engravings in southern Africa, dating back 10-20,000 years.
11. DON'T: The northern part of the Skeleton Coast
There, you've seen all there is to see in the northern part of the Skeleton Coast. You can now skip it with a clear conscience.

You might be thrilled for a bone-chilling tale when you first read about the Skeleton Coast—it's where the bones of unlucky sailors and their ill-fated ships lie scattered along the Atlantic coast. But let me tell you, the northern section of this so-called "adventure destination" left me feeling like a dried-up fish carcass.
Sure, there are shipwrecks aplenty for you to gawk at, but it can get pretty boring pretty quickly. I mean, when you see one, you've seen them all, right?
And let's not forget the vast stretches of sand that seem to go on forever. Nobody needs to see more sand in Namibia. Now if the Skeleton Coast promised no sand, that would be a showstopper for me!
Don't get me wrong, the Skeleton Coast has a fascinating history. The Portuguese first explored it in the 1400s, and it was later known as "The Gates of Hell" due to the treacherous conditions for sailors. But unless you're prepared to endure hours of sand and wreckage, I'd give the northern section a miss.
Just head south to Cape Cross seal colony and call it a day. There are plenty of other exciting places to explore in Namibia, so don't waste your time on the bland and barren northern Skeleton Coast.
FAQ: Is Namibia worth visiting?
Well, that depends. Do you like stunning landscapes, incredible wildlife, and a healthy dose of adventure? If so, then Namibia is definitely worth a visit. But if you prefer dull, gray cities and traffic jams, then you might want to give it a miss.
FAQ: When is the best time to visit Namibia?
The best time to visit Namibia is when the sun is shining and the wildlife is out and about… which, now that I think of it, is often when the sun goes down. Let me try that again: visit Namibia in the winter, which is May to September, for best results. Be prepared for some chilly nights, but by no means are days cold. They can be downright scorching days in the interior. But hey, that's what sunscreen and warm blankets are for, right?
FAQ: What are the best places to stay in Namibia?
Swakopmund is the best place to stay in Namibia, not only for adventure activities like quad biking and snake tracking. But you can also easily reach the Skeleton Coast and the northern part of Namib Naukluft National Park from there.
Overall, Namibia has some incredible accommodation options, though I quickly learned just how clever Namibians can be with their photos. I don't mean that in a good way! So, don't be fooled by photo editing tricks and choose the places that have good reviews. For example, don't stay inside Etosha National Park. Stay in the much better value lodges outside of the safari (like Ijaba Lodge at Buschfeld
So, choose your bases wisely and explore your surroundings from there.
FAQ: Is it safe to travel in Namibia?
As long as you're not planning on cuddling with lions or going for a midnight drive through the desert, then yes, Namibia is a safe country to travel in. Read up on self-driving so you know that you're not supposed to be afraid of humans, but rather the wildlife and the sand.
Of course, you should always use common sense and take the usual precautions, but Namibia is one of the few African countries which you can easily and safely visit on your own and not worry about much of anything really.
FAQ: Do I need a 4x4 in Namibia?
Abso-fucking-lutely. Yes, there are gravel roads that you can drive on and get to places, but no, you can't drive everywhere, not even close. Certainly not everywhere that you'd actually hope to see when visiting Namibia.
Trust me when I say a 4WD is an absolute must-have in Namibia. Most of the time, you'll be tackling dirt or sand roads, and Namibia is a huge country… Do you want to be stuck going 30 km/h (18.5 mph) while trying to drive 500 km (310 miles) a day? I didn't think so.
We literally passed hundreds of sad-looking, sedan-driving tourists going at a frustratingly slow pace that were regretting their poor decision. Don't be like them. Get a 4x4 in Namibia and actually enjoy your vacation.

This post contains affiliate links. I earn a small commission if you make bookings through my links, at no additional cost to you. This helps keep this blog free, thank you!