So, you're thinking about visiting Fish River Canyon? Congratulations, you've just discovered the ultimate test of your adventurous spirit! Because the real question here is: Should you really drive 8 hours just to stare into a big crack in the Earth? (And that's one way!)
The answer is a resounding yes! But there are big buts (chuckle). A big one is the distance. Africa's largest canyon is located in the very south of Namibia which is—unlike everything else that's worth visiting in Namibia—well, not in the north. And that means a nice, looong drive.
To make your decision-making process a little easier, I've put together the answers to all your burning questions about Fish River Canyon facts. From how to get there and types of Fish River Canyon hikes to how to go about getting permits and where to stay. Let's go!
You might be interested in reading:
Fish River Canyon Map and Orientation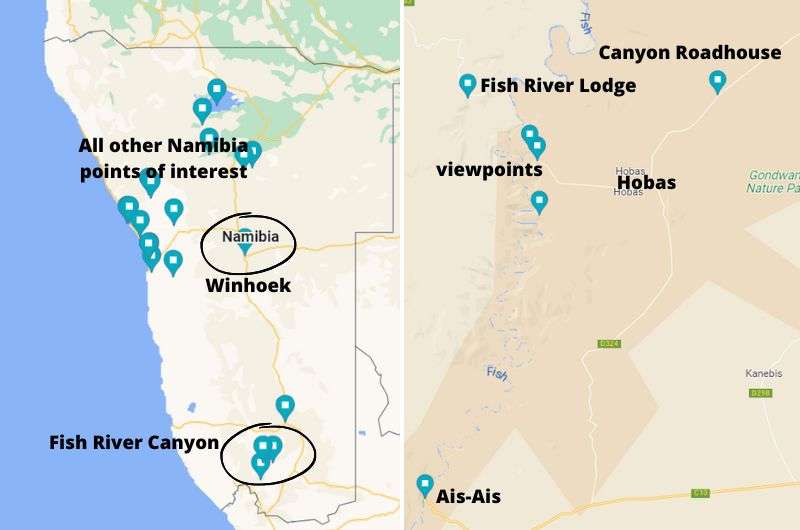 Namibia map and Fish River Canyon map

As you see on this mighty fine map I created, I'm not lying—Fish River Canyon is out in the boonies of Namibia. Up north is where all the other tourist attractions of Namibia are, and down south is… nothing but the canyon and then South Africa.

Look at those bends!

1. Why visit Fish River Canyon?
First of all, let me just say that Fish River Canyon is huge. Like, really, really huge—the second on the entire planet huge. It's over 160 km (100 miles) long, up to 27 km (16 miles) wide, and over 500 m (1,640 ft) deep in some places. It's like the Grand Canyon's little brother, but with a lot less tourists.

Fish River Canyon

Grand Canyon stats: 446 km (277 miles) long, up to 29 km (18 miles) wide and over 1,857 m (1 mile) deep.
People come to hike Fish River Canyon, stare at Fish River Canyon, camp at Fish River Canyon (not me) or stay comfortably at Fish River Lodge (me). Staying at the Lodge is the only way to do day hikes into the canyon, so it is something to look into for those of you that aren't keen on roughing it. But more on that below.
2. What can you do at Fish River Canyon?
If you want to get up close and personal with Fish River Canyon, there's the ultimate 4–5-day hike that takes you right down into and through the canyon.
But if you prefer your adventures with a side of comfort (or just don't have that kind of time on your hands), there are plenty of other ways to experience Fish River Canyon that don't involve sleeping in a tent and eating food out of a tin can for 4 days. Shorter hikes, for example (guided only).

Check the view!

There are several amazing viewpoints that are relatively easy to drive to where you can get different perspectives and unlimited photo ops of the canyon. Sunset at Fish River Canyon? Check! Sunrise for the early birds? Also check!
Nature also thought about R&R for all the tired tourists trickling out of the canyon (in pleasantly small flocks, too, I must say), creating hot springs at Ais-Ais. This is usually where people end the long Fish River Canyon hike. Convenient much?
It's also possible to spot some of Namibia's cool wildlife in and around the canyon. You can call yourself lucky if you manage to spot the mountain zebra, but you'll probably have better luck seeing some kudus, antelope or maybe a baboon or two. Leopards live in Fish River Canyon, but they don't like to be seen and are good at keeping it that way.

And then the humans came along and figured out even more ways to make use of the natural phenomenon that is the canyon: From fat bike rides and mule trekking to helicopter tours, there's a Fish River Canyon activity for everyone (and every budget).
You can also level up your Fish River Canyon accommodations and stay at the incredible Fish River Lodge, because it a) offers a ton of exciting day trips into the canyon (and nobody else does), and b) your bungalow will be right on the canyon's rim! Look:
3. How to get to Fish River Canyon?
In a car, preferably self-driving, because it's the most fun and the most convenient and comfortable. That's if I don't count private planes, which, if you have the money and want to spend the money, could also work for you.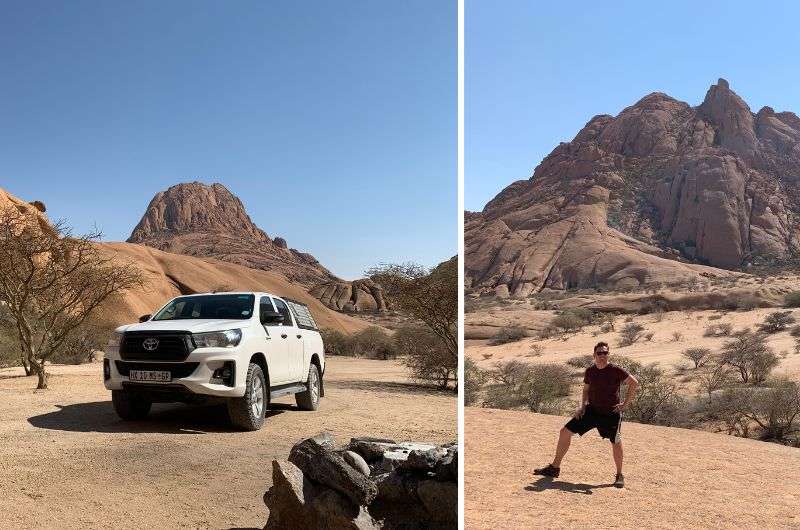 Trust me. Get a 4WD to travel through Namibia and you'll be much happier

Driving from the capital, Windhoek, takes about 8 hours one way, and there's a whole lotta nothin' to break up the long trip. Are you excited yet?
So, if you're on a 2-week itinerary, for example, the least amount of time you need to visit Fish River Canyon is 3 days. Two of them will be driving days. That's why I say it doesn't make sense to drive to Fish River Canyon if you have less than 2 weeks in Namibia.
4. How long is the drive from Windhoek to Fish River Canyon?
The drive from Windhoek to Fish River Canyon (the northern section) takes 7–8 hours. It's worth noting that the road can be quite bumpy in places, so make sure you're prepared for a bit of a wild ride and rent a proper 4WD vehicle that can handle the roads.
Tip: Have you read my article about driving in Namibia? I have lots of tips there to make your driving adventure a goodie and not a baddie. Even if you run into a warthog, like yours truly.
5. Can you drive the Fish River Canyon?
Well, technically you can't drive the Fish River Canyon itself, unless you have some sort of amphibious car that also flies or a death wish. But you can drive to the canyon, which is much safer and more legal.
Tip: Actually, there is a way to take a drive in the canyon. Fish River Lodge, who are the only ones allowed to do day trips into the canyon, also do a tour in an open vehicle that goes down into the canyon. But if you aren't staying at the Fish River Canyon Lodge, you're out of luck.

Fish River Canyon tour with Fish River Lodge

There isn't a full scenic drive around the canyon, though I guess flat, orange, sandy earth counts is a scene as much as anything else. It's an easy and straightforward, 1-hour drive from one end of the canyon at Hobas campsite to the other at Ais-Ais hot springs, but you can't see into the canyon from the road.
But! There is a section along the rim that you can drive on, just make sure you have an offroad-type car. From the road leading to the main viewpoint near Hobas, you can make it all the way to Swaelbron lookout, stopping along the way to gaze into the mighty crack.
6. Where to catch the best views of the Fish River Canyon?
There's one main viewpoint that you can easily drive to from Hobas (if you're lucky enough to have a high-clearance vehicle). Don't even think about skipping this place—it boasts the most panoramic view of the canyon that you'll find anywhere. There are shaded picnic tables where you can laze the day away, and some information panels where you can read about the canyon.
Just make sure you bring some extra cash to pay the conservation fee of NAD 50 per person and NAD 20 per car.

Extra tip: you'll be doing yourself a favor if you avoid using the toilets. If you must, bring tissues and hope for the best (but here is a window with a view in there).
The nearby Hiker's Viewpoint is only open to those who are planning to do the full hike, so no sneaking in there for a quick look-see (or go for it, I'm not your mom).
If you're hoping to venture into the canyon for a shorter trip, you'll need to hire a guide. Fish River Lodge is your best bet for finding one, but keep in mind that you'll need to be staying there in order to go on any of their trips.
You can also drive all the way up to Swaelbron lookout, stopping along the way to indulge in some serious canyon-staring. Just make sure your vehicle is up for the challenge, or otherwise just take a long walk along the rim. Plenty of places to look into the abyss from there.
And if you're staying at Fish River Lodge, you barely need to leave your bed for incredible canyon views, as their rooms are literally on the canyon's rim! There are also a few viewpoints in the surrounding area.
7. How many days do you need in Fish River Canyon?
It depends on what you're there for. If you're planning to do the full 4-5 day hike, then the answer is pretty straightforward: you'll need that time, plus some extra for preparation and recovery (unless you can multitask and prepare and recover on the long drive there and away).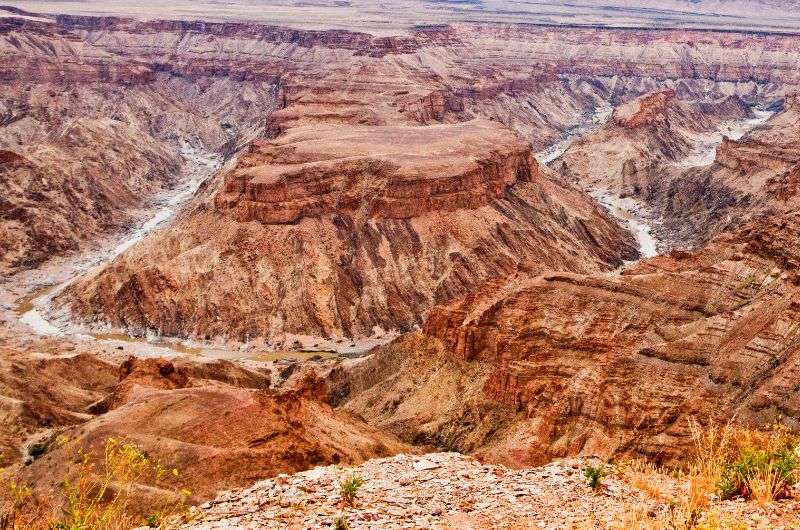 If you're not into overnight treks, then a day or two is enough to appreciate the grandeur of the canyon and soak up some awe-inspiring views. You can explore the various viewpoints, have some existential contemplation while watching the sunset over the cliffs, and even take a shorter half-day or day hike into the canyon to get a sense of its rugged beauty.
No matter how long you spend in or around the canyon itself, make sure to budget another 2 days for the drive there and back.
8. What is the closest town to Fish River Canyon Namibia?
There are two main "places" at Fish River Canyon—Hobas in the north and Ais-Ais in the south. But they aren't towns per se. There's a campsite at both of them and little else.
The north is where the hikes start, where the best viewpoint and rim walk is (you can also drive it), and where Fish River Lodge—which is where you'll want to go to book most of the day trips into the canyon—is located (across the canyon from Hobas). There's also Canyon Roadhouse nearby, which is somewhat of an institution around these parts. You can get gas and wifi and cool Instagram shots here.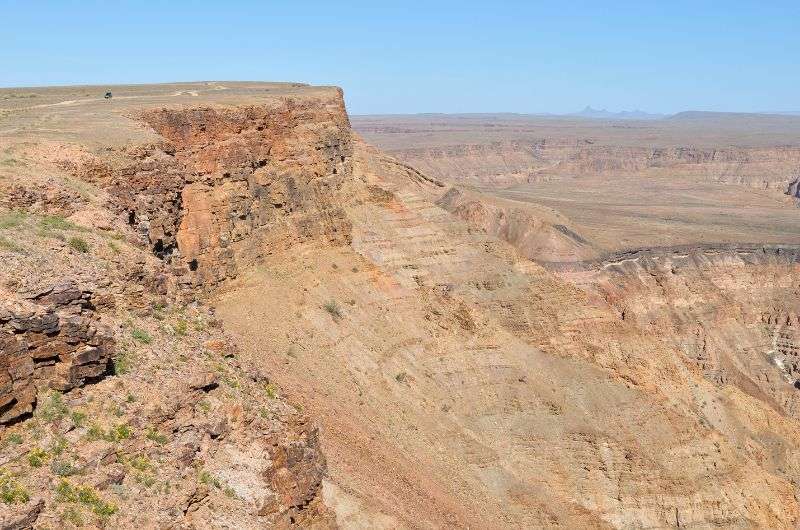 Hobas

Ais-Ais is where the hot springs are, which is great for those finishing the full hike there, and where the better Fish River Canyon camping is located, as well as a small gas station.
The closest actual town to Fish River Canyon is Keetmanshoop, which has amenities such larger grocery stores, gas stations, and some restaurants (and even a KFC). It's 2 hours north of Hobas.
9. Where's the closest place to get gas at Fish River Canyon?
There is a gas station at Ais-Ais in the south of the canyon, and also at Canyon Roadhouse, just 15 minutes east from Hobas.

You should stop by Canyon Roadhouse even if you don't need gas, since the restaurant will feed you well, and there are many vintage vehicles on the premises that make for some fun pics (as does the frequent wildlife). Not to mention that it's a superb accommodation option that includes a pool.
10. How long is the Fish River hike?
The full hike is 86 km (53 miles) long and starts in Hobas and ends in Ais-Ais. Most people take 4 to 5 days to complete the Fish River Canyon hike. This needs to be booked in advance.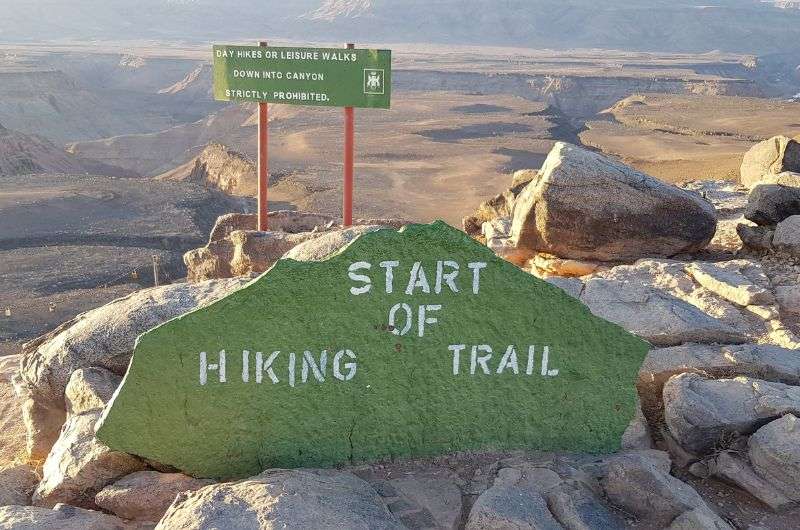 Let's go!

If you want to only go in for a short day trip, or even a 2–3-night camping trip that doesn't go all the way to the end, you can't do so without a guide. As far as I can tell, only the trips organized by Fish River Lodge go into the canyon. So they are THE place to inquire about Fish River Canyon activities.
I've seen other outlets advertising these trips, but then in fine print you find out you have to be staying at Fish River Lodge in order to book the trip. Or they go to areas north of Hobas, which is still technically the Fish River Canyon, but it's not THE Fish River Canyon, if you know what I mean.
11. Hiking Fish River Canyon facts, conditions and prices
The full 86 km (53 mile) hike through Fish River Canyon takes 4–5 days and starts in Hobas and ends in Ais-Ais. You go without a guide, but you need to apply for a permit beforehand and get a medical certificate from your doctor in order to be let in.
Officially, you must be a group of at least 3 people to get a permit. This is for safety reasons. Example: John sprains his ankle. Judy stays with him and shoos snakes away from him while Harrold goes to find help. If you don't have a Harrold, I won't tell anyone if you make him up and he conveniently gets sick right before your hike. Note there's no cell phone reception in the canyon.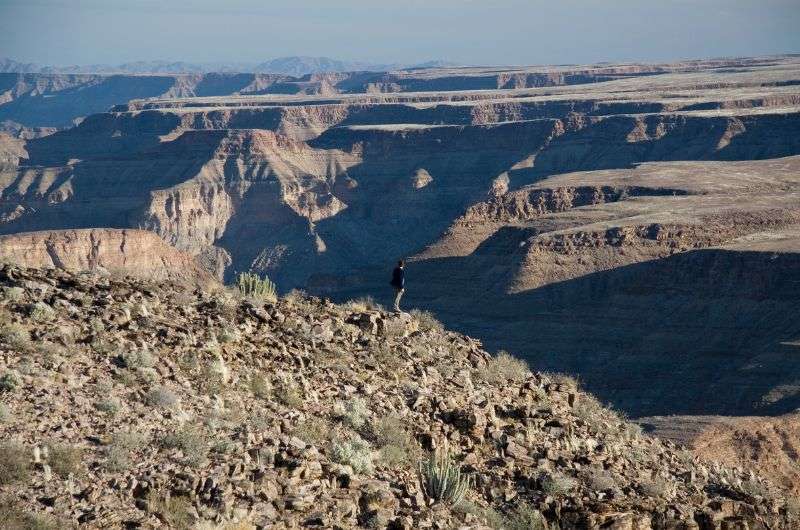 Only 30 people per day are allowed on the hike, which is why you'll want to apply for your permit as soon as you know your travel dates. If you're flexible, people have called in as late as a week in advance and managed to find spots. Otherwise, a couple of months beforehand should be enough.
But you can't go on the full Fish River Canyon hike anytime during the year—it's only open between May and September, which coincides with Namibia's winter. That said, days still get hot but nights can be chilly, so bring layers.
You need to be completely self-sufficient on the Fish River Canyon hike, carrying all you need to survive with you for the duration of the trip. There are no amenities in the canyon.
Water tip: Luckily, being a river canyon, there is water, though you'll want to carry some sort of purifying system with you.
The river, though, isn't continuous, especially in the wintertime. But fear not, there are some permanent pools of water that will keep you from turning into a human raisin. Here's a safety tip straight from the canyon management people: if you've walked 8 km and haven't stumbled upon any water, congratulations! You're officially lost. Turn back and try again, and do it quick before you shrivel.
Packing tip: Since you'll be staying in a snake and scorpion-infested area, consider bringing a can of extra-strong repellent to spray around your tent before you hit the sack. You know, just in case those slithery and creepy crawly critters get a little too curious.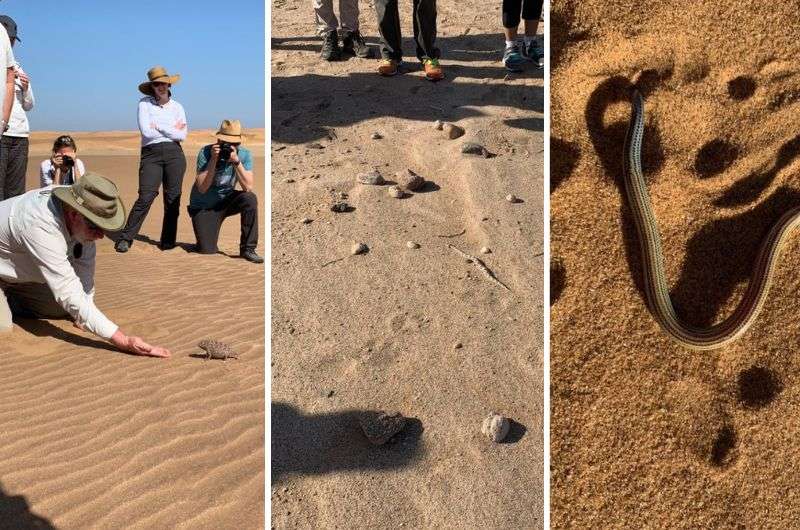 If you want to meet snakes in Namibia, not die and learn something about them at the same time, I recommend Tommy's Living Desert Tour in Swakopmund

There is a shuttle from Ais-Ais to Hobas, but it isn't super frequent, so trying to take it after 5 days of hiking could be a massive annoyance. Instead, leave your car at Ais-Ais first and take the shuttle to Hobas where you'll start your hike. That way, your ride is waiting for you when you finally emerge from the abyss.
Fish Canyon River camping is available in both Hobas and Ais-Ais if you're wanting to sleep in a tent and not the Fish River Lodge or the Canyon Roadhouse (there are other lodge options, too). Ais-Ais is supposed to be more comfortable and with more amenities, but I wouldn't know because I prefer actual walls.
Prices:
Hike permit: NAD 500 (USD 35)
Park entrance fee: NAD 100 (USD 7)
Conservation fee: NAD 50 (USD 3.50)
Shuttle from Ai-Ais to Hobas: NAD 350 (USD 24)
12. Can I hike Fish River Canyon without a guide?
Yes and no. If you're going on the full 4–5-day hike, the one that's the most dangerous, since you need to be completely self-sufficient, then no guide is needed. You have to carry all your stuff, find a place to camp, make sure you don't die of dehydration and that you know which snake is which. You do need a permit that you have to ask for in advance and a health certificate that proves you have at least the slightest chance of survival. But no guide.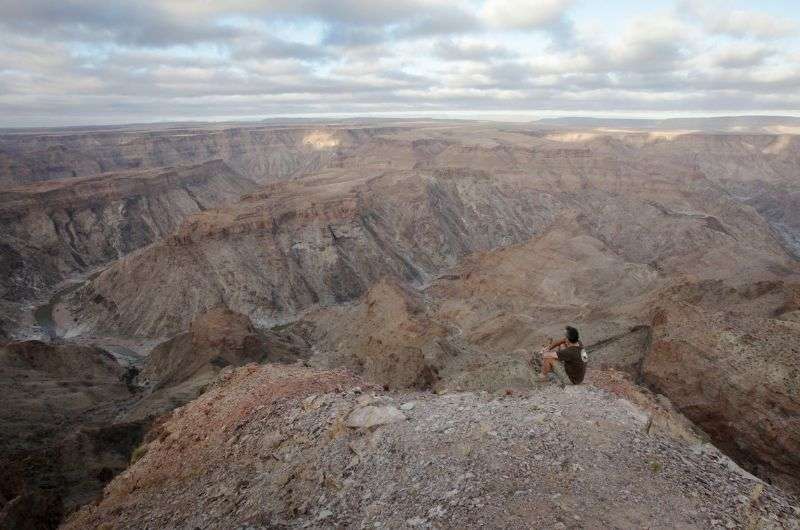 If you want to go on a short day hike or any little trip that's not overnight, then yes. Because you need a chaperone to keep you safe. Makes perfect sense, right?
In summary, it's either all or nothing: you either stay on the rim, checking out the viewpoints, guide-less, go all-in and camp for several nights in the canyon on your own, or get a guide and pay for a day trip.
13. How do I get a permit to hike in Fish River Canyon?
Contact Namibia Wildlife Resorts to book a date and get your hiking permit. You'll need it if you're going on the full 4–5 day hike. It costs NAD 500 (USD 35). You'll be sent a medical form that your doctor needs to fill out no longer than 40 days before your trip. You have to show the hard copy of this form before you set out on the Fish River Canyon hike.
For shorter hikes, you need to contact Fish River Lodge and book it with them. You aren't allowed to go into the canyon on your own unless you're embarking on the full hike. You don't need a permit if you're going on the shorter trips.
14. What to expect on the Fish River Canyon trail?
The hiking trail is tough but beautiful. But tough. It begins just outside of Hobas campsite, with a steep descent to the base of the Fish River Canyon. This is the steepest, rockiest and generally hardest part of the hike.
Most days it's possible to walk an average of 20 km (12 miles). There are several very steep emergency exits along the way that lead to absolutely nowhere, but they are patrolled by a park vehicle that picks up any poor souls that make it up there.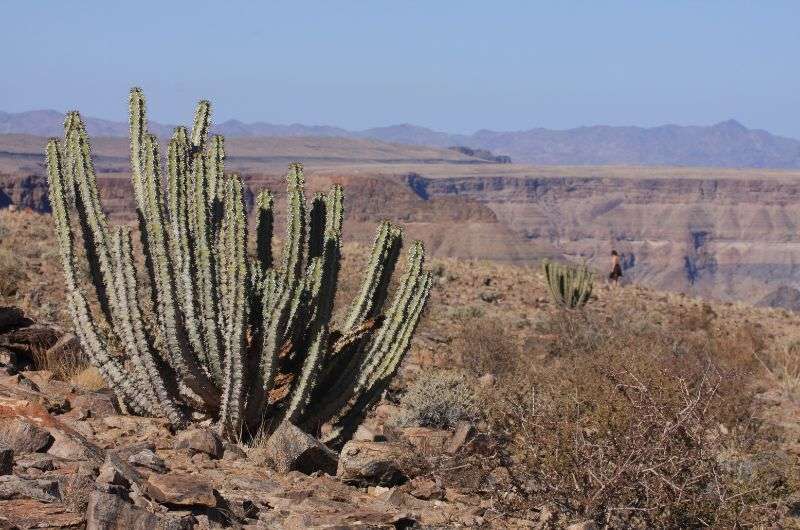 The trail is fairly simple to follow, is sandy and rocky in most places. If water levels are high, you might need to cross the river in some parts. Most of the time during the winter (the only months you're allowed in), the river isn't a continuous flow, but rather a line of water pools.
You can camp anywhere you want along the way, purifying water from the river to keep yourself hydrated.
A maximum of 30 people are let out on the trail each day, so you'll probably meet some peeps, but not hordes.
15. Is the Fish River Canyon hike difficult?
Yes. There's a reason they ask you to provide a letter from your doctor that you can make it out alive.
The first day, when you're descending into the canyon, is the hardest. The trails are steep and rocky, and you're carrying all of your supplies on your back for the 4–5 days. It gets hot during the days and cold at night. You have to purify your water and try not to step on scorpions.
16. Fish River Canyon accommodation: sleep on the canyon's edge at Fish River Lodge
Fish River Lodge—the best accommodation you could choose!

By far the most spectacular Fish River Canyon accommodation is the Fish River Lodge. Not only does it have little bungalows right on the canyon rim (the vertigo is real!), but they're also the only place that offers shorter and more comfortable trips into the Canyon if you don't want to hike the full 86 km (53 miles)—including drives in open vehicles on the canyon floor that nobody else is allowed to do.
Obviously the views are second to none, but it's also how they take care of you that'll stick in your memories. Staff treat you like a king (or queen), there's a pool, a restaurant with good quality food, and if you feel adventurous (like a really comfortable kind of adventurous), they'll take your bed out on the terrace for you. Not recommended for sleepwalkers.
17. What is the best time of year to see Fish River Canyon?
The best time of year to do Fish River Canyon is during the cooler months from May to September, as temperatures can be scorching hot during the summer months, making it challenging to do any hiking or exploring in comfort. The full hike isn't even available outside of these months. It still gets hot in the winter, so come prepared.
But sure, if you're a fan of feeling like a rotisserie chicken, then go ahead and visit Fish River Canyon in the middle of summer. You can still visit the viewpoints and walk along the rim. Maybe you'll even witness a flash flood or get a heat stroke, how exciting!
18. Is Fish River Canyon worth visiting?
It's definitely an experience worth having but hiking Fish River Canyon is something you can do only if you can cram it into your itinerary. I'm not kidding when I say the drive there and away will probably take you longer than the actual Fish River Canyon activities.

If you ask me, you can fit it into a 2-week Namibia itinerary, but if you only have 7–10 days in the country, there's no way, unless you skip almost everything else in Namibia. And that's just if you're doing 1 day in Fish River Canyon. If you're planning on going on the full hike and you only have a week in Namibia, Fish River Canyon will be your one and only stop on the trip.
Either way, you're already going to be spending way too much time driving in Namibia, you don't want to sacrifice two full days to just drive some more if you're tight on vacation days.
This post contains affiliate links. I earn a small commission if you make bookings through my links, at no additional cost to you. This helps keep this blog free, thank you!