I'll start out by saying I hate the desert. It sucks the life right out of me. But I'm not one to hide from things, like the sand. Instead, I go out and find the best frikin sand I can! The Namib Desert is the oldest in the world, which makes it really cool and I gravitate towards places like this, because they remind me of me (except for the age). Besides, I was there with a lovely lady that loves deserts, so it's not like I had a choice.
The Namib Naukluft National Park, in particular the Sossusvlei area, is the epitome of Namibia. It's that place with the famous tree skeletons everlastingly posing on the cracked, dry, pink earth with bright orange sand dunes in the background. Imagine if you add an oryx into the mix—epic.
But yeah. So. Much. Sand.
You might also be interested in reading:
Is Sossusvlei worth it?
I've already described my not particularly loving relationship with deserts, so maybe I don't sound like the best person to ask. But no fear, I can be objective—I think you should go to Namib Naukluft National Park, particularly in the Sossusvlei area, no matter how much you can't stand the sand. It's an incredible place.
How much time do you need in Namib Naukluft NP?
I'd say you need a full day at the very least. If you're into extracurriculars such as hot air balloon flights and sandboarding, you'll need extra time. Or if you need to experience the desert in shorter time increments and spend the rest of your days in your Sossuvlei luxury accommodation, you'll also need to extend your stay.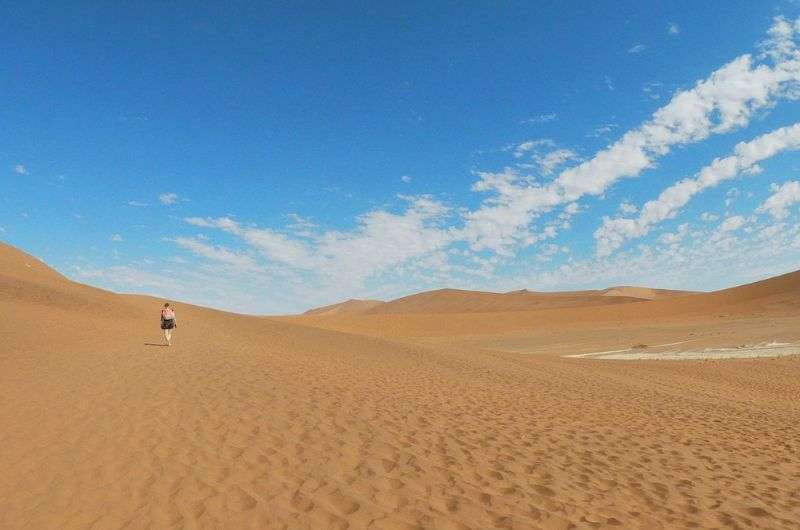 Walking in the neverending sand of Sossusvlei
But I'm assuming you want to fit as much as you can into your Namibia itinerary, so I suggest one full day around Sossusvlei and then making a stop at Dune 7, which is way up north, en route to your next stop (like Swakopmund).
Getting into Sossusvlei: gates, prices, opening hours
On our way to Sossusvlei
When it comes to entering Sossusvlei, self-driving is the way to go. Because let's face it, spending countless hours in a vehicle with strangers is just asking for trouble. I mean, I can barely handle my own sweaty self, let alone a truck full of other human cootie carriers.
Either way, you'll spend a few hours bouncing around like a popcorn kernel in a microwave, but nothing beats the flexibility of chauffeuring yourself around.
To enter the park, you'll need to go through 2 gates at Sesriem.
The Sossusvlei main gate opening hours are from sunrise to sunset, so about 6:30 am to 6 pm, and it's where you buy your permits. Permit prices: NAD 80 (USD 4) per person and NAD 10 (USD 0.50) per car (permits are valid for 24 hours).
The inner gate opens an hour earlier (and closes an hour later) than the main gate, and just checks that you already have your permit. Are you thinking that sucks, because you'll miss the sunrise because the main gate opens too late? Yeah, you're right. Unless you are staying inside the park, that is, like at Kulala Desert Lodge or some of the campsites—then you're in luck. If you get your permit the day before, you can beat the pack and head into Sossusvlei before the traffic jam at the main gates gets let in an hour later.
Do you need a 4x4?
If you want to brave the "roads" all the way to Deadvlei, you'll need a 4WD as no other vehicle stands a chance. You'll be driving in deep sand, and trust me, sinking in the sand is a very real possibility—even with the almighty Toyota Hilux. Sending love to the ranger who helped us out, because I don't think those oryxes would hesitate to turn carnivorous.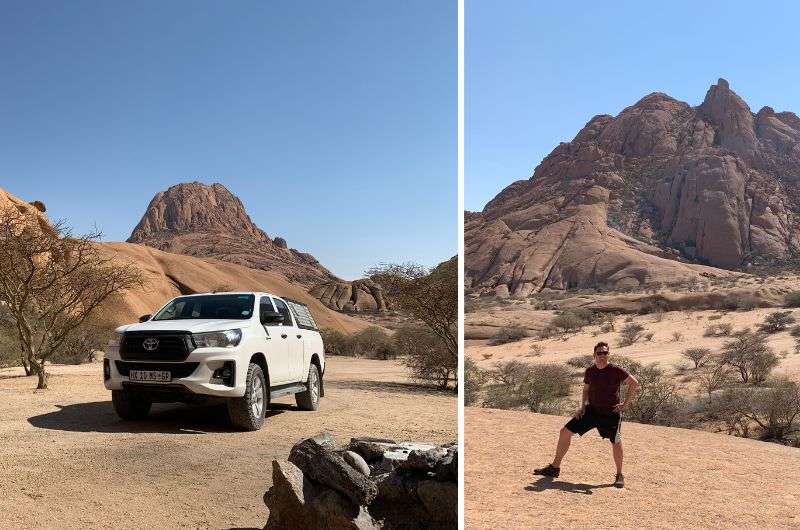 Trust me. Get a 4WD to travel through Namibia and you'll be much happier
There are 2 parking areas at Sossusvlei: the first one can be reached by a gravel in a 2WD and is about 65 km (40 miles) from the entrance gates. The other parking area at Deadvlei is another 5 km (3 miles) through deep sand and you need a 4x4 and good driving skills to reach it.
Alternatively, there's a shuttle that'll take you if you want to leave your car right by the entrance gates and not deal with this sand nonsense. There's also a shuttle that goes from the 2x4 parking area to the 4x4 parking area, so no worries if you don't want to walk.
This is the "road" to the Deadvlei parking lot
What are "vleis" and where's the river?
The crusty pans that make it into so many photos, called "vleis" formed after shallow pools of water that came from the ephemeral Tsauchab River dried out. There are many vleis in the area, Sossusvlei and Deadvlei being the most well-known.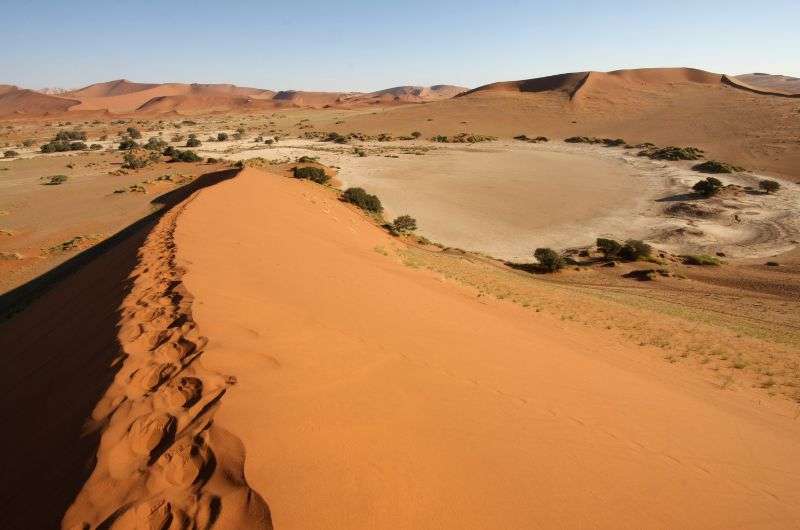 One of the smaller "vleis" as seen from a dune
Just so we're clear: Sossusvlei is one of the vleis and it is also a name that is used for the entire area, encompassing other vleis and the big sand dunes in the vicinity of them.
An ephemeral river is a fancy way of saying a river that's only around when it rains. It's like that one friend who only comes out to play when there's free food and drinks.
When it does rain, the Tsauchab River gets all excited and starts flowing towards the ocean. But it can't get through the desert without sinking into the sand instead, creating water pools that eventually dry out.
The river rarely gets enough water to come down to Sossusvlei at all, which is great for tourists, since the "road" they drive on to get there is the river bed.
What are the best Sossusvlei activities?
The Sossusvlei area is the absolute highlight of Namib Naukluft NP. If you see nothing else in Namib Naukluft, it's ok, but don't skip Sossusvlei. It'd be like taking a trip to Paris and not seeing the Eiffel Tower.
Getting those skeleton tree shots in Deadvlei
The skeleton trees in Deadvlei
In the Sossusvlei area there are several of these dried-out salt and/or clay pans where you can see the dry, cracked ground with the skeleton trees and bright orange sand dunes in the background.
Deadvlei is the most iconic one, given the contrast between the white/beige clay ground and the rich hues of the sand dunes around it. It's just super interesting to see white, which isn't a color that you'll be seeing enough of in the never-ending desert. Man, the life really gets sucked out of me in the desert! But I'm a strong, resilient and handsome man, I can do this!
Follow the signs to the individual destinations in Sossusvlei
Closeby is Sossusvlei, which is a salt and clay pan. Again, dead trees, lots of sand, maybe an oryx or two.
Those skeleton trees in all the vleis used to be camel thorn trees, but about 600 years ago, when all the water dried out, the trees died and have since then been so scorched by the sun, they don't even decay, rather choosing to endlessly pose for your photos.
This is me, posing for my photo
So, learn from their experience and make sure to bring sun protection and water. We don't want this place to turn into some weird scorched zombie apocalypse.
Climbing the mom and dad sand dunes of Sossusvlei
The Big Daddy
Surprise, surprise, there are dunes in the desert! Amazingly photogenic, rich orange or almost pink (depending on how the sun hits them) mounds of sand.
Obviously, the main place of interest in the Namib Naukluft National Park is Sossusvlei, so I'll be talking about the dunes there, but that's not to say the other parts of the vast park are flat.
Just so you know, there's no need to go "off the beaten path" searching for better dunes, because what even is a better dune?? Sandier? Oranger? Nicer-shaped? Easier to climb? Just kidding, they will all make you question your life choices once you start trying to scramble up. Also, going off the beaten path in the desert is a really dumb way to die.
The Big Mamma
You can rest assured: There are good-enough sand dunes in Sossusvlei. Many, many dunes (maybe too many for this desert-hater), like Big Daddy and Big Mamma. Climb to the top for some killer views of the Sossusvlei area… But who are we kidding, they're all the same. Why anyone would stop and climb all the dunes that happen to have been named is beyond me. Unless you are trying to kill time before sunset, there's no reason to climb Dune 45, which is a little way out from Sossusvlei.
You should, however, make the time to climb to the highest dune in Africa, Dune 7, which is in the northern part of Namib Naukluft NP closer to Swakopmund. More about this big sand hill below.
Taking a dip inside Sesriem Canyon
Besides drying out clay pans, the Tsauchab River has created another interesting natural attraction in Sossusvlei—Sesriem Canyon. It's a narrow gorge carved out in the rocks close to the main gate of Sossusvlei.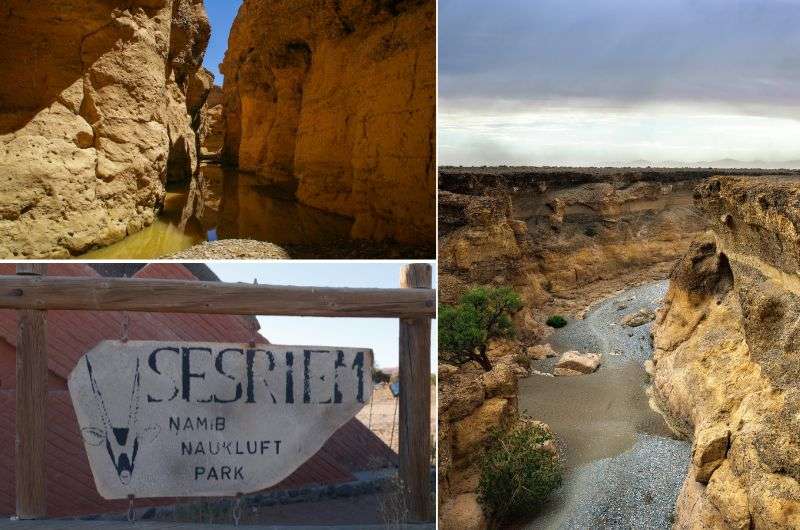 Sesriem Canyon
Sesriem Canyon isn't very deep, long, or that interesting, but honestly it's fun to see anything besides sand in these parts of the world. So if you still have some leftover energy after climbing the Big family (Big Mama and Big Daddy dunes!), stop by here.
Besides climbing on the rocks and through caves, you'll be surprised to find water pools, sometimes complete with tourists on blow-up unicorns. Yes, that happened. Just watch the water levels and beware of potential sharp rocks under the surface.
Spotting wild animals
If you're heading to Namibia, you're probably aware that it's an animal lovers paradise (if you're not then you're in for a surprise!). You can easily see an entire zoo when visiting places like Etosha National Park Safari, but it's commom to rock up and find an oryx or ostrich hanging out closeby at random places.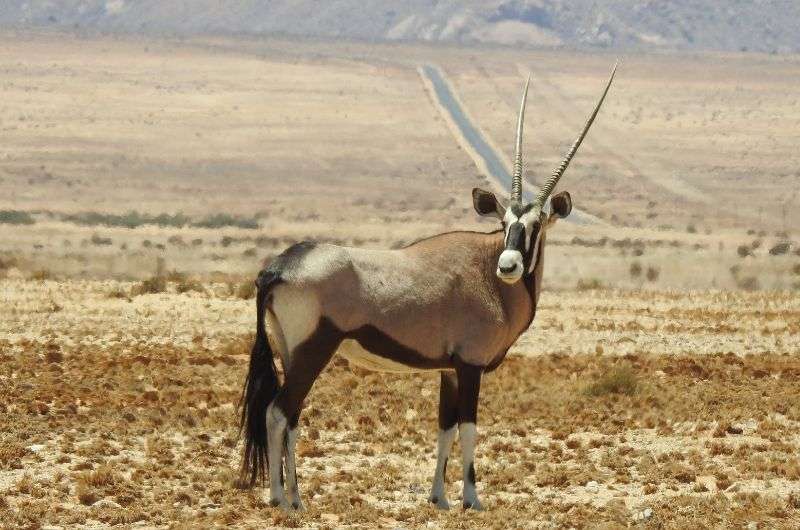 The gemsbok aka South African oryx is Namibia's national animal
In Sossusvlei, the most common wild animals you'll see are the springbok, oryx (Namibia's national animal) and the ostrich—is it just me or is seeing ostriches in the wild totally wild?? Love them.
If you're lucky enough to stick around until nighttime (you'd need to be staying inside the park for that, like at the Kulala Desert Lodge or at the campsites), you could also spot some foxes, hyenas, and jackals. And if you are the chosen one, you might even see an aardvark.
Of course, there's a ton happening under the sand, as well, which is where the spiders, geckos, and some snakes like to hang out. Do you want to re-think going barefoot up that dune now?
No big game at Sossusvlei, but choose your acommodation wisely and you see these fellas @ Burgsdorf Guest Farm
We opted to stay outside of the park in the oasis-like Burgsdorf Guest Farm, but as far as animal sightings and amenities goes, we had zero regrets. You can actually have your dinner while spotting wildlife like rhinos and other big animals—unbelievable! I would stay there again in a heartbeat.
Get comfortable @ Burgsdorg Guest Farm
Other things to do in the Namib Desert (Namib Naukluft NP)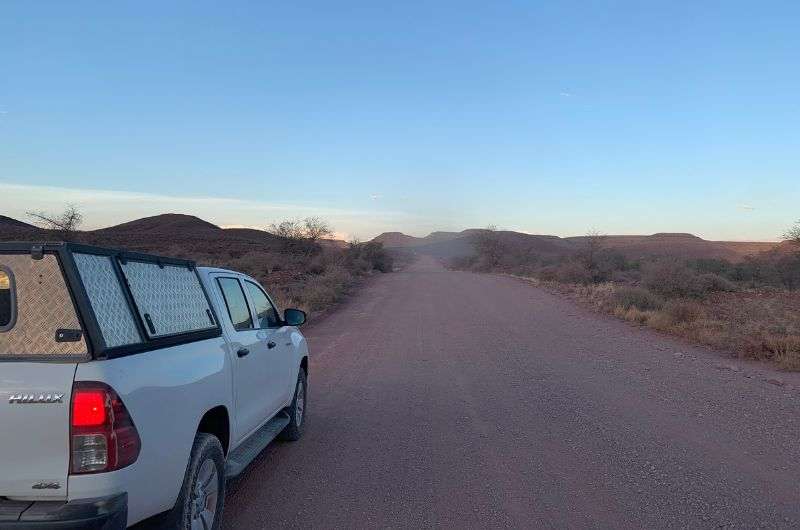 Time for your next adventure!
The Namib Desert is huge. Namib Naukluft NP is big. It's not just Sossusvlei, even if the majority of people traffic makes it look that way. There are a lot of activites you can do besides just walking, taking photos, and trying to drive in the sand (I have to say that was an adventure of its own!).
Here are some other things that could pique your interest in Namib Naukluft NP:
Africa's tallest dune: Dune 7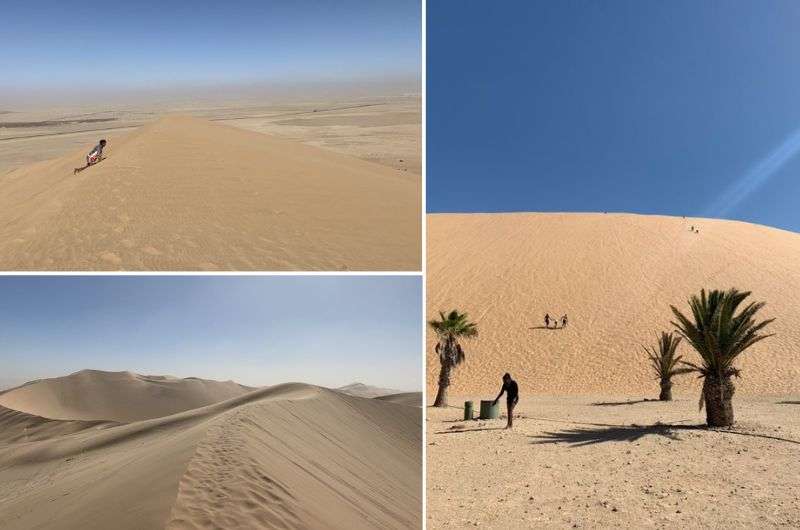 Dune 7
I think climbing more than a couple of dunes is complete overkill unless you're doing it for the fun of it and not with the expectation that each one will somehow be massively different than the one before (spoiler: it won't).
That said, one dune you have to make time for is Dune 7, because it is the talles duine in Africa and something like the 7th tallest in the world (sand is hard to measure, ok, so it can fluctuate). And sometimes, bigger really is better. Dune 7 measures 383 m (1250 ft).
Dune 7 is up in the northern part of Namib Naukluft NP, closer to Swakopmund. You can read details about visiting it in my Swakopmund article.
It's a myth! Contrary to some poorly researched articles on the interwebs will try to tell you, Dune 7 is, in fact, not the tallest dune in the world. Not even close. It pales in comparison to the real big kahuna: Duna Federico Kirbus in Argentina is a literal mountain at 1,230 m (4,000 ft). Dune 7's 383 m (1250 ft) don't seem so amazing anymore, huh?
Taking a look back at the "parking lot" at Namibia Dune 7
Dune 7 is close to Swakopmund (about a 40-minute drive), so we stopped there on the way from Burgsdorf Guest Farm when moving up to Namibia's adventure capital for a few days (here're all the activities you need to try in Swakopmund—I hope you like snakes!).
Hot air balloon ride? Helicopter?
There are several good adventure companies that are more than happy to take you on all sorts of trips—and some aren't even on the ground!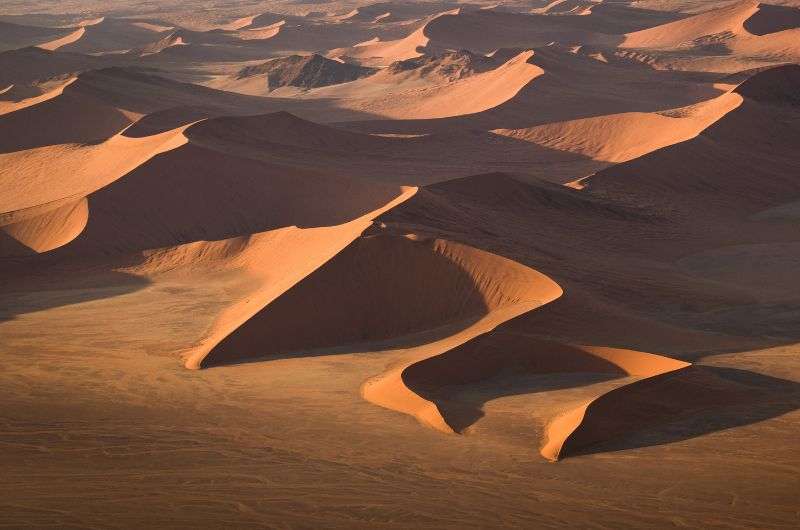 Namib desert from a helicopter view
One of those options is gliding quietly through the air in a hot air balloon. Seeing the desert from a basket way above the horrible…ehm, I mean beautiful desert must be an experience you won't forget. I wouldn't know, because I'm not ready to die yet, but you do you.
Well-rated hot air balloon companies are located close to Sesriem, sometimes operating out of the local lodges, and some are further north in Swakopmund (Namibia's adventure capital).
For example, Sossusvlei Lodge has a variety of trips, including hot air balloons, but if you want to up your cool factor, check out helicopter rides! If you're into more of a James Bond experience and prefer a helicopter over a balloon (which sounds rather lame in comparison), you can also check out the helicopter offerings at the Kulala Desert Lodge.
Sky diving
Mostly available up in Swakopmund are companies that'll push you out of an airplane for a couple minutes of adrenaline and then 10 or so minutes of thanking the heavens that your parachute opened while you stare at the desert below you. Again, not for me, but maybe for you?
Sandboarding
While it's not possible to sandboard in Sossusvlei (something about protecting the sand dunes), you can find opportunities to fly down sand dunes in—surprise!—Swakopmund. Namib Naukluft NP ends just to the south of there, but the sand is the same just outside the park's borders, allowing all kinds of fun activities that aren't allowed right inside the national park.
Quad bikes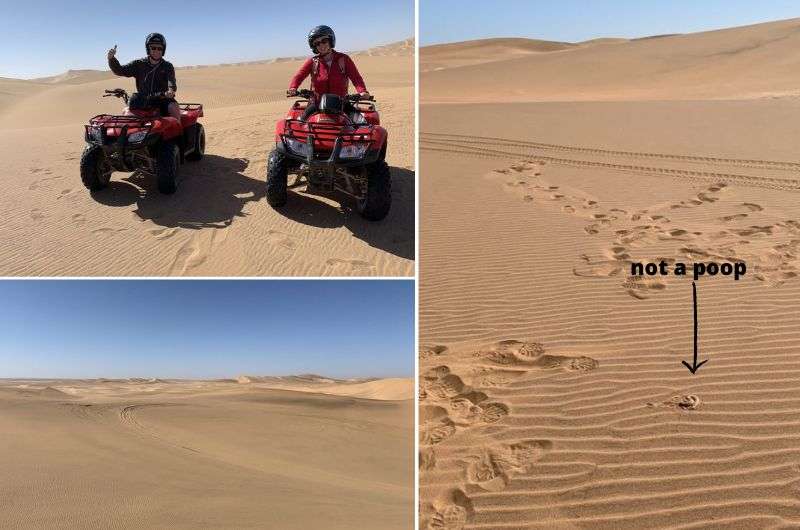 Sand, sand, and more sand! Perfect for quad biking
And last but not least, quad biking! For some reason its ok to go on quad bikes in Sossusvlei, but not on sandboards. Whatever the logic behind that is, ask at Kulala Desert Lodge for quad biking trips.
Alternatively, Swakopmund is the place to set out on such exhilarating adventures, so you could also just wait until you're up there and see how many snakes you can spot in the sand without running them over. I did (the driving and spotting, not the running over).
Where to next?
It's only 7 hours from Fish River Canyon to Sossusvlei! I say that only half-jokingly, because yes, it is far, but what isn't in Namibia? You will spend half your vacation driving, I promise. It's a mix of good fun and annoying as hell torture (read my candid tips on driving in Namibia here).
This is us, happy in Burgsdorf Guest Farm
It makes sense to slot Sossusvlei into your itinerary on the way from the second largest canyon in the world—Fish River Canyon—to the best adventure spot in Namibia, Swakopmund. If you follow my brilliant advice and stay at Burgsdorf Guest Farm, you're only looking at a 5-hour drive between there and Fish River Canyon's Hobas, which is very doable.
See what I mean in my 2 and 3-week itineraries for Namibia (basically two versions of the same—with and without Fish River Canyon).
This post contains affiliate links. I earn a small commission if you make bookings through my links, at no additional cost to you. This helps keep this blog free, thank you!