Looking for something extra in Namibia? A little more adventure, a little less tourist crowds, or maybe a little more insight from someone that's been there, done that? Well, you've come to the right place. Welcome, young Padawan!
As someone who's traveled far and wide, I can tell you that tourists usually flock to the same places simply because that's usually the actual best that there is to see in the country. Don't let anyone fool you with promises of "hidden gems." There are no secret waterfalls or undiscovered hiking trails waiting to be uncovered. Sorry to burst your bubble, but it's just not true.
That being said, there are still tons of fun things to do in Namibia that aren't necessarily completely obscure or "off the beaten track". In fact, they are the best experiences I could find that are still crowd-pleasers.
Sand. Just sand everywhere...
Let's face it, Namibia doesn't have a ton of places to visit in the first place, so trying to create a list of just truly unusual places to visit would end up with me listing something like "taking a selfie with a giant rock" as a must-do activity.
So, instead, let's focus on the experiences that are actually worth your time and that you'll be telling your friends about for years to come.
You could also be interested in reading:
These are activities that I've tried and tested and have deemed cool enough that they need to be mentioned. Trust me, you won't find yourself visiting some obscure museum or taking a pottery class in the hopes of finding some hidden gem. Instead, you'll be enjoying experiences that are tried and true, but that still offer a little something extra.
1. Self-driving in Etosha National Park Safari
​
I really enjoyed driving this beauty across the Namibian landscape
Etosha National Park Safari is Namibia's largest, and best, safari. This place is an absolute gem and offers a once-in-a-lifetime opportunity to see some of the world's coolest animals in their natural habitat.
The best experience you can opt for is self-driving the safari. Somehow sitting in your own vehicle and having full control of when and where you stop and how close you let those ostriches get before you roll up your window, makes it all the more exhilarating.
Etosha is popular because it is home to a great variety and a great number of wildlife (even though one of the Big Five took a raincheck—there's no buffalo to be found). You will spot so many animals you'll turn into David Attenborough and start narrating your drive in an English accent. Here's some more information about spotting wildlife in Namibia. Elephants, lions, giraffes, zebras, a million different types of antelope—they're all part of the Etosha NP welcoming committee.
​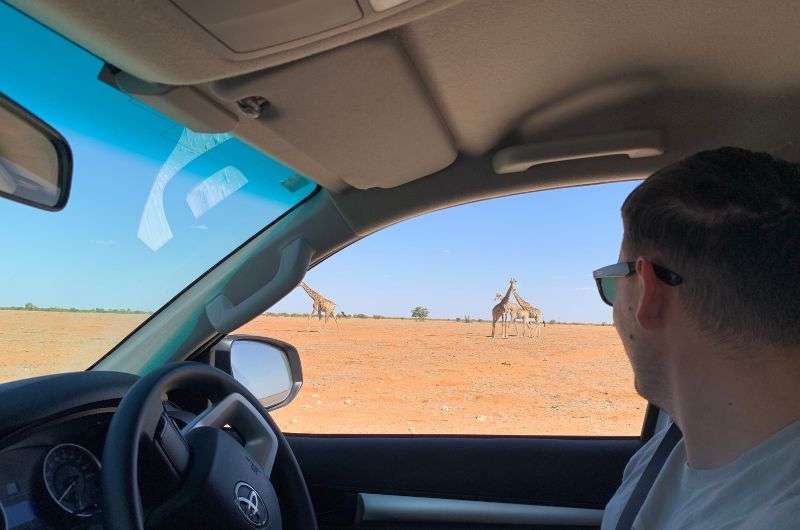 We observed these peaceful giraffes from a safe distance and from the stable, solid, and comfortable Toyota Hilux.
The national park covers a vast area, so you have a lot of ground to cover in the 2–3 days that I recommend you spend there. I mean, yeah, you can stay longer, but there are only so many lions you need to see lying under a tree before you're over it.
To plan your visit, read my full Etosha NP guide to figure out where to stay, how to get in and how frustratingly long it takes to buy tickets even if you're the first one there.
2. Searching for critters in the sand on Tommy's Living Desert Tour
​
I totally fell in love with all of the critters on Tommy's Living Desert Tour
I love snakes, and the thought of going out and actually finding some serpents right in the sand makes me squeal and do a happy dance (internally, of course, like a real man).
There are many desert tours in Namibia, but the tour I am wholeheartedly endorsing is Tommy's Living Desert Tour specifically. They work out of Swakopmund, Namibia's adventure capital.
I don't know what type of desert spell the animals are under, but when the guide started searching for some critters, the geckos and snakes turn into puppies and I swear I saw them happily run up to the guide as if they were old buddies. It's hard to describe if you haven't been there, but you'll have to take my word for it.
​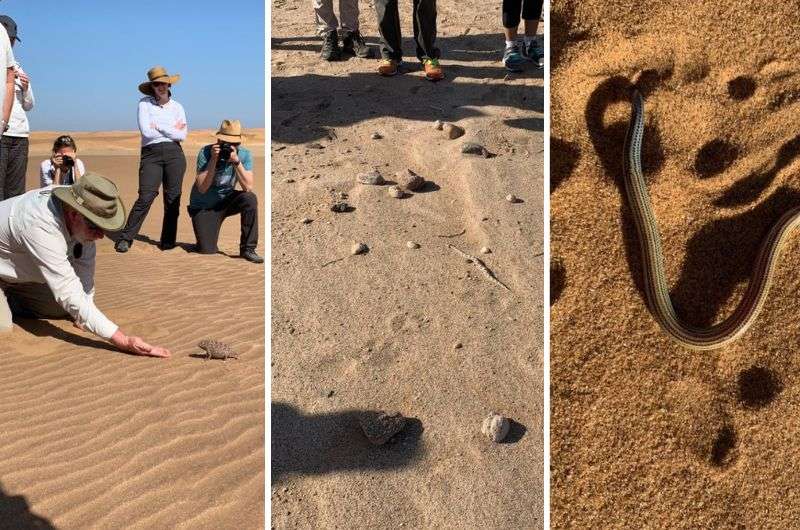 Tommy's Living Desert Tour is the best thing you will do in Namibia! It's like a scavenger hunt, but with wild snakes and lizards
The guides are knowledgeable and entertaining and they really know their stuff. They have a tour every morning and sometimes in the afternoons, too, depending on the weather (read: if it's hot as heck, they aren't going). And who knows, you might just come back with a newfound appreciation for our slithery friends.
You're taken out into the desert south of Swakopmund in a jeep-type vehicle for 4–5 hours and then proceed to look for and find all kinds of creatures. After you're done searching for snakes and other little sand fellas, you get to prance around on the sand dunes a little before heading back to the city.
3. Walking among the seals at Cape Cross
​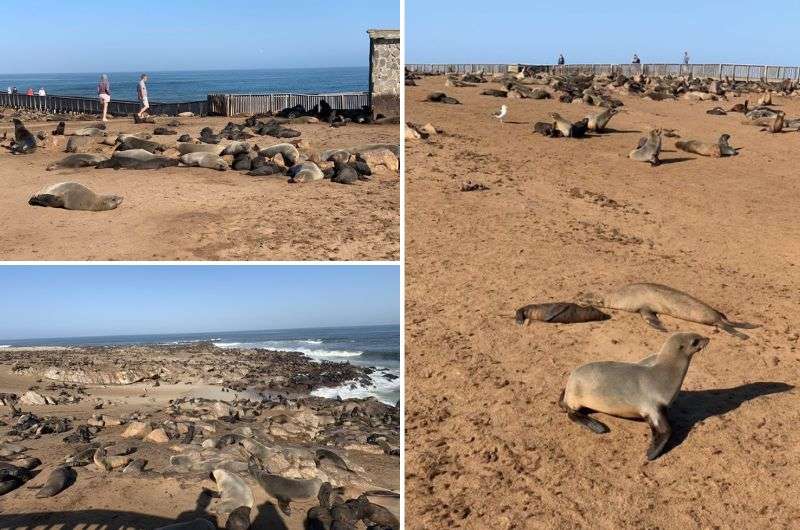 You can see the wooden walkway that helps you walk among the seals unharmed—they can bite if you get too close, especially if you'e dealing with a mom seal
Ah, Cape Cross. A place where you can get up close and personal with thousands of seals and be hit with the scent of death. Fun times, right? Well, believe it or not, visiting the seal colony at Cape Cross was actually one of my favorite and most fascinating activities to do in Namibia.
Now, I know what you might be thinking. "Seals? Seals aren't that interesting…?" But let me tell you, there's something magical about watching these blubbery sea creatures in their natural habitat, right on the beach, surrounded by the beautiful Skeleton Coast.
But oh boy, the smell. It's like a punch in the face that lingers in your nostrils (and clothes, and hair) for days. So if you're into unique olfactory experiences, this is definitely the place for you!
But don't worry, it's not all death and decay. The colony of over 100,000 seals is quite a sight to behold, especially when the little pups are frolicking around in the waves or napping on the beach. And the mothers? Let's just say they give off some serious "don't mess with me" vibes.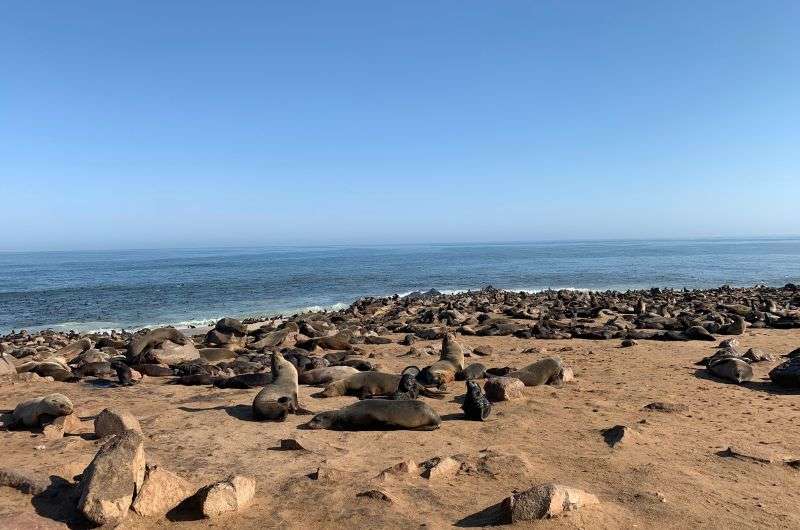 A flock of seals in Cape Cross
And if you're worried about getting too close to the action, there's a handy wooden walkway that lets you observe the seals from a safe distance—though in places where the railing is in need of repair, you might find yourself stepping over the seals that made it onto the walkway. Hey, it's that much more adventurous!
Just maybe leave the fancy clothes at home, unless you want to test out your stench-removing skills.
We visited Cape Cross from our base in Swakopmund.
4. Posing with skeleton trees in the world's oldest desert
The skeleton trees in Deadvlei
We've all seen the photos of the leafless tree corpses standing against the backdrop of the bright orange sand dunes of the Namib Desert. Luckily for all of you Instagram-happy travelers, it's not that hard to visit them and take snap after snap of these photogenic tree leftovers.
Where? In the Sossusvlei area of Namib Naukluft National Park, accessible from the Sesriem entrance gate. In the heart of the oldest desert in the world you'll find several dried-out salt and clay pans (or "vleis"), each with its own (but honestly really similar) charm.
The most iconic of them all is Deadvlei, where the white clay ground contrasts perfectly with the surrounding sand dunes. I don't know what I was more excited about—the cool trees, or the fact I was seeing a color other than orange for the first time in ages.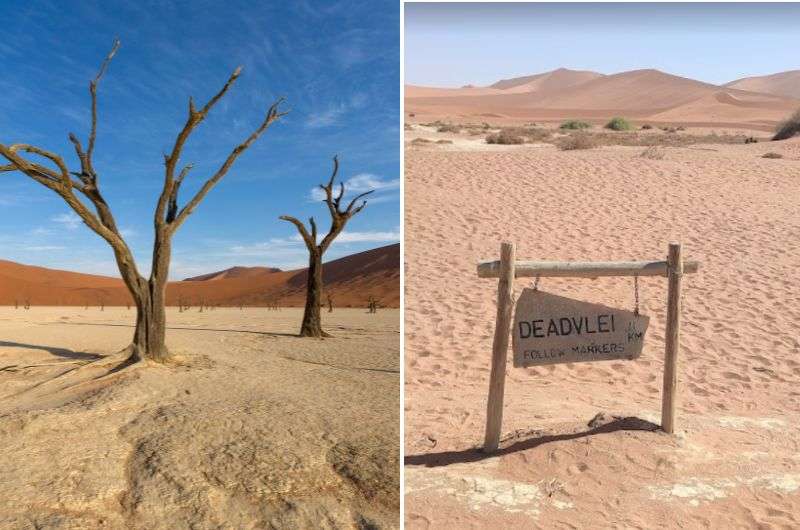 Follow the signs to the individual destinations in Sossusvlei
These "skeleton trees" used to be camel thorn trees, and they've been dead for over 600 years. They have been scorched so badly by the sun that they aren't even decaying as you'd usually expect from a dead plant. For centuries, they've been still stand tall and proud, posing endlessly for your photos. Talk about dedication to their craft!
But don't be fooled by their resilience—the desert is harsh and unforgiving (and if you ask me, it sucks the life right out of you!). Be sure to pack plenty of water and sun protection, or risk turning into a scorched zombie.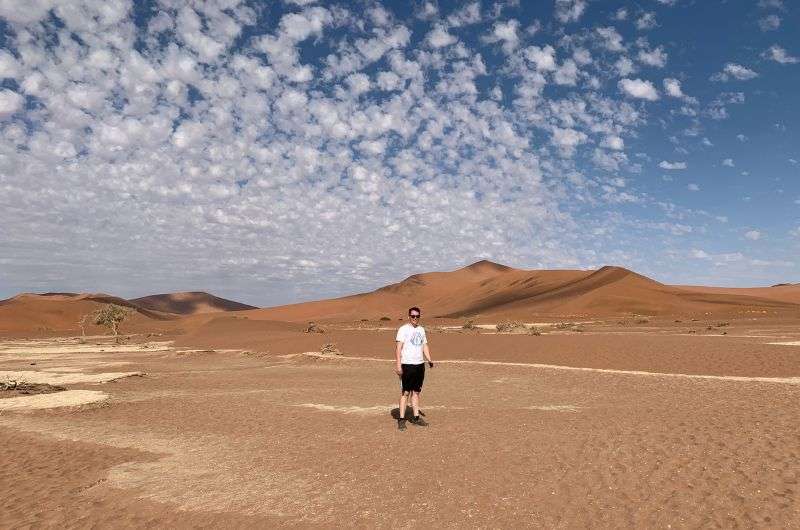 This is me, posing for my photo
And speaking of being prepared, self-driving is definitely the way to go. If you're feeling brave enough to tackle the sands all the way to Deadvlei, you'll definitely need a 4x4. Trust us, sinking in the sand is not a fun experience (thank you Mr. Ranger sir, once again, for preventing our certain death).
Want to add Sossusvlei to your bucket list? Check out my Sossusvlei guide to see how to get there, where the trees are at, and how not to get stuck in the sand.
5. Spotting cheetahs right from your veranda at Babson House
You can even see cheetahs right from the veranda of the Babson House!
There's one fabulously fast feline that you'll have difficulty spotting anywhere else in Namibia: the Flash of the animal kingdom, the cheetah.
But overlooking the Waterberg Plateau are several game farms with private lodges that have come together to form the Cheetah Conservation Fund. The result? You can spot cheetah's from the comfort of your own terrace, and sometimes even from your own bed!
If you stay at any of the lodges that fall under the Cheetah Conservation Fund, you'll get extra good karma points as well, since they are doing excellent work for the protection of the spotty animals.
For the ultimate experience, check yourself in to the top spot for cheetah lovers, the Babson House! Cheetahs literally come so close to the house that you can just relax on your veranda and see them.
Alternatively, at Okonjima Plains Camp, you'll be able to sit in bed and stare out your window to see a variety of game just hanging out on the property (no cheetahs though). They even do leopard tracking trips that sound amazing.
Whichever lodge you choose, always make sure that you are supporting true conservation efforts and not shady businesses. Some aren't as altruistic as others.
6. Climbing Africa's highest sand dune (Dune 7)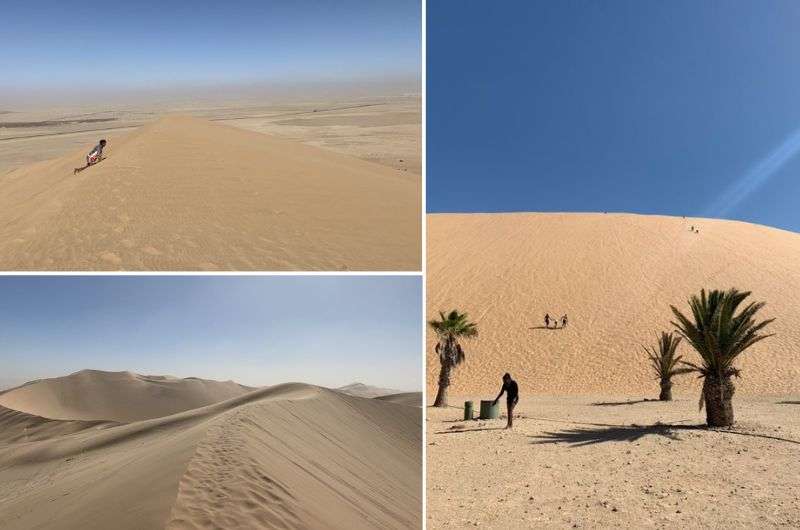 Dune 7
If you know anything about Namibia, climbing sand dunes will not sound unique at all. And I agree that once you've climbed one or two, you've seen them all. Unless you're somehow especially enamored by deserts, there's no need to go overboard and try to conquer every single one you see on the horizon.
But if you narrow it down and stick to the most coveted sand dunes, you'll be a happy, sandy guy or gal. And when it comes to the most coveted sand dunes in Namibia, Dune 7 is right at the top of the list. It's the tallest dune in Africa, standing at a whopping 383 meters (1250 feet) tall. So, yes, you may have climbed sand dunes before, but trust me when I say that this one is different.
The nice thing—for lazy people—is that you can drive right up to it. No need to trek anywhere, there's a parking lot at the foot of Dune 7.
But Climbing Dune 7 is no easy feat. Even though this isn't the tallest dune in the world (that would be Duna Federico Kirbus in Argentina at 1,230 m/4,000 ft), it still requires a solid dose of determination and a willingness to push yourself forward even as the sand pushes you back. I could almost hear Dune 7 laughing at me as I tried to make my way to the top, going one step forward and two steps back. But with each step, you'll feel a sense of accomplishment, and you should make it to the top in 20 minutes max.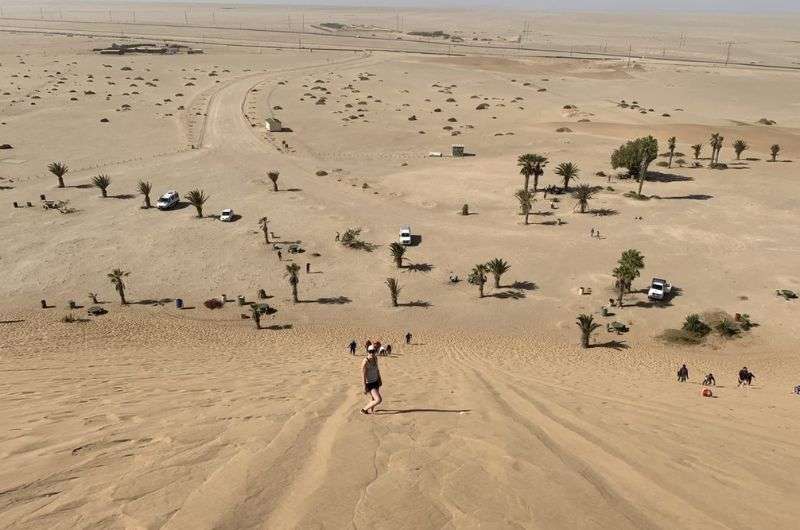 Taking a look back at the "parking lot" at Namibia Dune 7
If you're worried about all the slipping and sliding, get to Dune 7 early in the morning, when the sand is when the sand is still cool and hard (the Namib Desert is hot in the day, but freezing at night!). OR head out for sunset, when the cold is creeping back in, cooling that sand mound the heck down.
Dune 7 is located close to the beachside resort town of Swakopmund.
7. Quad biking on the sand dunes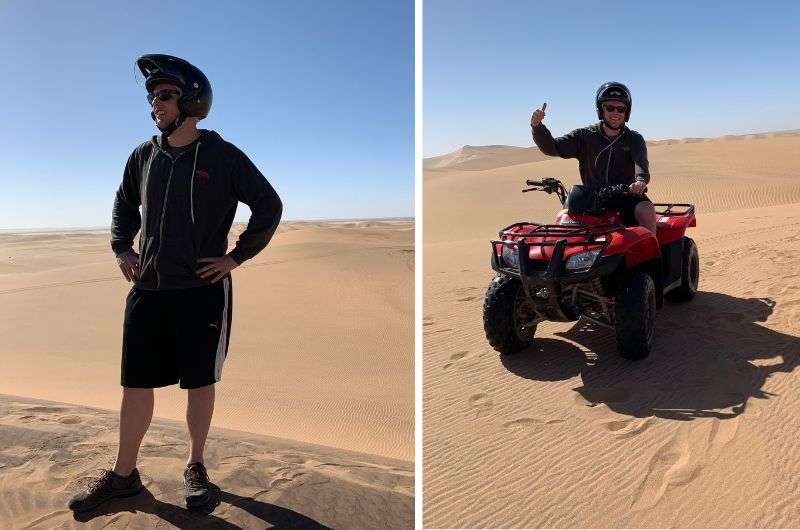 I recommend trying quad biking in the Namib Desert
Get your adrenaline fix by tearing through the Namib Desert on a quad bike. Yes, it's the oldest desert in the world, but that just means it's had plenty of time to perfect its dune game.
We did quad biking in Swakopmund, and would do it again in a heartbeat. It's an exhilarating experience that doesn't involve the risk of a botched parachute or other similar certain-death experiences (you can tell I'm more of a land animal).
Plus, who knows what kind of desert creatures you might encounter along the way? It's like a real-life safari on wheels, we saw snakes and lizards flopping around in the sand while we drove along the sand dunes!
For more sandy off-road adventures, try our dune buggies or fat biking. Swakompund, being the adventure capital of Namibia, has no shortage of adventure tour shops, so take your pick and let the good times roll. Just be prepared to eat a little sand along the way.
8. Sleeping right on the edge of the canyon at Fish River Lodge
Fish River Lodge—the best accommodation you could choose!
If you're looking for an activity that's equal parts exhilarating and comfortable, you'll definitely want to check out Fish River Lodge. Because tents are a no for me, and I assume they're a no for many of my readers, too.
A little tent rant: Personally, I prefer to appreciate the great outdoors from a safe and comfortable distance—you know, with walls, a roof, and a bed that isn't made of rocks and twigs. Call me crazy, but I just don't understand the appeal of crawling into a tiny fabric box and hoping that a bear doesn't mistake me for a chew toy. But hey, to each their own (the better camping site at Fish River Canyon is in Ais-Ais, just in case you are that type and were wondering).
Back to Fish River Lodge. Not only do they have cozy bungalows with huge windows, perched literally on the edge of the canyon, the amazing staff is happy to take your bed outside onto the veranda for you. You know, in case you want to experience a little bit of the camping feeling, but not too much.
You can also swim on the canyon's edge in the onsite swimming pool, and eat on the canyon's edge in the superb restaurant (like the food is actually really good, not just "good" as in it's ok to eat since there's nowhere else to go anyway).
Another huge point for staying at Fish River Canyon is that they're also the only ones authorized to take visitors into Fish River Canyon for day trips. Self-guided trips into the canyon aren't allowed, and for some of the cooler trips that are on offer, you'll need to be a guest at Fish River Lodge.
Fish River Canyon
Let's assume you're not only too spoiled to sleep in the canyon, but also to walk in the canyon. No worries, Fish River Lodge has you covered—they're the only ones that can take you on a drive on the canyon floor.
To learn about all the hike alternatives (including the daunting 4–5-day full hike with, yikes, camping!), how to go about getting permits, getting a guide and where to find the best viewpoints, check out "All You Need to Know About Fish River Canyon: 18 Top Questions Answered".
9. Seeing the Namib Desert from the sky
Namib Desert from a helicopter—like a wild, orange ocean
Looking to add a little more adrenaline to your Namibia adventure? How about seeing the Namib Desert from the sky? Of course, there are safer options, like gliding quietly through the air in a hot air balloon, but where's the fun in that? Why not jump out of a perfectly good airplane instead?
If you're not quite ready to take the leap (pun intended), there are other ways of getting the perfect aerial view of the desert. You can take a private flight or a helicopter ride for a more James Bond-esque experience. Just don't forget your martini (shaken, not stirred) and your tuxedo.
I am personally more of a land animal, but if you want to try out any of the airborne activities, head out either to Swakopmund, Namibia's adventure capital, or around Sesriem, the gateway to Sossusvlei.
A few tips for operators that are well reviewed (not by me, but still): Sossusvlei Lodge offers hot air balloon trips, and Kulala Desert Lodge has helicopter tours for those looking to up their cool factor (it's also one of the lodges directly within Sossusvlei, giving you the unique opportunity to see the sun rise over those skeleton trees!).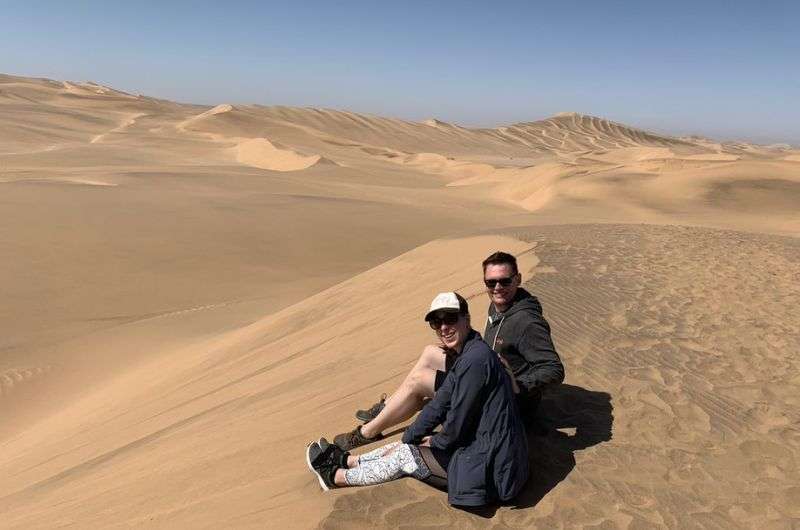 I'm more of a land animal
For the truly adventurous (or crazy), there are skydiving options available in Swakopmund. If you're feeling lucky, why not try your hand (or feet) at falling through the sky and hoping your parachute opens? And if it doesn't, well, at least you went out with a bang (literally)! I always say that the desert sucks the life out of me, so this would be a morbidly hilarious way to die.
But seriously, whether you choose a peaceful balloon ride or a heart-pumping skydive, seeing the Namib Desert from the sky is an experience you won't forget.
For more useful information about adventurous things to do in Swakopmund, check out my full guide. If you're more keen on extending your Sossusvlei trip to include some flyovers, read my Namib Naukluft NP guide.
10. Going out after dark for a night safari (Etosha, Caprivi, Damaraland)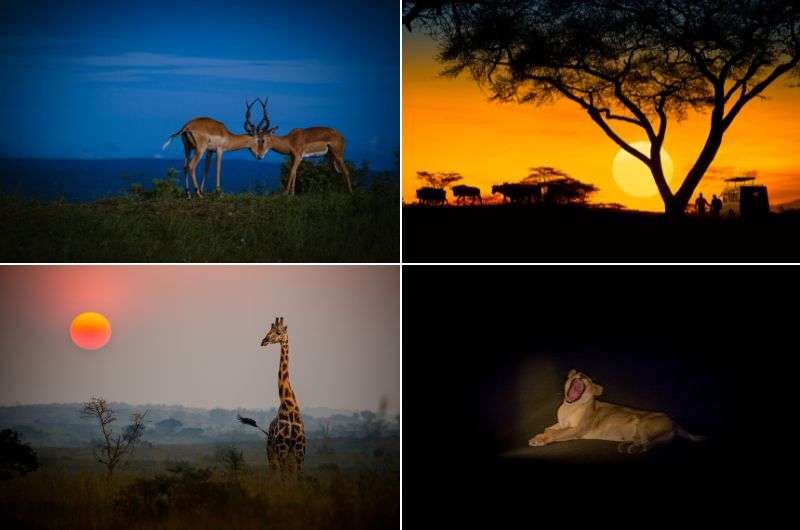 Checking out the animals after dark
If you're looking for a truly wild experience in Namibia, consider going on a night safari. It's like a regular safari, but without the sun and with more danger. Just kidding (sort of).
Seriously though, night safaris are a unique and thrilling way to experience Namibia's wildlife. You can spot animals that are rarely seen during the day, like hyenas, leopards, porcupines, and the elusive aardvark, and some that you can see during the day, like lions and giraffes, but with the added cool factor of it being nighttime. Let's be honest, who doesn't love a good, evening aardvark sighting?
If you're like me, you prefer to manage your own trips and steer clear of tour operators unless absolutely necessary. Well, the danger of getting chosen as a lion's midnight snack is one of those times where you'll want someone to show you the ropes. I'd probably try anyway, but it's not possible to self-drive the safaris at night.
Tour operators often operate out of lodges and campsites, and night safaris are possible in places like Etosha National Park, the Caprivi Strip, and Damaraland. You'll be taken in a vehicle and, using strong lights, the guides will point out animals in the distance, and some even up close. When you see the silhouettes of a group of giraffes walking slowly against the sunset, you'll know why you chose to head out on a night game drive. It's just epic.
Yes, these predators are also in Etosha National Park in your immediate vicinity. Beware and don't leave your car!
We ended up stalking a lion for over half a kilometer as he walked on the side of the road right next to the car. It was wild, I felt like a complete and total loser thanks to the absolutely zero fucks given by Mr. Lion King about the stupid humans staring at it from the windows. It was awesome, I've never been more excited to be ignored in my life.
So go ahead, embrace your wild side, but remember—you don't want to dangle your limbs outside of the car, as apparently those could look yummy enough to the lions that they would break their promise to ignore human tourists.
This post contains affiliate links. I earn a small commission if you make bookings through my links, at no additional cost to you. This helps keep this blog free, thank you!